We're here again showcasing some excellent restaurants around New York, and today we want to focus on Midtown Manhattan.  There's a lot of places to eat around this area because it's home to Times Square and many of the Broadway theaters, so it attracts a lot of tourists – and unfortunately many of the places where you can grab a bite in the area are overpriced and mediocre and cater to people who just want something convenient.  But if you take the time to explore the neighborhood and hunt down cool and unusual spots, you can actually find some pretty good restaurants.  That's what we're highlighting today:  two good places that serve up different types of interesting food.  Here they are , but just be warned that there is some meat pictured here.
One of the restaurants we got to visit is Tenho Ramen, the first American outpost of a Japanese chain.  As you're probably able to guess, the bulk of their menu is different types of ramen – like this vegetarian version Miriam had, made with baby carrots, broccoli, corn, and noodles.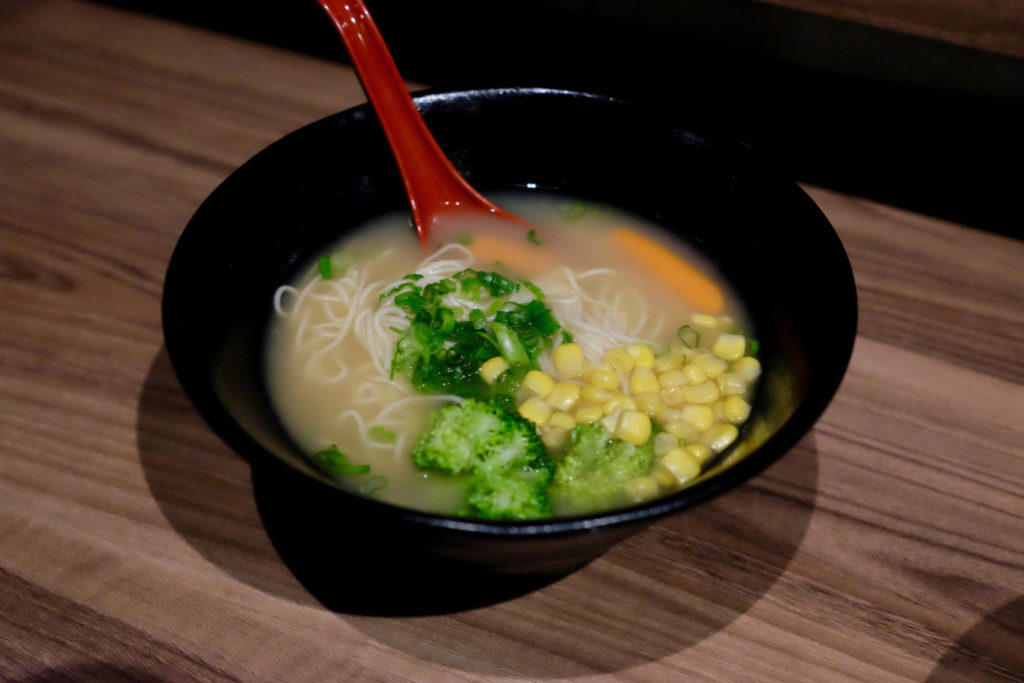 Cyril, meanwhile, tried the Kurume ramen, with pork, mushrooms, a soft-boiled egg, and a piece of seaweed.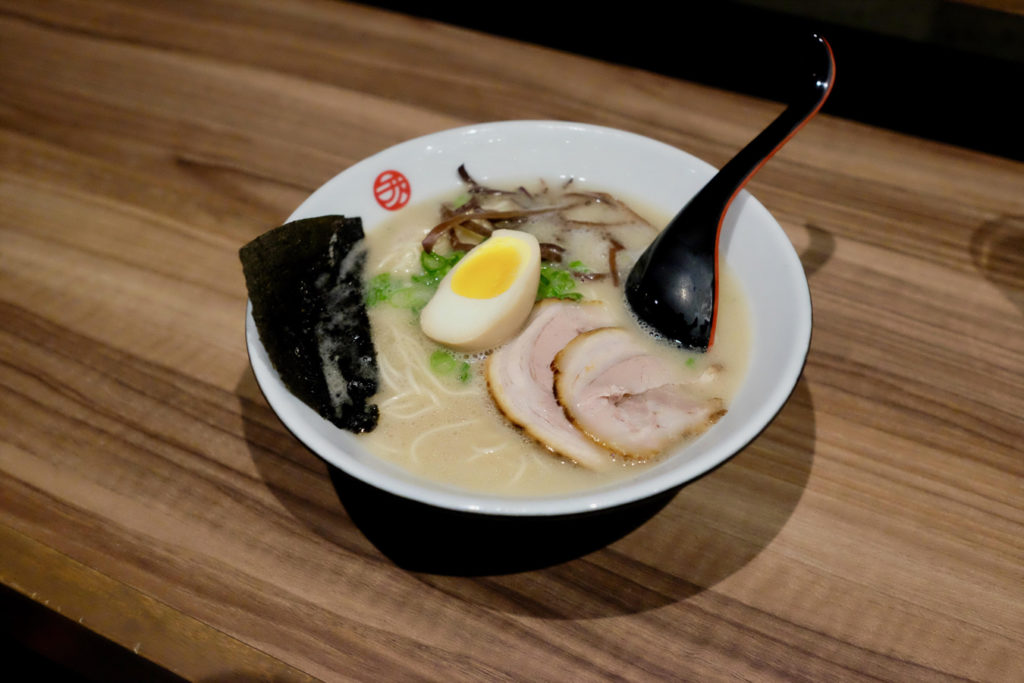 But Tenho Ramen also has a pretty interesting menu of skewers, with the idea that you can order a bunch of things to make an appetizer platter.  We got (from left to right) avocado, shishito peppers, pork belly-wrapped Japanese yam, and washugyu ribeye …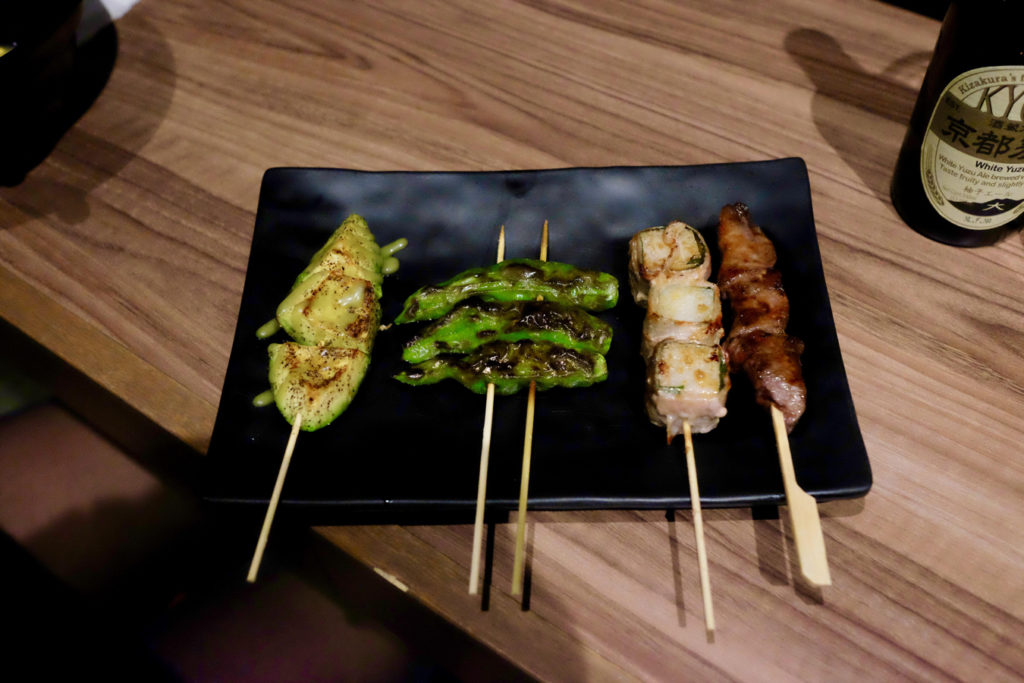 … plus some grilled Camembert cheese drizzled in honey.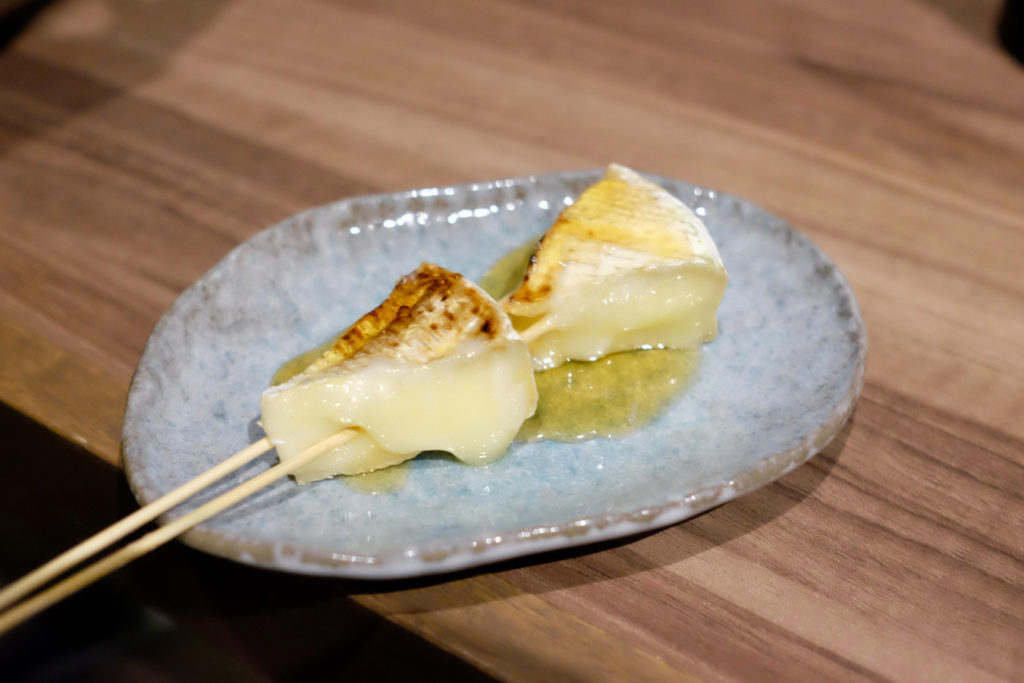 Now if you're looking for something more along the lines of upscale pub fare, you can head a mile north and west to The Elgin, a new cocktail bar on 48th Street.  You can get booze there but also some interesting food, and we'd describe the menu here as elevated comfort food – for example, as an appetizer you can get these spinach and cheese croquettes, served with a spicy mayo dip.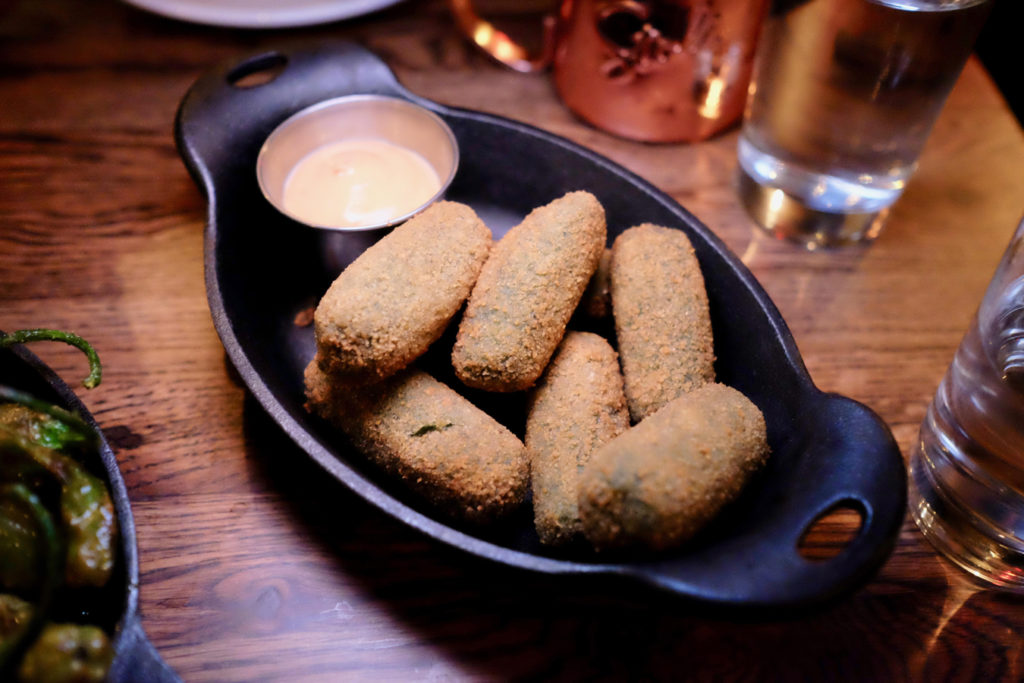 You can also get even more charred shishito peppers.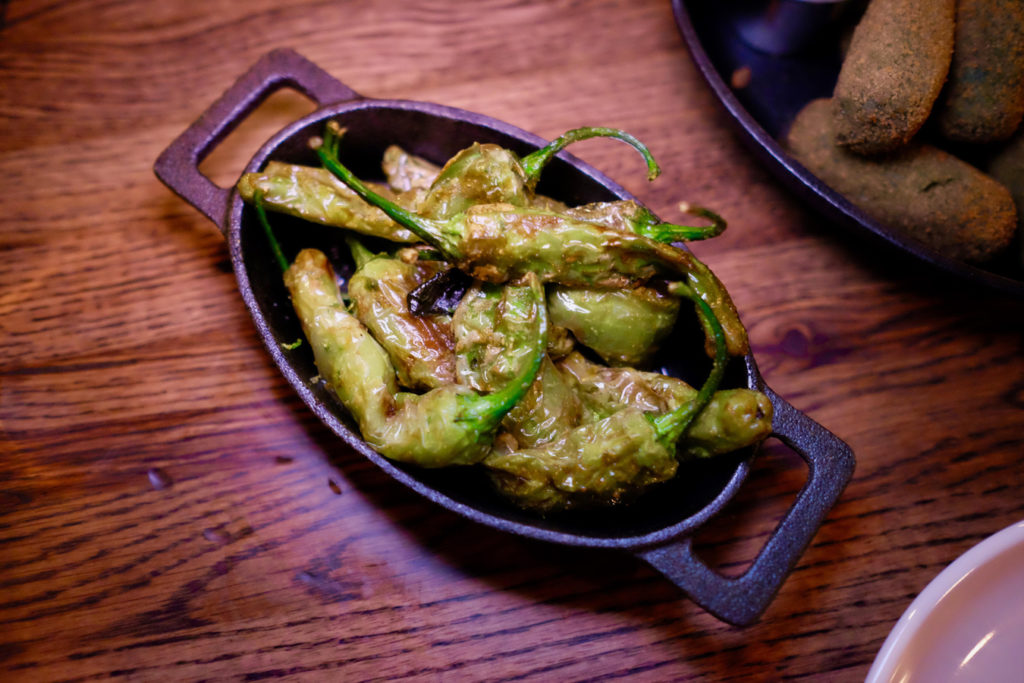 As an entree, Miriam got her perennial favorite:  mac and cheese, here made with three cheeses and herbs.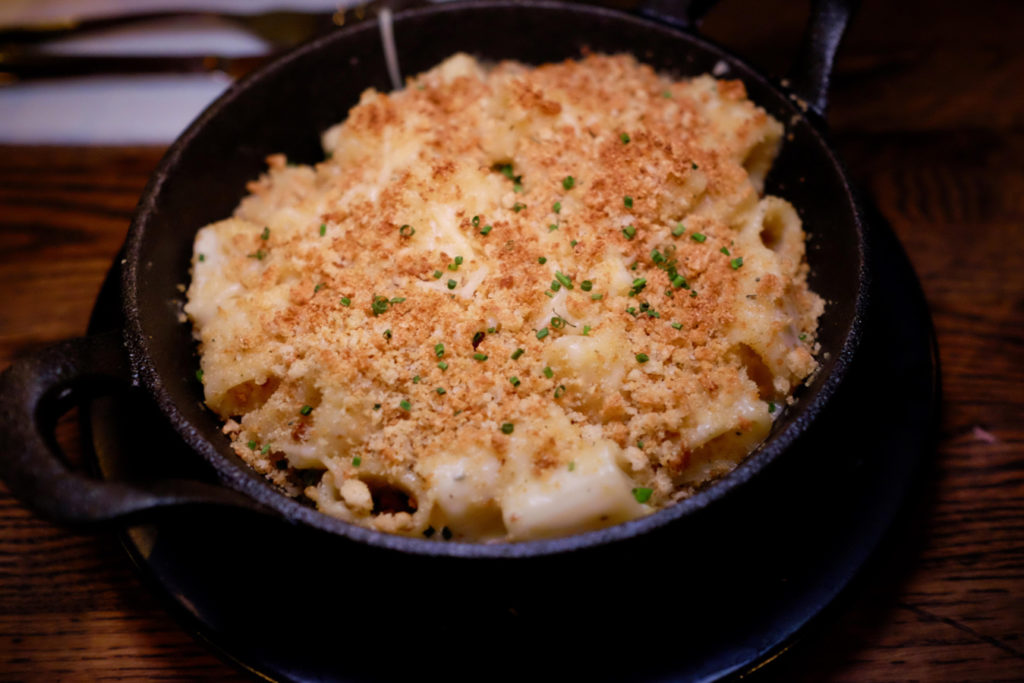 And Cyril tried the house burger, topped with white cheddar cheese, a roasted tomato, and bacon onion jam, served with a pile of fries.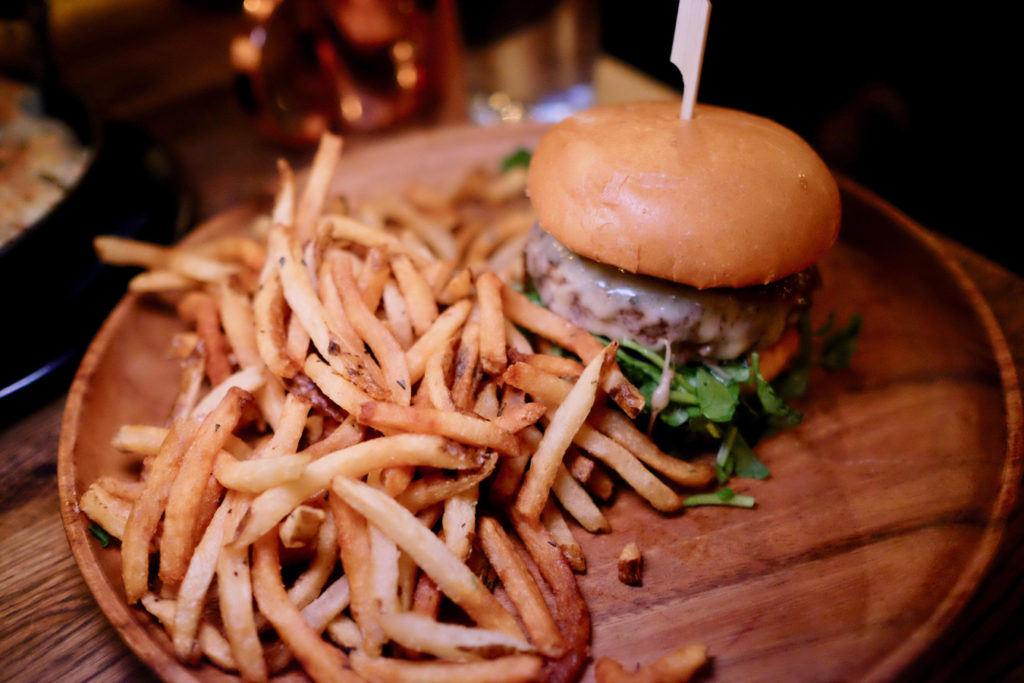 These two places show that there's much more to the Midtown restaurant scene than tourist traps.  You can get some tasty American fare in a nice, cocktail-focused setting, or you can sample some ramen and skewers at a Japanese chain that's touched down in Manhattan.  If you're in the area to see a show or some of the other local attractions, you can skip the places that advertise in the back of all the Playbills  or on signs in the street and instead check out one of these spots – you'll have a much more interesting experience that you would if you just settled for the usual restaurants in Times Square.