If you enjoyed the ricotta and eggplant recipe we posted earlier this week, we think you'll love what we have in store today as well.  Since we had some leftover ricotta cheese we decided to use it to make biscuits, based on this recipe in the New York Times.  Now we know what you're thinking:  ricotta in biscuits??  After all, ricotta is mostly found in Italian food while biscuits are a staple of Southern cooking, and there's really not a lot of overlap between those two cuisines.  But the creaminess of the ricotta helps make these biscuits rich and flaky, and the cheese's sweetness adds in a little something extra.  Trust us, if you can get the technique down for these biscuits they'll be a nice, unique form of bread for you to serve.
To make these, you'll need:
Ricotta cheese
Flour
Sugar
Baking powder
Baking soda
A stick of butter
Buttermilk
You can start by measuring out 3/4 cup of ricotta and placing it in a strainer for at least half an hour, to let it drain out most of its water.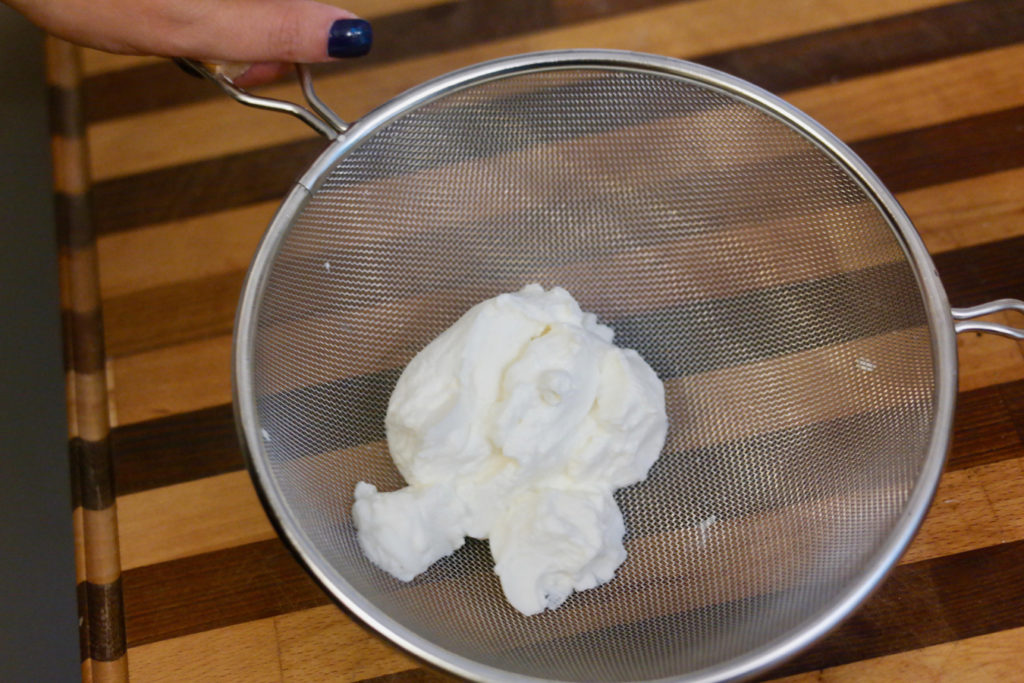 While you're waiting, whisk together 2 1/2 cups of flour, a tablespoon of sugar, a teaspoon of salt, a teaspoon of baking soda, and 1 1/2 teaspoons of baking powder in a large bowl.  Stick this bowl in the freezer for 20 minutes, and as that's chilling cut your stick of butter into pieces and then place it in the fridge.  When your bowl of dry ingredients is ready to come out, dump the butter into the bowl and use your fingers to pinch all the pieces flat and then mix them in by hand until they're mostly broken up and what's in the bowl resembles wet sand.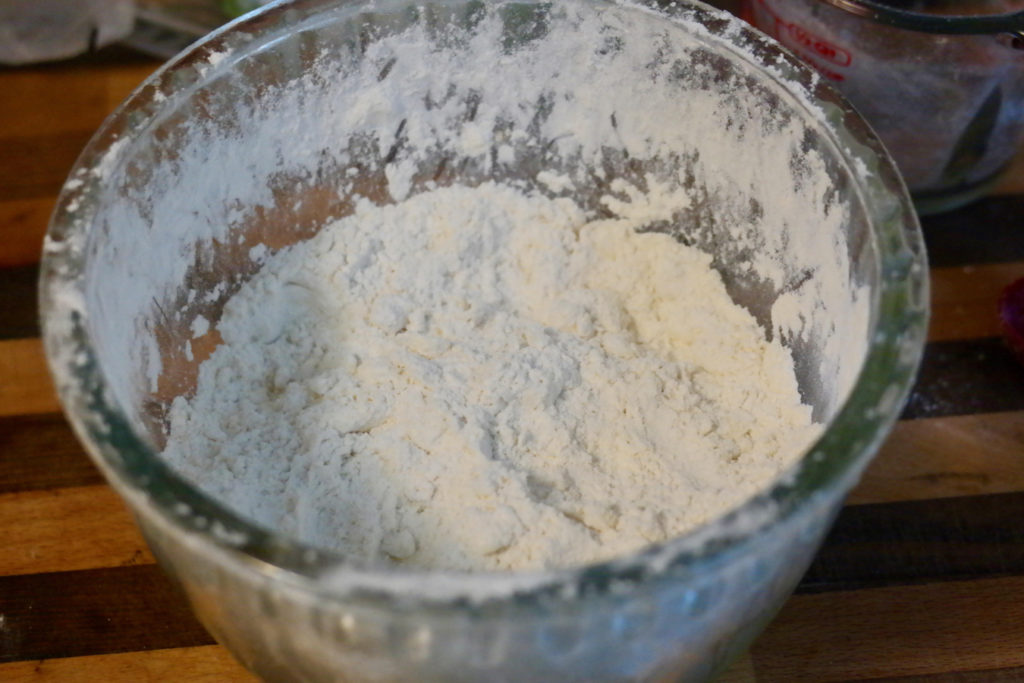 Make a shallow hole in the middle of this mixture and pour in a cup of buttermilk, then use a fork to stir everything together until you have a crumbly, somewhat wet dough.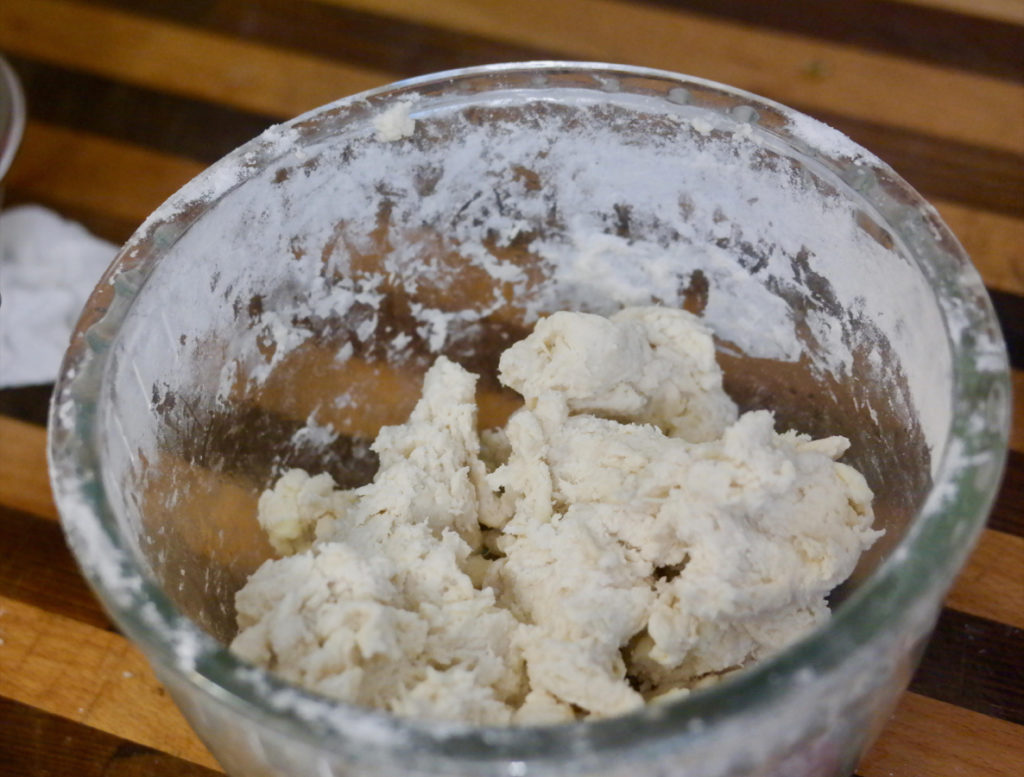 Add in your ricotta and mix this in by hand, then turn out your dough onto a generously floured work surface.  Shape the dough into a rectangle that's about 4 inches by 6 inches, then fold into thirds, flatten out again, and reshape into a similarly sized rectangle.  Fold, flatten, and reshape 2 more times.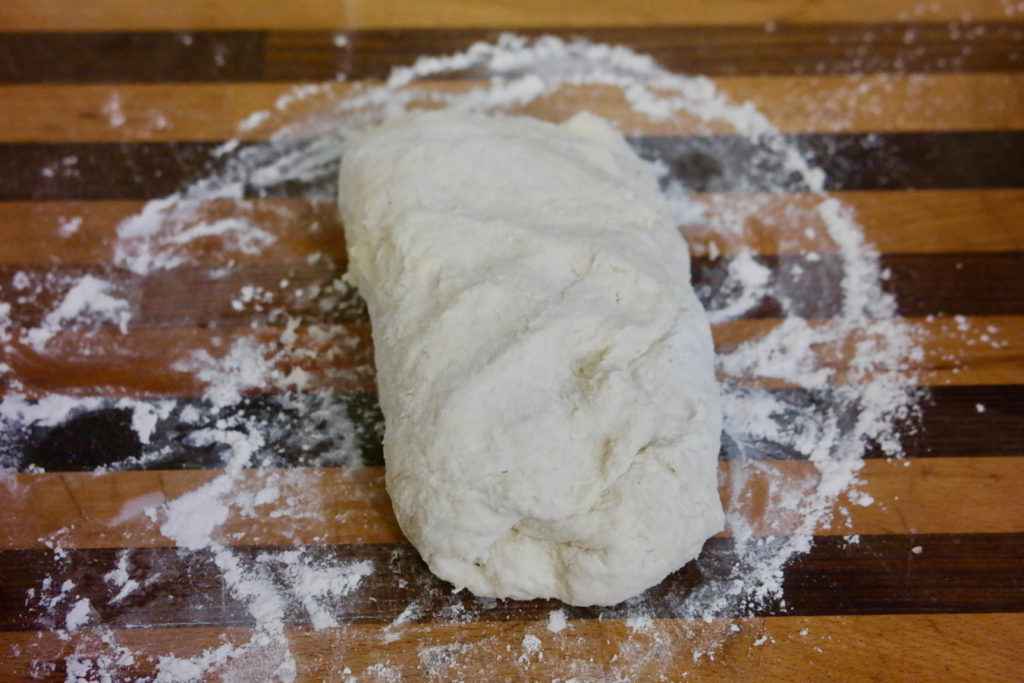 When the dough is in the shape of a rectangle again, cover it in plastic wrap and stick it in the fridge for 20 minutes, then take it out and cut it into 12 square pieces.  Place these on a baking sheet lined with parchment paper.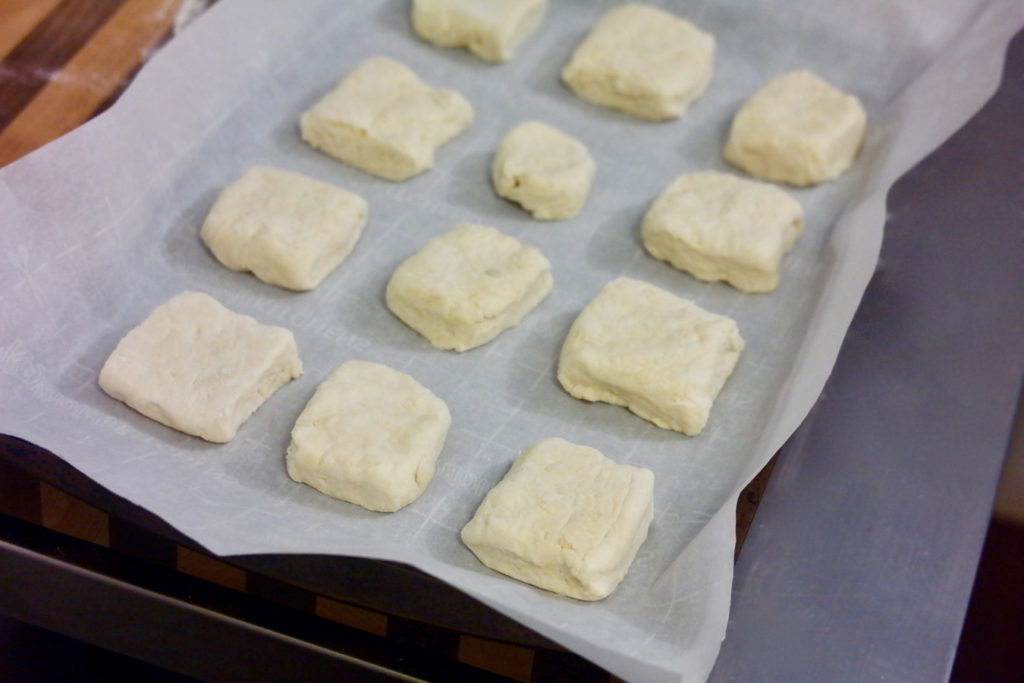 Measure out another 2 tablespoons of buttermilk and brush on top of the biscuits.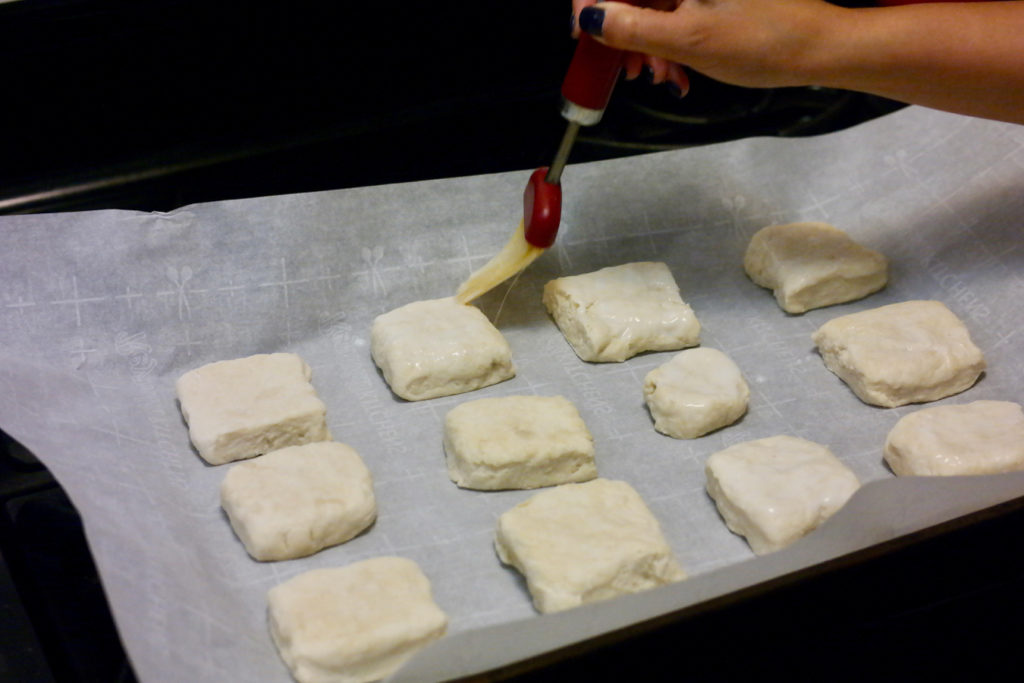 Then bake at 350°F for 40-45 minutes, until the biscuits are golden on top.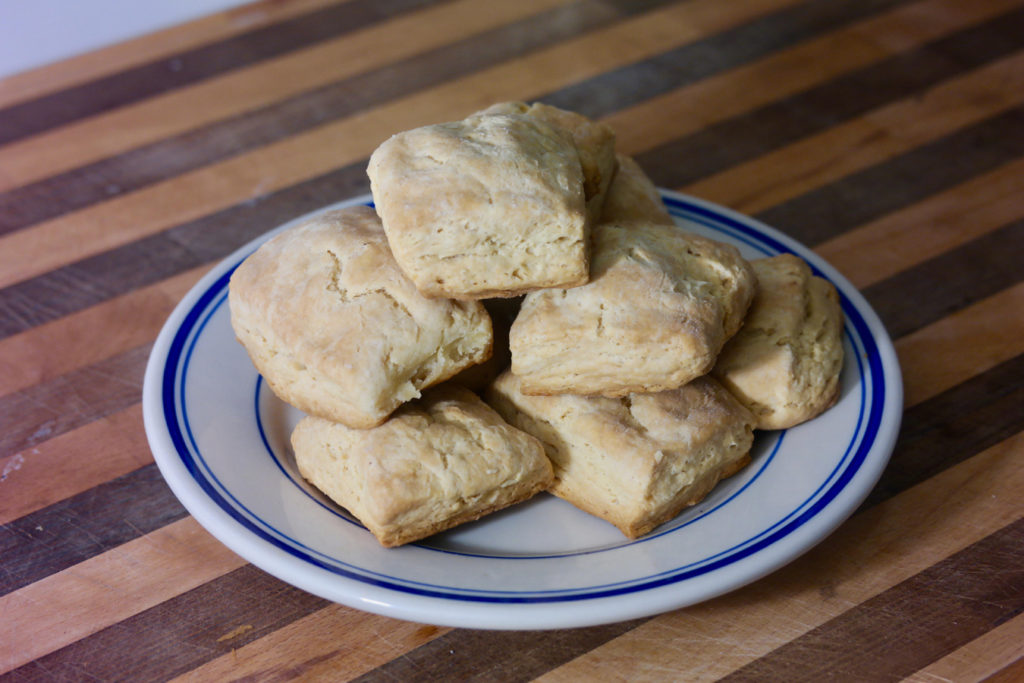 And you can serve them freshly buttered, right out of the oven.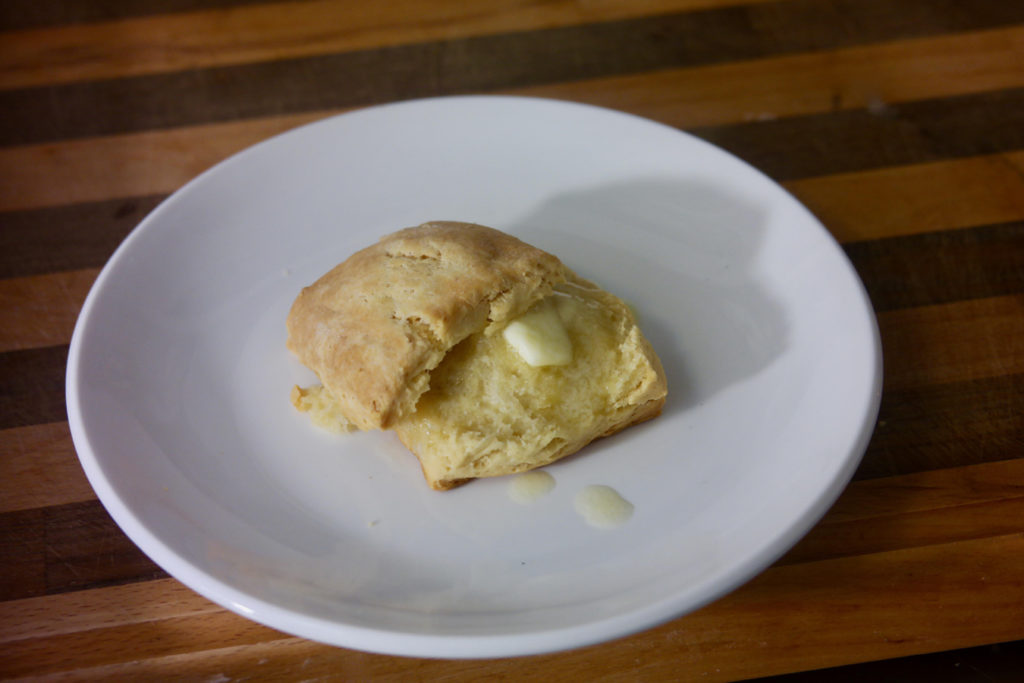 And there's the delicious proof that ricotta can indeed make for some great biscuits!  It can get a little tricky because ricotta is a wet ingredient, so you need to make sure your drain it well and then use plenty of flour as you roll, fold, and shape the dough to prevent it from getting sticky.  If you can do all that, what you get is some really rich, flaky biscuits that have just a little extra bit of sweetness and creaminess from the ricotta.  So while we know that there's tons of information out there about how to make traditional biscuits, this is a pretty cool recipe that lets you take a new approach to this kind of bread and end up with something pretty tasty.