Recently for Cyril's birthday we decided to go visit one of the country's most famous college towns:  Ithaca, New York.  You can hop on a bus from Manhattan and be there in around four or five hours, so it's a pretty convenient weekend trip.  Naturally wanted to check out some of the food there, and we luckily had our own insider information on where to go – because we used to live there.  We had a lot of fun checking out some of our old favorites and seeing how they're holding up, but we also went to some new spots that have opened in the time since we moved away.  Here's our recommendations of good places, if you ever find yourself in this part of the Finger Lakes.
First, if you're wandering about on the Commons – Ithaca's downtown pedestrian plaza – we suggest you check out Waffle Frolic.  As you might be able to guess, their entire menu is waffle-centric, so you can get things like this seasonal pumpkin pie waffle, which is topped with pumpkin pie filling, syrup, cinnamon sugar, and whipped cream.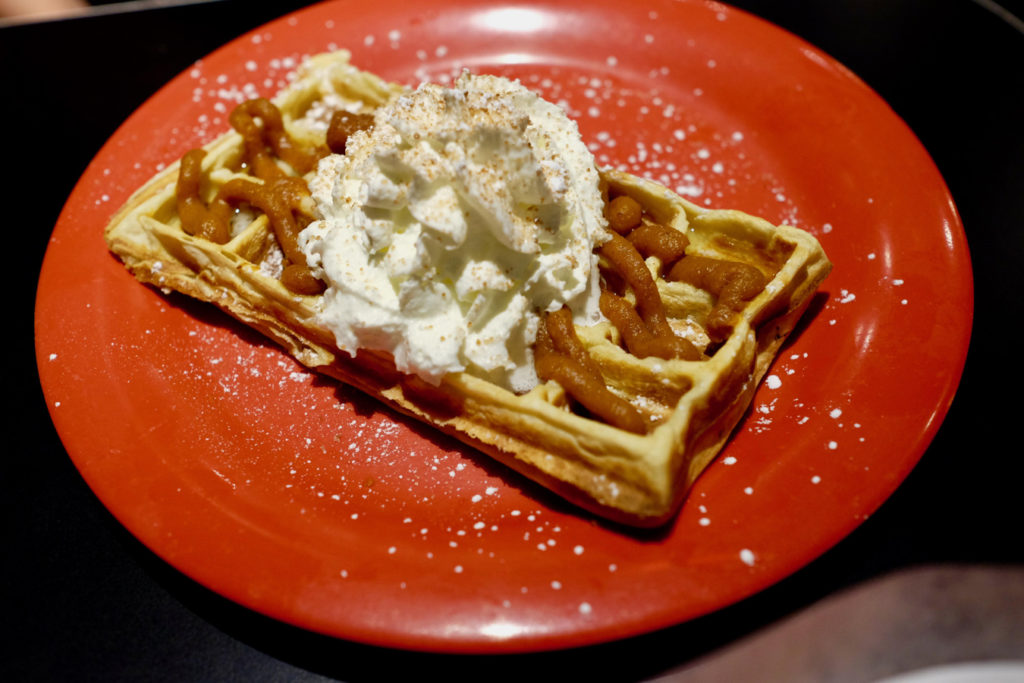 Cyril decided to go all in and got The Hangover, which is fried eggs, bacon, sausage, fried chicken, syrup, and hot sauce all piled on top of a waffle, plus you get a cup of coffee with it all.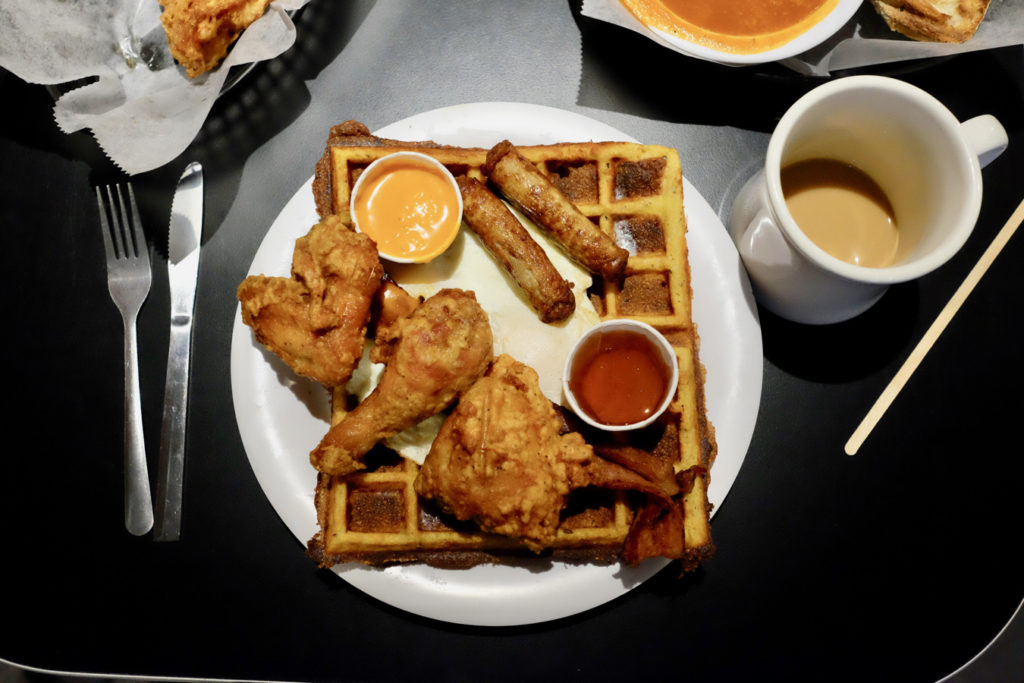 And we also decided to split a side of tomato soup, with a toasted roll on the side.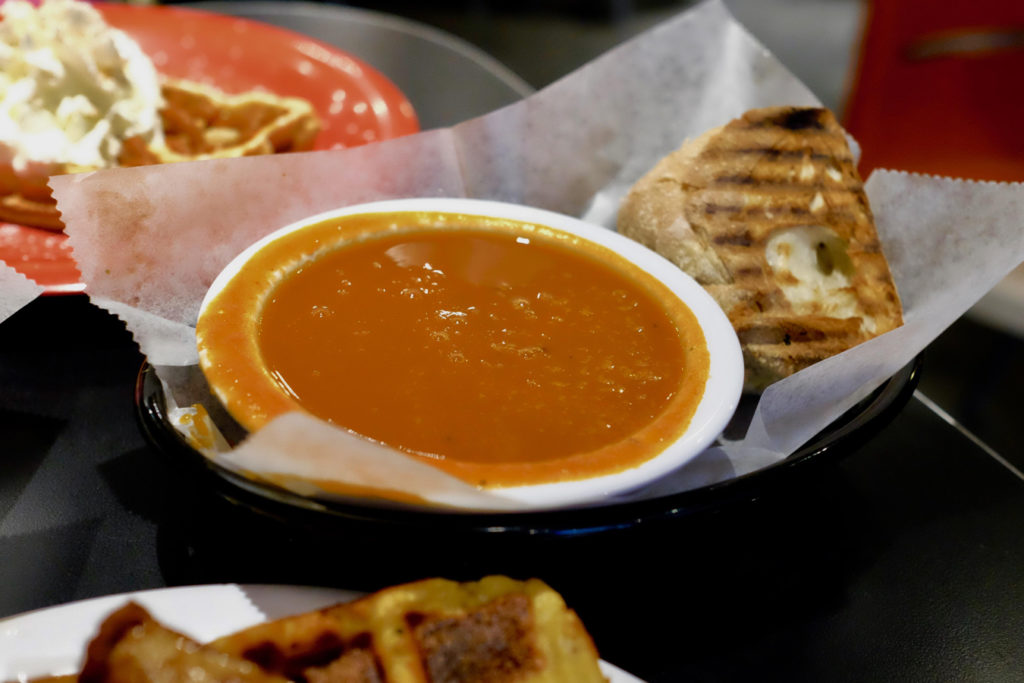 Another great restaurant on the Commons is Taste of Thai.  Ithaca has a bunch a Thai restaurants, including one confusingly named Taste of Thai Express, but this is our favorite out of all of them.  You can get some classic Thai dishes there, like this papaya salad.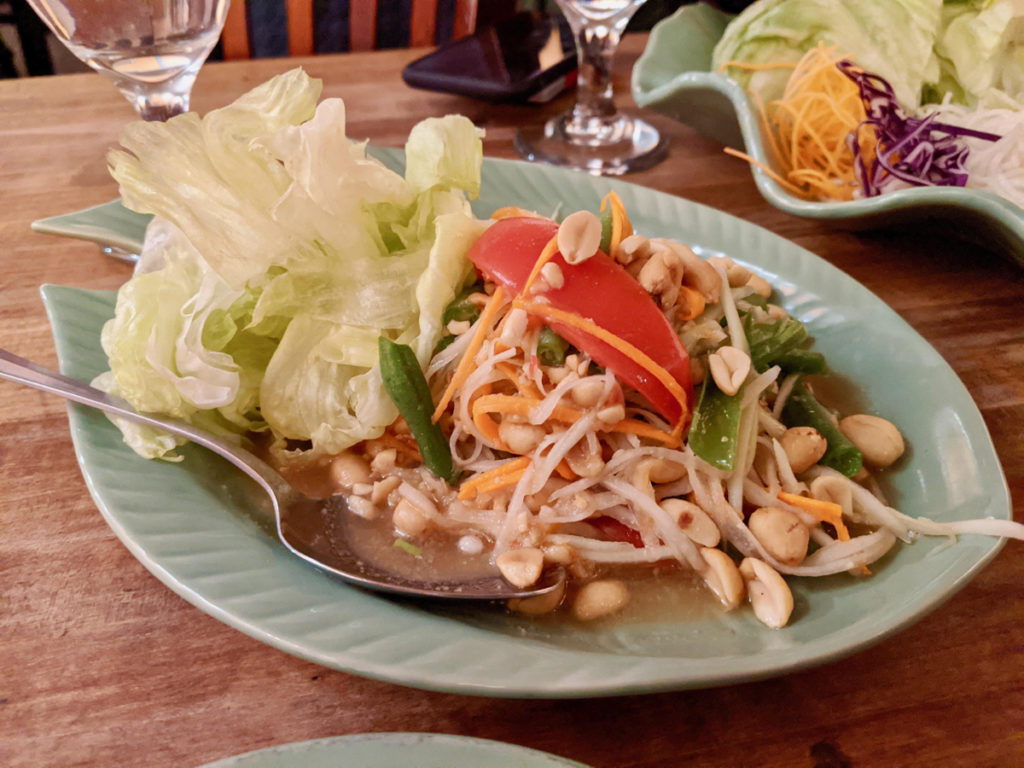 Miriam chowed down on her absolute favorite Thai noodle dish, which she can't find anywhere else: Rama noodles with tofu, carrots, and broccoli, all topped in a peanut sauce.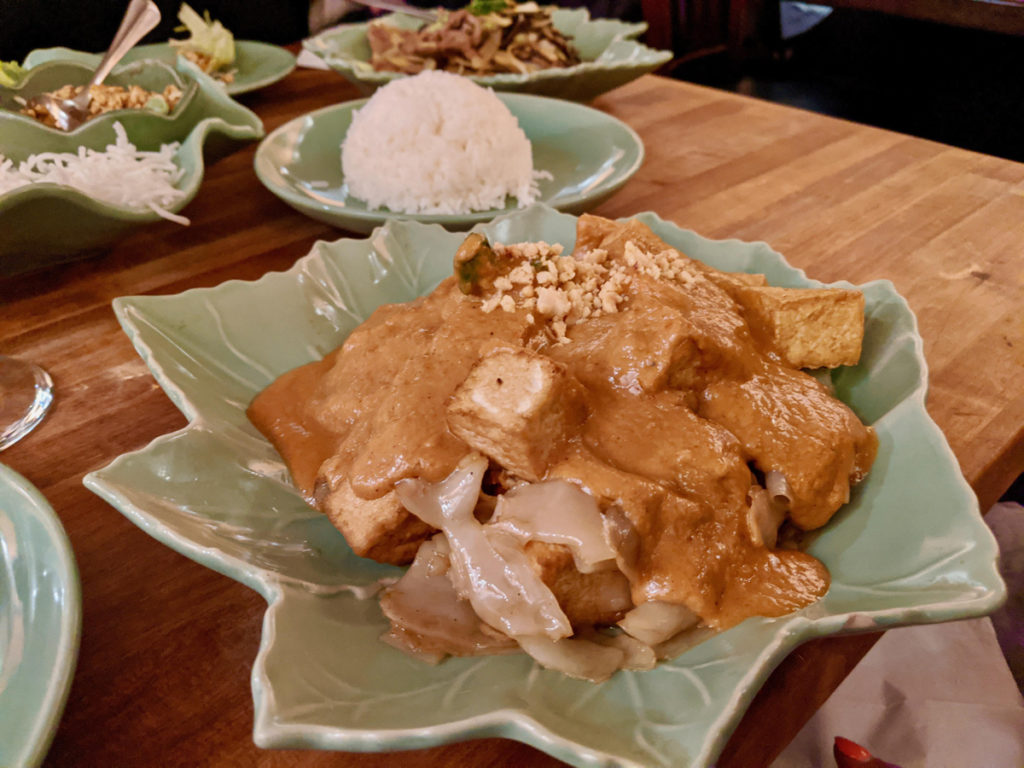 And Cyril had the Taste of Thai green beans, with seafood in a chili paste and pepper sauce.
A few blocks up from the Commons, and inside an apartment building, is Gola Osteria.  This Italian spot opened five years ago, so it was new to us, and it was a little bit of an adventure walking through the halls of what looks like a dorm to find a restaurant waiting for you at the back.  We were told we absolutely had to try the mozzarella fatta giornalmente as an appetizer, so here it is – each order is hand-pulled and served with sundried tomatoes, olive oil, capers, and a sprinkling of black pepper.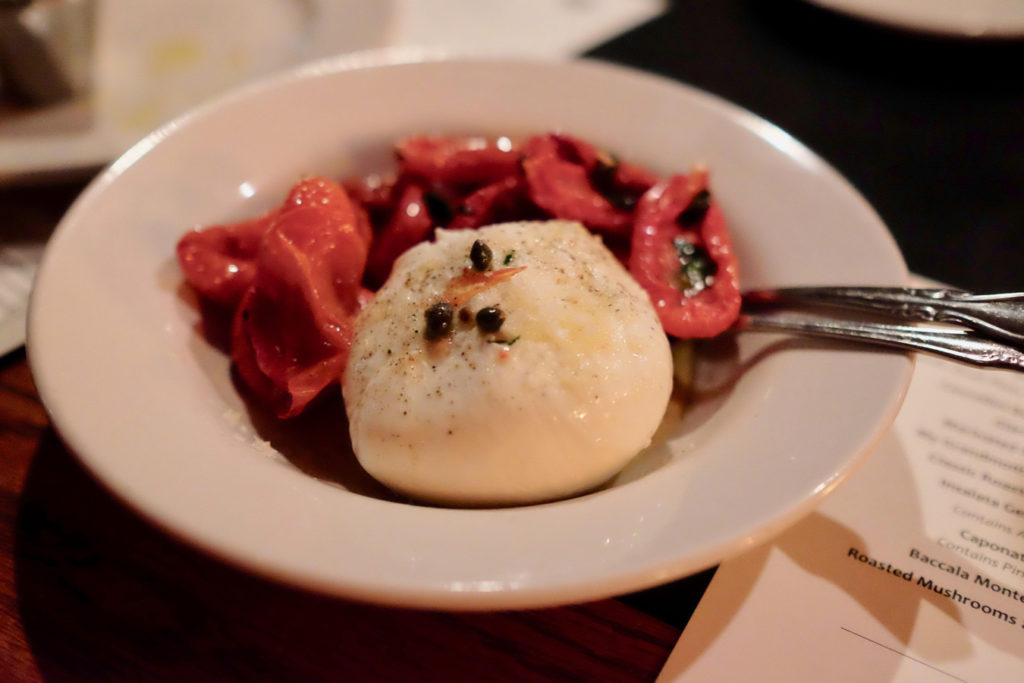 Cyril also ordered himself a side of the polpette alla Giuseppe, which are pork meatballs in a ricotta red sauce.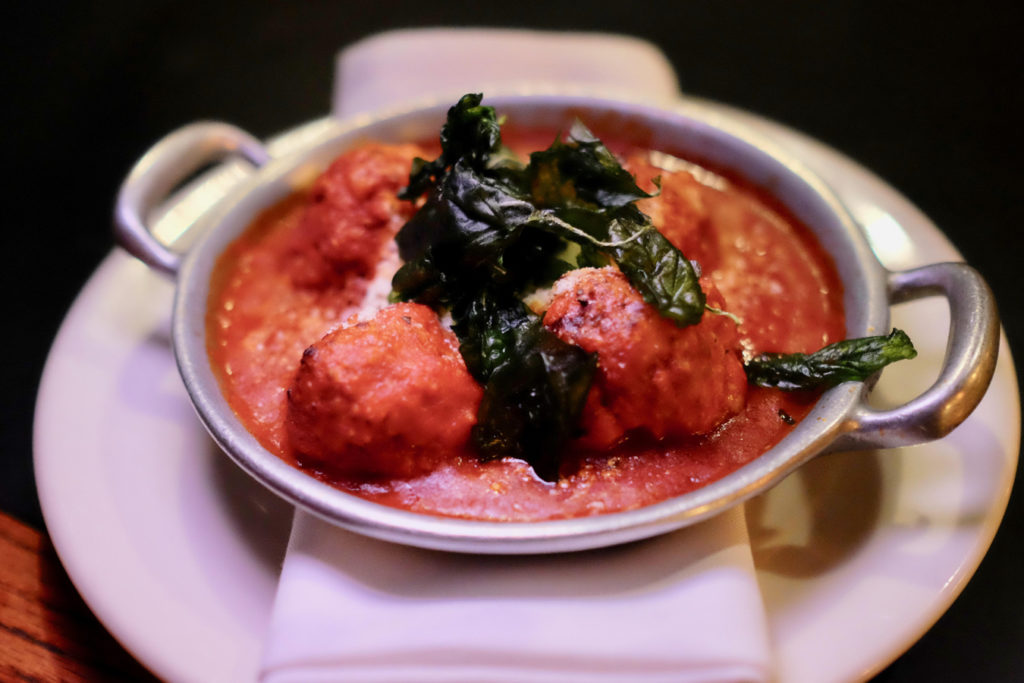 Then Miriam got some ricotta gnocchi in a brown butter and sage sauce …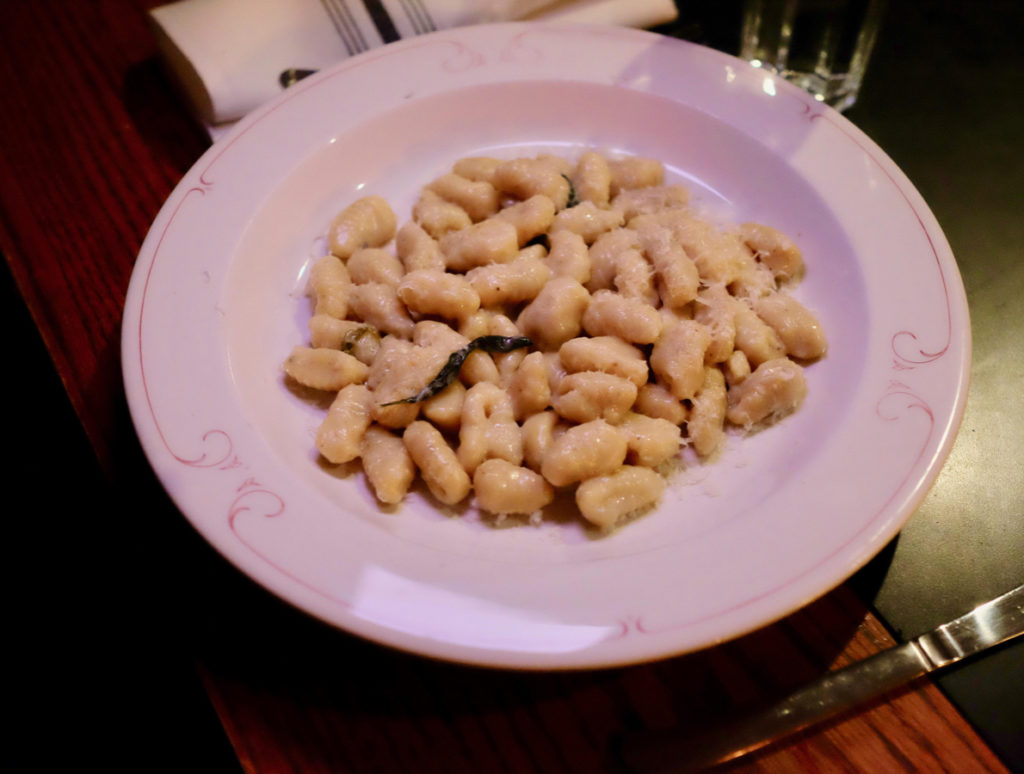 … while Cyril tried the veal cutlet Parmigiana.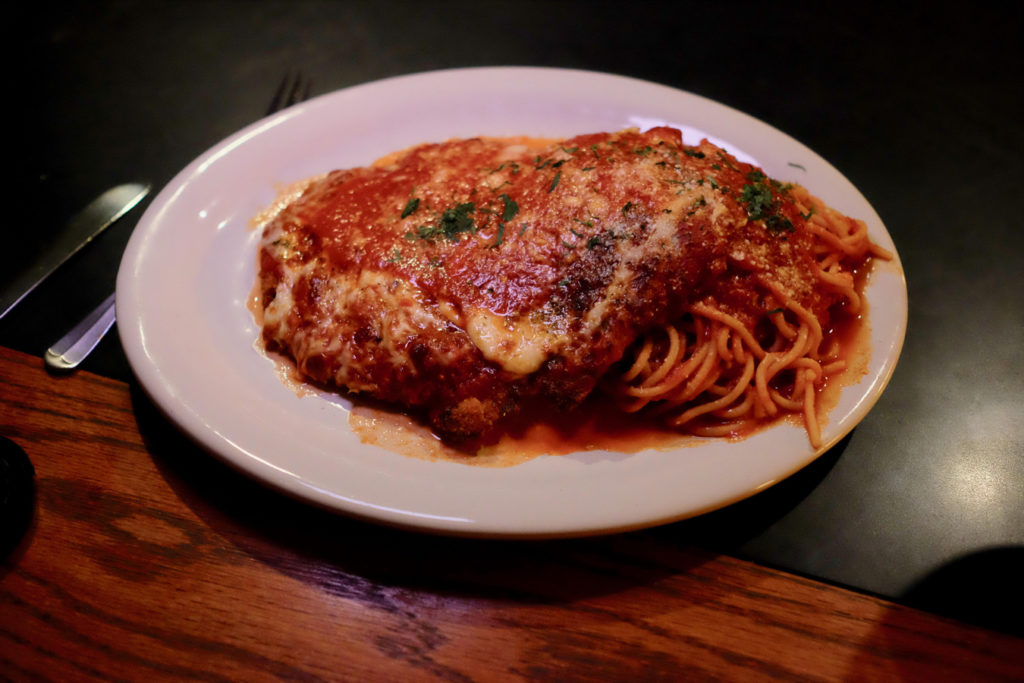 Of course it wouldn't have been a trip to Ithaca if we didn't visit their famous farmer's market.  At this time of year there's not a ton of local produce in season, so many of the vendors (who all come from within 30 miles of town) were selling prepared food.  We samples a lot of different things, starting with these mini pies from Knapp Farm – this is an apple pie …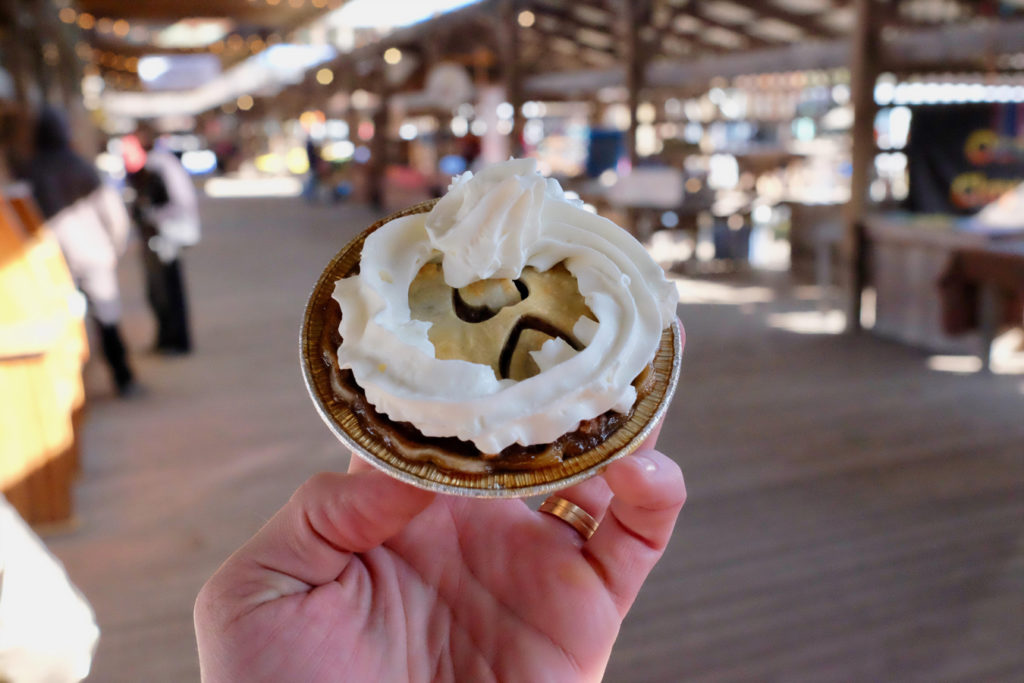 … and here are some pumpkin pies we also tried.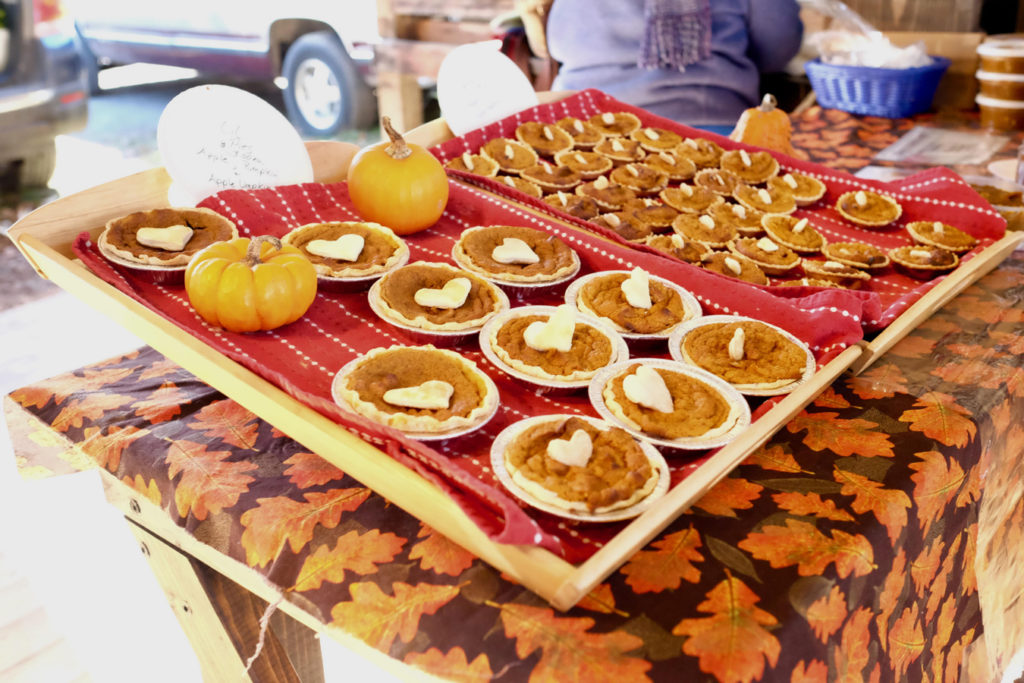 Next we got a different variety of pie:  hand pies from Mama Said Hand Pies.  The two we tried were mutton in Guiness and potato with Welsh cheddar.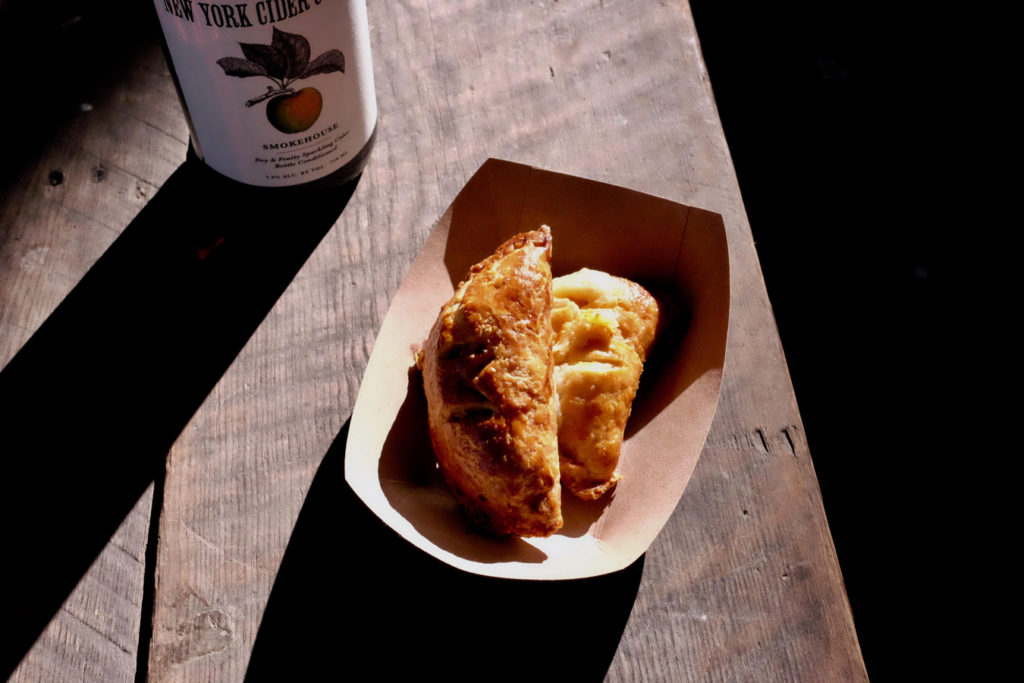 As if that wasn't enough carbs, we also tried a spinach roll from Veronika's Pastries …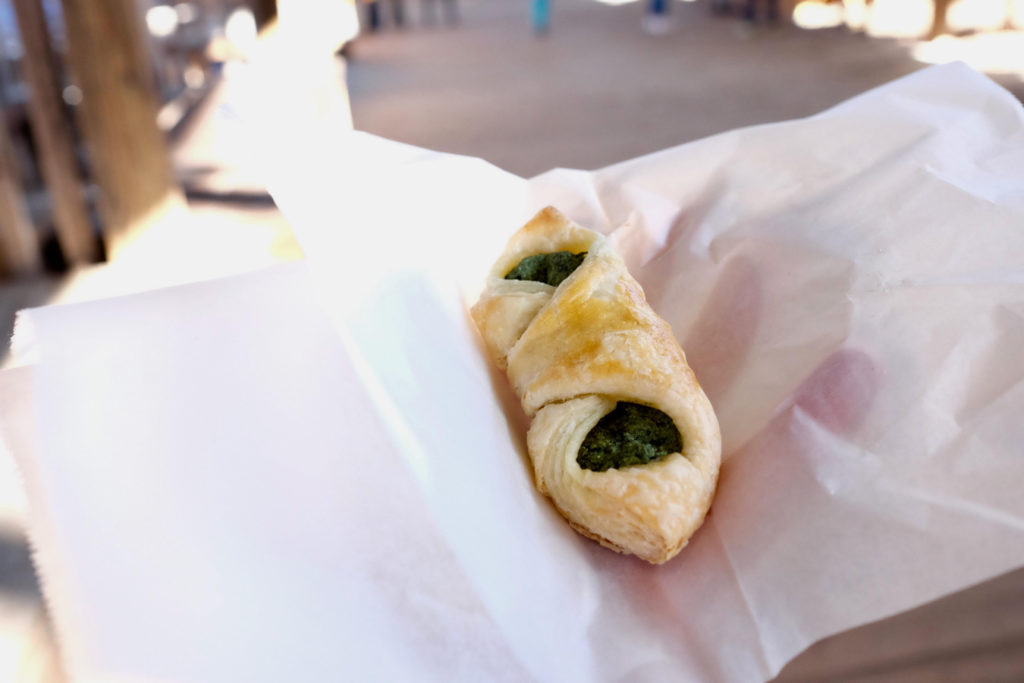 … and a pretzel from Wide Awake Bakery …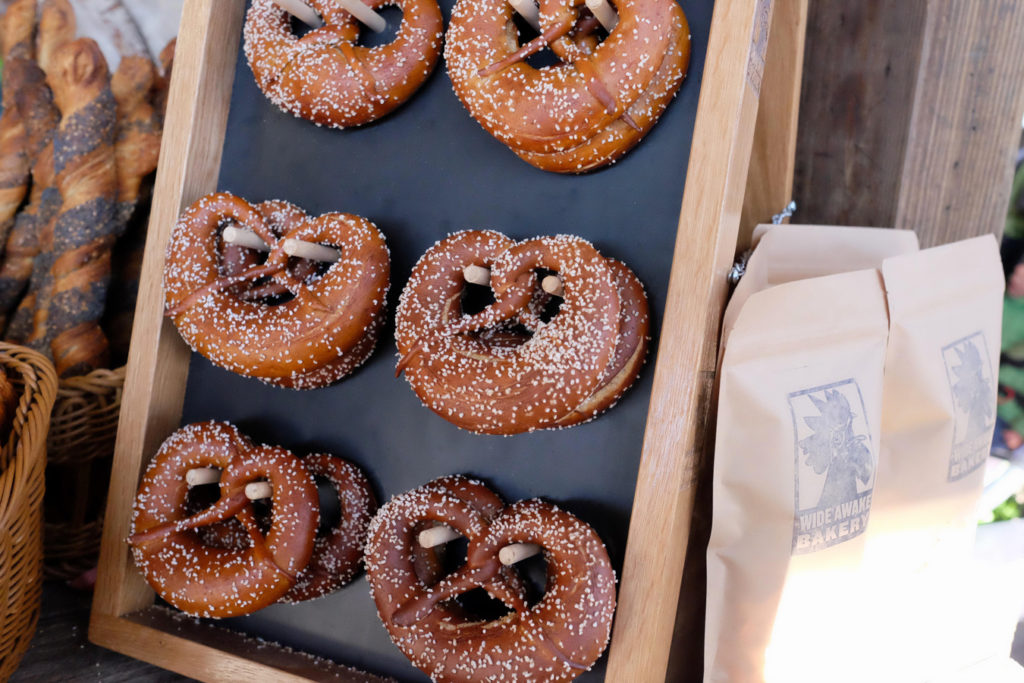 … and a maple cinnamon roll from Backyard Bakeshop.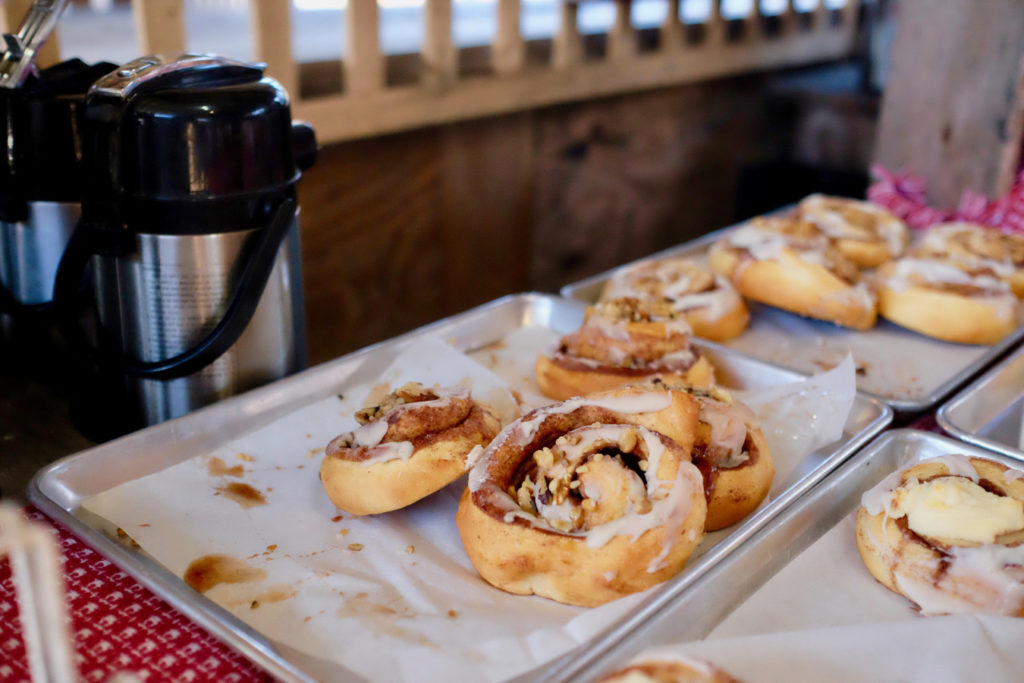 And to round it all out, we tried an order of num bumpong (a veggie cake made from carrots, mung beans, and onions) and some cheak chhean (fried banana with sesame seeds in a sweet chili sauce) from Khmer Angkor Cambodian Foods.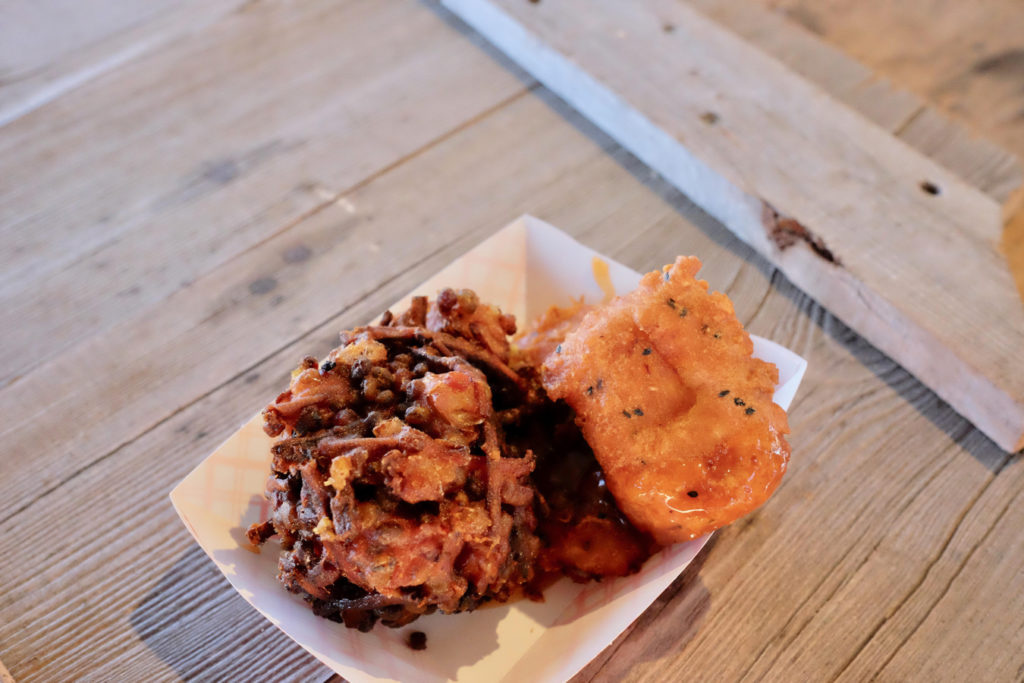 It was a pretty big food weekend, as you can see – we got some waffles and some Italian food in an interesting setting, plus we had excellent Thai food, plus we got to sample all different kinds of things at a great farmers market.  Ithaca is not that large of a town on its own, but it has a pretty high per capita of restaurants, and being home to a prestigious university means it attracts excellent food from all over the world.  Ithaca is usually a draw for people who want to see its gorgeous scenery and maybe sample some of the wines made in the surrounding region, but if you happen to be in the area you should definitely make it a point to try some of the unique food.