For the recent long Thanksgiving weekend, we decided to squeeze in some travel along with celebrating the holiday.  Miriam's family lives in south Florida, so we took that opportunity to visit them and then spend a few days in Miami.  Neither of us had ever really been to the city, so we enjoyed our experience – not just because we got to go to the beach in December, but because we also had the chance to explore some of the amazing and diverse food in the city.  Here we'll show you some of the great things we got to try, in the hopes that if you ever find yourself all the way at the bottom of Florida you'll be inspired to check some of these places out.  Just be warned that we will show some meat here.
One of the things Miami is most known for is its incredible diversity, with many different communities coming from all different parts of the world.  Most famous is the Little Havana neighborhood, which is also called Calle Ocho because it's centered around 8th Street.  We spent one afternoon walking up and down exploring everything on offer, starting with the Cuban restaurant Versailles.  We got a variety of different dishes there, like these mariquitas – plantain chips served with garlic-and-herb mojo sauce.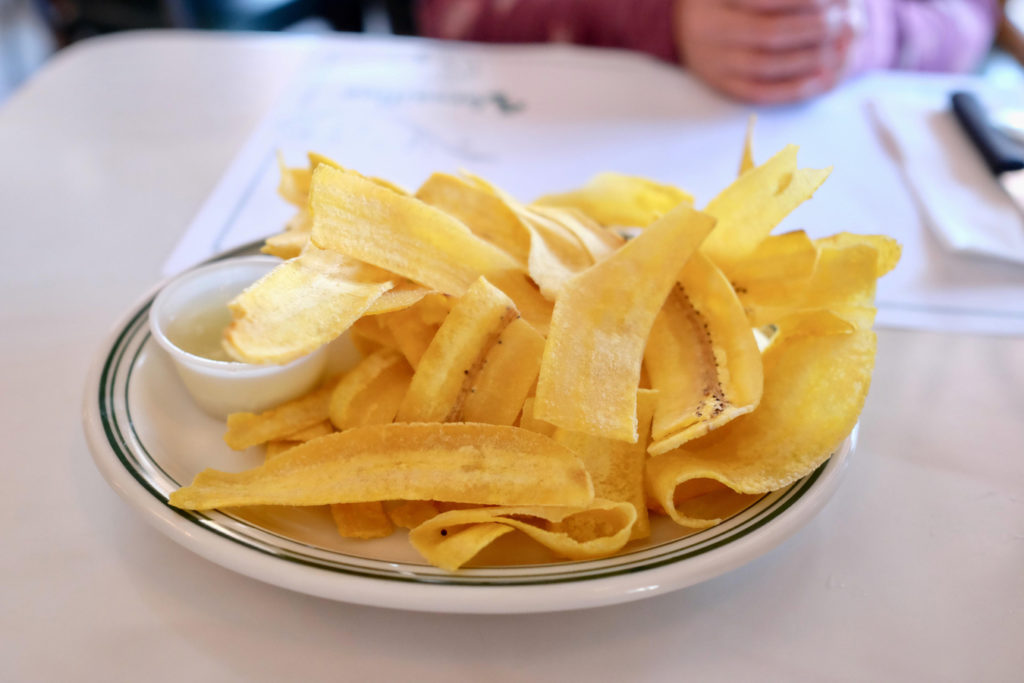 We also shared some spinach empanadas.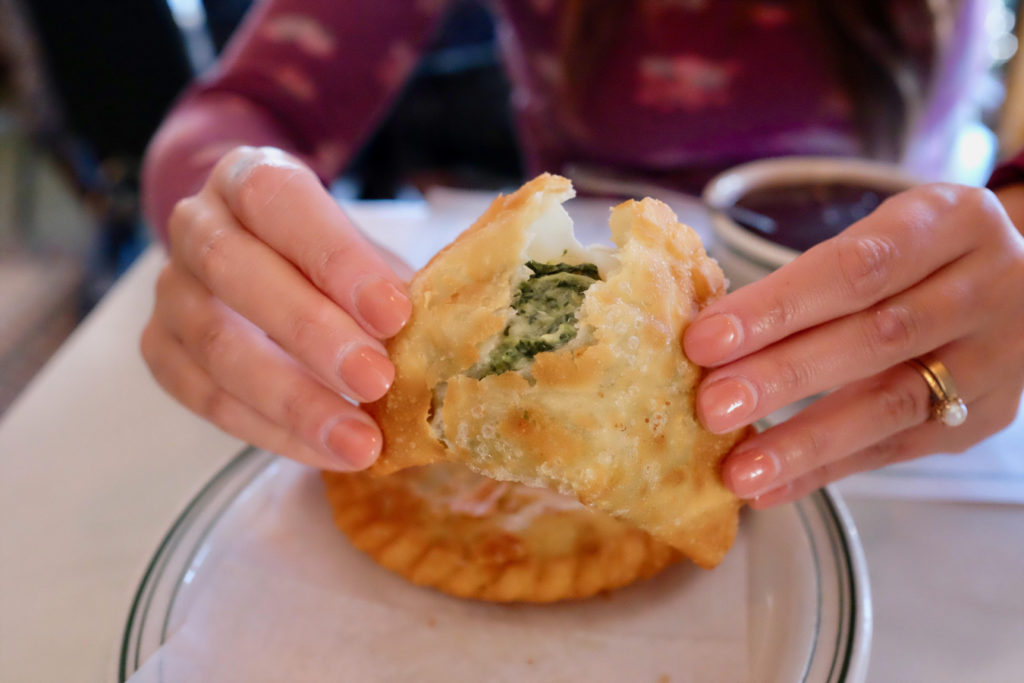 And since Cuban cuisine is not especially vegetarian-friendly, Miriam made a meal of two sides:  some yuca fries served with cilantro sauce …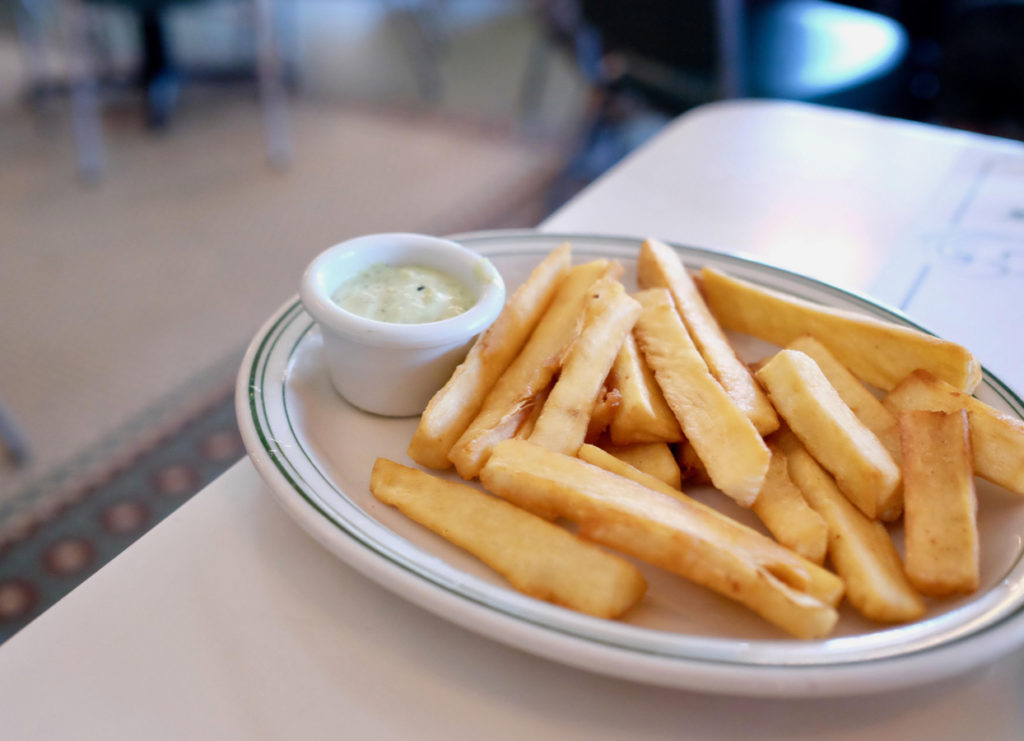 … and an order of black beans.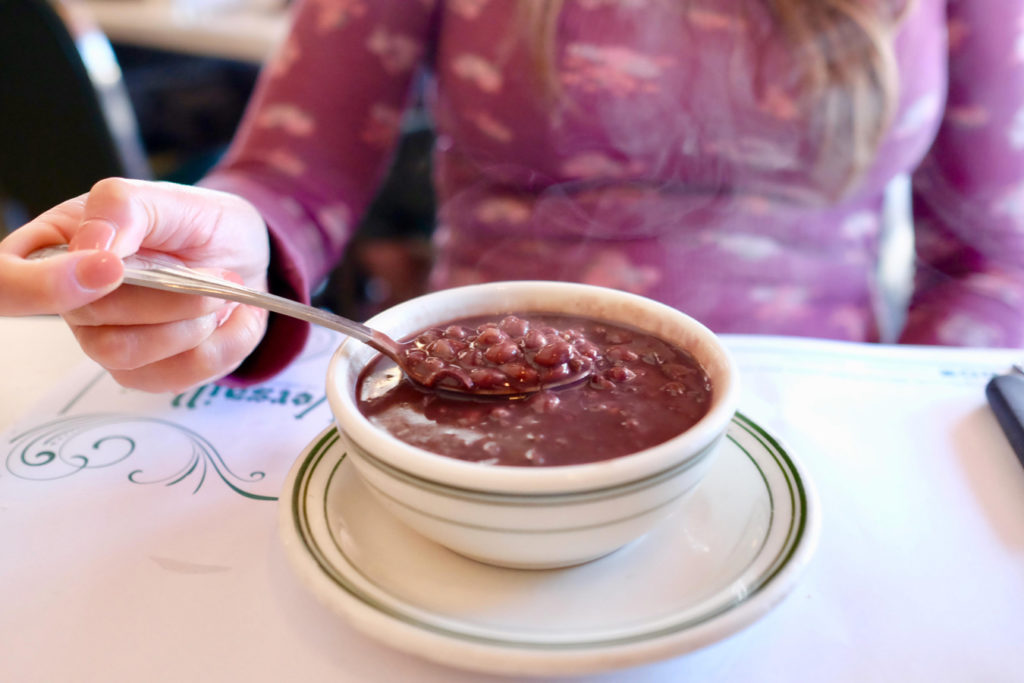 Cyril, meanwhile, had the restaurant's version of a Cuban sandwich, made with ham, roast pork and Swiss cheese on some local bread.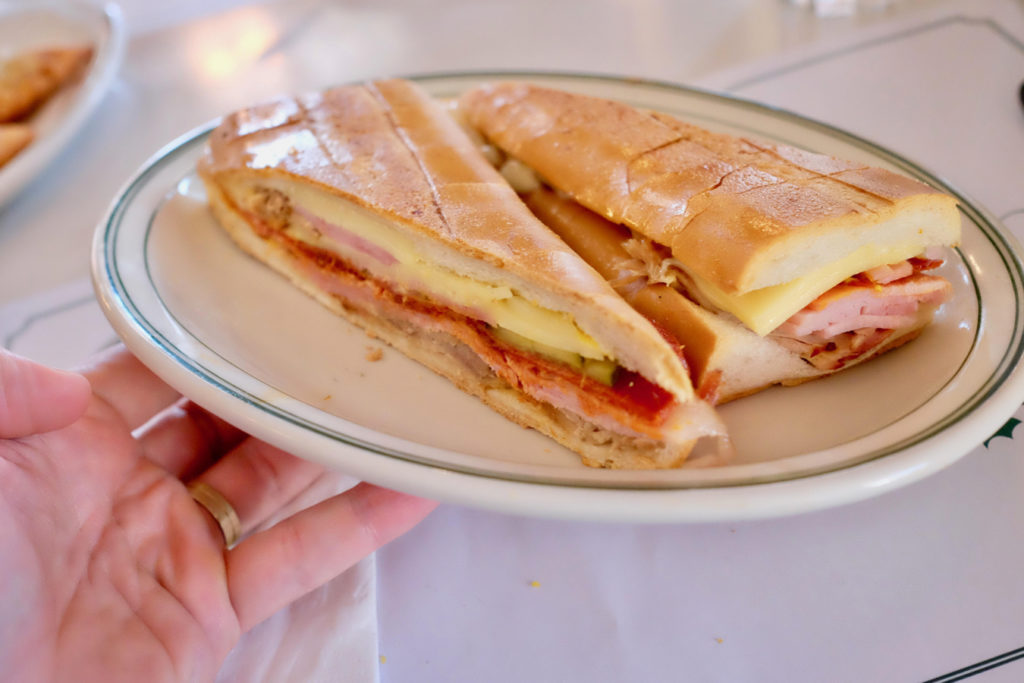 We also tried a few other snacks on Calle Ocho, including this cone from Azucar Ice Cream Company – we got it with one scoop of the caramel flan flavor and one scoop of mulatica (which is a cinnamon ice cream with oatmeal cookie pieces), plus some dulce de leche on top.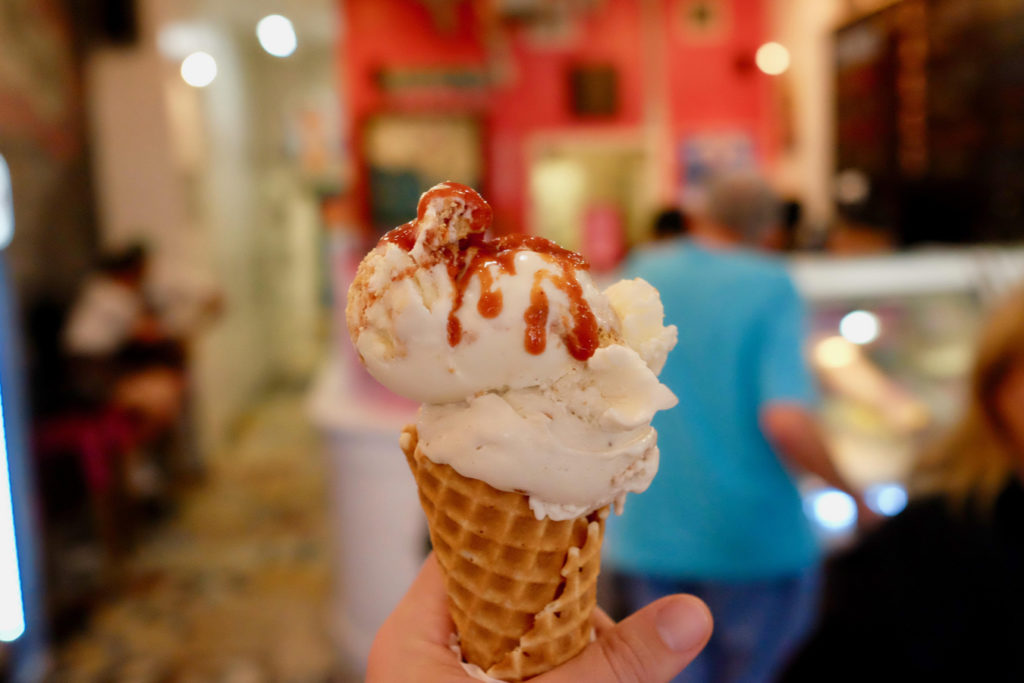 And Cyril also had a frita – a ground beef and pork patty with shoestring fries on Cuban bread – at El Rey de las Fritas.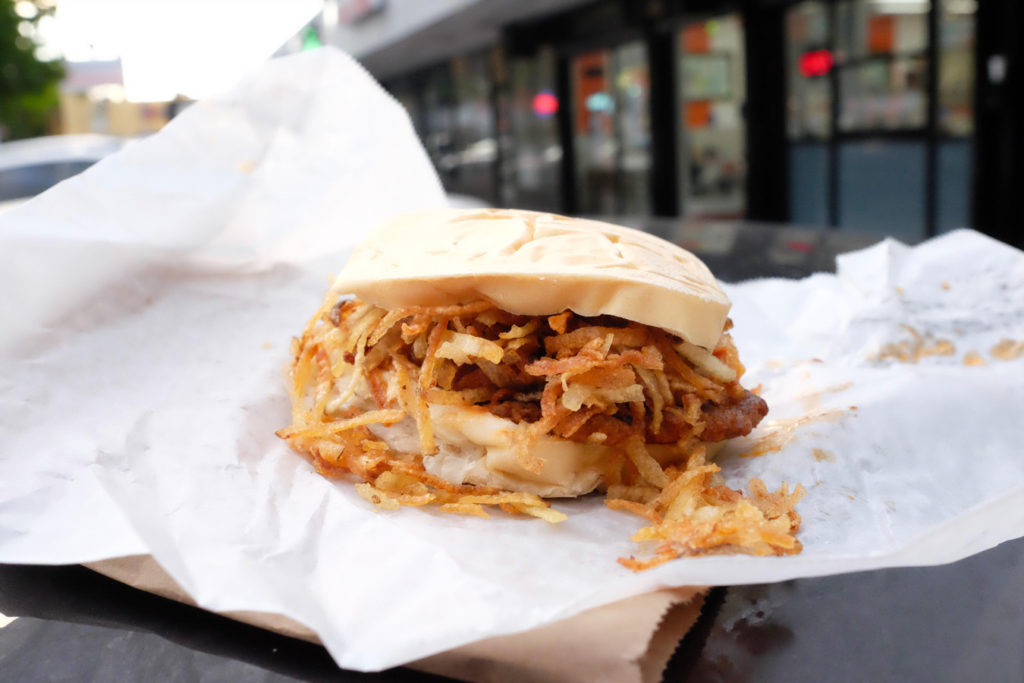 Now while Miami does have a huge Cuban population, there are other immigrant groups in the area as well.  Haitian-Americans also make up a large enough part of the city's residents that they have their own neighborhood, known as Little Haiti, and there we visited a place called Naomi's Garden.  They have a takeout window where you order your food, but as the name suggests there's a garden in the back where you can sit and eat, so that's what we did.  There's a surprising number of vegetarian options on the menu, so Miriam was able to get some vegan chick'n curry, with sides of mac and cheese and rice and peas.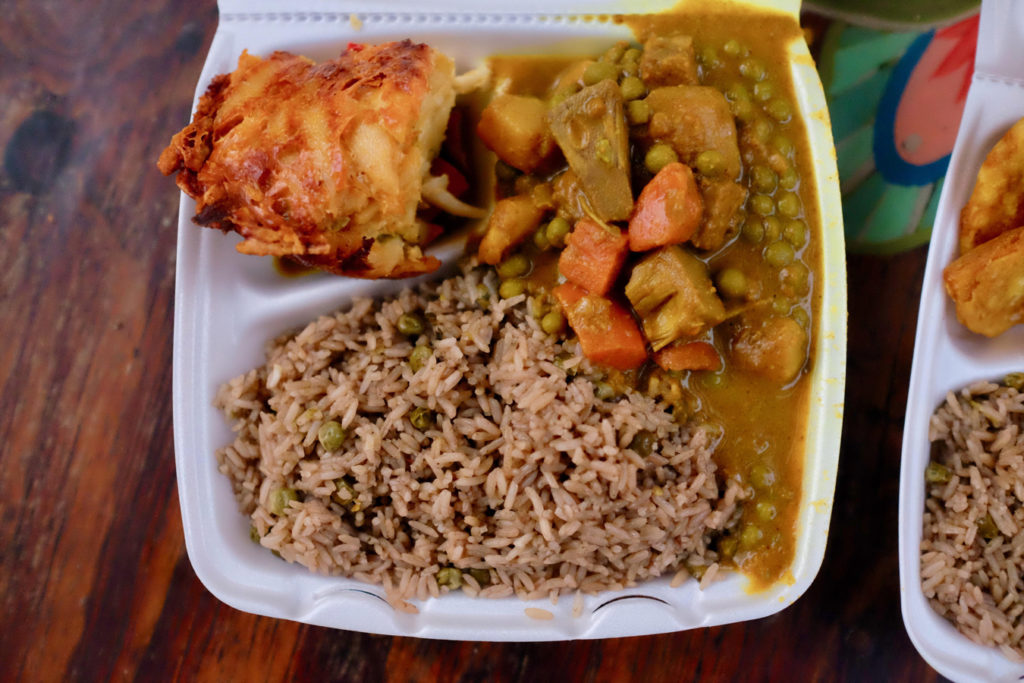 And Cyril got the jerk chicken, with fried plantains and rice and peas on the side.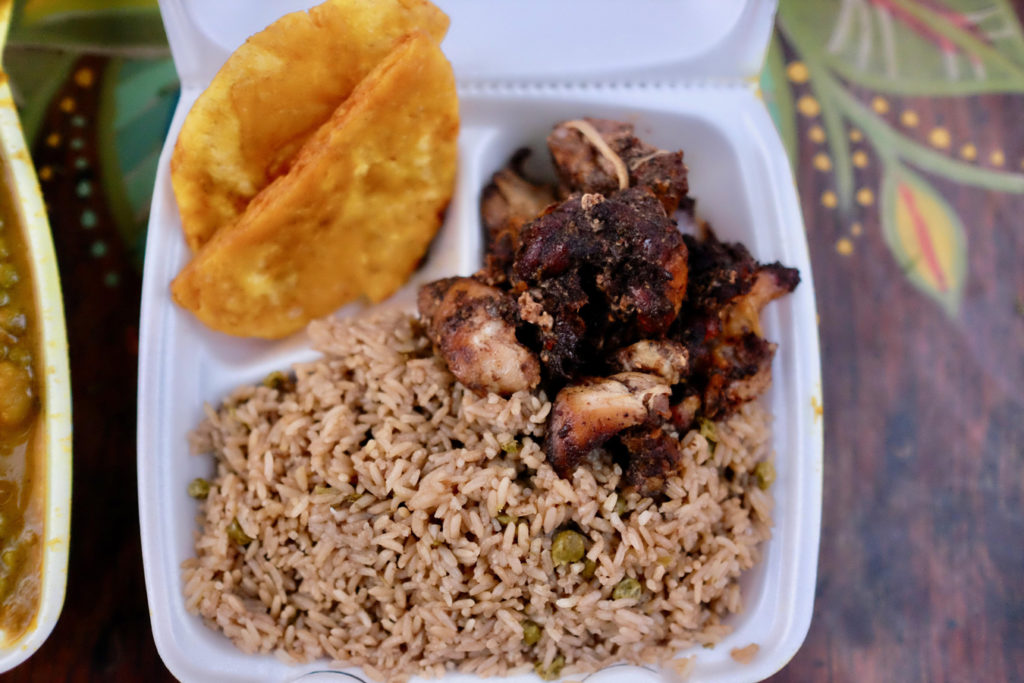 Miami also happens to have one of the largest communities of Peruvian immigrants in the United States, so we figured we had to visit a Peruvian restaurant while we were there.  We decided to go to CVI.CHE 105 in downtown Miami and tried a variety of different things, starting with the papas a la huancaína, which are potatoes topped with a cheese and pepper sauce.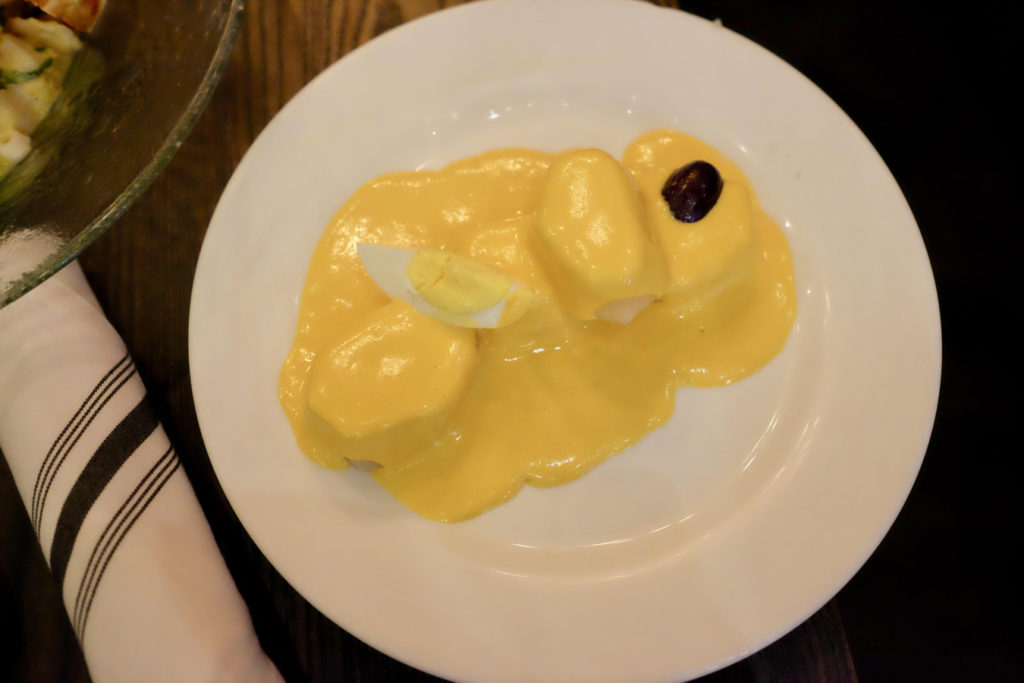 Cyril of course also had to try one of the house ceviches – this one is the mixed ceviche, made with a variety of seafood in a lime and pepper sauce.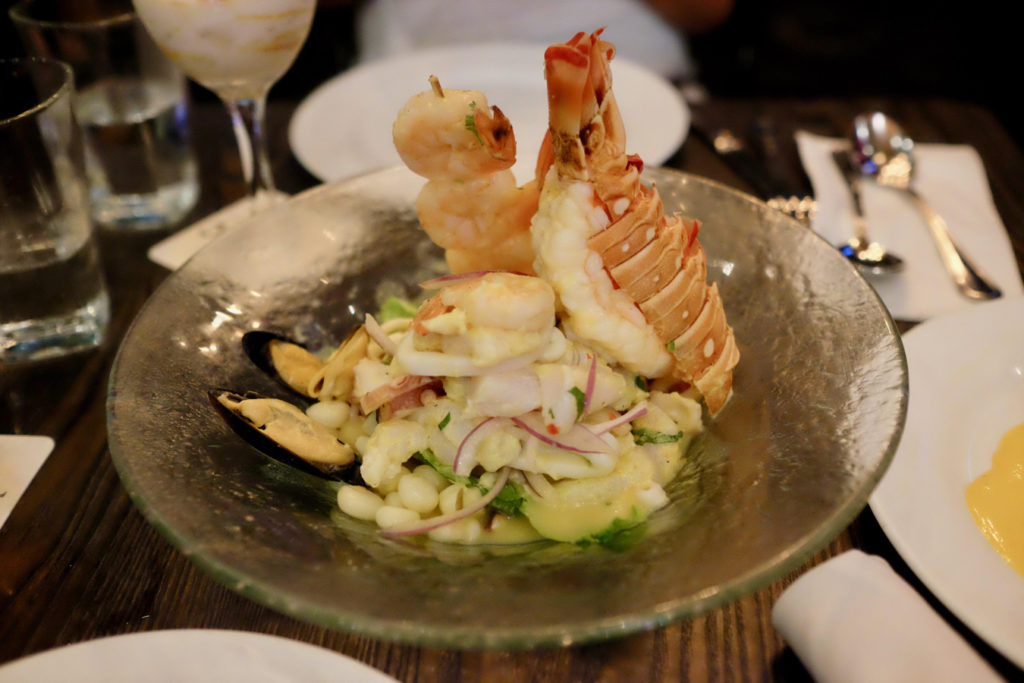 For entrees, Miriam had the veggie saltado, which features vegetables served on top of rice and french fries,instead of the steak in a traditional lomo saltado.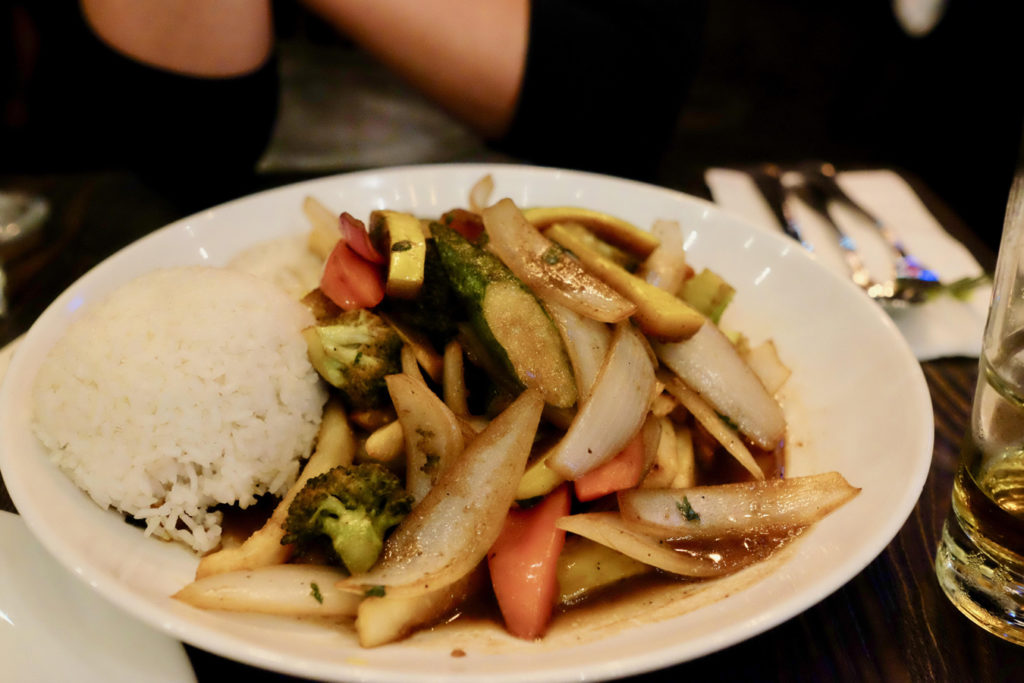 And Cyril had the sopa parihuela:  a soup made with seafood and crabs.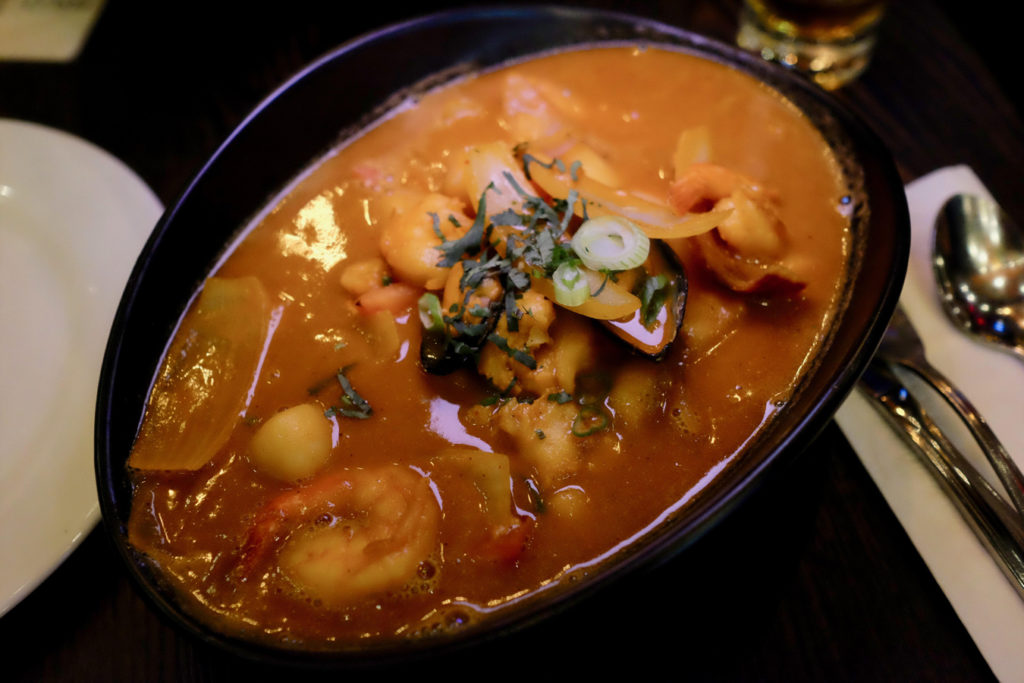 We also split a side of tallarines verdes, which is Peru's version of pasta with pesto sauce, topped with queso fresco.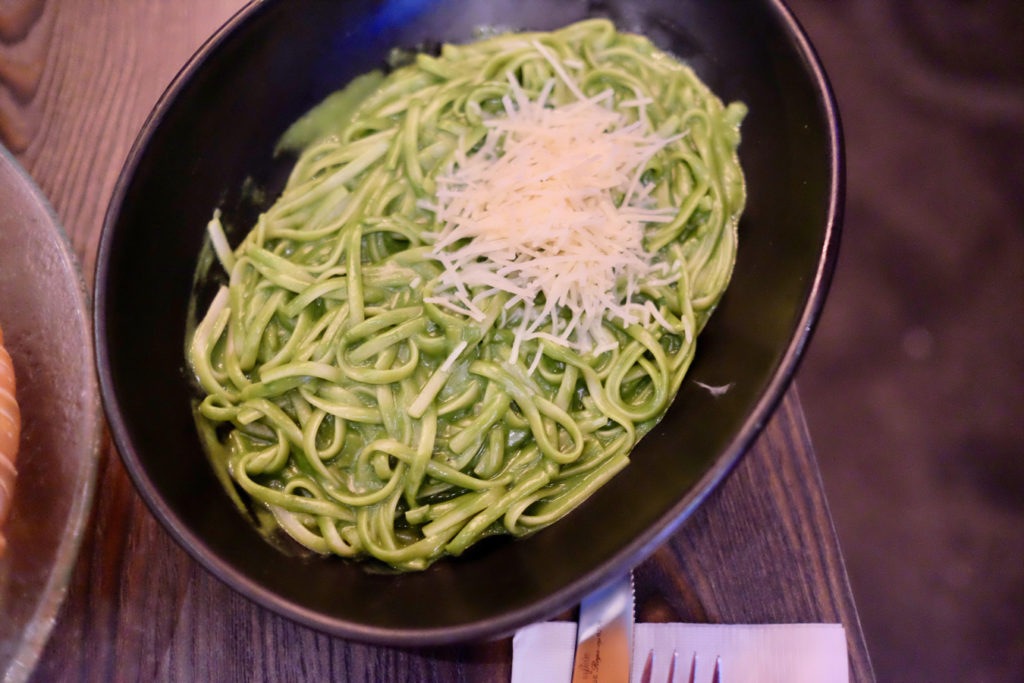 All of these places can be found in Miami proper, but a trip to south Florida isn't complete without a visit to Miami Beach, which is an amazing spot to swim at the beach or gawk at Versace's mansion or just do some people watching with all the crowds who stroll up and down Ocean Drive.  Since this area is super popular, there are a bunch of great restaurants there as well.  One of the specialties you can get is stone crabs, which are a unique species in Florida that are harvested only for their claws and then thrown back into the ocean to regrow their appendages (which sparked a debate between the two of us about whether these could be considered vegetarian-friendly).  Here's a plate that Cyril got from Joe's Stone Crab.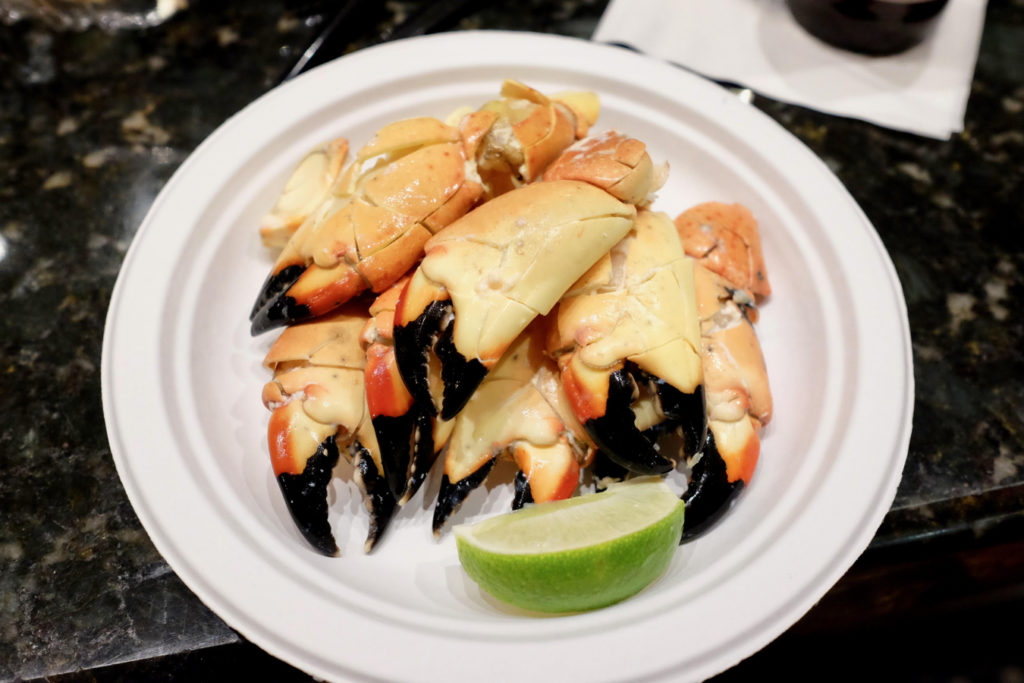 In Miami Beach we also discovered the amazing Pane & Vino, which has it's own pasta-making operation set up in its front window so you can watch different shapes being made while you walk by.  Their Italian food leans towards nontraditional offerings like this foglie di zucchine, which we got as an appetizer – it's pieces of fried zucchini set in a spicy arrabbiata sauce.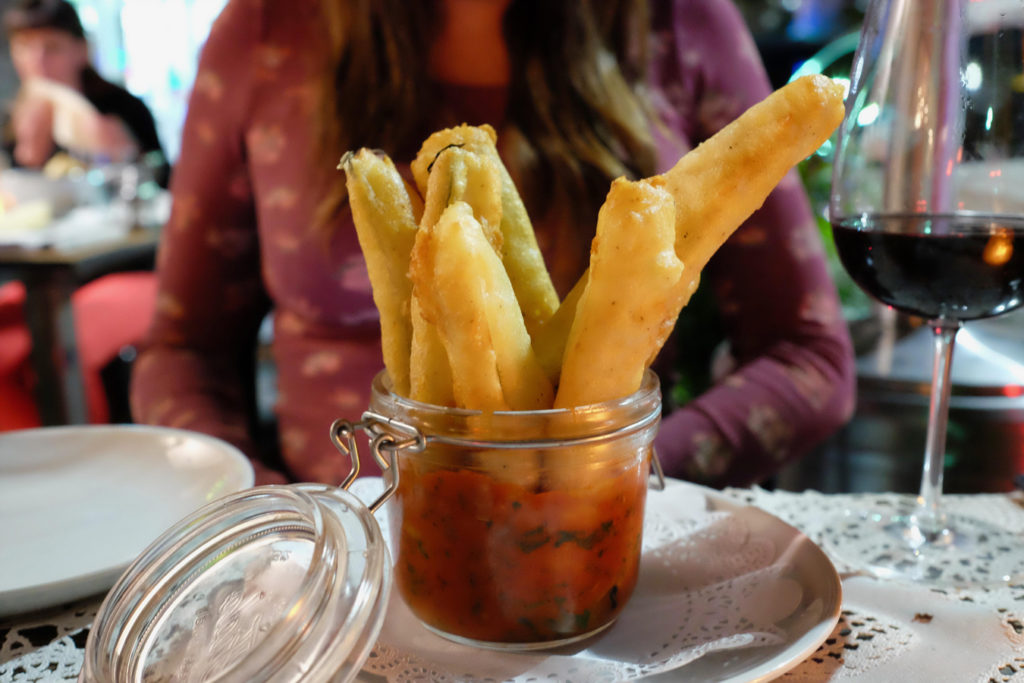 For entrees, Miriam had the cappelletti verdi tartufati, made with unique hat-shaped pasta stuffed with ricotta and mascarpone cheese and topped with a black truffle sauce.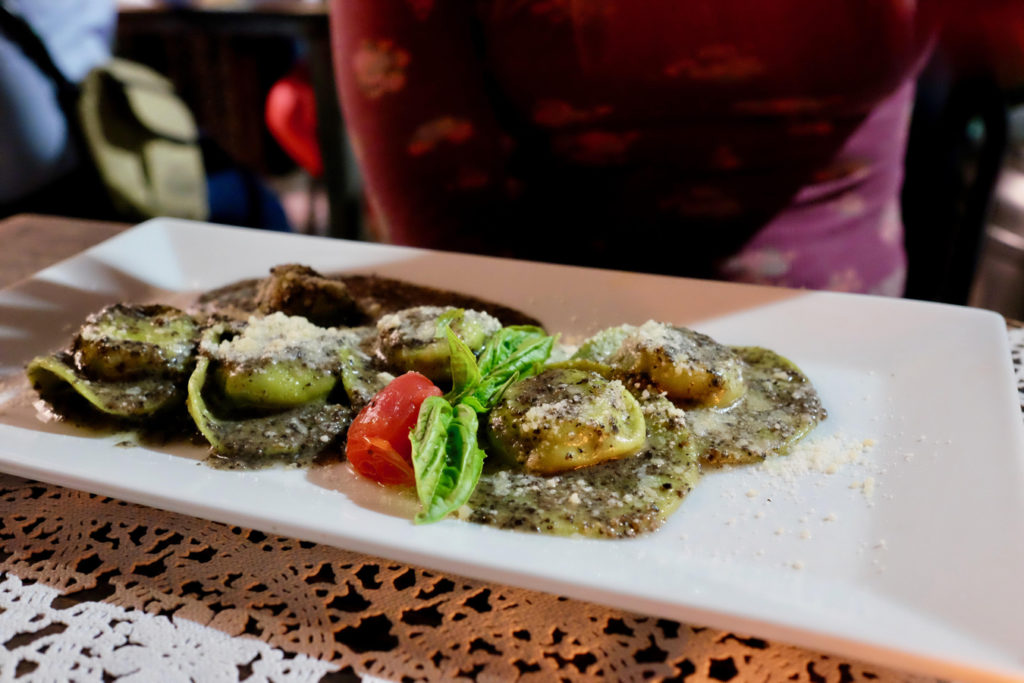 And Cyril got the pappardelle al ragú di agnello, which is served topped with a lamb sauce.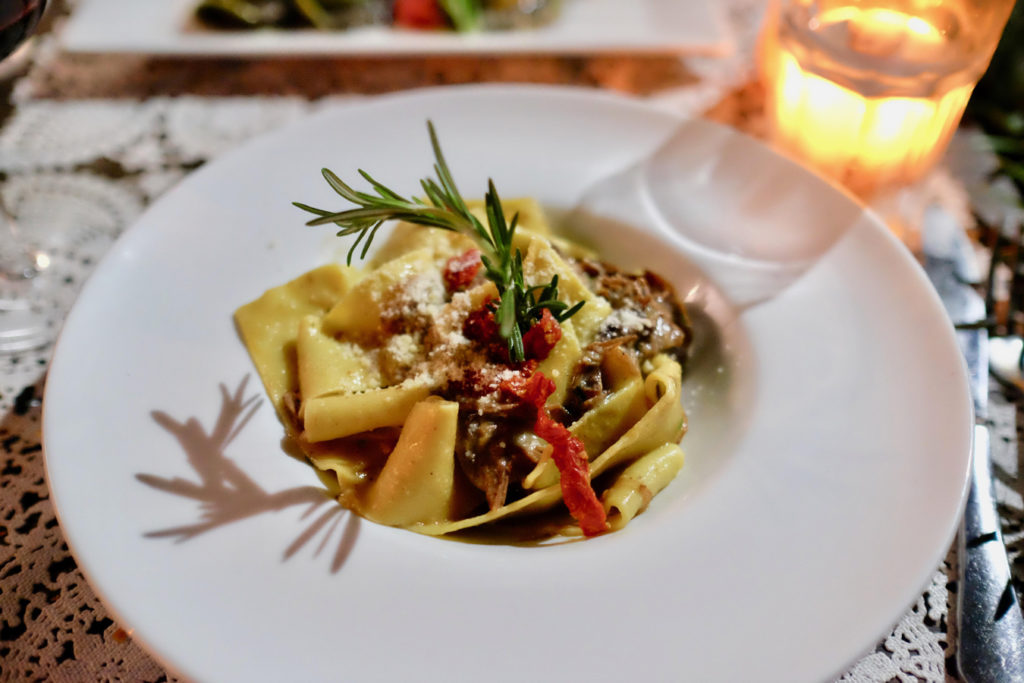 Also in Miami Beach is Yardbird Southern Table & Bar, which is considered one of the best restaurants in not just in the city, or even in Florida, but in the entire country.  We went there for brunch and started out with their giant cinnamon roll, smothered in a vanilla bean icing.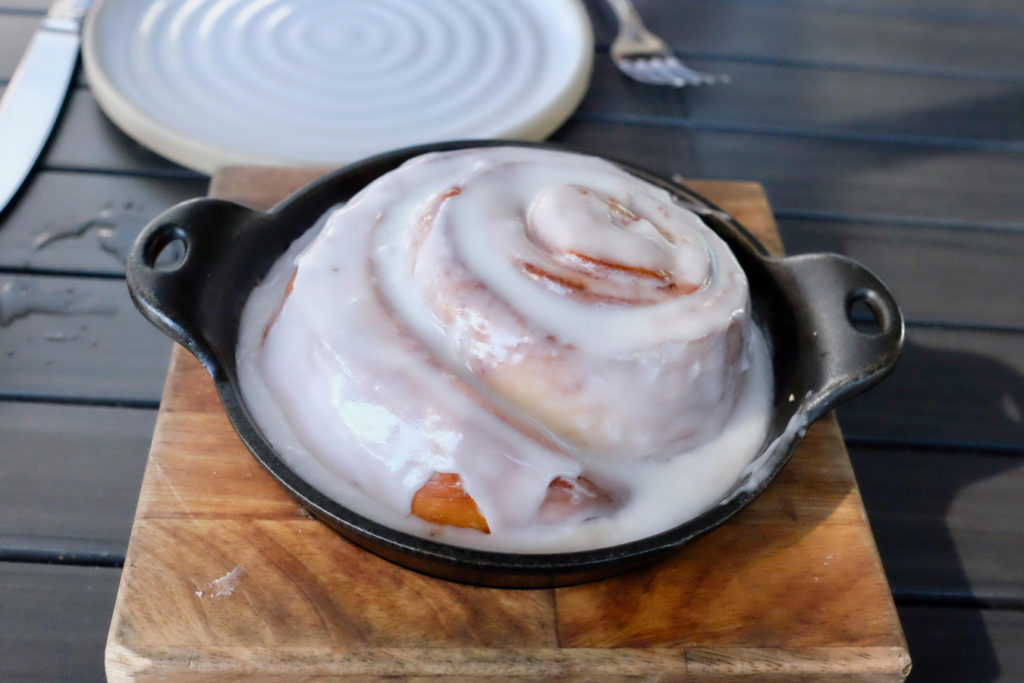 Miriam made a meal of two sides:  an order of buttermilk biscuits …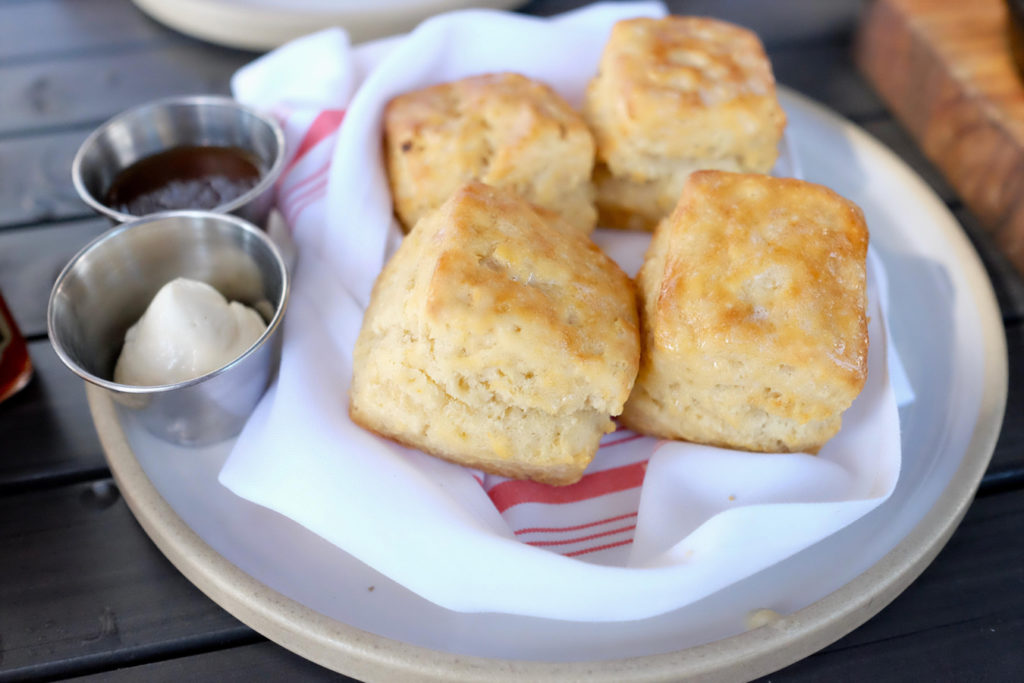 … and some grits topped with sharp cheddar.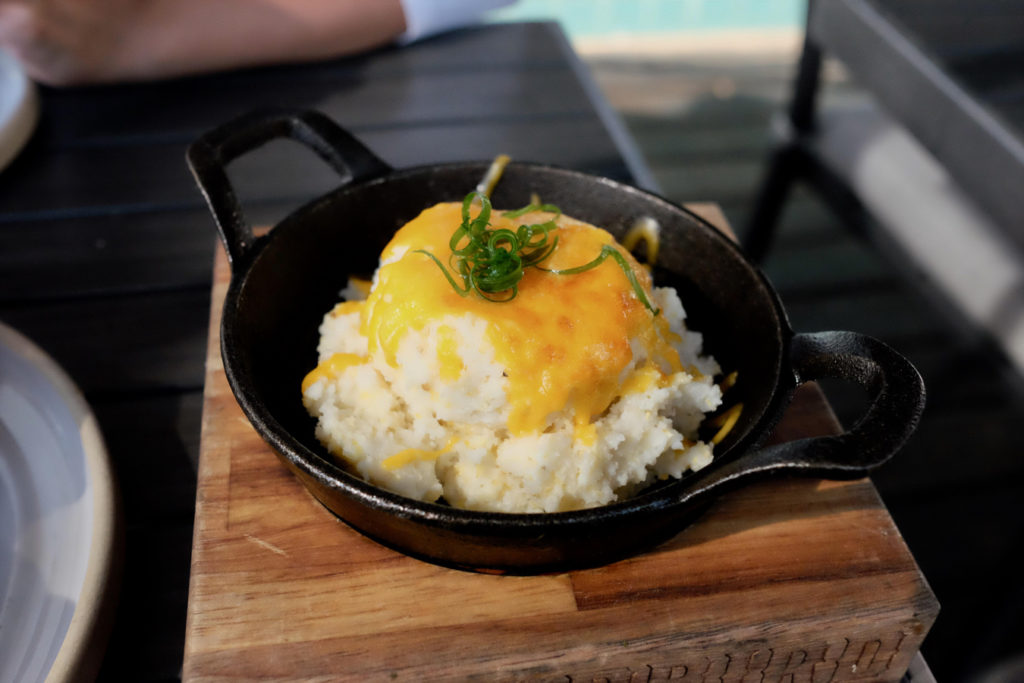 Cyril went with Yardbird's signature dish:  chicken and waffles and watermelon.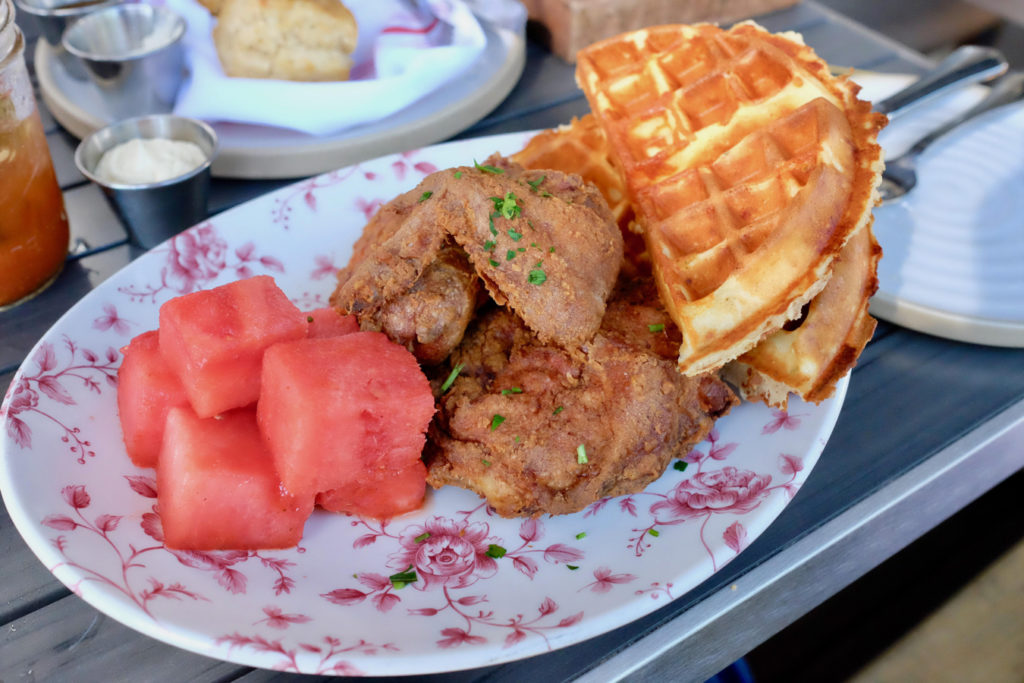 You can see from all this food we ate that we got the chance to try all different kinds of cuisines in Miami.  Of course we had to get our hands on a bunch of Cuban food at spots all up and down Calle Ocho, but we made it a point to explore the other communities in the city and try what they had to offer as well.  And while exploring the beaches and the sights in Miami Beach, we also took the time to hunt down some of the excellent places there that are a little off the beaten path from the crowds on Ocean Drive.  So we hope you find this post helpful if you ever make your way down to Miami and you're trying to find the best spots to sample all that Miami has to offer.