At first glance you might not think these count as cookies – after all, they're thick and triangle-shaped instead of round.  But we'd like to think these count as part of our parade of Christmas cookies this year, since we made them along with our tie-dye and chocolate mint cookies and gave them out to our friends and family.  And they're also made with your standard cookie ingredients:  flour, butter, plenty of sugar, and the sweetened nuts that give these wedges their unique flavor.  So if you can expand your mind a little bit on what constitutes a cookie, we're sure you're going to love these wedges – and we'll show you how we made them, based on this recipe we found in Bon Appétit.
You'll need:
Pecans
Maple syrup
1 1/4 sticks (10 tablespoons) of butter
Flour
Brown sugar
1 egg
Vanilla extract
Powdered sugar
Milk
First, you'll want to make the pecan topping:  measure out about 1 1/3 cup of pecans and place them in a small food processor to chop them.  Then mix them with 4 tablespoons of syrup and a pinch of salt.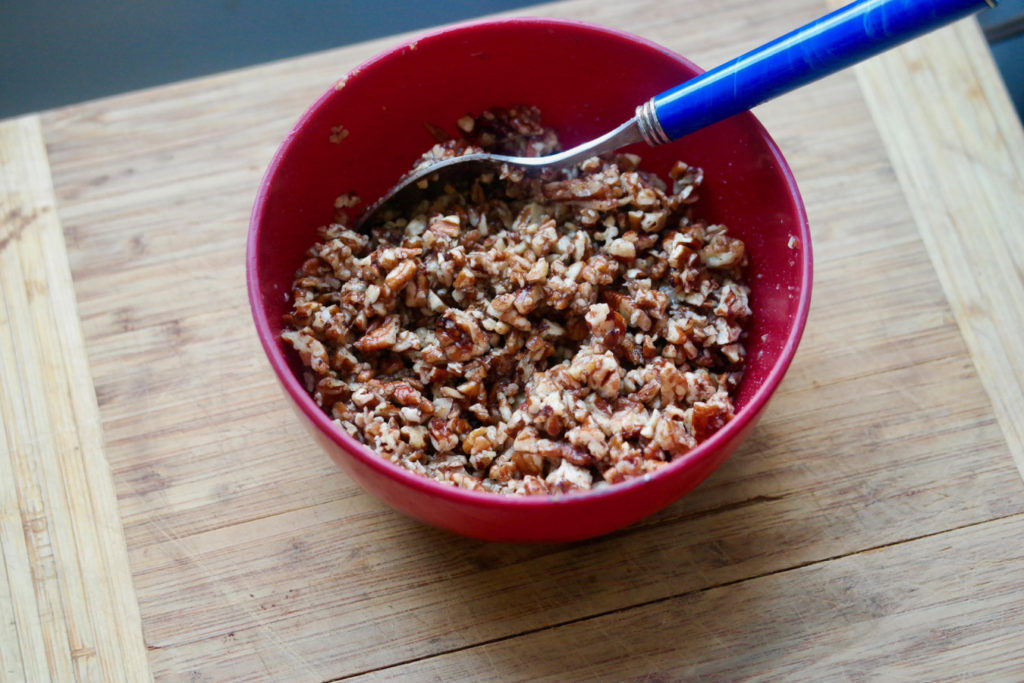 Spread the nuts out on a baking sheet in a single layer and bake them at 350°F for 15-20 minutes, until they're browned slightly.  Set them aside to cool for at least half an hour, then break the mixture into small pieces with your hands.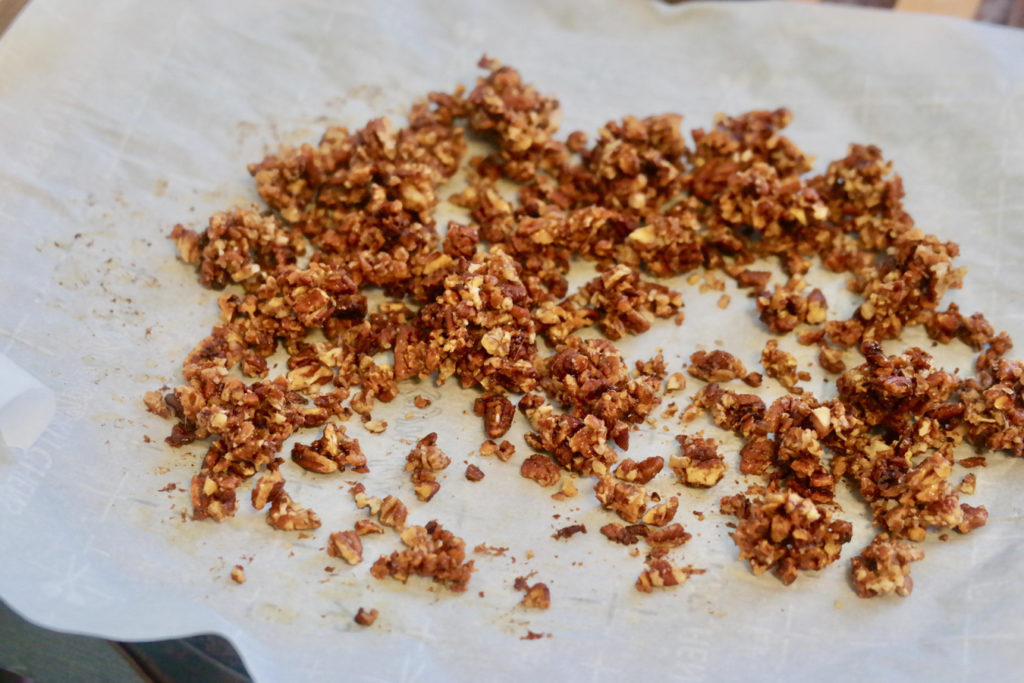 Meanwhile, in a larger food processor mix 1 1/4 cups of flour, 6 tablespoons of brown sugar, and a large pinch of salt.  When the pecans have cooled off, put half of them in and combine in the processor until they're chopped up.  Add in your egg and a tablespoon of vanilla, then cut your cold butter into pieces and mix that in as well until you have a rough dough.  Take it out of the food processor and knead with your hands until the dough fully comes together.
Then take a large cast iron skillet and coat the bottom with cooking spray.  Cut a circle out of parchment paper that's about the size of the bottom of the skillet and place that in, spraying it too.  Place the dough into the skillet …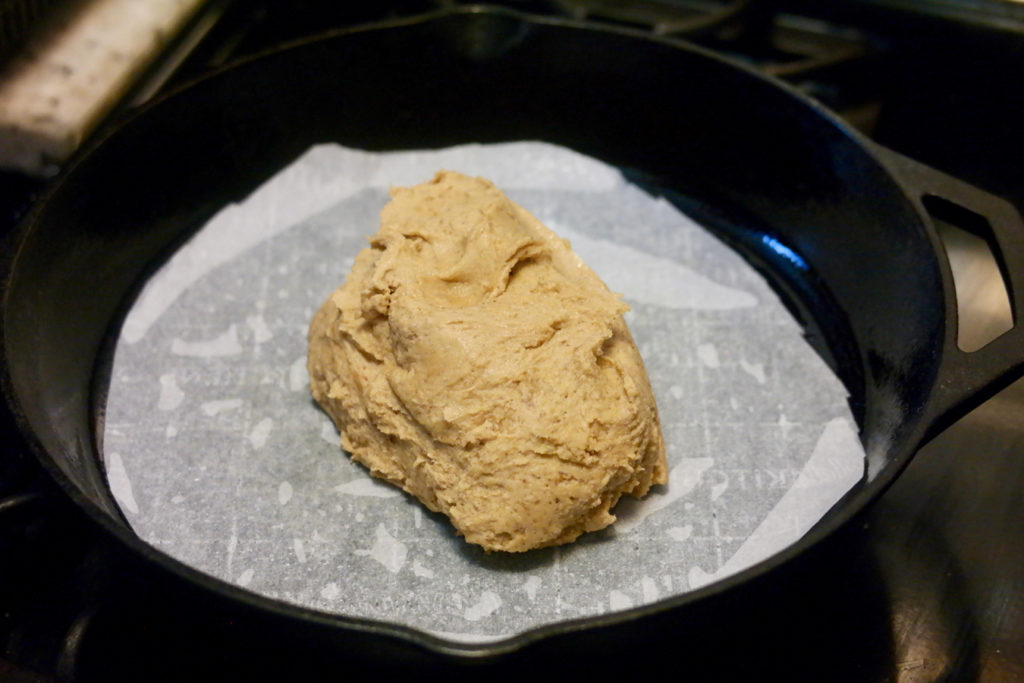 … then wet your hands and use them to push the dough evenly all the way around the skillet.  Bake for 30-35 minutes at 325°F until the edges just start to brown, then take it out of the oven and let cool for an hour.  Now you can slide the giant cookie out of the pan and slice into 16 equal wedges.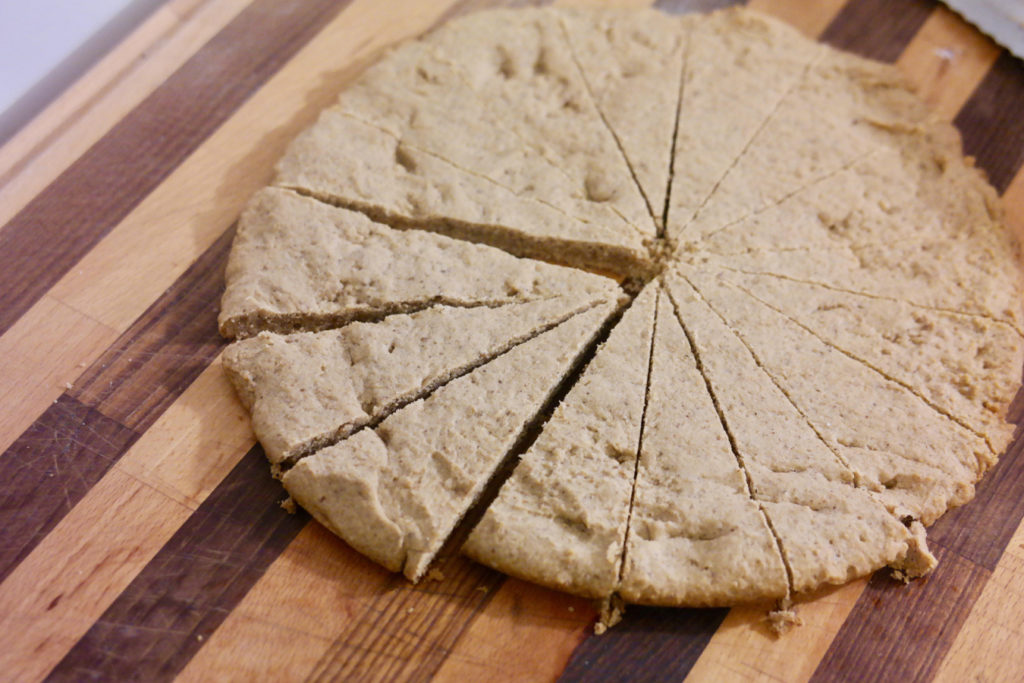 Next, whisk together a cup of powdered sugar, 3 tablespoons of milk, a teaspoon of vanilla, and a little salt until you have a glaze.  Pour the glaze into a flat plate and dip in the top of each wedge.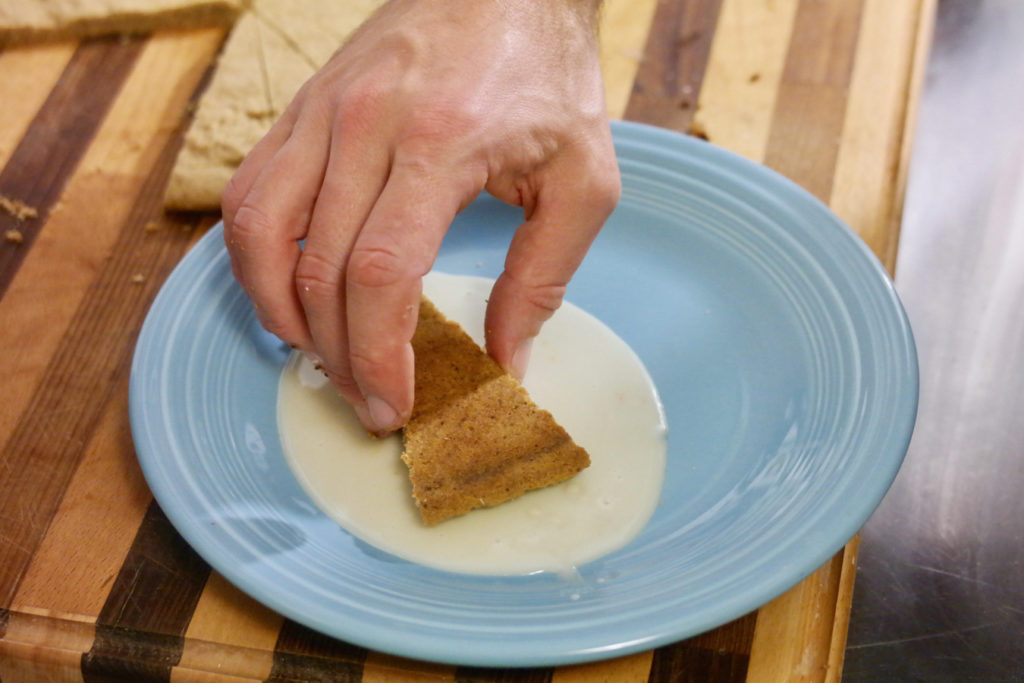 While the glaze is still wet, sprinkle each wedge with the remaining nuts.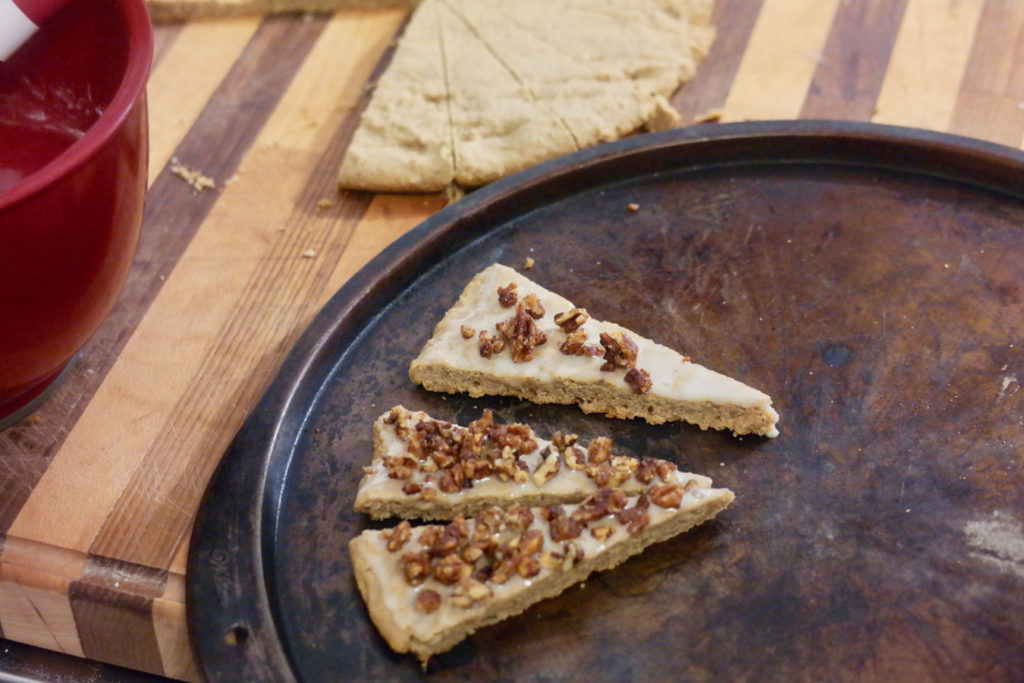 You'll want to let these sit for an hour and a half to let the glaze harden and set, and then you can eat them!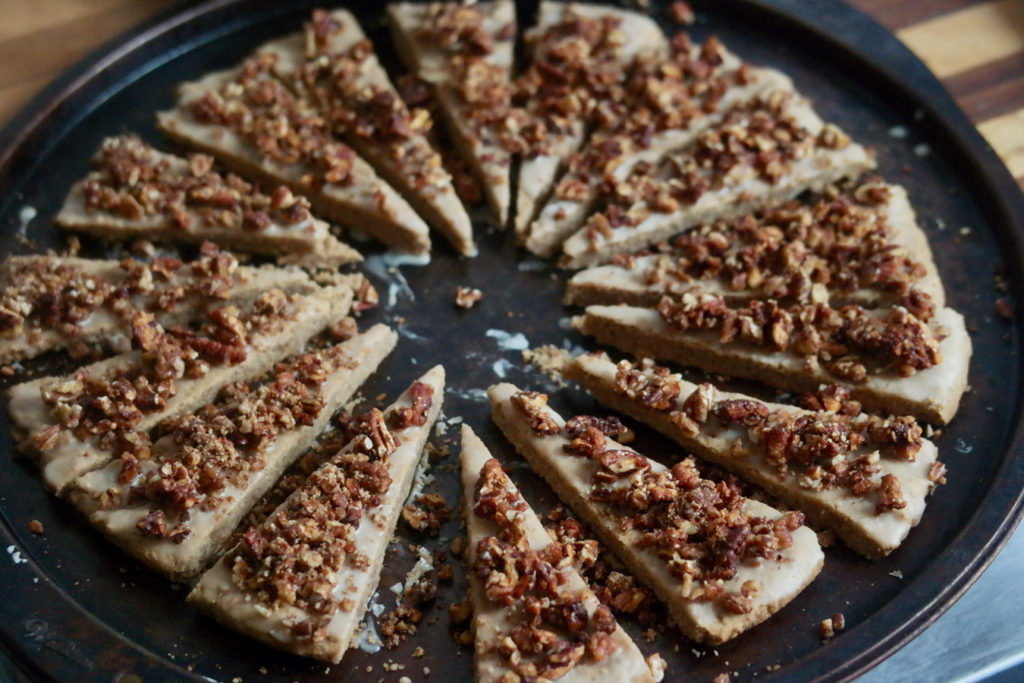 So have we convinced you that these really are cookies?  They're lightly sweet on the inside, with the glaze and the baked candied nuts on top adding to the sugary goodness.  And while the baking technique – cooking a huge piece of dough in a skillet – might be unusual, and cutting the resulting giant cookie into wedges may make each piece look like a tiny slice of pie, these are very much cookie-like.  Cookie-adjacent, perhaps.  In any case, these were well-loved among of raft of Christmas cookies this year, so we're glad to share this amazing recipe with you.