If you're still suffering from a food (and drink) hangover from the Christmas-Hanukkah-New Years holidays, you're probably looking for something healthy and vegetable-centric to eat.  We're guessing you might also need a break from making whatever intense holiday recipes are traditional for your family.  Luckily, we're here to help you find some quick and nutritious meals – in the past week we've featured two easy soups, and today we'll show you how to make a tasty and creative take on sweet potatoes.  We were surprised at just how simple it was to roast and then prepare the potatoes here, and the combination of ingredients we used was really delicious and inventive.  We based this on a recipe from Bon Appétit and really enjoyed it as a brunch dish on its own, but you can also serve this as an accompaniment to a meal.  In any case, here's how we made it!
You'll need:
7 sweet potatoes, or 3 pounds of potatoes in total
Olive oil
3/4 of a stick (or 6 tablespoons) of butter
Honey
Hot sauce
Raw pumpkin seeds
Coriander
A lime
First, wash your potatoes and cut them all in half.  Pour out 1/4 cup of olive oil and rub each potato generously in the oil, then place each half with the flat side down on a baking sheet.  Sprinkle the potatoes with salt.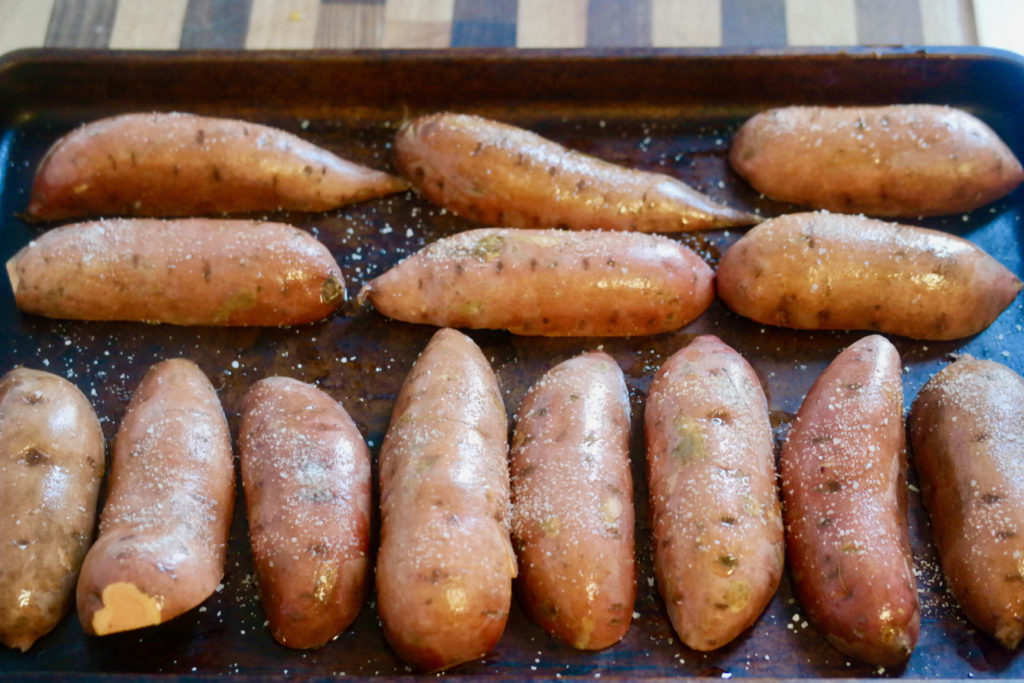 Roast them at 425°F for 25-30 minutes, until they're tender and browned on their flesh.  Then place them into a serving dish to let them cool a little.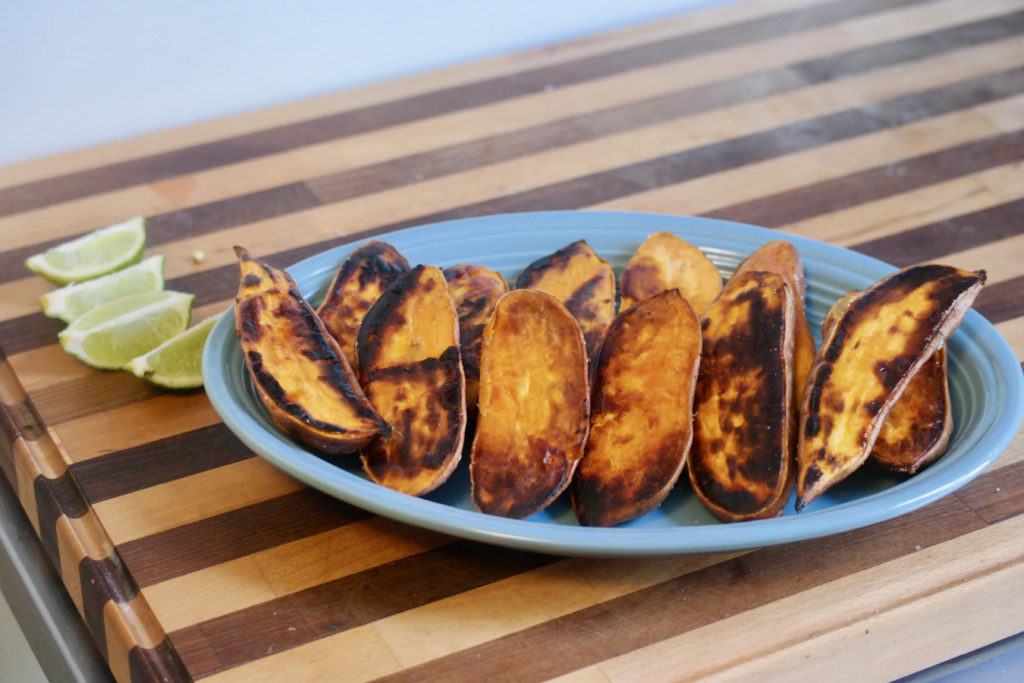 Meanwhile, let your 6 tablespoons of butter come to room temperature and then mash the butter into a bowl.  Use a fork to mix in 2 tablespoons of honey, then 3 tablespoons of hot sauce.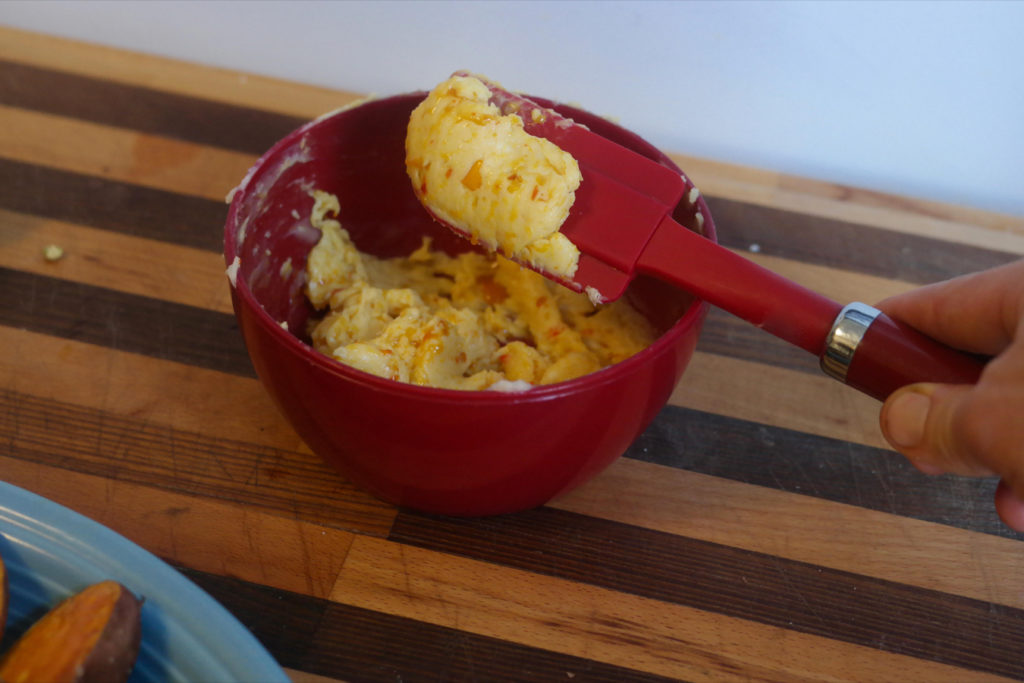 Also measure out 1/4 cup of pumpkin seeds and toast them with another 1/4 cup of olive oil in a small pan over medium heat.  Let them cook for 5 minutes or so until they come to a golden brown color and then take them off the stove and mix with a tablespoon of coriander.
Once you're ready, spread the potatoes with the butter and then scatter the pumpkin seeds over everything.  Squeeze lime juice on the potatoes and sprinkle on some extra salt, and then your potatoes are done.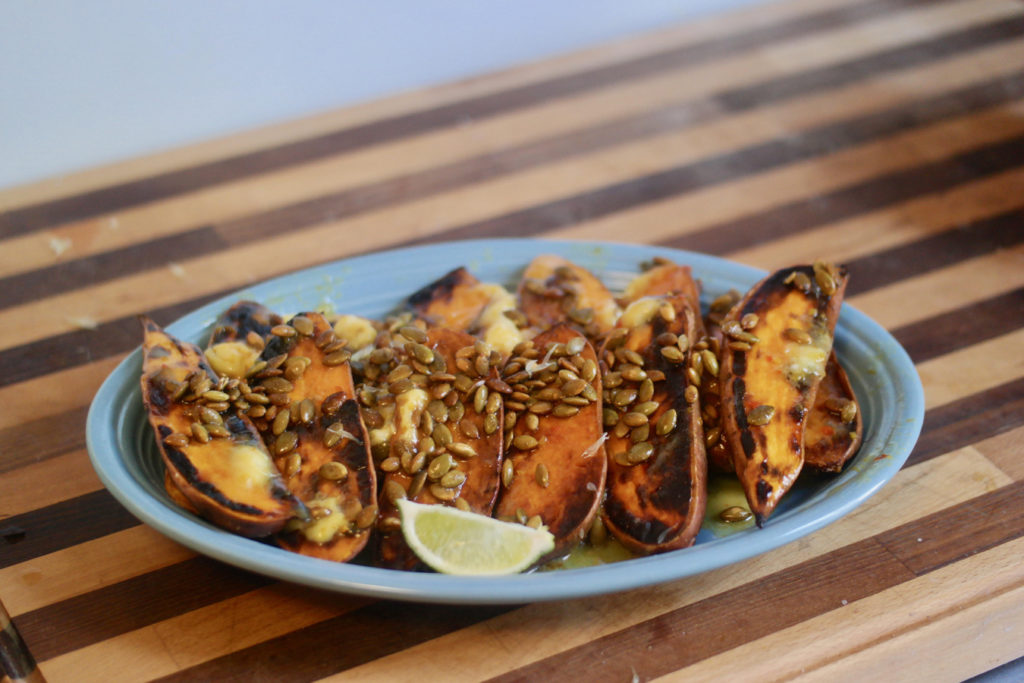 We were pleasantly surprised to see that all we had to do for these potatoes to come out tender and roasted was slice them in half, rub them up with olive oil, and then set them in the oven for about half an hour.  Really, it couldn't have been any easier – and then making hot, honey-sweet butter and toasting some spiced pumpkin seeds just added to the great flavors of these potatoes.  If you like spicy foods, this dish is definitely for you, and if you're looking for some potatoes with a little crunch the seeds add a nice texture in as well.  Overall we were glad we found this super easy, complexly tasty, veggie-based dish, and even though it's meant to be a side we'd recommend just eating it on its own – we loved it that much!