If you're looking for a rich, warm, and carb-y treat during these cold months, we'd like to show you some awesome biscuits!  We found this recipe in the New York Times recently and decided to give it a try, and we were delighted by how these came out.  They're almost a cross between a bread roll and a croissant, since they come out all flaky and buttery.  In the interest of full transparency, you will need to hole up in your kitchen for at least an hour to make these – there's some specific techniques you'll have to follow, plus rolling and shaping the dough is an art form of its own.  But if you have the time, these are really worth it because you get a unique and tasty treat at the end.  So let us show you how we made these.
You'll need:
Milk
An individually-sized container of plain Greek yogurt
Flour
Baking powder
Baking soda
2 sticks of butter
The very first thing you'll want to do is place both sticks of butter in your freezer.  Then you can whisk together 2 cups of flour, a tablespoon of baking powder, 1/4 teaspoon of baking soda, and a teaspoon of salt, and put this bowl to the side.
Now take one stick of butter out of the freezer and grate it using a cheese grater.  Collect all these butter shards in a bowl and place them back in the freezer, then take the second stick out and grate half of it as well.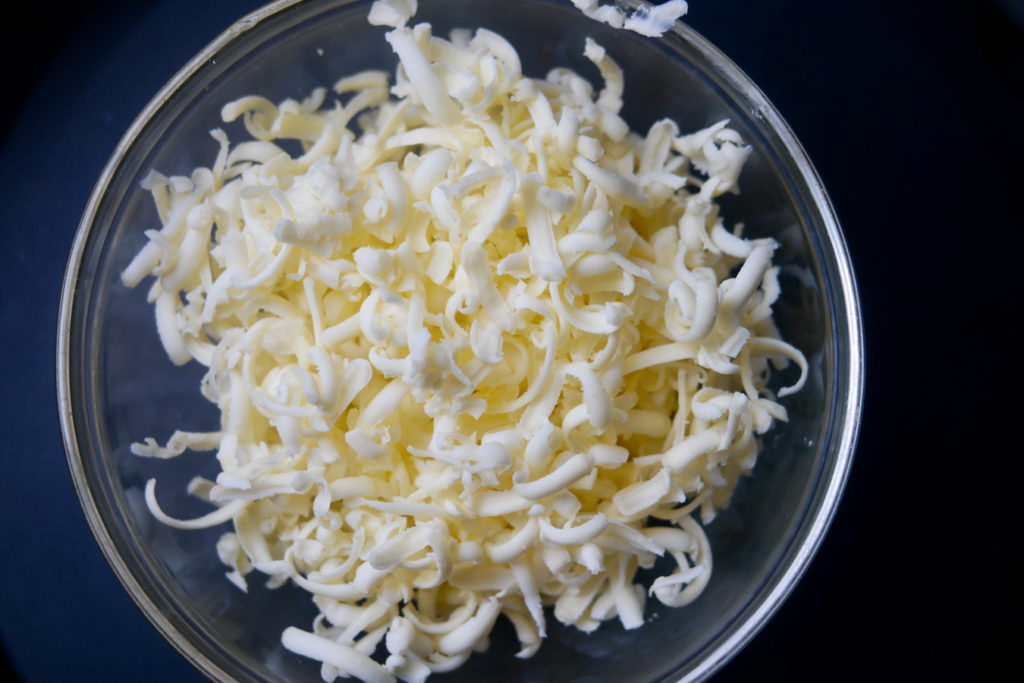 Place all of your grated butter into the flour mixture and mix it in by hand, just until the butter pieces are coated.  Then whisk together 1/2 cup of milk with 1/3 cup of Greek yogurt and add this to the flour-butter bowl.  Use a wooden spoon to begin mixing it all together, then use your hands again to shape everything into an even ball of dough – it will be a little on the dry side, but just try to keep everything held together.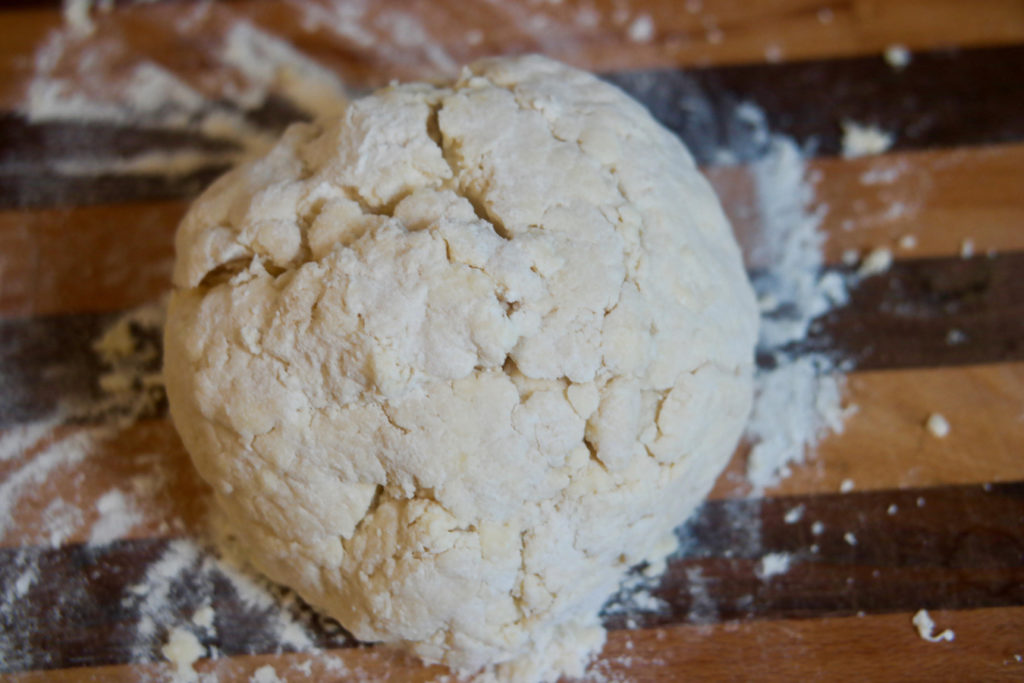 Place the dough on a floured surface and form it into a 4-inch square.  Use a rolling pin to roll it out to a 12-inch square, then fold the top and bottom edges into the middle.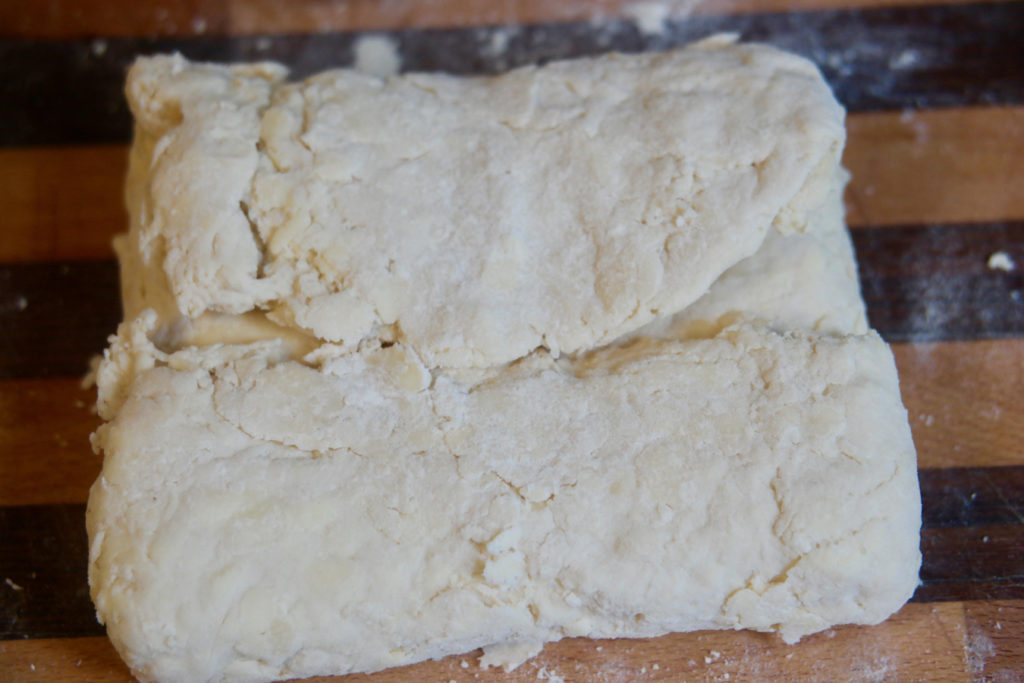 Spin the dough around 90 degrees and fold the top and bottom edges into the middle again.  Roll the whole thing out once more until it's roughly 12 inches long.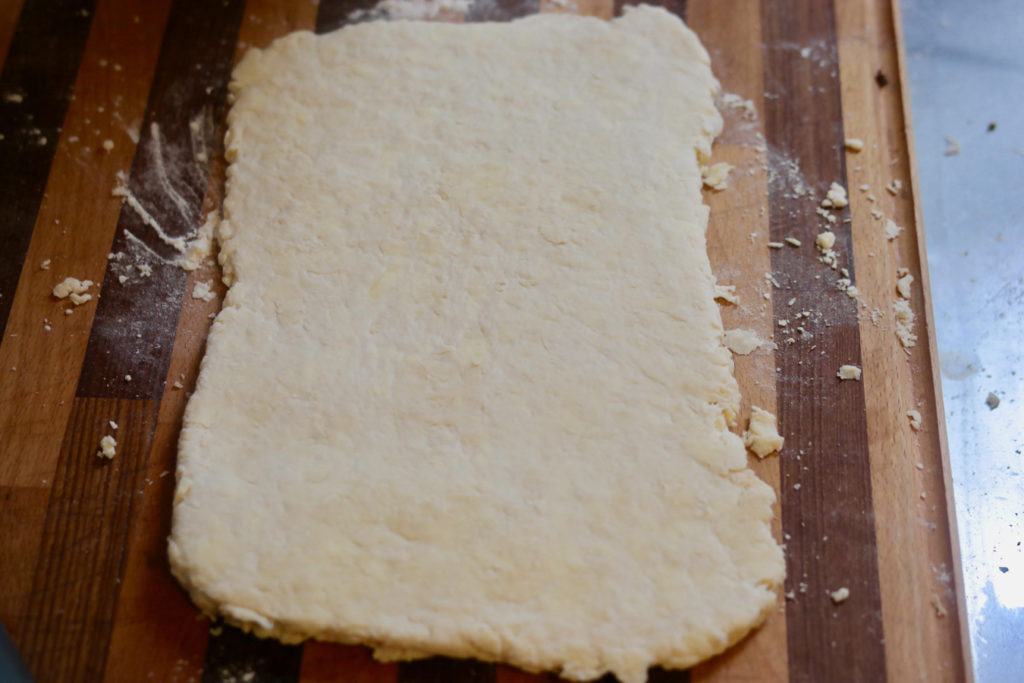 Take the bottom edge and roll the whole thing up …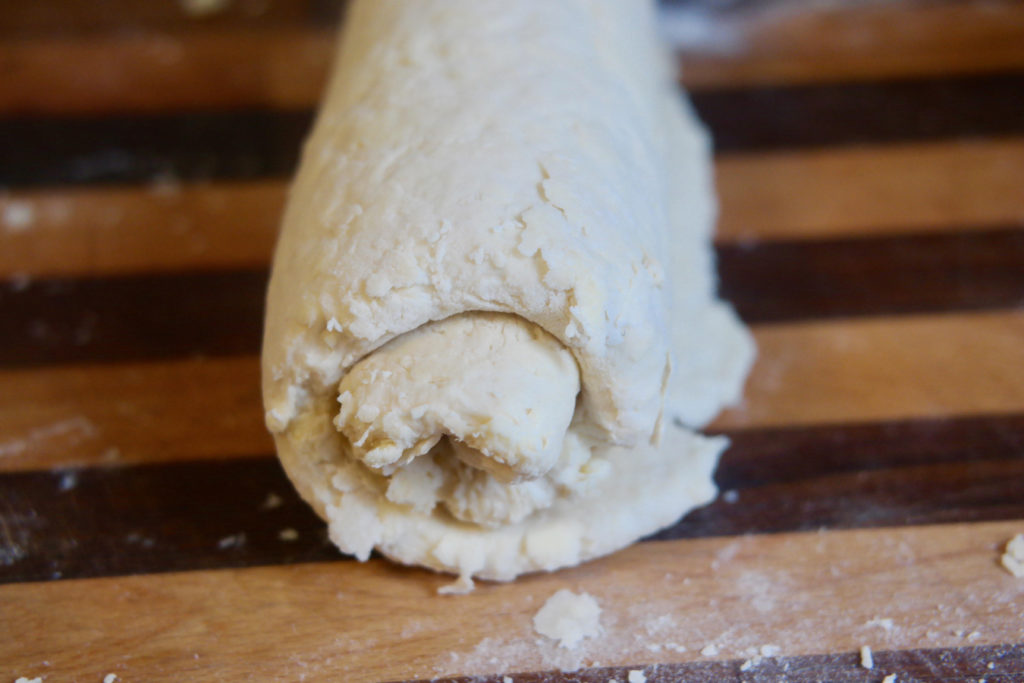 … then press this roll down flat and cut into 4 pieces.  Take each of those pieces and cut them diagonally, then put your individual bicuits on a parchment-lined baking sheet.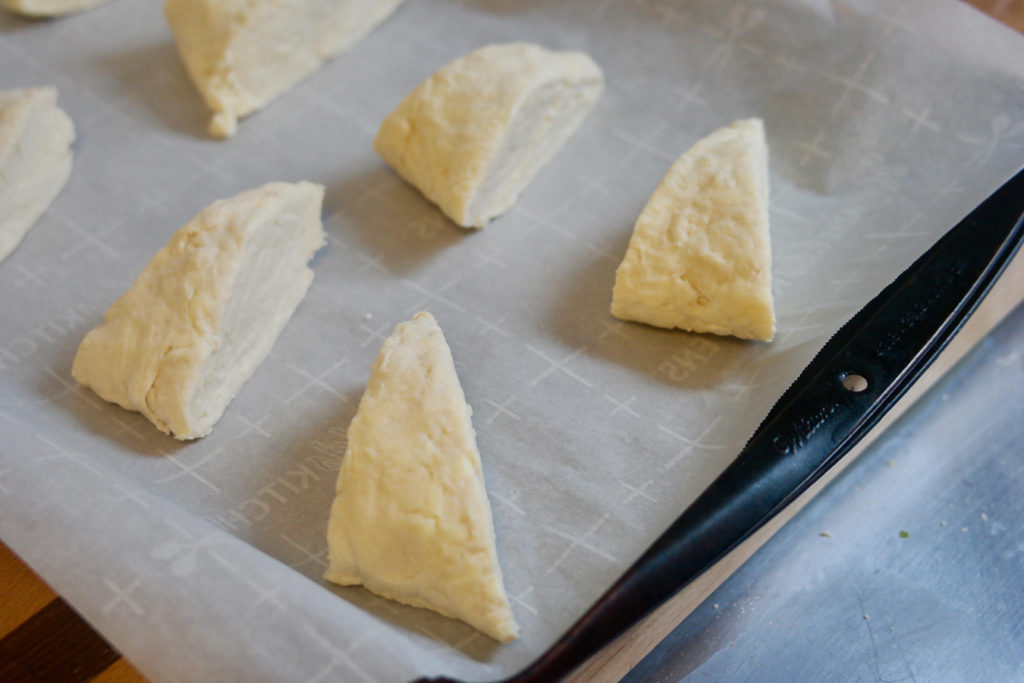 Melt the remaining butter and brush it over the tops and sides of the biscuits, then bake them at 425°F for 15-20 minutes, until they're golden but not burned.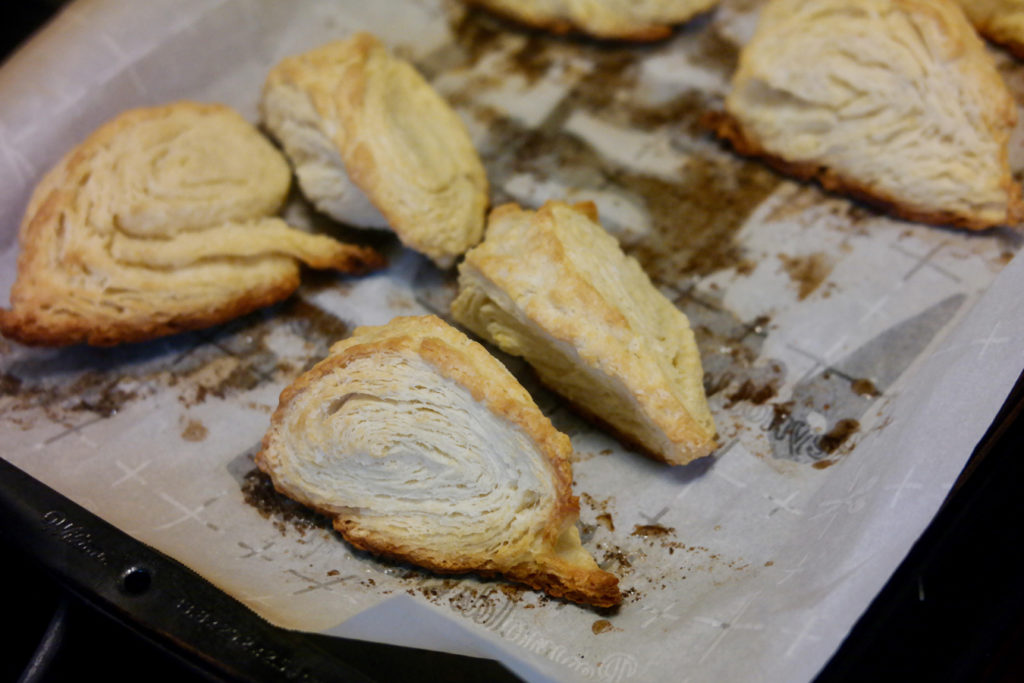 Here's what they each should look like when they're done: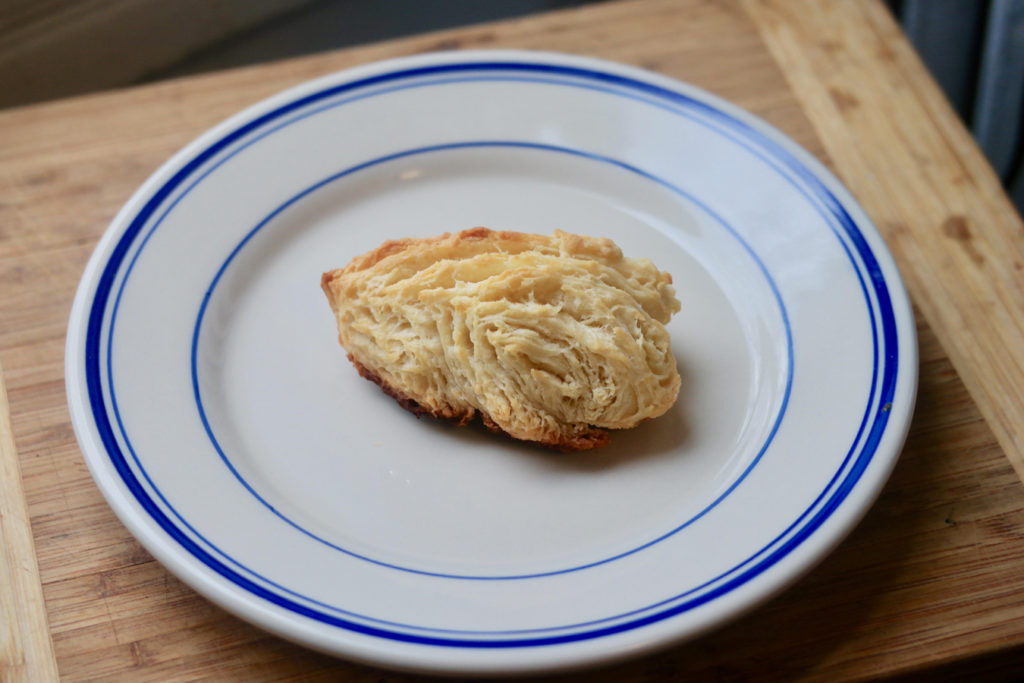 So yes, this recipe is not super easy:  it takes some effort to grate the butter and not let it melt too much before it makes it into the flour bowl.  It's also a little bit of work to get the dough to hold together and then roll and shape it several times.  With all that being said – these were amazing!  You can see how the folding and the resulting layering of butter make these look pretty cool once they're baked, and of course that butter makes them pretty tasty.  This is the perfect recipe for a day when you've got some time and you're feeling creative, so we encourage you to try it out and get yourself a brand-new biscuit!