Risotto is kind of a staple of our blog:  we've made it before with spinach, with tomato, and with zucchini.  We were pretty sure we had discovered most of the ways you can possibly prepare risotto – that is, until we heard about risotto al salto.  This Milanese variety isn't just a new way to incorporate ingredients into risotto, it's an entirely different way of preparing and eating this classic Italian dish.  Al salto means "sautéed" in Italian, and that reflects the fact that here you cook the risotto in oil in patty form, kind of like a pancake.  If you're doubtful about how exactly this might work, the risotto is able to hold together because you prepare it ahead of time and then refrigerate it, letting it become firm and dry enough to take and keep the right shape.  That means that this recipe has to be prepared over the course of two days, but if you plan ahead we think this is an excellent new Italian food to try.  We based ours off this recipe in the New York Times, but we put our own spin on it by adding some toppings.  We think you'll like the result.
To make this, you'll need:
A quart of vegetable stock
Turmeric
Half a stick of butter
A small onion
Arborio rice
White wine (we used Yankee Boy White from Hardwick Vineyard, which we discovered on a recent road trip)
Parmesan cheese
Olive oil
A large bunch of basil
Parsley
Pine nuts
Garlic
Taleggio cheese
To prepare the risotto the day before, first pour all of your vegetable stock into a pot, add in 1-2 teaspoons of turmeric, and let this gently simmer.  Meanwhile, mince your onion and cook it in a Dutch oven with 3 tablespoons of butter for about 8 minutes, until it softens.  Pour in a cup of the rice and 1/4 cup of wine and stir for just a minute, until the wine evaporates.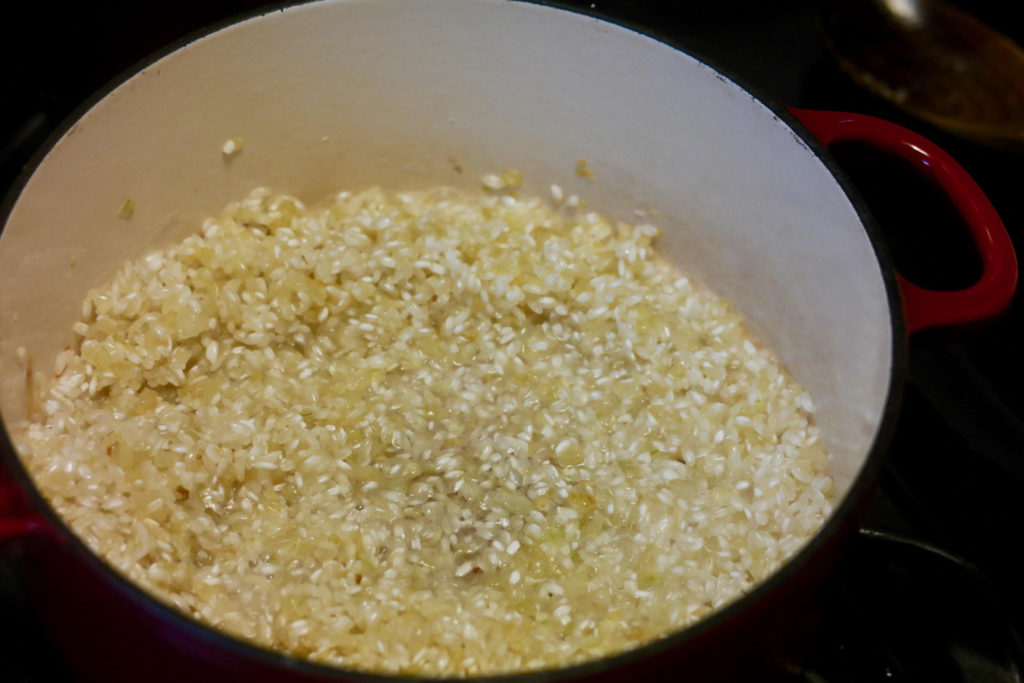 Mix in half of the vegetable stock and stir the risotto constantly until the liquid is almost all absorbed.  Add in the rest of the stock about 1/2 cup at a time, continuing to stir and letting the stock become absorbed before pouring in more.  Once the risotto is tender and there is very little liquid left, grate in 1/4 cup of Parmesan cheese and mix that in with another tablespoon of butter.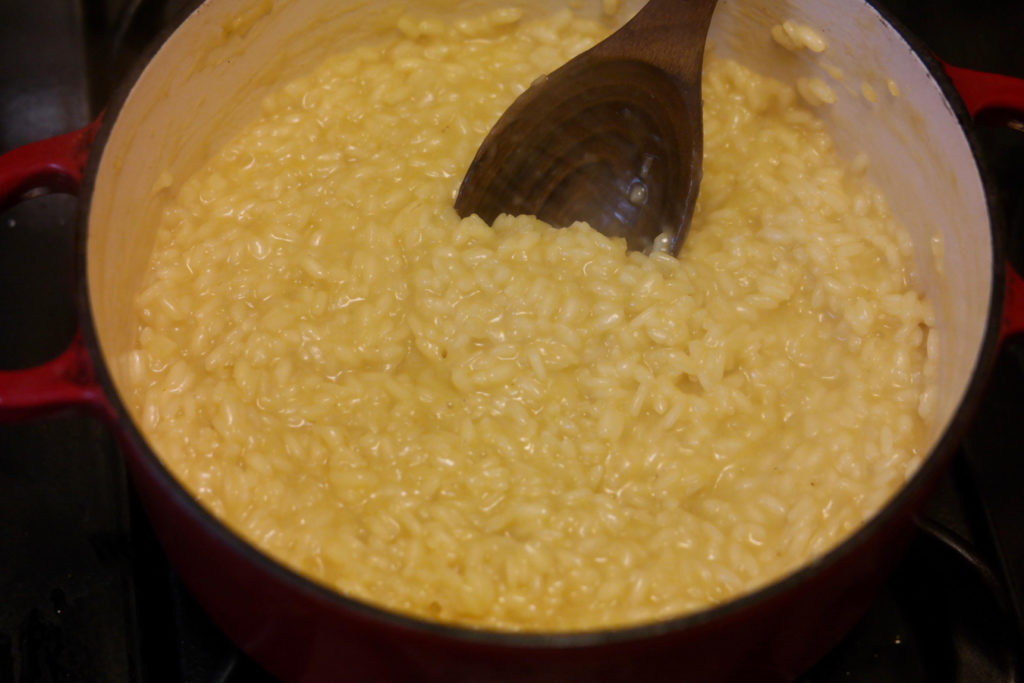 Now cover the risotto and place it in your fridge overnight.
The next day, when you're ready to salto, form the risotto into two equal-sized patties.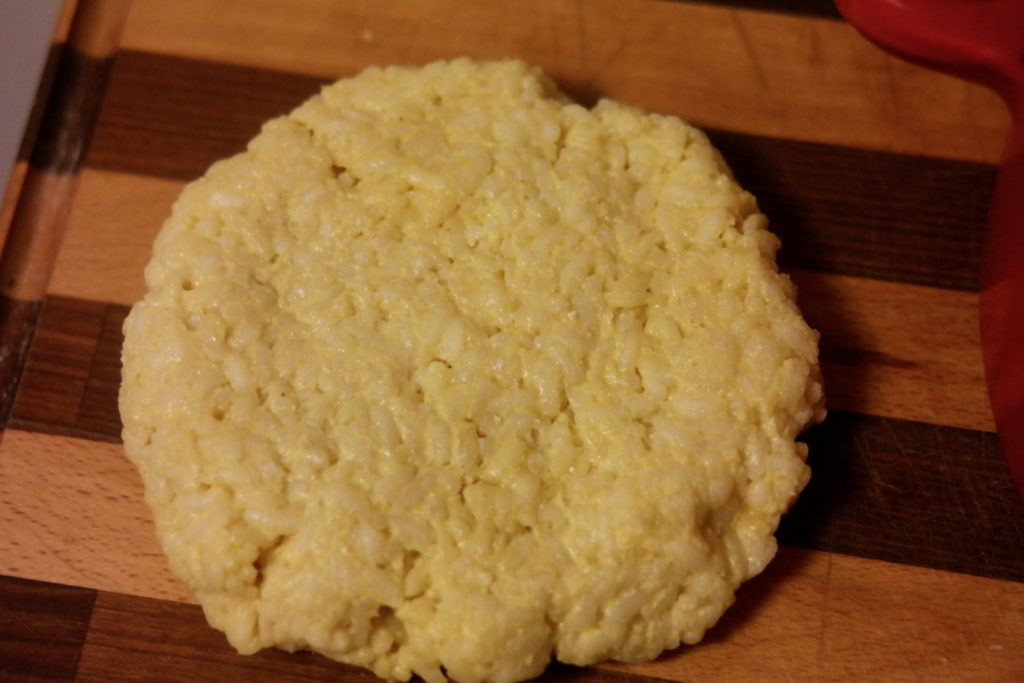 Pour a very generous amount of olive oil (at least 1/4 cup) into a large cast iron pan and carefully place one patty in it.  Cook the risotto over medium-low heat for about 10 minutes, until it's crispy and browned on the bottom, then use a spatula to gently flip it over and cook on the other side.  Once the first one is done, place it on a paper towel to dry off and cool and then cook the other half of the risotto the same way.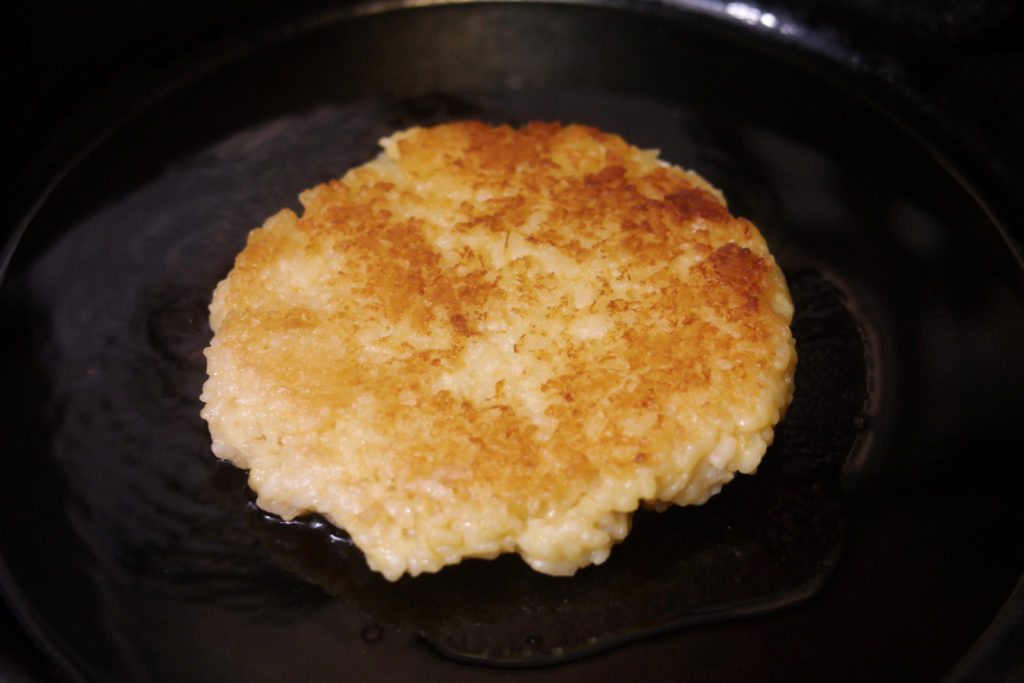 When both risotto cakes are cooked, you can make a simple pesto topping by placing all of your basil leaves and 1/2 cup of parsley leaves into a food processor with 1/4 cup of grated Parmesan cheese, 1/4 cup of pine nuts, 4 whole garlic cloves, and 1/2 cup of olive oil.  Blend everything together until you have a smooth pesto.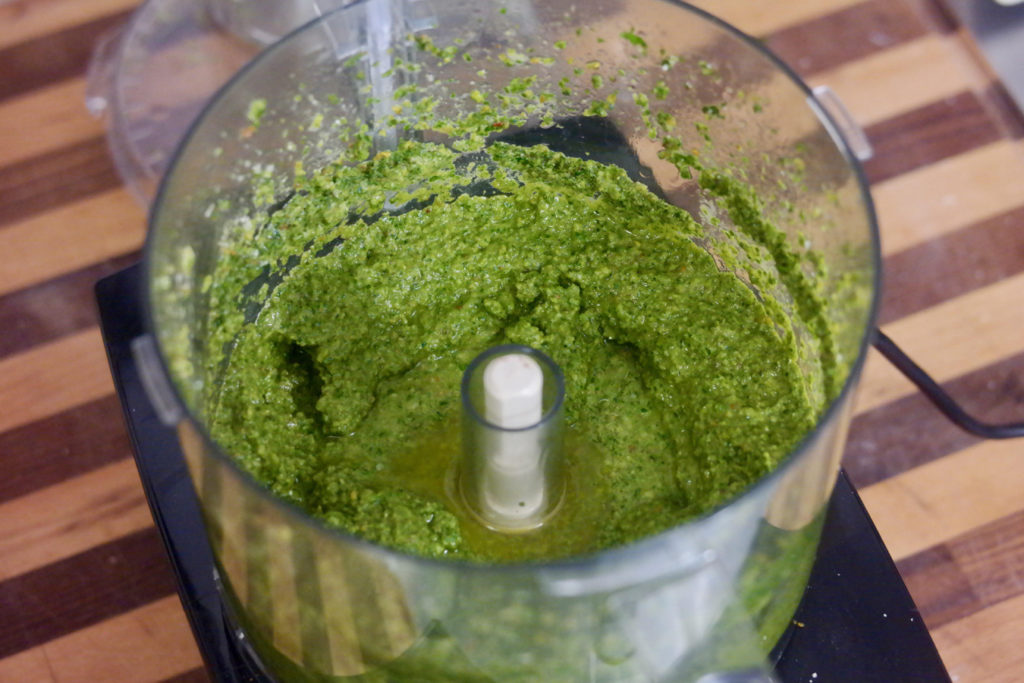 Finally, cut your taleggio into chunks and place them on top of each risotto cake.  Put the cakes on a baking sheet and place in your broiler for just a minute to melt the cheese.  Then spoon pesto on top and serve!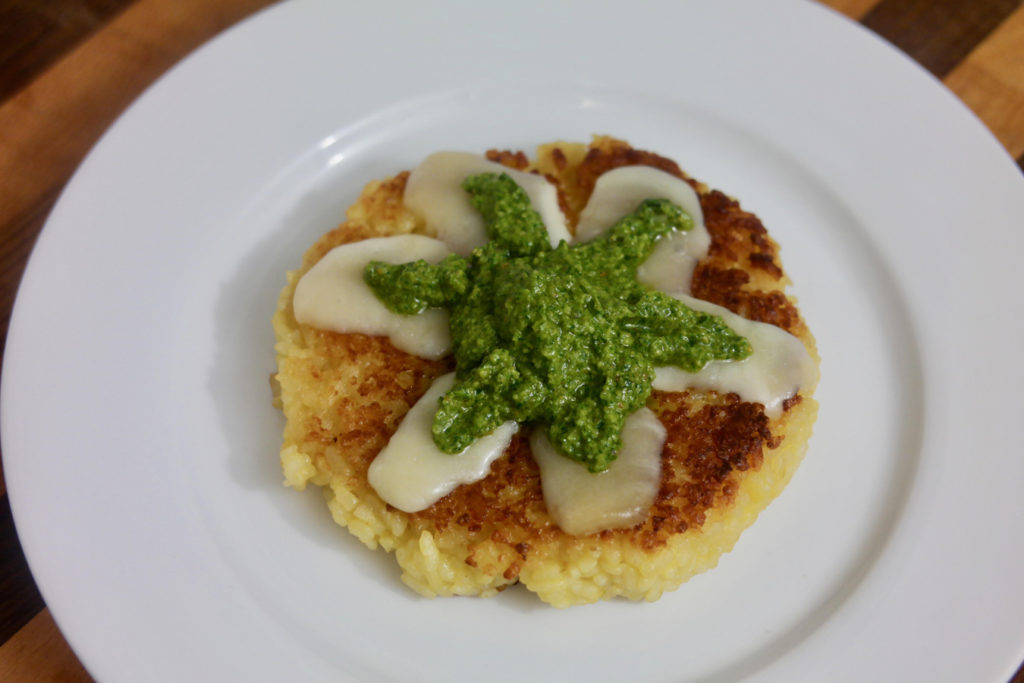 So you can see that this recipe is a little involved – not hard, per se, but you do have to carve out time to make the risotto the day before you want to eat it.  There's also some technique involved in making sure your risotto stays in patty form and doesn't fall apart when you cook it or flip it, but we found that shaping it before placing it in the pan really helps.  Overall, we thought this was a really unique recipe!  We've never seen this on menus in any of the Italian restaurants we've visited, so we're happy we got to make something totally new to us and we think you'll like it too.