We know that we're halfway through January already, but will you indulge us in reminiscing about Christmas?  Because that's where today's recipe comes from:  it's what we cooked up as our contribution to Cyril's family holiday dinner this year.  Yes, we know that this isn't part of a traditional Christmas dinner, but we had some frozen pie dough left over (from this recipe) and we wanted to find a tasty way to use it.  Thanks to Cyril's creativity, we came up with this version of a savory pot pie.  Our whole family enjoyed it, and we think you will too since it's really something you can bake up at any time of the year, regardless of whether or not there's a holiday.
To make this, you'll need:
An 11-inch pie crust, or if you're making the crust from scratch gather:

Flour
3/4 stick of butter

A large zucchini
A small eggplant
An onion
A quart of cherry tomatoes
Olive oil
Thyme
Rosemary
A ball of fresh smoked mozzarella
First, if you're making the pie dough from scratch, measure a cup of flour into a large bowl and sprinkle in 1/2 teaspoon of salt.  Make sure your butter is cold and chilled, then take it out of the fridge and cut it into pieces.  Place these in the flour and use your fingers to break them up, then combine everything with a fork until the mixture looks like crumbs.  Prepare a glass of ice water and pour in 4 tablespoons of water, kneading everything with your hands until a dough comes together and adding extra tablespoons of water as needed.  Roll the dough into a ball, wrap in plastic wrap, and refrigerate for at least 15 minutes, then roll it out on a floured surface until you have an 11-inch circle.
You;ll want to cut the dough into 8 triangles, stretch them out to a little longer than their normal length, and press them into a deep round baking dish so they slightly overlap.  Use your finger to smush them together slightly, and make sure the edges come far up the pan's sides, like so: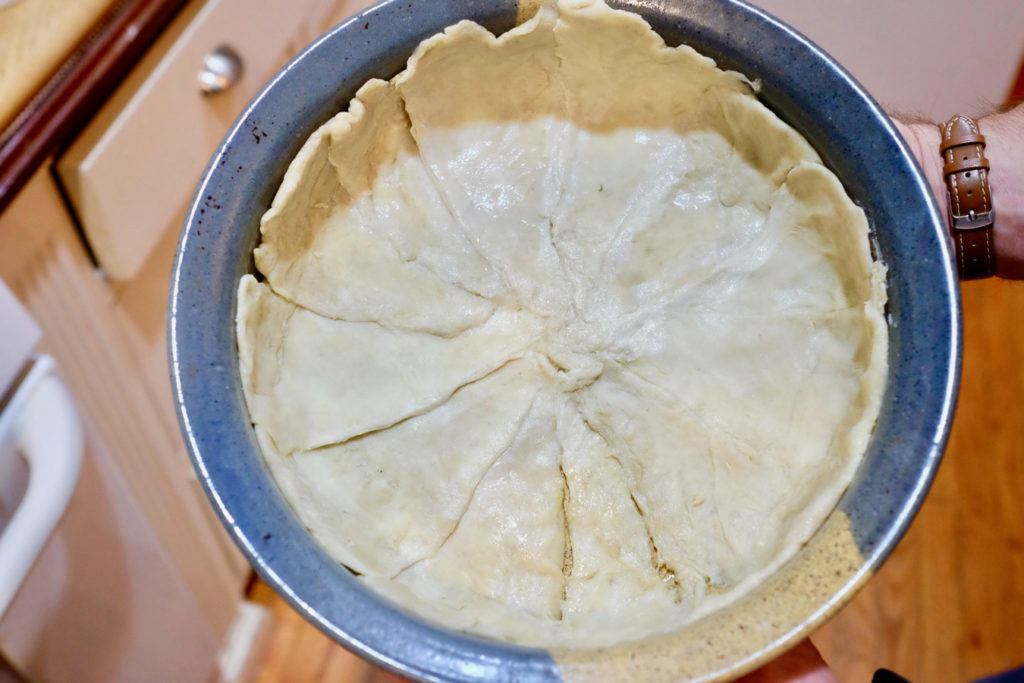 Set this aside for now so you can prep your vegetables:  take all of your cherry tomatoes and cut them in half, then squeeze out the seeds and pulp inside.  Place these tomatoes on a parchment-lined baking sheet.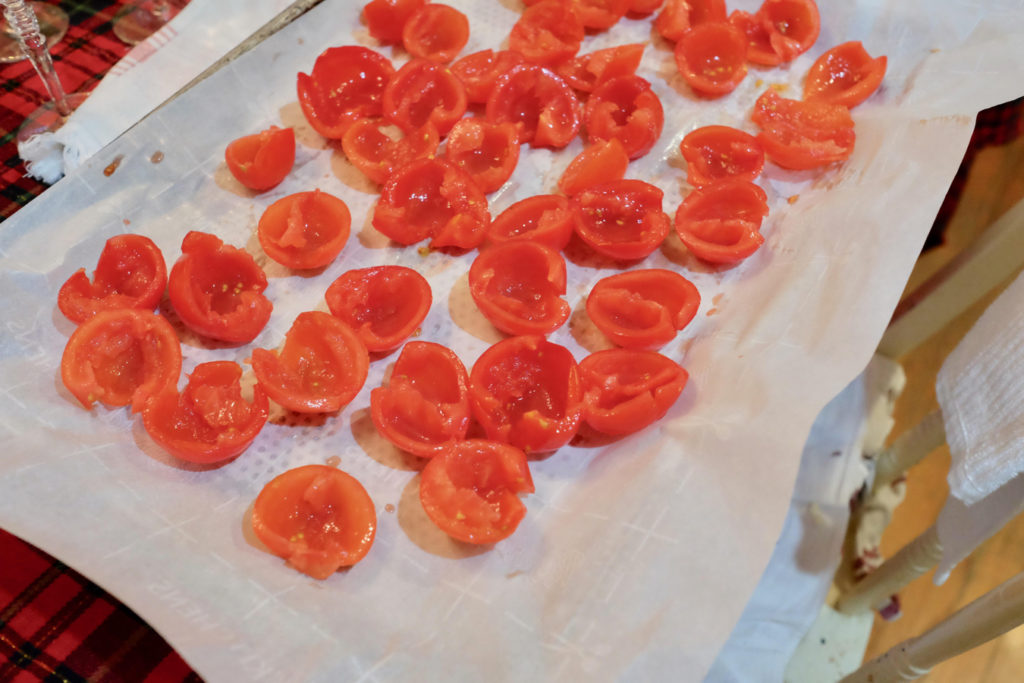 Then cut your zucchini and eggplant into bite-sized pieces and chop up your onion.  Scatter these vegetables on the baking sheet, toss them plus the tomatoes with 1/4 cup of olive oil, and sprinkle everything with a generous amount of salt and pepper.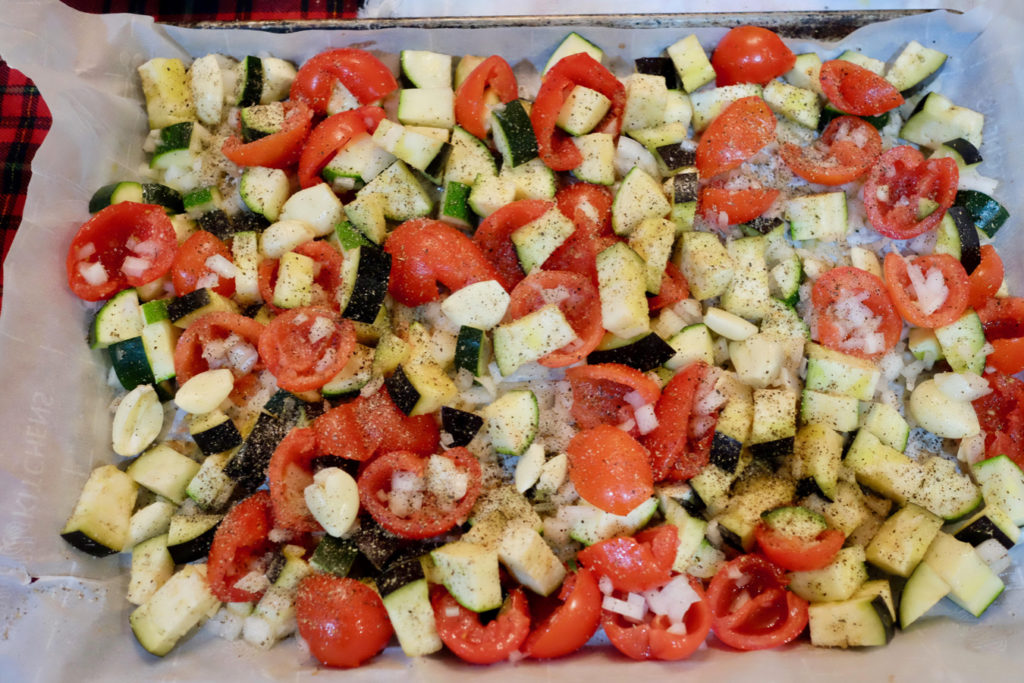 Finally, scatter whole thyme and rosemary springs over the vegetables.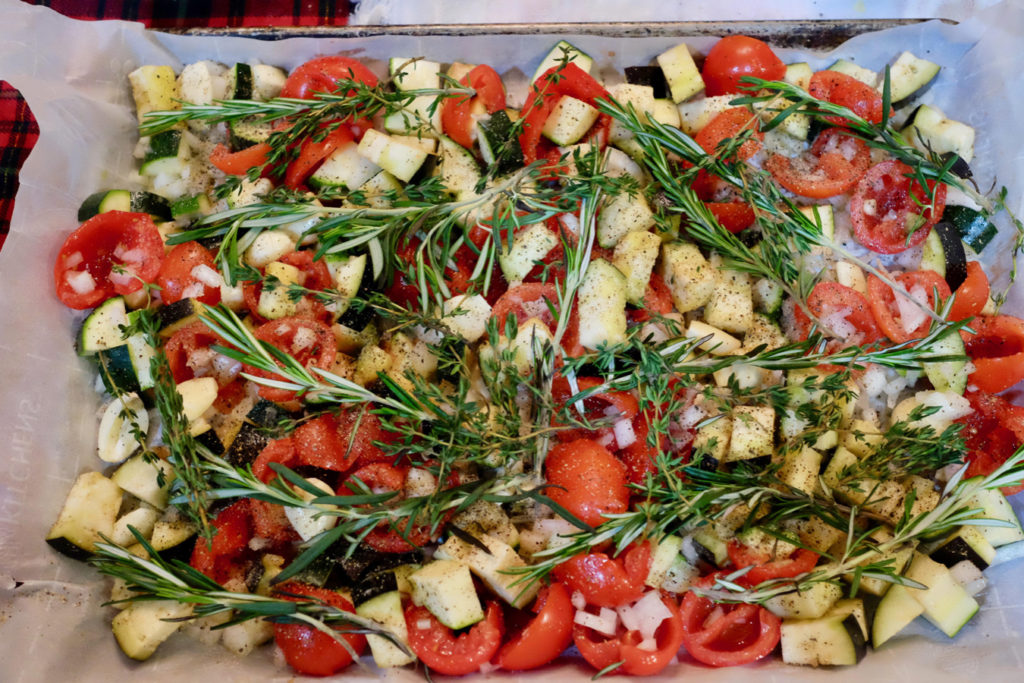 Roast the vegetables at 450°F for 30 minutes.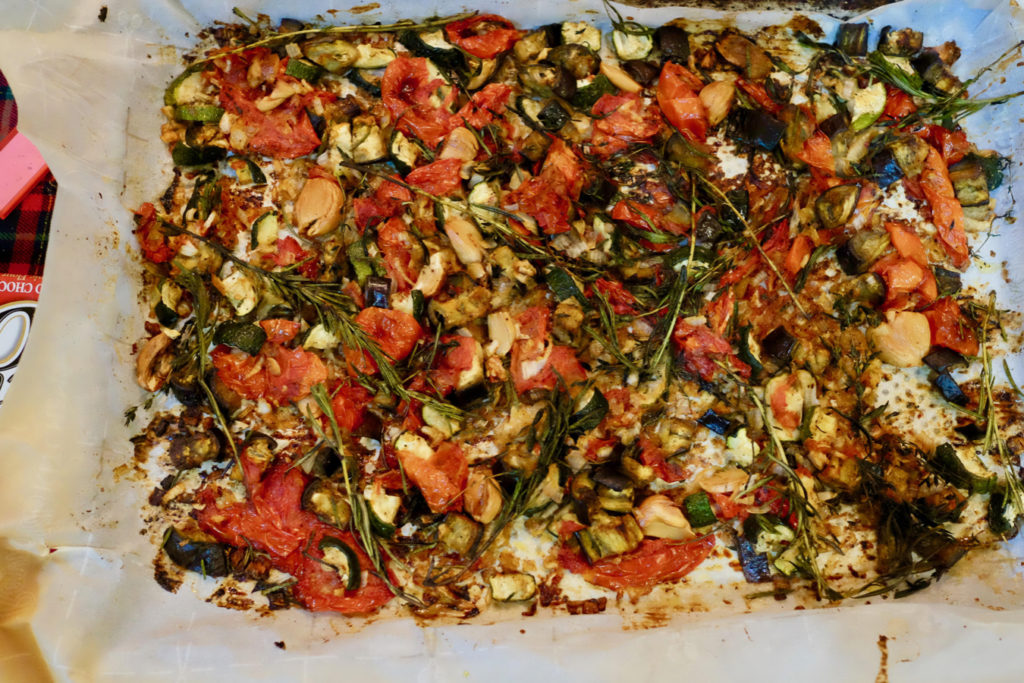 While they're cooling, cut your mozzarella into thick slices and place them into the pie crust.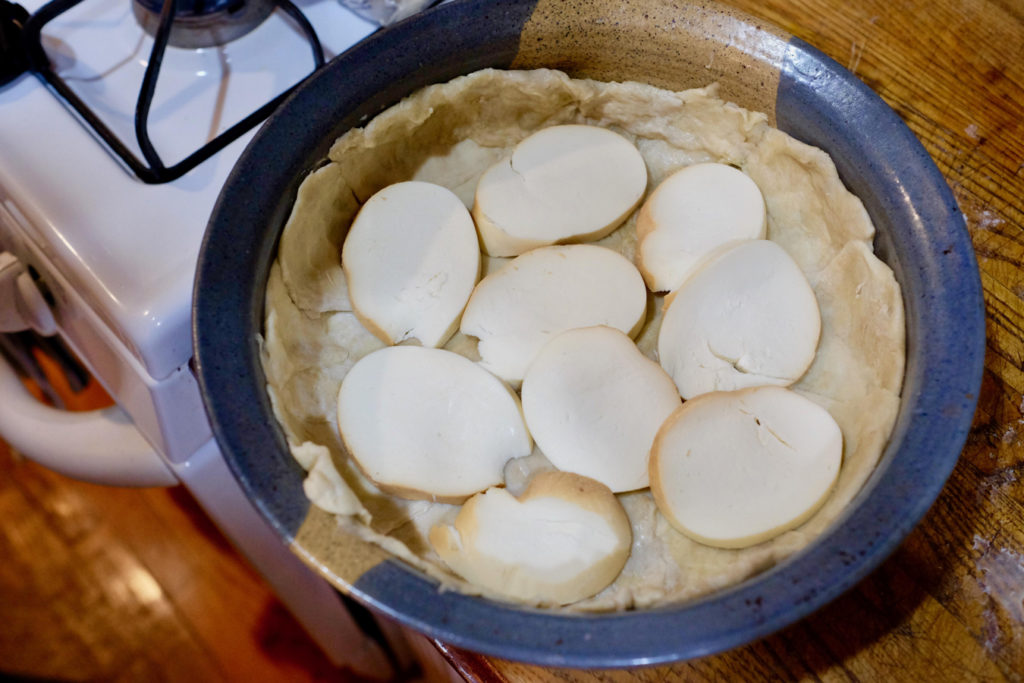 Place the vegetables on top and then pull the pie crust edges up and over the vegetables so you have a small top to the pie.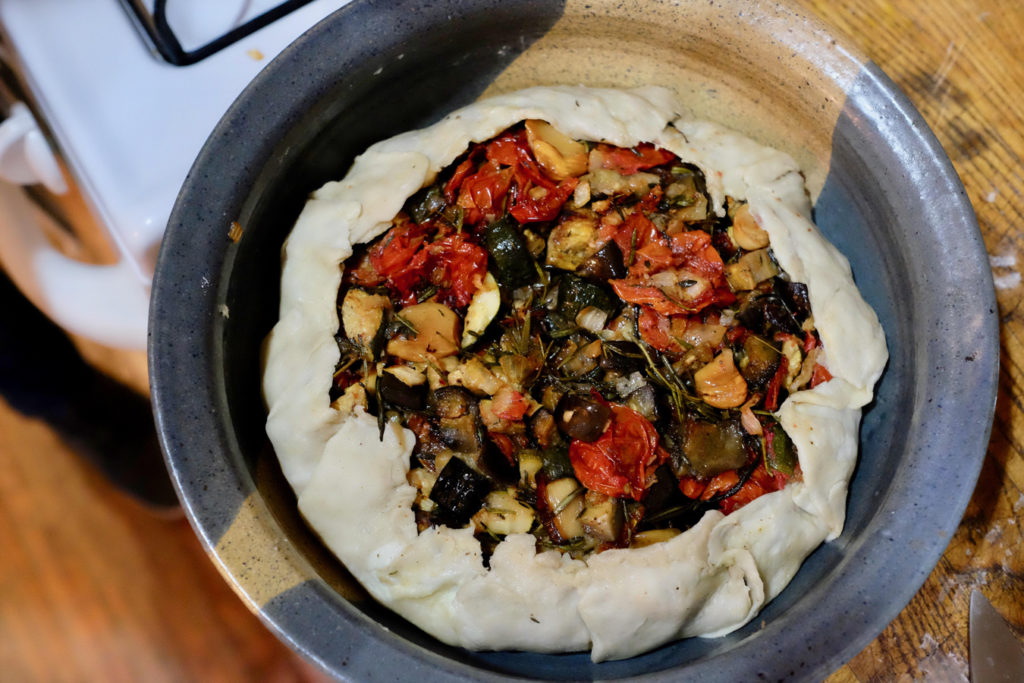 Turn the oven down to 400°F and bake your pie for 25-30 minutes, until it's slightly browned on the edges.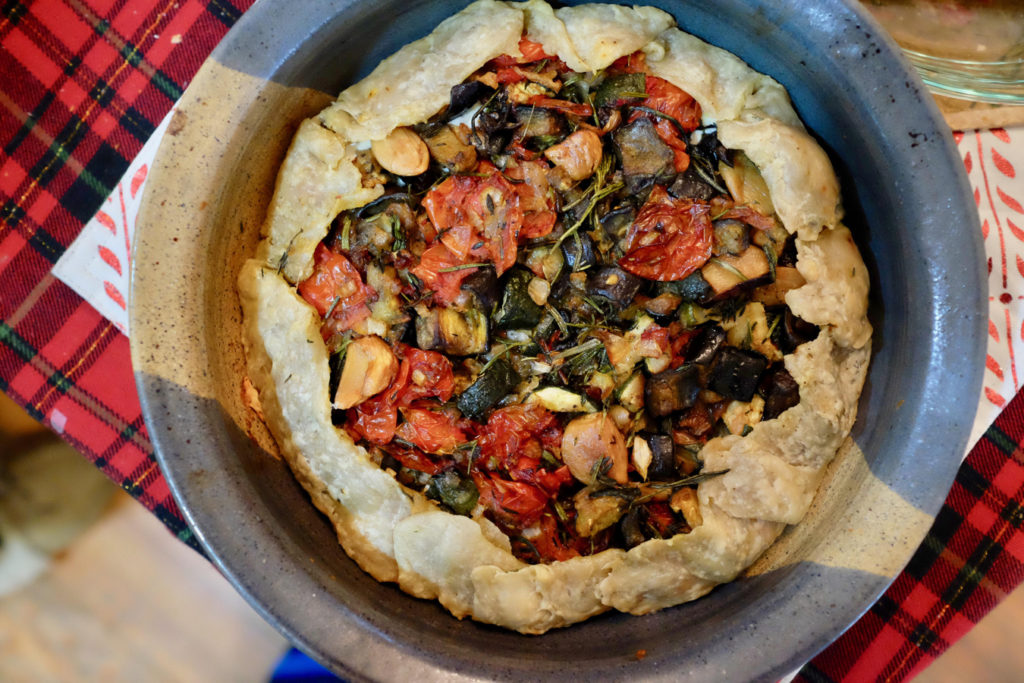 Then slice it up and serve!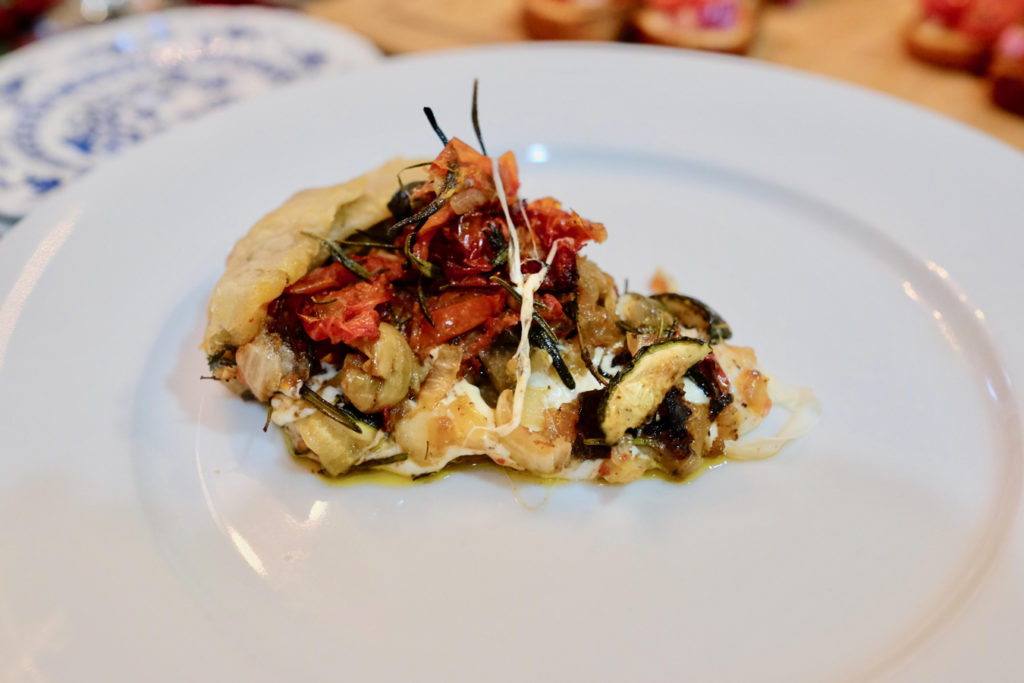 You can see that this is delightfully cheesy – using a fresh and smoked version of mozzarella really brings out some unique tastes.  Slow-roasting the vegetables also makes the ingredients in this pie really flavorful, and the veggies come together well with the cheese and the rich pie crust.  You can definitely use a premade crust, but baking it from scratch is also pretty simple – it's your choice, but whatever you do you get an amazing savory pie.  This is warm and hearty enough to be a special treat for a holiday meal, or you can cook it up on any chilly winter day when you really want vegetables, cheese, and pie all in one.