Earlier this week we showed you how we made a savory vegetable pie for the holidays, so to continue along with that theme we're featuring today another vegetarian pot pie we recently made.  It's based on this recipe we found in the New York Times, but we altered it a bit based on items we could easily find in our local grocery store and what we discovered in putting this pie together.  If you're curious about the name, it comes from the fact that as in traditional fondues, this pie incorporates Swiss and raclette cheeses cooked in white wine to make for a very creamy meal.  There's also vegetables in the pie, though, to help round out all that cheese.  And while assembling everything takes some amount of care, overall we thought this was a warm and delicious treat in the depths of the cold winter – so read on to see how you can make it for yourselves.
You'll need:
Vinegar
A jalapeño
A small butternut squash
Nutmeg
Olive oil
An onion
Garlic
White wine
Thyme
Heavy cream
3 eggs
Cornstarch
4 ounces of Swiss cheese
5 ounces of raclette cheese
A 9-inch double pie crust (check the ingredients to make sure it's vegetarian)
To prep your pie's vegetables, take the butternut squash and peel it, cut it in half, scoop out the seeds and pulp, and slice it into 1/2-inch pieces.  Peel your onion as well and cut it into 5 equally-thick slices.  Toss both these vegetables in 3 1/2 tablespoons of olive oil, 2 teaspoons of nutmeg, and plenty of salt and pepper and place them in a single layer on a baking sheet lined with parchment paper.  Roast everything at 450°F for 15 minutes, then flip the vegetables over on the sheet and cook for another 15 minutes.
While the squash and onion are in the oven, measure out another tablespoon of olive oil into a pan and use it to cook 6 smashed garlic cloves over medium-high heat for just 1-2 minutes, until the garlic starts to brown.  Add in 1/2 cup of wine and about a tablespoon of thyme leaves and cook for 3-5 minutes until the wine is halfway reduced, then take the pan off the stove.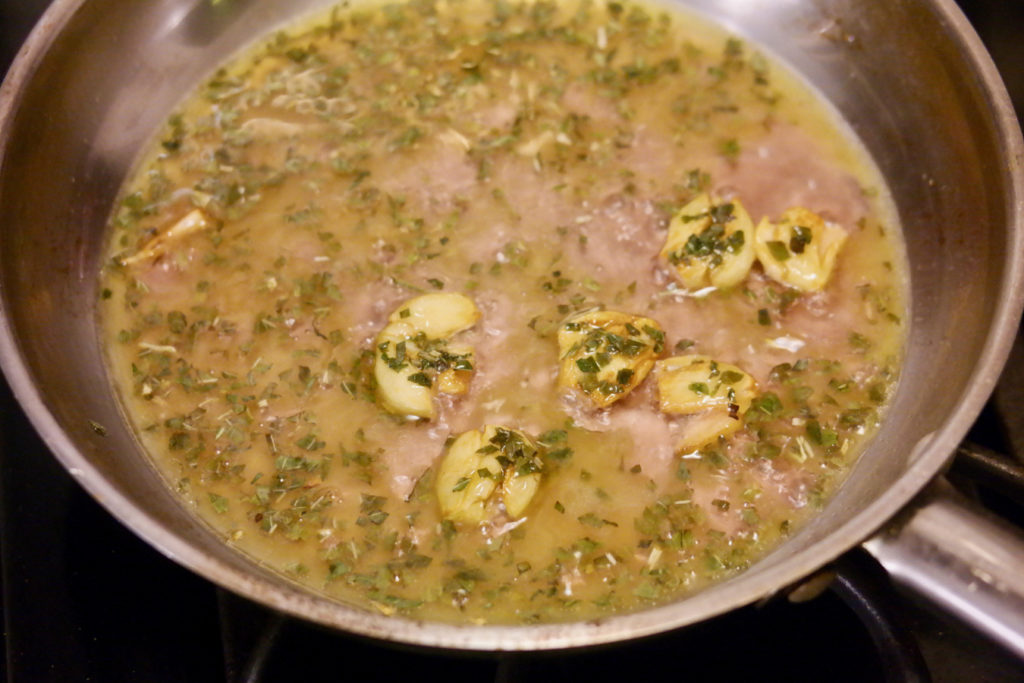 You'll also want to grate up both cheeses and place them in a bowl with a cup of cream, an egg, 2 egg yolks, a tablespoon of cornstarch, and salt and pepper.  Mix everything together and then stir in the contents of your wine and garlic pan.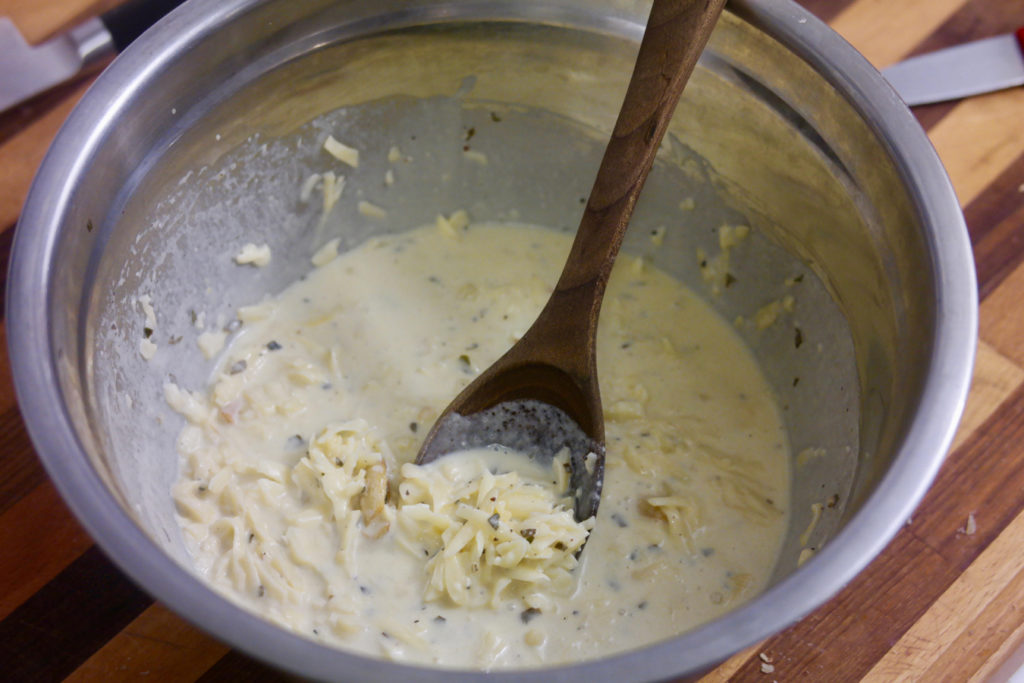 Finally, take your jalapeño and thinly slice it, then place the slices in a tablespoon of vinegar and set them aside to marinate.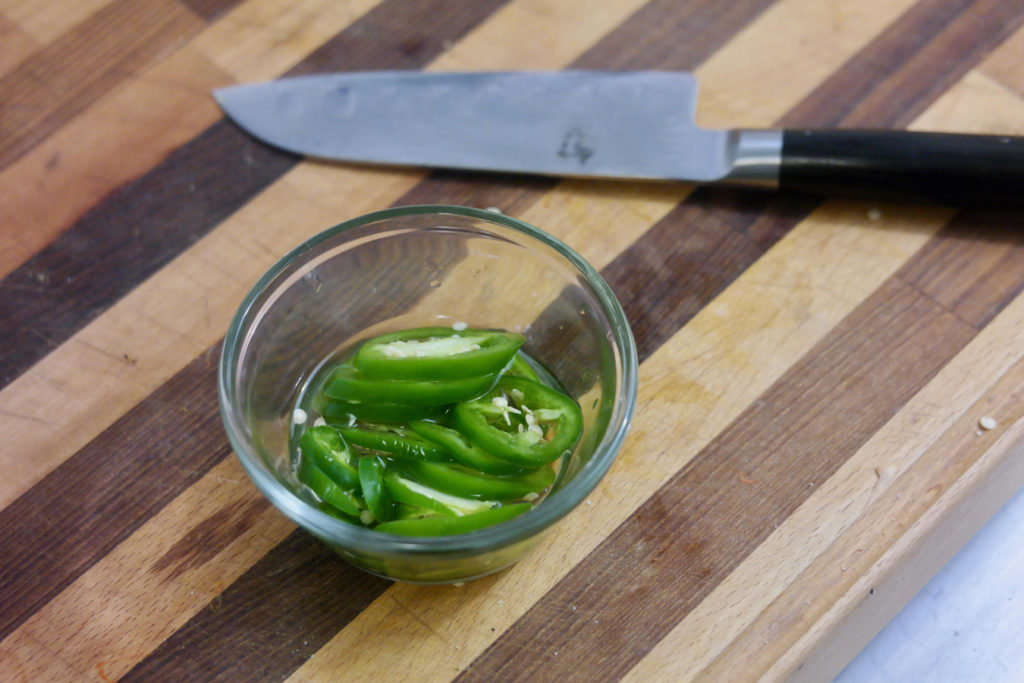 Once the vegetables are done roasting, let them cool slightly and take out your pie crust.  Place one crust into a pie tin, then place the butternut squash in the bottom and the onions on top.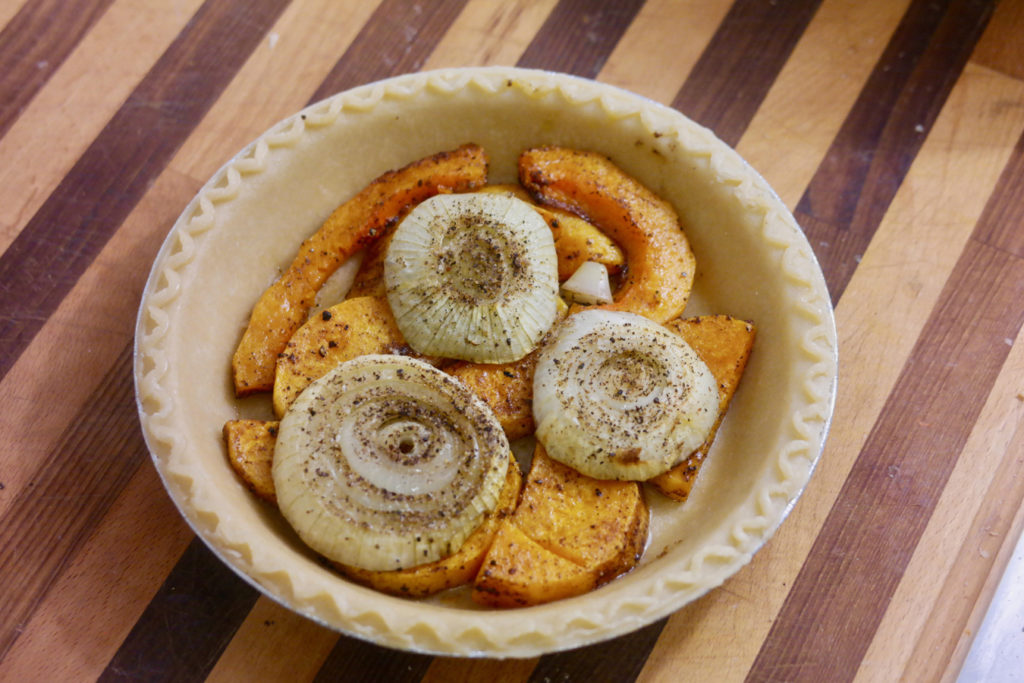 Pour in the cheese mixture until the pie crust is filled about 3/4 of the way, then carefully place the second crust on top and crimp them together so everything is enclosed between the two crusts.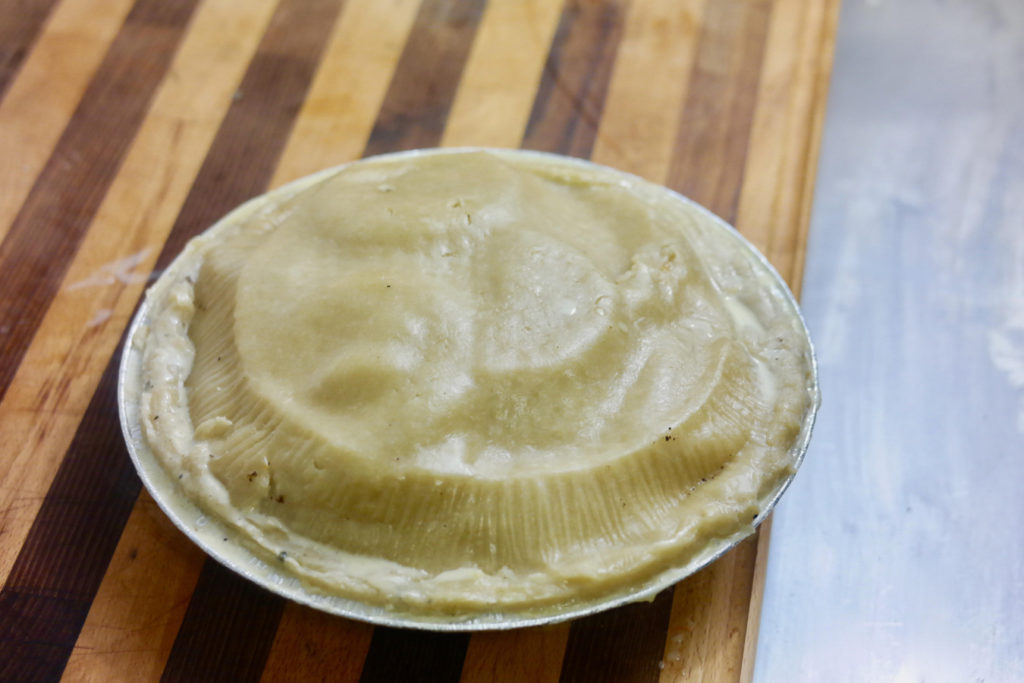 Place the pie tin on a baking sheet, turn the oven down to 375°F, and bake for 50 minutes or until the outside crust is golden.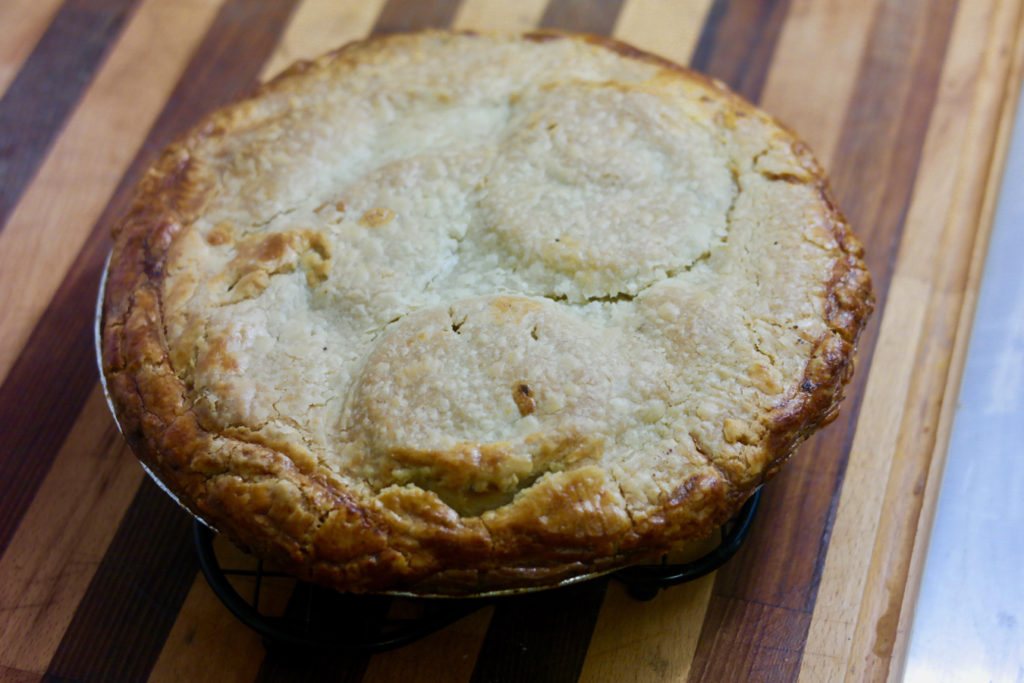 Let the pie cool and set for 20 minutes, then cut it into slices and serve with a few jalapeños on top.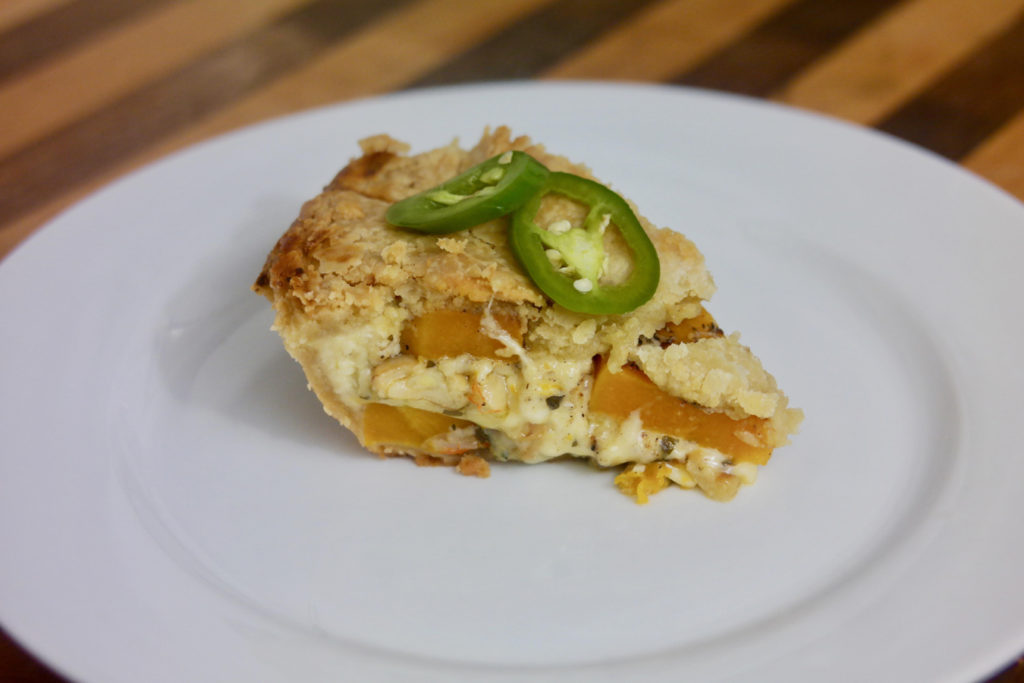 And that's how you get a cheesy pot pie!  The Swiss and raclette cheeses melted inside and flavored with a garlic-white wine sauce make this incredibly delicious, and thankfully there's also some great savory winter vegetables to balance out all the rich dairy.  We'll admit that it's a little bit tricky to assemble the pie, since you have to be careful not to overfill the crusts or the pie will explode a little bit in the oven – but using prepared crusts helps make this a little easier to put together.  If you've ever thought fondly about a Swiss fondue on a cold day, this pie is perfect for you – even if we can't give you the Alps as a beautiful backdrop.