A while ago we made a mushroom lasagna which, while delicious, was a more artful type of lasagna than you're probably used to.  Today we're going to show you a more traditional – but still meatless and veggie-based – version of this Italian-American classic.  A lot of lasagnas out there use ground beef or some type of meat sauce, but there's really no need for those ingredients:  cheese and noodles and red sauce are delicious all on their own, and adding in some spinach just enhances the flavor of this casserole while also making at least a small nod towards trying to keep things healthy.  Best of all, while the lasagna does take kind of a long time to cook, the prep and assembly here is minimal so this is pretty easy to whip up, especially considering how much food this recipe makes.  So here's how we veggie-fied a classic recipe – read on!
To make this, you'll need:
A box of lasagna noodles
2 10-ounce packages of frozen spinach
A large container of ricotta cheese
Parmesan cheese
12 ounces of mozzarella cheese
2 cups of marinara sauce – if you want to make it from scratch follow the first two steps of this recipe, and you'll also need:

An onion
A carrot
A stalk of celery
A 28-ounce can of crushed tomatoes
Basil
To prep everything for your lasagna, cook your entire box of noodles in boiling water, defrost and drain your spinach, shred your mozzarella cheese, and prepare the red sauce if you're using our homemade version.
Once the noodles are cool enough to handle, take five of them and layer them in the bottom of a large casserole dish (it's OK if they overlap).  Spread about one-quarter of your sauce over them.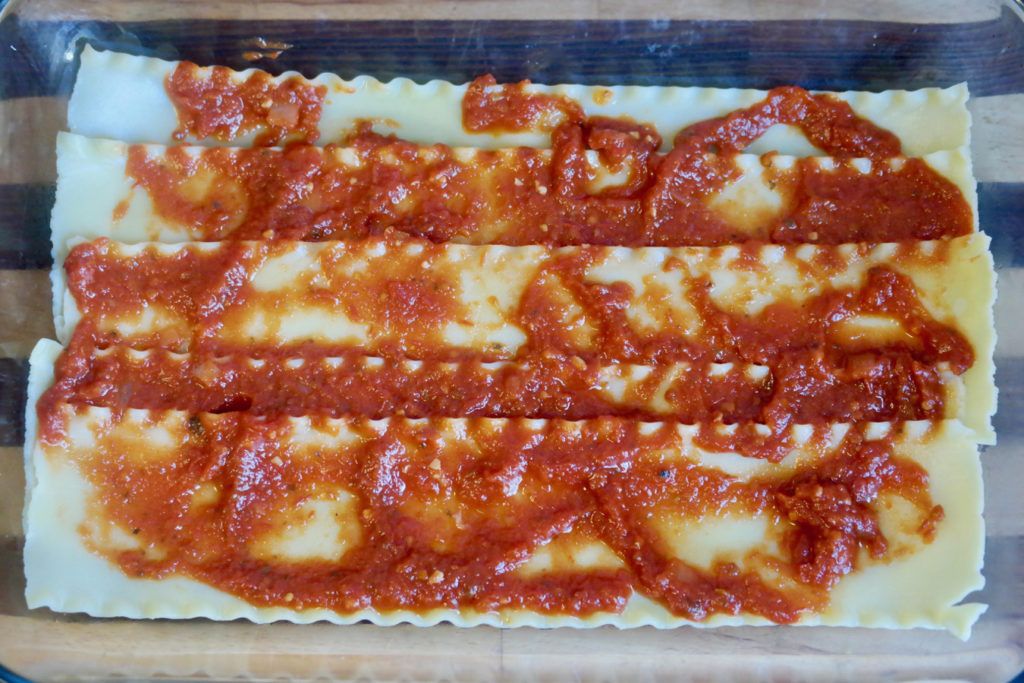 Then spread one-quarter of your spinach over the sauce.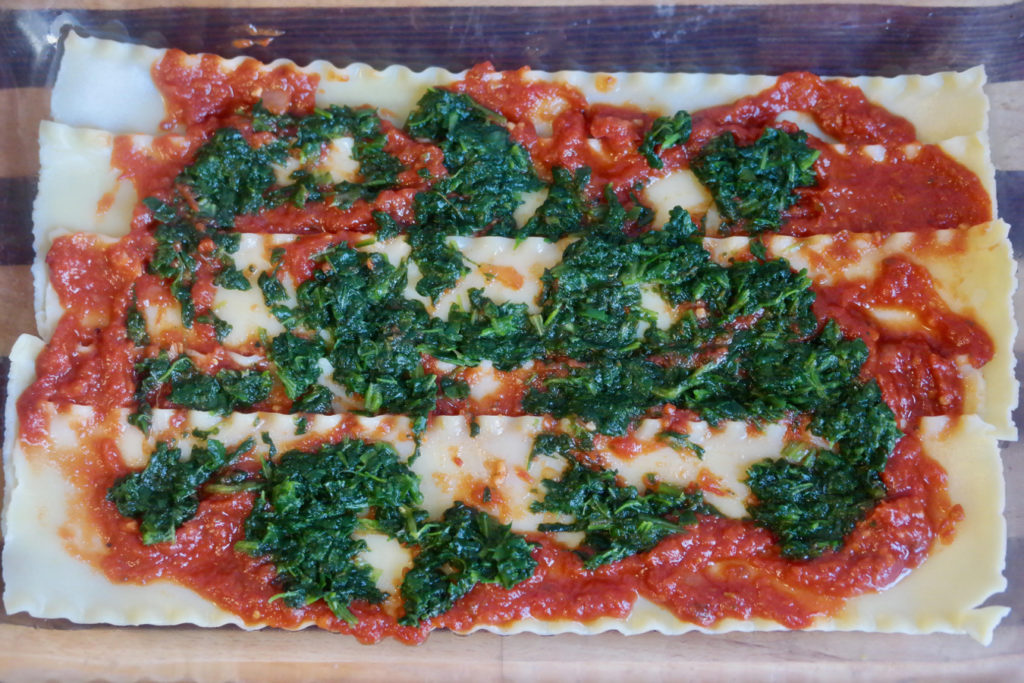 Mix 3 cups of ricotta cheese and 1/2 cup of Parmesan together and spread one-quarter of this mixture over the spinach, then top that with one-quarter of the mozzarella cheese.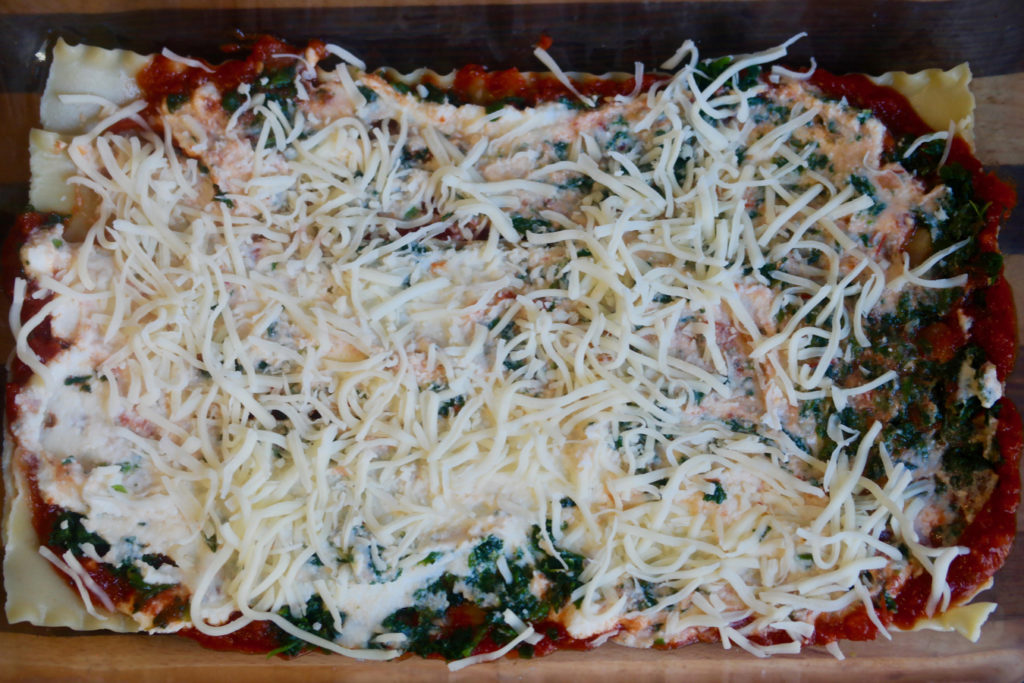 Repeat these layers three more times until you've used up all your noodles, sauce, spinach, ricotta, and mozzarella.  Cover the casserole dish in foil and bake at 350°F for 45 minutes, then uncover and bake for another 15 minutes.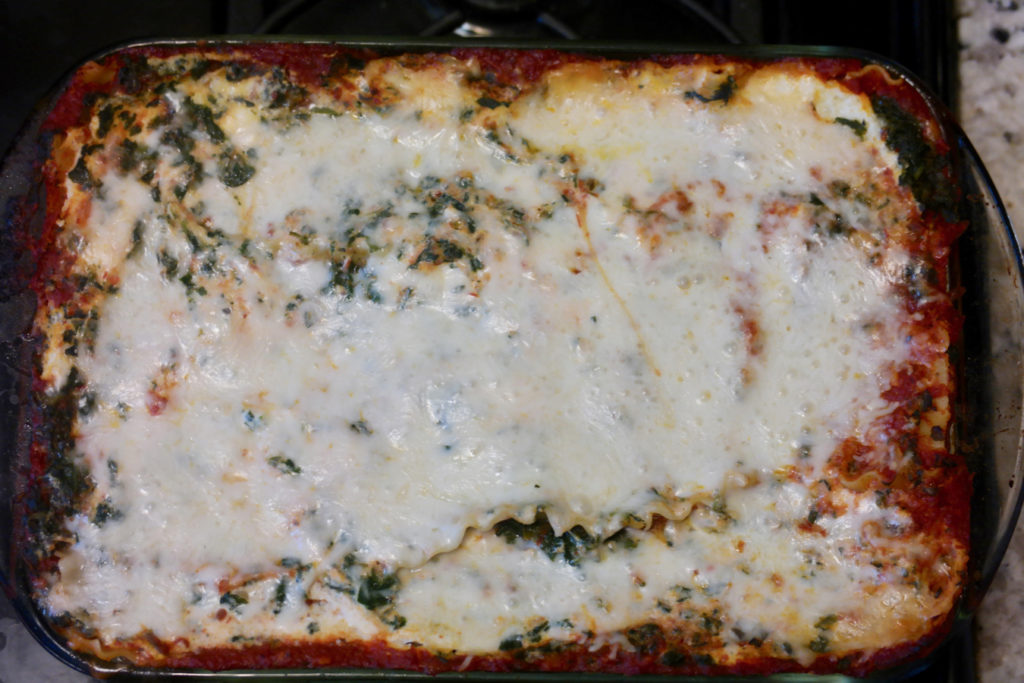 Cut the lasagna into squares and you can serve it up!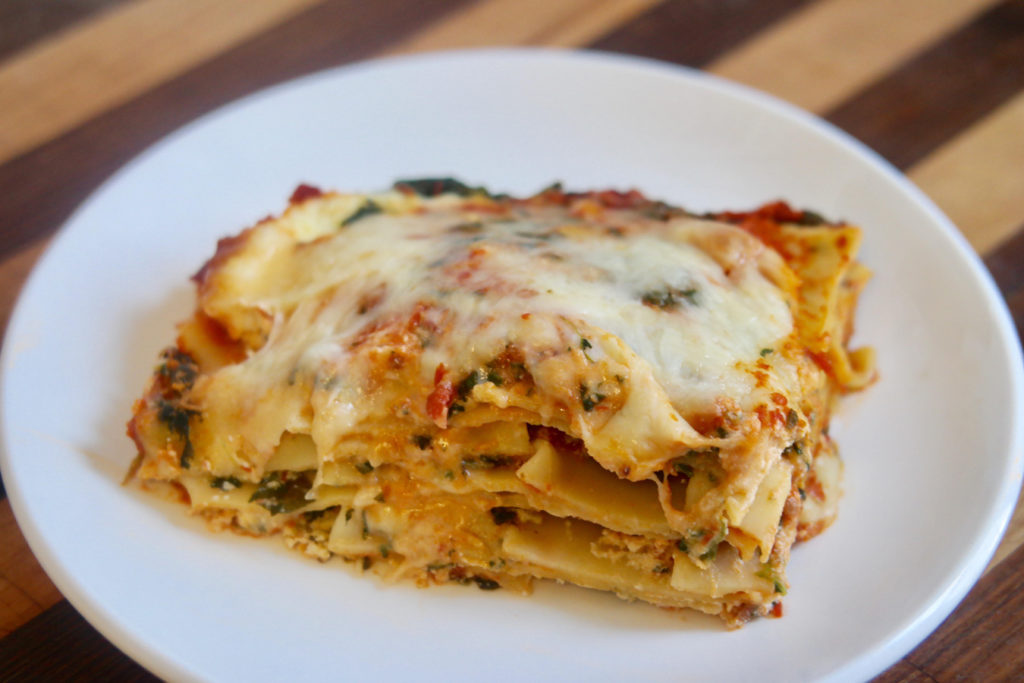 And that's how you make a vegetarian lasagna!  If you choose to make the sauce from scratch, then this will take a little extra time and effort, but aside from that all you have to do is layer and bake and out comes a delicious, super-cheesy pasta dish with some spinach squeezed in there.  The cheese and sauce are warm and rich paired with the noodles, and even the most die-hard spinach haters would be hard-pressed to pass this up.  We'd like to think that our lasagna proves you don't need meat to make a delicious meal, but try it out for yourselves and see what you think.