Recently we decided to go to Rhode Island for a weekend because it's just a few hours away by train or bus, and we realized that despite living in the the New York-New Jersey area for most of our lives, neither of us had ever really visited the state.  At first we thought we'd just check out Providence, Rhode Island's capital, but since it's a pretty tiny state (the tiniest state, in fact), once we got there we thought we'd just rent a car and drive all around – and of course check out some food from all over the area.  So we're going to show you what we discovered and everything we ate – just be warned that there will be some meat featured here.
On our first night we decided to try out Ogie's Trailer Park, a late-night spot that serves food and drinks in a kitten-themed interior plus front and back decks that have mobile homes strewn about.  Ogie's is in Providence's Federal Hill neighborhood, so we were able to walk there from our hotel downtown to sip on some drinks and eat some of their interesting bar fare – like this grilled cheese sandwich stuffed with mozzarella sticks: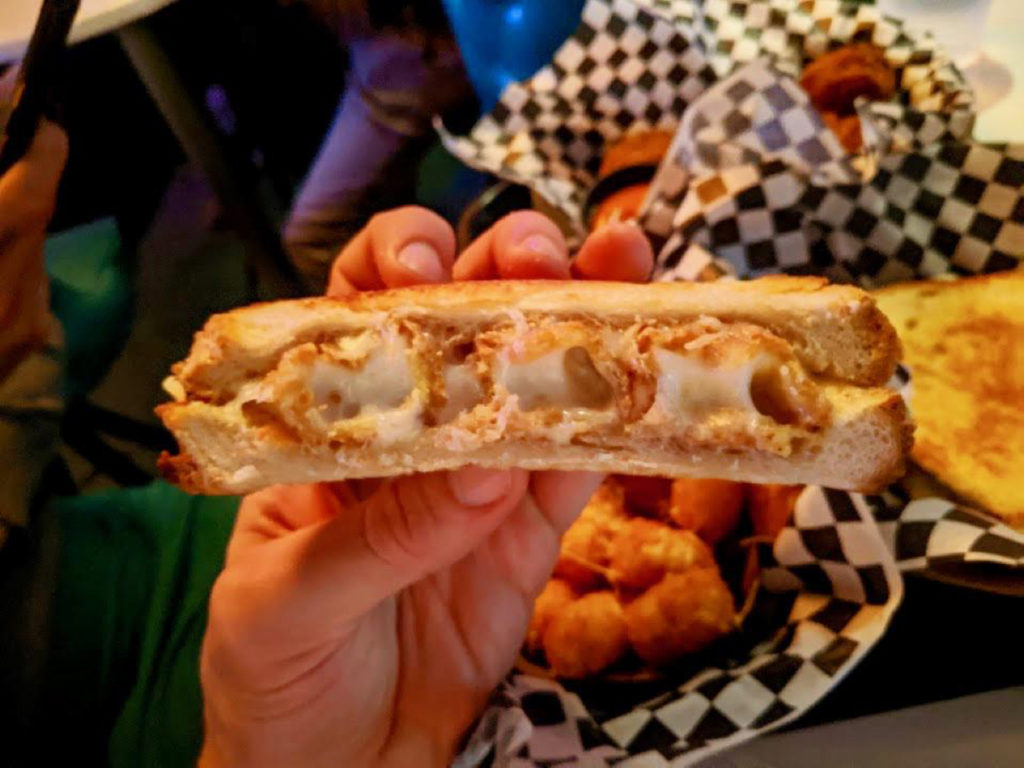 We also enjoyed some tater tots topped with shredded Parmesan cheese and truffle oil.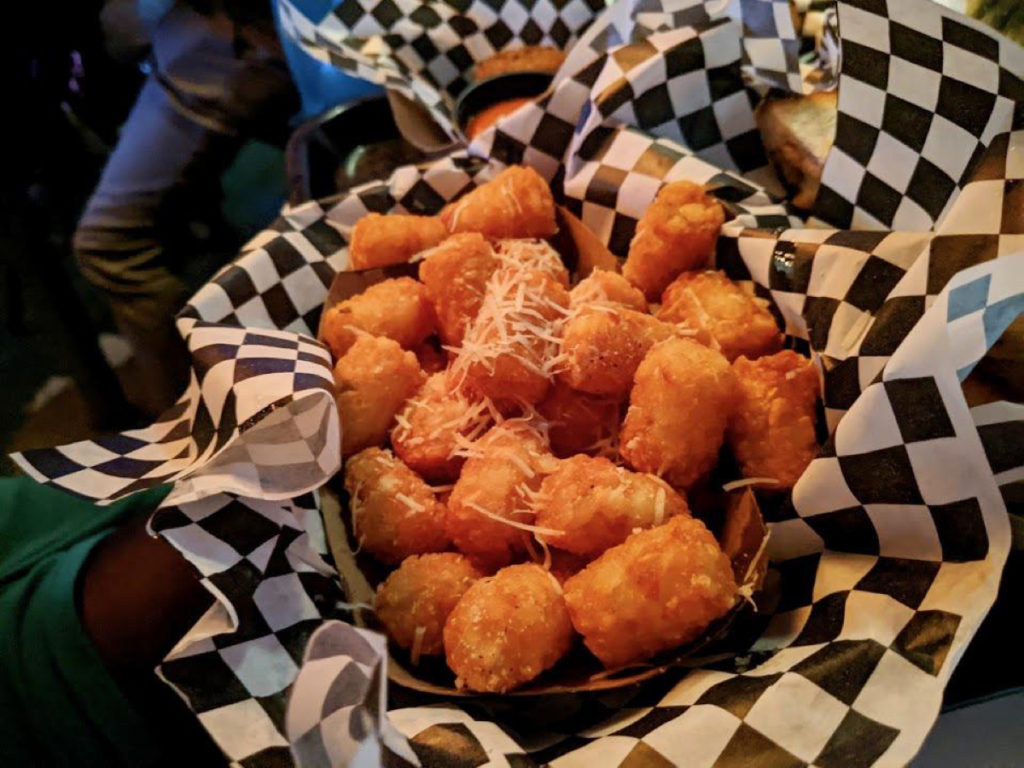 Also in Providence is Olneyville New York System, a long-standing lunch counter that serves their own version of hot dogs made from long ropes of beef, pork and veal cut into individual servings.  Cyril had two of these "all the way", topped with chili and onions.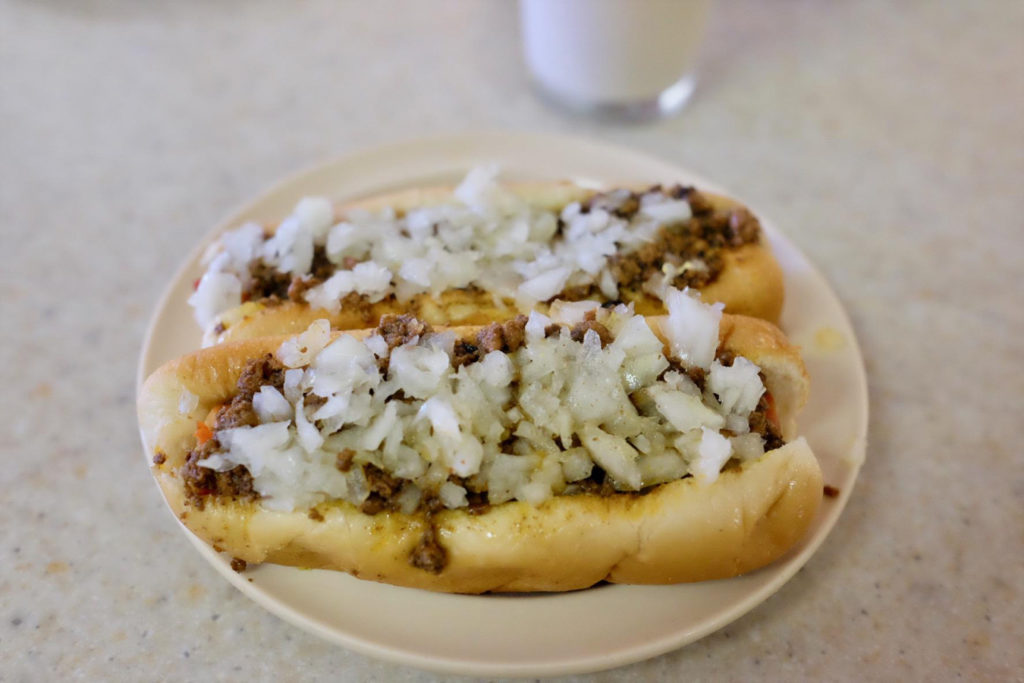 Luckily for Miriam, they also have a grilled cheese sandwich on the menu, which she had with some fries.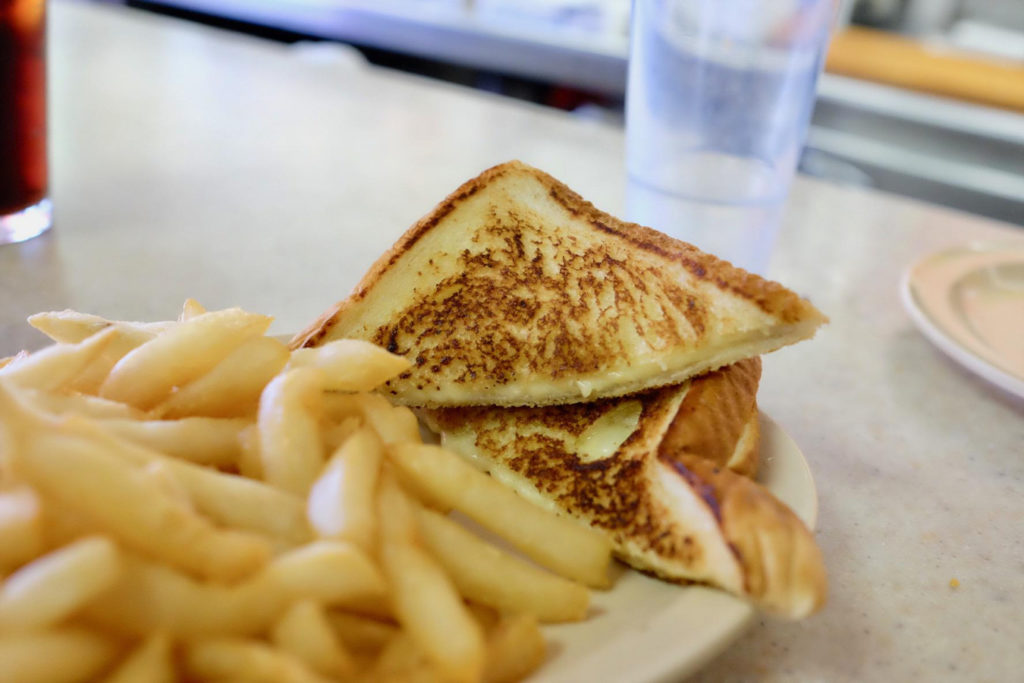 Once we got our hands on a rental car we headed over to Jigger's Diner in East Greenwich for Rhode Island's version of johnnycakes, which some believe originated in the state.  They're basically pancakes made with cornmeal instead of flour, and here's Jigger's version, plus some bacon, eggs, and fruit that we got as part of the johnnycake combo.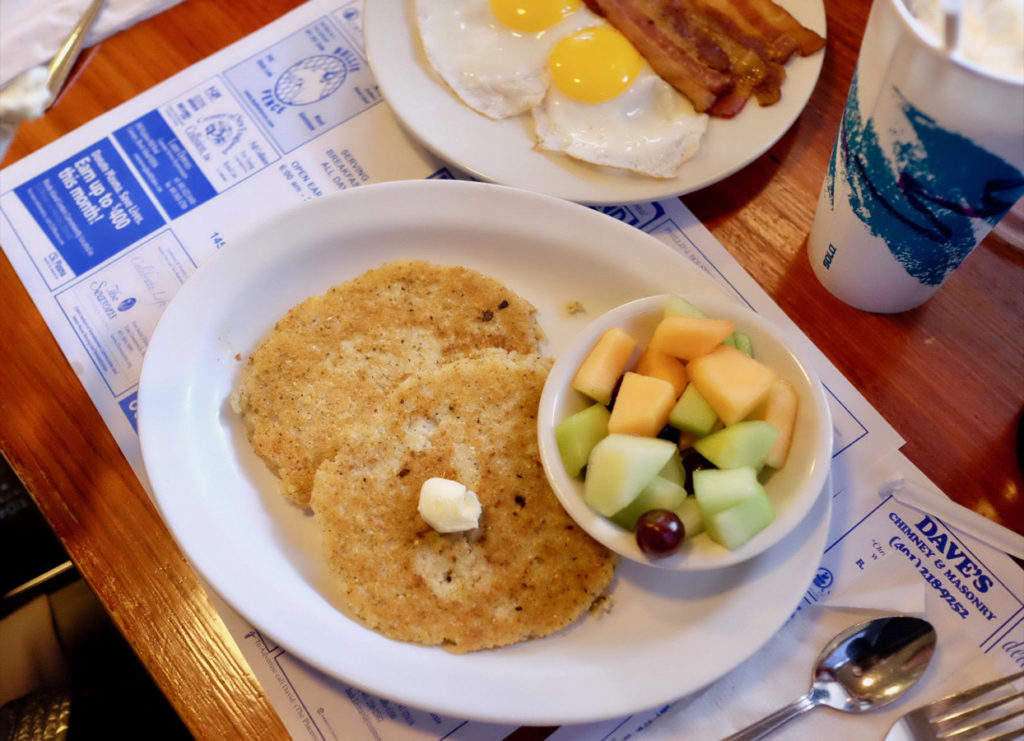 We also tried the sweet potato hash, which is made with black beans and served with salsa.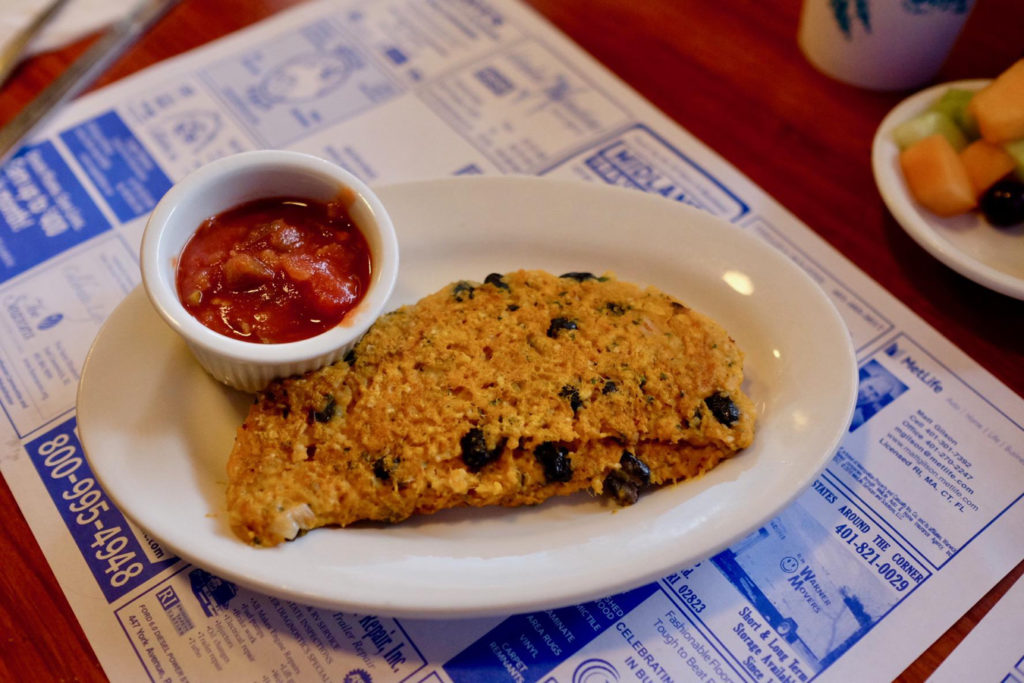 And the diner also gives you mini muffins with every meal – these ones are corn (on the left), blueberry (on the right), and banana chocolate chip in the middle.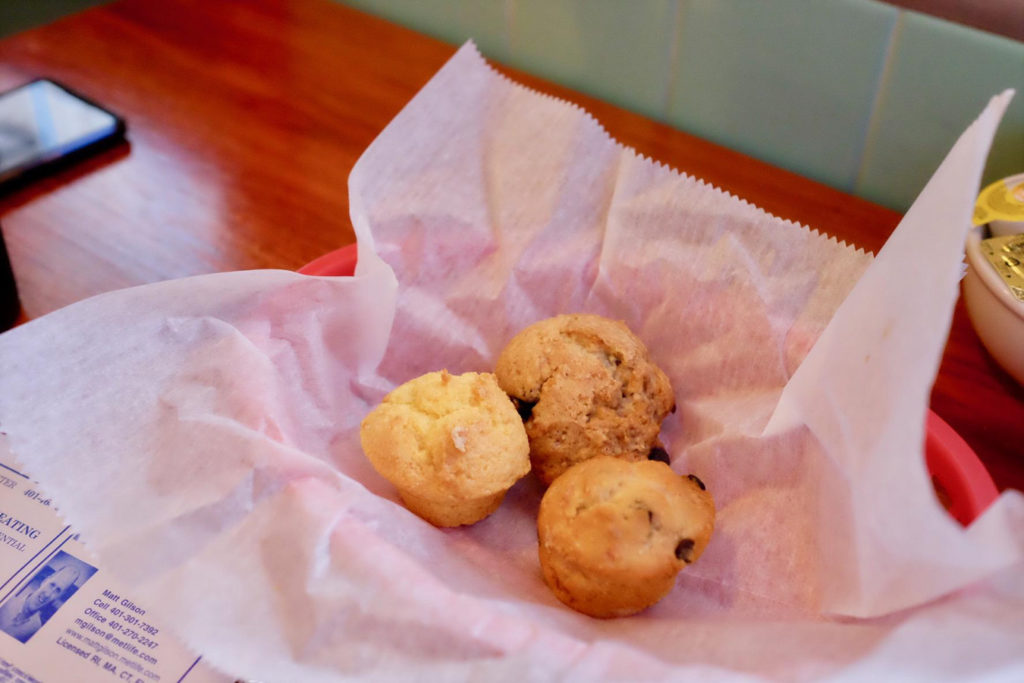 But what we were really looking forward to on this trip was some of Rhode Island's signature Italian food.  The state has a large Italian-American population that formed a community which took their traditional foods and put their own spin on things.  One place that makes excellent examples of this cuisine is The Original Italian Bakery in Johnston.  There you can get some pizza strips, which are unique to the area – they're baked crust topped with red sauce or with garlic and Parmesan cheese.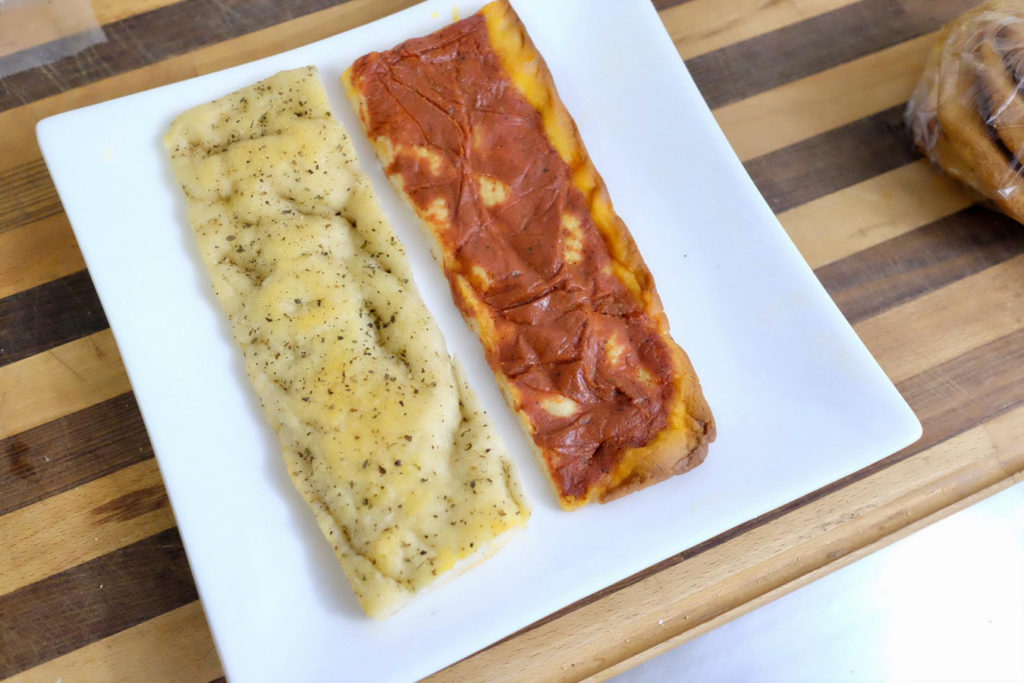 Pizza chips are another food item you can only get in Rhode Island, and which The Original Italian Bakery claims to have invented.  They're rounds of baked dough topped with either red sauce, red sauce and jalapeños, or garlic and Parmesan.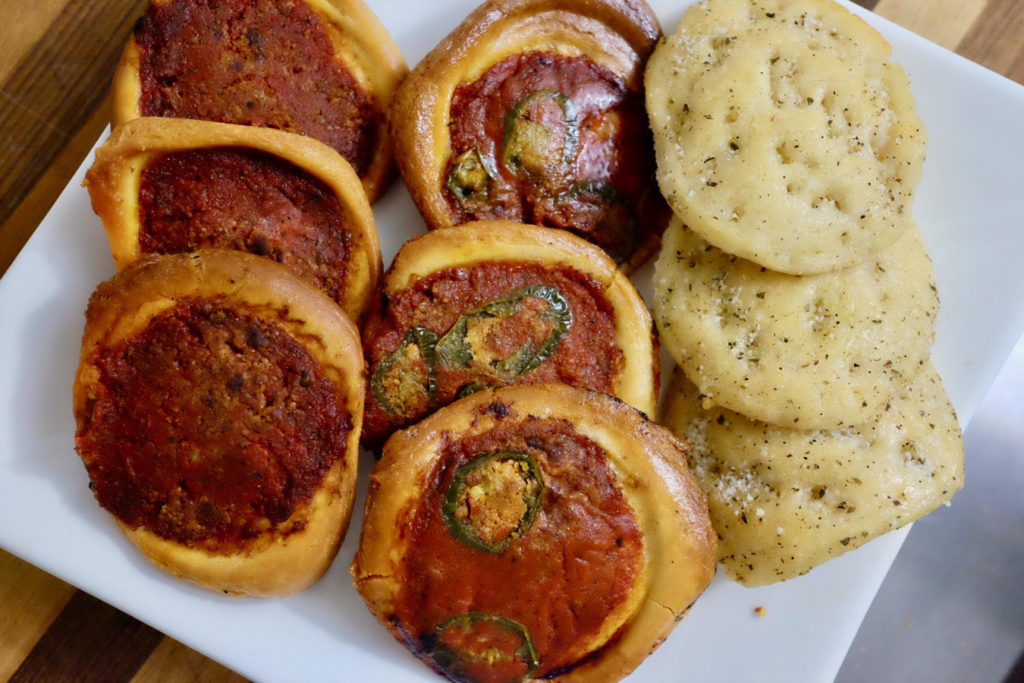 We also walked away with a few other baked goods once the people behind the counter heard we were visiting from out of state:  a few spinach pies …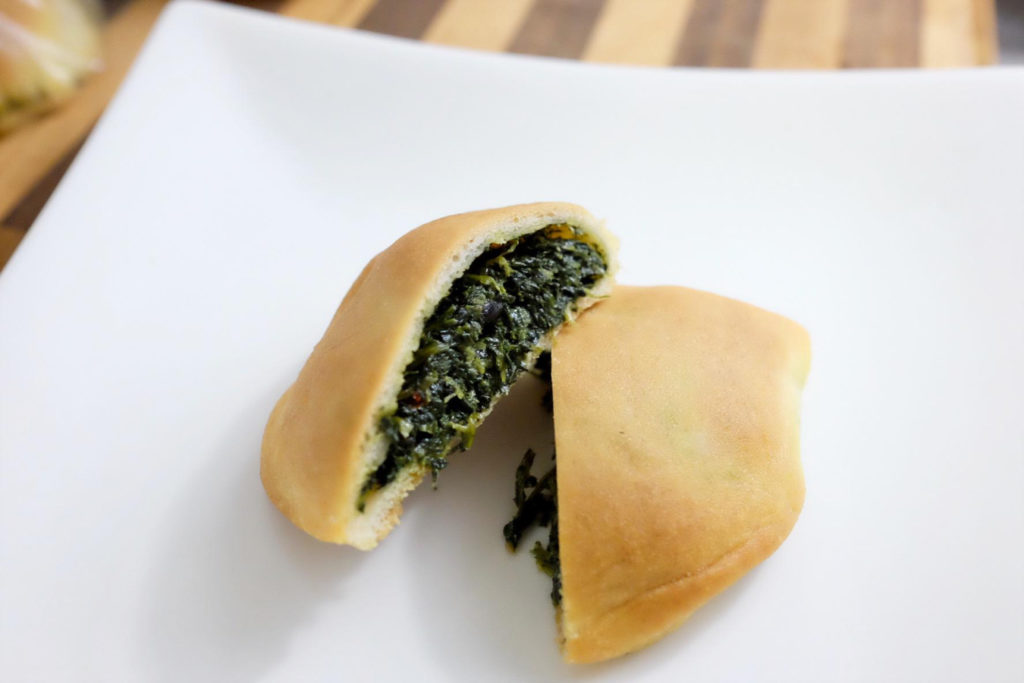 … and a huge loaf of Italian bread.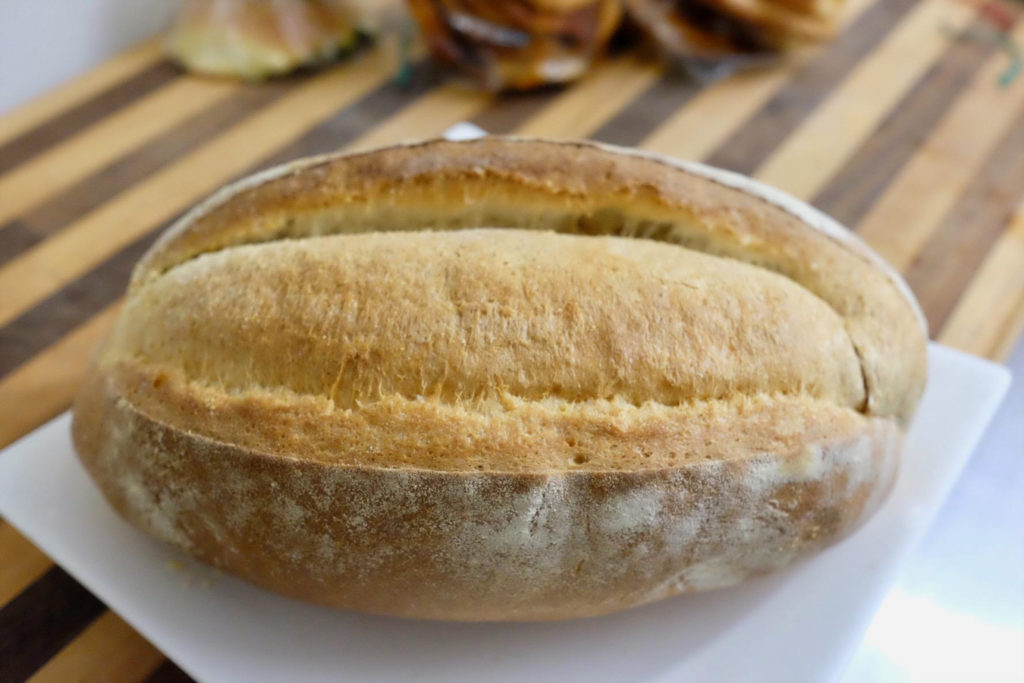 Another example of the Italian influence in Rhode Island is its pizza, which is made from dough formed into an irregular shape and then grilled.  The inventor of this type of pizza is Al Forno in Providence, so of course we had to visit to get to the source.  We waited for over an hour there, as Al Forno is an insanely popular restaurant, but it was worth it to try the margarita pizza.  Ours – topped with sauce, cheese, and strips of scallions – came out shaped like a kickboard, or maybe an arrowhead.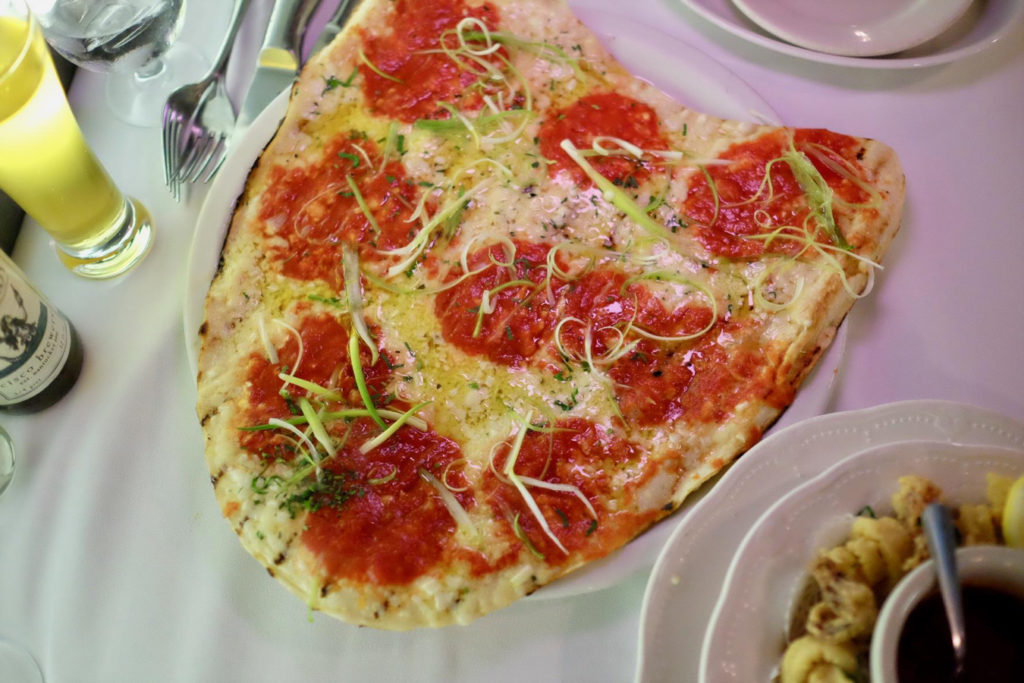 We also tried a couple of other dishes at Al Forno:  here is the fried calamari, made with both tentacles and whole squid and served with arrabbiata sauce.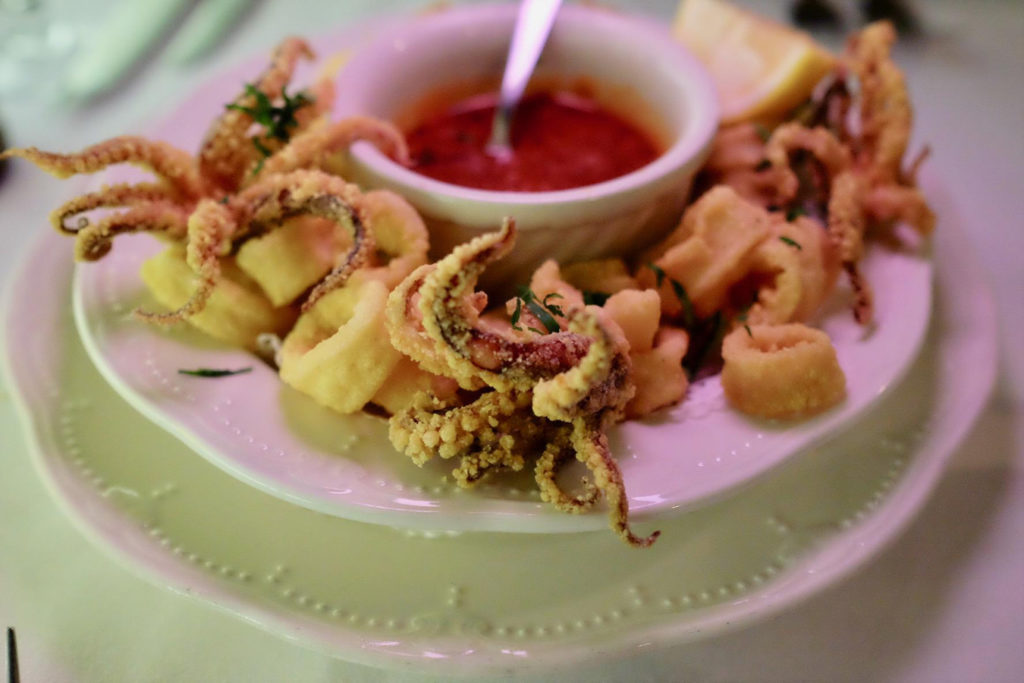 Miriam tried the baked pasta, with a creamy tomato sauce and mozzarella cheese on top.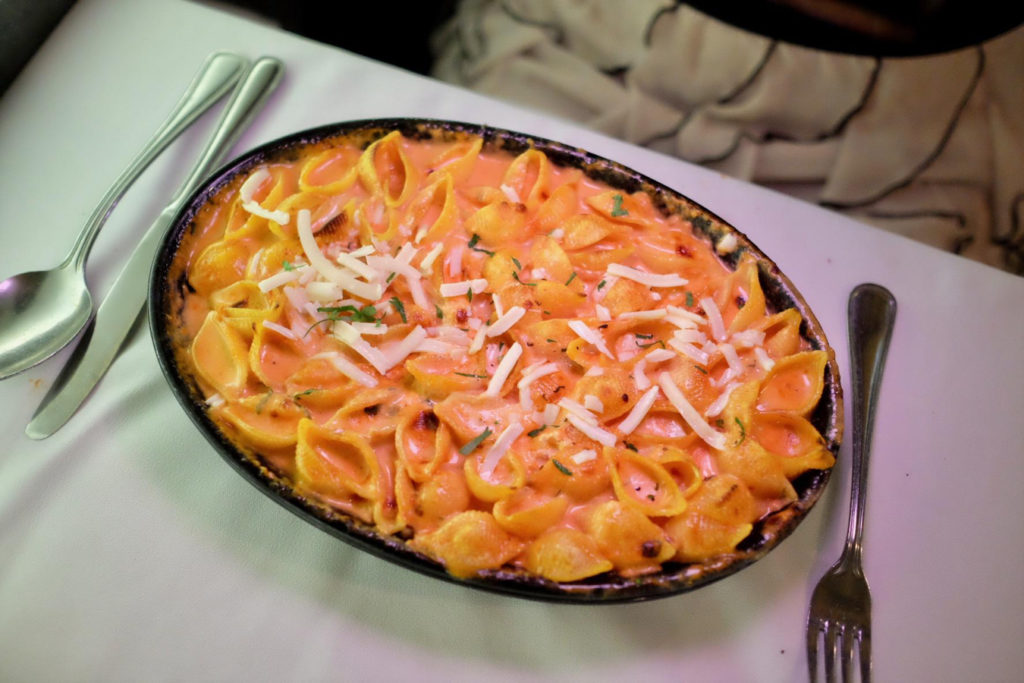 And Cyril got some gnocchi in a wild boar and sausage ragu.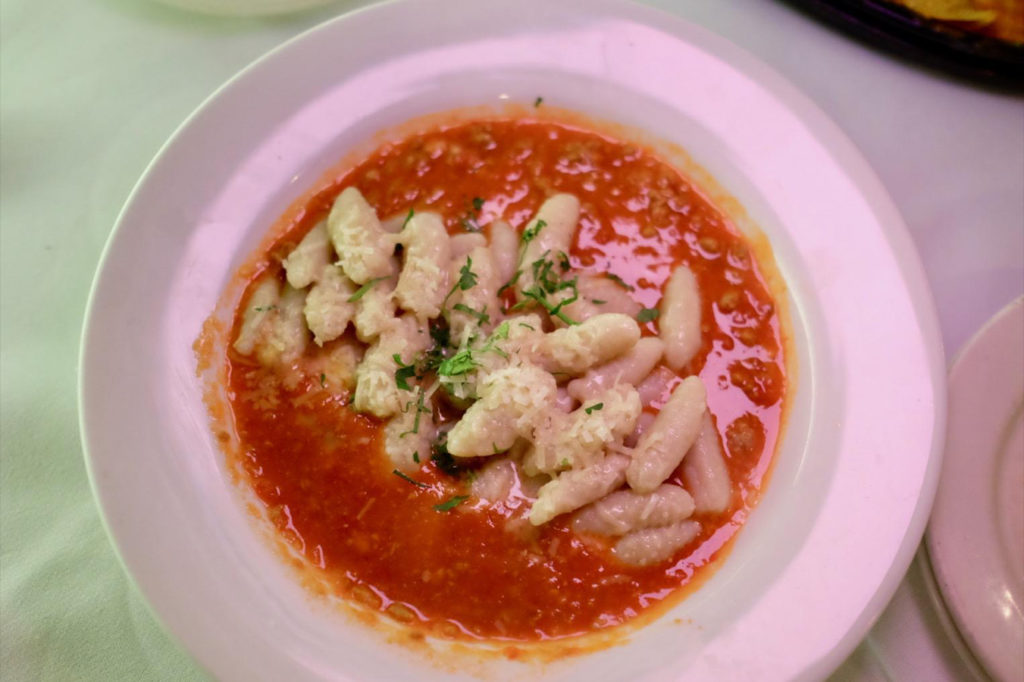 There are other things we didn't get to sample – namely some of the state's seafood, since Miriam doesn't eat any animals – but we think we got a good variety of what Rhode Island has to offer.  We had some breakfast food, some quick lunch counter fare, some bar bites, and plenty of unique Italian offerings.  We're glad we took the chance to visit one of our nearby states, and if you ever find yourself in New England let this serve as a handy guide of what you should get in our nation's smallest territory.