Just like cacio e pepe, pasta e ceci is a classic Roman pasta dish that gets its flavor from the simplicity of its ingredients.  Traditional pasta e ceci combines pasta with chickpeas (that's the ceci) and anchovies in a broth, but here we subbed in herbed, spiced greens in a creamy sauce to make some vegetarian noodles.  We based our recipe on something we found in the New York Times and we thought it was not just wonderfully flavorful but also really easy to make.  So if you'd like to try out a new, tasty, meatless pasta dish, read on!
You'll need:
A 14-ounce can of chickpeas
Olive oil
Dried rosemary
Red pepper flakes
Garlic
Cream
A 6-ounce bag of spinach
12 ounces of pasta
Parmesan cheese
Start by cooking your pasta – but don't drain it when it's done – and while that's going on you can drain your chickpeas and then place them with 1/4 cup of olive oil in a large pot with high sides.  Sprinkle everything with 2 teaspoons of dried rosemary and a teaspoon of red pepper flakes and cook over medium-high heat for about 5 minutes, until the chickpeas begin to brown.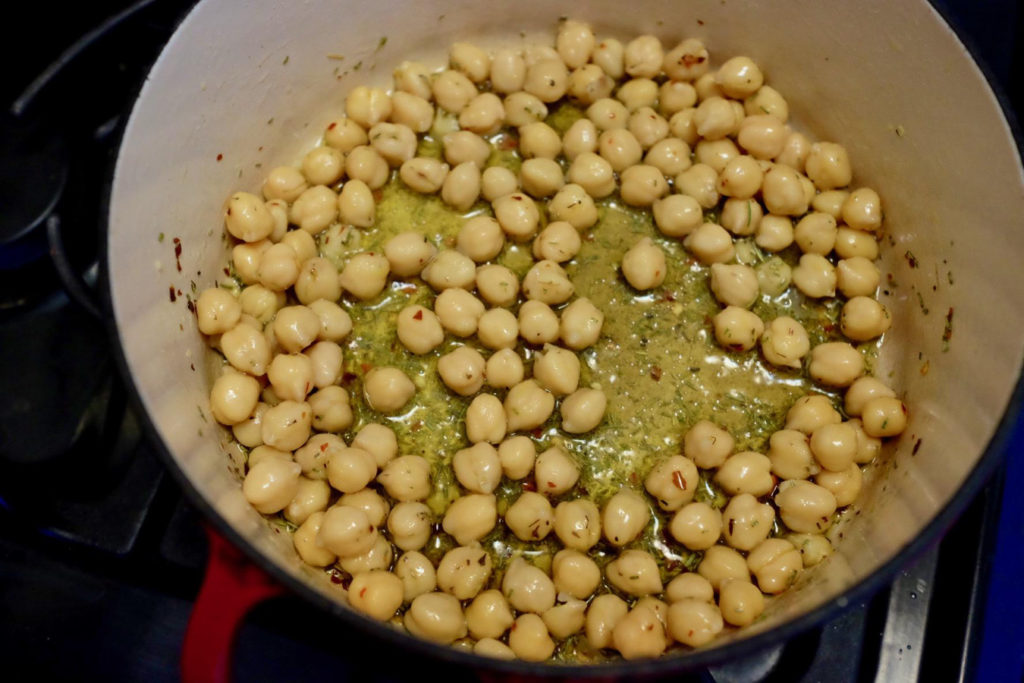 Scoop out a few spoonfuls of chickpeas and set them aside, then add in 2 chopped garlic cloves and cook for another 3 minutes or so.  Pour in a cup of cream and simmer for a few minutes until you have a thickened sauce.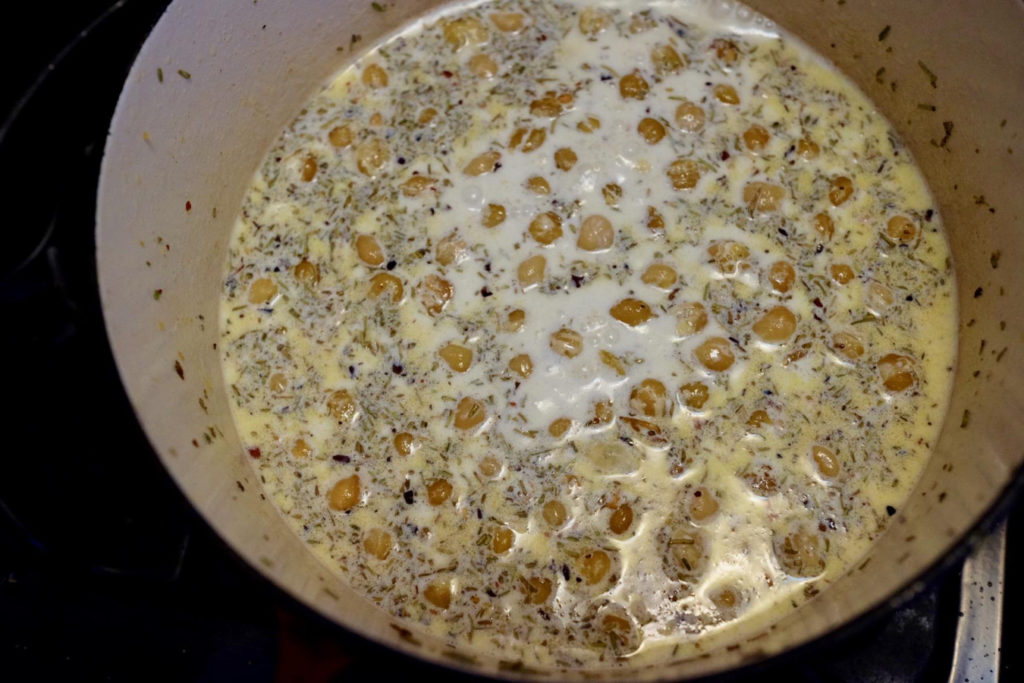 Add in the spinach and let it sit to wilt in the cream.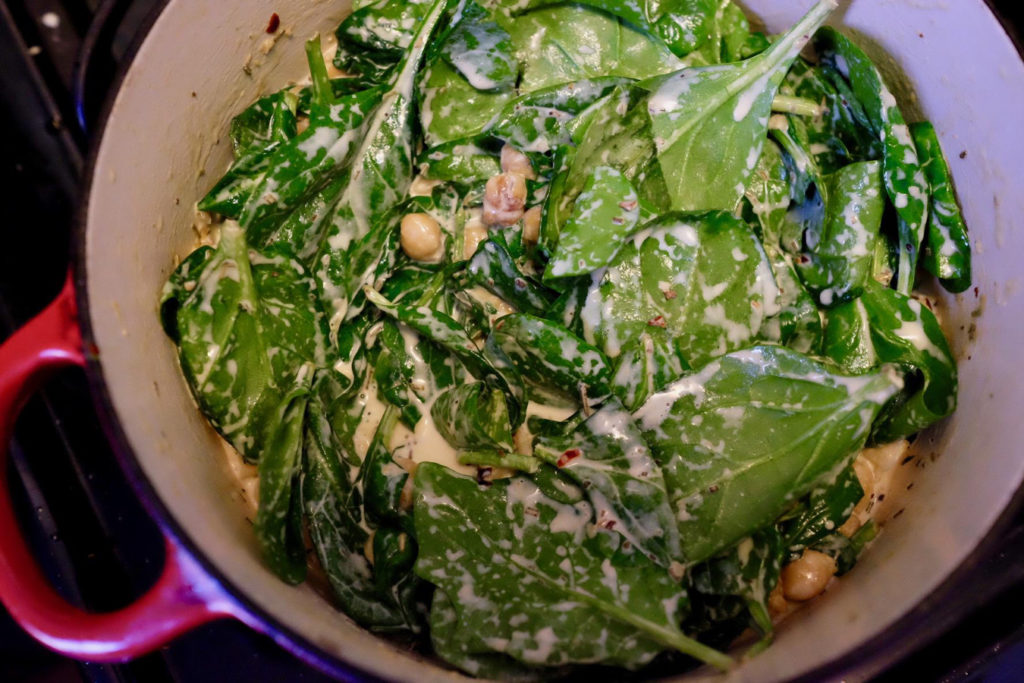 When your pasta is done, use tongs to pick it up and place it in the pot along with a cup of the water it was cooking in.  Mix everything together, keeping the pot at medium heat, then stir in 1/2 cup of Parmesan.  Continue stirring the pasta and everything else together until you have a smooth, thick sauce that evenly coats all the pasta.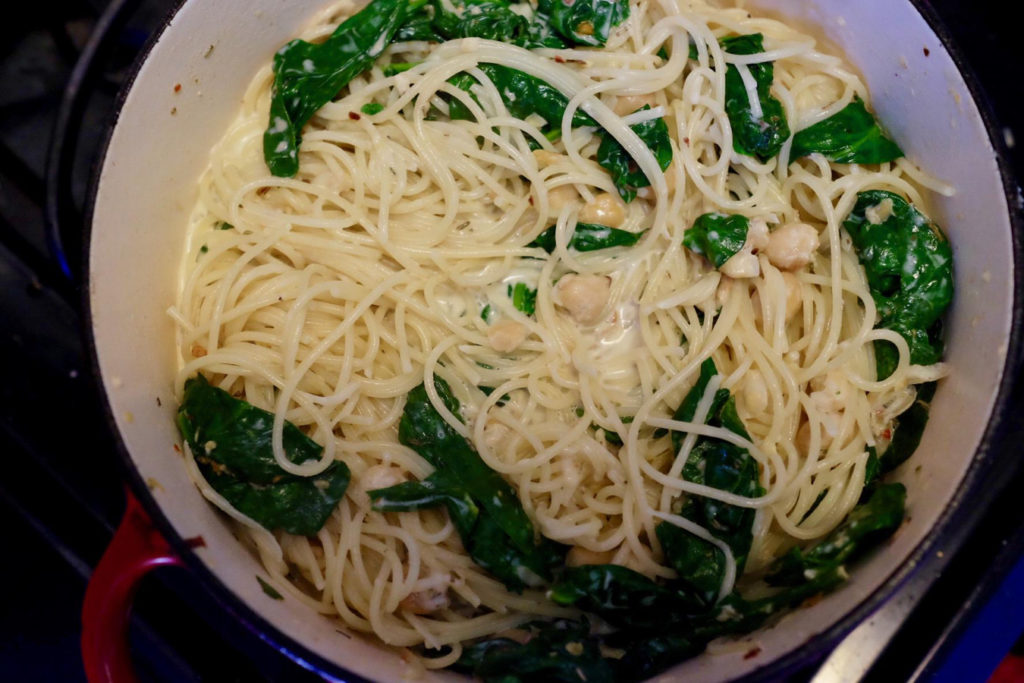 Now you can serve your pasta in individual bowls, topped with the chickpeas you set aside, more dried rosemary, and some extra Parmesan.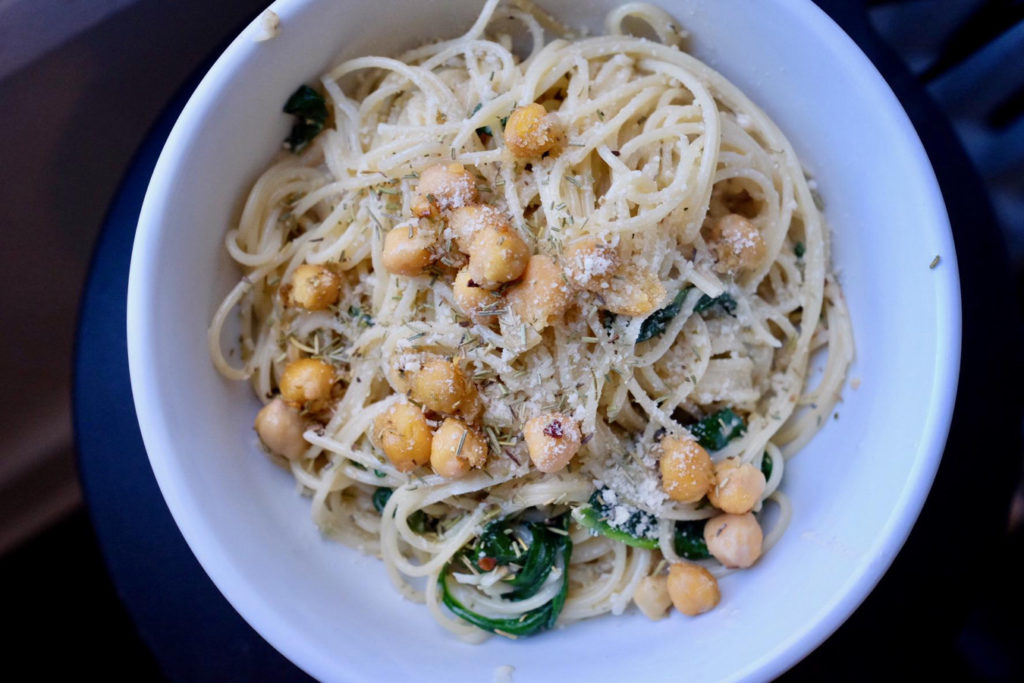 And that's how you get pasta e ceci – all you need to do is measure out some ingredients, chop a little garlic, stir, and then you've got yourself an interesting pasta.  The creamy sauce is a great medium for the chickpeas and greens, and cooking everything with rosemary and red pepper flakes adds subtle spicy and herby flavors.  You might not immediately think to add chickpeas to pasta, since we usually see these legumes in Middle Eastern and Indian dishes, but ceci traveled to Italy during Roman times and has made its way into all kinds of dishes there, like this one.  So if it was good enough for the Romans, you should try this pasta out too.