Over the recent long holiday weekend for Presidents' Day we decided to travel, and so we headed out to San Antonio.  We wanted to see the Alamo and several of the other centuries-old missions in the city, and we got a chance to explore a little of the surrounding Texas countryside as well.  But of course we also tried a lot of the food on offer, and today we're going to show you all of what we ate while we were there.  We just want to warn you ahead of time, though, that there are some images of meat here.
When you think of Texas, probably the first type of food you think of is Tex-Mex – and indeed, we ate a lot of it last weekend.  The first place we checked out after arriving in San Antonio was Rosario's, which is a quick walk from the downtown area.  We heard that the enchiladas were good there, so we each got our own plate:  for Miriam it was the enchiladas Mexicanas, stuffed with queso fresco and topped with potatoes, carrots, avocado, chile sauce, and a jalapeño.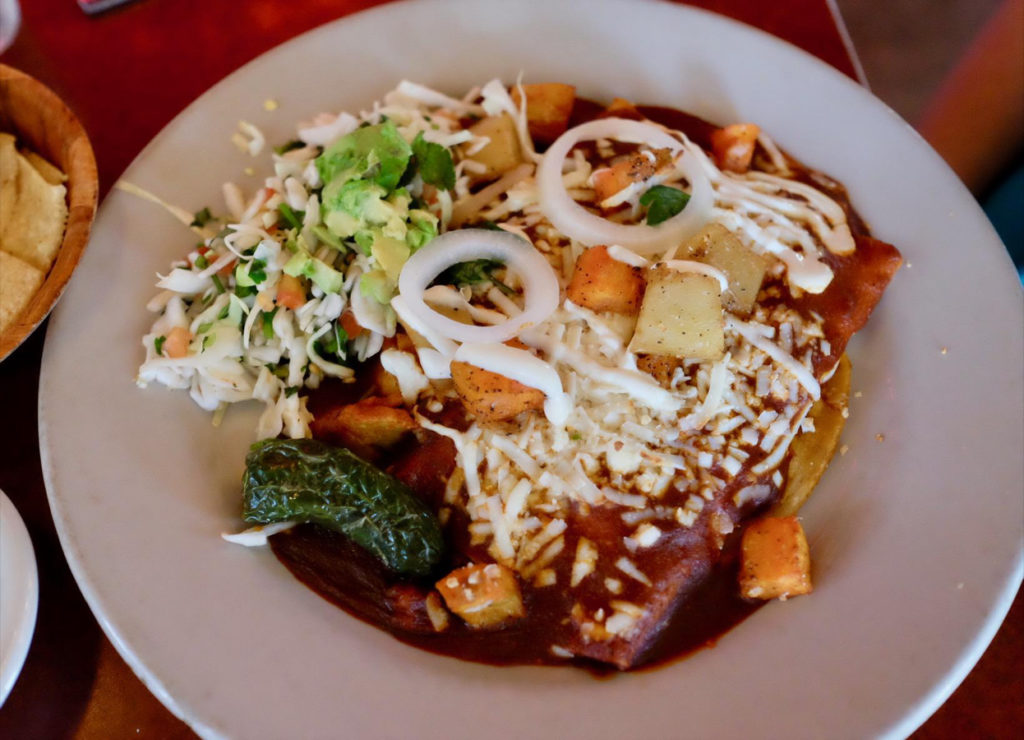 And Cyril had the enchiladas verdes, with chicken inside and a green chile and corn sauce on top, all smothered in cheese.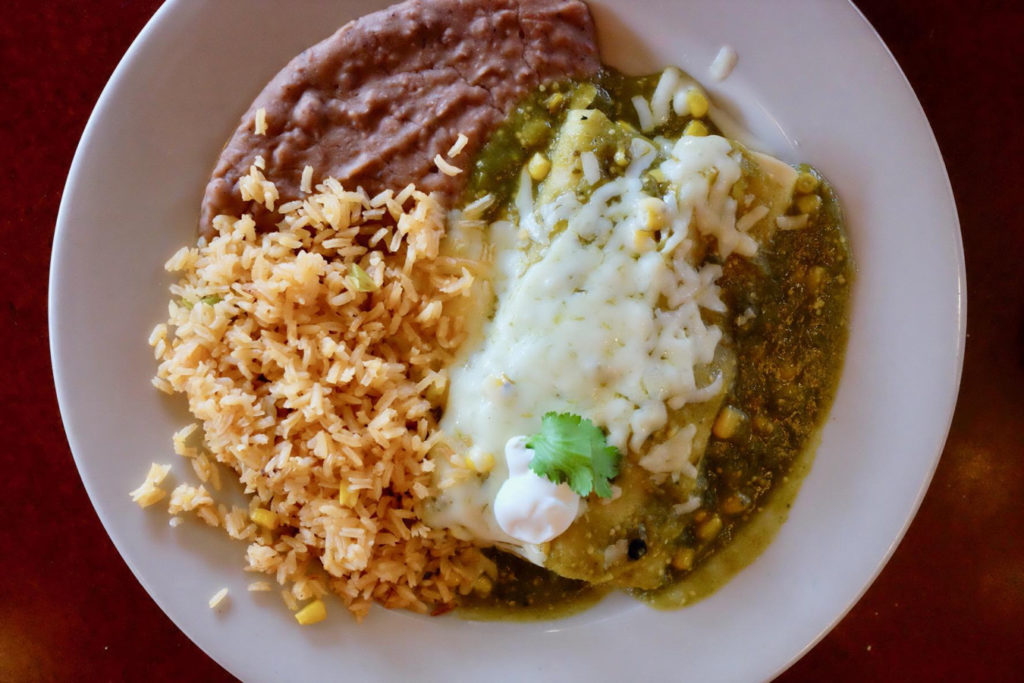 We also went to Mi Tierra Cafe, which is another short walk from downtown.  Mi Tierra is one of the most popular restaurants in the city, probably because it never closes.  There's more Tex-Mex on offer there, and you can ask for a special vegetarian and vegan menu which includes this poblano dinner – it's a chile relleno served with a cheese enchilada, rice, black beans, and guacamole on the side.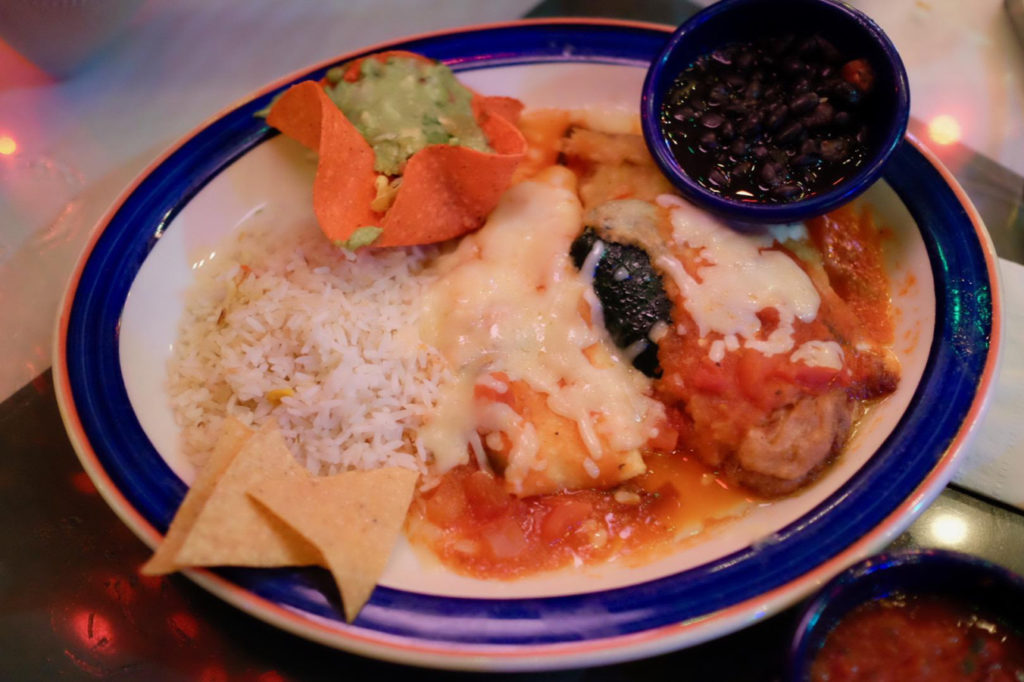 And Cyril got a plate of cheese enchiladas, topped with more cheese and a meat and chile sauce.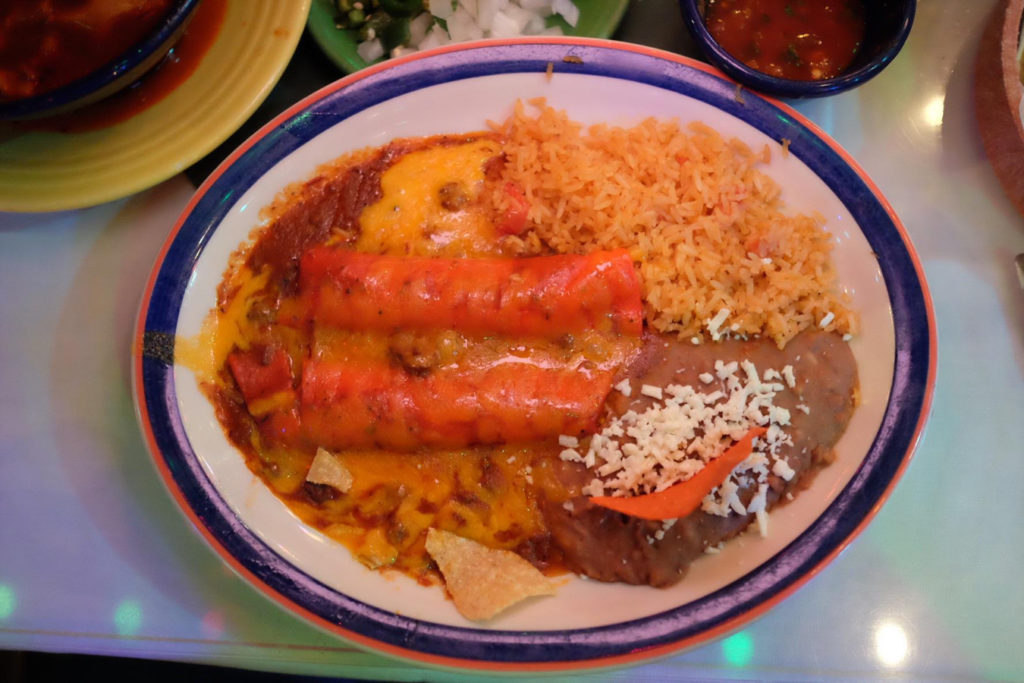 One place we were really excited to check out was Ray's Drive Inn, which is a couple miles west of the downtown area but which we were told we absolutely had to visit.  Why?  Well, Ray's claim to fame is that they invented the puffy taco, which gets its pillowy shell from frying undercooked dough and then shaping it into a taco.  We tried several different varieties of puffy taco – Miriam had one filled with beans and one with avocado, both covered in shredded cheese.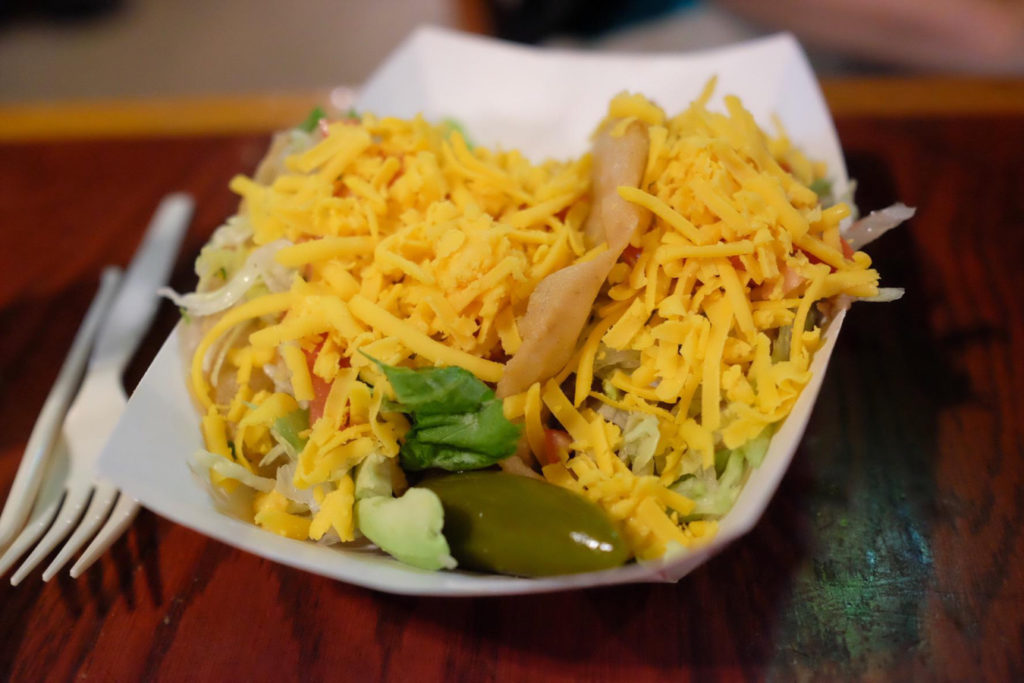 Cyril got one with fajita chicken, one with shrimp, and one with carne guisada, a local specialty of beef in a stew.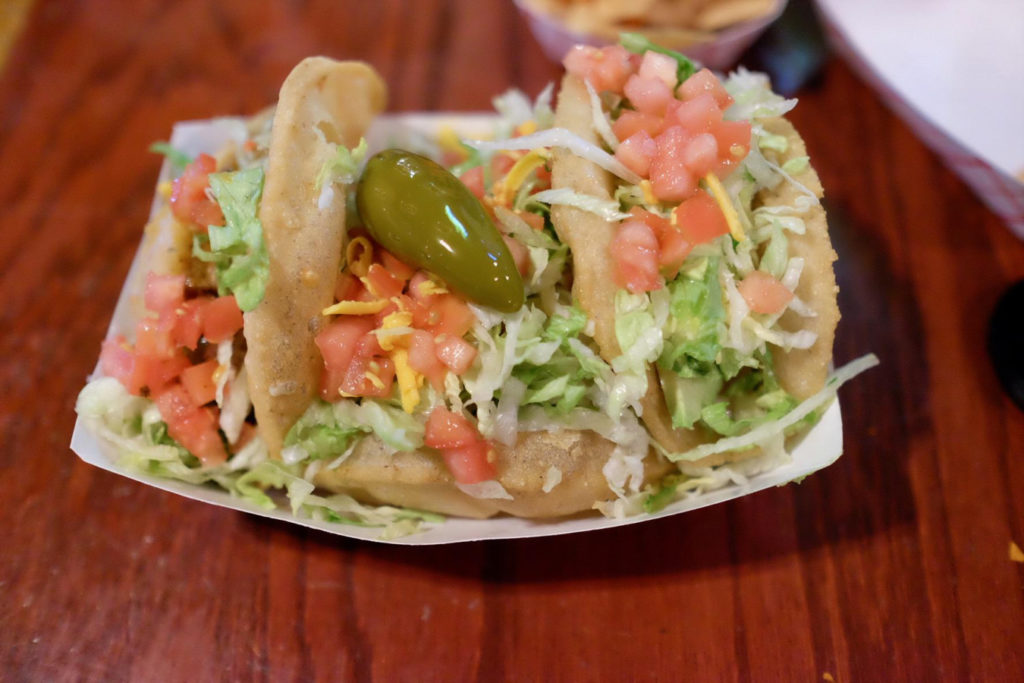 The spirit of Tex-Mex even extends to breakfast foods – right downtown is La Panadería, which features both Mexican pastries and more traditional American bakery fare.  We visited one morning and got two breakfast sandwiches:  one was the vegetarian El Favorito, which has avocado, Swiss cheese, lettuce, pickled jalapeños, and chipotle and cilantro sauce on a Mexican birote roll.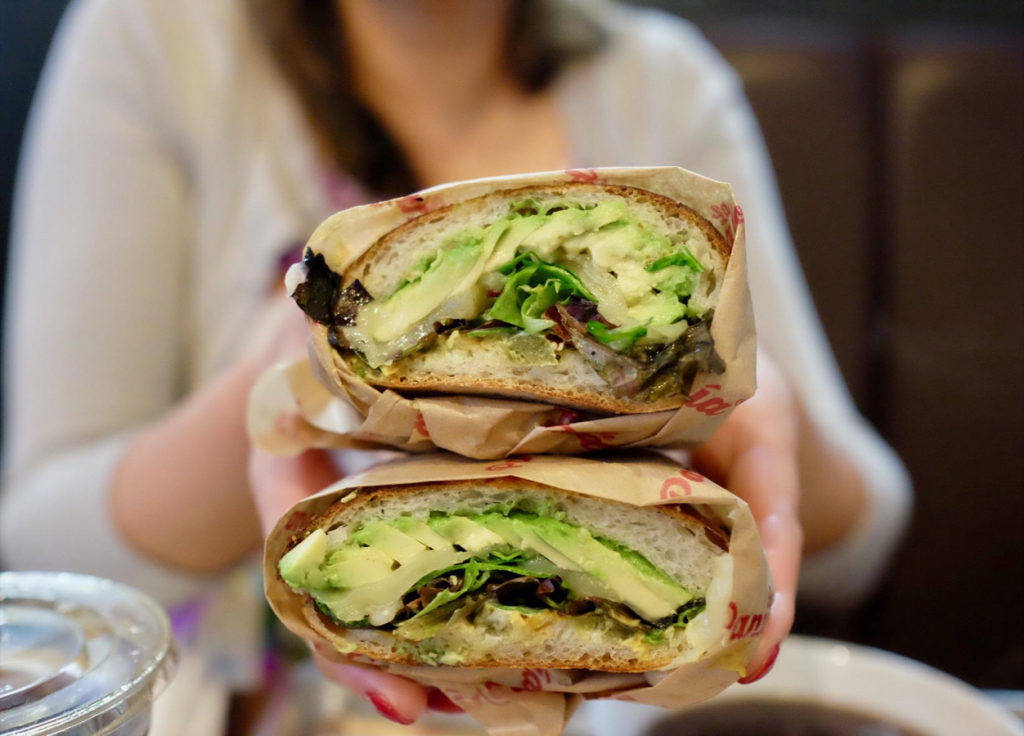 And the other was the regular El Favorito, made with a sunny side up egg and chorizo on a round croissant.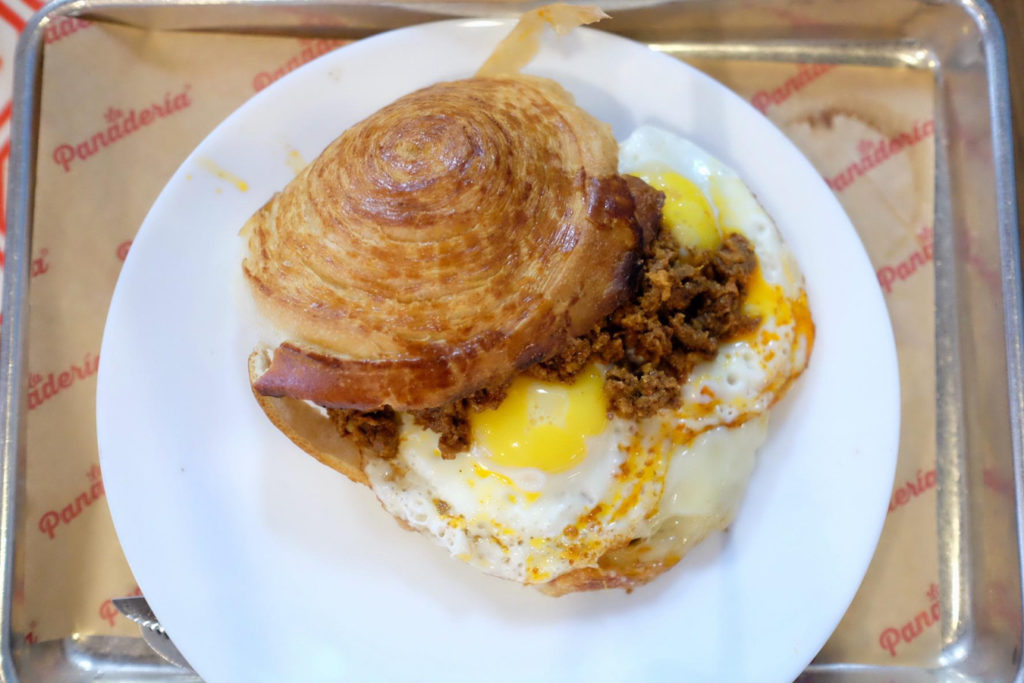 We also had to try one of their pastries, and we settled on a chocolate concha – a traditional Mexican sweet bread with a flavored topping.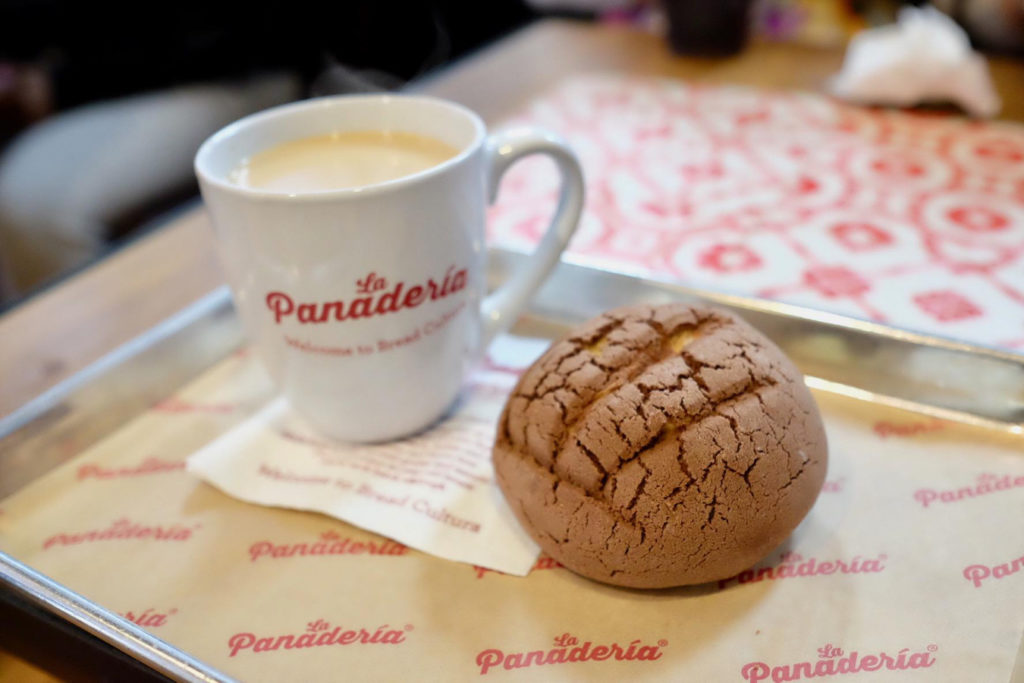 Speaking of breakfast, we also made a trek by bus to go to the Original Donut Shop, whose name is deceptive:  while they do sell donuts, they're most well know for their tacos.  We did get a few donuts, but we also had a selection of tacos:  one bean, one avocado, and one papa ranchera (potatoes in a spicy sauce) for Miriam, and one bacon and egg, one chorizo and potato, one chiccarones, and one carne guisada for Cyril.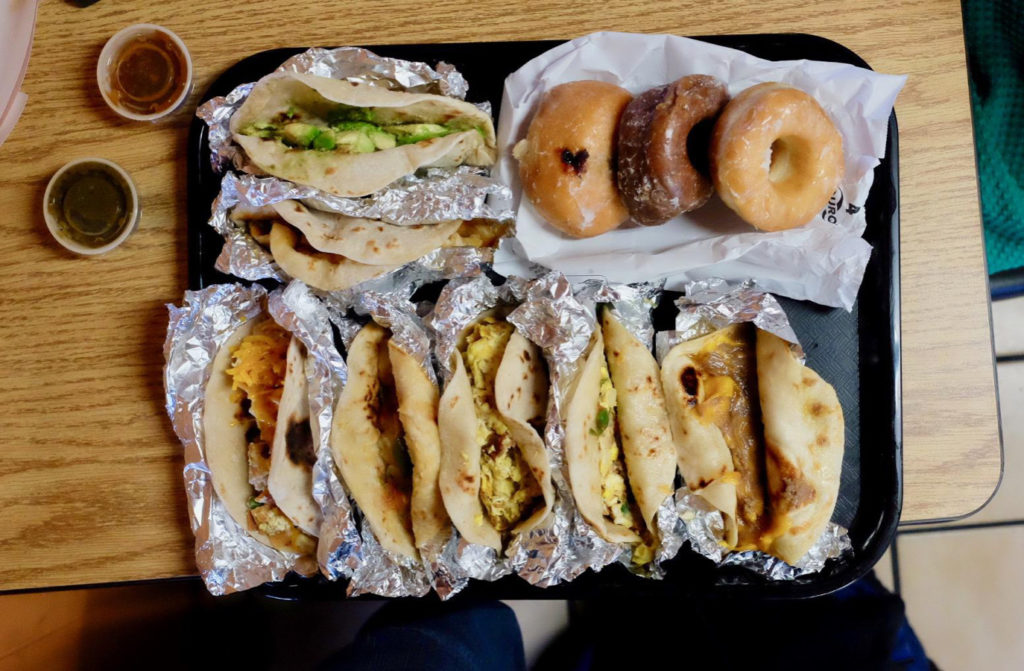 The other cuisine you probably associate with the state of Texas is barbecue, so we decided to search out a good place in San Antonio where we could get some.  Barbecue usually isn't considered vegetarian-friendly, but most places do make good meat-free sides (you just have to make sure and ask what's in each dish).  That was the case with Augie's, a counter-service place that's not too far from downtown.  We chose to go there because their sides looked delicious, and they were:  Miriam got some mac and cheese, some creamed corn, and a special for the day that was a giant baked potato topped with cheese (and your choice of meat, if you want).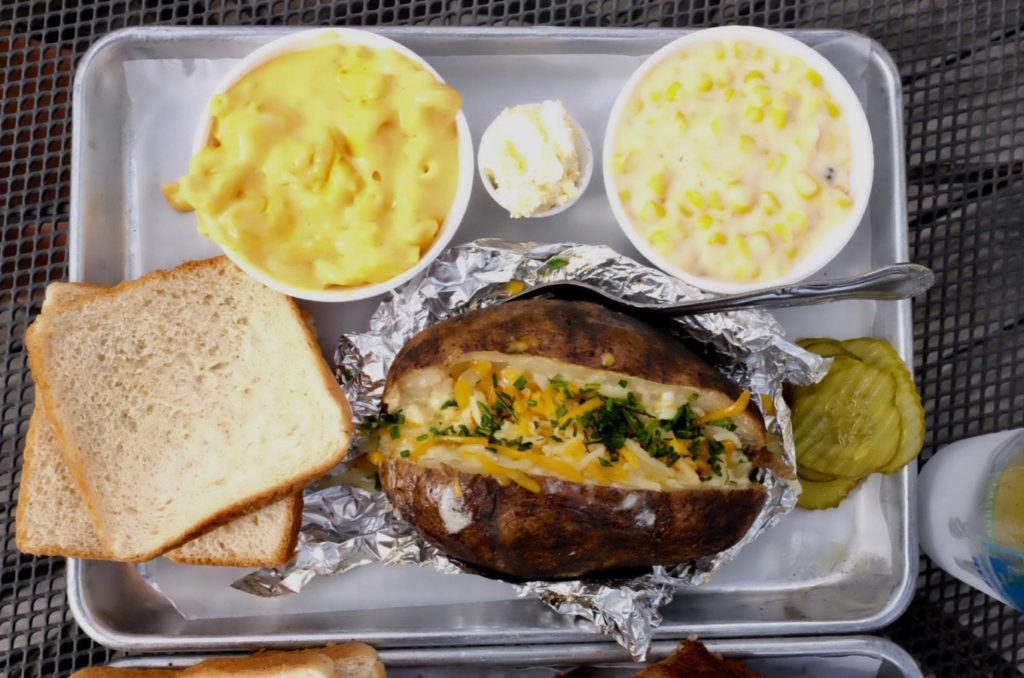 Cyril got a plate of brisket and pulled pork, with sides of coleslaw and green beans.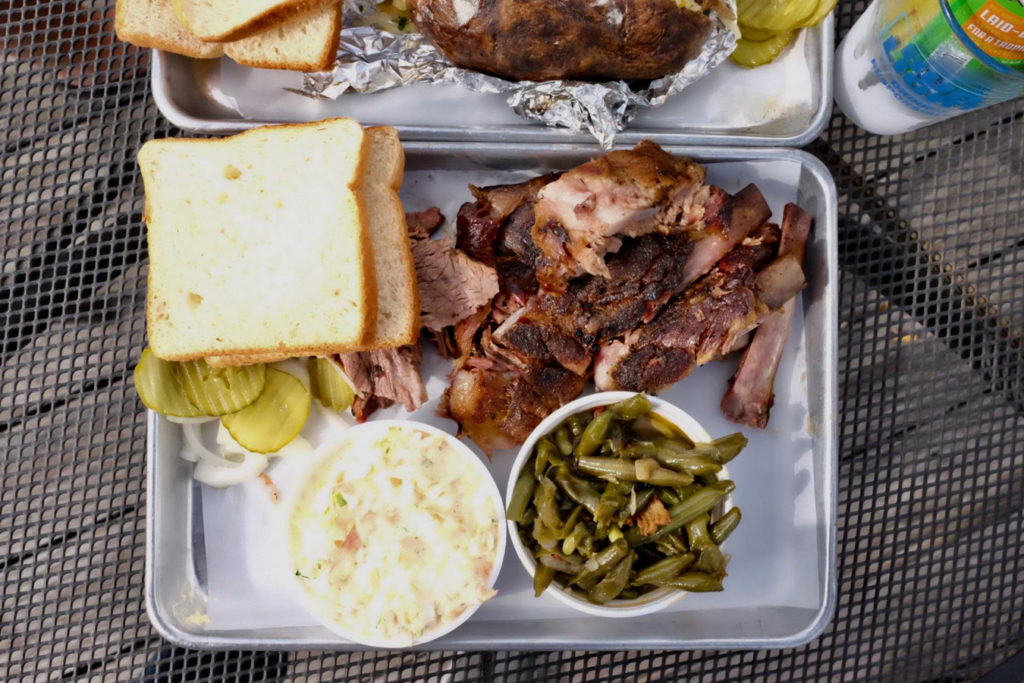 On one of our days in San Antonio, we ventured outside the city to Texas Hill Country and stopped in the town of Fredricksburg, which was settled by German immigrants in the 1840s.  Although the people that live there now have been Americans for several generations, the town still retains its German roots and there are quite a few restaurants there that nod to that heritage.  We decided to go to the Auslander, which has a Bavarian-inspired menu.  Luckily there was a vegetarian item on the menu that Miriam could have:  a portabello mushroom stuffed with mashed potatoes and creamed spinach, topped with a garlic aioli and fried onions.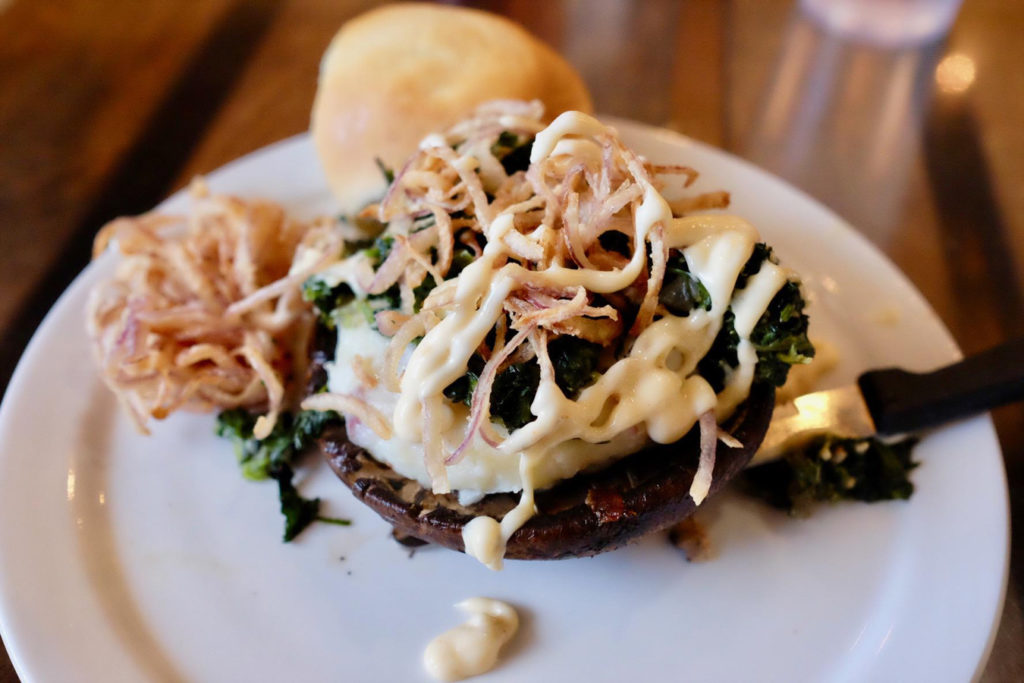 Cyril had a more traditional plate of jaegerschnitzel in a red wine and mushroom sauce, with sides of coleslaw and spätzle.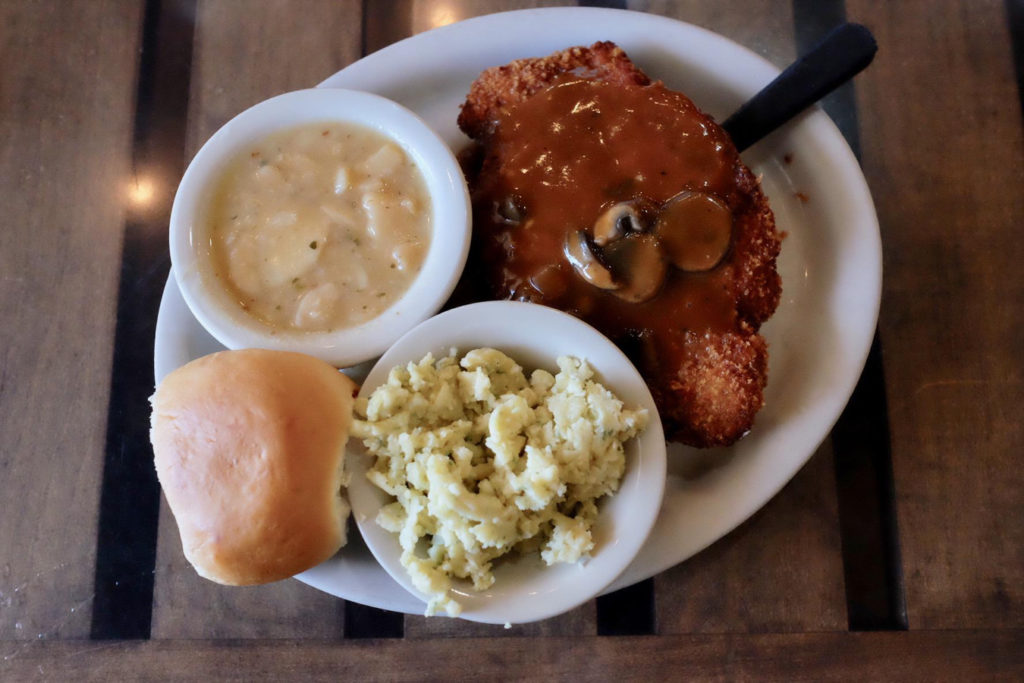 And one last thing we got to try in San Antonio was Blue Bell ice cream!  We've heard legends of how delicious this brand of ice cream is, and of course we saw the infamous ice cream licker video, so we were glad to see a shop on the river – Riverwalk Chocolate and Fudge – selling scoops of Blue Bell.  Miriam had a scoop of butter crunch (vanilla with chunks of chocolate peanut butter candy) and Cyril had pecan pralines 'n cream in a cone.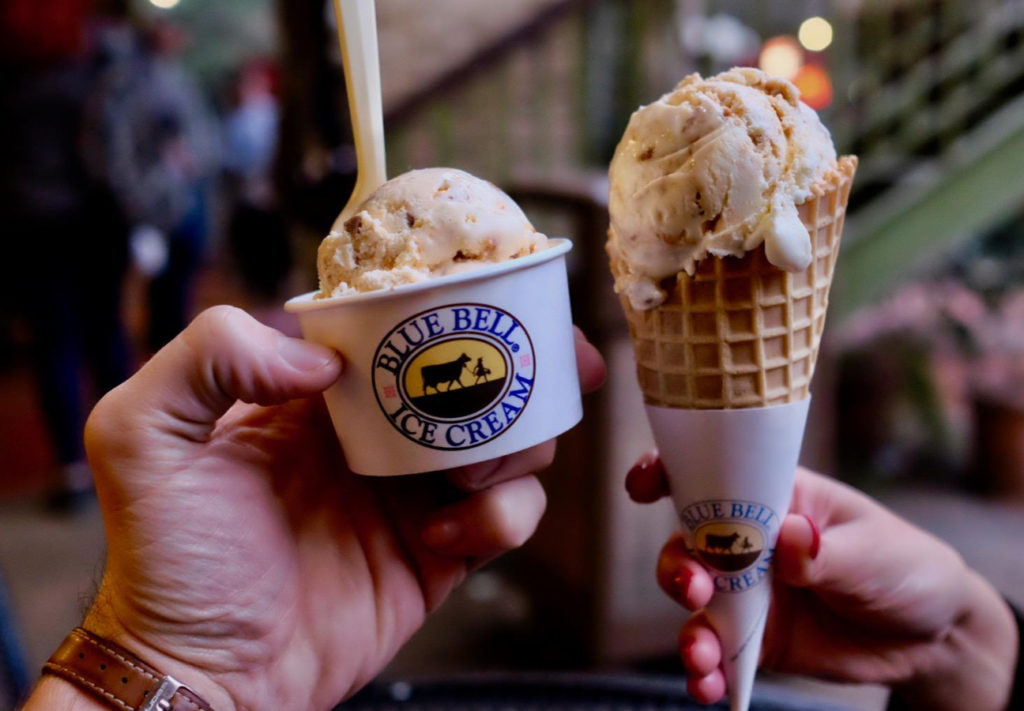 Believe us, it was quite a food-filled weekend, and we left San Antonio feeling totally stuffed – but also like we'd gotten an excellent selection of food.  We tried tons of different Tex-Mex but also some barbecue, some German food, some Mexican bakery selections, and Texas's favorite ice cream.  Most of these places were within walking distance of our hotel downtown, and the others were accessible by the city's bus system, so we were really able to explore San Antonio's food culture pretty easily.  We hope we've inspired you to travel, and we'll feature more food from our adventures soon.