You might be staring at the title of this post in confusion right now, thinking, Wait, isn't this a vegetarian food blog?  Bolognese sauce has meat in it!  That's what we thought too for a long time, since traditional bolognese has minced beef or pork in it.  But we recently came across this recipe in Bon Appétit, which uses cauliflower and mushrooms in place of the meat.  If you're doubtful about how this would actually work, just look at the picture above – this vegetarian sauce was delicious, and Miriam was able to try spaghetti bolognese for the first time in her life.  So here we'll show you how to make this meaty sauce meat-free – read on!
You'll need:
12 ounces of mushrooms
A small cauliflower
Olive oil
Butter
Garlic
A hot chile
Rosemary
Tomato paste
Parmesan cheese
Parsley
A pound of spaghetti
Start by taking the stems off your mushrooms and tearing the mushroom caps into pieces, then place them in a food processor and blend until they're finely chopped.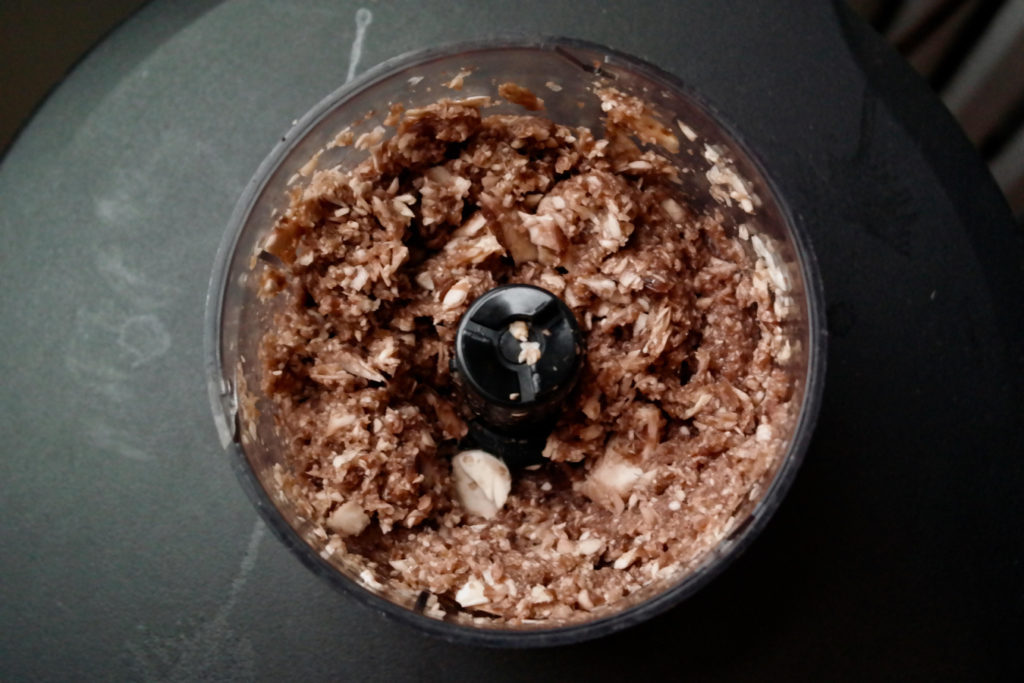 Place this mushroom mixture in a bowl and wipe out the food processor, then cut your cauliflower into florets and put those in the processor as well.  Chop these up until you have riced cauliflower, like so: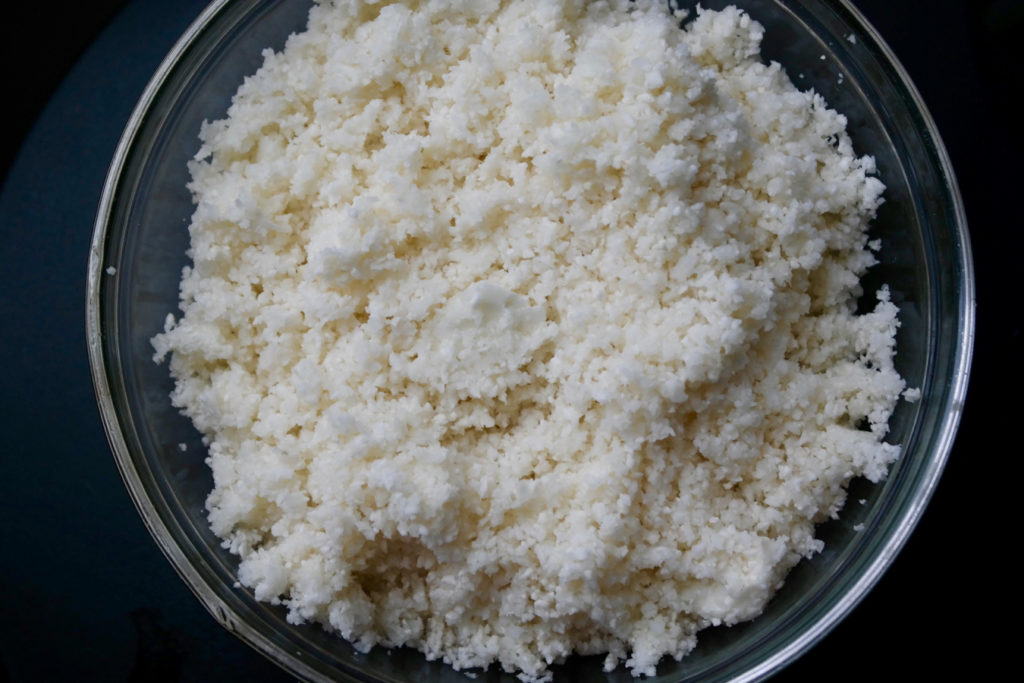 Set a pot of boiling water on the stove to cook your spaghetti, and while you're waiting warm 1/4 cup of olive oil and 2 tablespoons of butter in a Dutch oven over medium high-heat and cook the mushrooms for about 5 minutes, until they brown.  Slice up 6 garlic cloves and your chile and add them to the pot along with another 2 tablespoons of olive oil and a small handful of chopped rosemary leaves.  Cook for 3 more minutes, add in 1/3 cup of tomato paste and cook for 2 minutes, then pour in the cauliflower and stir everything together.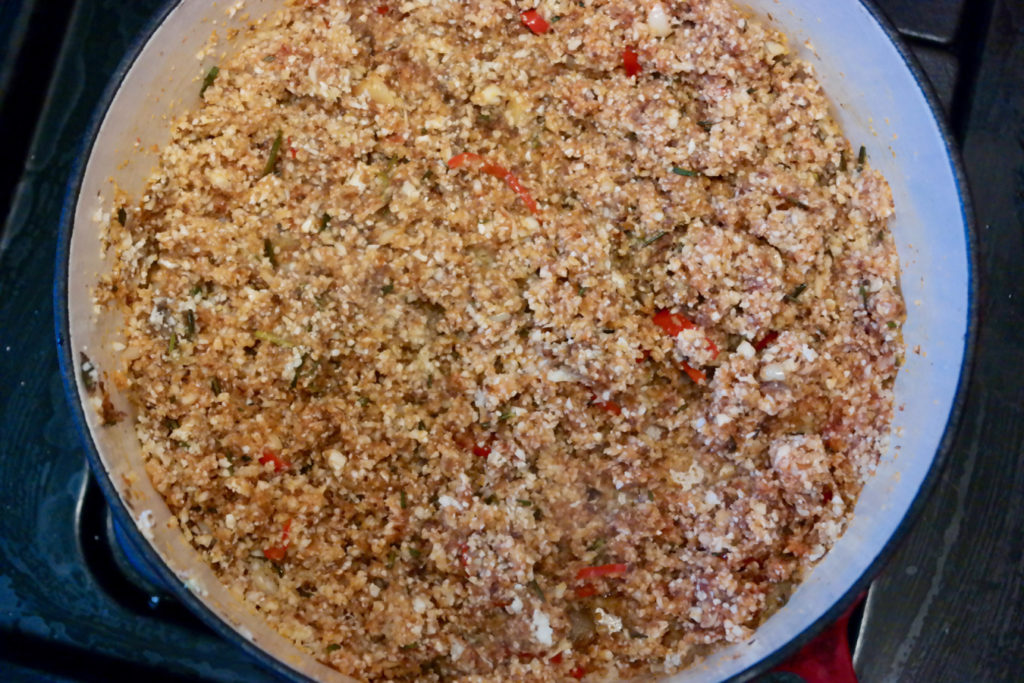 Mix a cup of grated Parmesan, a large handful of chopped parsley, and 2 tablespoons of butter in, then scoop 1 cup of water out of the pot where your pasta is cooking and stir that in as well to finish your sauce.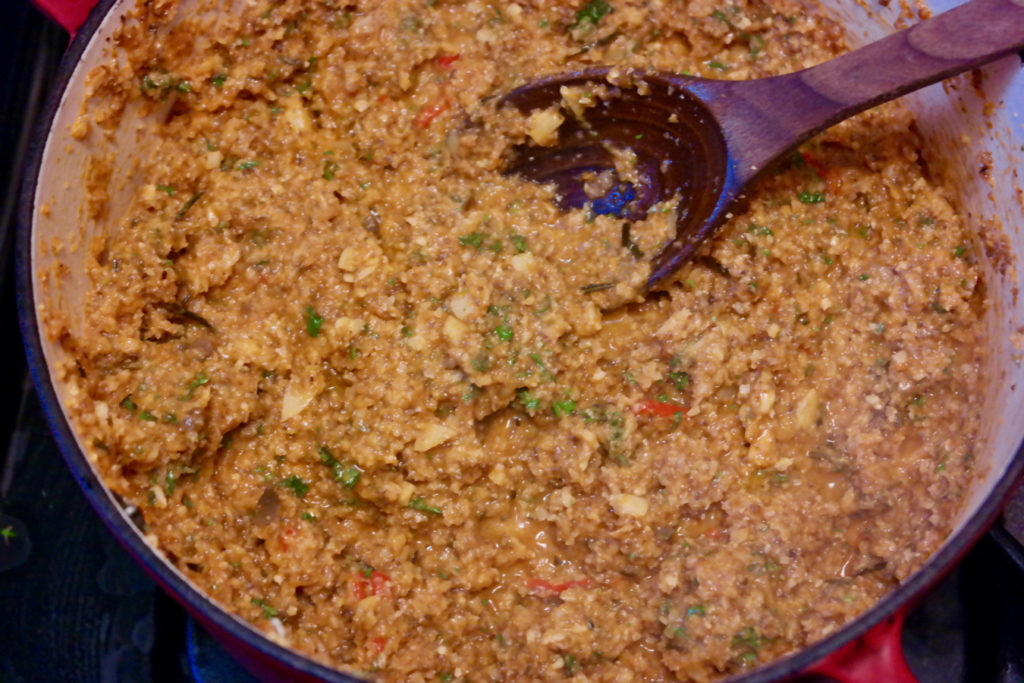 Now drain your pasta and mix in the sauce, then serve with extra parmesan cheese on top.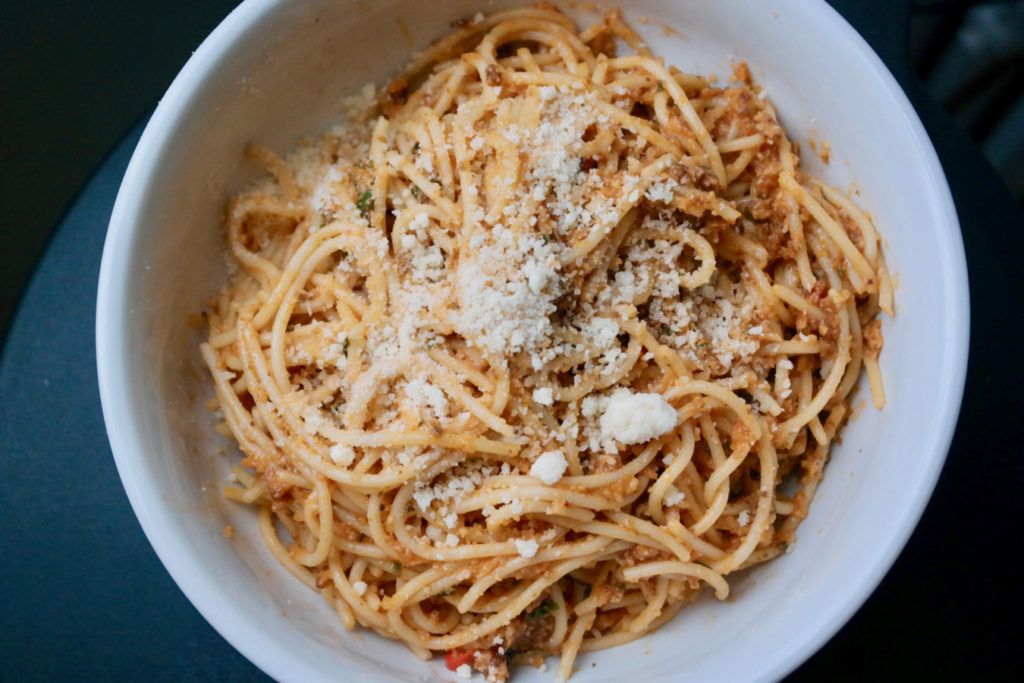 Though you might be skeptical about a mushroom and cauliflower pasta sauce, trust us that this really works well:  the mushrooms give the sauce a meaty flavor and the riced cauliflower provides the right texture for this bolognese.  Mixed with herbs, cheese, tomato, and a spicy chile, these veggies come together really well and the butter and olive oil pull the whole thing into a nice sauce.  Cyril, who's had traditional bolognese sauce before, gave this pasta his seal of approval, so we think we can recommend this as a great vegetarian alternative.  If you thought that spaghetti bolognese was off the table due to how meat-centric it is, think again – with some creativity, a delicious meatless sauce is just a few stirs away.