Usually when you see something bourguignon'd, it's beef – the term refers to cooking meat and vegetables in a red wine stew, and while this is now considered a traditional French dish, culinary historians believe this recipe has been around for millenia.  Obviously beef bourguignon is off-limits for a vegetarian, but we recently came across this recipe in the New York Times that applies the same ingredients and cooking techniques to mushrooms, and we decided to adapt it for ourselves.  The result is pretty good: the mushrooms are meaty enough to sub in for beef and they pair well with the red wine-flavored stew.  Best of all, with two ingredient swaps this becomes a rich, filling vegan dish – so we'll show you how to make it.
You'll need:
Olive oil
2 pounds of various mushrooms
8 ounces of pearl onions
Scallions
2 carrots
Garlic
Tomato paste
Flour
Red wine
A 14.5-ounce can of vegetable broth
Soy sauce
Thyme
A bay leaf
3 ounces of oyster mushrooms
Smoked paprika
Parsley
Cornmeal
Parmesan cheese (leave this out if you're cooking vegan)
Butter, or a vegan butter substitute
First, gather all the mushrooms except for your oyster mushrooms and cut them into thumb-sized chunks – we had some large and small portabellas, some shiitakes, and some field mushrooms.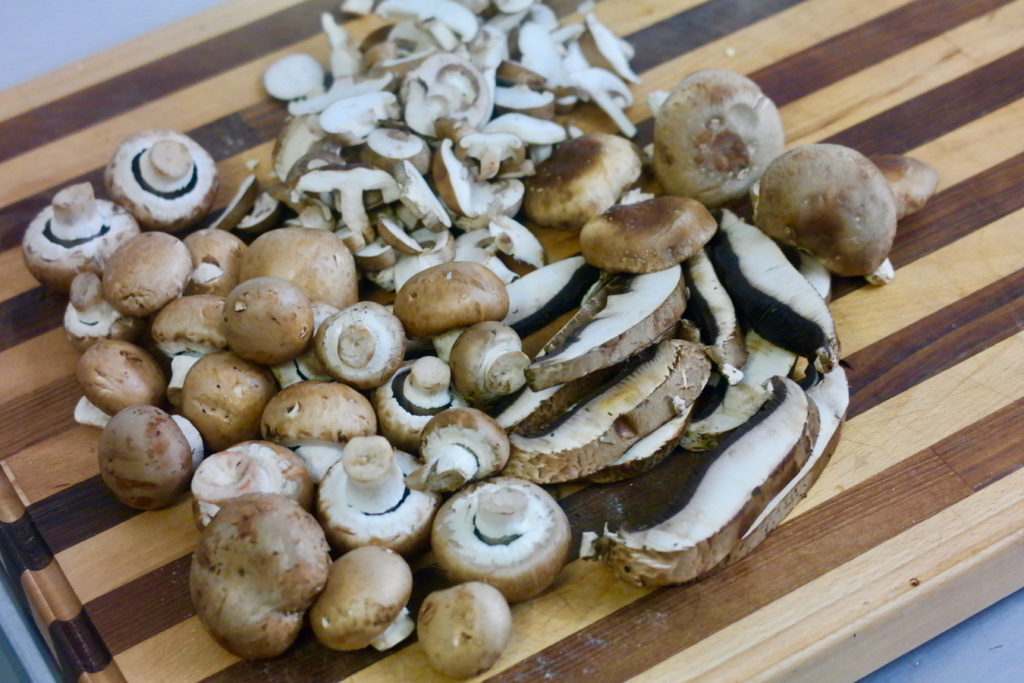 You're also going to want to peel your pearl onions – we discovered that if you boil them for 1 minute, then plunge them into a bowl of cold water, then cut off the tips, you can squeeze them and pop the onions out of their skins.
Now warm 2 tablespoons of olive oil in a large pot over medium heat and place in enough mushrooms and onions to fill a single layer on the bottom.  Cook for about 3 minutes, until the mushrooms are browned on the bottom, then flip the vegetables over and cook for another 2-3 minutes until the mushrooms brown evenly.  Scoop the veggies out and place them in a bowl, then continue this cooking process until you've gotten through all the mushrooms and onions, making sure you add 2 more tablespoons of olive oil to the pot for each batch.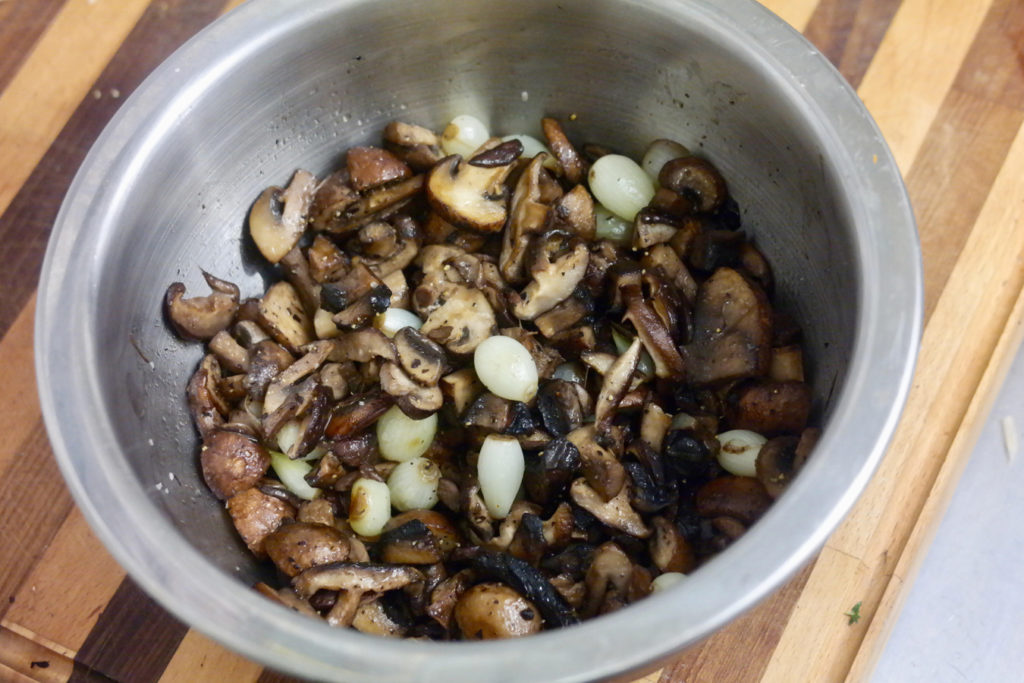 Now dice up your carrots and thinly slice 4 scallions.  In the same pot, warm another tablespoon of olive oil over medium-low heat and add in the carrots and scallions.  Cook for 5 minutes, then add in 2 chopped cloves of garlic.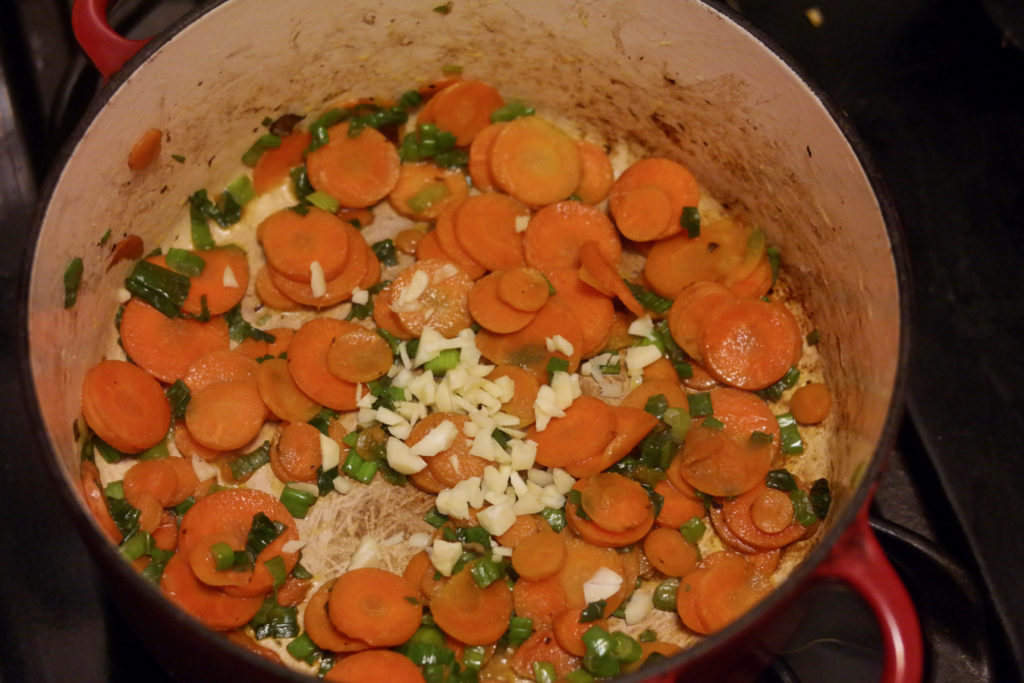 Stir in a tablespoon of tomato paste and cook for a minute, then add in a tablespoon of soy sauce and 2 1/2 tablespoons of flour and let that mixture toast for another minute.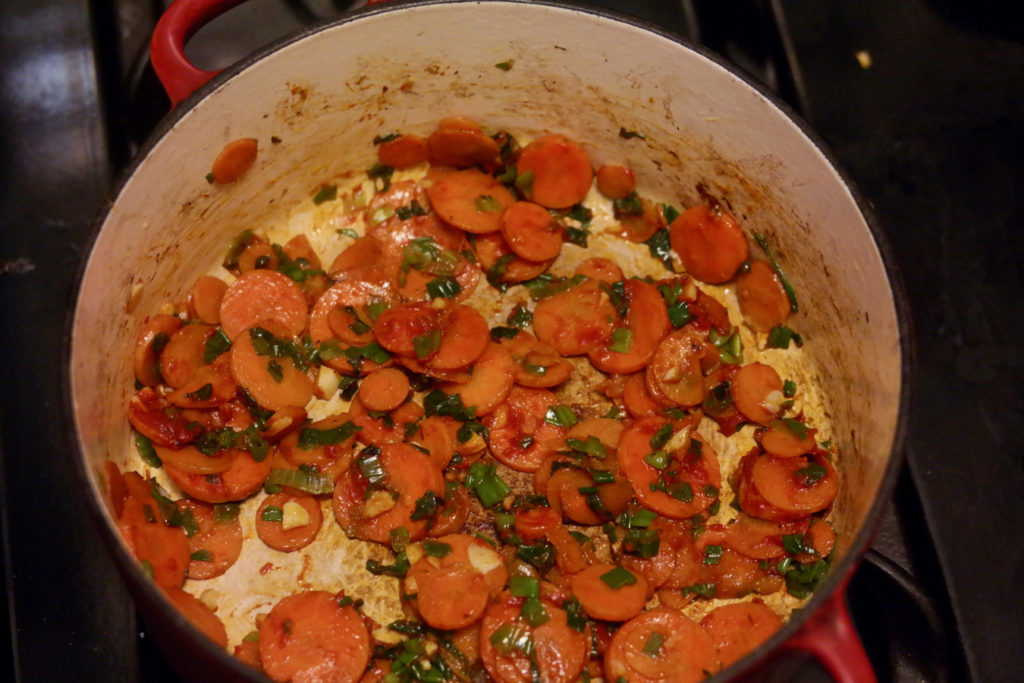 Pour in 1 1/2 cups of broth and 1 1/2 cups of wine and add in your bay leaf and 3 sprigs of thyme, plus your mushrooms and onions.  Stir everything together well and bring it all to a simmer, then turn the heat down to low, cover the pot partially, and let everything cook for 30-40 minutes until you have a thickened sauce and tender mushrooms.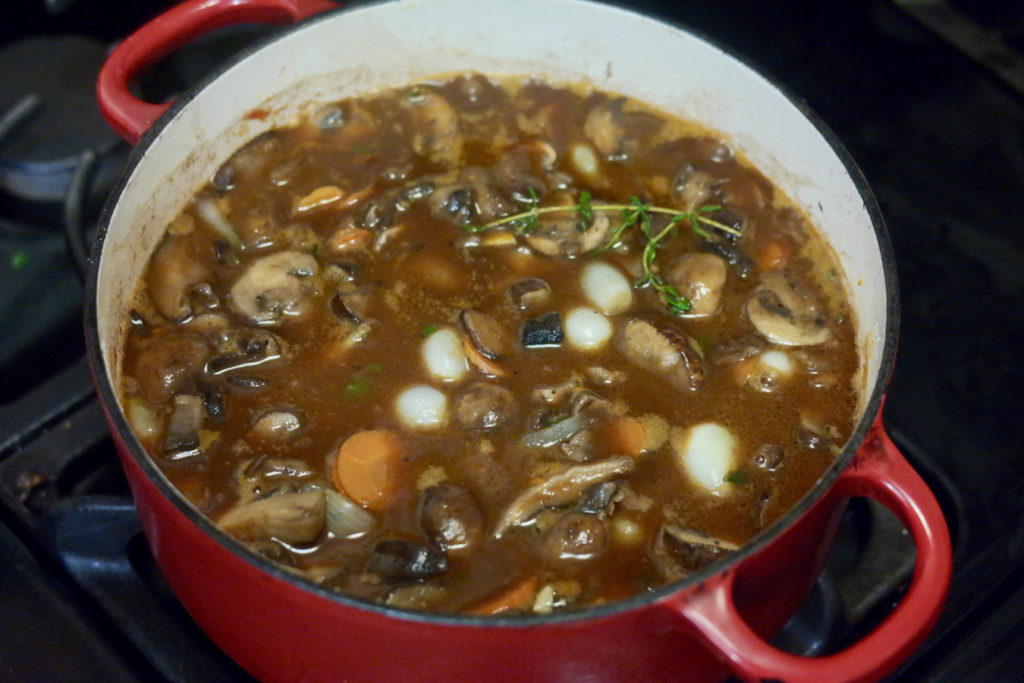 While this is cooking, you're going to make some polenta for the mushroom bourguignon to pair with:  bring 4 cups of water (or 5 cups if you are making a vegan recipe) with a teaspoon of salt to a boil in a large pan with high sides, then gradually add in a cup of cornmeal, whisking constantly and making sure your mixture is smooth and lump-free before pouring in more cornmeal.  Continue whisking for 5 minutes or so until you have an even polenta.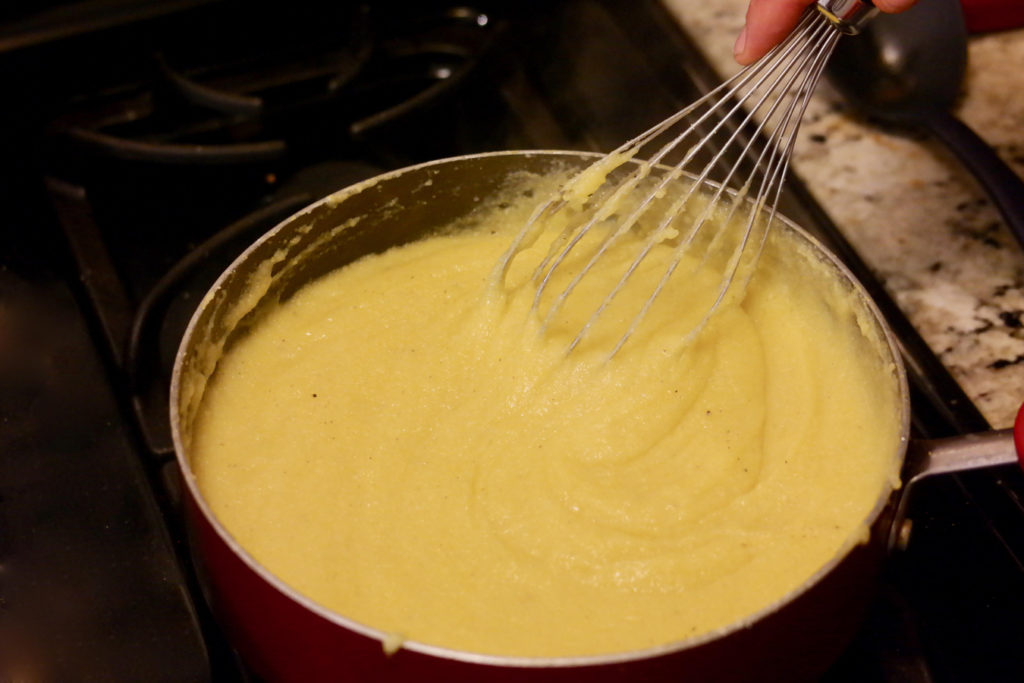 Grate 1/2 cup of Parmesan (if you're using it) and add that in, along with 3 tablespoons of butter or butter substitute.  Whisk until the polenta is smooth again, then turn off the heat, cover, and let your polenta sit until you're ready to use it, but whisk every five minutes or so to keep it from setting into the pan.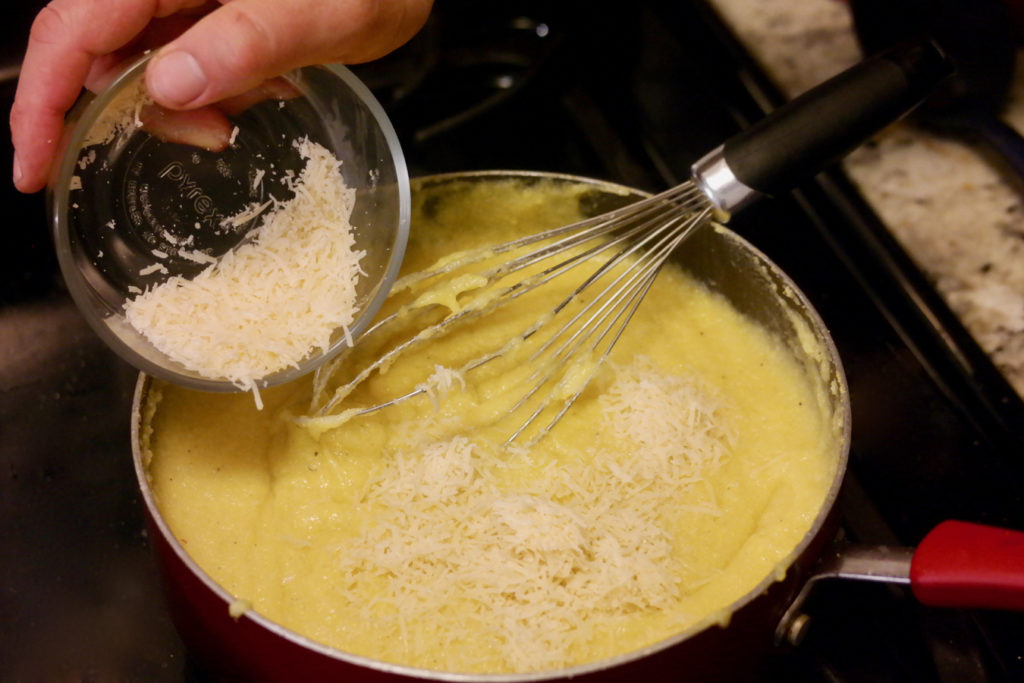 Finally, take your oyster mushrooms and thinly slice them, then in a small pan heat 1/2 tablespoon of olive oil.  Fry these mushrooms by cooking them for 1-2 minutes on each side, then place them on a plate and sprinkle with salt and smoked paprika.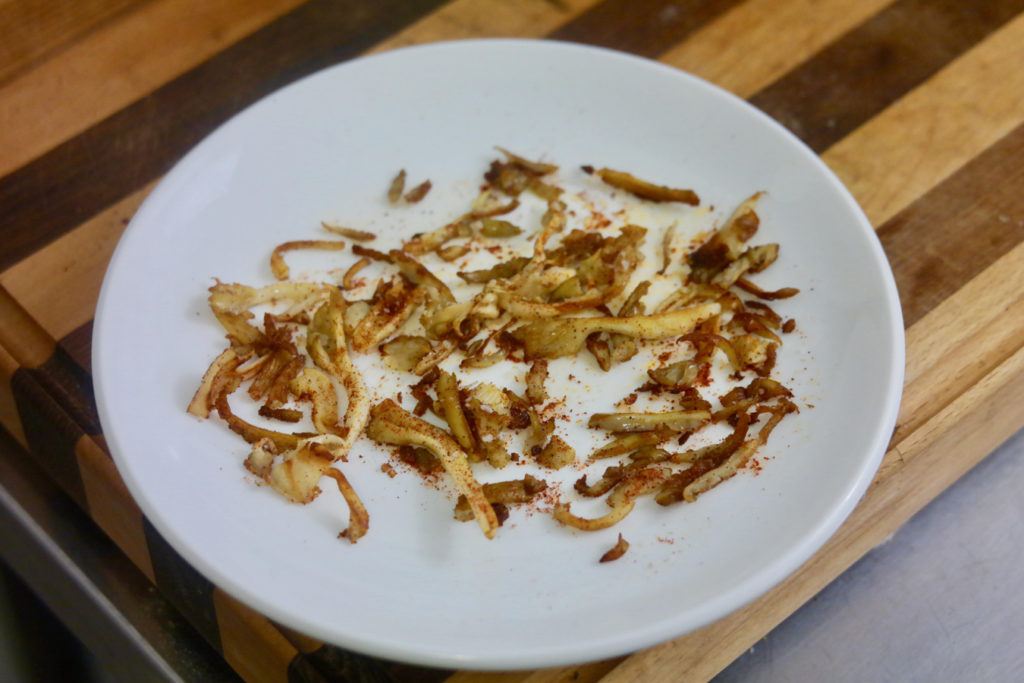 When your mushroom bourguignon is finished cooking, take out the thyme and bay leaf and stir in one grated garlic clove and salt to taste.  Then dish up the polenta, spoon the bourguignon over it, and top with the fried oyster mushrooms and sprigs of parsley.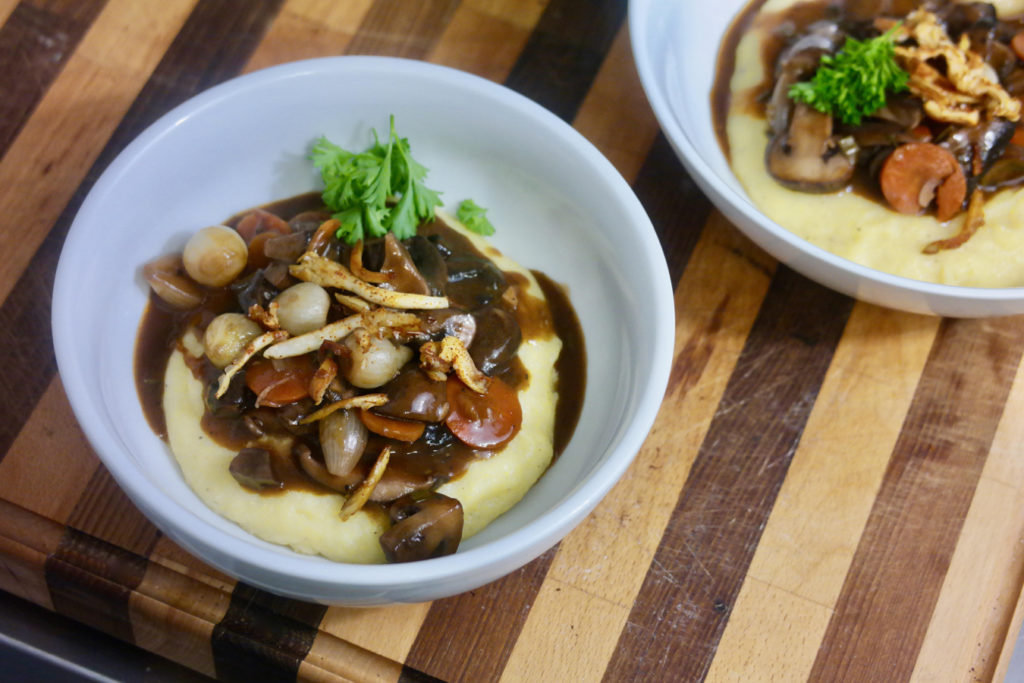 As you've probably been able to tell, this recipe takes some time, effort, and a bunch of different ingredients, but we really enjoyed the result.  Neither of us had ever had beef bourguignon, so trying this cooking method on mushrooms was a treat for us.  The red wine sauce was really flavorful and added a nice complexity to the mushrooms and other vegetables, and everything went well together on top of some creamy polenta.  It was amazing how hearty this was considering that it was meat free – and easily made vegan – and on a cold night it was a nice, warm dinner.  Overall, this recipe was a great way to experiment with French cooking and take it in a vegetarian direction, and we hope that if you've got a few hours you try it for yourself.