Earlier this week we showed you how to make baked ziti – a classic Italian-American recipe that's delicious, very easy to make, and just happens to be naturally vegetarian if you use a marinara sauce instead of something meat-based.  Today we thought we'd show you another popular baked pasta dish which is also meatless:  manicotti.  This one uses many of the same ingredients but puts an interesting twist on your noodles-red sauce-cheese trifecta, because here the pasta is stuffed, so Ii some sense you can think of manicotti as a savory, oven-cooked, Italian version of crepes.  And while it does take a little bit of effort to fill each individual manicotti, these aren't too hard to make and it's pretty tasty to bite into some cheese-filled pasta tubes.  Here's our easy recipe – read on!
You'll need:
One pint of ricotta cheese
8 ounces of mozzarella cheese
Parmesan cheese
2 eggs
Dried oregano
10 manicotti shells
16 ounces of tomato sauce – you can either use a store-bought brand, or if you want to make the sauce at home, gather:

2 28-ounce cans of crushed tomatoes
2 onions
2 carrots
Celery
Basil
You'll want to start by cooking your manicotti:  boil them in water just as you would any other pasta, but when they're finished carefully scoop them up and transfer them to a colander, let them drain, and then place them in a bowl to cool – you want to make sure you don't split or break the shells.  If you're making your own sauce, you can do that now as well by following the first two steps in this recipe.
To make the filling, shred your mozzarella and mix it with all of the ricotta, the eggs, 1/2 cup of grated Parmesan, and a sprinkling of dried oregano.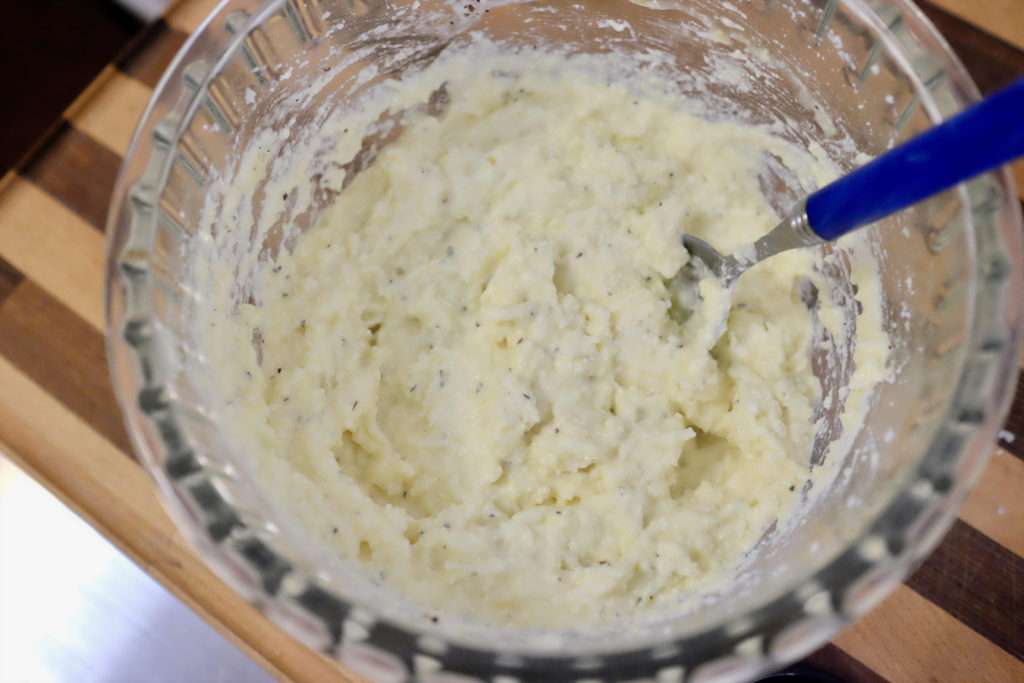 Pour about 1/2 cup of sauce into the bottom of a large casserole dish and use a small spoon to begin stuffing each manicotti shell with a generous amount of filling.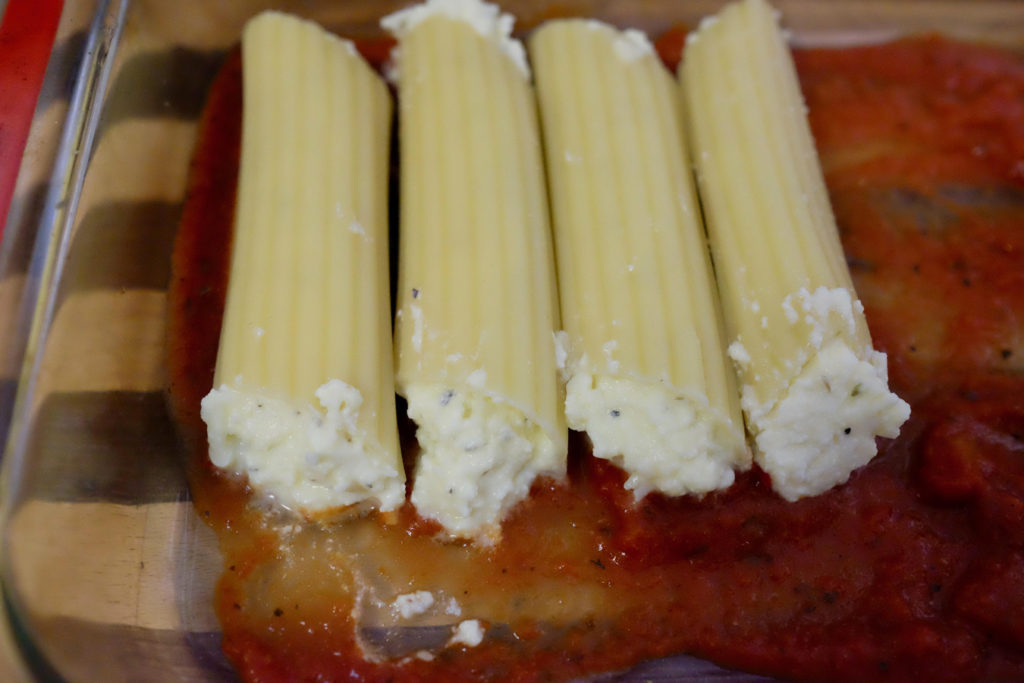 Lay all the manicotti out side-by-side in your baking dish when you're done …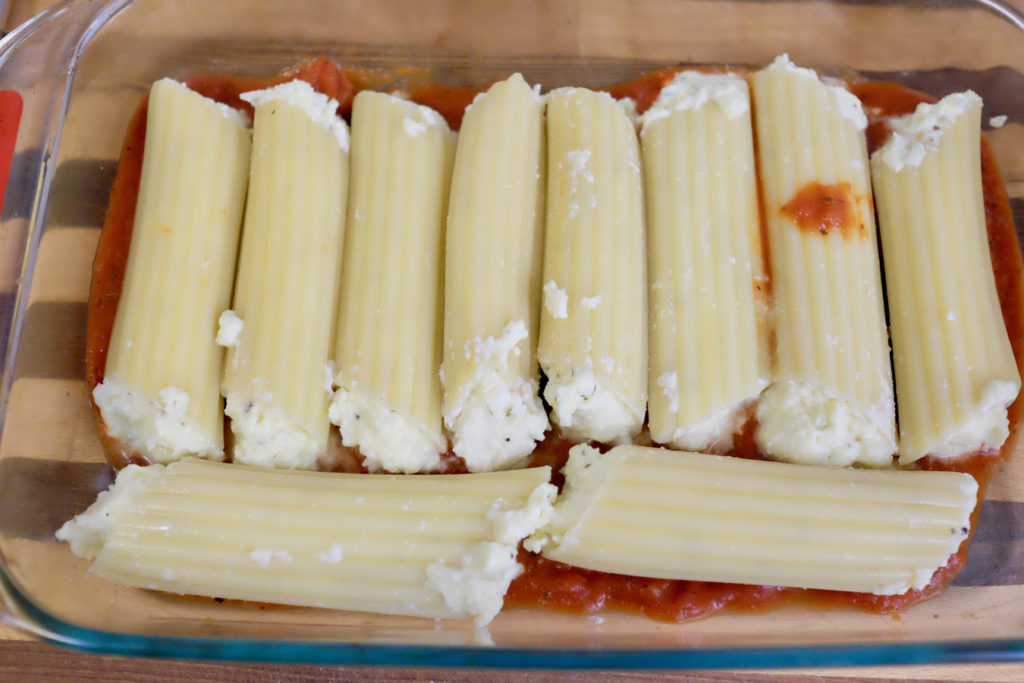 … then cover them with the rest of your sauce.  Shred some more of your Parmesan and sprinkle that over everything.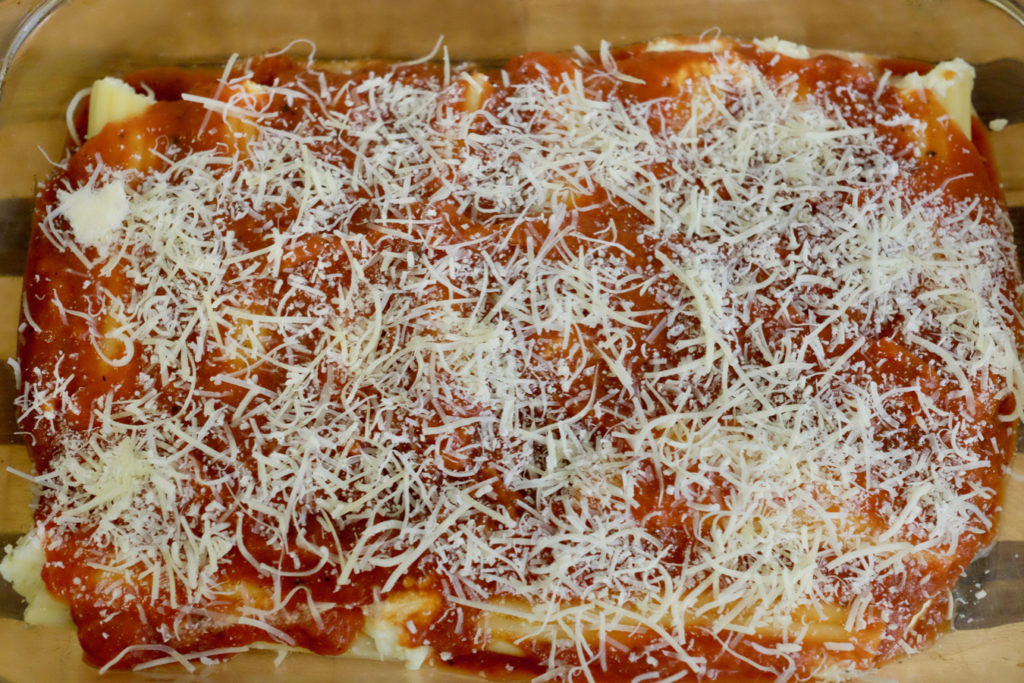 Bake at 350°F for 45 minutes.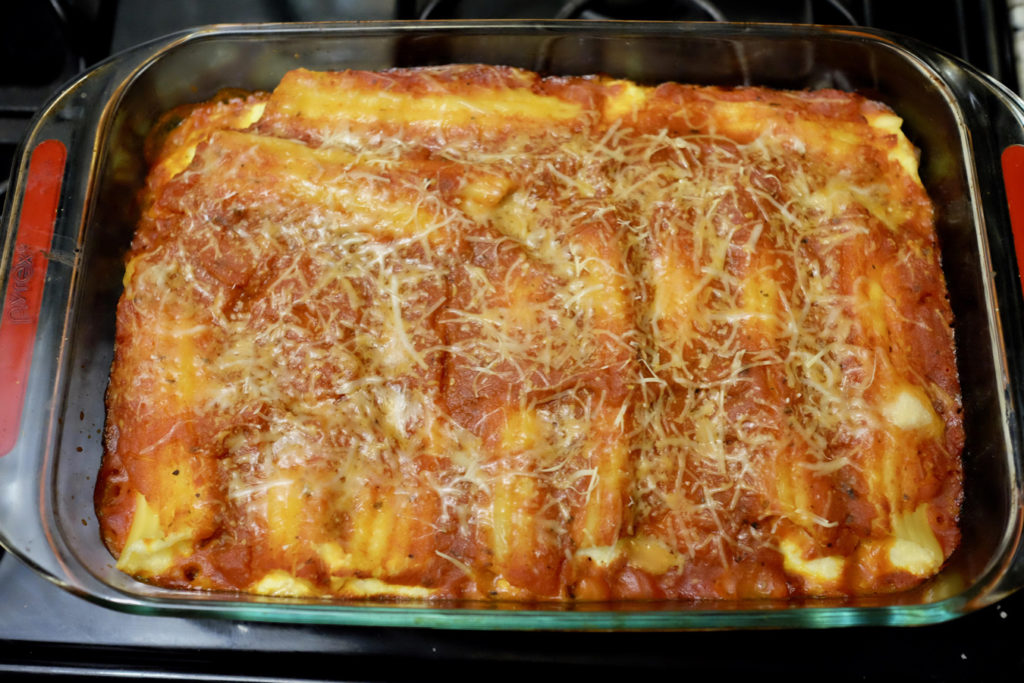 And then you can serve up a few manicotti at a time, and enjoy!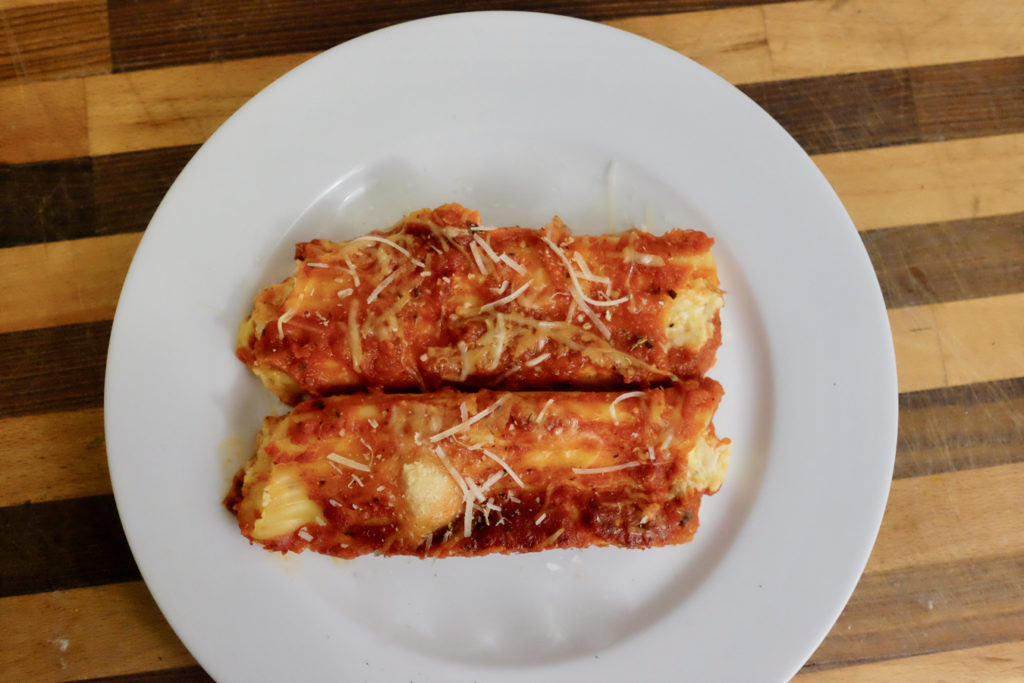 Manicotti is an interesting take on your traditional baked pasta dish, because you take all the elements of Italian-American casseroles – pasta, marinara, and mozzarella, ricotta, and Parmesan cheeses – and combine them in a really interesting way to get a great meal.  You do need to be careful not to break the manicotti when cooking the shells and then filling them, and stuffing each one takes a little bit of extra time, but otherwise this is a pretty simple dish that fills you up and lends itself well to portioning out individual servings.  This is a good easy-ish dish to make for when you want something rich, tasty and creative but don't want to spend too much time in the kitchen – that's the reason it's a classic, and we're sure you'll like it too.