Chickpeas are a hallmark of vegetarian and vegan cooking because they're an inexpensive, filling protein that can take on a lot of great flavors – for example, we've previously made several different soups with chickpeas, subbed them in to a classic Indian dish, and paired them with spiced vegetables.  Today's recipe is yet another way you can prepare chickpeas – we adapted it from something we found in the New York Times, and we liked this new dish we made because it's really hearty and tasty.  The base of this stew is nice and thick without using any meat or dairy, and the chickpeas are bolstered by several other ingredients that make this rich enough to be a meal on its own while still being vegan.
To make it, you'll need:
2 15-ounce cans of chickpeas
Olive oil
Sesame seeds
Cumin
Coriander
Dried thyme
Red pepper flakes
Bay leaves
A small loaf of thick bread
Garlic
Tomato paste
A lemon
Parsley
You can start by draining and rinsing one can of chickpeas, then laying them out on a towel and draping a second towel over them and leaving this for at least half an hour to let the chickpeas fully dry.  Then, in a large pot, boil together your second can of drained chickpeas, 5 cups of water, a tablespoon of olive oil, a pinch of salt, and 2 bay leaves.  After a few minutes, turn the heat down to a simmer and let everything cook for an hour.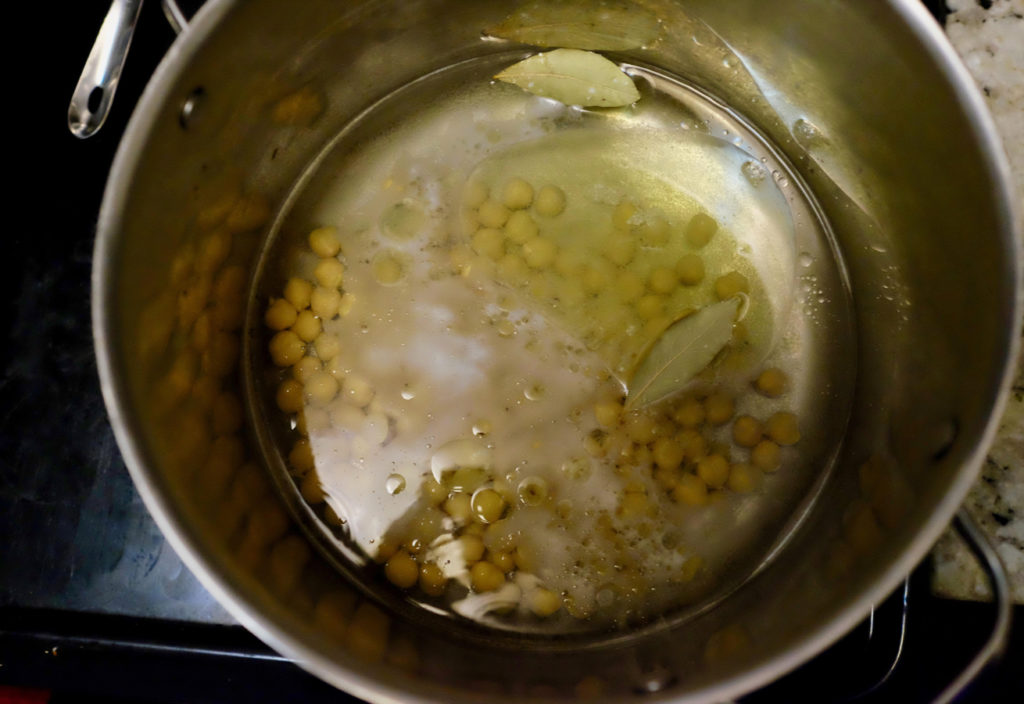 Now you can tear your bread into bite-sized pieces, place them on a baking sheet, and toast at 400°F for 10 minutes.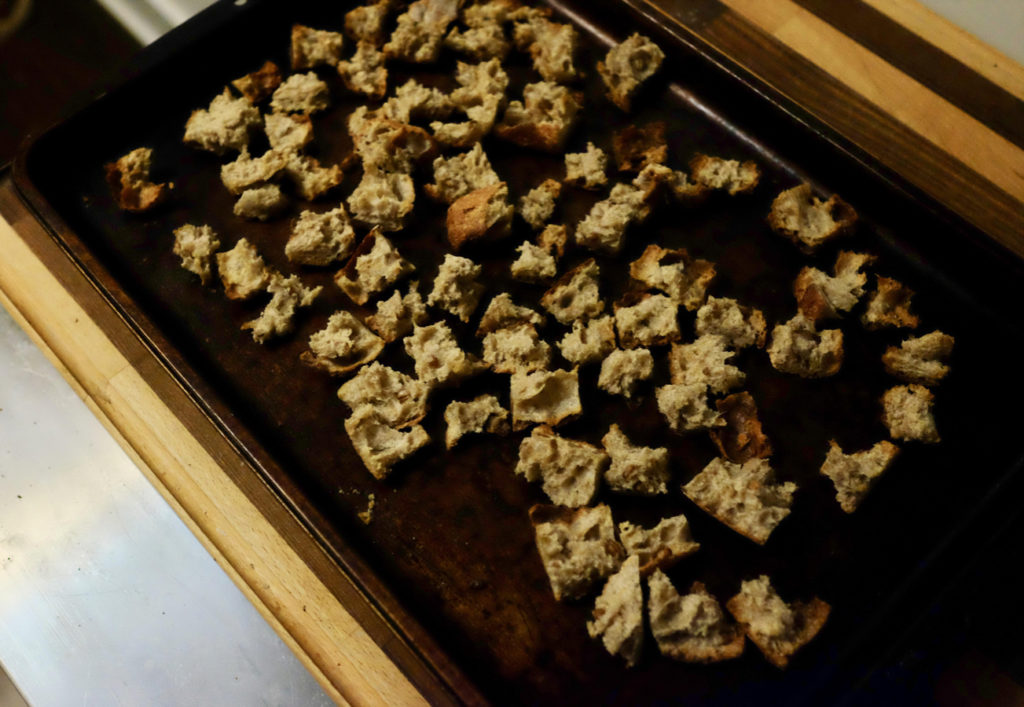 Then take the chickpeas that have been sitting out to dry and mix them with 2 teaspoons of olive oil, a pinch of salt, and 1/4 teaspoon each of cumin, coriander, sesame seeds, red pepper flakes, and dried thyme.  Lay these chickpeas on a baking sheet, turn your oven up to 425°F, and roast them for 15 minutes, using a spatula to flip them over around halfway through.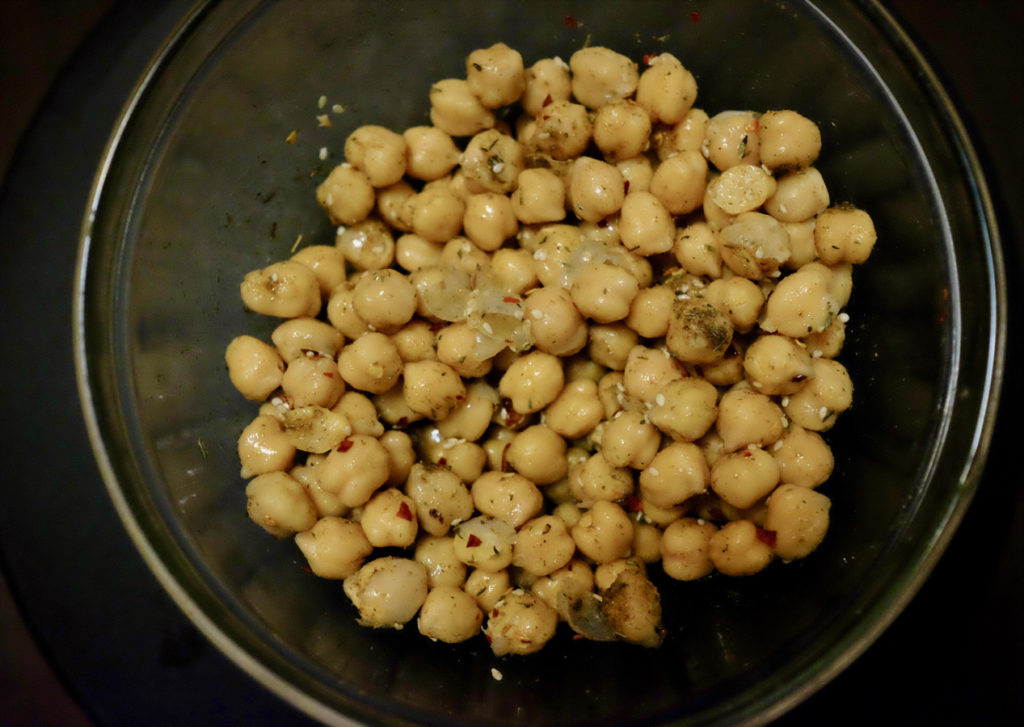 When the chickpeas on the stove are done simmering, scoop them out and place them in a food processor with 1/4 cup of olive oil and 1/2 cup of the water they were cooking in.  Blend everything together until you have a smooth puree.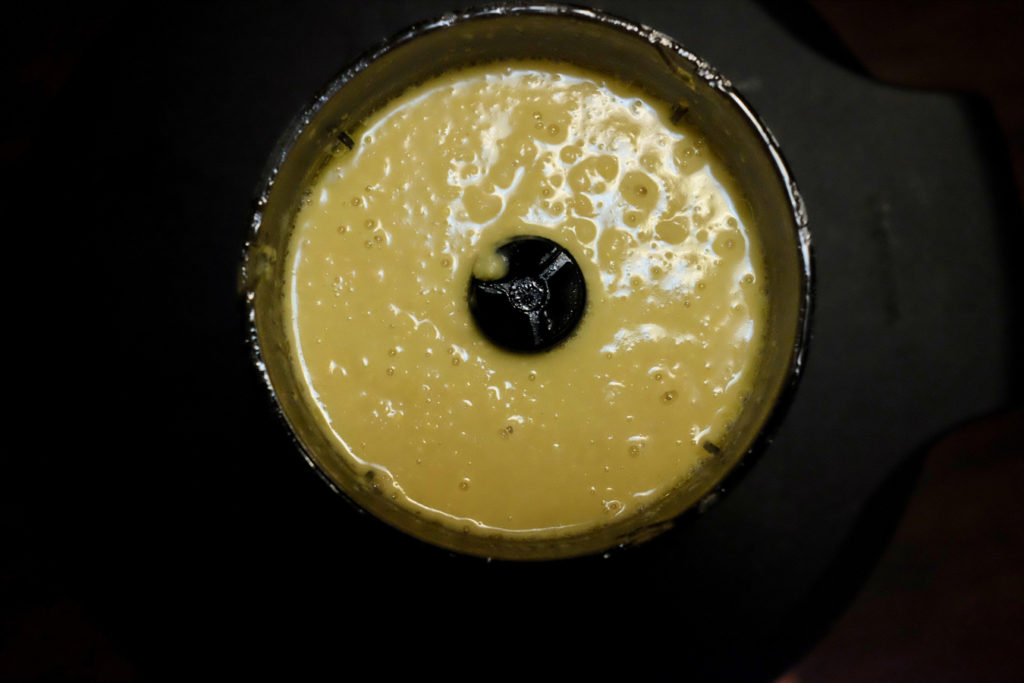 Finally, chop your onion and cook it in a skillet with 2 tablespoons of olive oil over medium-high heat for 5 minutes.  Dice up 6 garlic cloves and add those in to cook for a few more minutes.  Then stir in a tablespoon of cumin, 2 tablespoons of tomato paste, a sprinkling of red pepper flakes, and a large pinch of salt.  Let all of this warm together for just a minute and then take your pan off the stove.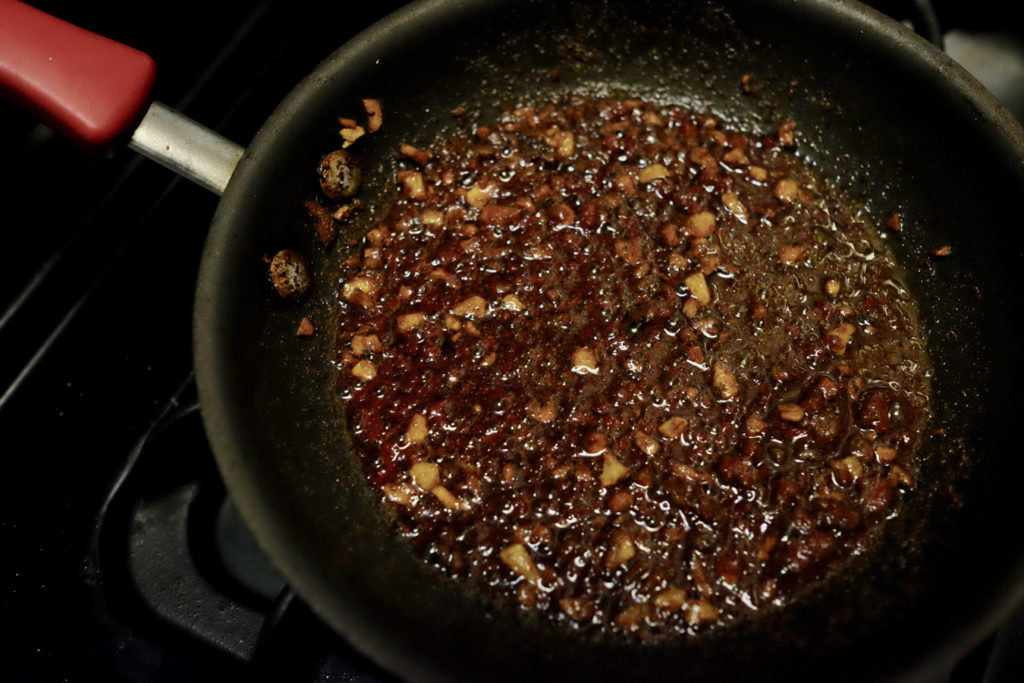 Pour your pureed chickpeas and your onion-garlic-spice mixture into the soup pot and squeeze in the juice from half of your lemon.  Stir all this together and then dish out the soup into individual bowls.  Add some baked chickpeas and pieces of toasted bread to each serving, then top everything with parsley leaves.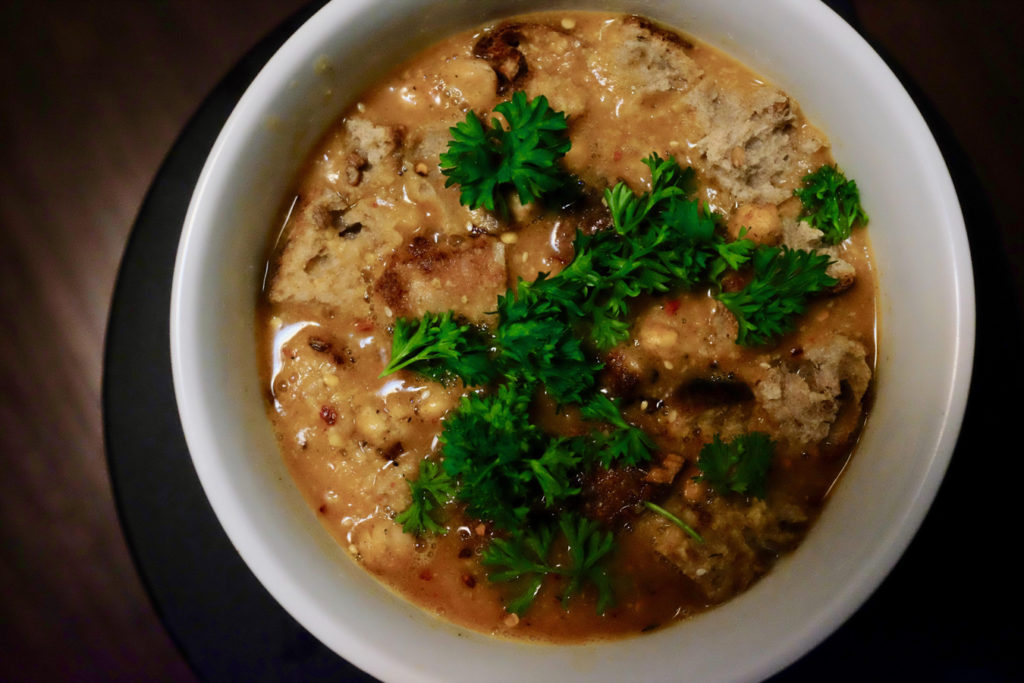 We're not going to lie, this stew does take some time – while there's not a lot of prep you need to do, the stew has to simmer for a while and there's also some amount of baking and drying you need to undertake.  But as long as you plan ahead, this great vegan stew is yours to serve.  It's really flavorful (and packs a little heat) with all the spices and herbs it's got, and the toasted bread paired with the chickpeas makes this a really filling meal that earns its title as a stew.  So if you've got the time – and let's be honest, right now we all have some extra time on our hands – this is a perfect vegan meal to make.