Here's one more good soup we wanted to show you that we've made recently – this one is based on a recipe we found in the New York Times, which we altered a bit to suit our tastes and fit the ingredients that we had lying around.  It's a bit more involved than the last two soups we've featured, but if you can find some of these fresh ingredients in your local grocery store right now it's a great meal with a really flavorful homemade broth as a base.  It does take a long time to make, since simmering a broth from scratch is a several-hour process, but we enjoyed not just how delicious it was but also the sense of accomplishment that came from making an entire soup from start to finish.  So here's the whole process – follow along with us!
You'll need:
Olive oil
2 onions
A head of garlic
5 blocks of Parmesan cheese
Parsley
Thyme
Peppercorns
Bay leaves
Pearled couscous
White wine
Dry sherry
A pound of mushrooms
You'll want to start by preparing the soup's broth:  cut one of your onions into four equally-sized pieces, leaving the skin on, and then take a whole head of garlic and slice it in half.  Warm 3 tablespoons of olive oil in a stock pot over medium heat and place in the onion and garlic to cook for about 3 minutes or so.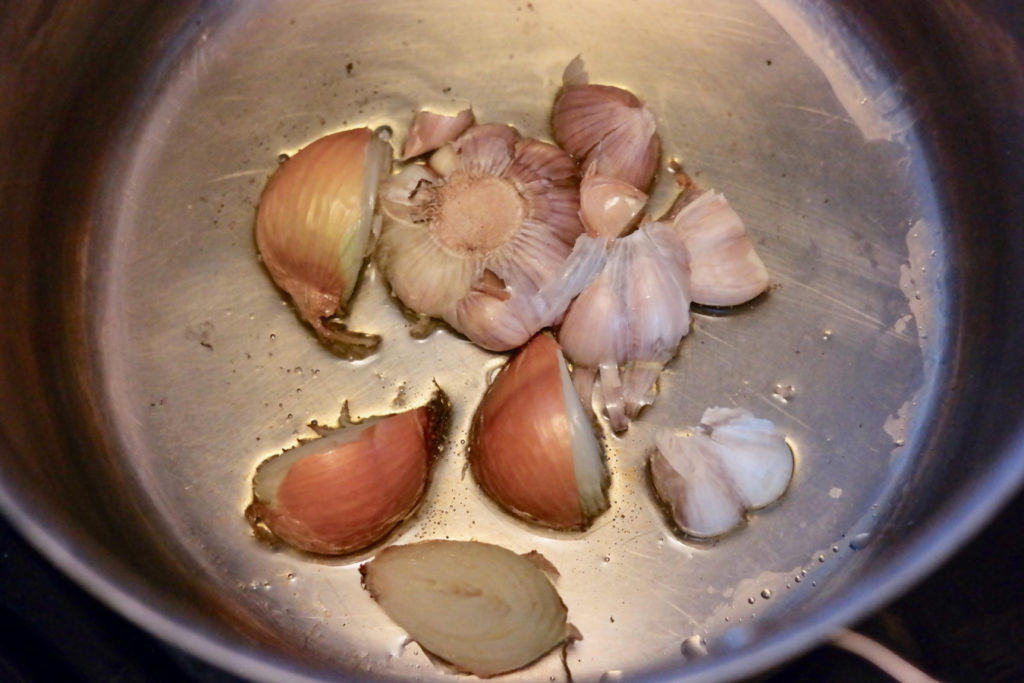 Slice the rinds off your Parmesan (you can wrap up the rest of the cheese and save it to use in other recipes) and throw those in the pot with 15 sprigs of parsley, 8 sprigs of thyme, 2 bay leaves, 2 teaspoons of peppercorns, and 12 cups of water.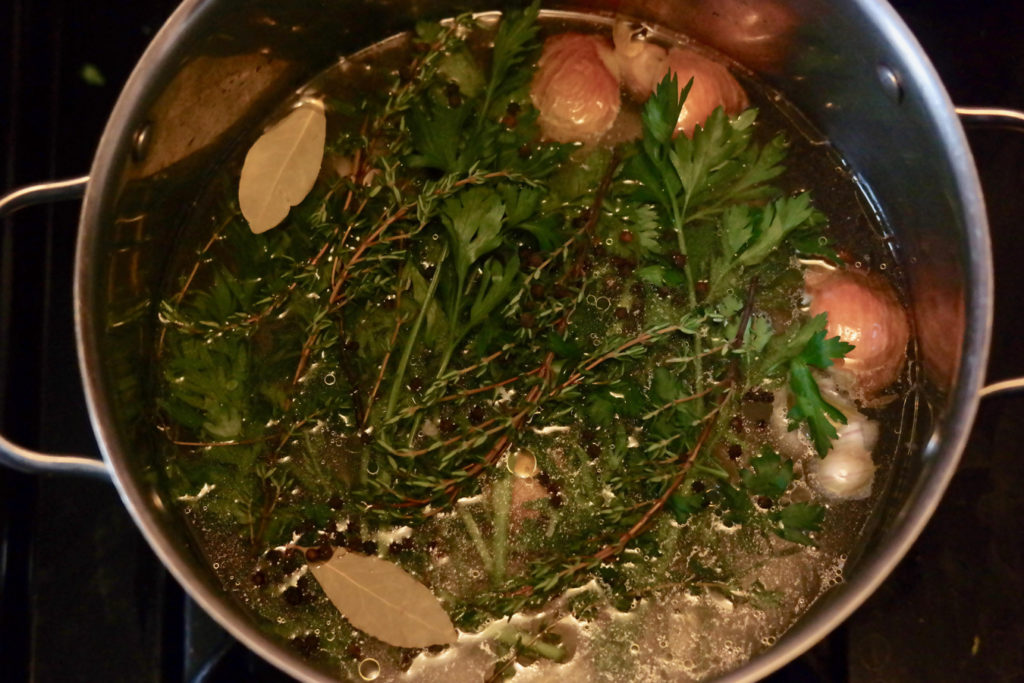 Let this come to a boil and then simmer, with the pot's lid partway on, for 2 1/2 hours, making sure your stir everything once in a while.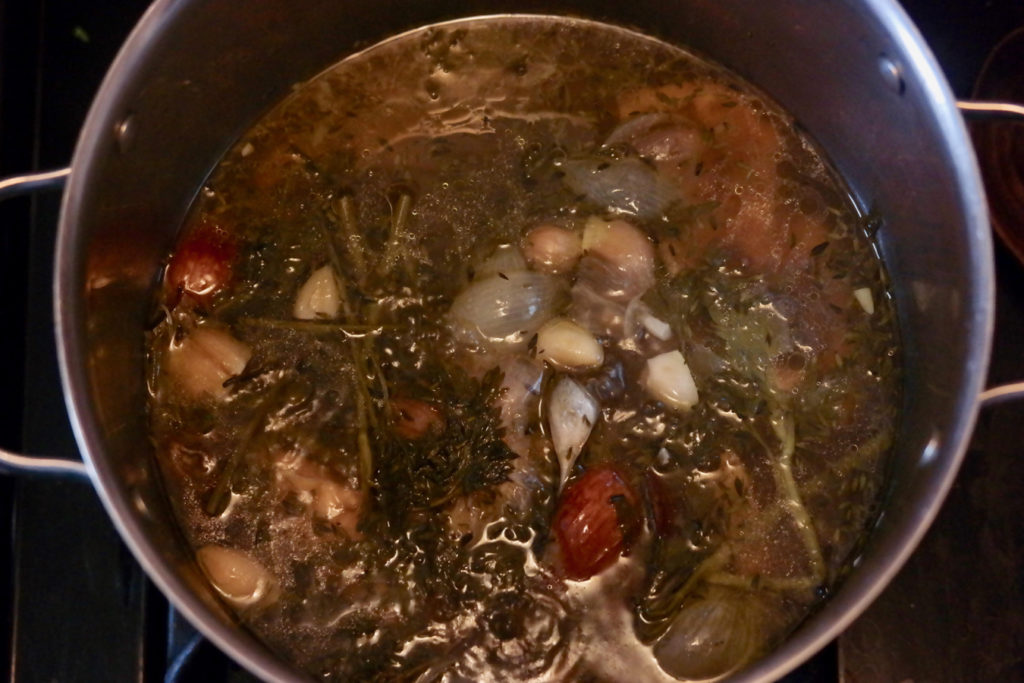 Then strain the broth through a colander – you can snack on the herbs, garlic and rinds but bring the broth back to a boil and stir in 1/3 cup of white wine, a cup of couscous, and 5 more sprigs of thyme.  Turn the heat down to a simmer and let everything cook, with the pot covered, for 25 minutes.  Uncover the pot and continue cooking until the couscous is tender.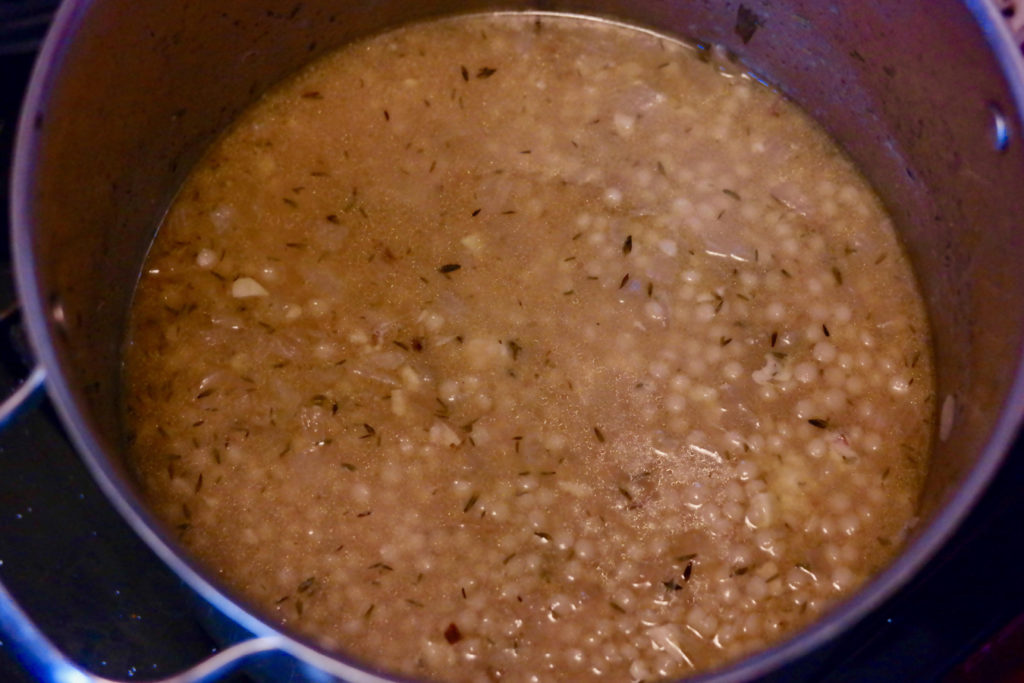 Meanwhile, slice up all your mushrooms and place half of them in a large pan with 1 1/2 tablespoons of olive oil and a generous sprinkling of salt and pepper.  Cook for 3-4 minutes, until they're browned and wilted, then scoop them out into a bowl and repeat with the rest of the mushrooms and another 1 1/2 tablespoons of olive oil, plus more salt and pepper.  Once all the mushrooms are cooked, mix them together with 2 teaspoons of dry sherry.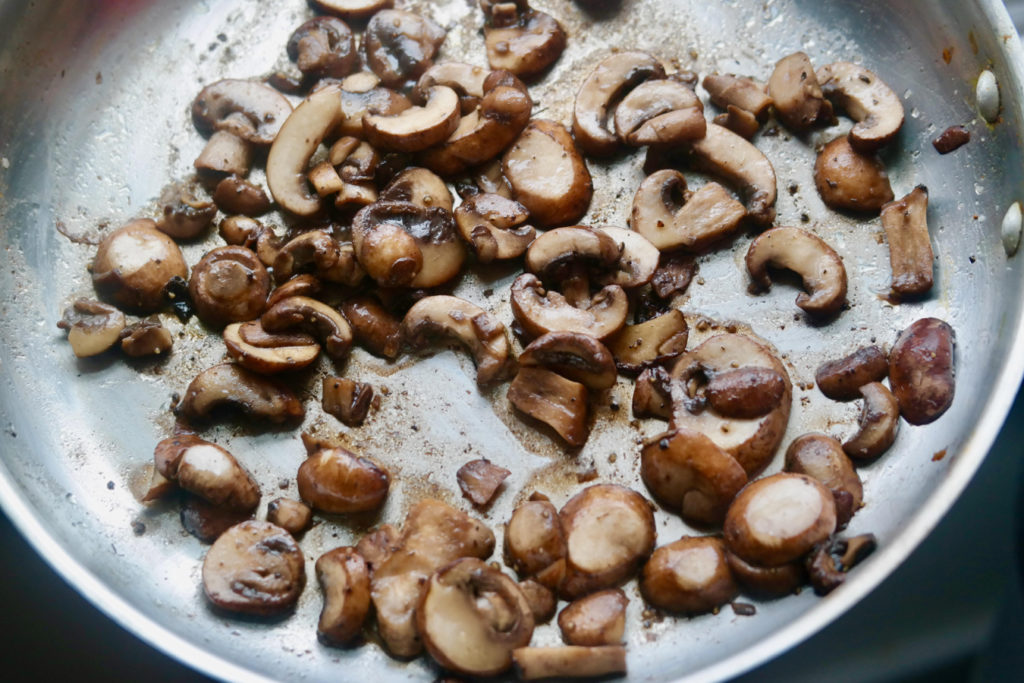 When both the soup and the mushrooms are done, ladle up the soup, top with mushrooms, and serve with parsley leaves scattered on top.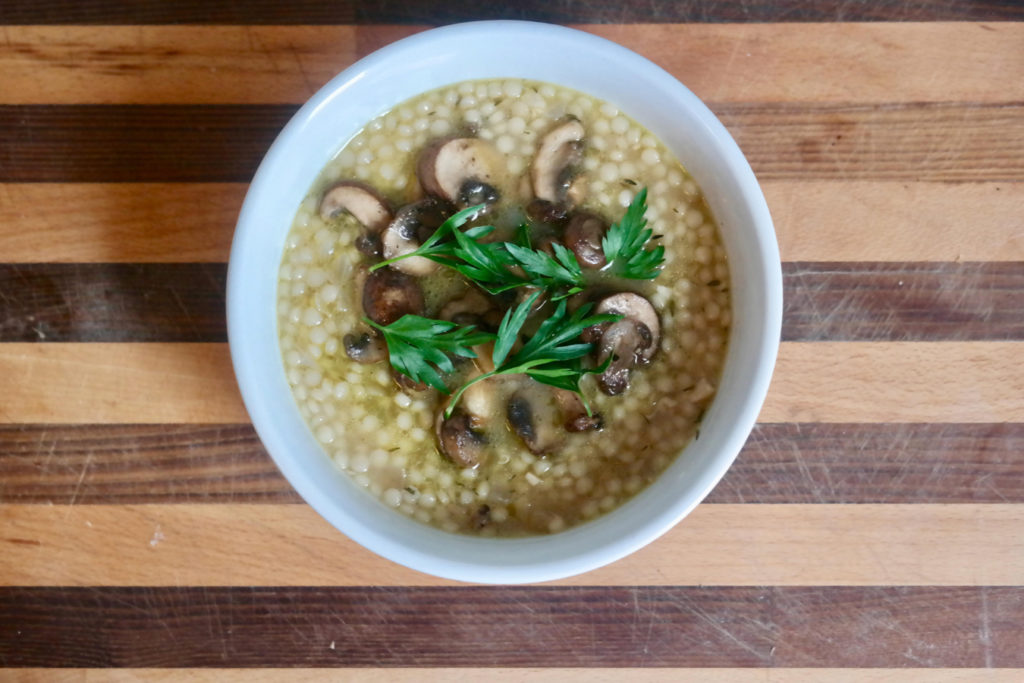 So you can see that this isn't an quick and easy process – it take at least 3 hours to make this soup, but we thought it was fun and worth it.  We very rarely make our own broth, and this one was a version we'd never seen before – flavored with a bunch of Parmesan rinds in addition to some herbs and spices, the soup base is unique and comes out really delicious.  The mushrooms pair well with this broth, and pearled couscous was an excellent grain to help tie everything together.  And look, while you do need to devote a chunk of your day to making this soup, we also know that most of you have a lot of time on your hands right now.  So if you can find all the ingredients, why not try out this interesting vegetarian soup?