If you enjoyed the Parker House rolls we made earlier this week, we'd like to share with you a similar recipe we tried recently that also serves up some delicious, individually-portioned bread.  These biscuits are based on a recipe we found in Bon Appétit, although we altered it to suit our tastes and what we were able to find at our grocery store.  What makes these biscuits unique is a secret ingredient:  sour cream, which serves up a creaminess that all biscuits need, but in a different and really interesting flavor.  There's also a cool technique for making these, so that you end up with some nice and flaky biscuits.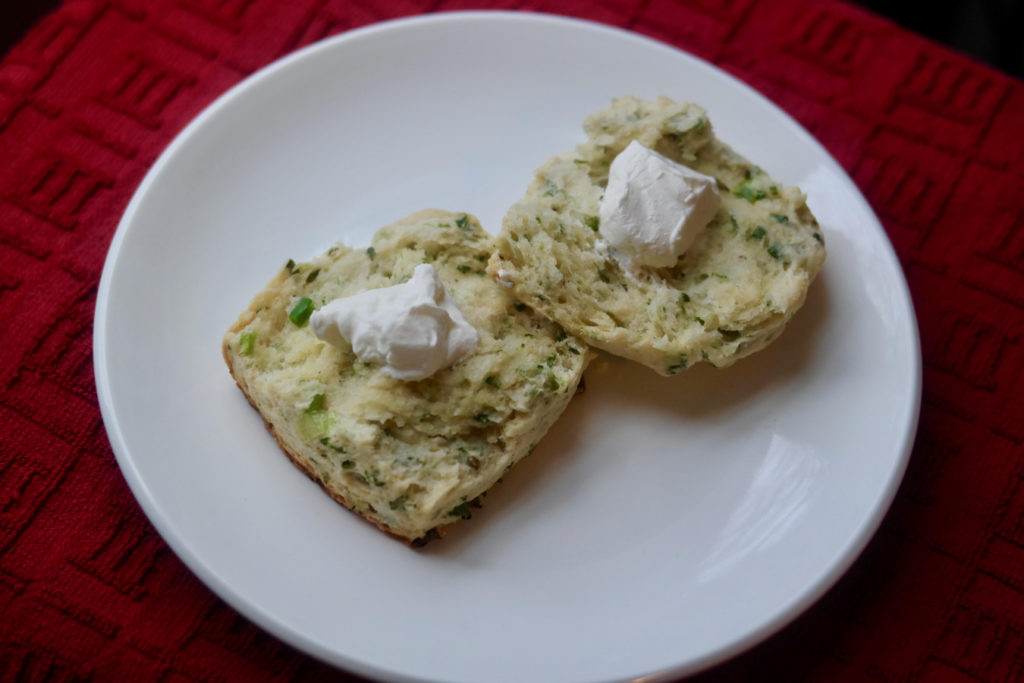 To make these, you'll need:
Dried chives
1 1/2 sticks of butter
Baking powder
Baking soda
Sugar
Flour
Sour cream
First, mix 3/4 cup of dried chives with 1 3/4 teaspoons of baking powder, 1/2 teaspoon of baking soda, 1 1/4 teaspoon of sugar, 2 1/2 cups of flour, and pepper plus a large pinch of salt.  Cut 10 tablespoons of your butter into cubes and mix these in with your hands, smushing the butter around until it's pretty evenly distributed in pea-sized pieces.  Then add in 1 1/4 cups of sour cream to the middle of your bowl and stir with a fork until you have an even dough.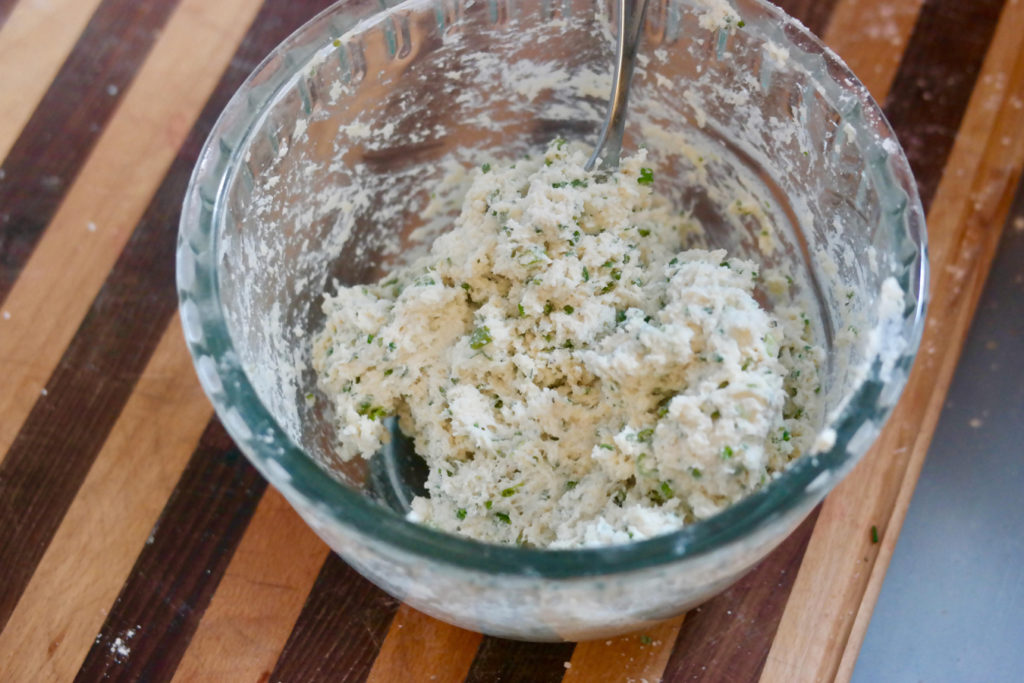 Take this dough out and knead it a few times on a floured surface.  Form it into a rectangle that's about an inch thick, then fold it into thirds, like this: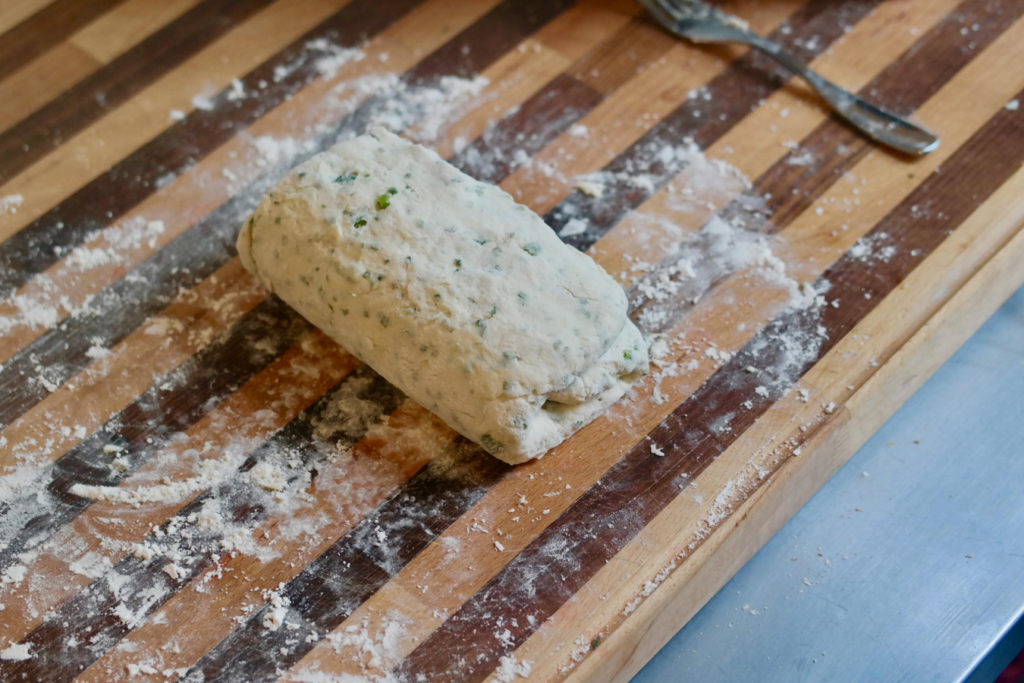 Flatten it back into an inch-thick rectangle, rotate it 90 degrees, and fold it into thirds again.  Flatten it once more into the same-sized rectangle and then cut it into 8 equal pieces.  Place these on parchment paper-lined baking sheets.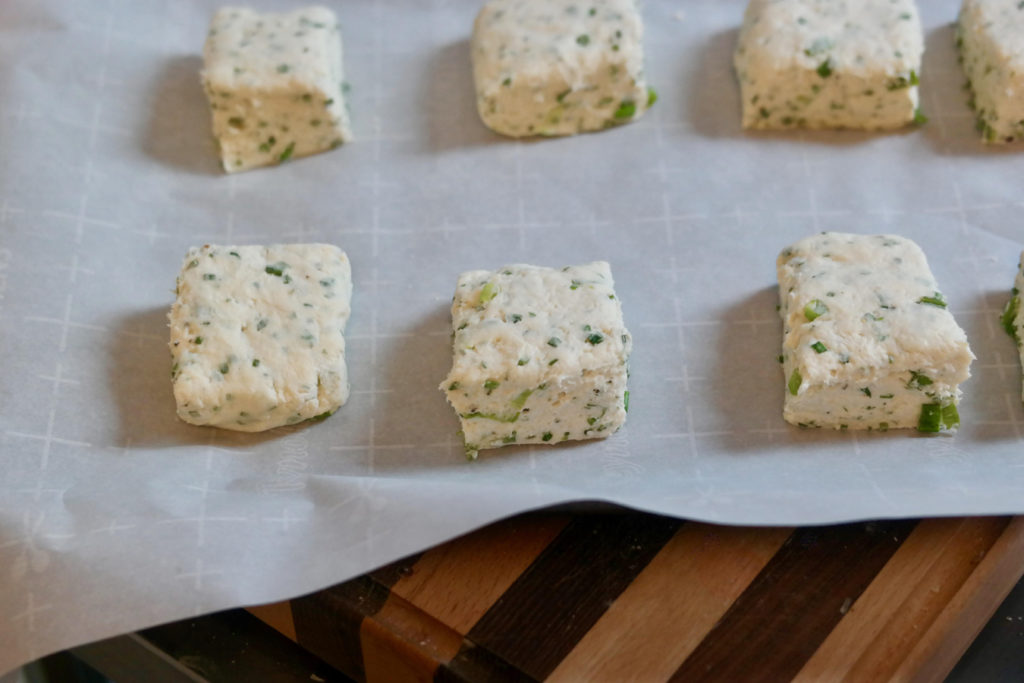 Melt your remaining 2 tablespoons of butter and brush it over each biscuit.  Sprinkle some extra salt on top as well, then bake at 425°F for about 20 minutes, until the biscuits are golden but not burnt on the bottom.  Once they come out of the oven and cool a little, you can serve them with some more sour cream.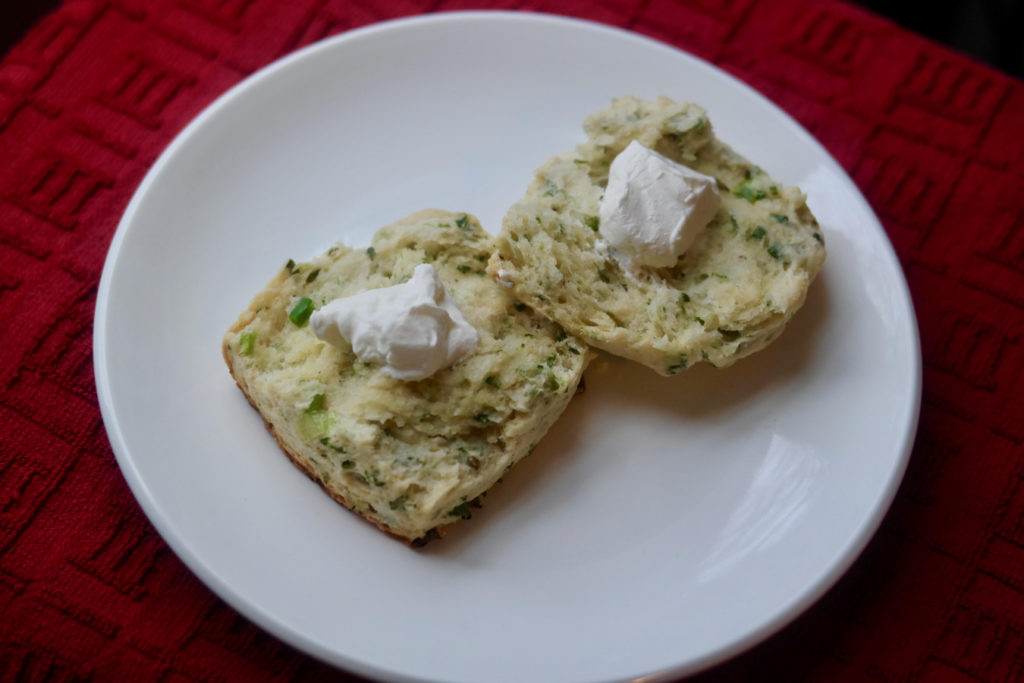 You might not have ever thought to make biscuits with sour cream, but as you can see these were amazing!  Biscuits rely on some kind of ingredient to make them moist, and sour cream here really steps up to the plate to provide a nice richness and a good pairing with the chives.  The dough is easy enough to make, and the method of folding these to make some flaky biscuits is pretty straightforward, with no rolling necessary.  This is an excellent use of your quarantine time – you'll end up with some pretty cool biscuits that are warm and tasty and filled with really interesting flavors.