Here's another fun, sweet treat for these trying times:  some very cool brownies!  Last week we showed you how to make some shortbread, so today we're going to feature another dessert.  This one might be a little more complicated, but it's worth it because the brownies come out looking and tasting great (although if you're looking for a simple, classic brownie recipe, we have one here).  We based this on a recipe we found in Bon Appétit, and it was the perfect thing to make on a recent Saturday when we really had nothing better to do.  We enjoyed the process and the tasty result, and now we're going to show you how you too can make these unique brownies.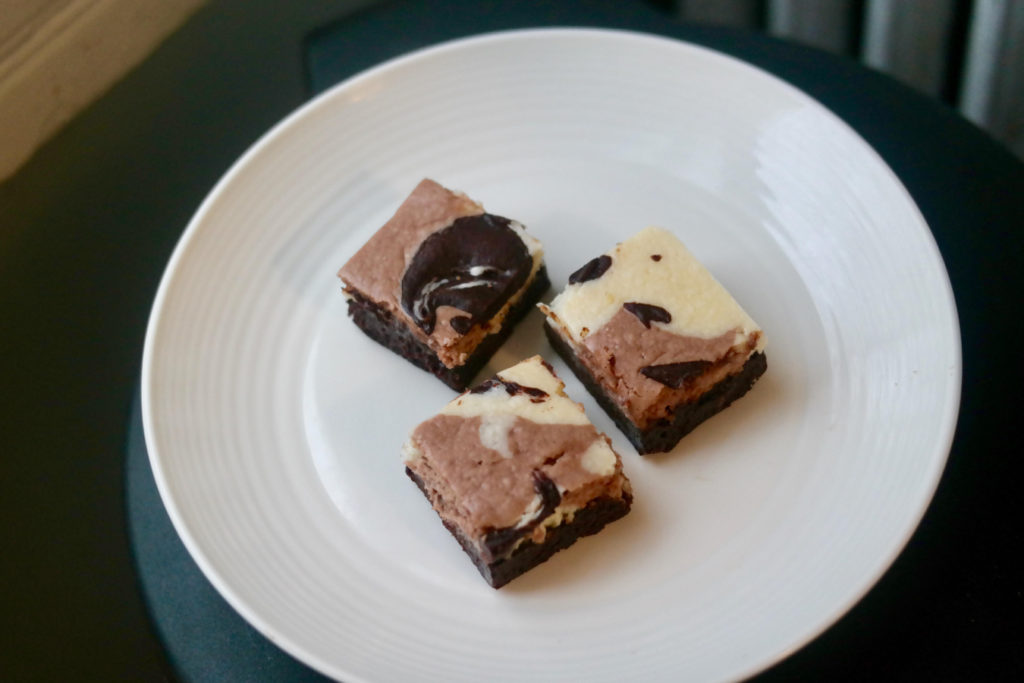 You'll need:
An 8-ounce package of cream cheese
3 eggs
Sugar
Vanilla extract
Cocoa powder
1 1/4 sticks (10 tablespoons) of butter
Espresso powder
Flour
To begin, fill a small saucepan with an inch of water and let it come to a boil.  Cut your cream cheese into cubes and place them into a metal bowl that can rest on top of the saucepan without touching the water.  Once the water is boiling, turn it down to medium heat and place the bowl on top of the pan.  Let the cream cheese melt for about 5 minutes, stirring as needed, until it's smooth and even.  Then take it off the heat and mix in one egg, 1/3 cup of sugar, 1/2 teaspoon of vanilla, and a pinch of salt.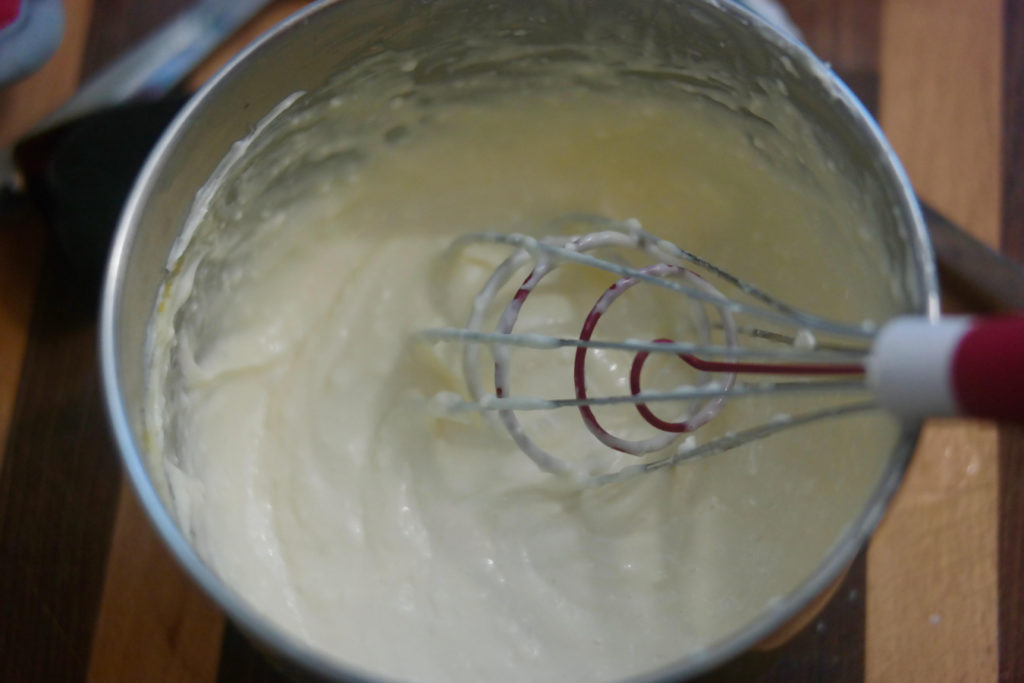 Scoop half of this mixture into another bowl and stir in 1 1/2 teaspoons of cocoa powder.
Now bring the water on your stovetop back to a boil.  Cut up all your butter into cubes and place them in another bowl that can sit on top of the pan, along with a teaspoon of espresso powder, a cup of sugar, 3/4 cup plus 2 tablespoons of cocoa powder, and a pinch of salt.  Put this bowl over the boiling water as well and let the butter melt for 7-10 minutes, stirring to make sure everything comes together.  Once you have an even mixture, take the bowl off the stove and let it cool for 5 minutes, then whisk in 1/2 teaspoon of vanilla and 2 eggs, one at a time.  Finally, stir in 1/2 cup of flour and mix the batter until it's completely smooth.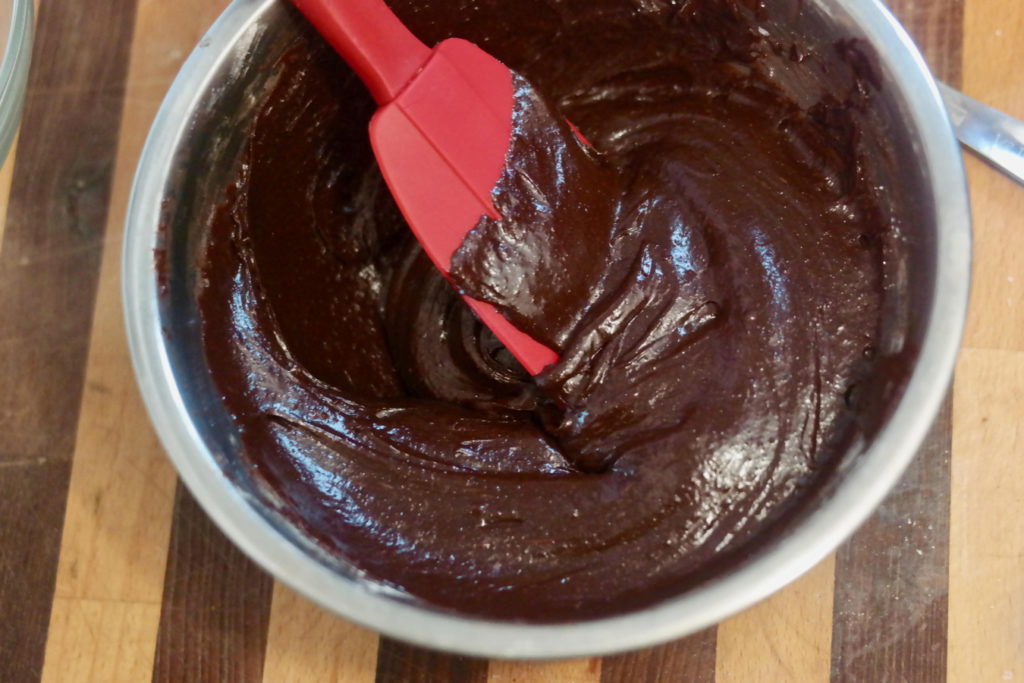 Measure out 1/2 cup of this batter and set it aside.  Take a square baking pan and coat it with cooking spray, then line it with enough parchment paper to hang over the sides and coat that with cooking spray as well.  Pour the rest of the batter into the pan and smooth it out evenly.  Then use a spoon to dollop the white cream cheese mixture over the top of the brownie batter.  Do the same with the brown cream cheese mixture, then the remaining brownie batter – you should have something that looks like this: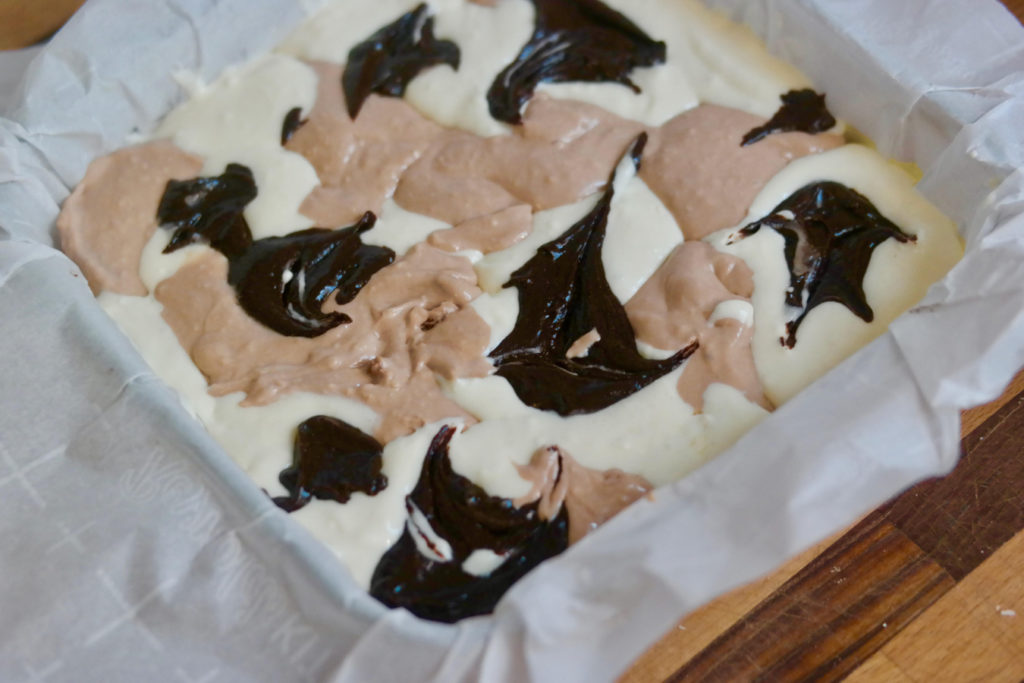 Bake your brownies at 325°F – if you're using a metal pan, they should take about 25 minutes to cook, but if you're using a glass pan it should be 40-45 minutes or longer.  Make sure you stick a toothpick in several spots in the middle of your brownies to check if they're done, and keep baking them until the toothpick comes up mostly clean.  Once the brownies have cooled off, you can cut them into squares to eat.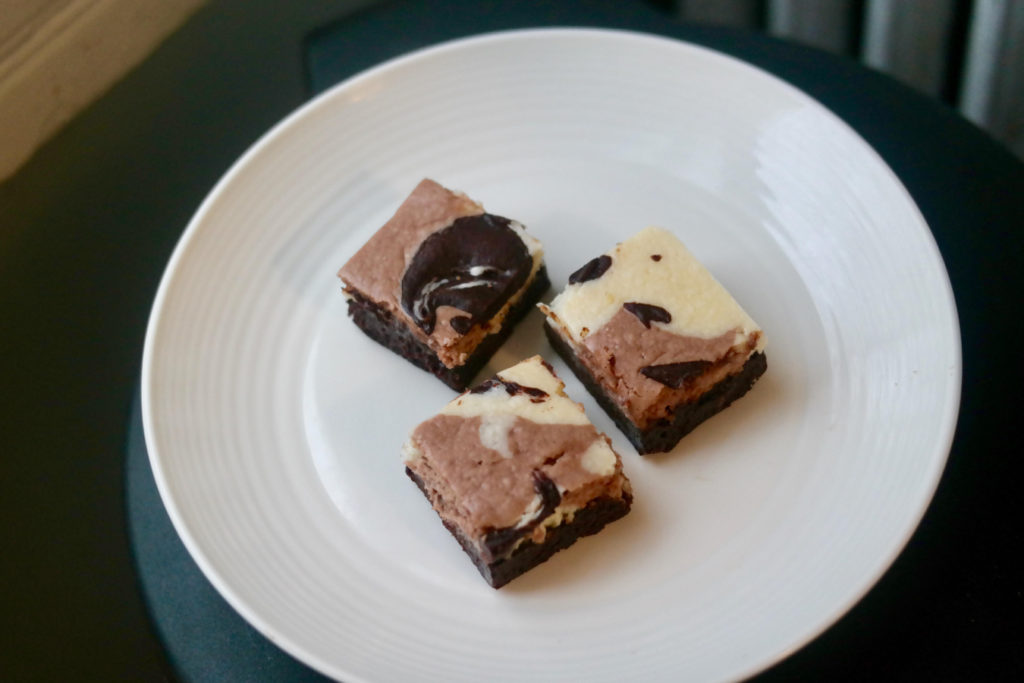 So yes, these are a little more work that you might typically put into brownies:  you have to make two toppings and a batter, and all of these come together over a double broiler you'll need to rig up on your stovetop.  It's not the way you usually make brownies, but we liked exploring this new technique.  The brownies come out looking like tie-dye, or maybe cow spots, and they're not just rich like traditional brownies but also creamy on top thanks to the cream cheese layer.  Since you probably have a lot more free time right now, and you might be looking for an interesting crowd pleaser to cook up, these are a perfect quarantine treat.