All throughout this quarantine, we've been relying heavily on our extensive collection of spices, some vegan broth bases we stocked up on, and shelf-stable starches.  By this point it can sometimes feel like we've gone through every possible iteration of beans, rice, and soup – but luckily we also have a subscription to the New York Times, which allows us access to their huge recipe collection.  That's how we came across this recipe, which puts good use to potatoes, spices, and odds and ends of vegetables to make a pretty easy, tasty, and vegan soup.  Maybe we're weirdos for enjoying soup year-round, but indulge us for a little bit and let us show you how we adapted this very flavorful, hearty vegetable meal that really put our spice rack to good use.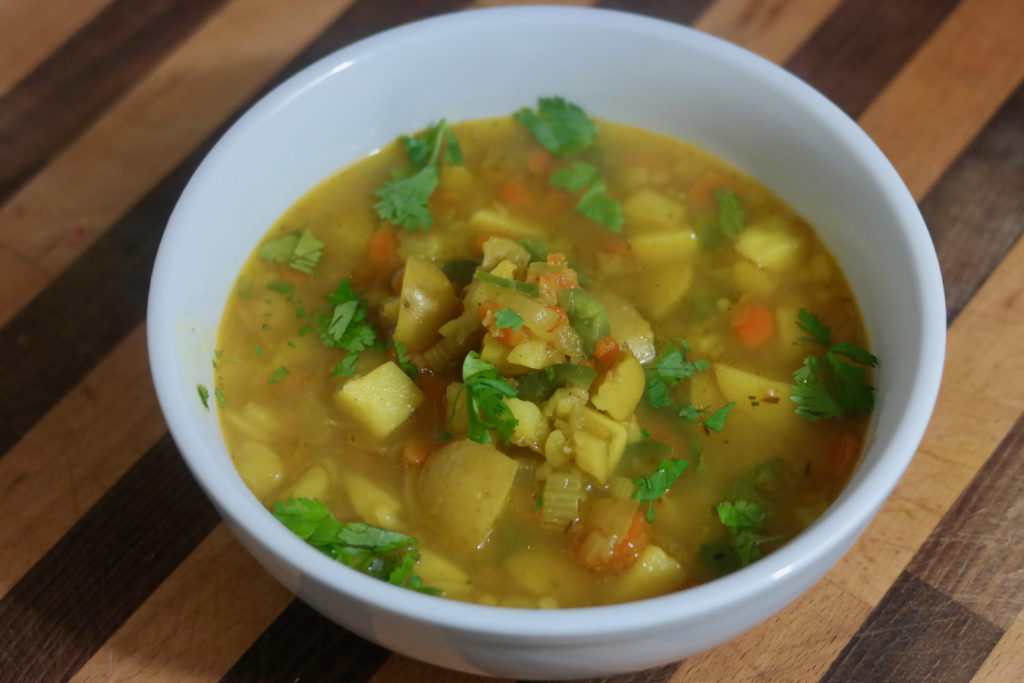 You'll need:
Vegetable oil
An onion
3 carrots
Celery
Curry powder
Ginger
Cayenne
6 vegetable bouillon cubes
2 pounds of baby golden potatoes
Cilantro
Garlic
Cumin seeds
Mustard seeds
A jalapeño
First, dice up your onion and place it in a stock pot with 2 tablespoons of oil.  Cook it over medium-high heat until it softens and starts to brown, which should be around 10 minutes.  While you're waiting chop up your carrots and 3 stalks of celery, then add them to the pot and cook for another 5 minutes.  Stir in a teaspoon of curry powder, a tablespoon of grated ginger or dried ginger, and 1/4 teaspoon of cayenne.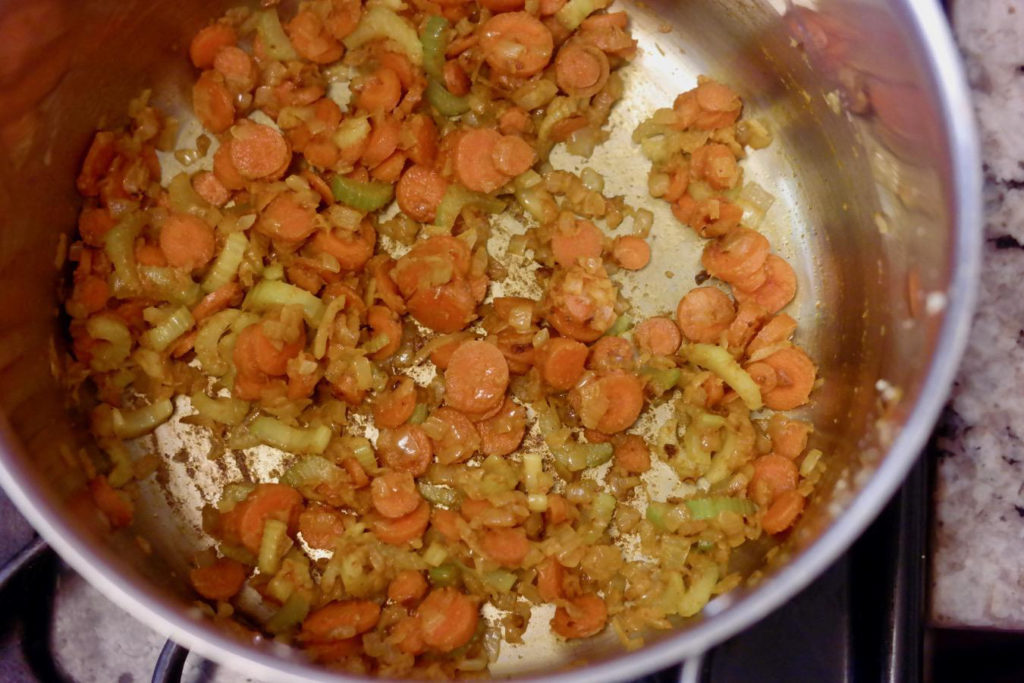 Now add 6 cups of water to your pot and mix in all of your bouillon cubes.  Cut your potatoes into bite-sized pieces and place those in as well, then bring everything to a boil.  Turn the heat down to a simmer and let your vegetables cook for 15 minutes, then mash a few of the potatoes to thicken the soup and let it simmer for 5 minutes more.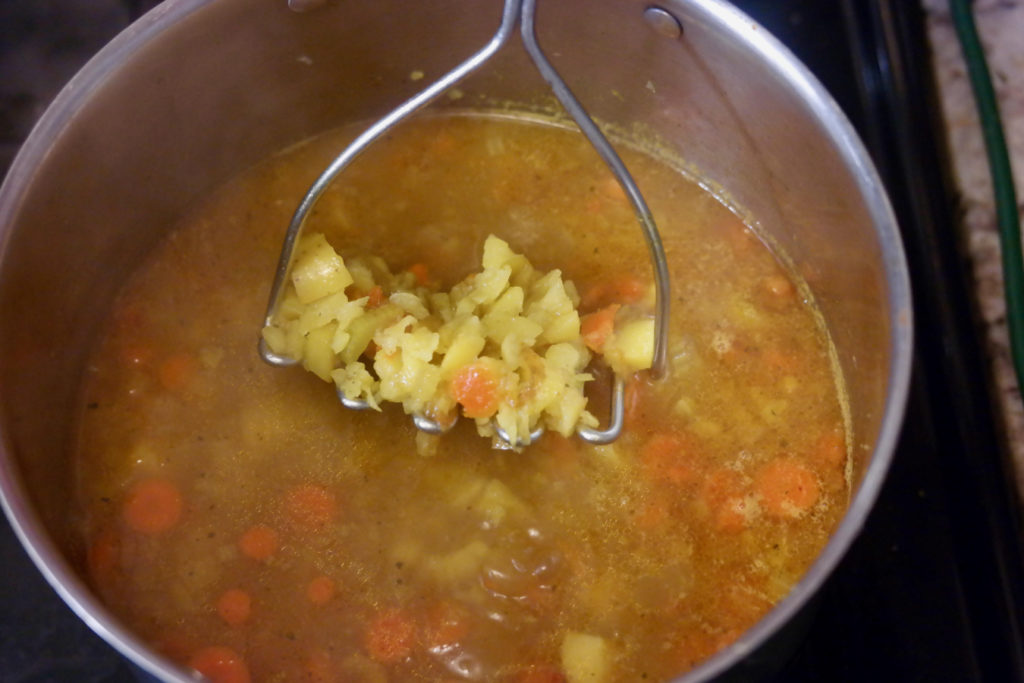 Meanwhile, heat another 2 tablespoons of oil in a skillet over medium heat.  Chop 4 cloves of garlic and cook them, along with a teaspoon of cumin seeds, just until the garlic starts to turn golden.  Chop up your jalapeño and place it in the pan with 1/2 teaspoon of mustard seeds, and when the seeds start to sputter take the skillet off the heat.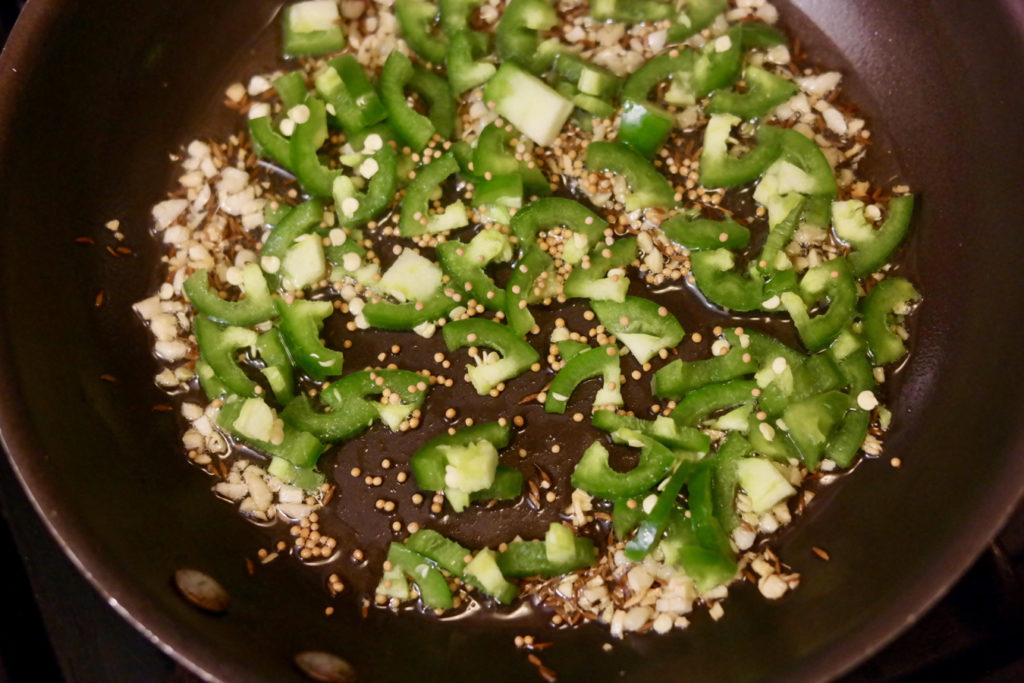 Once the soup is done, stir in the jalapeño mix, then ladle your soup into bowls and top with cilantro leaves.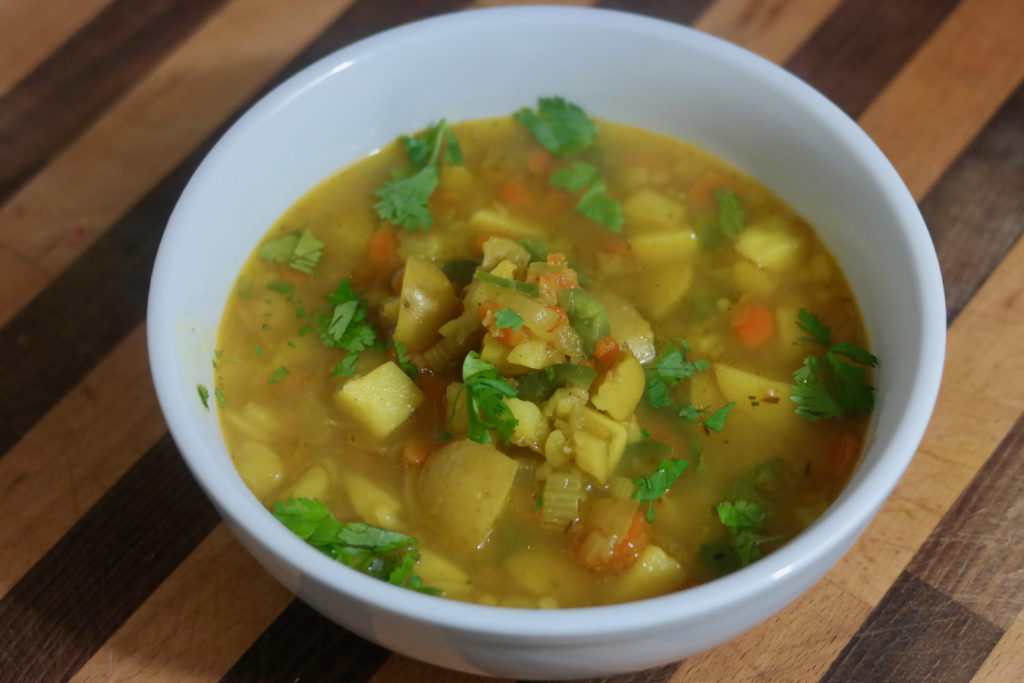 This is a great recipe for several different reasons:  first, it lets you get in your vegetables in a tasty, vegan way.  It's also quick and easy – you just have to chop and dice a few things, and you're good to go.  And the flavors are outstanding together:  you've got garlic, herbs, a hot pepper, three different spices, two kinds of seeds, and some rich golden potatoes to round the whole thing out.  It's perfect for putting to use any potatoes and leftover veggies that you might have lying around, and if you're brave enough to slurp some soup while it's starting to get hot out then you can't go wrong with this simple, delicious version.