Our recipe today is a new twist on gnocchi, one we'd never thought to try before:  placing it on a baking sheet and throwing it in the oven.  We love gnocchi, but previously we've only ever eaten it boiled and then topped with sauce or baked with cheese.  But this dish – which we based on a recipe from the New York Times – takes these potato dumpling and cooks them in the oven along with some veggies.  The result is gnocchi that are crunchy on the outside but still soft and chewy inside, which makes for a very nice texture.  As you can see below, we paired our final product with Parmesan, but you can also easily make this vegan and it's just as a delicious.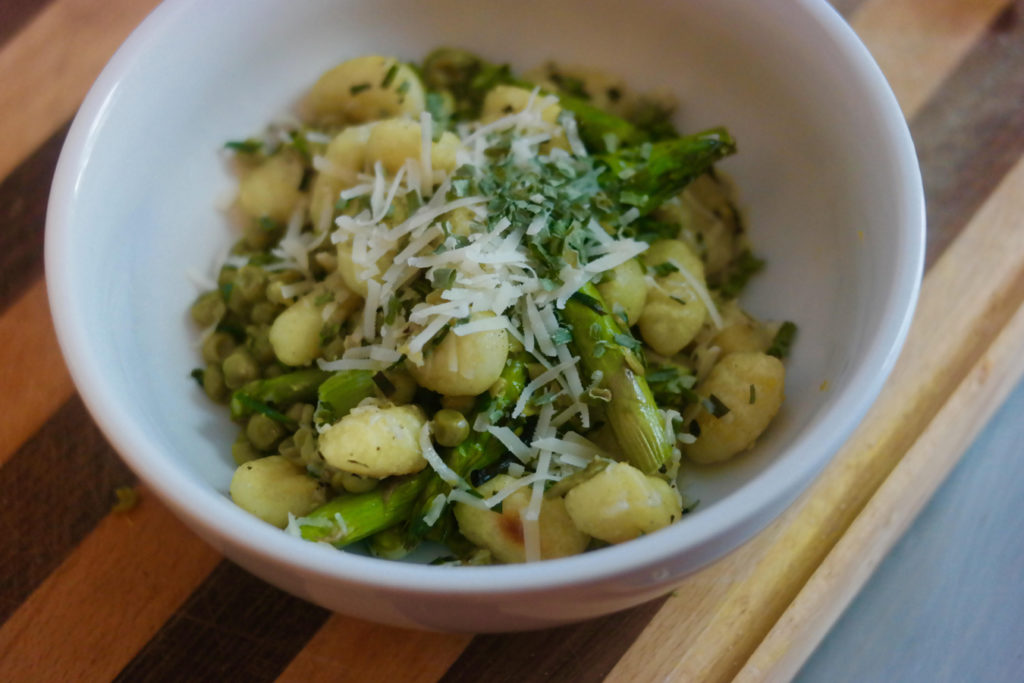 For this, you'll need:
24 ounces of gnocchi
Olive oil
Butter, or a vegan butter substitute
A bunch of asparagus
Frozen or canned peas
A lemon
Chives
Parmesan cheese (skip this if you're looking to make the gnocchi vegan)
To start, boil your gnocchi for just a few minutes and then drain them.  Mix with 2 tablespoons of olive oil and a tablespoon of melted butter (or butter substitute), then spread the gnocchi out on a baking sheet.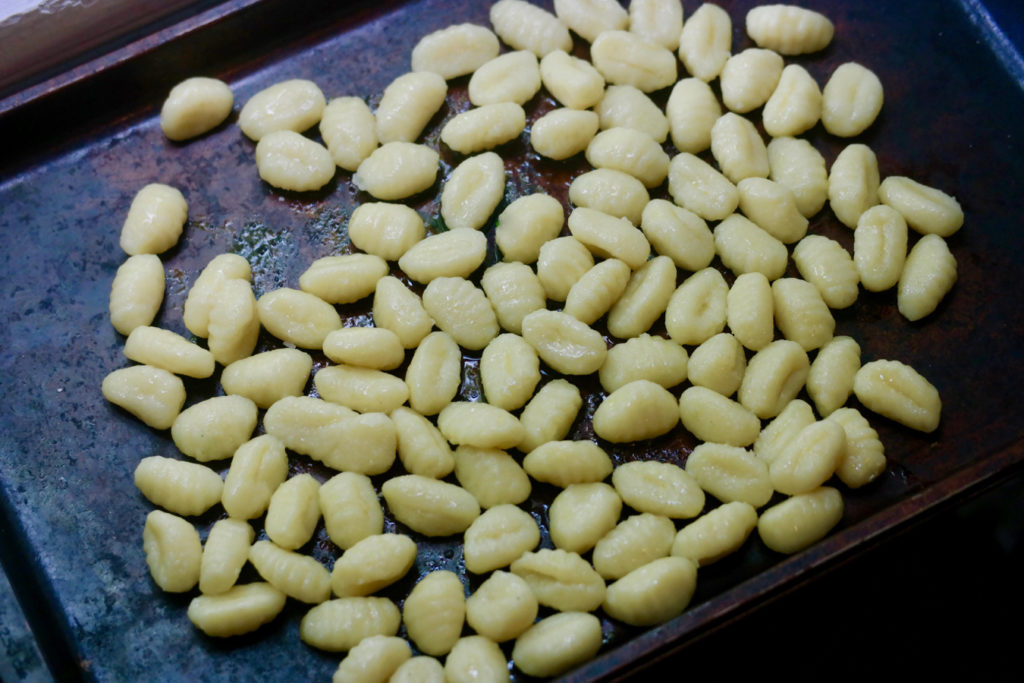 Then trim all your asparagus and cut each stalk into three equal pieces.  Take your chives and set a few aside, then chop the rest.  Mix these vegetables with a tablespoon of olive oil and a tablespoon of melted butter or butter substitute and place them on a second baking sheet.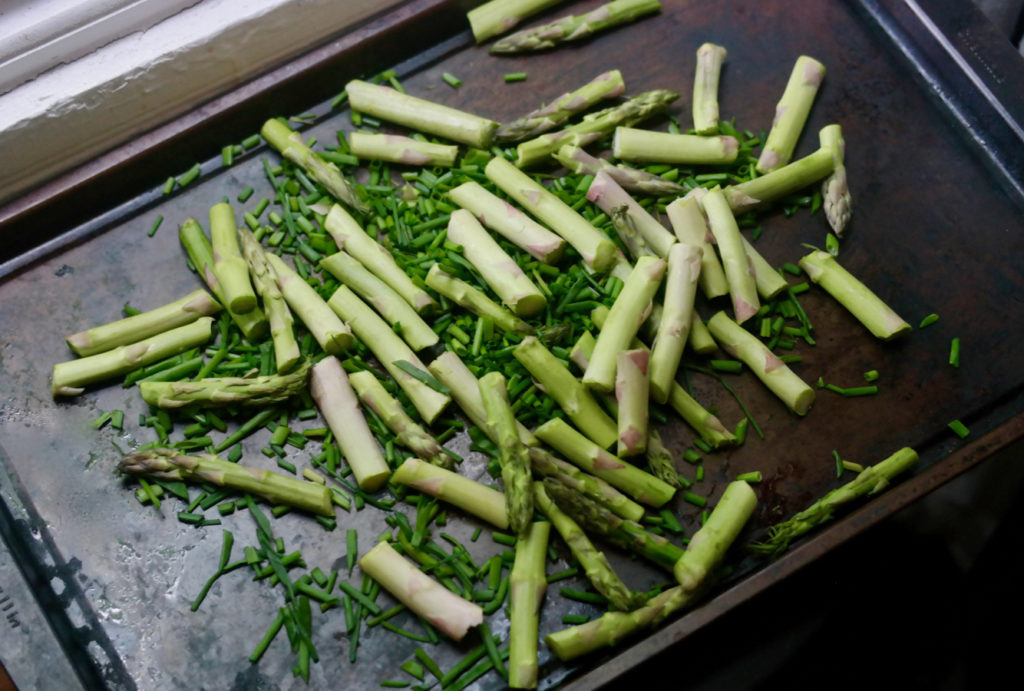 Sprinkle salt and pepper over both baking sheets, then heat your oven to 425°F.  Place the gnocchi on the oven's lower rack and the vegetables on a higher rack.  Let them sit in the oven for 5 minutes, then stir both the gnocchi and the veggies around.  After 5 more minutes, stir the asparagus and chives again and place a cup of peas (drained if you're using a canned version) on the sheet and let the vegetables roast for 5 more minutes, then pull them out of the oven.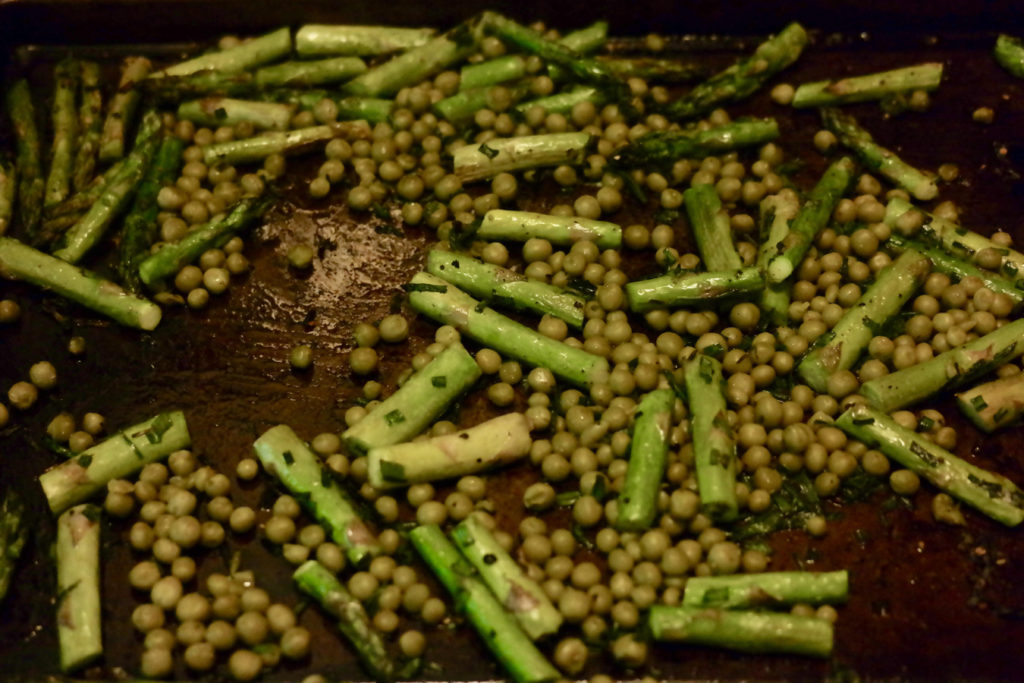 Once the vegetables come out, place them in a large mixing bowl.  Let the gnocchi roast for another 5 minutes, for 20 minutes in total, then transfer those to the mixing bowl and stir everything together.  Add in the zest from your lemon, 1/4 cup of grated Parmesan (if you're using cheese) and more salt and pepper to taste.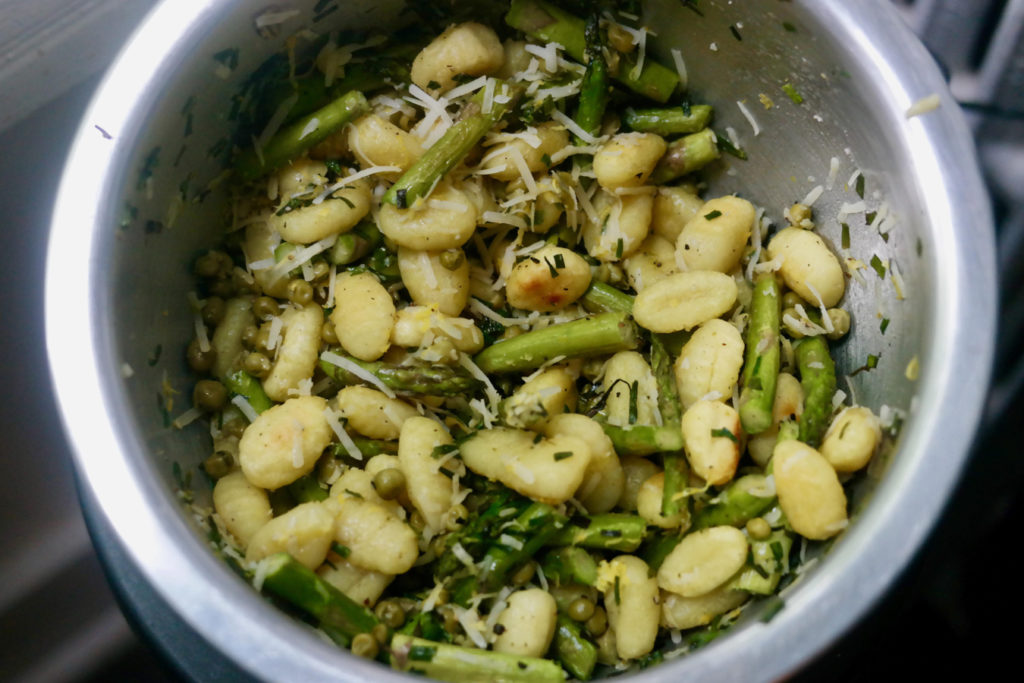 Then you can scoop up your gnocchi and serve it with your remaining chopped chives on top, plus extra Parmesan.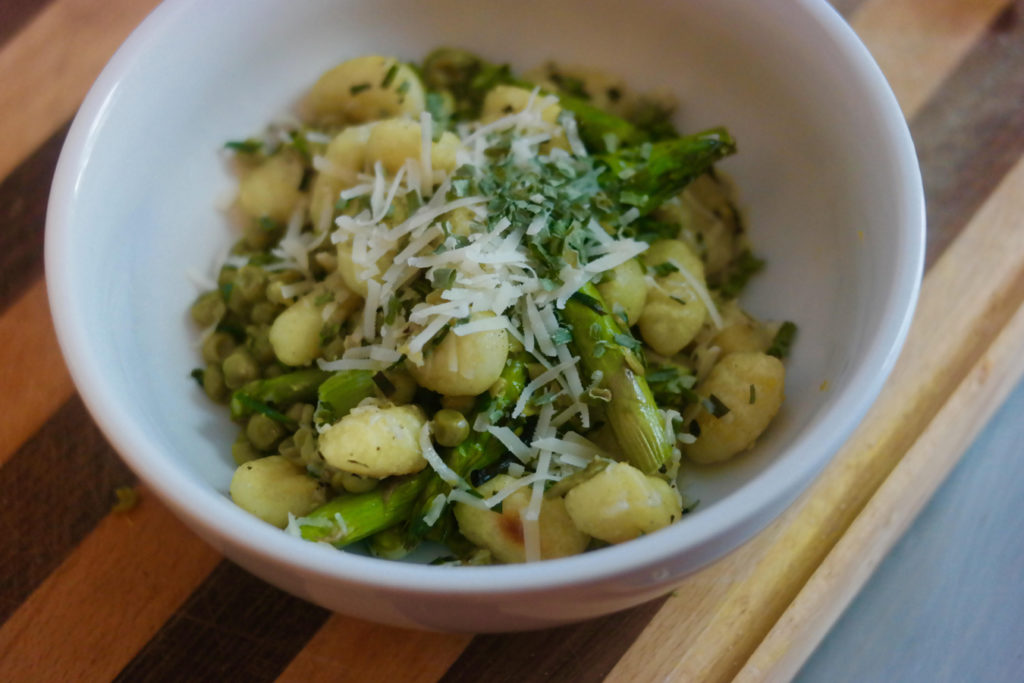 This is a really creative way to eat gnocchi:  they end up nice and toasty on the outside but keep their typical tenderness on the inside.  These warm and slightly crunchy little dumplings pair well with the roasted vegetables, and you get a pasta-type dish that's packed with green flavors.  We thought the Parmesan was a nice topping for everything, but if you want to make this recipe vegan you can easily leave the cheese off and you still have a really tasty and unique dish.  This is a perfect way to make a vegetable-filled meal that's new and exciting and not too difficult to whip up and, above all, really tasty.