Babka is a Jewish bakery staple:  it's a type of bread that has a filling inside and is baked braided and all rolled up, so that you have layers and a nice distribution of ingredients inside.  Typically babkas are made with sweet ingredients – and in fact, we made a chocolate version for Christmas one year – but we recently came across this recipe for one stuffed with ricotta cheese and greens, so we decided to adapt it for ourselves.  We do want to warn you right now that this is an undertaking, because you need to make it over the course of two days.  If you're prepared to wait that long for your food, and you have the time and patience to craft this complex treat, we think you should try it out because this babka is delicious!  Imagine a rich, buttery bread with cheese and cool herbs inside, and that's what you get here.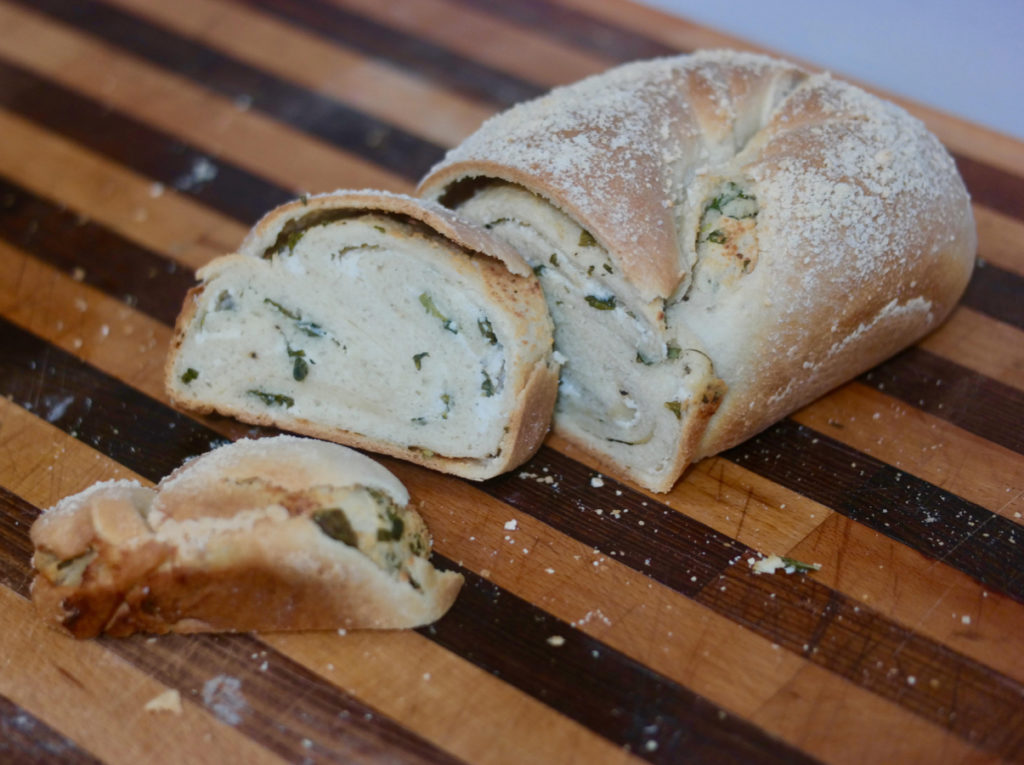 To make this, you'll need:
Milk
Yeast
Sugar
Flour
2 eggs
Half a stick of butter
Ricotta cheese
Parmesan cheese
Basil
A scallion
Garlic
Olive oil
First you're going to want to make the dough:  measure 1/3 cup of milk into a small pan and warm it over low heat until it reaches 110°F (you can use a candy thermometer to check the temperature).  Take the pan off the stove and add in 1 1/2 teaspoons of yeast and a pinch of sugar and let this sit for about 10 minutes, until it foams up.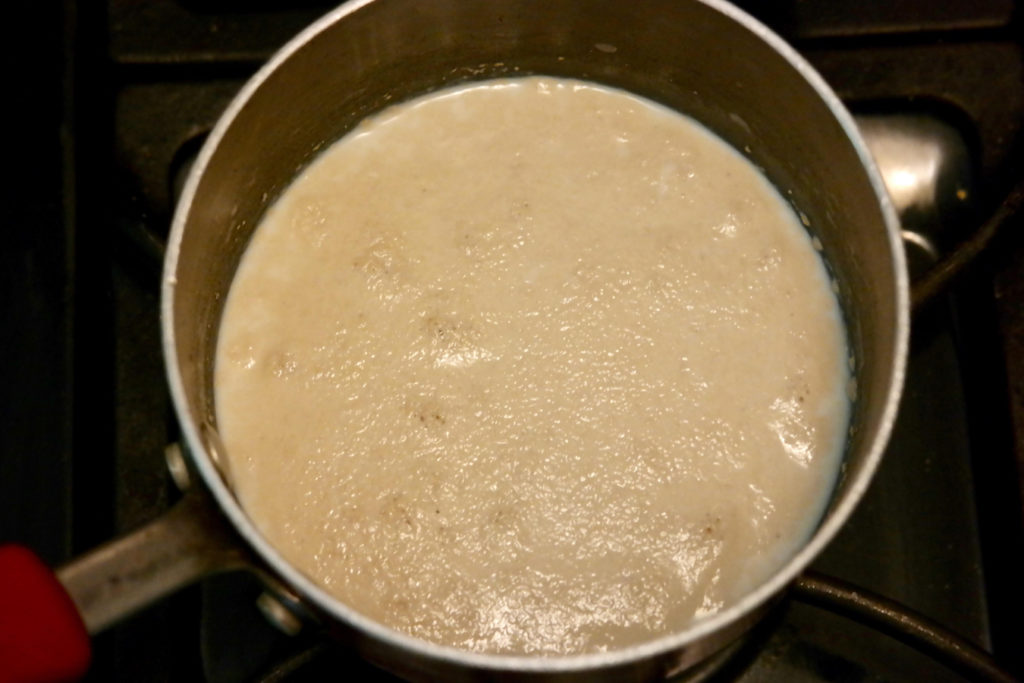 Then fit a stand mixer with a dough hook and in the mixer's bowl, combine 2 1/2 cups of flour with a large pinch of salt.  Beat your eggs and add those in, along with the yeast and milk, and run the mixer on medium to let everything come together for just a few minutes.  Place half of your butter into the bowl and let it mix in for a few minutes, then throw in the rest of your butter and mix at a medium speed for at least 5 minutes, or until you have a completely even dough.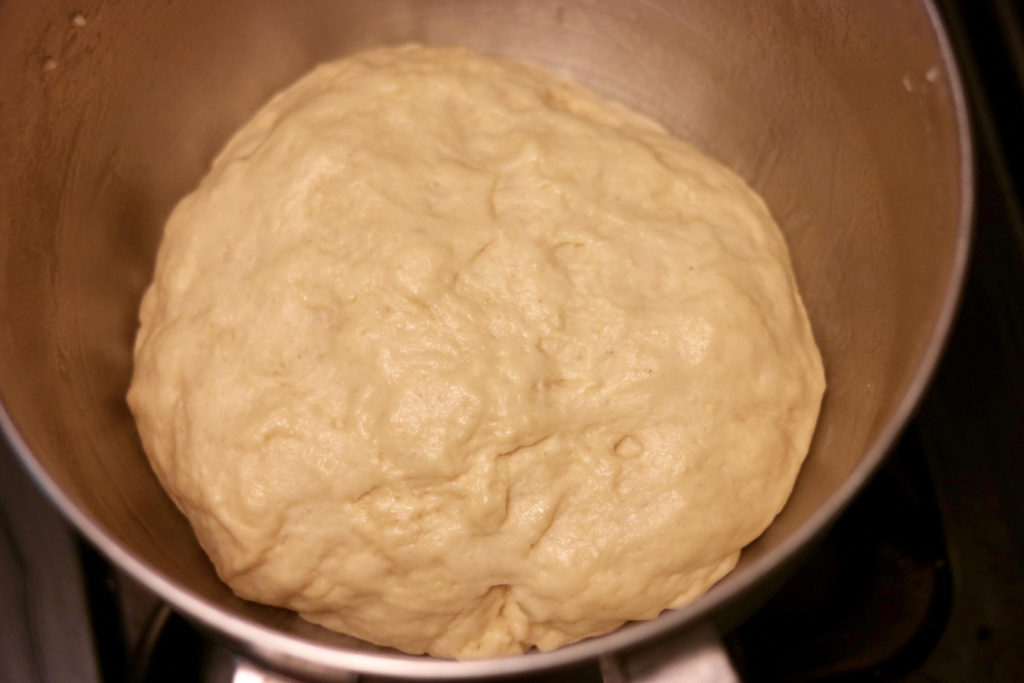 Place the dough in a greased bowl and let it rise in a warm place, covered, for 2 hours.  Then gently punch the dough down, cover the top of the bowl in plastic wrap, and let it sit in your fridge overnight.
When you're ready to finish the babka, mix together a cup of ricotta with 3 tablespoons of chopped basil, a chopped scallion, and a grated garlic clove.  Add salt and pepper to taste.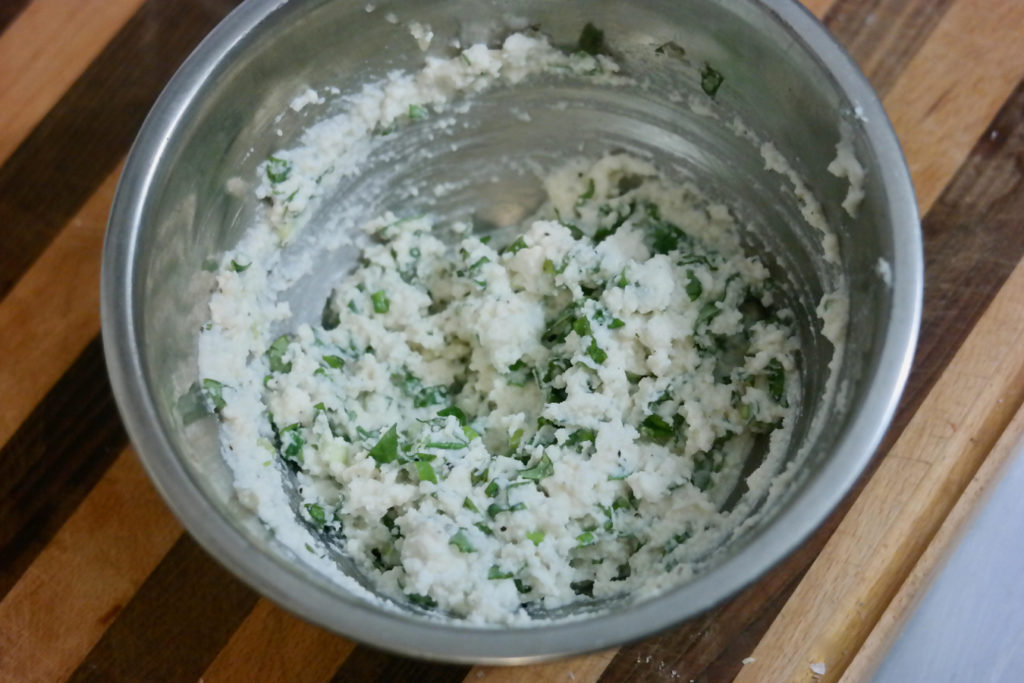 Then take out the dough and roll it out on a floured work surface until it's about  9 inches by 17 inches.  Spread the ricotta all the way over the dough.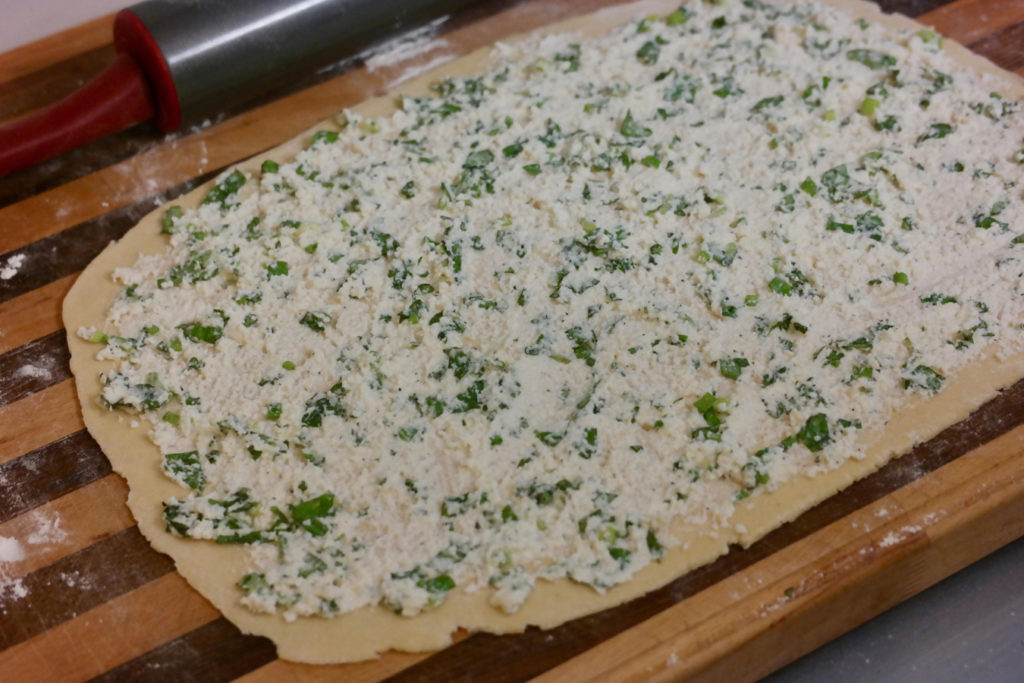 Then tightly roll up the dough …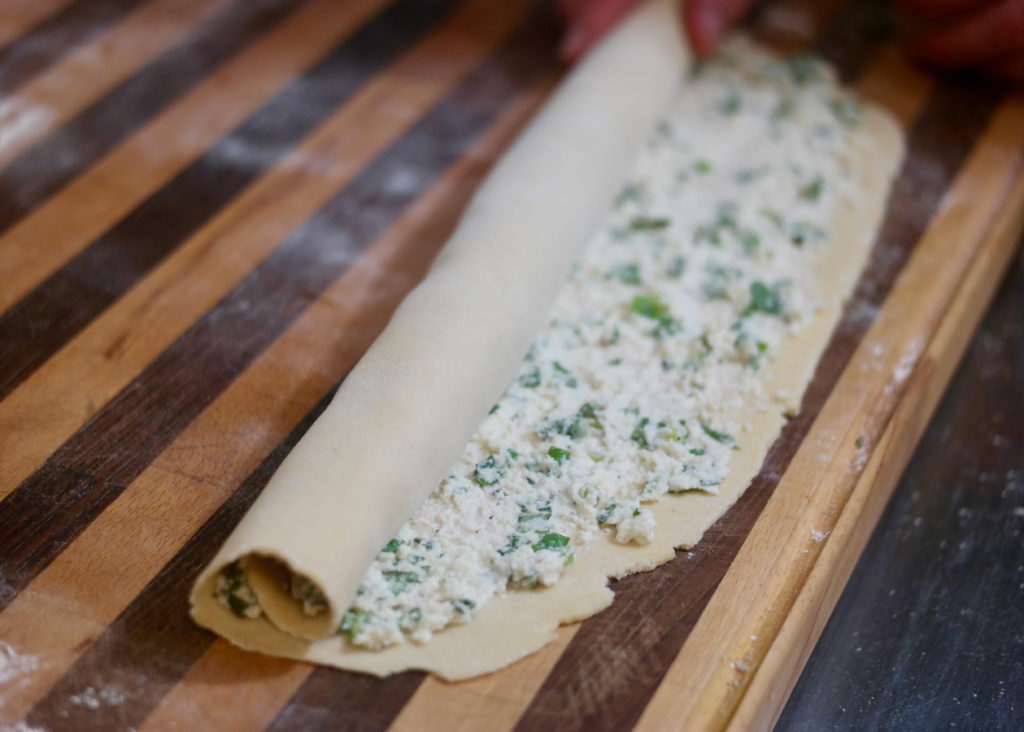 … and wrap it into a figure 8, pinching the ends together to seal them tightly.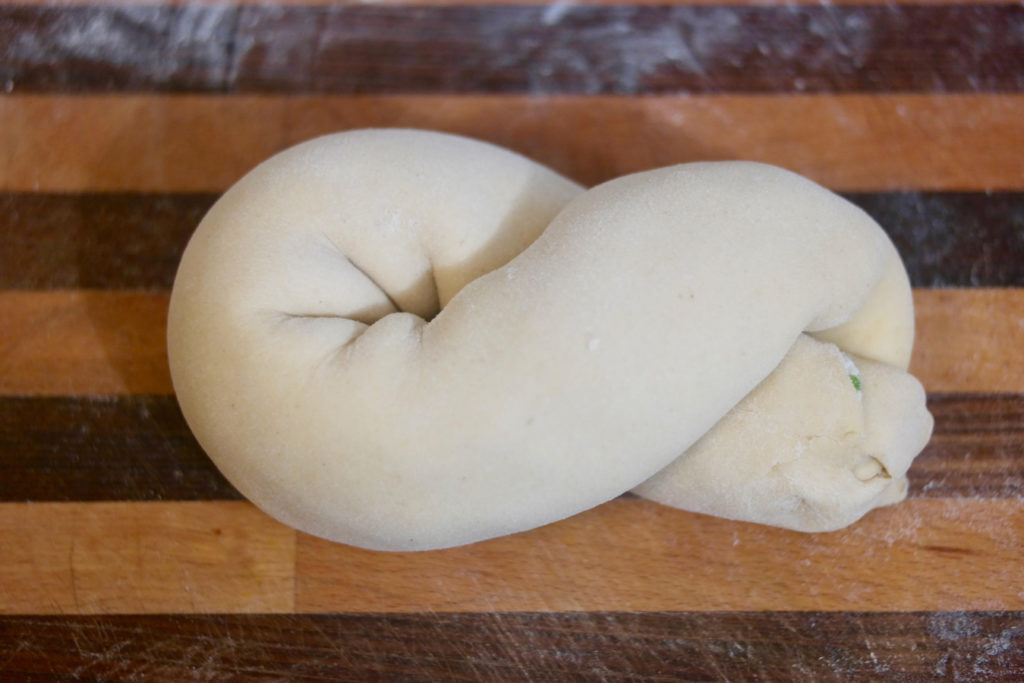 Grease a loaf pan and line it with parchment paper, then place the babka into the pan and cover it to let it rise for another hour.  Then brush olive oil on top and sprinkle Parmesan over the surface.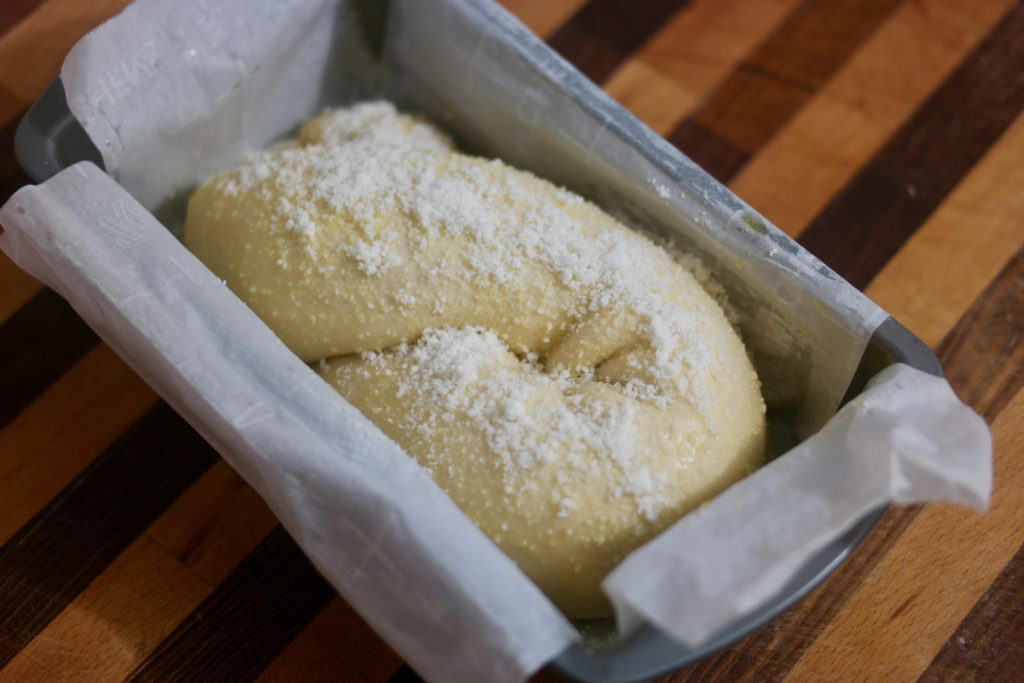 Bake for 40-50 minutes at 375°F, until the babka is golden brown on top.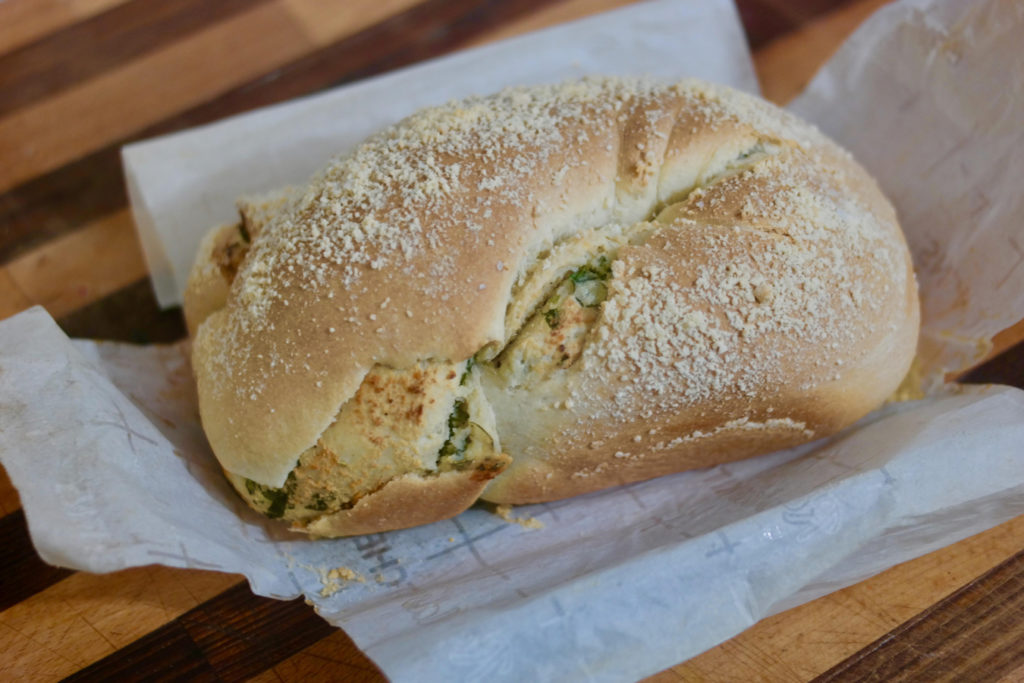 Let it cool just a little and then slice it and serve!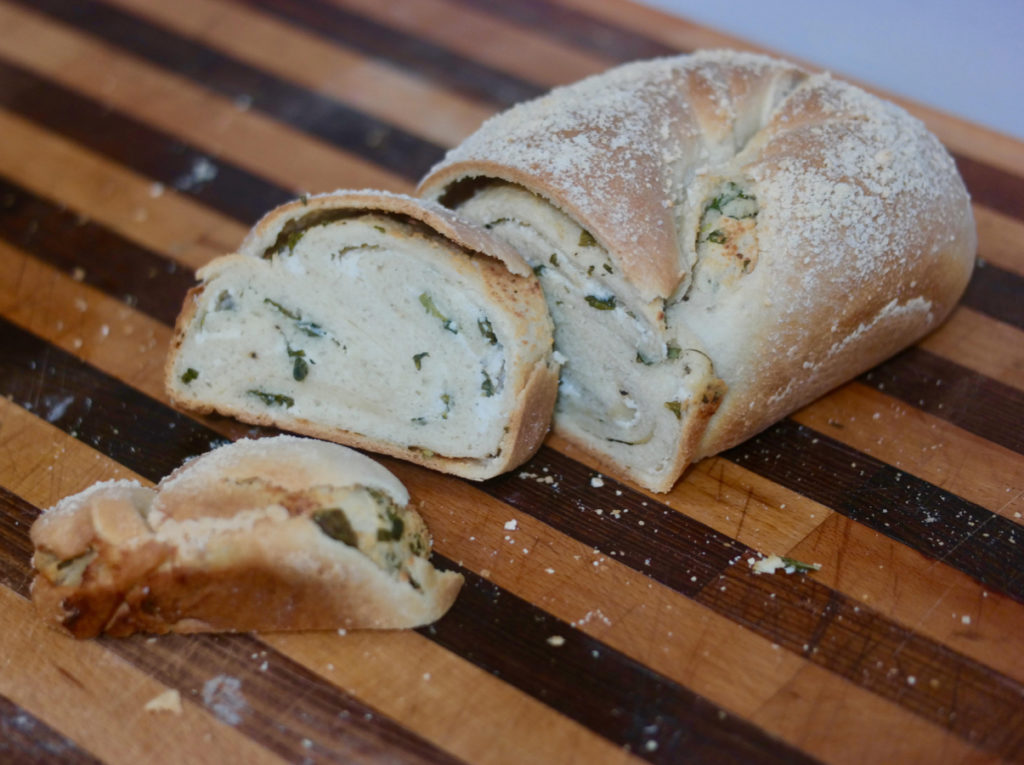 As we said:  this is a process.  We were a little shocked at first that it would take more than a day to finish this babka, but we enjoyed the result.  We got a bread that was light and spongy, and when you cut into it there's creamy ricotta cheese and cool herbs filling the inside.  We ate this as our dinner one night and we think it can serve as a complete meal, but you can also serve this as a side or a snack or anything like that.  We definitely wouldn't make this regularly, but it's an interesting thing to put together if you've got time to try something new and want to test out a savory take on a classic Jewish food.