Finally, for the first time in almost 4 months, we got out of the house!  We figured that for our first expedition since the pandemic hit we should go somewhere close to home that's doing well with the virus – and so we set our sights on Philadelphia.  The City of Brotherly Love is less than a hundred miles from New York, and culturally the two cities are pretty similar.  When it comes to food and what you might eat in Philly you probably think of cheesesteaks first and foremost, but after doing some research we discovered that there's a pretty interesting array of pizzerias to try.  Some of these places are old-school bastions of the Italian community that settled in the city over a century ago, but others are new contenders that are experimenting with different toppings and cooking styles.  Here's a round-up of everywhere we went, and we hope that once you feel safe to travel you're inspired to try some of these excellent pizzas.
On our visit we roamed around several of Philadelphia's neighborhoods, and naturally the first place we went was the area around the Italian Market, where Italian immigrants settled in the early 20th century.  Even today a lot of these cultural influences remain, including the country's oldest still-running Italian restaurant, and of course some pizza.  We started at Santucci's, which has their original location in the neighborhood but has since branched out to another location in Philadelphia, plus restaurants in the suburbs and New Jersey.  Their signature is a square pizza with cheese on the bottom and sauce on top, so that's what we got, topped with sliced long hot peppers.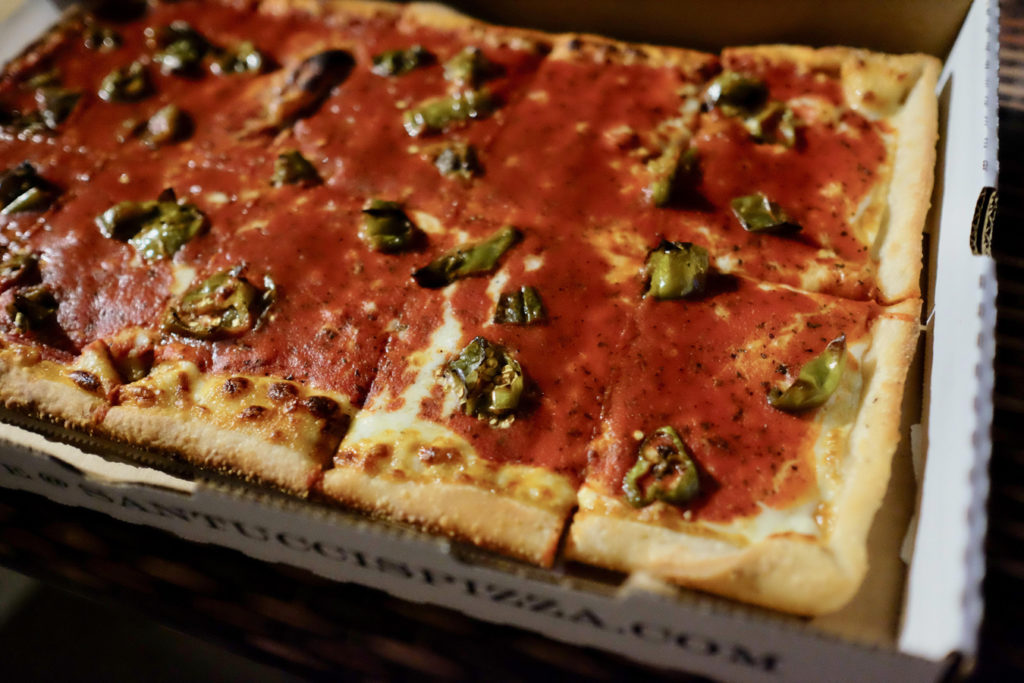 Just a few blocks north is Angelo's Pizzeria, which is currently serving a limited menu.  From the few topping choices we had, we decided to go with a grandma pie with roasted red peppers.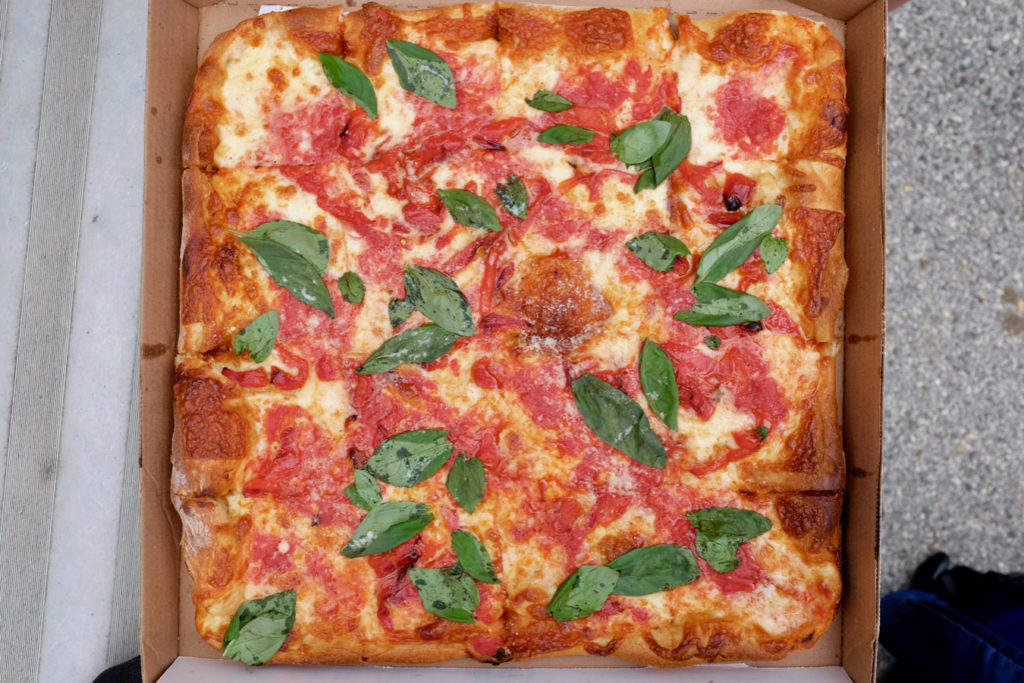 A little east of the Italian Market is Lorenzo & Sons Pizzeria on South Street, which is currently operating as a take-out window.  They're open late so their huge slices serve as great, cheap food for all the people partying on the street.  We went with a plain cheese slice and split it between the two of us since it was so big.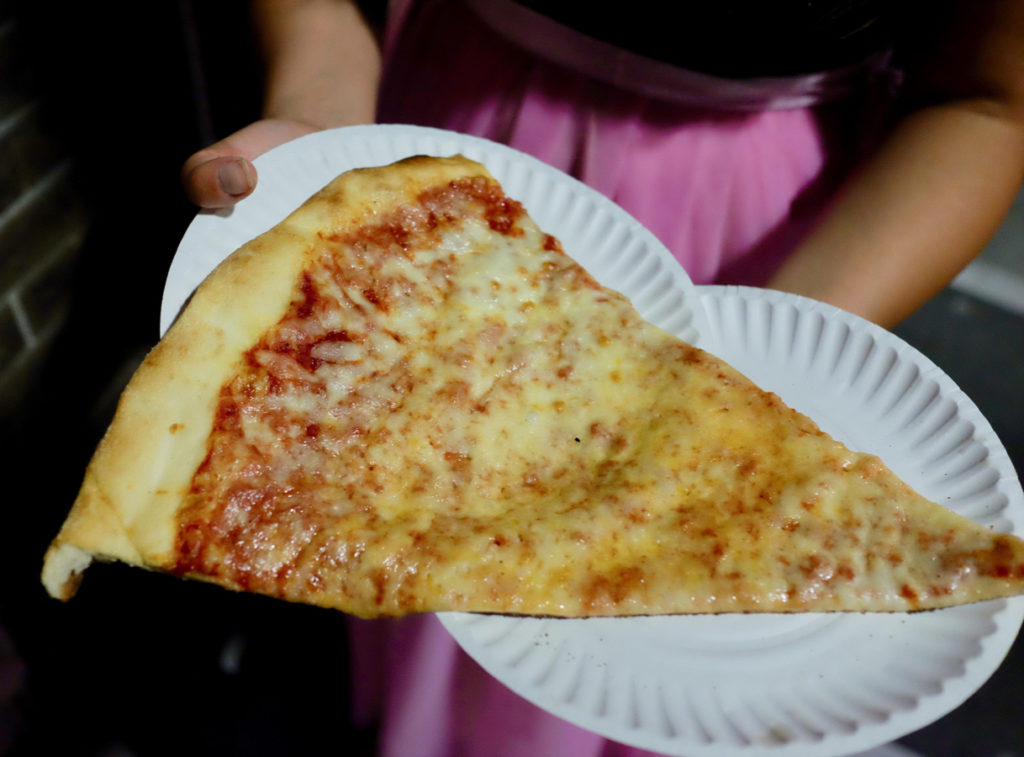 The next neighborhood we visited was Fishtown, which is Philadelphia's prime hipster area.  Here there are a couple of new pizza makers who are turning out inventive pies – like Pizza Shackamaxon, which became so popular that in better times they had continual lines out the door.  Right now they're making just 50 pizzas a day, and with social distancing in effect you can only place orders online starting at 9am, so be prepared to set an alarm and jump right into the queue.  We were able to get our order in on time for a white pizza, which we scheduled to pick up later that afternoon.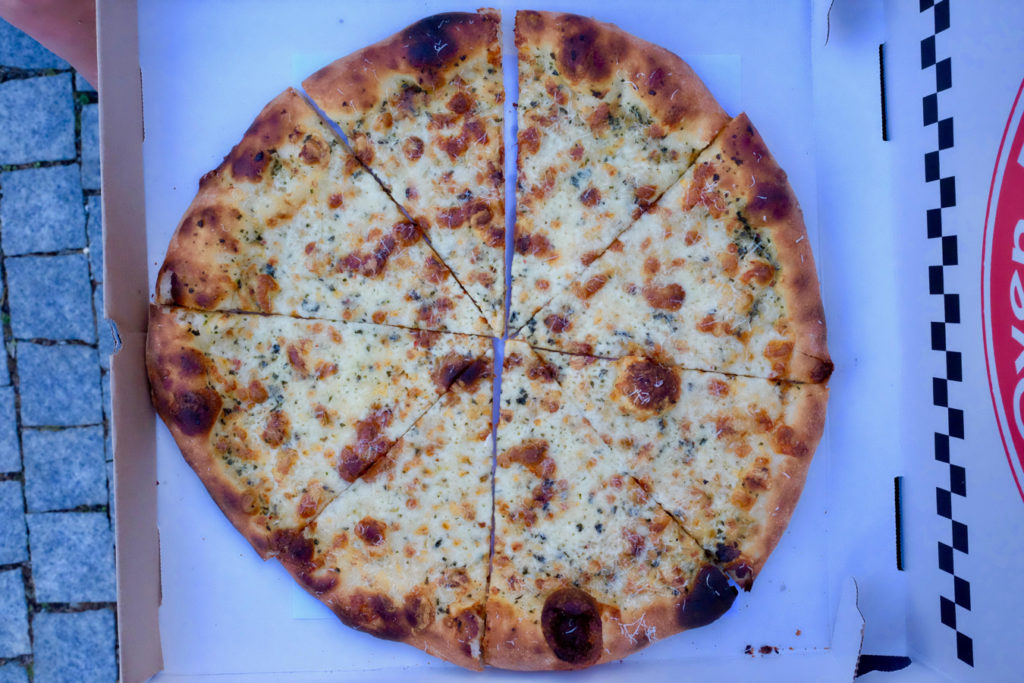 Just a few blocks away you've also got Pizzeria Beddia, where we got this awesome Angry Arrabiata pizza topped with spicy peppers and basil leaves.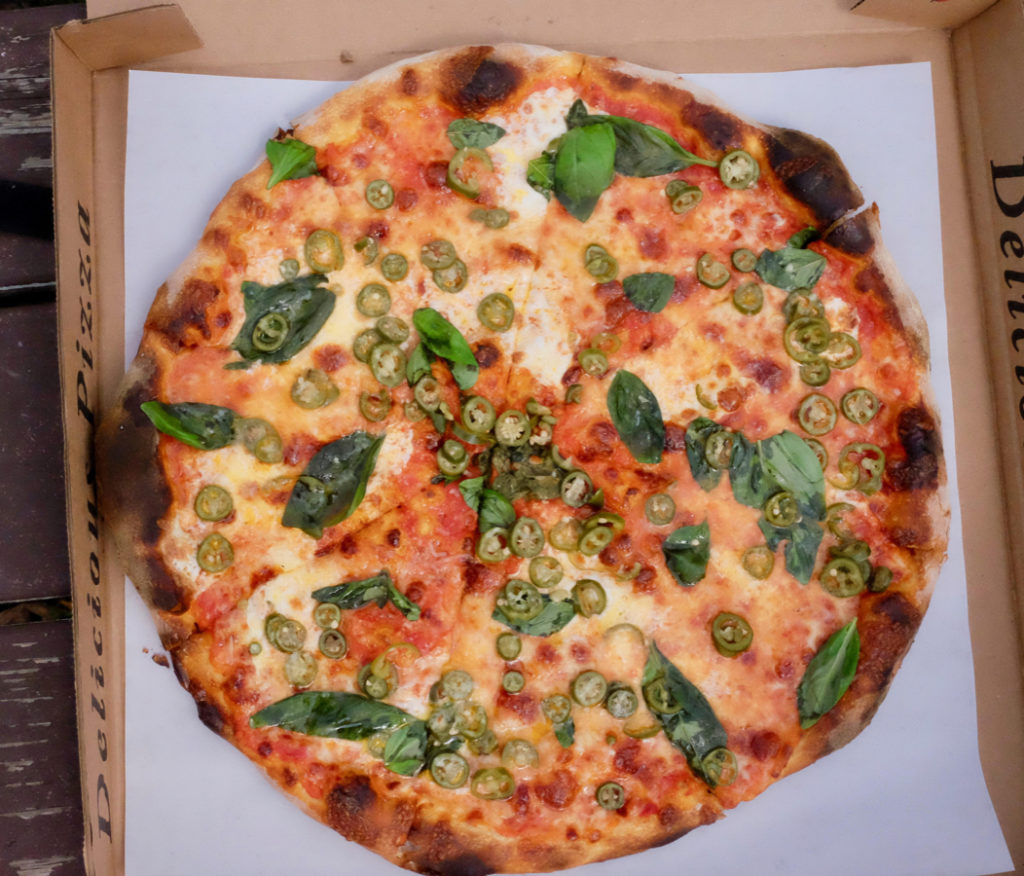 One neighborhood north of Fishtown is Kensington, which has long been a working-class Catholic neighborhood – exactly where you would expect to find some more good pizza.  One old-school spot there is Tacconelli's Pizza, which has been around for over 70 years.  It's recommended that you call well ahead to reserve a pizza, so we got their secret "special" pie, topped with crushed tomatoes and spinach.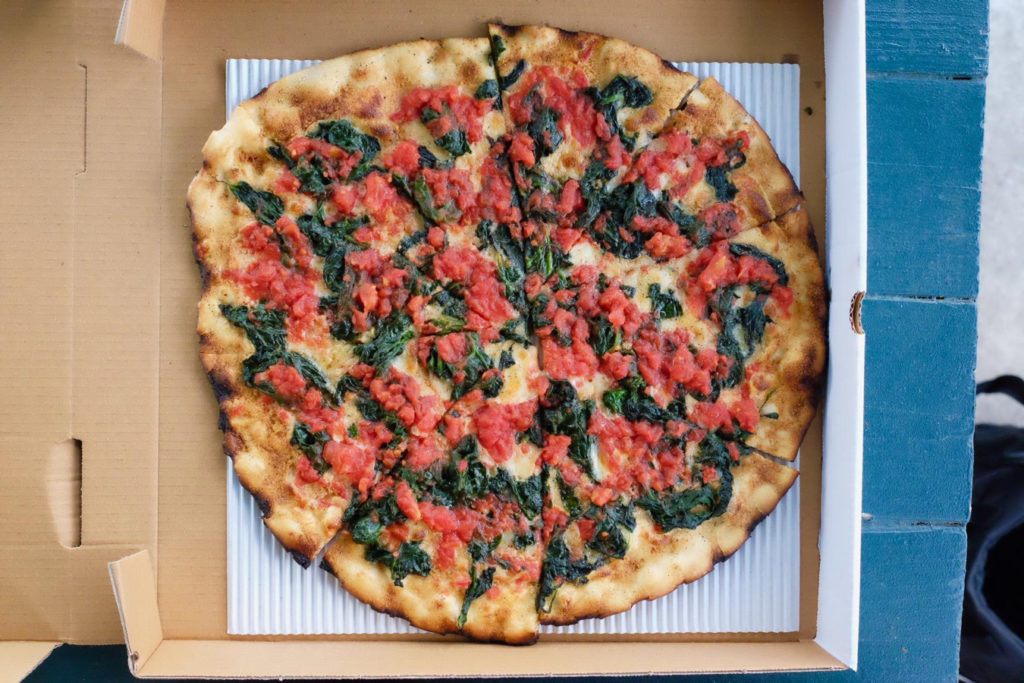 But Kensington also has a newer, more experimental pizza place:  Pizza Brain, a few blocks away, where you can also order your pizza ahead of time to pick up.  We were excited to find out that Pizza Brain offers meatless pepperoni as a topping, so we got that on top of a regular cheese pizza.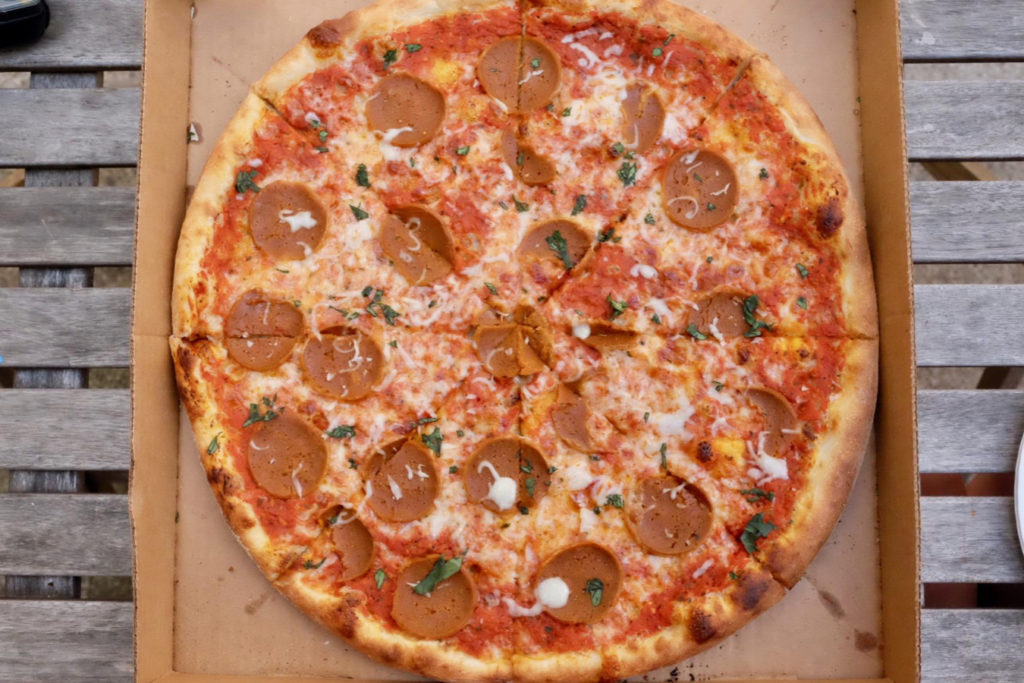 And finally, our last stop for pizza was the neighborhood behind the Franklin Institute, where we found one branch of Pizzeria Vetri (the other two locations are near Rittenhouse Square and in King of Prussia).  We couldn't pass up this spot without trying their famous "metro" size pizzas, which are 28 inches long and look more like a pizza raft.  We went with the eggplant pizza, which is also topped with stracciatella cheese and crushed tomatoes.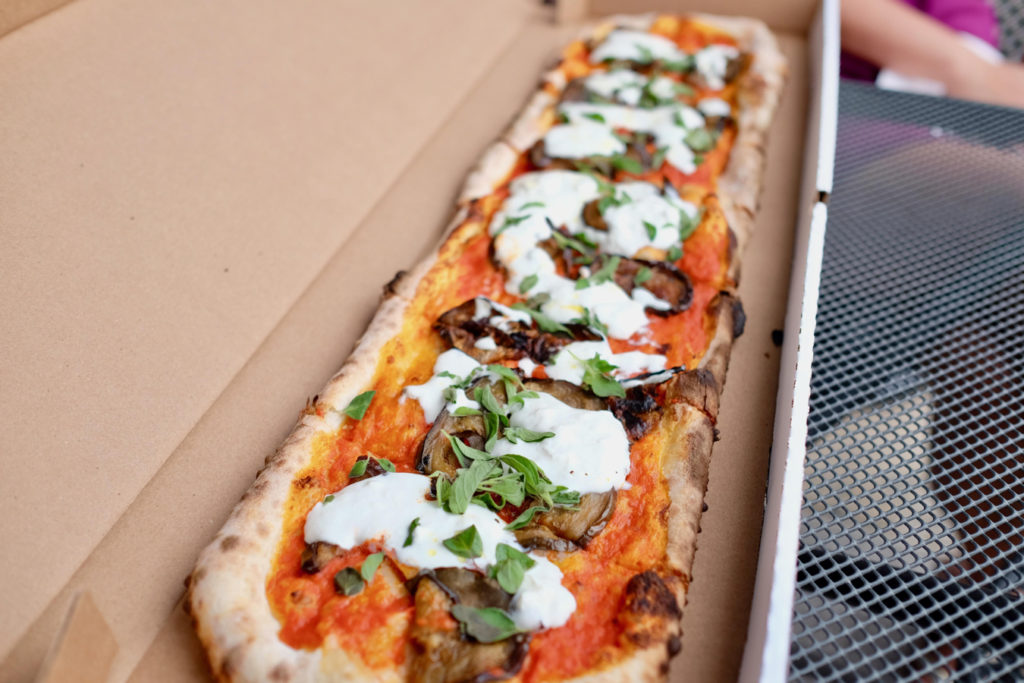 At this point you might be wondering what we did with all these pizzas:  after all, indoor dining hasn't yet returned to the area (for good reason), so where did we actually eat all this food?  Well, some of these places had limited outdoor seating, like Pizzeria Vetri and Pizza Brain, so we were able to chow down right outside.  But for every other place we simply carried our pizzas to the nearest place where we could stop and sit – like a park, or a community garden, or a bench on the sidewalk, or a picnic table outside a shuttered cafe.  In times like these you have to get a little creative if you want to try new and interesting food, and thankfully it's warm enough to eat outside so we were able to make due.  After months stuck indoors, where we barely left Brooklyn, we were grateful for any safe chance to venture out – even if just to our closest neighboring city – and have the opportunity to experience some unique food.