Earlier this week we featured a Southern recipe that happens to be vegan:  Limpin' Susan, which comes from the Gullah community of coastal South Carolina.  Today we're going to show you another meatless dish that comes from a different part of the South – Louisiana Cajun country.  Maque choux is a corn-based side that features a lot of elements of Cajun cooking, like bell peppers and celery and cayenne, and while it's typically made with bacon fat we found a recipe from the New York Times for a version that uses butter instead, making it vegetarian (and if you want to cook vegan, you can simply use a nondairy butter substitute instead).  This was a great vegetable dish that we'd never had before, so we were happy to try it out and be able to put to use some of the fresh corn that's just starting to become available this season.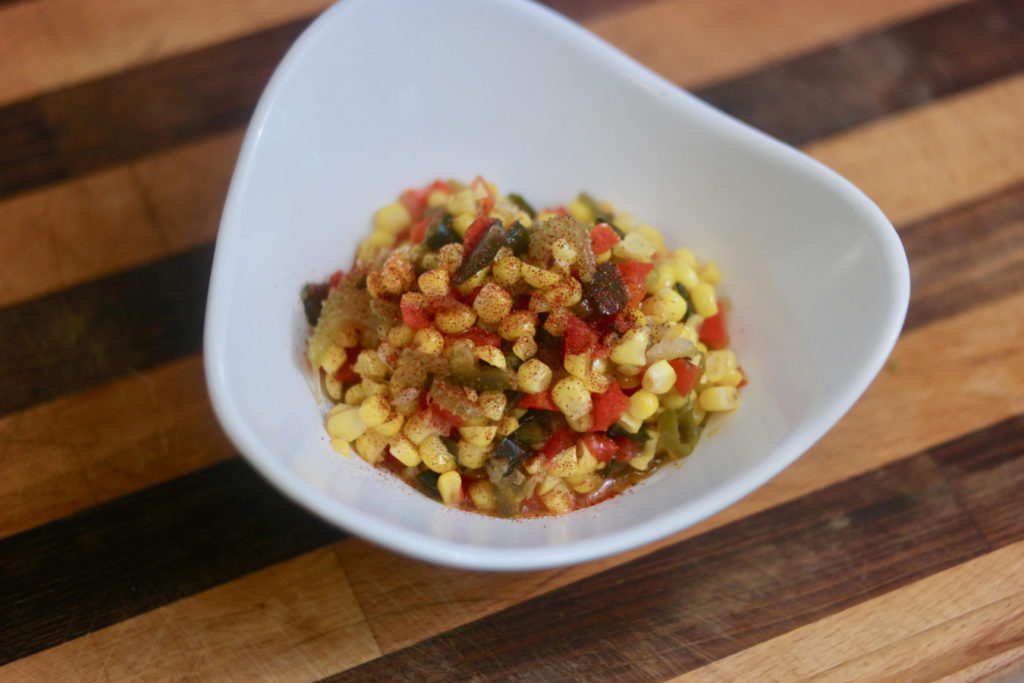 To make this, you'll need:
3 ears of corn
A stick of butter or butter substitute
A small onion
Celery
A red bell pepper
A poblano pepper
A serrano chile
Cayenne
To start, chop up your onion, 2 stalks of celery, the bell pepper, the poblano, and the serrano chile.  Melt 3 tablespoons of butter over medium heat in a Dutch oven and add in the onion and celery with a pinch of salt, letting them cook for about 5 minutes up to the point where they would start to brown.  Add in the bell pepper, poblano and serrano chile with another 2 tablespoons of butter and cook until the peppers soften.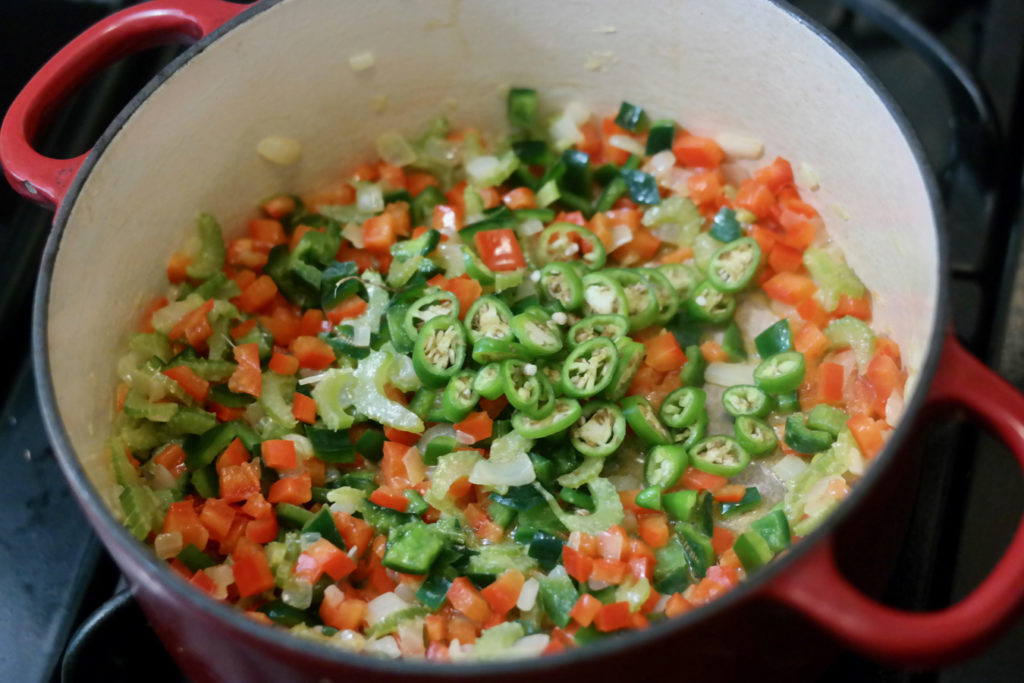 Slice the kernels off the corn, then take the cobs and cut them in half.  Add the corn kernels and cobs to the pot with the rest of your stick of butter, and when the butter is fully melted pour in 1/2 cup of water.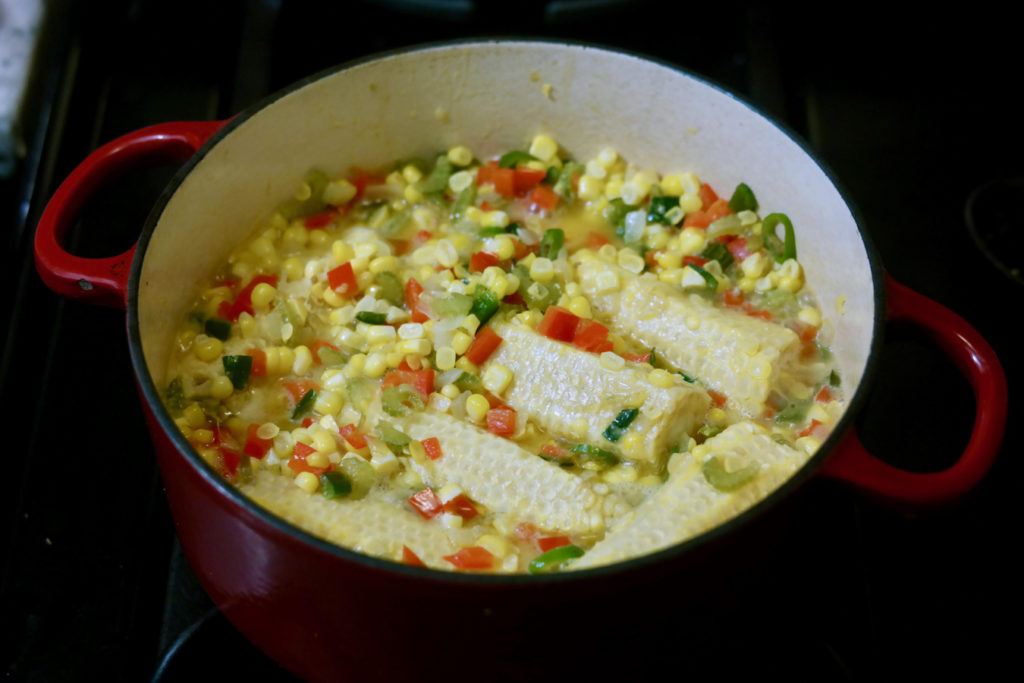 Cover the pot and let the vegetable mixture cook until the liquid is mostly evaporated, stirring every so often.  Fish out the corn cobs and then season the veggies with salt and pepper to taste.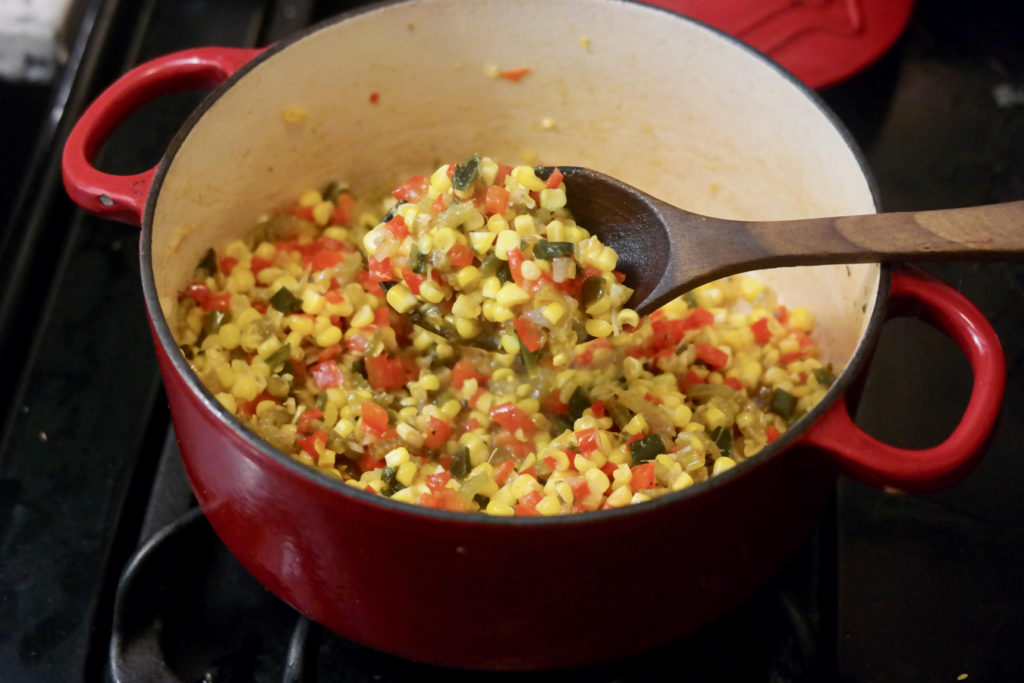 Then you can serve the maque choux with cayenne sprinkled on top.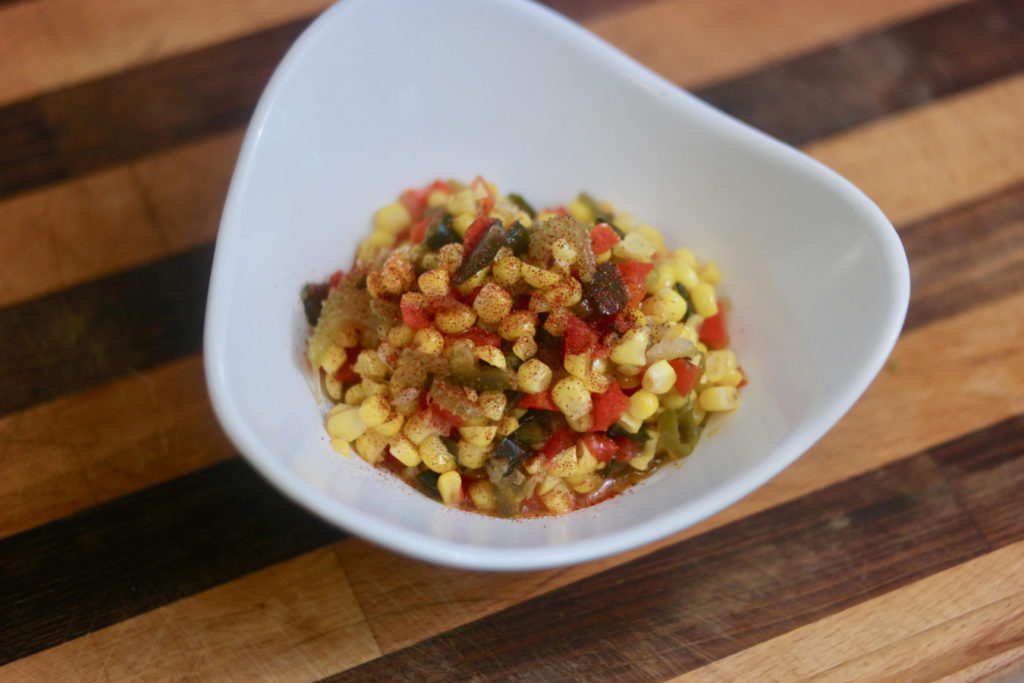 Once all the chopping is done here this is a fairly easy recipe, since you pretty much just let the vegetables cook themselves.  In the end you get a buttery and spicy mix of corn and different types of peppers, and you can enjoy some vegetarian (or even vegan) Cajun food.  Most Southern dishes have meat in them, so we jumped at the chance to sample food from around the region that we can actually eat, and we like digging up less well-known recipes to try out.  Next week we'll show you one more meatless dish from somewhere else in the South, so keep your eyes peeled!