We know that's it's super hot now, right in the middle the summer, but if you're willing to turn your oven on we've got some great food for you today!  This potato cake (which we based on a recipe from the New York Times) combines a few great, crowd-pleasing flavors – like cheese and creamy potatoes – with some flavorful veggies to give you a filling, well-rounded, and delicious meal.  We made this one day for lunch and it was so rich and huge that we just ate it for dinner as well, meaning it took two people an entire day to make their way through this one potato cake.  It's not too difficult to cook up, either, as long as you set aside enough time to cook the potatoes and then bake the whole thing.
To make this, you'll need:
2 1/2 to 3 pounds of red potatoes
Olive oil
2 bunches of scallions
Garlic
Heavy cream
4 eggs
Parmesan cheese
A lemon
Turmeric
6 ounces of cheddar cheese
6 ounces of feta cheese
A 12-ounce jar of roasted red peppers
Cilantro
Red pepper flakes
First, you can cook your potatoes by placing them in a stock pot and covering them with at least 2 inches of water.  Bring the water to a boil and then cook the potatoes for 30 minutes, then use a slotted spoon to fish them out of the water and let them drain.
While the potatoes are boiling, thinly slice all your scallions and 6 cloves of garlic.  In a large cast iron skillet, pour out 1/4 cup of olive oil and warm it over medium heat.  Add in the scallions and garlic and cook for about 6 minutes, until these vegetables soften.  Drain your jar of red peppers, chop them up, and add them to the skillet along with 1/2 cup of cilantro leaves and a generous sprinkling of red pepper flakes.  Stir to combine and then take the skillet off the heat.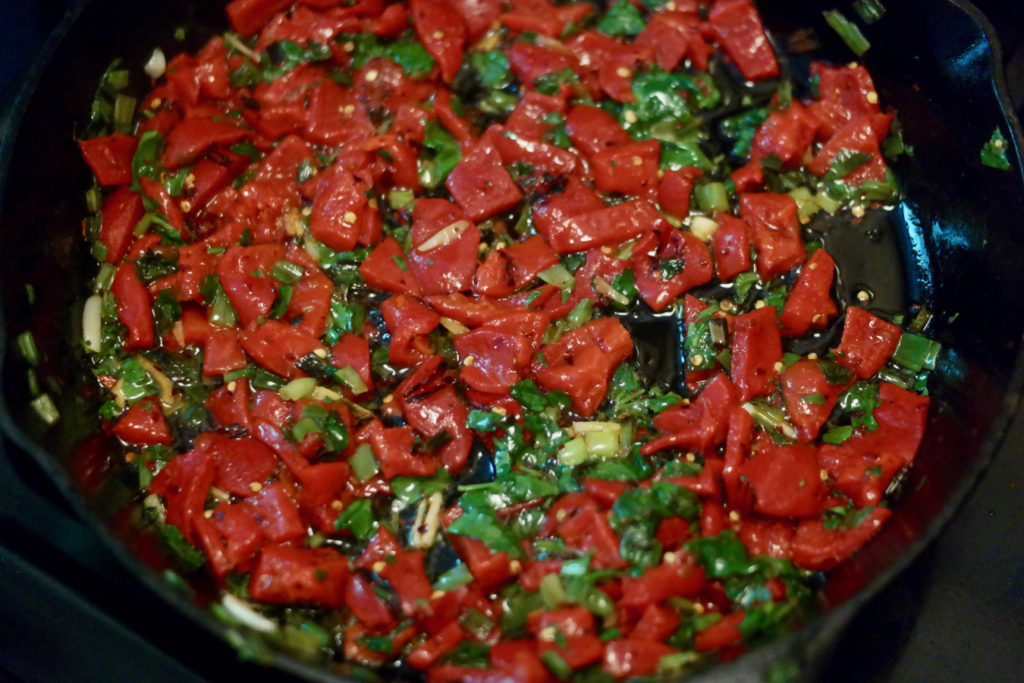 Once the potatoes are cool enough to handle, peel their skins off and place them in a bowl.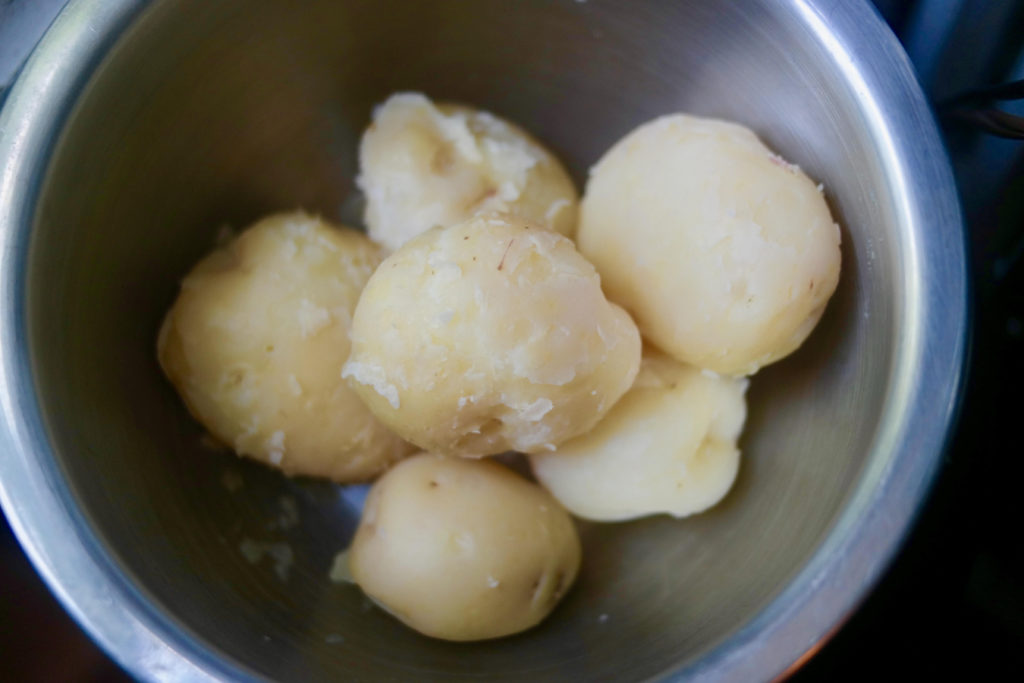 Add in 2/3 cup of cream, 3 beaten eggs, an egg yolk, a teaspoon of turmeric, and the zest from your lemon.  Grate up a cup of Parmesan and add it in, then grate all of your cheddar and add half of it in.  Smash everything together with a potato masher, then add in the feta and the red pepper mixture and stir everything together.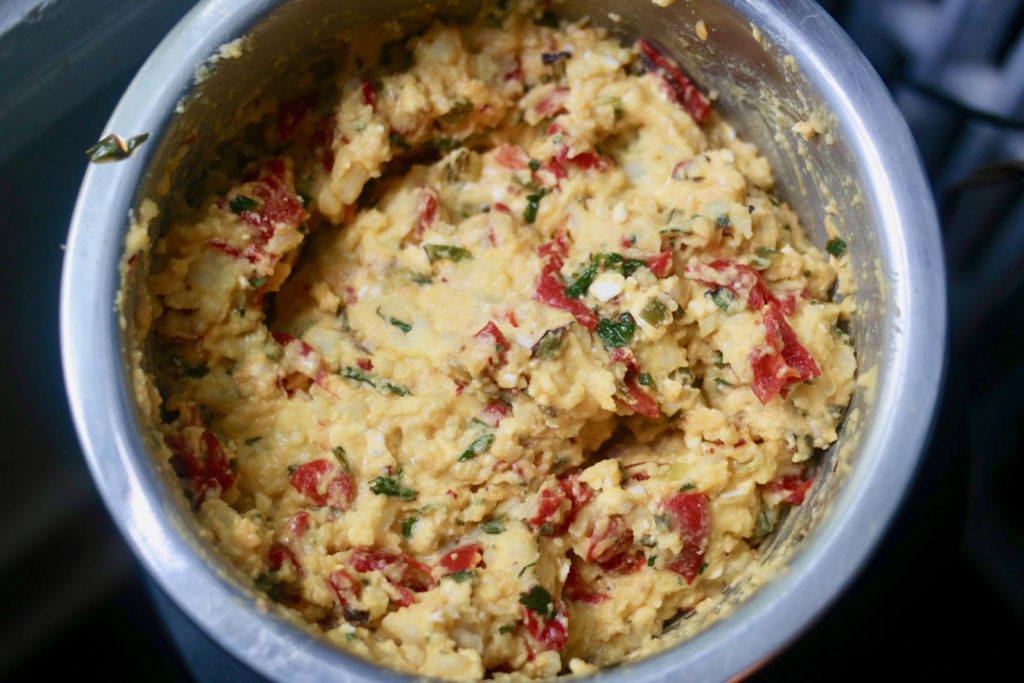 Pour another 1/4 cup of olive oil into your cast iron skillet, then scoop the potatoes into it and spread them out evenly.  Top with the rest of your cheddar.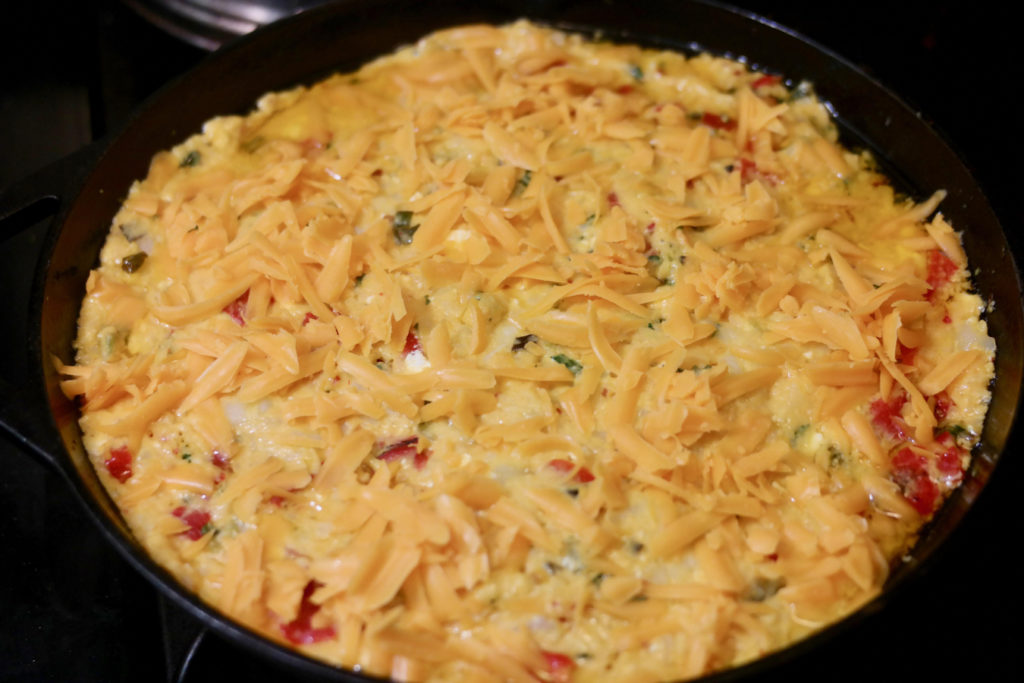 Bake the potato cake at 400°F for 30 minutes, until it's browned on top.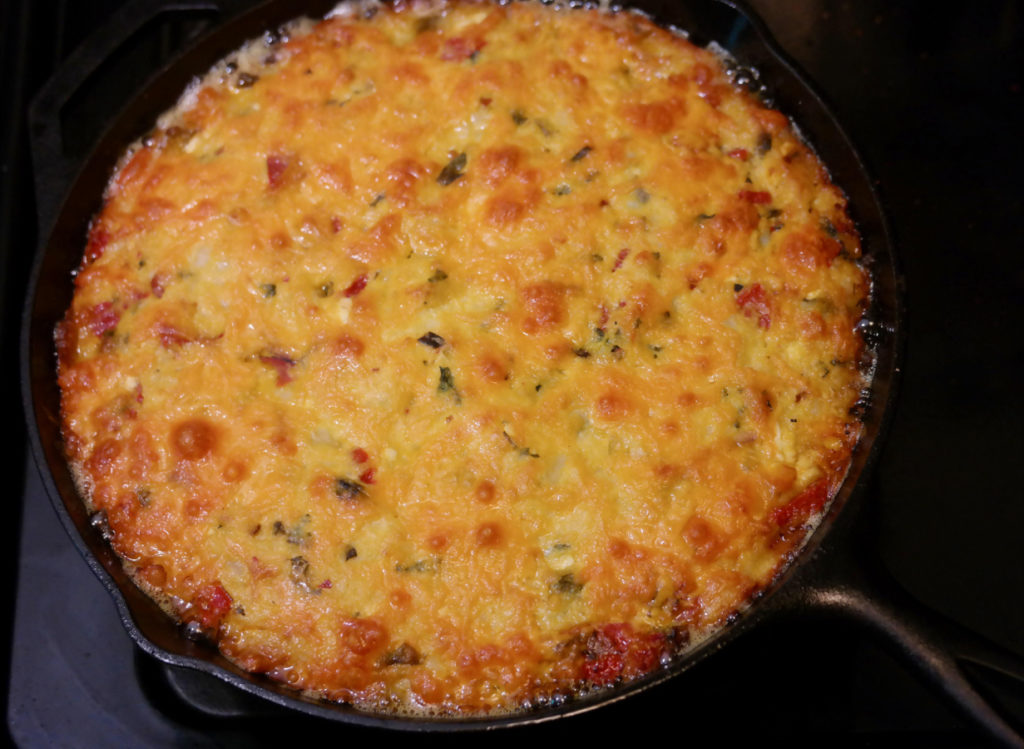 Let it cool for about 20 minutes, then slice it into wedges – and now you can eat it (maybe with some extra cilantro on top).
What's not to love about potatoes mashed with cheese and then baked with more cheese?  You've basically got a cheesy potato pie here, with some vegetables mixed in to give you some variety and make you feel at least a little OK about all these starches and dairy.  But the roasted red peppers really do go well inside the potato cake and provide some nice color to the whole thing.  This is so good and so rich that it can stand alone as a meal, or even several meals, which is nice considering it's not a ton of work to make.  When you feel like you can stand to use your oven again in this heat, be sure to try out this potato cake for lunch, or dinner, or even breakfast.