One of the best foods of the summer is a nice, cool pasta salad – something with seasonal vegetables, tender pasta, a light dressing, and maybe some protein to keep you full.  Today's recipe has all of that, and it's also vegan!  We based it on this recipe from the New York Times but put our own spin on it to suit our tastes and what we had in our kitchen.  We really liked the result:  this is pretty easy to make and while it does require you to use your oven a little bit, in the end it's a nice chilled salad that holds up in the heat.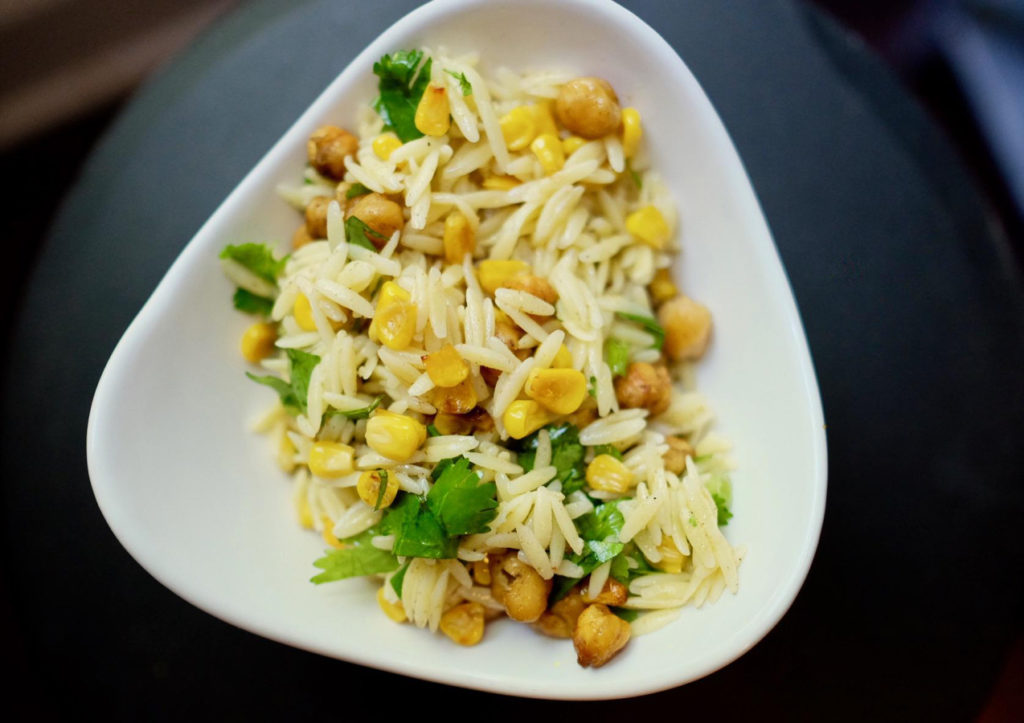 To make this, you'll need:
A 15-ounce can of chickpeas
Olive oil
Coriander
Cumin
Allspice
Cayenne
Orzo
3 ears of corn
2 scallions
Cilantro
First, drain your chickpeas and lay them out on a towel, letting them air dry for at least half an hour.  Then place them in bowl and mix them with 1 1/2 tablespoons of olive oil, 1/2 teaspoon of coriander, 1/2 teaspoon of cumin, and 1/4 teaspoon each of coriander and cayenne.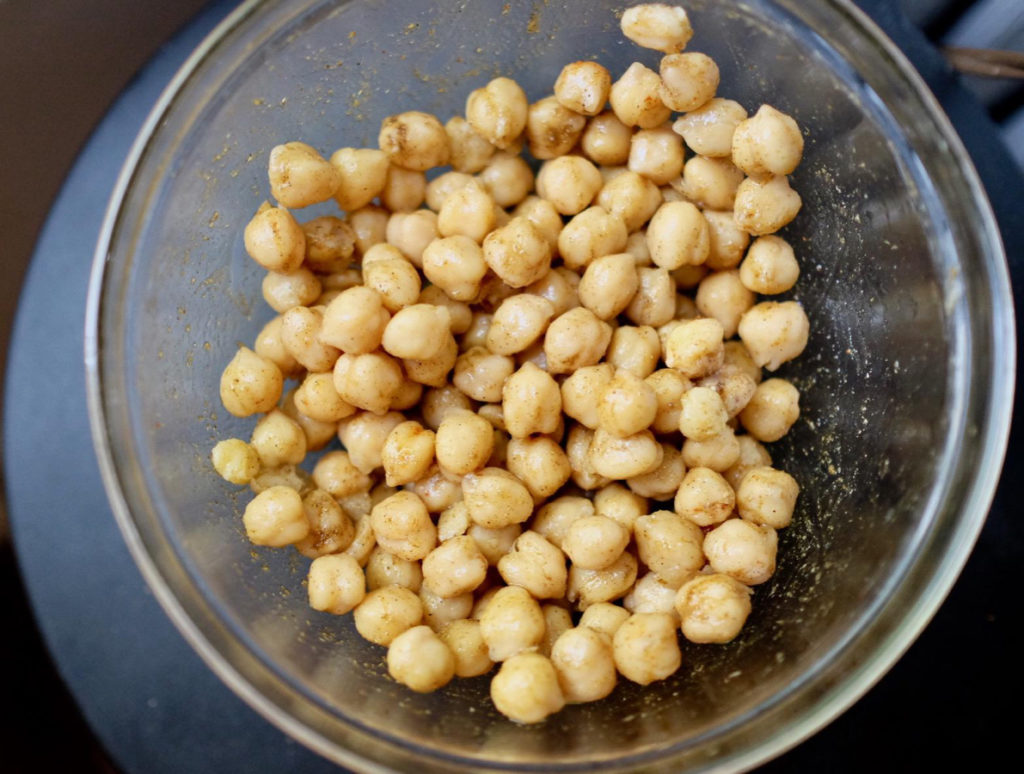 Lay the chickpeas out on a baking sheet.  Cut the kernels off your corn and toss them with 2 teaspoons of olive oil, then spread them out on a second baking sheet.  Roast the chickpeas and corn at 425°F, stirring them around every so often on their baking sheets, and after 20 minutes take the corn out but leave the chickpeas in for another 5 minutes..
Meanwhile, cook 1 cup of orzo.  When it's done, mix with 5 tablespoons of olive oil and then cool in the fridge.  Slice your scallions and chop up 1/2 cup of cilantro leaves.  When the corn comes out of the oven, stir it into the orzo along with the scallions and cilantro.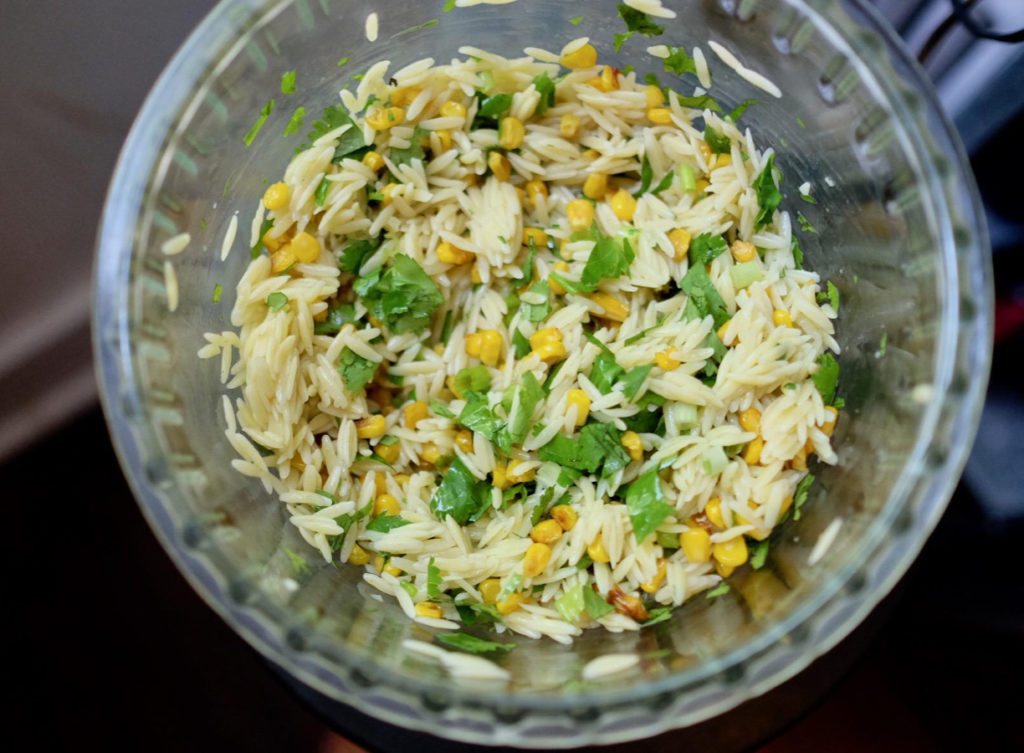 Place it back in the fridge until the chickpeas are done, then mix those in as well.
You can keep the salad chilled until you're ready to serve it.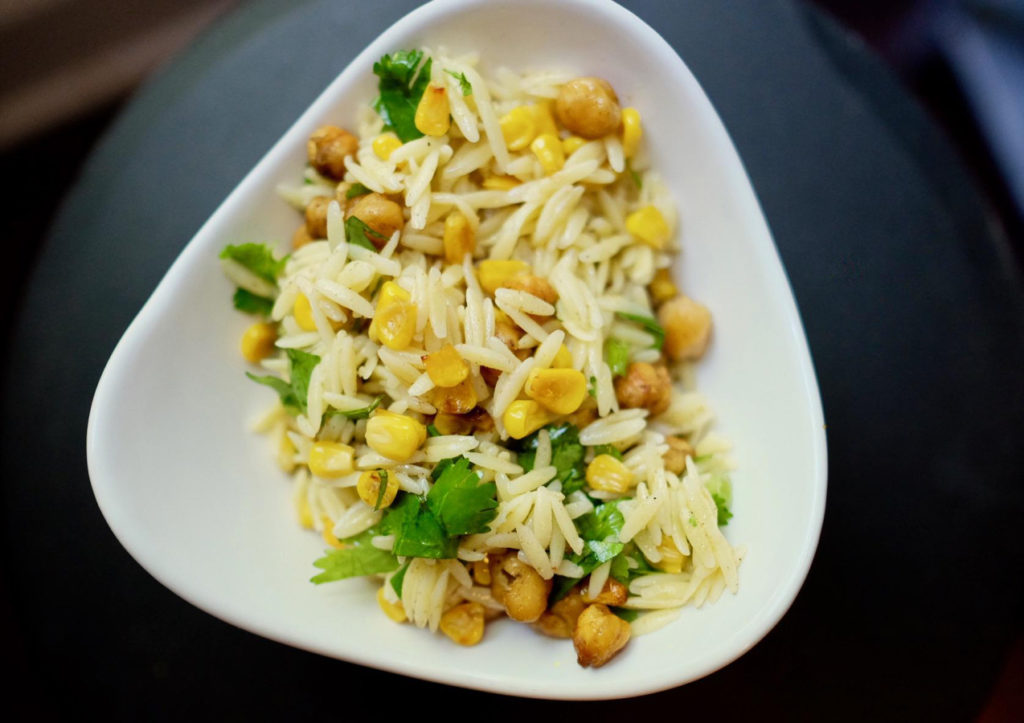 The orzo makes for a nice canvas to all the other things in the salad:  the chickpeas are incredibly tasty roasted with four different spices, and the fresh corn pairs well with the greens.  It's a pretty simple dish, both in terms of the ingredients and the effort you put into it, but it tastes great and on a hot summer day do you really want to be slaving away in your kitchen?  This definitely made for a great lunch for two, with leftovers for later, so it's a perfect and easy seasonal dish that, because it's vegan, suits almost every taste.