Earlier this week we showed you how to turn feta cheese into the main part of a meal, rather than using it as a topping or accompaniment to some other dish.  Today we're going to do the same thing for paneer, the Indian cheese.  You typically see it as just one of many ingredients in a curry, but like feta paneer doesn't really melt, so it's perfect to feature as the starring ingredient of this dish.  We were inspired by this recipe in Bon Appétit, and if you never before thought to straight-up grill pieces of cheese, trust us that this was an inspired and tasty new way to try out some paneer.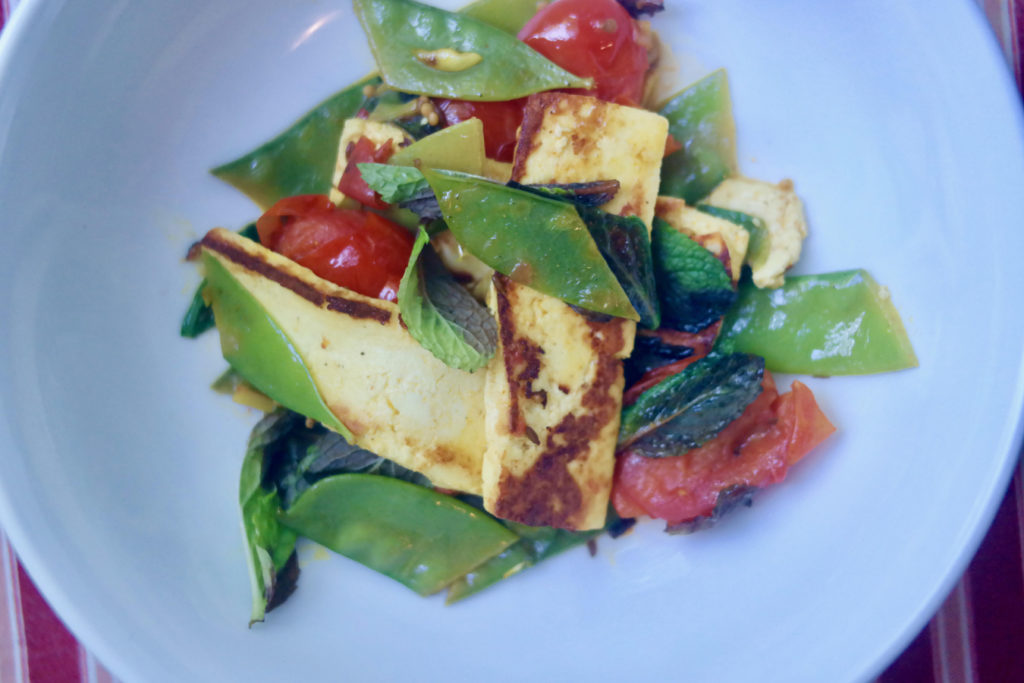 To make this, you'll need:
A 8-ounce package of paneer
6 scallions
Ginger
Garlic
Coriander seeds
Cumin seeds
Mustard seeds
Cayenne
Turmeric
Snap peas
Olive oil
A pint of cherry tomatoes
Mint
First, slice up your scallions and 2 garlic cloves, and peel a thumb-sized piece of ginger and slice it into thin strips.  Mix these with a teaspoon of cumin seeds, 1/2 teaspoon of mustard seeds, and 1/4 teaspoon each of cayenne and turmeric.  Measure out a teaspoon of coriander seeds, crush them with the bottom of a heavy glass, and stir those in as well.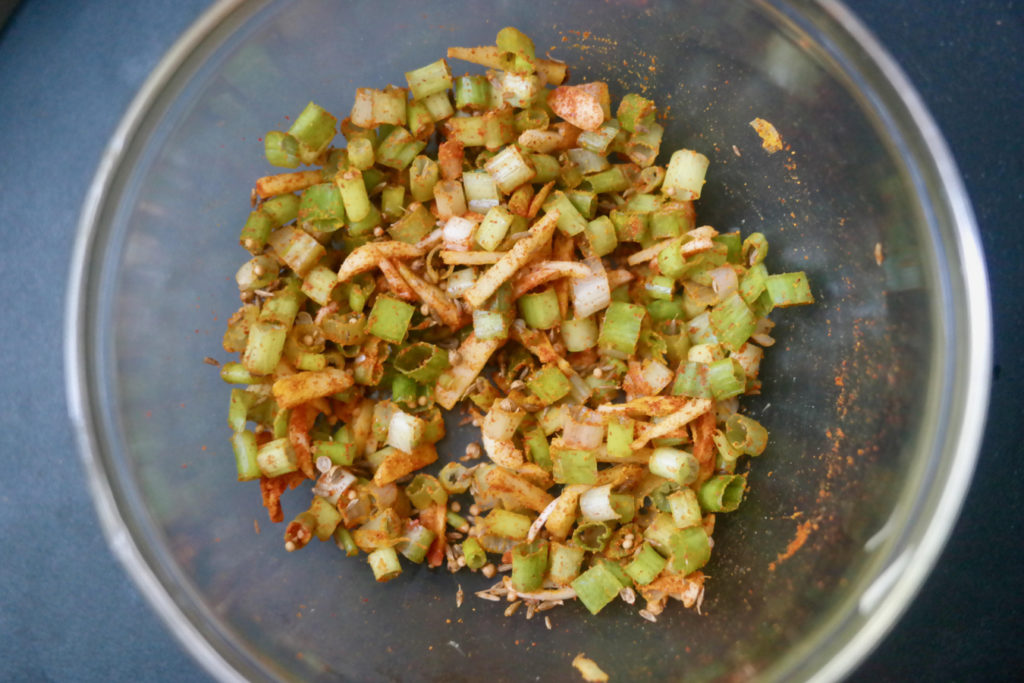 Set your scallion mix aside.  Prep the rest of your vegetables by cutting all of your tomatoes in half, then measure out about a cup of snap peas and slice those in half as well.
Now cut your paneer into slices about 1/4 inch thick.  In a cast iron pan warm 2 tablespoons of olive oil over medium-high heat, then add the paneer in without any slices overlapping.  Cook until each slice is browned on the bottom – you'll know they're done once you can easily slide a spatula underneath and lift them out.  Place the paneer on a plate, grilled side up, and sprinkle with salt.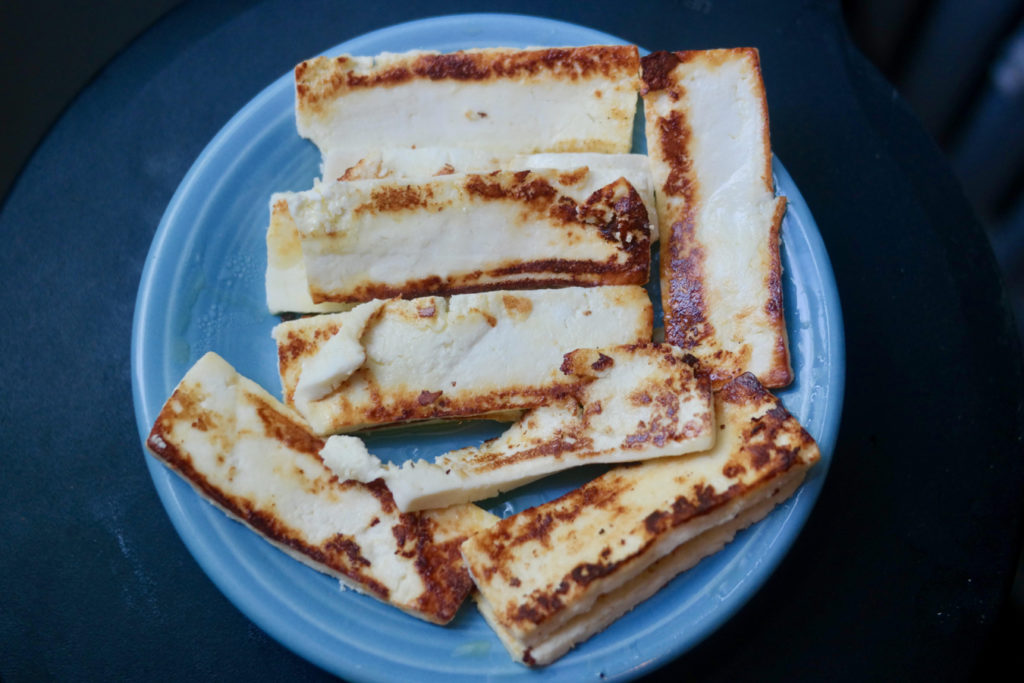 In the same pan, cook the scallions over medium heat for 2 minutes, until they really sizzle.  Measure out another tablespoon of olive oil into the pan, then add the snap peas and tomatoes and stir them around in the oil just a little bit before pouring in a cup of water.  Once this mixture simmers, use a spatula or large spoon to gently crush the tomatoes.  Cook everything for about 5 minutes.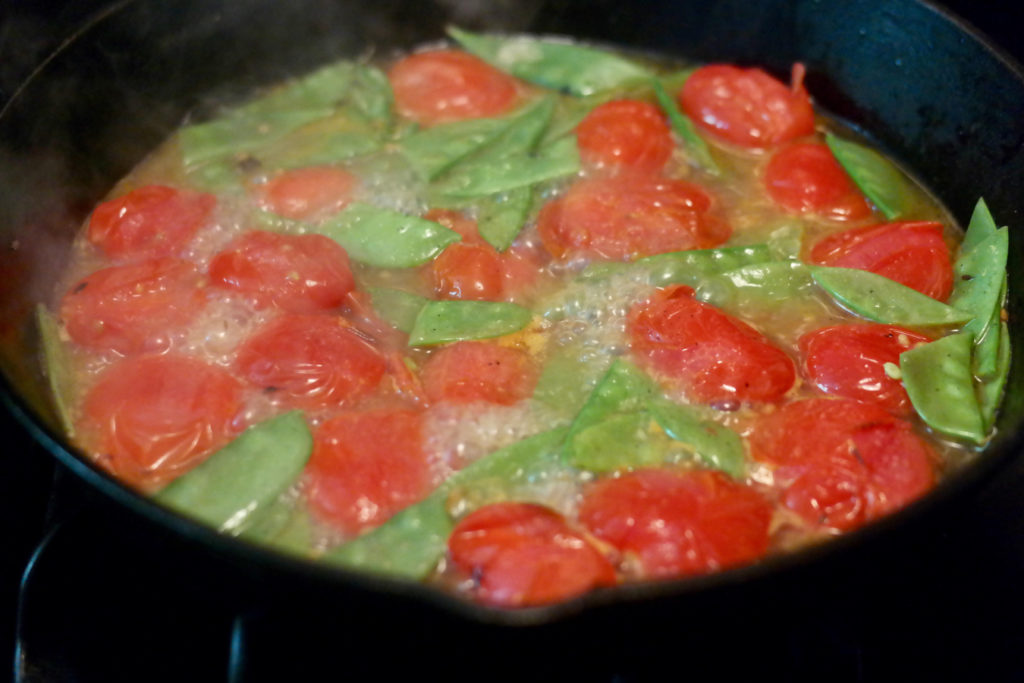 Add in the paneer and cook just until it's the same temperature as everything else in the pan, then scoop out servings of paneer with vegetables and top with mint leaves.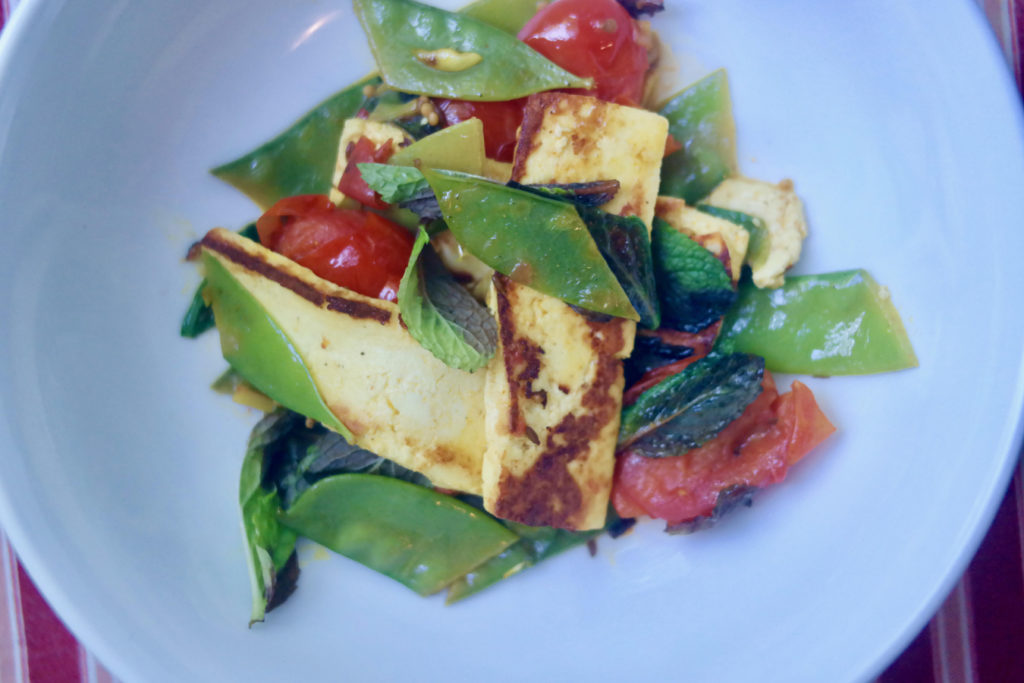 We'd never eaten paneer like this before – usually we only have it as part of a larger Indian dish – but this was a really interesting lunch for us.  The paneer is hearty enough to make this a satisfying meal, and it's rounded out by the veggies and made very flavorful with all the spices.  Once you have all your ingredients prepped, this dish moves pretty briskly:  the paneer grills fast, and you need to watch it to make sure it doesn't burn, and then the snap peas and tomatoes get cooked in just a few minutes too.  This means it's a quick meal to make, but you do need to be on your toes while you're making it.  Our paneer was yet another of our at-home lunches that we've been trying recently, and you can make it too if you're looking for something new and exciting to liven up your home office.