If there's one thing New Jersey is known for – besides traffic, distinctive accents, and The Sopranos – it's pizza.  Miriam grew up there and she can tell you that every town has at least one pizza joint that locals swear is the best in the country.  The amount of pizza on offer can be overwhelming, and it's hard to figure out what places are truly outstanding – but Cyril is a food researcher at heart, and he did a lot of investigating to find these six spots that represent some of the greatest pizza the Garden State has.  We've visited these places over the past several years, so we can't speak to what each pizzeria is offering right now during this pandemic (when indoor dining in New Jersey is still closed at the moment), but we encourage you to get out and try these spots so you can support local businesses and also, of course, sample some amazing pizzas!
Let's start with a few places that are easy for New Yorkers to get to.  Just over the river, one short PATH ride away, is Razza Pizza Artigianale in Jersey City.  Razza is just a few years old but has already received a lot of praise for its use of local ingredients – including flour milled right in north Jersey.  The pies there are on the small side, so we got several in order to try a few different things.  This one is the burrata: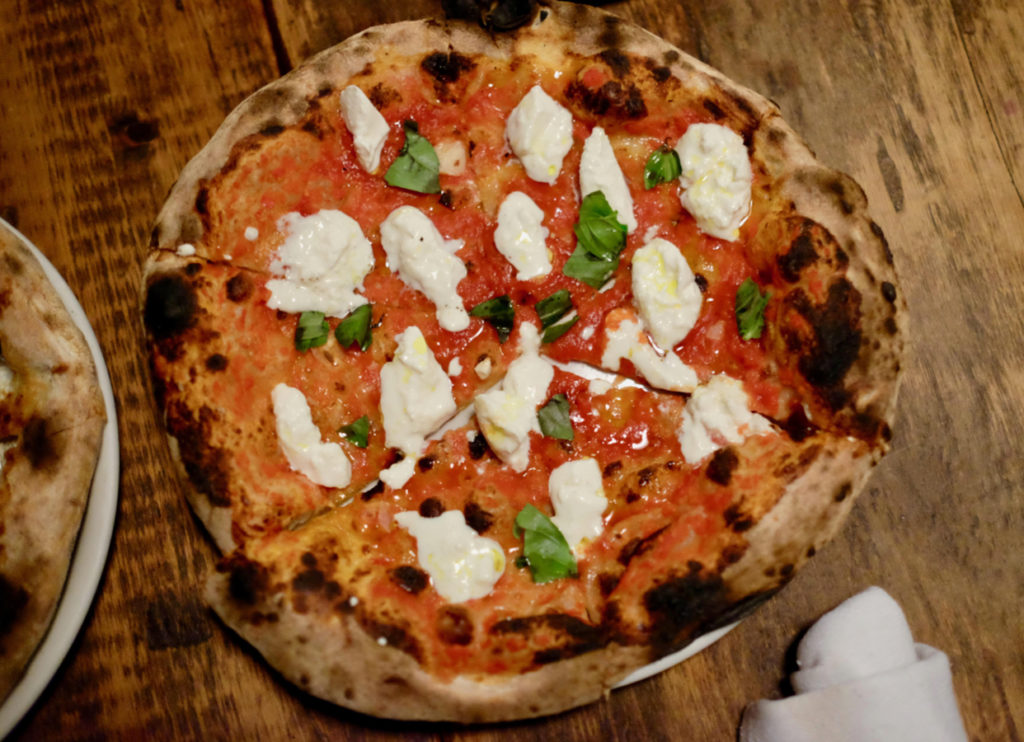 And here is the funghi, a white pizza made with a variety of different mushrooms:
And we also tried the panna, topped with arugula and cream: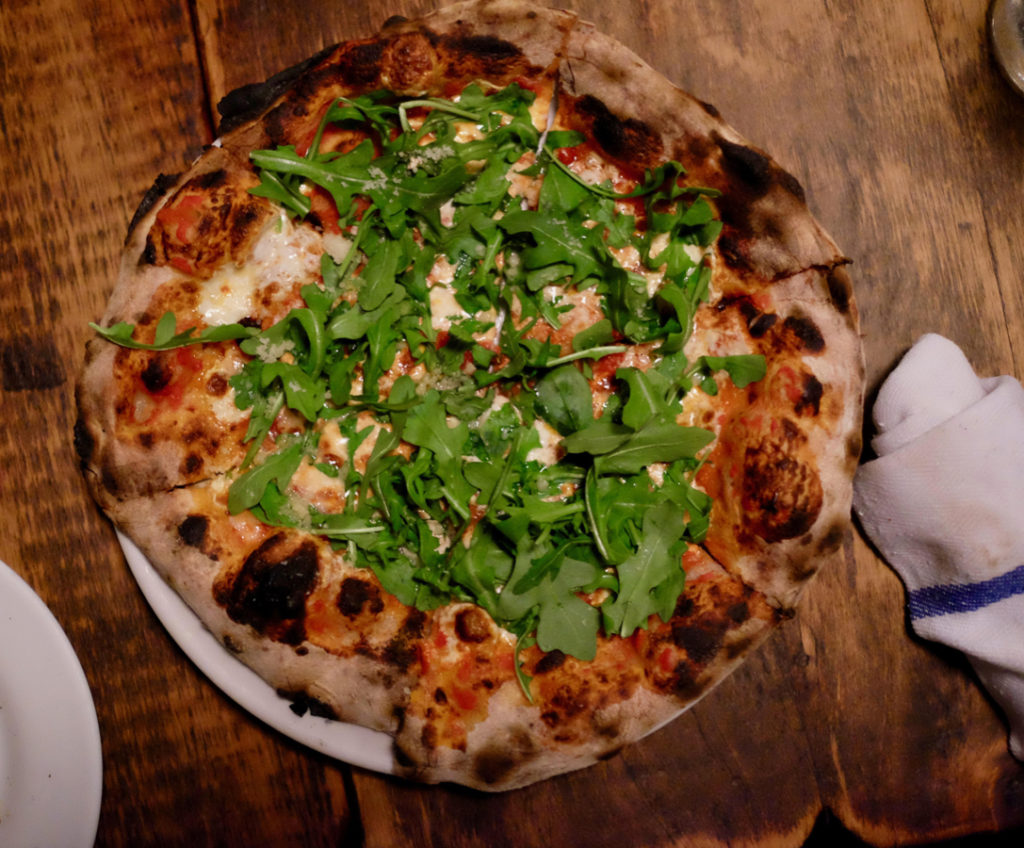 Also in Jersey City, but a little more into the interior (you'll have to take a bus from the PATH) is Bread and Salt, which makes a variety of different bakery items, including their Roman-style pizza.  In better times they sold this pizza by the slice, but right now they're only offering a limited menu which rotates each week and is only available for pickup one day a week.  We were lucky to score a half-pizza last month while they were still on offer, although the only one they were making was this tomato pie, which we carried to a nearby park to eat.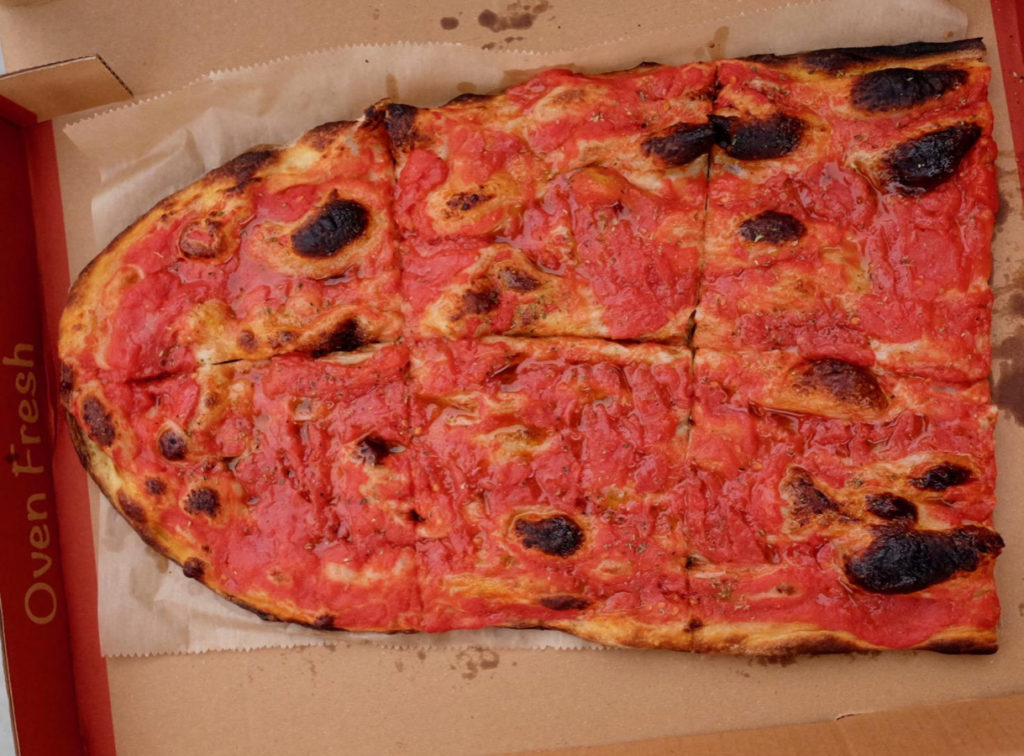 Should you want to venture a little further into New Jersey, you can take a NJ Transit bus from Manhattan to Elizabeth, where you can then walk to Santillo's Brick Oven Pizza.  Santillo's has been operating in the same spot since 1944, and they offer highly customizable pizzas that let you pick the shape, toppings, and how long each one is cooked.  We tried two different pizzas there:  the 1948 tomato pie with grated cheese …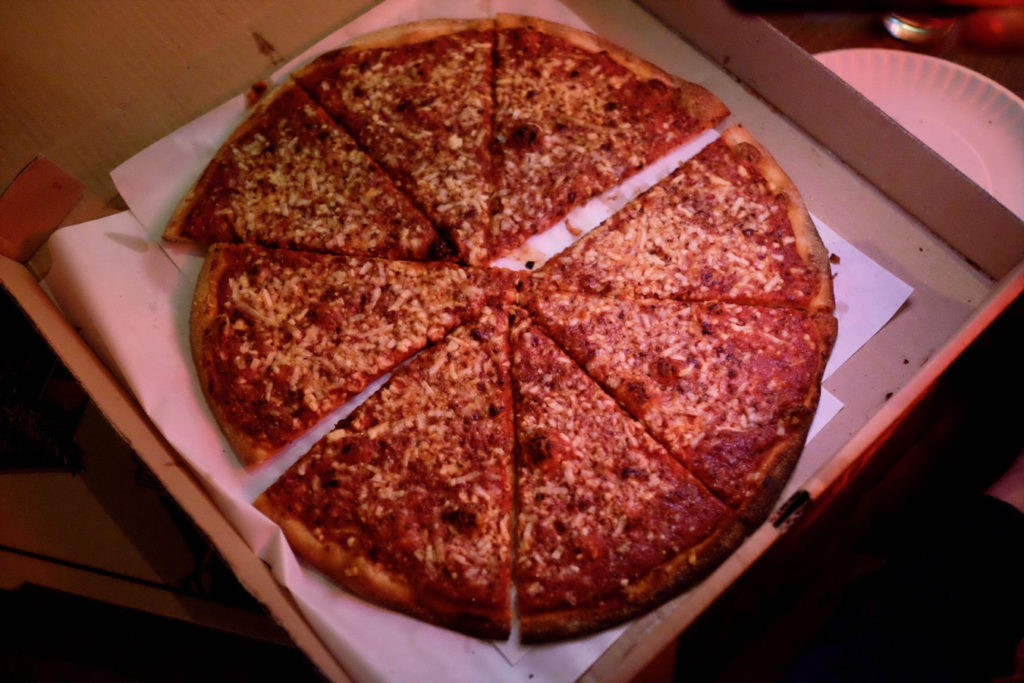 … and a 1964-style square pizza that was half plain, half topped with eggplant and green peppers.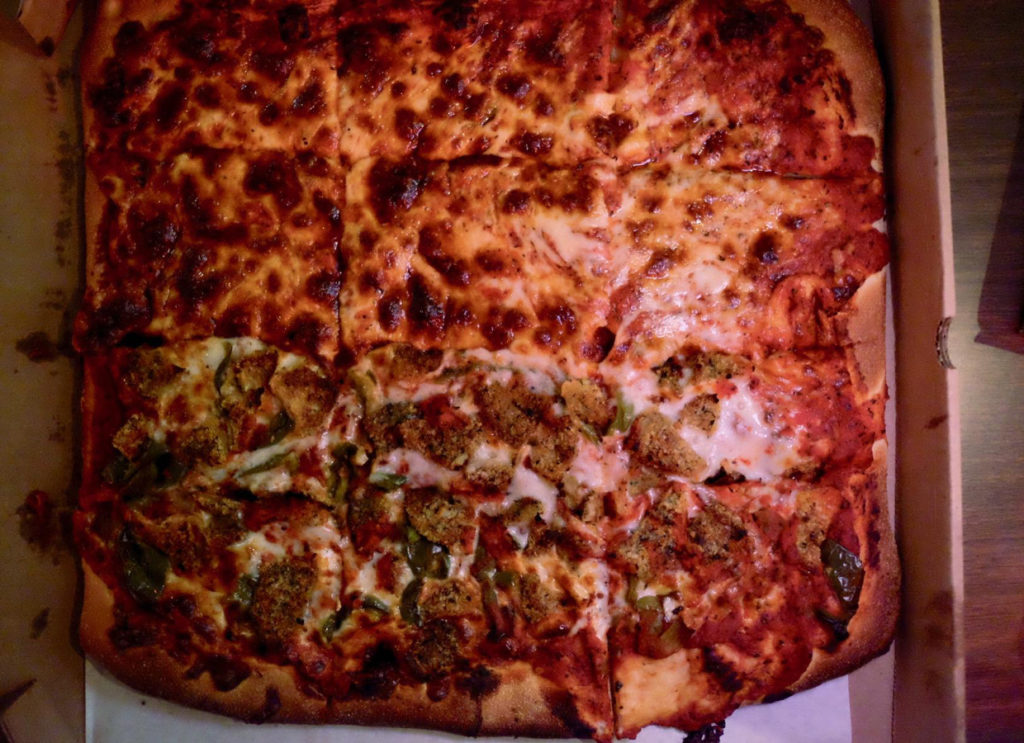 Not too far from Elizabeth is the city of Orange, which is home to Star Tavern and their famous thin crust pizzas.  This place (which happens to be very close to where Miriam grew up) is so popular that when we went – mind you, well before the current pandemic – the line for a table stretched all the way through the dining room and out the door.  When we were finally seated, we got two different pizzas.  One was a regular with pepperoni for Cyril …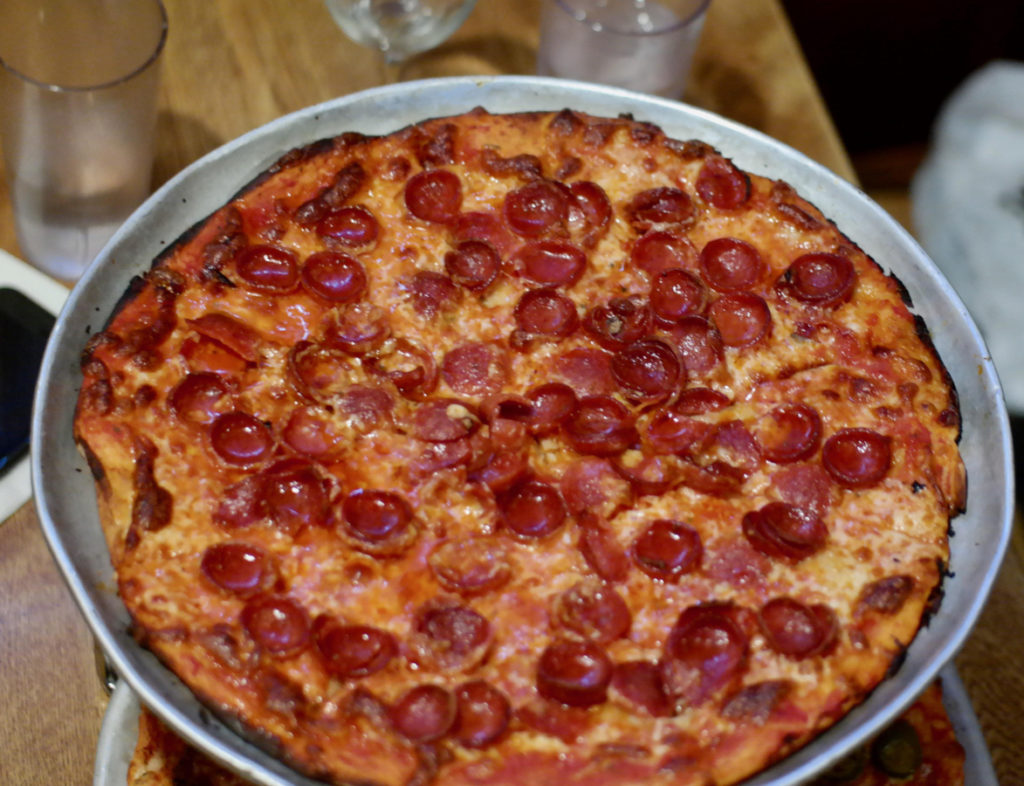 … and the other was a regular with hot peppers on one half for Miriam.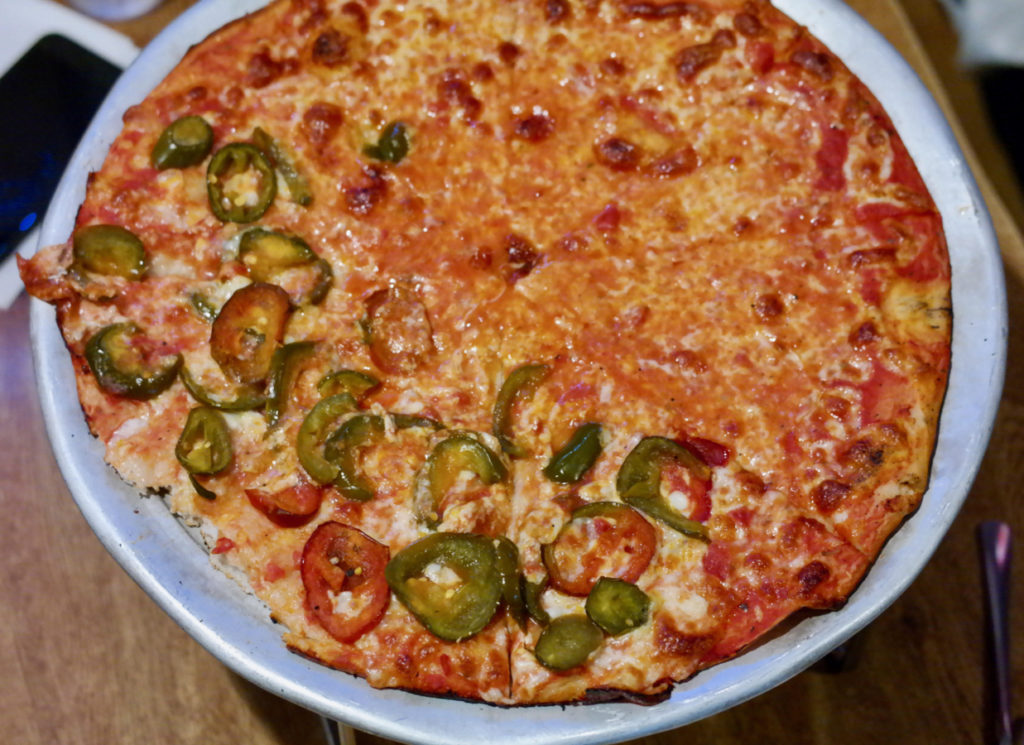 Now if you want to get away from north Jersey, you can go all the way down to the Trenton area to a town called Robbinsville, which boasts not one but two excellently rated pizzerias within walking distance of each other.  We made a Saturday of it and took a NJ Transit train down to Hamilton, then Ubered our way to Robbinsville to check out both these places.  First up was De Lorenzo's Tomato Pies, which started out as a storefront in Trenton before moving to the suburbs in 2012 (there's also a location right across the border in Pennsylvania).  We decided to keep things simple and go with just a tomato pie topped with basil.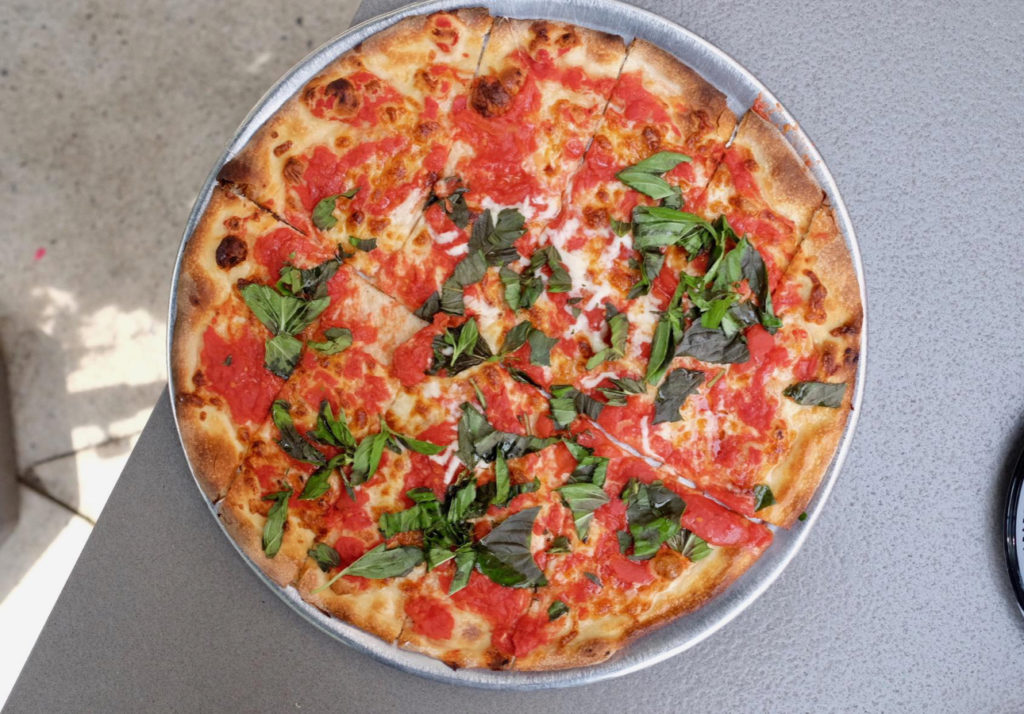 Then we hopped over to Papa's Tomato Pies, whose claim to fame is being the oldest pizzeria in the country that's been continuously run by the same family.  They too started off in Trenton before moving to Robbinsville, and while we were there we tried two different pizzas, one for each of us:  here is Miriam's tomato pie with hot cherry peppers …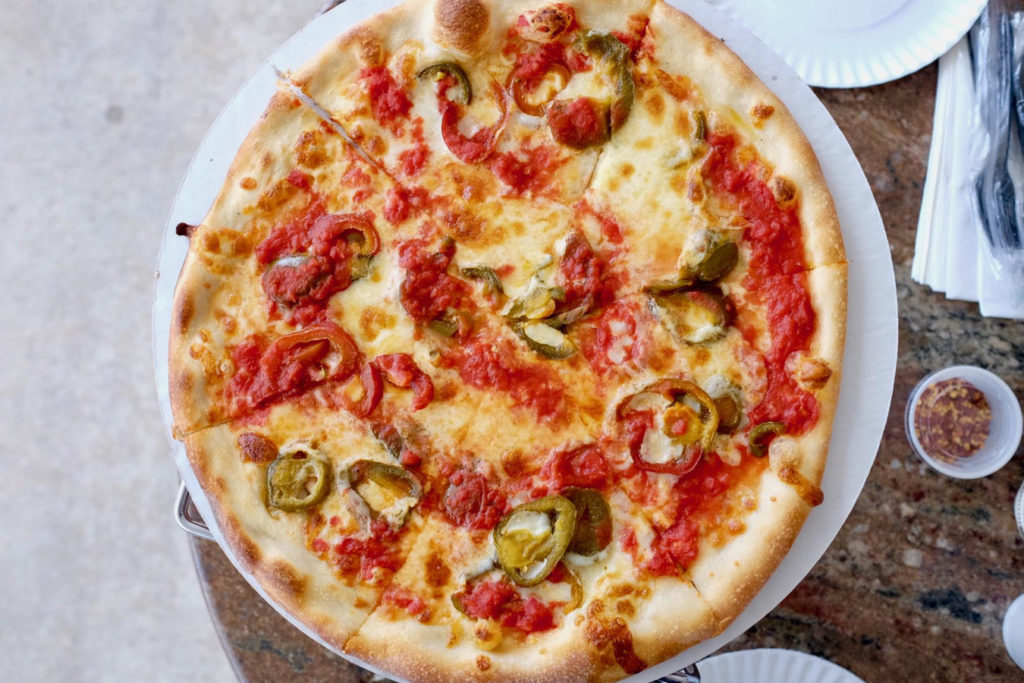 … and for Cyril it was the signature mustard pie, which has spicy brown mustard underneath the cheese, with sausage on top.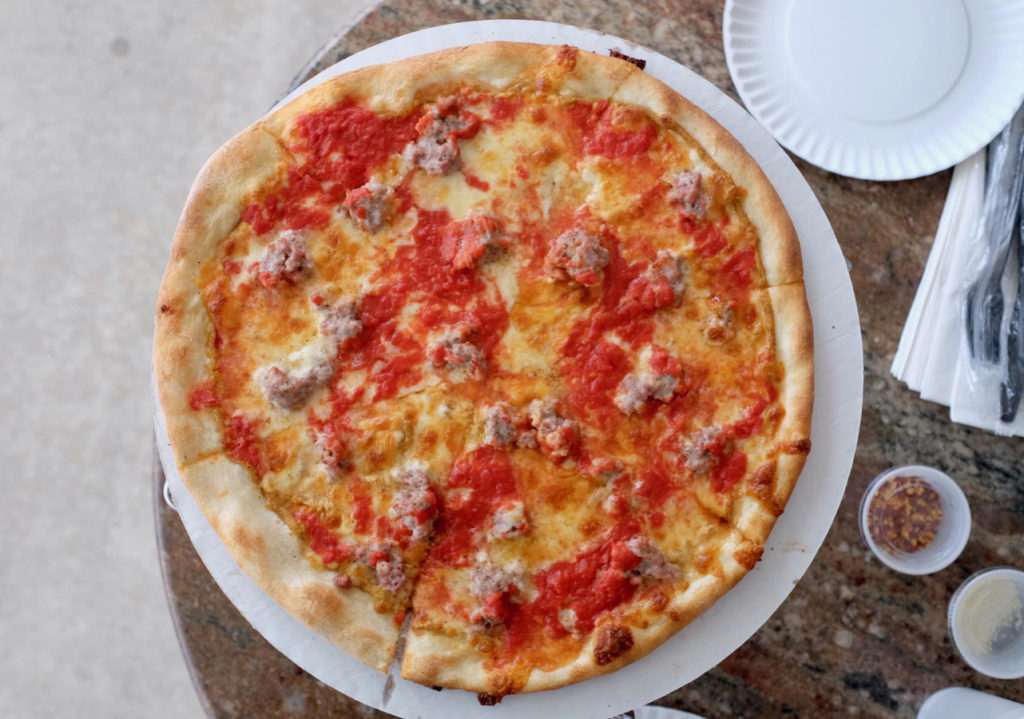 We tried a lot of different types of pizza here, as you can see.  Most of these places are old-school and have existed for decades (or in Papa's case, over a century), but we also got to checking out some newer places that are trying out different methods for making pies.  Razza, Bread and Salt, Santillo's, and Star Tavern are all easy day trips from New York and accessible by either train or bus, but to get to De Lorenzo's or Papa's you'll have to set aside a whole day and either drive or be willing to do a combination of train and ridesharing.  These are all cool places to visit if you want to be adventurous and are looking for something to do – and honestly, with very few things being open right now, chasing down good food like these pizzas is an excellent use of your free time.