As we've mentioned previously, beans became a staple food for us during our three-month lockdown.  In early March we went out and bought 15 pounds of dried beans and slowly made our way through them, giving ourselves the task of finding new and interesting ways to cook them up so we didn't get sick of eating the same thing multiple times a week.  We ended up making refried beans pretty often, and we tried to find a good meat-free technique – and then we came across this recipe in the New York Times.  It's a vegetarian version (which is helpful, because lard is often an ingredient in refried beans) and it adds in something we'd never thought to use before:  cheese.  This particular variation comes from the northern Mexican state of Sonora, and while these beans are typically served in tacos or as an accompaniment to some other dish, we ate them all by themselves because of how hearty and delicious they were.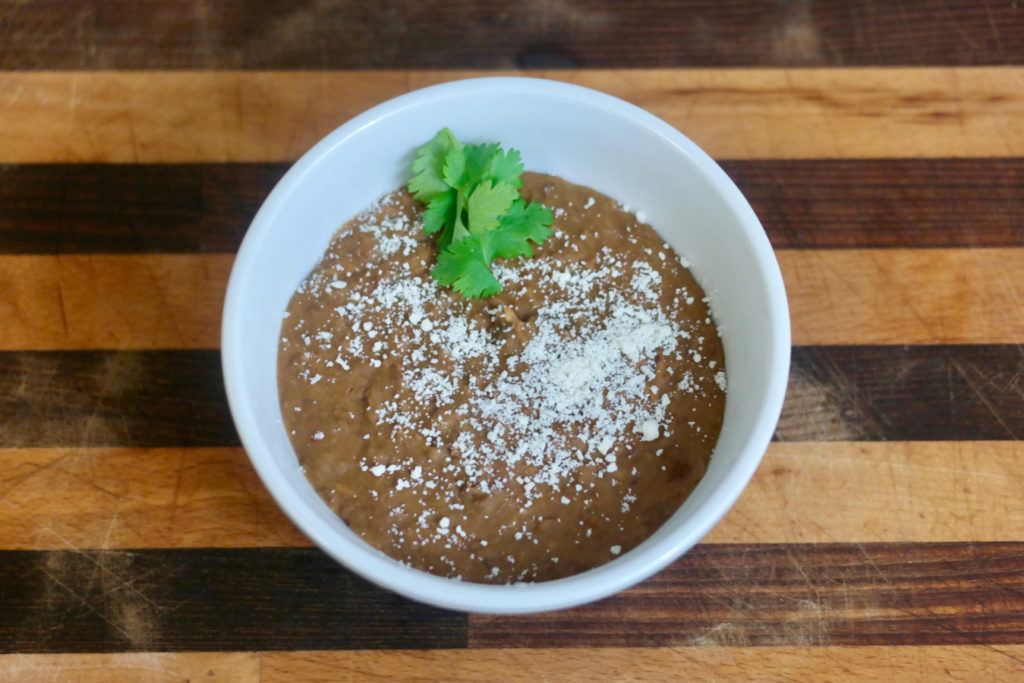 To make this, you'll need:
3 15-ounce cans of pinto beans
Dried guajillo chiles
A can of chipotles in adobo sauce
Vegetable oil
8 ounces of Oaxaca cheese
Cotija cheese
Cilantro
To get started, take 4 dried guajillos and place them in a small pot of water.  Let the water come to a boil and then simmer your chiles for around 10 minutes.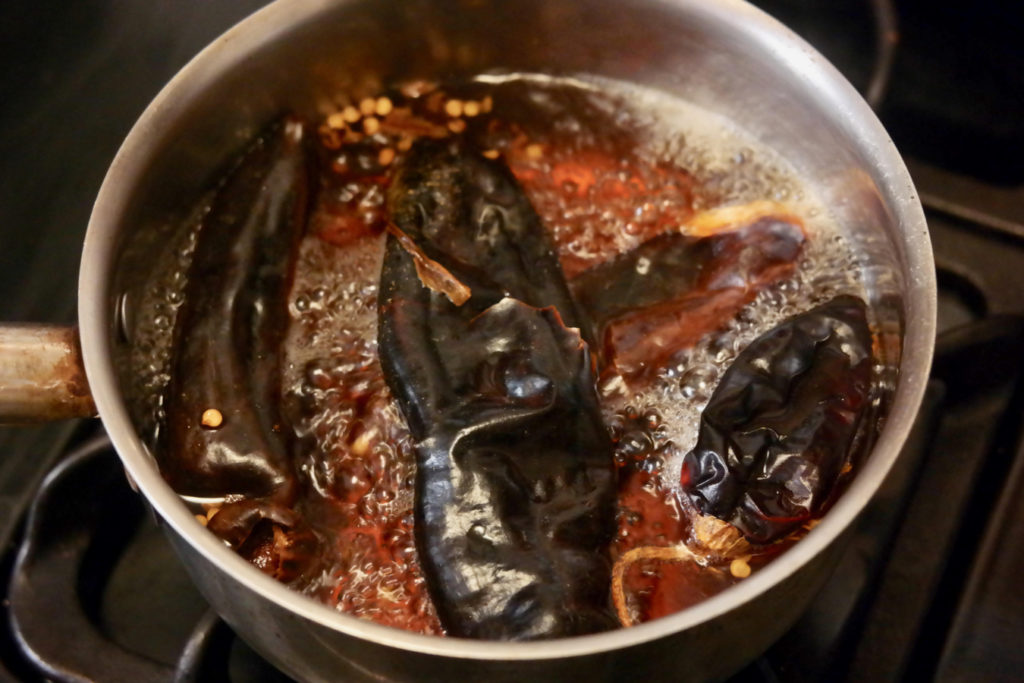 While you're waiting, dump all of your beans plus the liquid in the cans into a food processor.  Add in 1 1/2 cups of water and 2 chipotles along with a generous scoop of the adobo sauce.  When the guajillos are done boiling, fish them out and add them in with the beans, then blend everything together in the food processor just until you have a puree.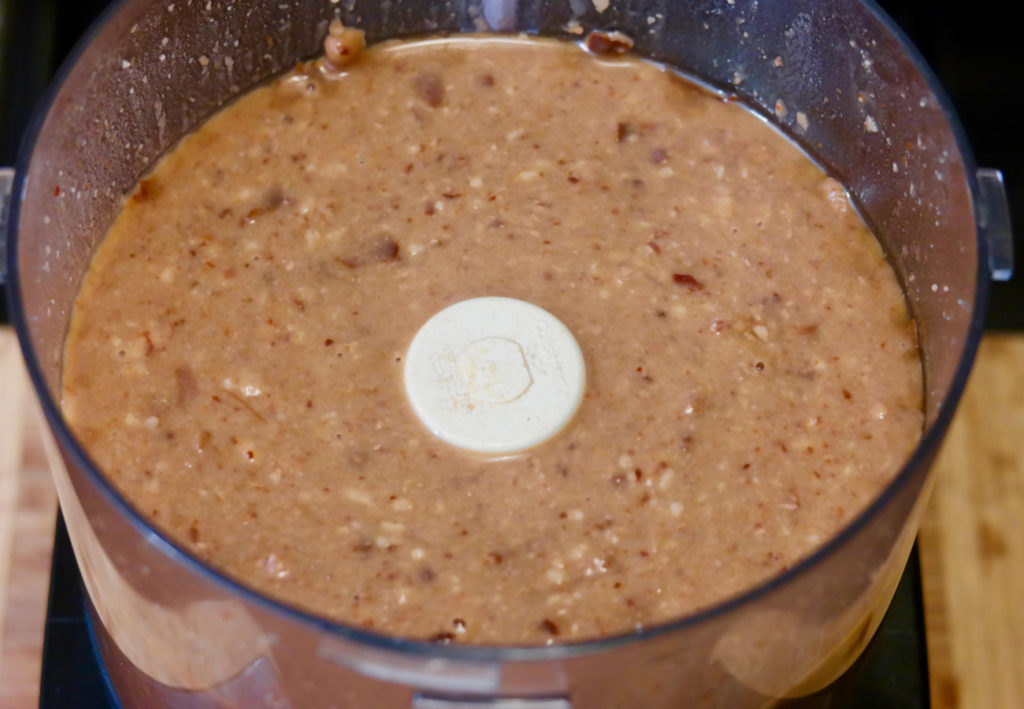 Warm 3 tablespoons of oil in a large coast iron skillet over medium heat.  Pour in the bean mixture and cook for 10 minutes until it thickens, stirring continuously so the beans don't stick to the bottom.  Then grate up your cheese and mix that in.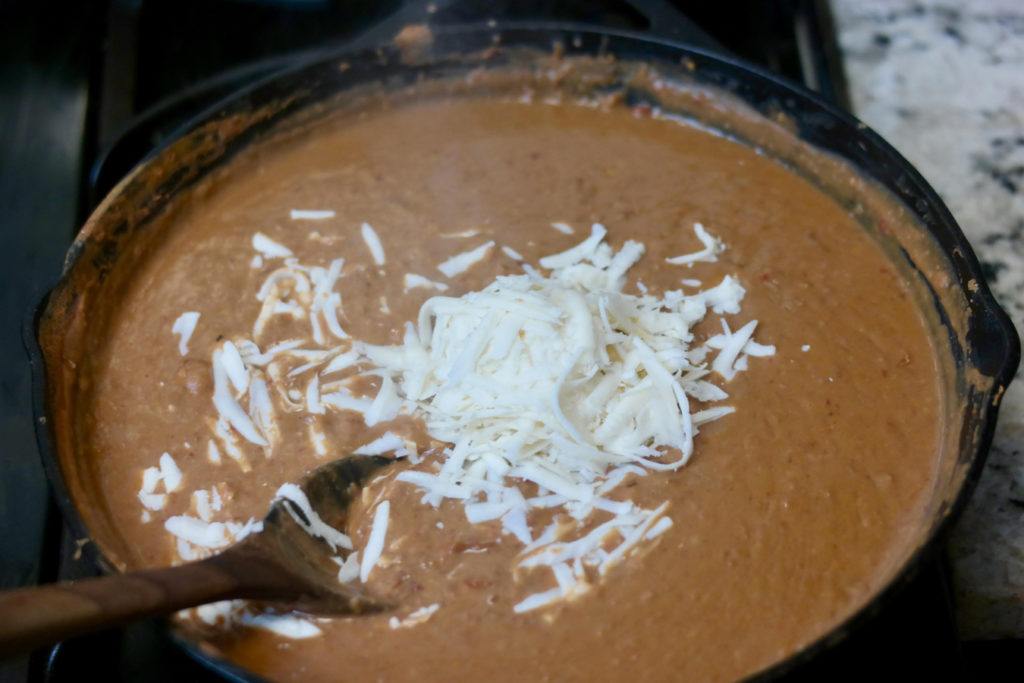 Keep stirring for another 10-15 minutes, until everything thickens to the consistency you'd expect for refried beans, like so: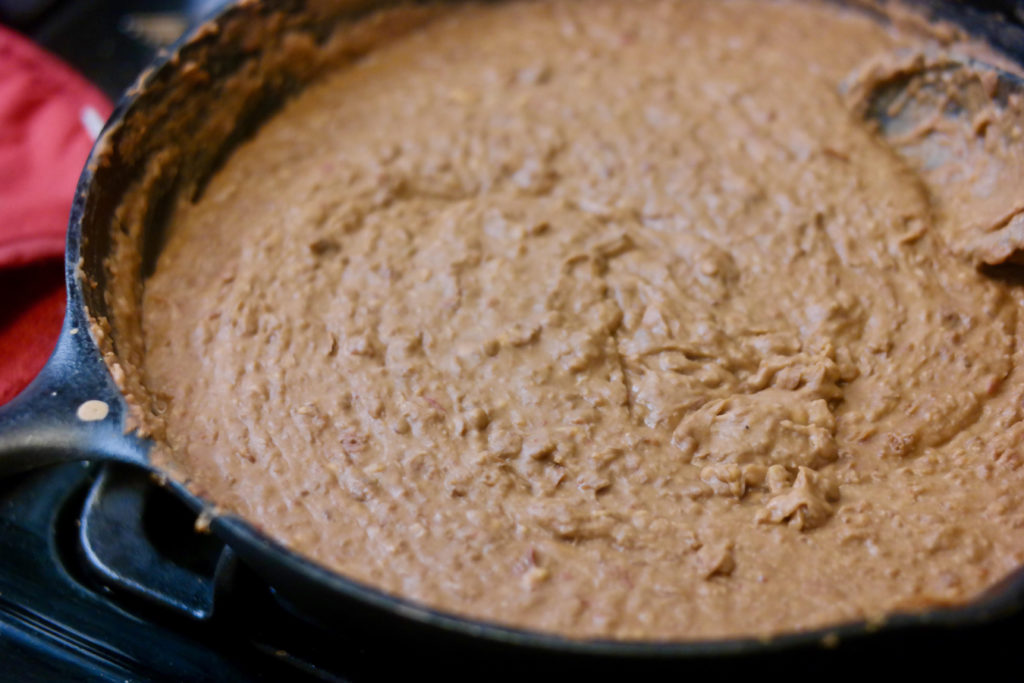 When you're ready to eat, top the beans with a sprinkling of cotija cheese and sprigs of cilantro.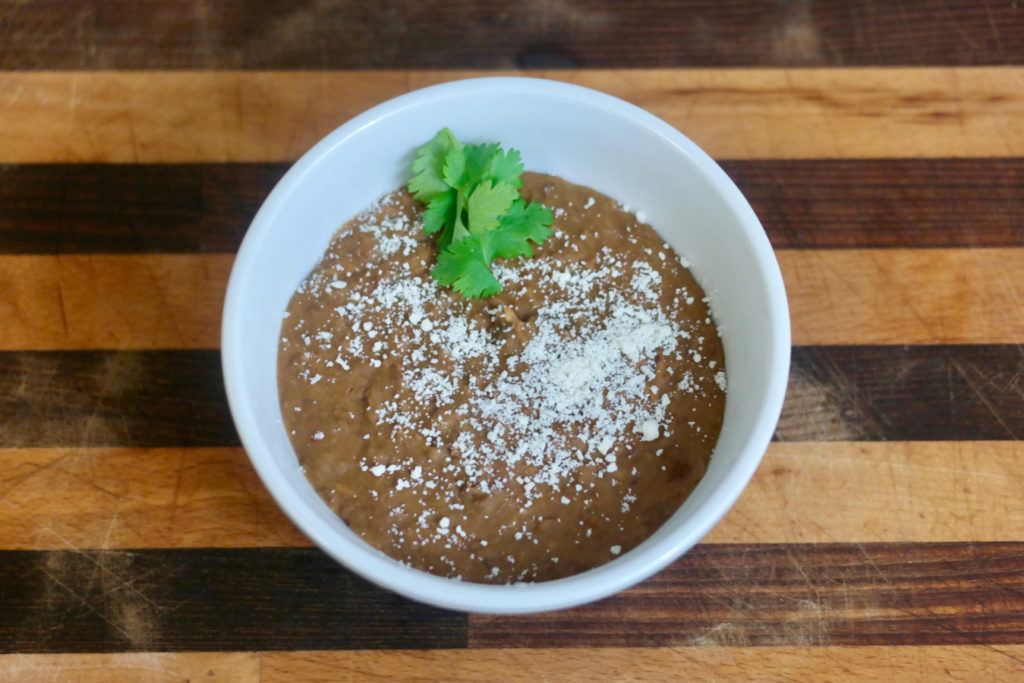 You can use these beans as the base for some vegetarian Mexican food, like tacos or tortas or nachos, or you can serve this as a side to a larger meal – but if you really want you can eat them on their own, as we did, because they're delicious in their own right and super filling.  We've often had to turn down refried beans because they're made with meat products, but this is a version that's vegetarian-friendly and gets its flavor not from lard but from two varieties of spicy chiles.  We especially liked the cheese added in and how it melts and helps thicken up the beans.  We'll admit that the stirring got kind of tedious here, but the result was some delicious beans so it was all worth it – and we hope you feel the same way after you cook up these refried beans for yourself.