We know that sometimes flatbreads have a reputation for being pizzas by another name, since in their simplest sense they're dough with toppings and cheese.  But this isn't a pizza:  it's a delicious savory pastry that's centered on vegetables and herbs and just happens to have a little bit of ricotta on it.  Rather than being slathered in mozzarella (which we're not knocking, because pizza is delicious if that's what you're craving), this flatbread has a whole bunch of really great, healthy veggies on it and the cheese is only an accent.  We especially liked making this entirely from scratch, based on a recipe in the New York Times that we adapted for our own tastes, so it's something homemade that's not too complicated but instead is tasty and good for you.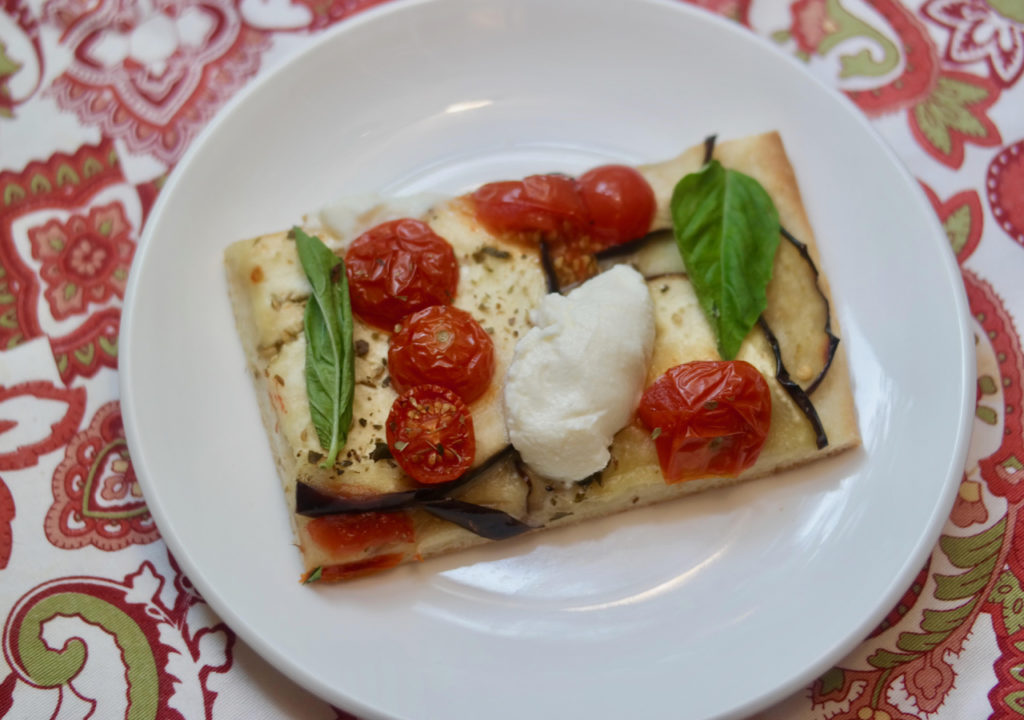 To make this, you'll need:
Olive oil
A packet of yeast
Sugar
Flour
A medium-sized eggplant
Garlic
Dried oregano
A pint of cherry tomatoes
Ricotta cheese
Basil
You'll want to start by making your dough:  measure 3/4 cup of warm water into a bowl and sprinkle in 1 1/2 teaspoons of yeast and a teaspoon of sugar.  Let this sit for 10 minutes until the yeast foams up, then one at a time stir in 1/3 cup of olive oil, a large pinch of salt, and 2 1/4 cups of flour.  Once all this comes together into a rough dough, turn it out onto a floured surface and knead for at least 5 minutes, until your dough is smooth and stretchy.  Then place it in a bowl coated with cooking spray and cover with plastic wrap to let rise for an hour.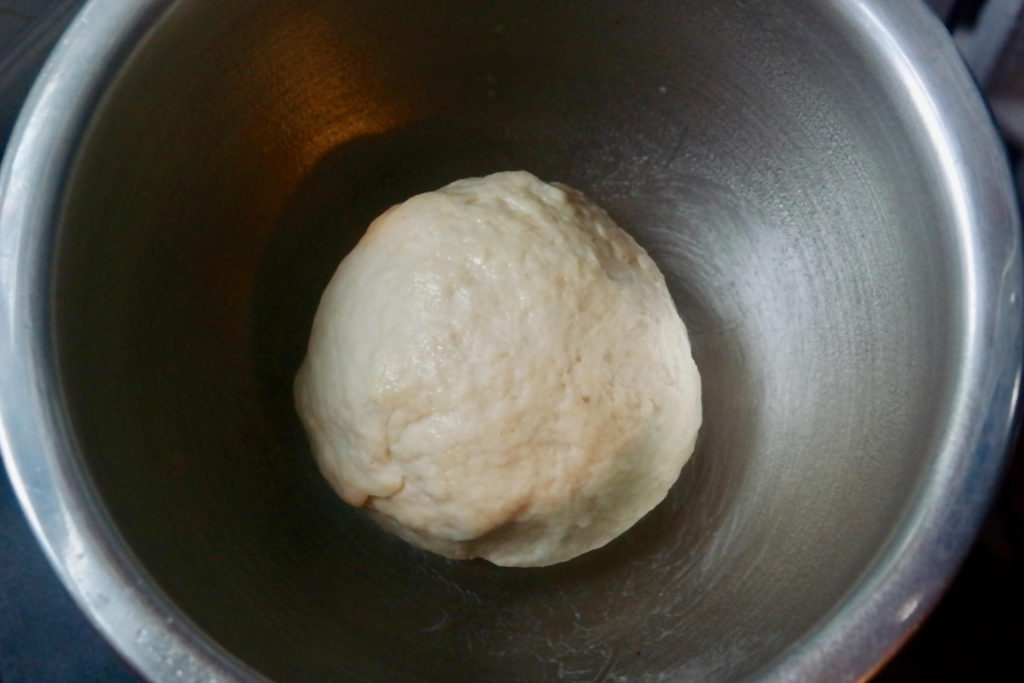 When the dough has risen, bring it back to your floured surface and roll it out to the size of a baking sheet.  Place it on your baking sheet and cover it with a damp towel to let it rise again for half an hour.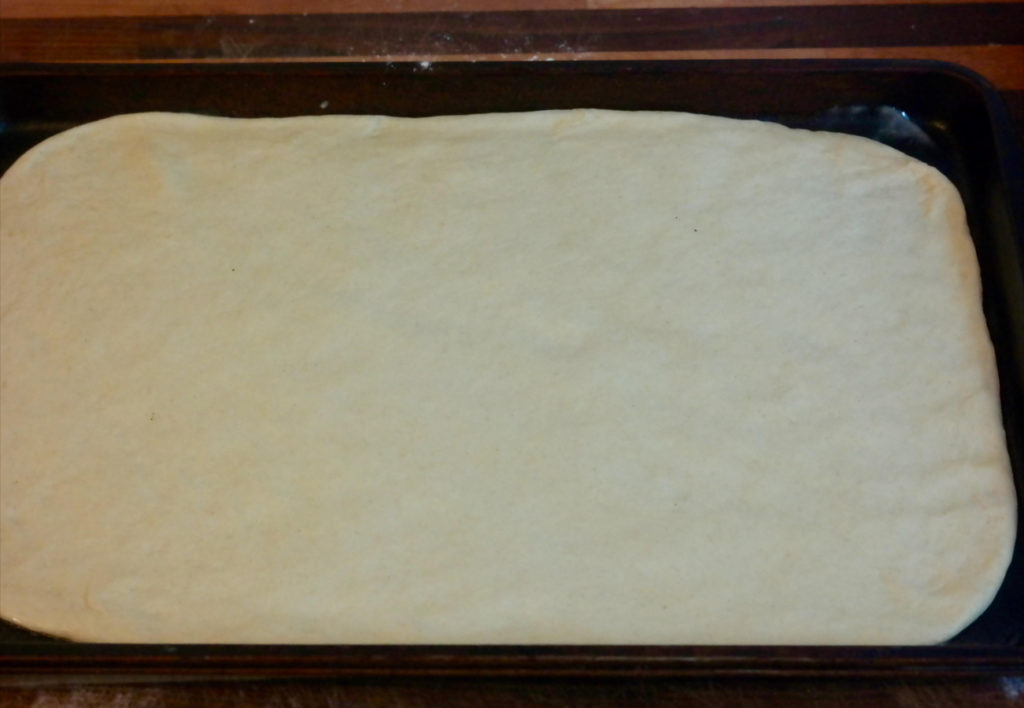 While you're waiting, slice your eggplant thinly and salt it so it releases its water.  Set it aside on paper towels for 15 minutes to let the water drain out.  Then chop up a clove of garlic, warm 1/4 cup of olive oil over medium heat, and cook the garlic for 2-3 minutes just until it starts to brown.  Place the eggplant slices in a bowl and mix them with the garlic oil and a generous sprinkling of oregano.  Then when the rolled out dough is done rising, cover the surface with the eggplant.  Slice your tomatoes in half and scatter those over top as well.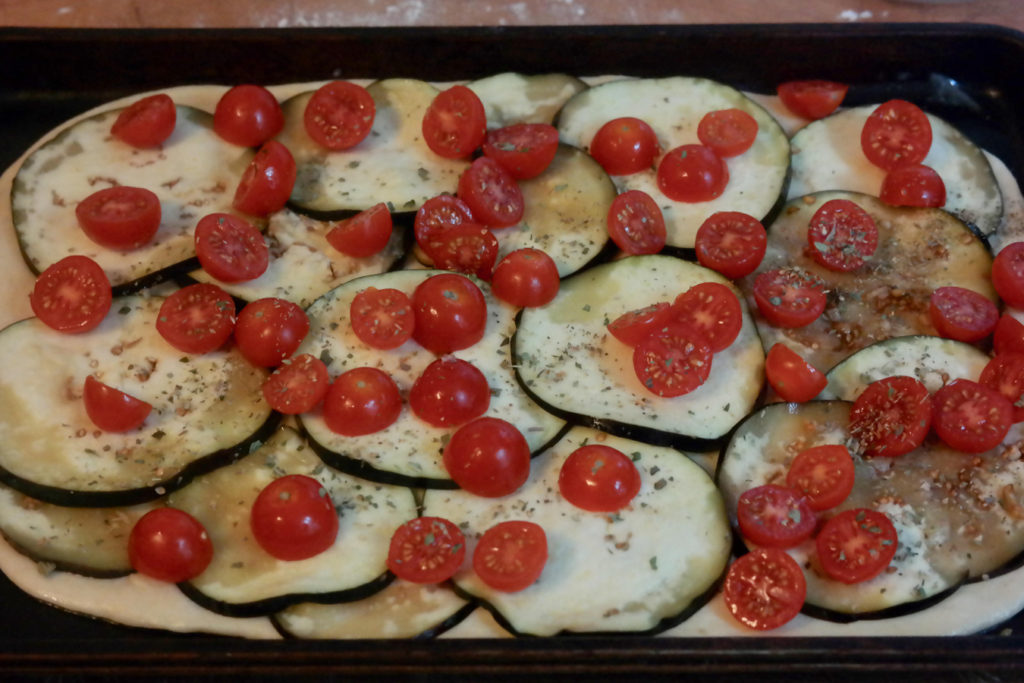 Bake the flatbread at 400°F for 25-30 minutes, until you can see the edges brown.  Once it's out of the oven and cooled slightly, use a spoon to dollop ricotta all around, then spread basil leaves over everything.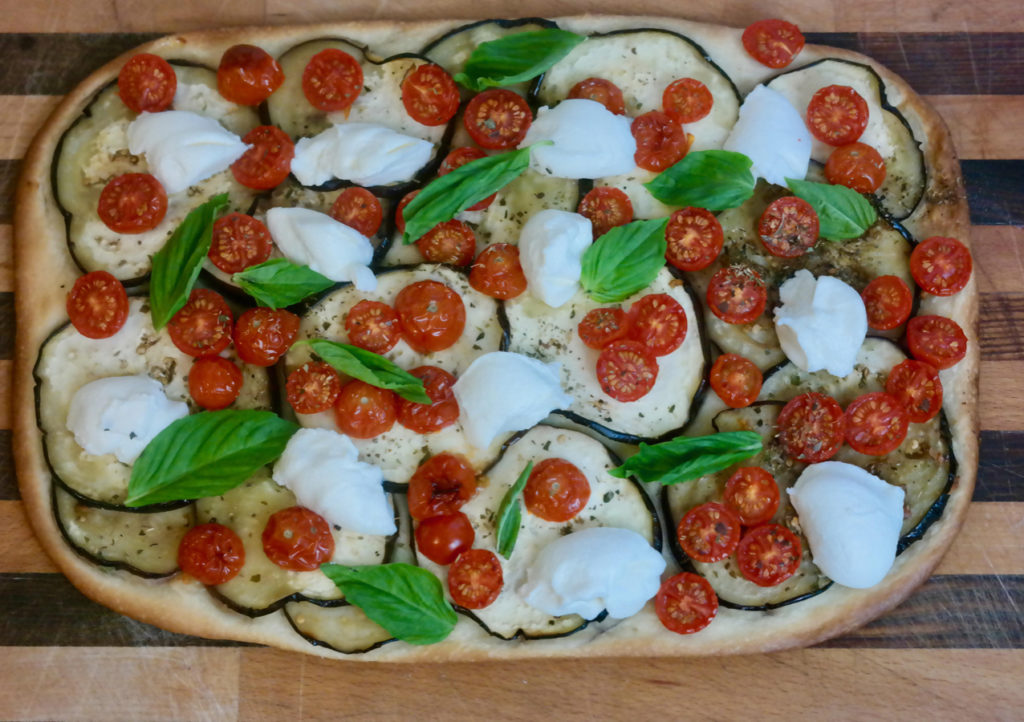 And now you can slice up the flatbread and serve!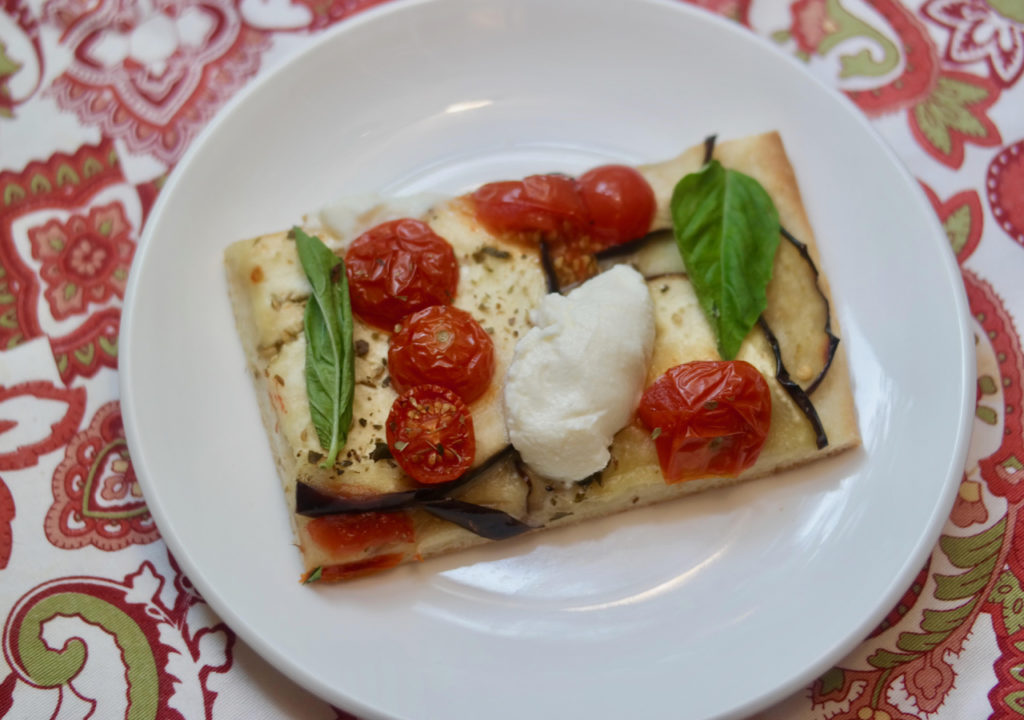 This recipe does require some advanced planning, since you need a total of an hour and a half to let the dough rise.  But everything else is pretty simple – there's only two vegetables you need to prep, and the dough is pretty easy to make, and then it's just a matter of assembling everything and baking.  What we liked the most here was that this flatbread was focused on vegetables:  the eggplant mixed with oregano roasts nicely, the tomatoes come out tender and blistered, and the basil is cool and green on top.  The ricotta cheese is certainly tasty and ties everything together, but it's not too heavy.  We snacked on this throughout the day we made it, and it comes out really good for lunch, for dinner, and just to grab a slice when we felt a little hungry.