As two people who grew up in the New York City area, where there's a huge Italian-American community, we were exposed to calzones at a pretty early age – and much like Ben Wyatt, we really love them.  We've never attempted them in our kitchen before, though, because frankly it's a lot of work:  you have to first to make the dough and let it rise, then you prepare the fillings, stuff the calzones, and finally you can bake the whole thing.  Plus, you do have to be delicate with each calzone when you're stuffing them and then try to keep them from popping open while baking.  With all that being said, when we found this recipe in the New York Times we were intrigued but a little nervous – thankfully, we figured out what was going on and now we're going to show you how you too can make some calzones with as little fuss as possible.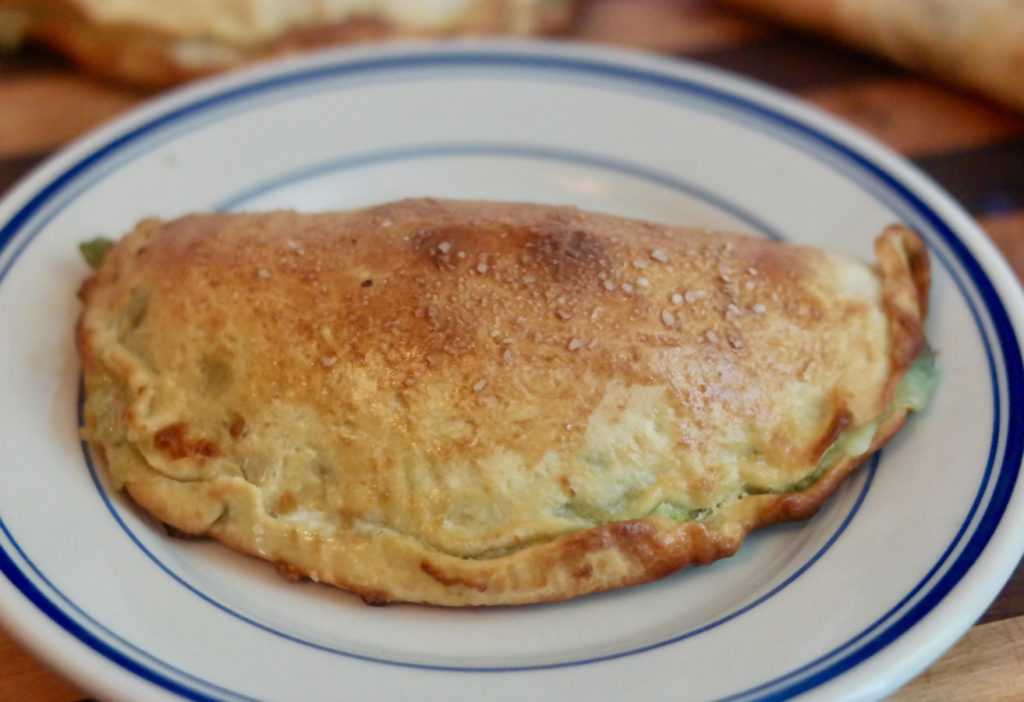 For these calzones, you'll need:
Sugar
 A packet of yeast
Flour
Olive oil
A pint of cherry tomatoes
Garlic
A pound of mozzarella
An egg
Pesto sauce – either buy some already prepared, or if you want to make your own use:

Pine nuts
Parmesan cheese
A large bunch of basil
A medium-sized bunch of mint
Red pepper flakes
First, the dough:  pour a cup of warm water into the bowl of a stand mixer fitted with a dough hook, stir in a tablespoon of sugar, and sprinkle 1 1/2 teaspoons of yeast over the water.  Let this sit for 5 minutes or so until the yeast foams up, then place your mixer on a low speed and add in 3 3/4 cups of flour, 2 tablespoons of olive oil, and a large pinch of salt.  Turn the mixer's speed up a little, and once the dough wraps itself around the hook in the shape of a ball, it should be done.  Cover the bowl with plastic wrap and let the dough rise for an hour.
While you're waiting, cut all your tomatoes in half, thinly slice 2 cloves of garlic, and mix these vegetables with 2 tablespoons of olive oil.  Place on a baking sheet, turning the tomatoes face down, and bake at 300°F for 45 minutes.  Let the baking sheet cool a little, then pinch off the tomato skins (they should come right off) and place the tomatoes and garlic in a strainer to let the tomato juices drain out.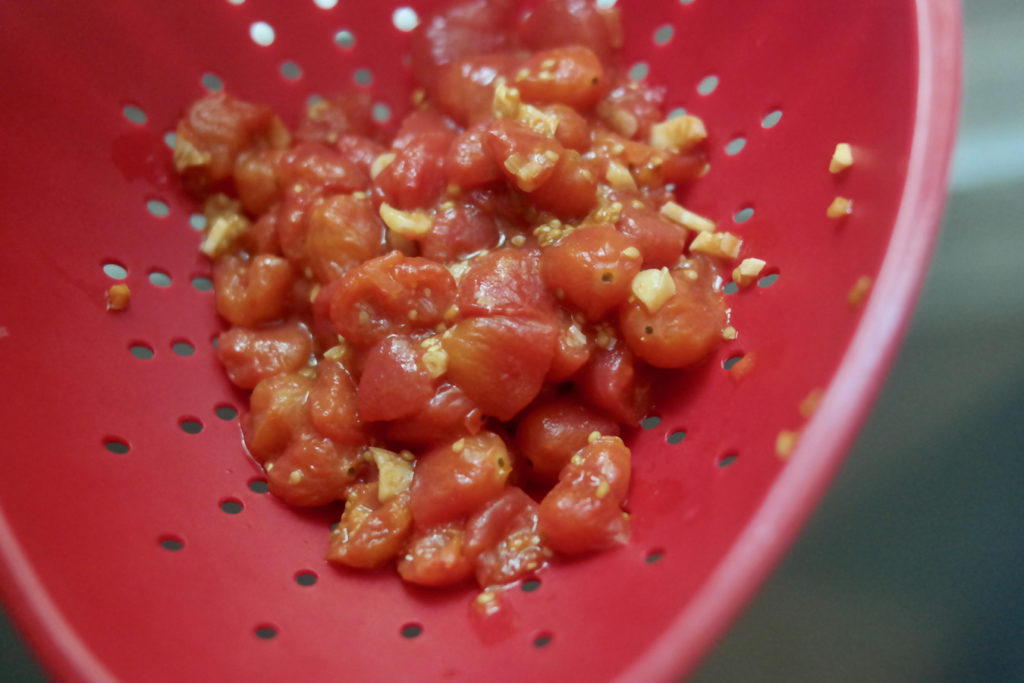 When the dough has risen, turn it out onto a floured surface and divide into 6 pieces.  Use both of your hands to rotate each piece around and around until it becomes a smooth ball.  Cover these and let them rise for another 15 minutes.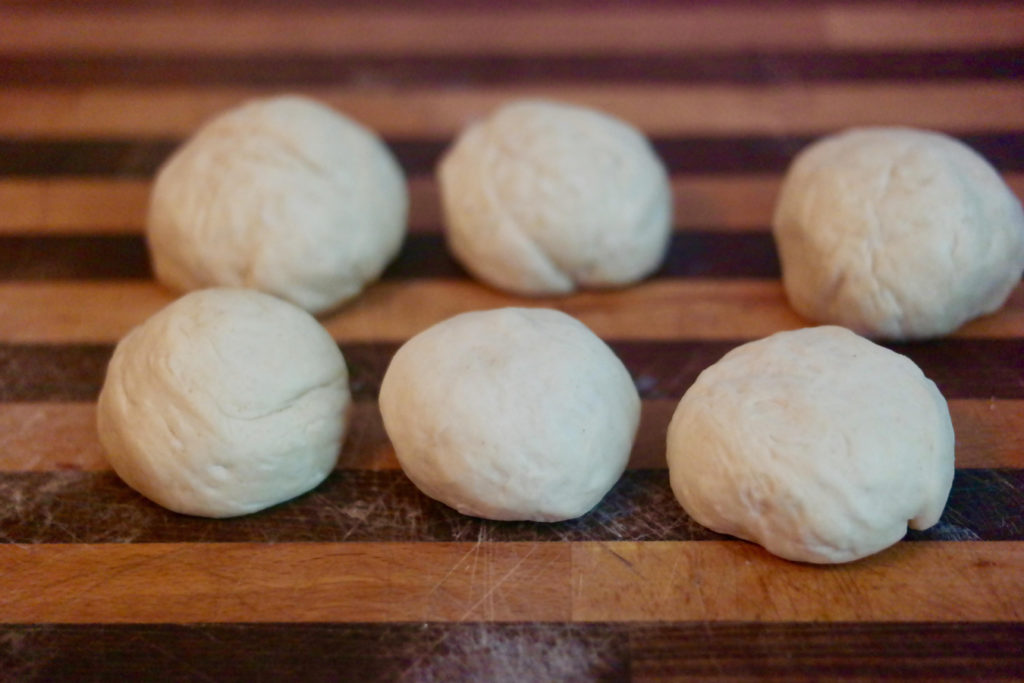 In the meantime, if you're making the pesto yourself you can follow the first three steps here.  You'll also want to shred your mozzarella.
When the dough balls are ready, flour your work surface again and roll each one out to about 8 inches in diameter.  Place a heaping spoonful of pesto into the center and spread it all around, but no closer than about an inch from the edge of the dough.  On one half of each calzone, heap some tomatoes and then some mozzarella.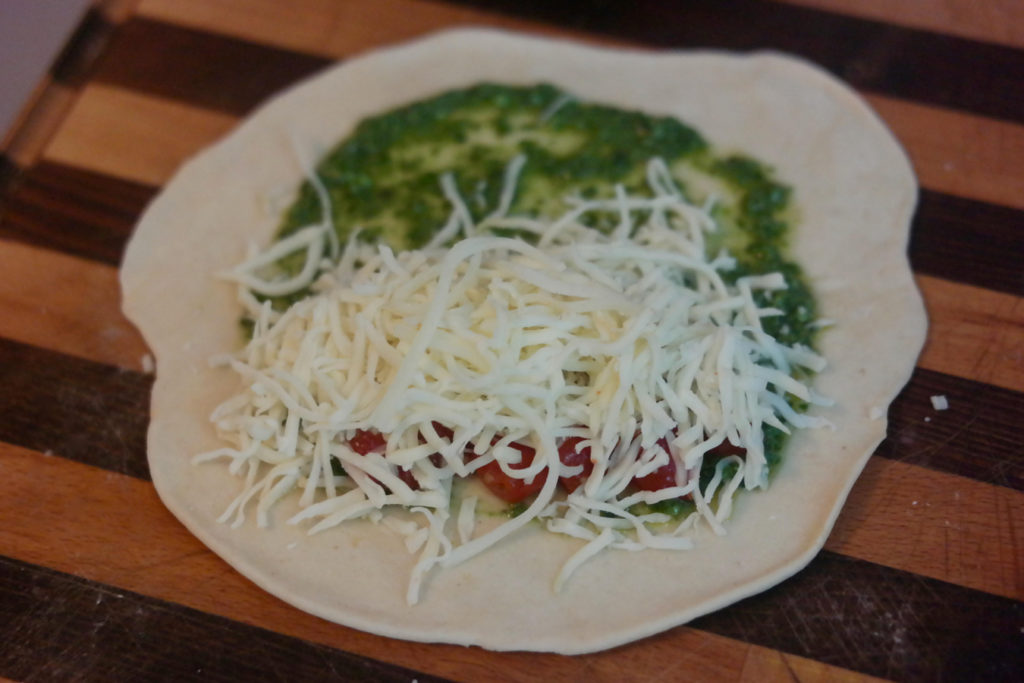 Carefully fold the calzone in half, enclosing the cheese and tomatoes, and pinch and roll the edges together tightly so everything is sealed inside.  Use a fork to crimp these edges.  Repeat this whole process with each piece of dough, then beat an egg with a teaspoon of water and brush this on the tops of each calzone, sprinkling salt on top as well.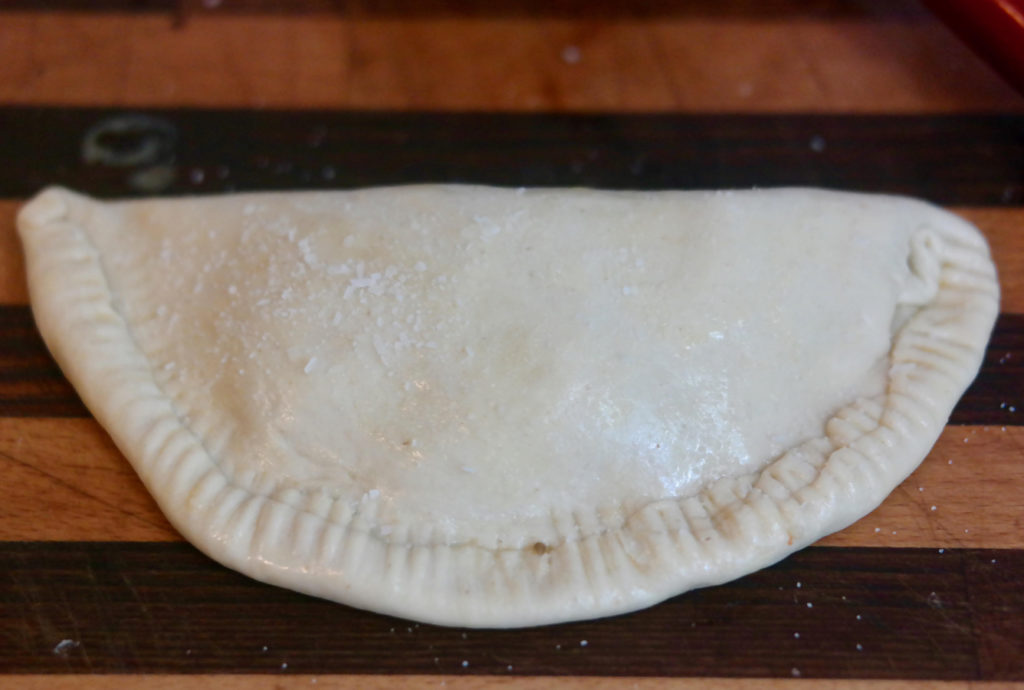 Turn your oven up to 500°F, and if you have a pizza stone place your calzones directly on that, letting them cook for around 10 minutes until they're puffed up and browned.  Otherwise, place the calzones on a greased baking sheet and cook for 15-20 minutes – in either case, watch them carefully to make sure they don't burn on the bottom.  Use a spatula to slide them onto plates to cool slightly before eating.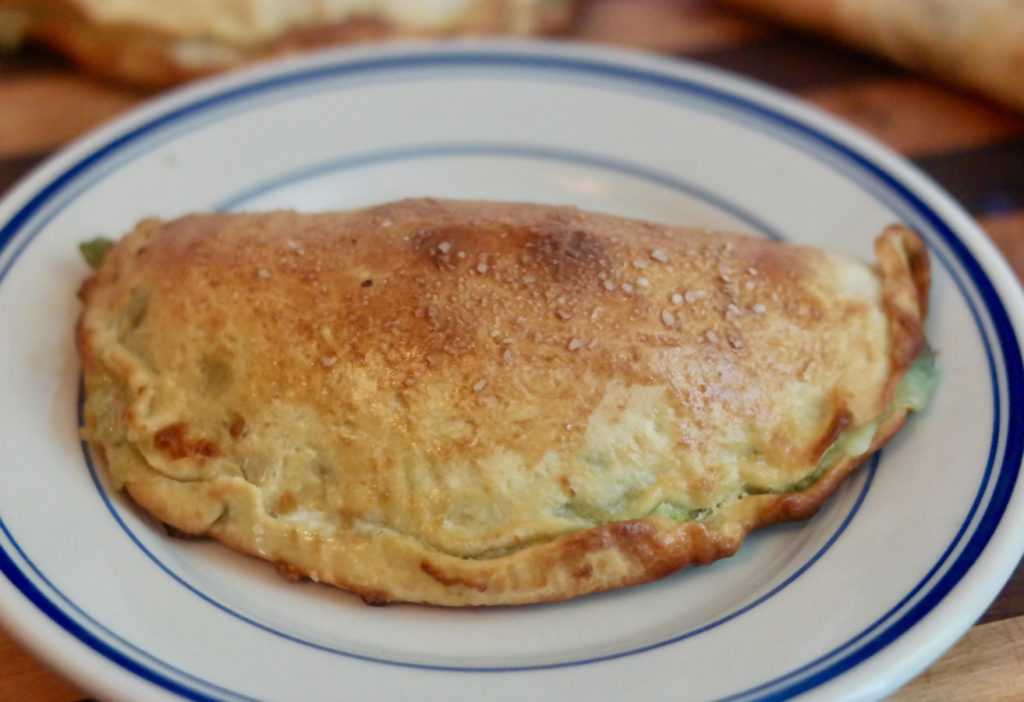 This is what awaits you inside: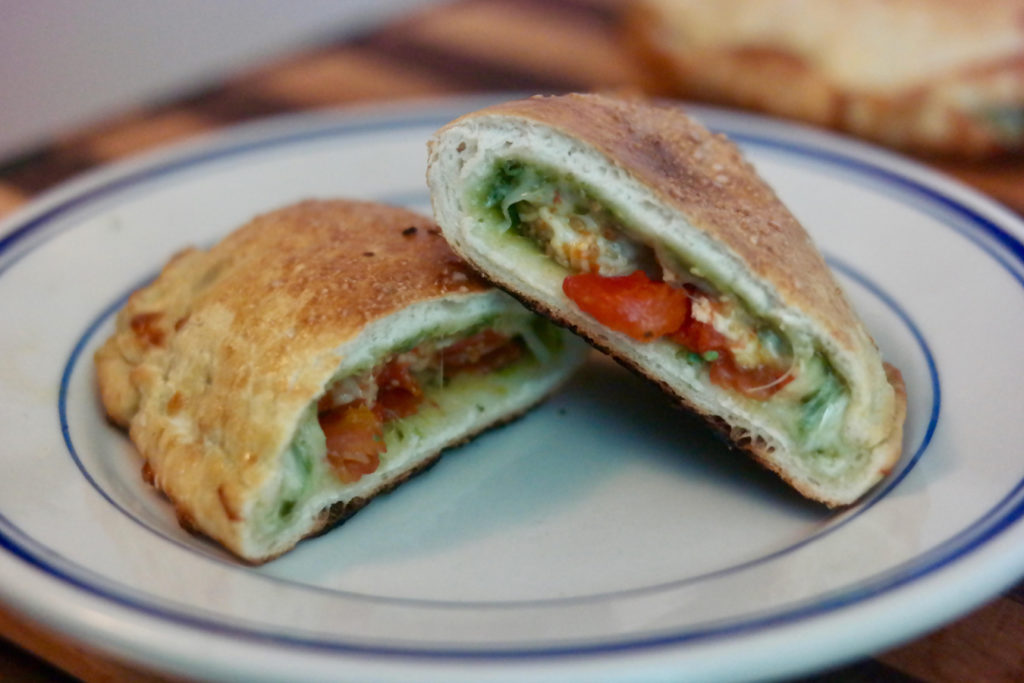 As you probably noticed, this isn't a quick process – it takes some time to make the dough, let it rise, shape it, prepare the calzones, and then cook them.  You also need to be careful when you're assembling everything, because if you make the dough too thin or overstuff each calzone, the ingredients will just fall right out – and if you don't seal each one effectively, you'll have cheese and tomatoes oozing out into your oven.  So you'll have to plan accordingly to set aside enough time and patience to make these, but the results are amazing:  the calzones are nice and baked outside and have some great ingredients inside, and unlike some that you might find at your local pizza place they're not to heavily stuffed, so you don't feel overwhelmed by the cheese and everything else inside.  It's a fun, albeit extensive, process to make calzones on your own, so whenever you've got some free time on your hands these are an excellent and tasty kitchen project.