Lo mein is a staple of Chinese food in the U.S., so much so that the Americanized version is considered a distinct dish from its counterpart in China, due to its reliance on stir frying as a cooking method.  And thanks to the influence of Buddhism in China, which emphasizes respect for all living beings, almost all Chinese restaurants offer a vegan version of lo mein on their menus.  That's what we're featuring today:  a vegetable lo mein that you can make at home if the craving for soy sauced noodles and vegetables ever hits and you don't feel like going for takeout.  We based this on a recipe we found in the New York Times and adapted for ourselves, and while it's a little more involved than you might have expected, we'll suggest ways to make this lo mein simpler.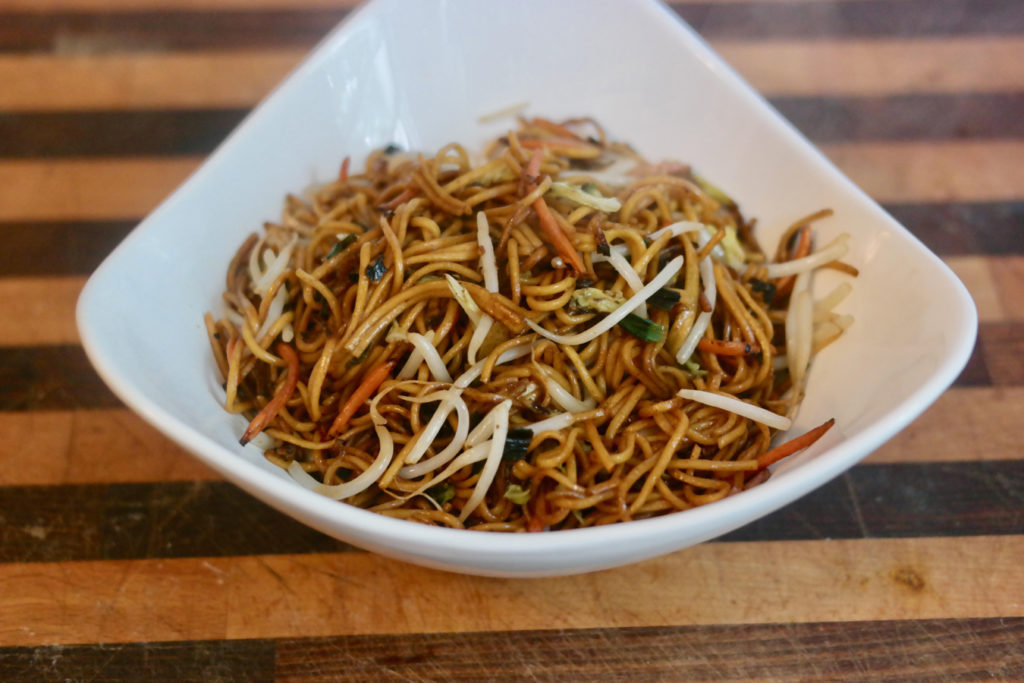 You'll need:
8 ounces of lo mein or chow mein noodles
A quarter head of cabbage
A carrot
3 scallions
Garlic
Soy sauce
Cooking sherry
Chili oil
White pepper
Mung bean sprouts
Vegetable oil
We suggest you start out by prepping all your vegetables:  cut your carrot into thin sticks, chop the cabbage, slice up your scallions, and dice up 3 garlic cloves.  You'll also want to measure out about 3/4 cup of mung beans and cut the sprouted ends off of each.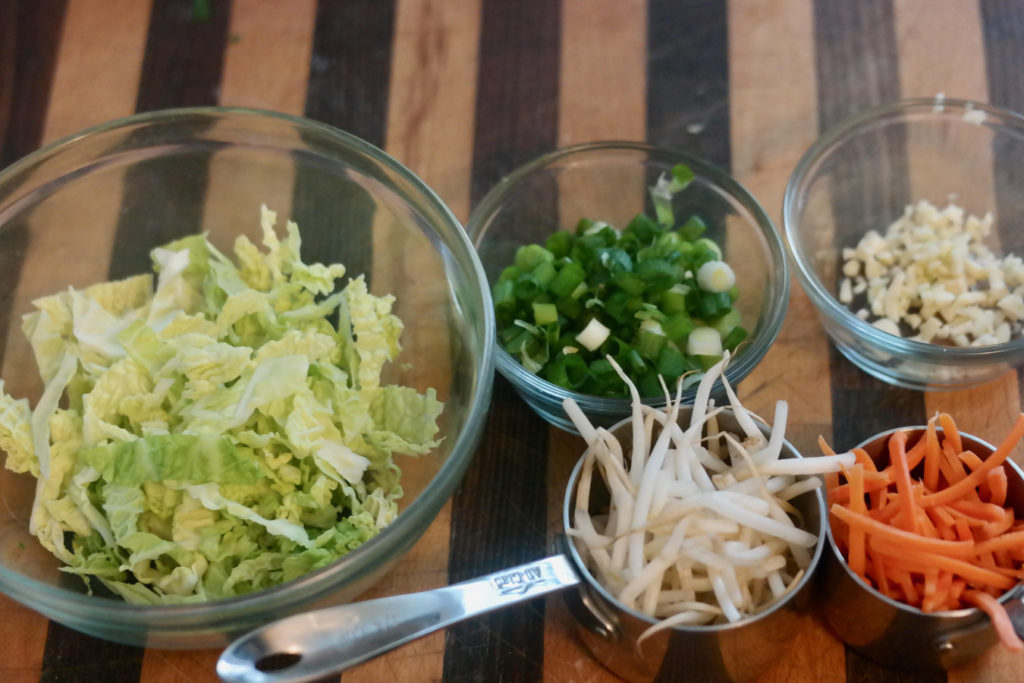 Also boil your noodles for 5 minutes, then drain them and spread them out on a baking sheet.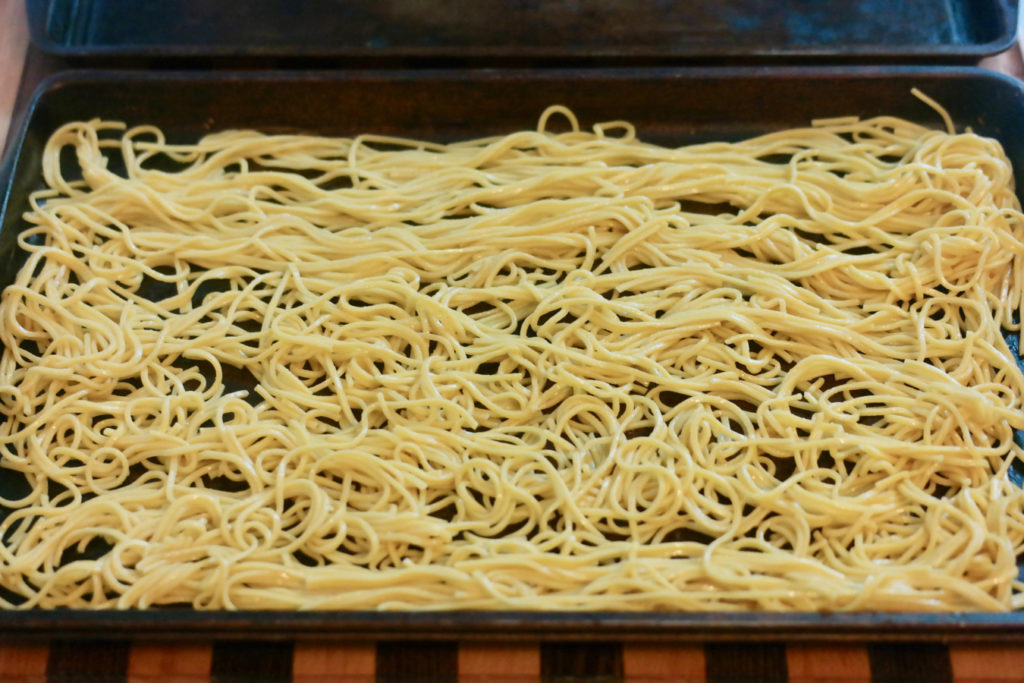 Then take a large wok, rub a tiny amount of vegetable oil all across the surface, and place the pan over high heat.  Measure out another tablespoon of oil and let it coat the wok, then add in the cabbage and carrot and stir fry for just 30 seconds.  Let these veggies then sit, without touching them, for 20 seconds to char and crisp, and flip them over to do the same on the other side.  Repeat this process twice more, then place the vegetables on a second baking sheet.  Place your baking sheets on your stovetop, and now hover a blowtorch over both the noodles and the vegetables to let them crisp further and brown.  (If you don't have a blowtorch or feel like skipping this step, just leave the vegetables in the wok.)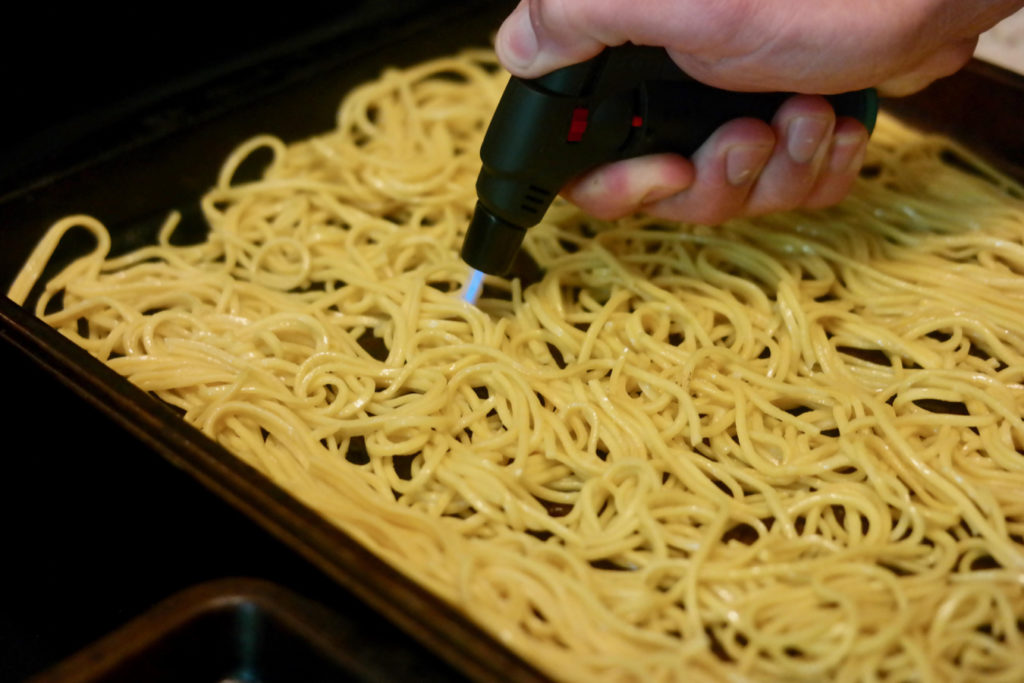 Pour one more tablespoon of oil into the wok and cook your scallions and garlic very briefly over high heat, then place the vegetables and noodles into the pan and cook until everything is evenly mixed together.
Push the noodles to the side and in the empty space in your pan, add in a teaspoon of oil, 2 tablespoons of soy sauce, and a tablespoon of cooking sherry.  Stir fry this in, then add 1/2 teaspoon of chili oil, 1/4 teaspoon of white pepper, and the mung beans.  Cook for around 30 seconds, until you have an even sauce for all the noodles, and then take the wok off the heat and serve.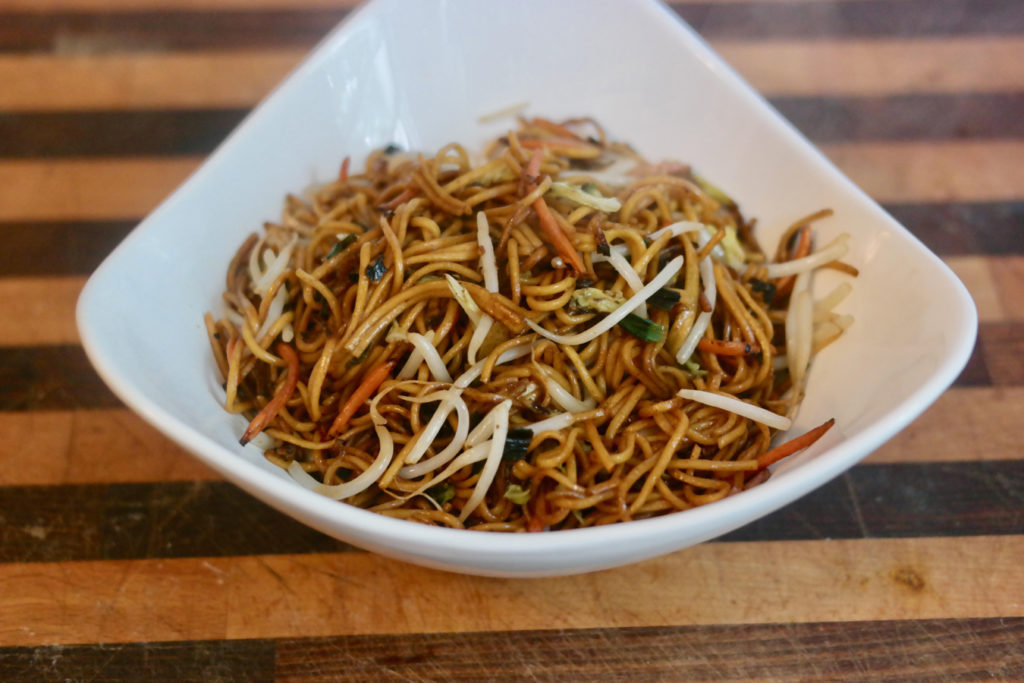 The most important thing to keep in mind with these noodles is that this recipe moves quickly – when you're cooking things in the wok you really have to watch to make sure nothing burns.  High heat is essential to making stir fried Chinese food, so in order to facilitate everything and give your undivided attention to the wok, it's really important to prep all your ingredients ahead of time.  But the good thing is that once you get going, you're lo mein is ready in just minutes!  Using the blowtorch is an optional step – it helps give a smoky flavor to the dish, but it's not necessary to cooking lo mein – and everything else in this recipe is exactly like what you see the guy in the back of the Chinese restaurant doing all day.  We thought it was fun making these noodles ourselves, and really getting a feel for one of our favorite Chinese food dishes, so if you're craving some vegan takeout noodles you've now got the know-how to make them for yourself.