Kofta is a dish that's eaten all around Asia – it's basically the continent's version of meatballs.  In India in particular kofta are usually simmered in some kind of curry sauce, and thanks to the influence of Hinduism Indian cooks have come up with their own meatless version.  That's where we've encountered this dish previously:  you can find kofta in the vegetarian section of most Indian restaurant menus, and now thanks to this recipe in the New York Times we were able to make our own kofta at home.  Beans are what's used here in place of the meat, and they're a great substitute because they pair well with the greens and spiced tomato sauce that round out this dish.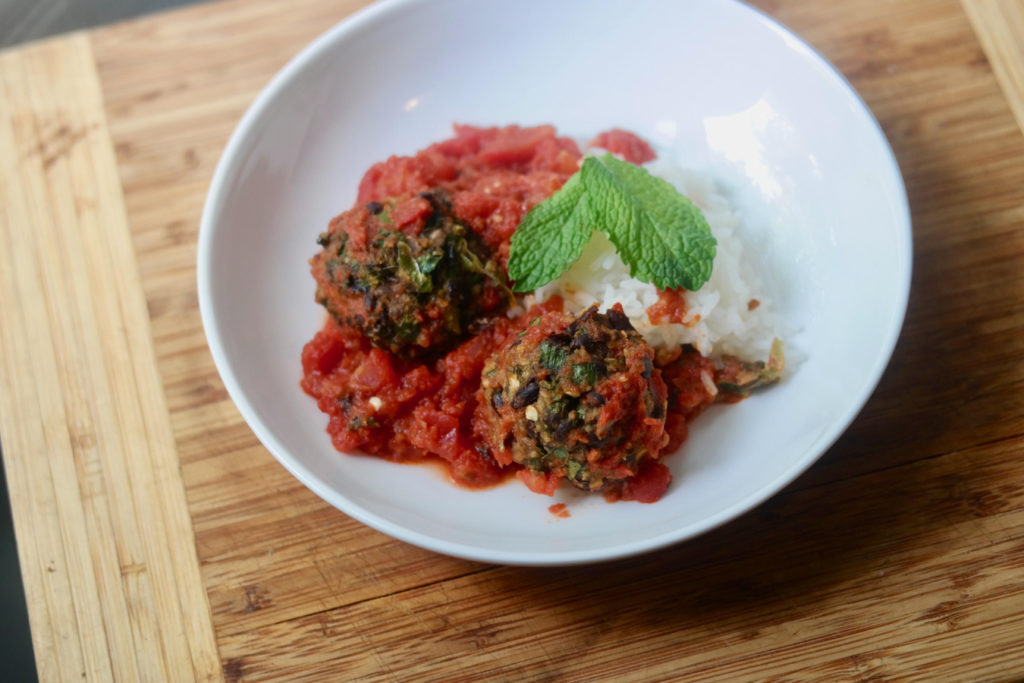 To make this, you'll need:
Garlic
Ginger
2 jalapeños
A 14-ounce can of black beans
Scallions
A bunch of cilantro
A bunch of mint
Bread crumbs
An egg
Curry powder
Chile powder
Vegetable oil
A 28-ounce can of crushed tomatoes
Coriander
Cumin
Rice
You'll want to start by forming your kofta:  first, cut off a 2-inch piece of ginger, peel it, and place it in a food processor with 4 cloves of garlic and your two jalapeños, whole but with the stems cut off.  Blend everything together until you have an even mixture, like so: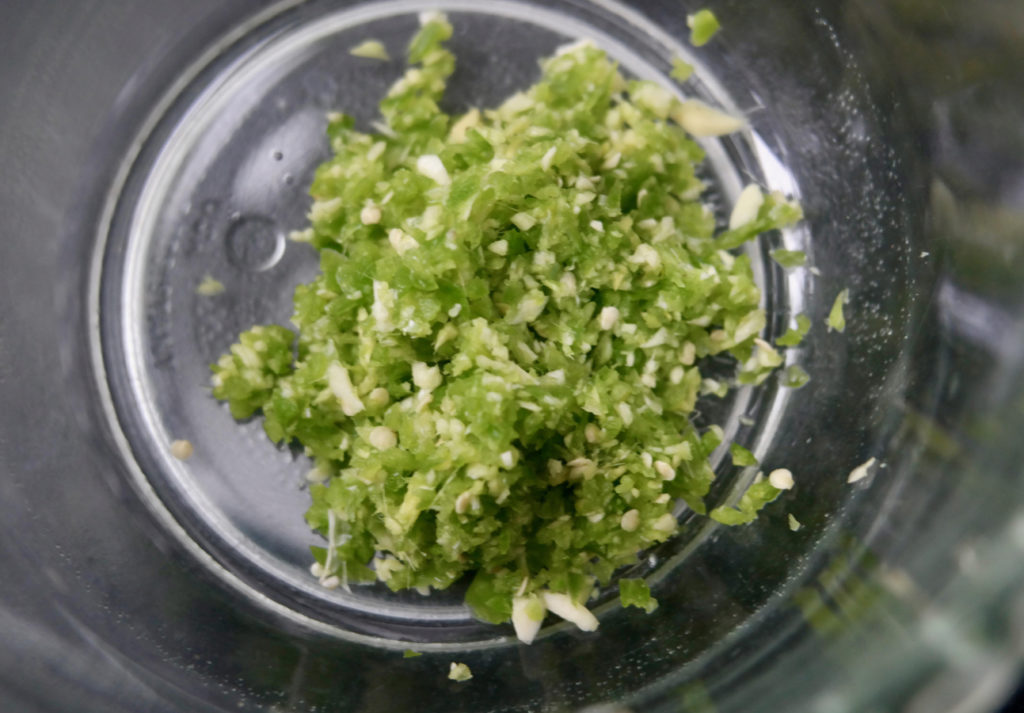 Take half of this mixture and set it in a large mixing bowl.  Chop up 4 scallions, all of your cilantro leaves, and most of your mint leaves and add those in.  Drain your beans and place those in the bowl as well, plus 1/2 cup of bread crumbs, a teaspoon of curry powder, 1/2 teaspoon of chile powder, a pinch of salt, and your egg.  Stir everything together, then use a potato masher or a fork to crush most of the beans.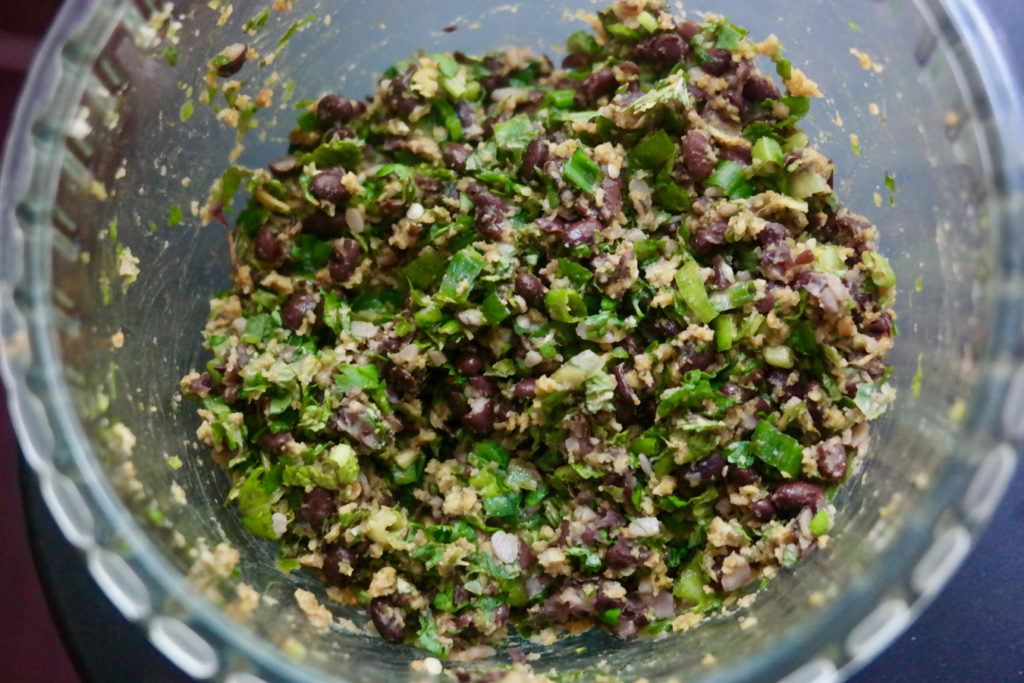 Form your bean mixture into 12 balls and place them in a baking pan.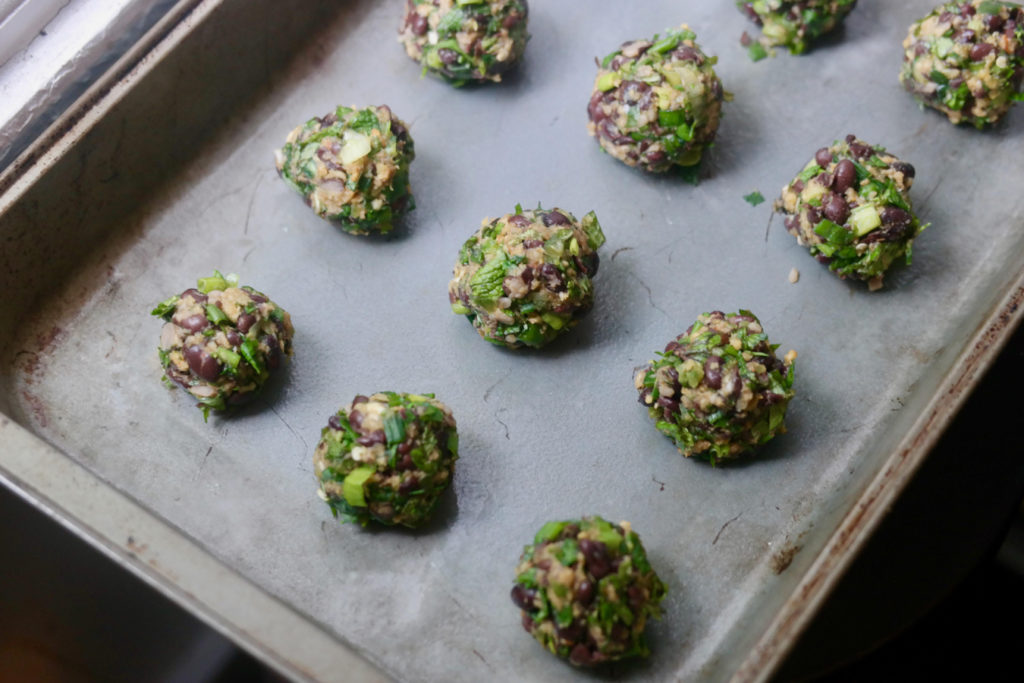 Drizzle 2 tablespoons of oil over them, then bake at 400°F for 25 minutes, until they're a little browned on top.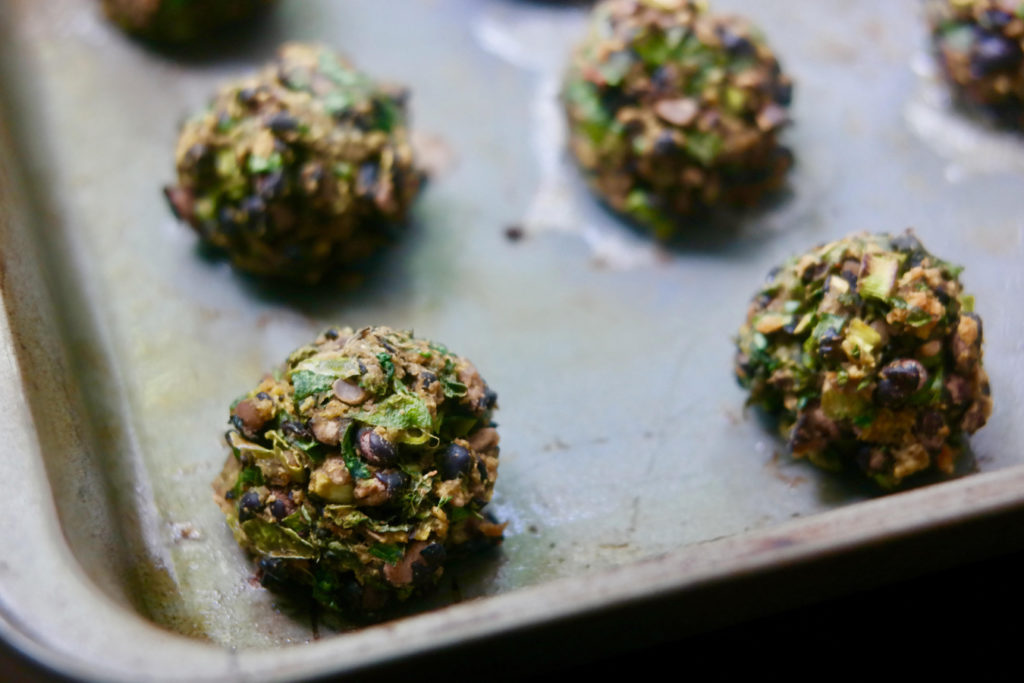 Once the kofta go in the oven, prepare some rice – we stirred 1/2 cup of basmati rice into 1/2 cup of water in a small saucepan, brought it to a boil, and simmered for 12 minutes until the water was absorbed and the rice was fluffy.  You can also start making the sauce:  measure out 1/4 cup of oil and place it in a Dutch oven.  Over medium heat, cook the remainder of the garlic-ginger-jalapeño mixture for 10 minutes until it starts to brown, then add in your crushed tomatoes and a teaspoon each of coriander and cumin.  Simmer this for 20 minutes, and then add in the kofta.  Let them cook for 15 minutes, moving them around in the pot every so often so they don't stick to the bottom.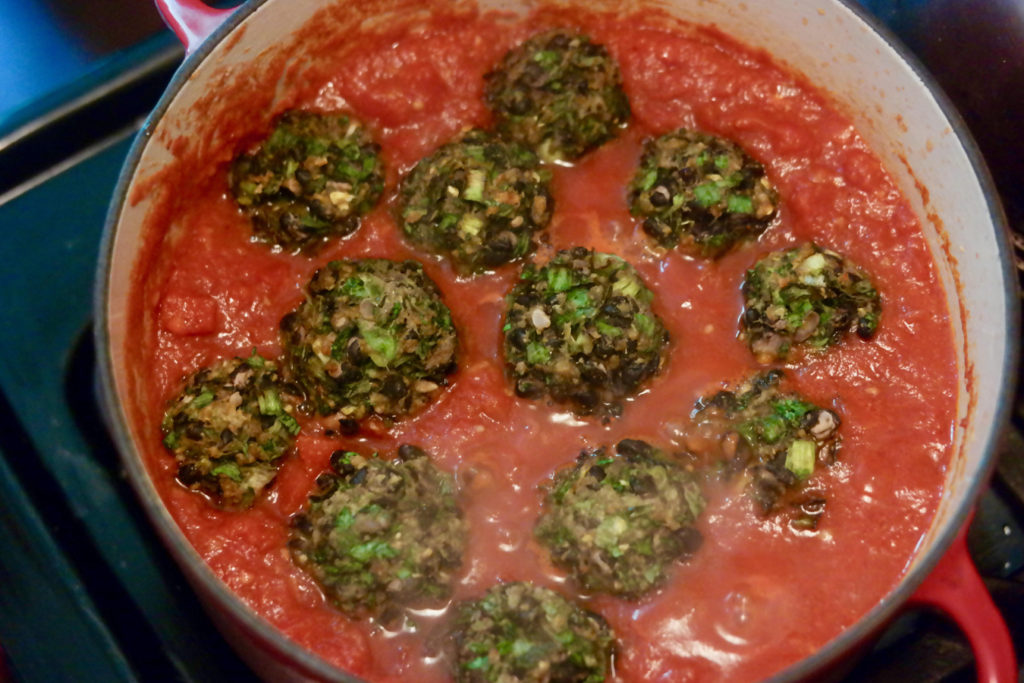 Then you can serve up your kofta with rice and extra mint leaves on top.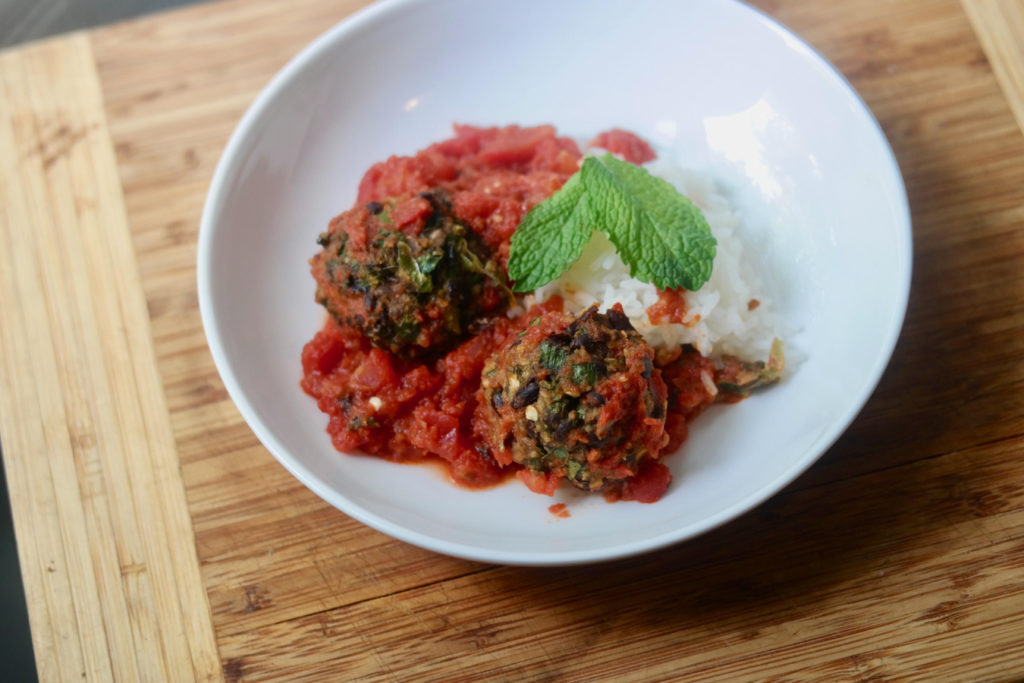 This recipe does require a lot of time, since it takes over an hour to make the kofta, bake them, and then simmer them in the sauce – so you'll need to start well ahead of the time you want to eat.  But overall this recipe isn't too, too difficult:  if you can chop and stir things together, and make round balls out of a bean mixture, you're pretty much set.  The curry sauce is simple, and once you have you kofta shaped it's only a matter of sticking them in the oven and then into the tomato sauce.  Making kofta out of beans provides you with a hearty, meat-free center to this meal, and the tomatoes, herbs, and spices that also make up this dish add in some great flavors.  Now you know that when you see kofta on an Indian menu, it's something you can also replicate at home for tasty results.