As part of our last hurrah to summer this year, we decided to go to Cape Cod for Labor Day weekend.  For those of you unfamiliar with that part of the country – which we were, having never visited before – the Cape consists of three different areas:  the coastal mainland, which juts out like a hook into the Atlantic Ocean, as well as the two islands of Martha's Vineyard and Nantucket.  Both of these islands are just a hour ferry ride away from Hyannis, one of the region's larger towns, so we decided to try and see everything we possibly could by spending one day in Hyannis, one day in Martha's Vineyard, and one day in Nantucket.  Of course we tried all kinds of food from these three places, so here's just about everything we ate for the long weekend – but as a warning, there are some images of meat featured here.
Since Hyannis was our point of entry and departure to Cape Cod, we tried lots of different things there.  On our first day we had breakfast at The Daily Paper, which has two location in Hyannis (we went to the one that's close to the ferries).  There Miriam had a vegan breakfast burrito, stuffed with black beans, peppers, quinoa, kale, avocado, and mushrooms, plus salsa and pesto sauce and some fresh fruit on the side.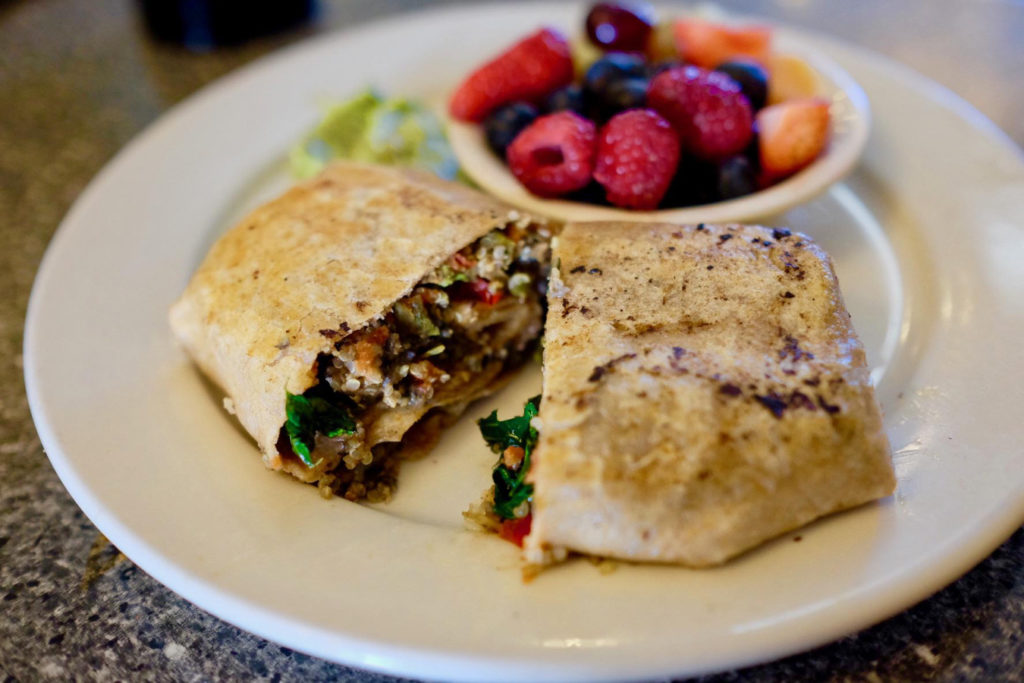 Cyril went with one of the specials that day:  an omelet made with peppers and linguica (a local sausage from the area's Portuguese immigrant community), plus breakfast potatoes and a side of marbled rye toast.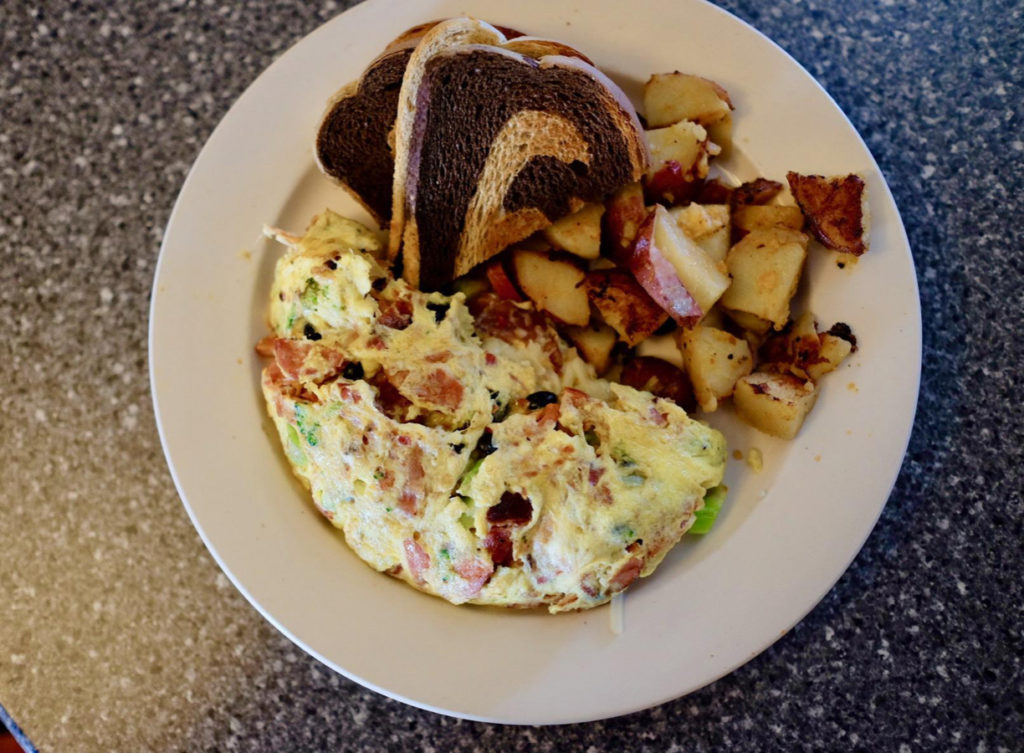 We also got another breakfast, on the day we left Cape Cod, at Keltic Kitchen in nearby West Yarmouth.  As you might be able to guess from the name, this place specialized in Irish food, and so Cyril treated himself to the Irish Farmhouse Breakfast:  a huge platter made up of eggs, sausage and rashers, mushrooms, tomatoes, black and white pudding, beans, homefries, and brown bread toast.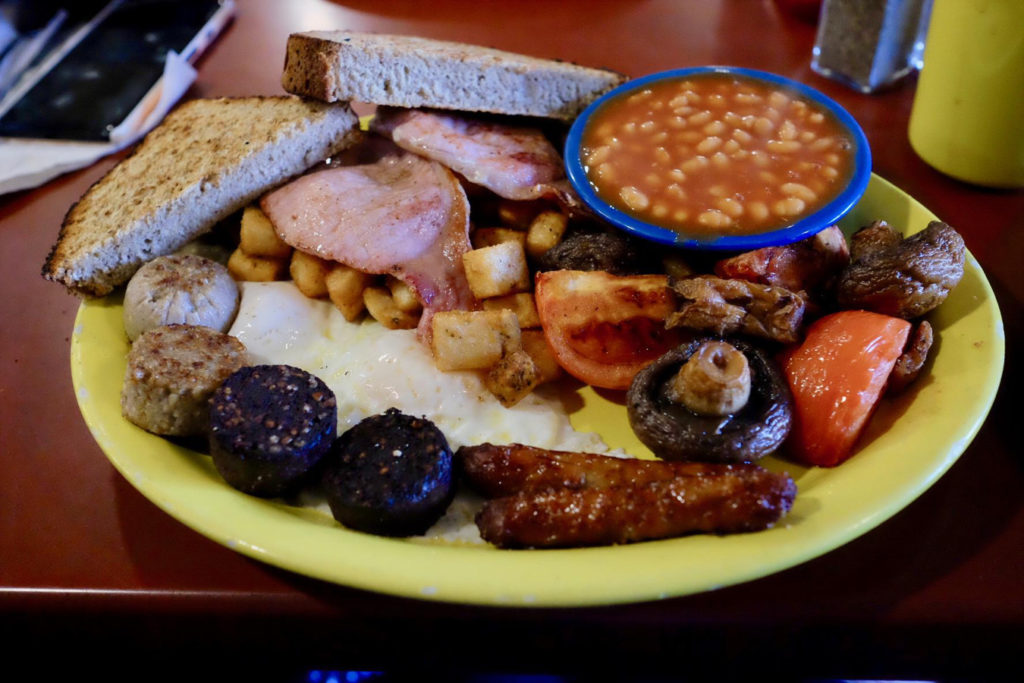 And Miriam had the potato pancakes – known as boxties in Ireland – topped with sour cream and scallions.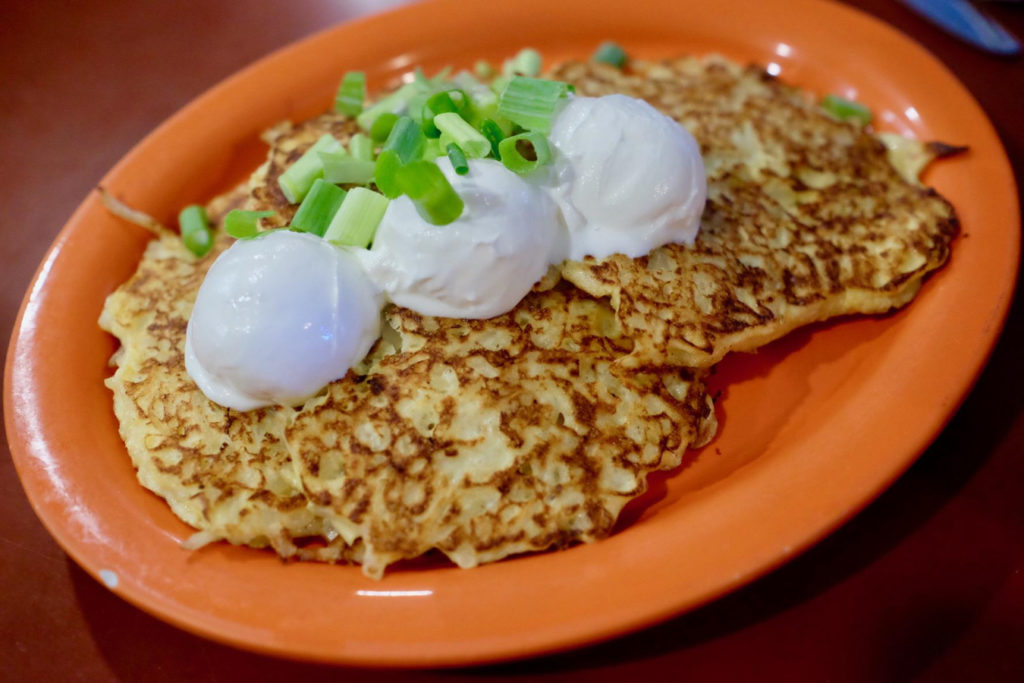 For lunch on our day in Hyannis, we got to enjoy Grilled Cheese Gallery, which – well, you can probably guess what they serve.  They've got several locations in some of the coastal towns of Florida, so this really is some great beach food.  Miriam had the Mac Daddy sandwich, which is made with mac and cheese grilled between two slices of bread and drizzled with barbecue sauce.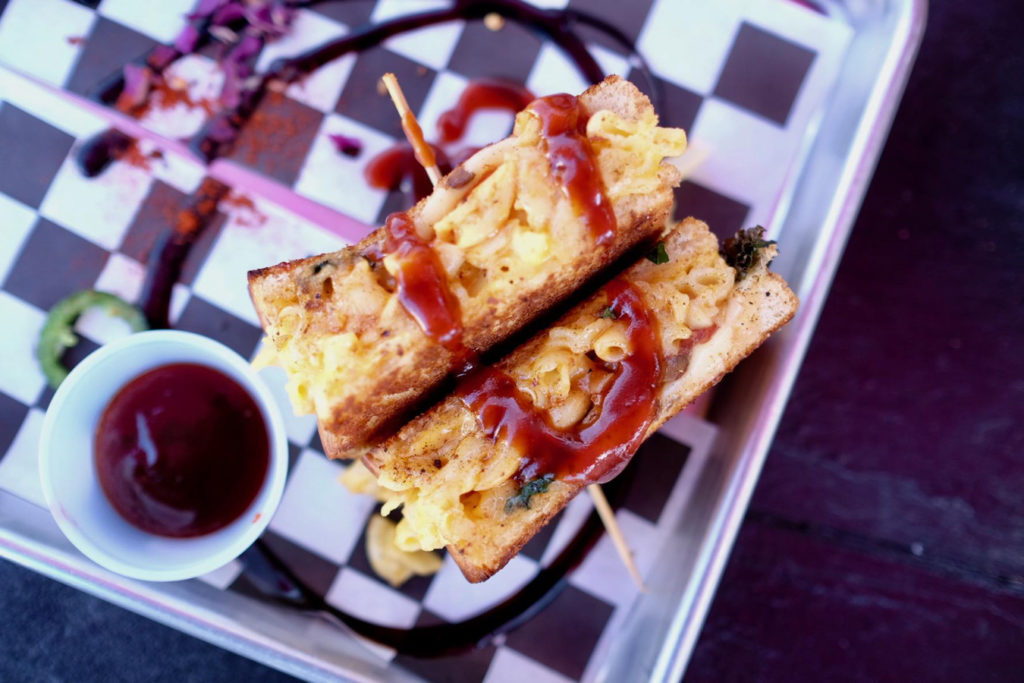 Cyril got the Country Girl, stuffed with chicken and three cheese mac and cheese and a side of chipotle sauce.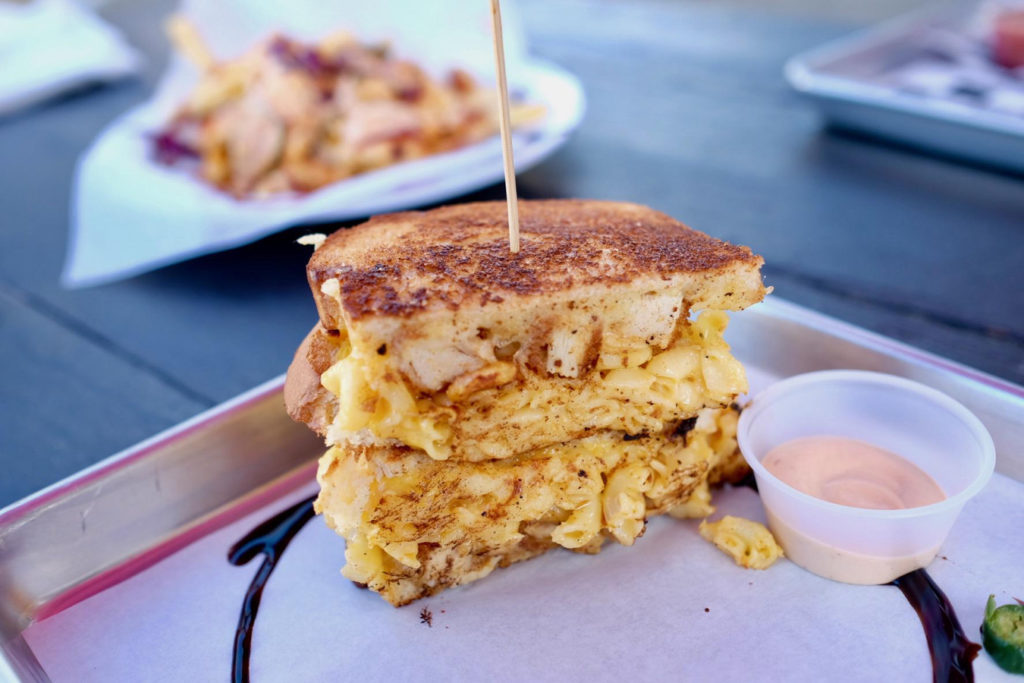 And we also shared an order of the Hippie Poutine, topped with tofu, veggies, and kimchi sauce – normally they also make their poutines with beef gravy, but they kindly left it off for us.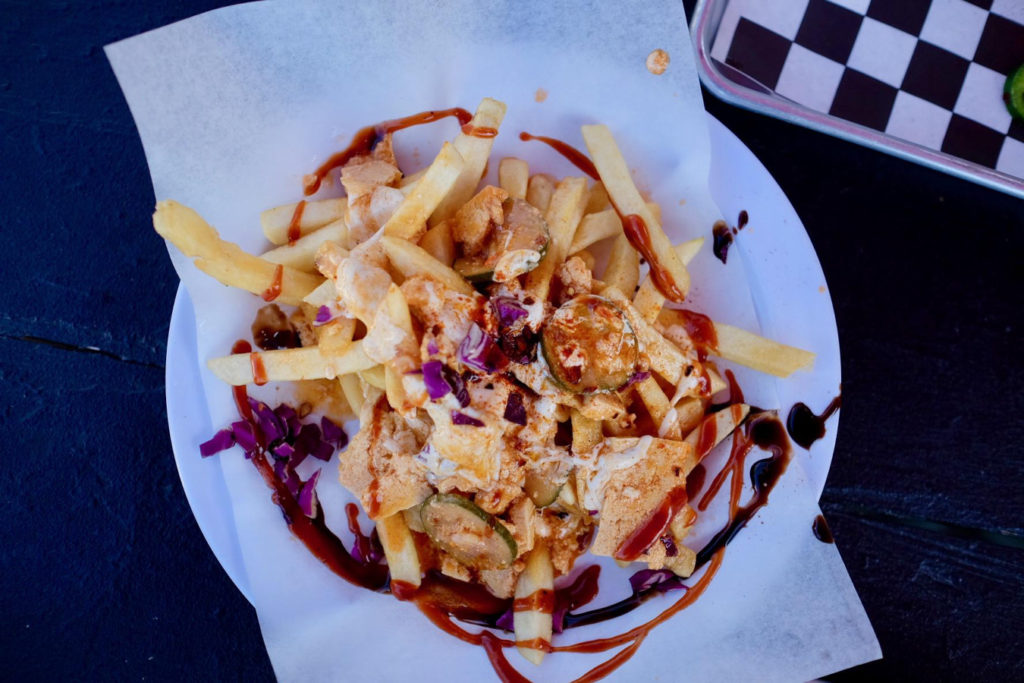 We also brought home some local snacks from Hyannis, including this popcorn from Smith Family Popcorn:  the Cape League Mix is made with caramel, roasted peanuts, and sunflower seeds, while the Tuscan Joy is covered in basil, garlic, olive oil, and sea salt.  Their store also has a prize wheel you can spin with every purchase, so we got a free bag of their classic popcorn.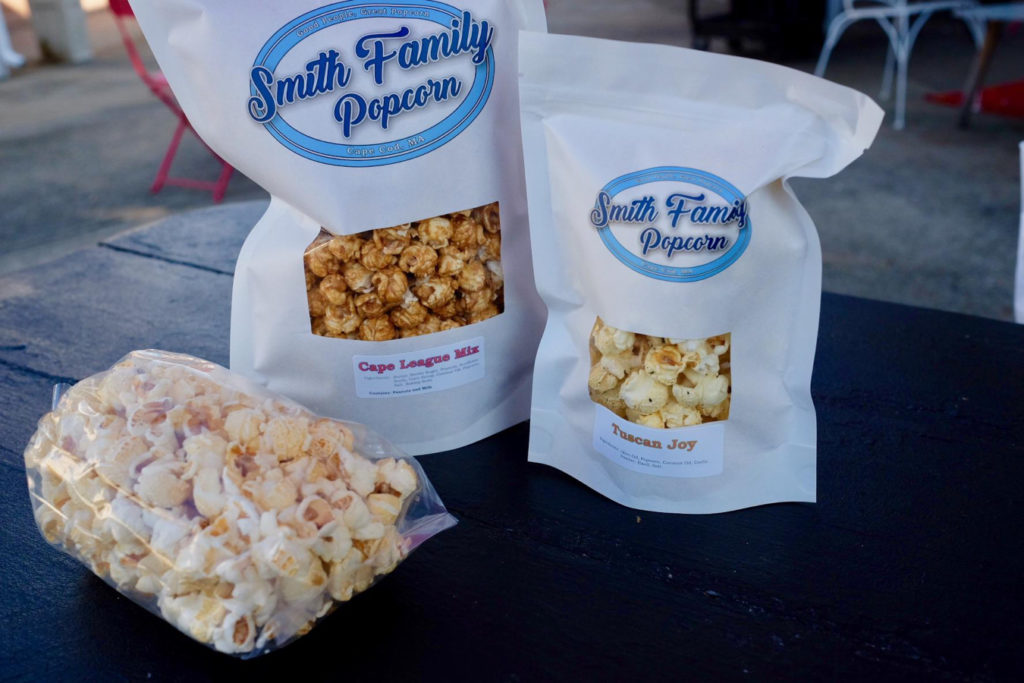 Here's a few chocolates we tried from Kandy Korner:  from left to right is a sea salt caramel, a coconut cluster, an espresso truffle, a white chocolate cherry truffle, a dark chocolate fudge truffle, and a peanut butter truffle.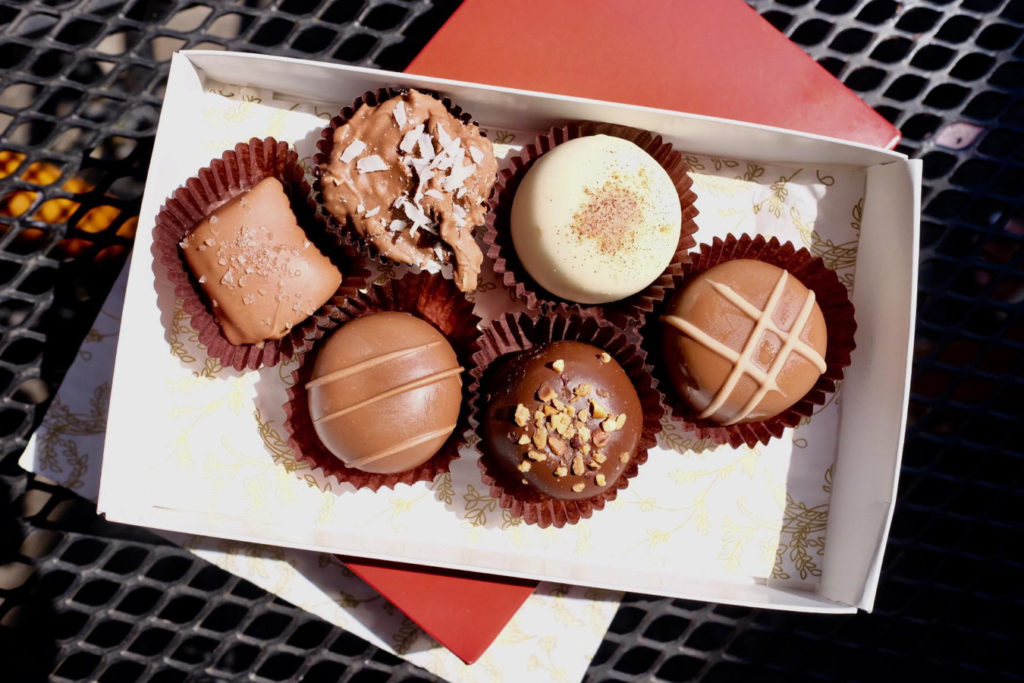 And of course we had to try some ice cream at Katie's, which was so popular that there was a line out the door even at 10pm.  Cyril had Katie's Favorite Sundae, made with a scoop of coconut ice cream and a scoop of salty caramel ice cream, topped with walnuts and fudge sauce.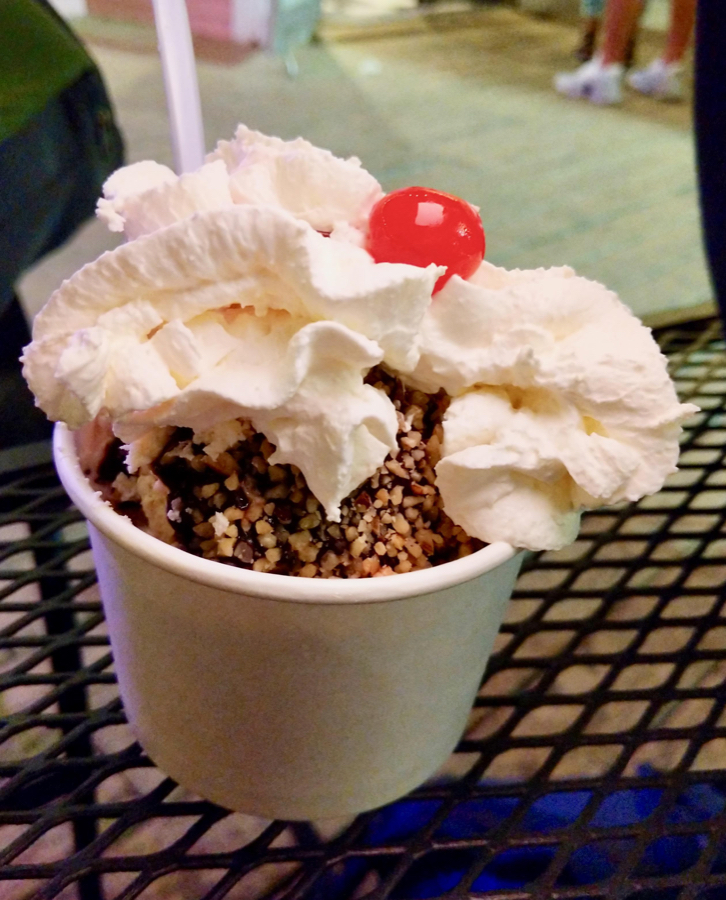 And Miriam had the seasonal flavor they had just rolled out:  pumpkin Oreo.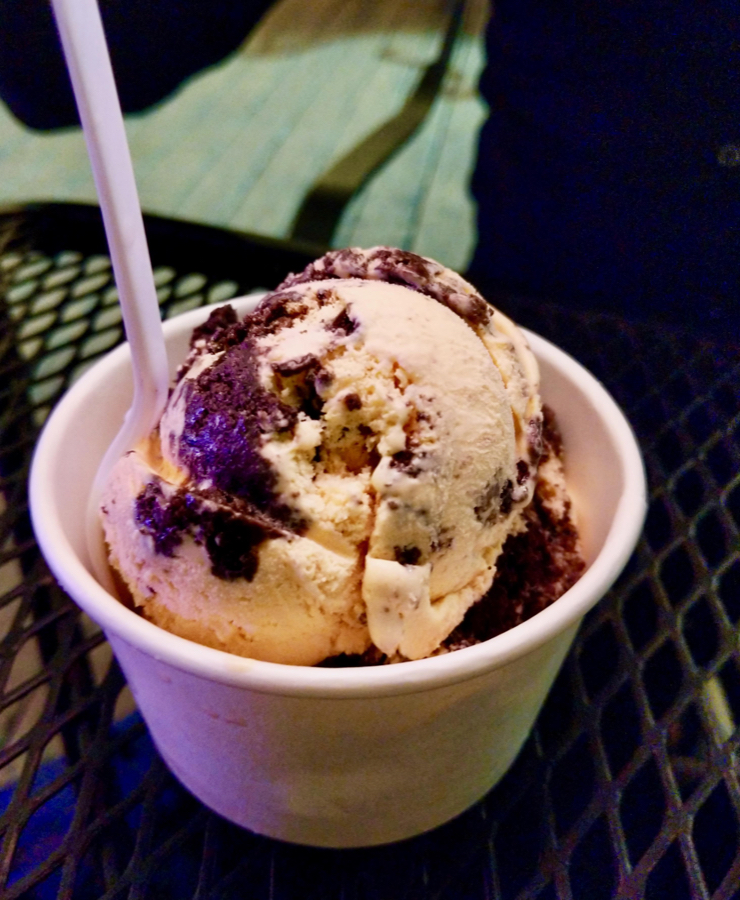 After visiting Hyannis we sailed over to Martha's Vineyard and tried a bunch of different snacks there, including a party sprinkles donut and a coconut donut from Back Door Donuts in Oak Bluffs, near where you get off the ferry.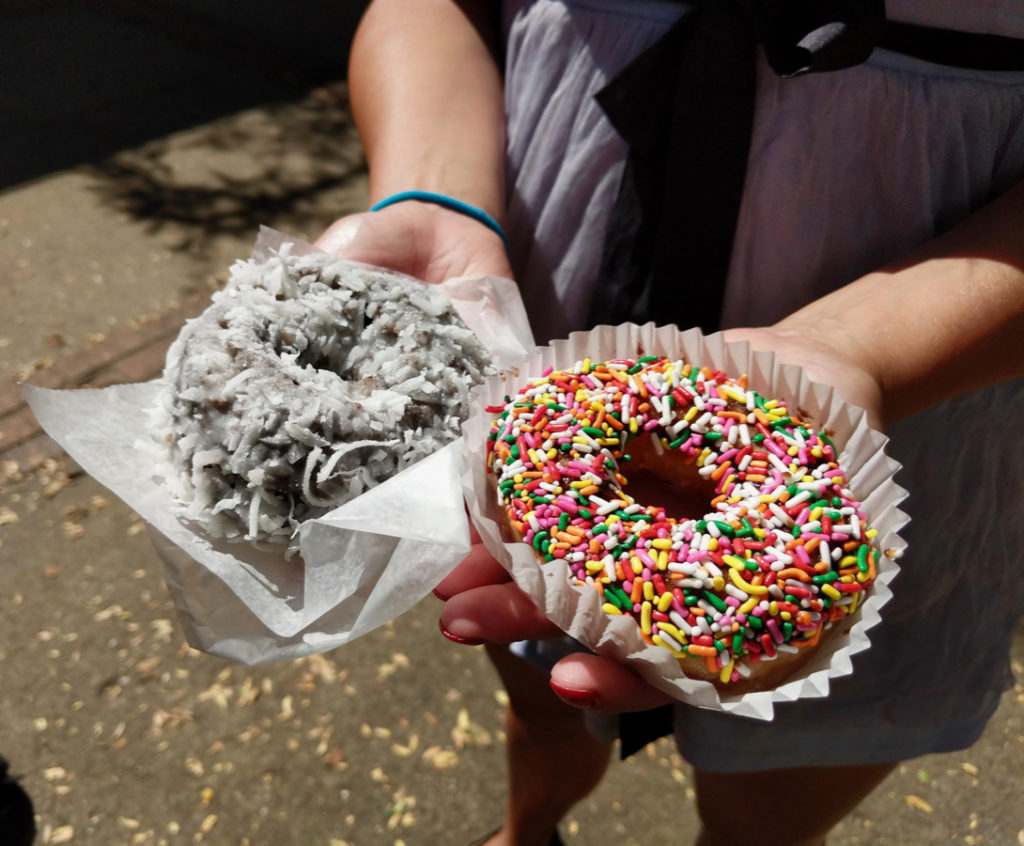 We got some more chocolates from Ben & Bill's Chocolate Emporium, also in Oak Bluffs.  These are (clockwise from the bottom left) a peanut butter meltaway, a milk chocolate coffee cream, a coconut peanut butter bolster, some peppermint sandwiches, and a peanut cluster.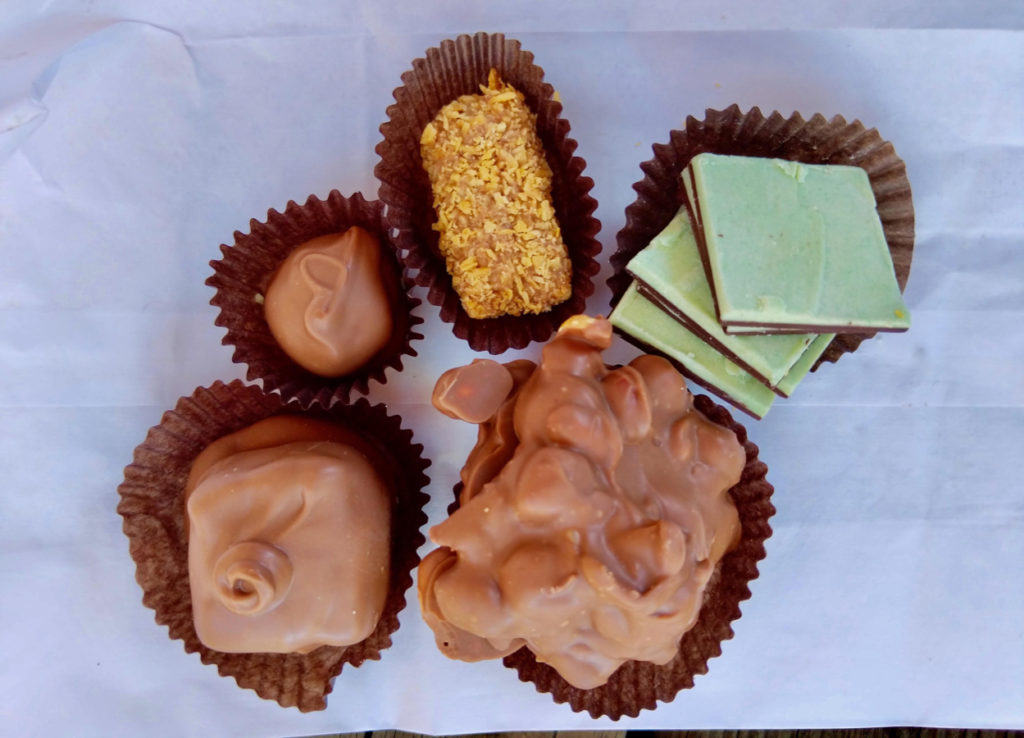 For dinner that evening Cyril really wanted to try a bunch of different seafood, so we headed to The Wharf over on the island in Edgartown.  There Cyril had a stuffed Quahog clam …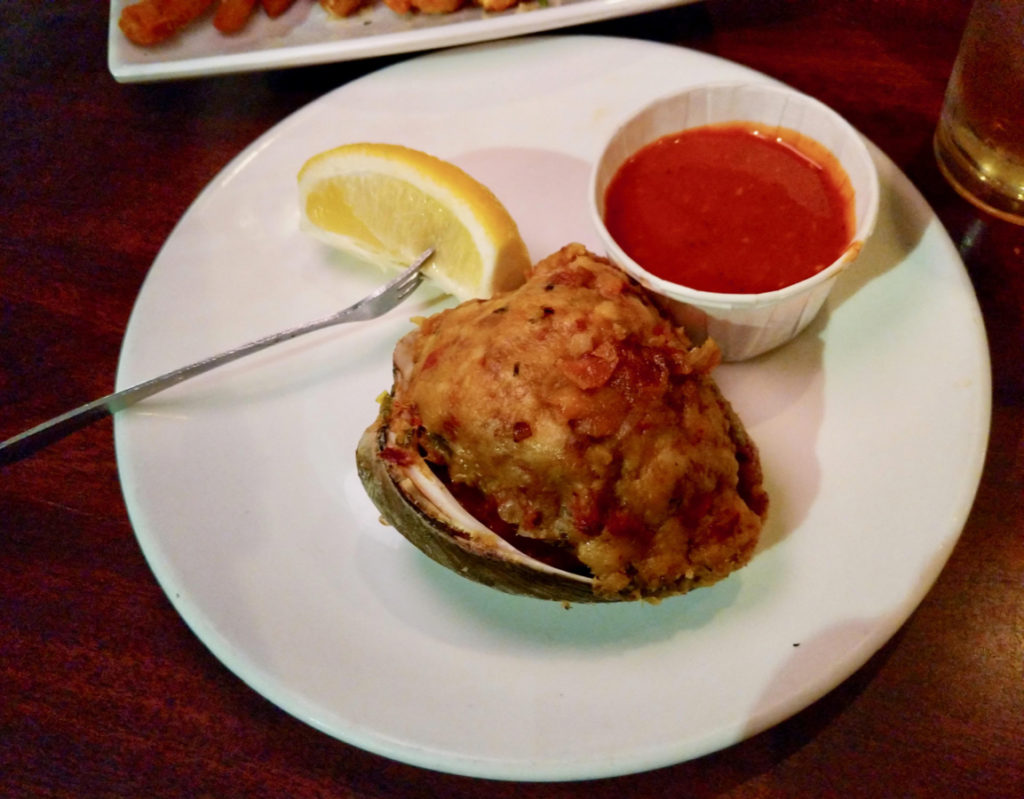 … a cup of clam chowder …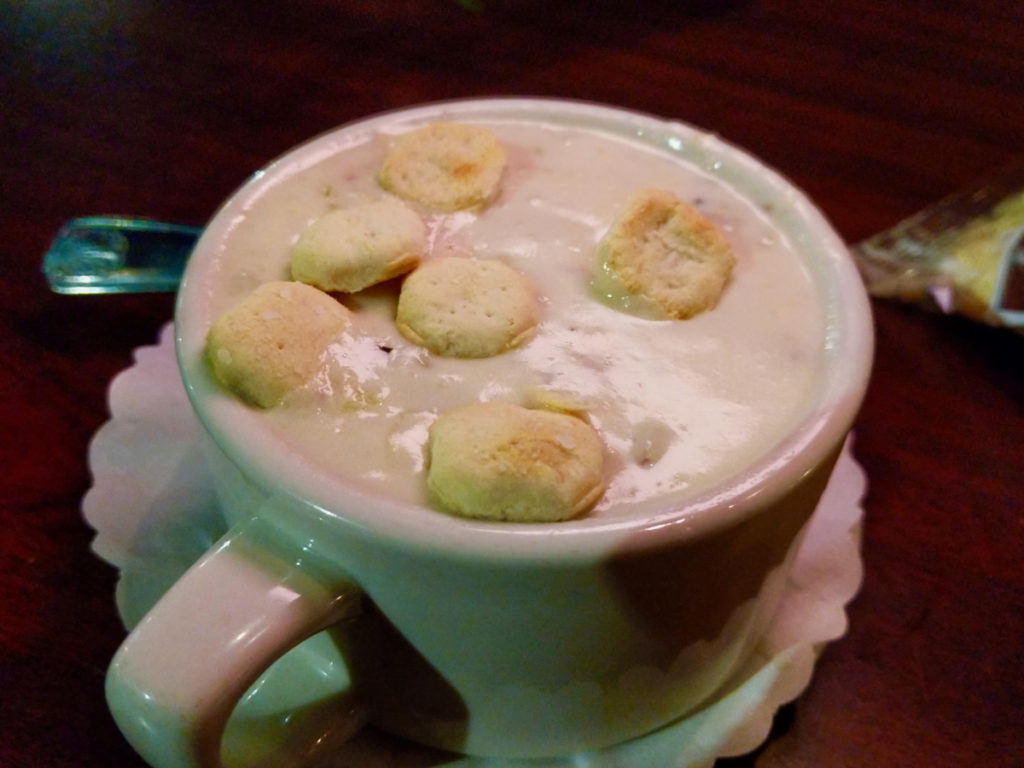 … and the roasted cod, topped with even more clams plus some linguica sausage, veggies, and mashed potatoes.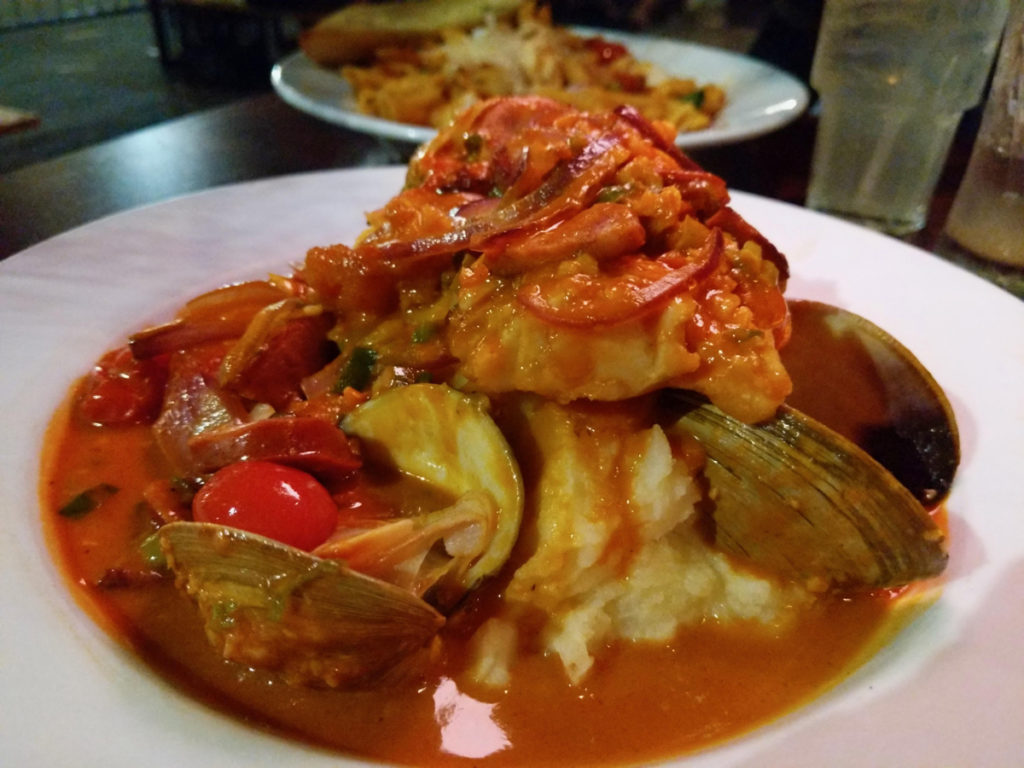 Thankfully they had a vegetable pasta for Miriam, with artichokes, tomatoes, and spinach in a white wine, mozzarella, and parmesan sauce.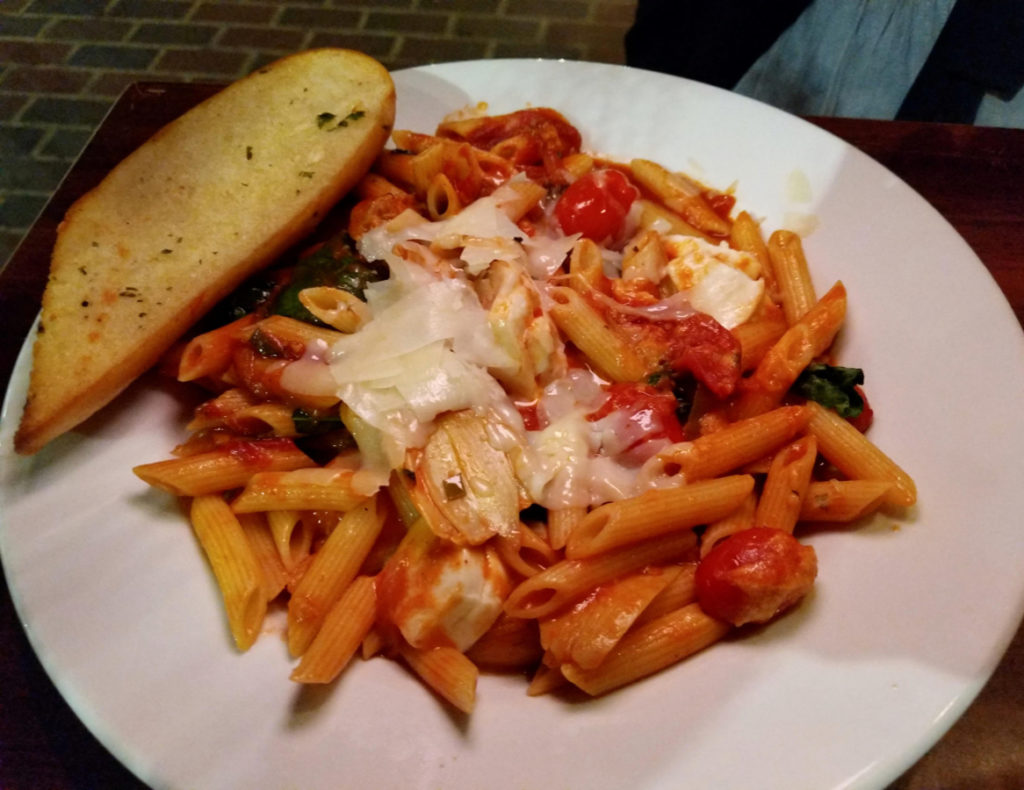 And around the corner was the Scoop Shack, where we split a cone with one scoop of espresso chocolate chip and one scoop of peanut butter cookie ice cream, with sprinkles and chocolate pieces on top.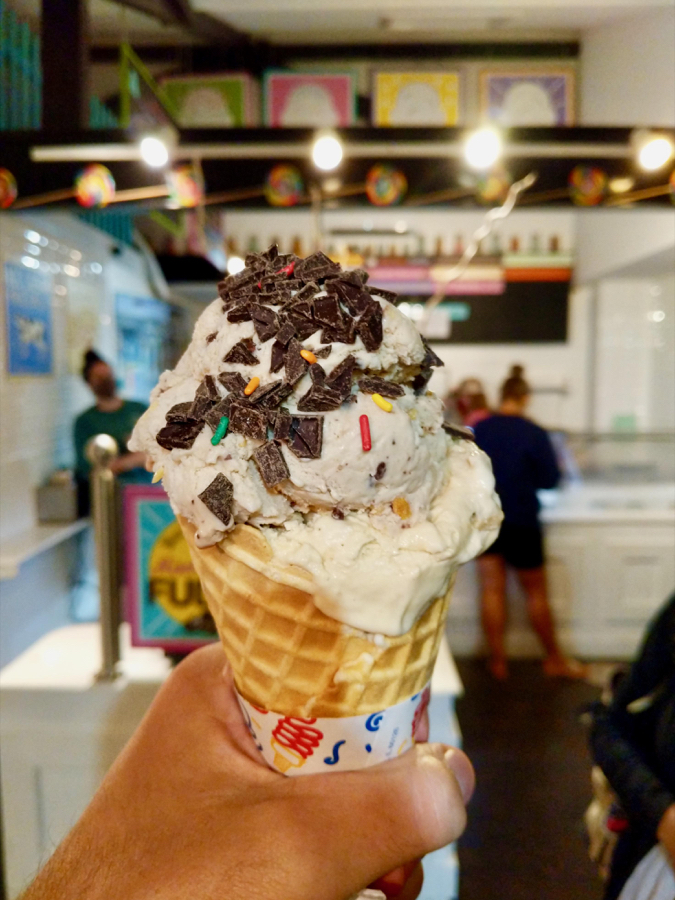 And finally we were off to Nantucket.  We spent an entire day bicycling around the island, so we went to several different places, starting with Wicked Island Bakery for breakfast.  We got a glazed donut and a tuckernut cookie, baked with walnuts, dried cranberries, and chocolate pieces …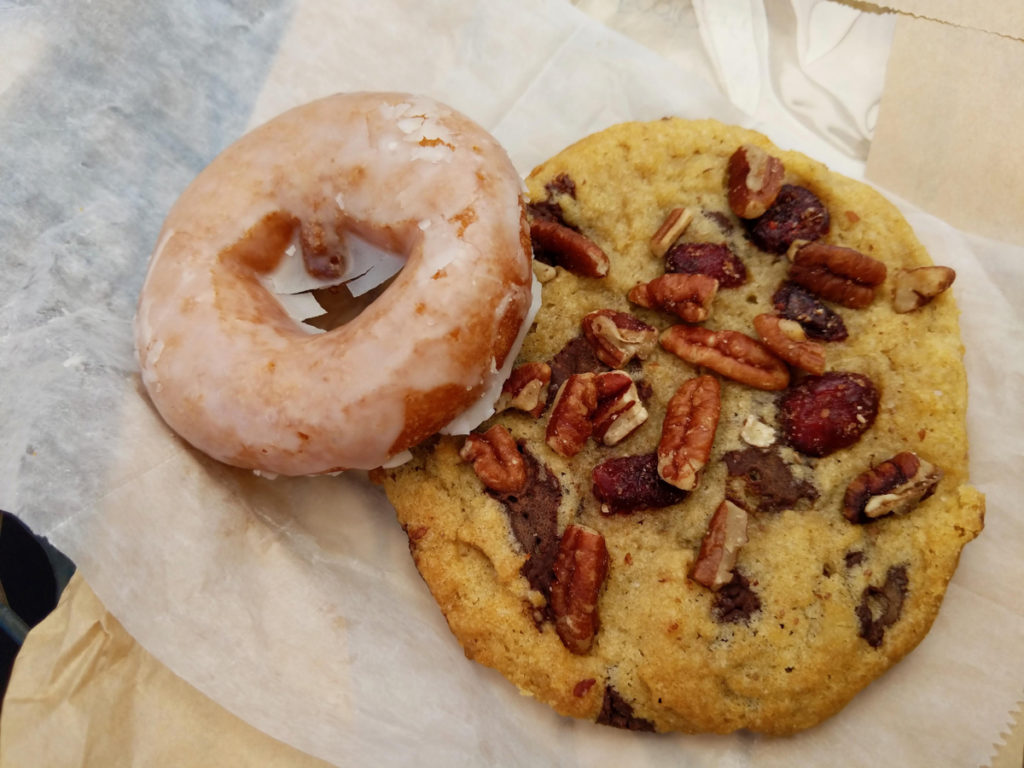 … and Cyril also had an Islander sandwich, made with egg, cheddar, and bacon.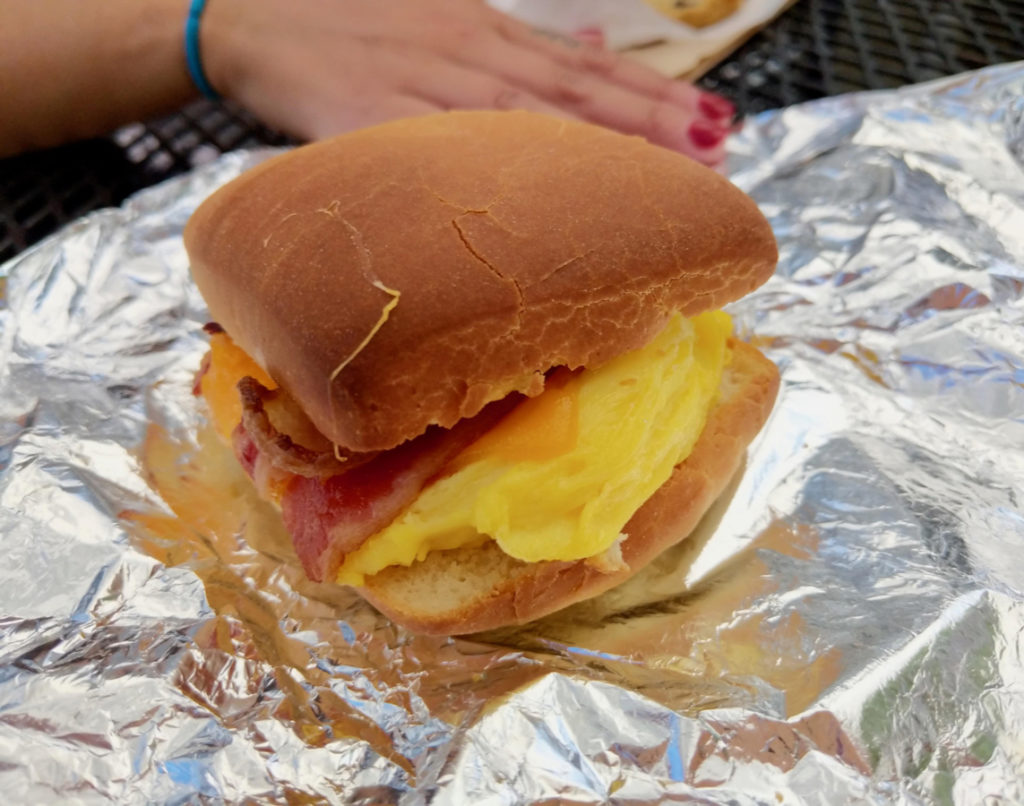 For lunch we got some sandwiches from Something Natural to take with us to the beach – although we would have been happy to eat them right outside, because this place is surrounded by beautiful fields and trees.  Miriam got this sprouts, vegetable, and Swiss cheese sandwich on local Portuguese bread: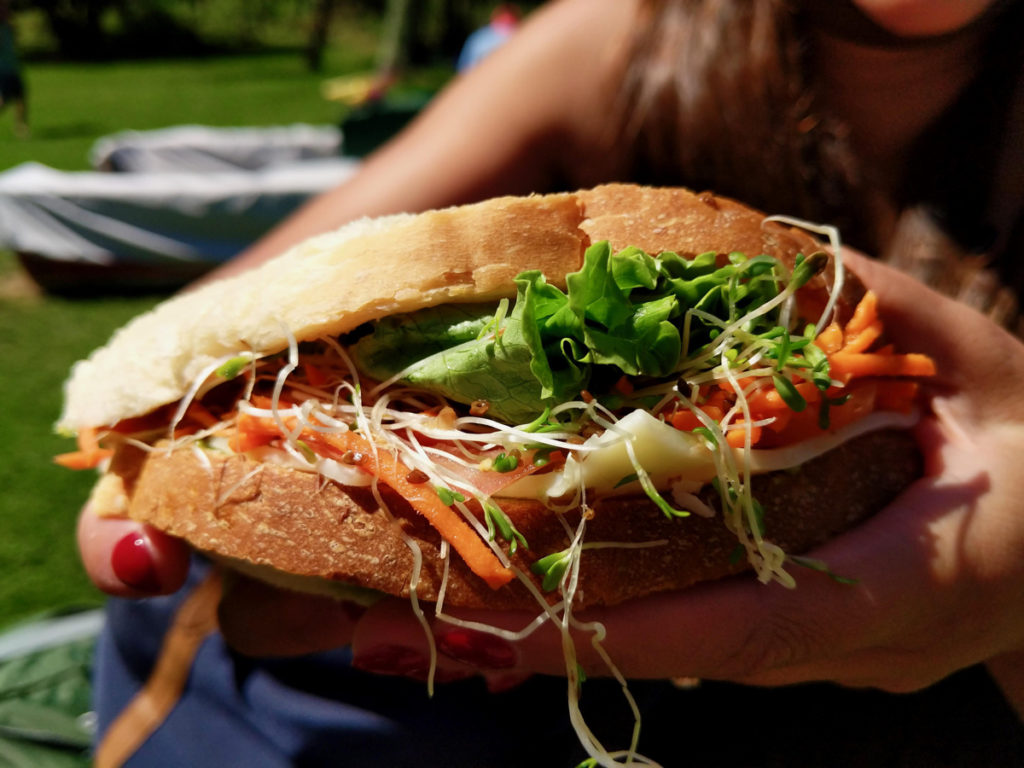 And Cyril had a smoked turkey sandwich with Swiss cheese on rye bread.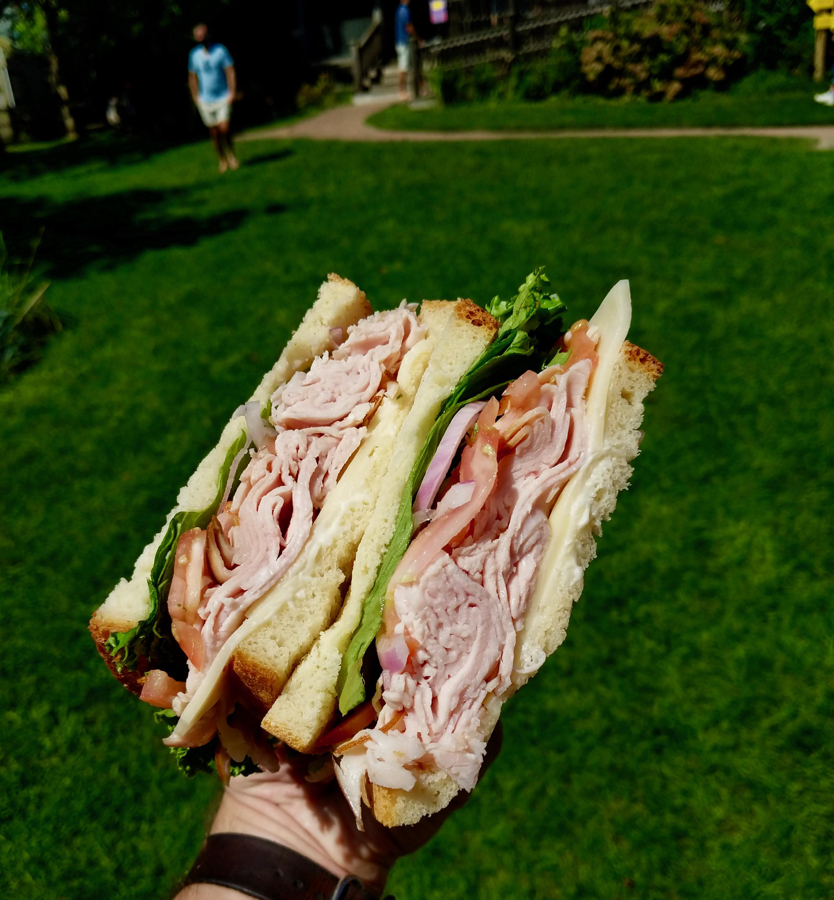 And in the evening, before sailing back, we visited Cisco Brewers, which is a huge outdoor space that serves their own brand of beer plus spirits from Triple Eight Distillery and wines from Nantucket Vineyard.  We got some drinks, of course, but we also sampled some things from the food trucks that were on site that evening.  Miriam had a mac and cheese egg roll from the Nantucket Lobster Trap truck: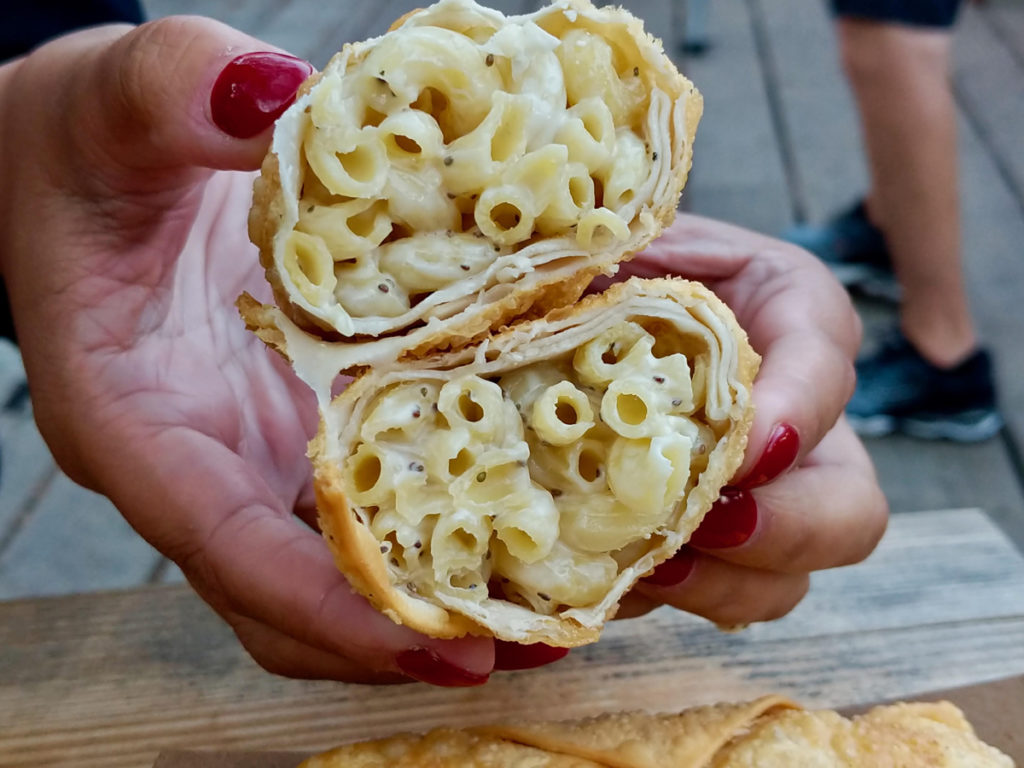 Meanwhile, Cyril had yet more seafood in the form of a lobster roll, also from the Nantucket Lobster Trap …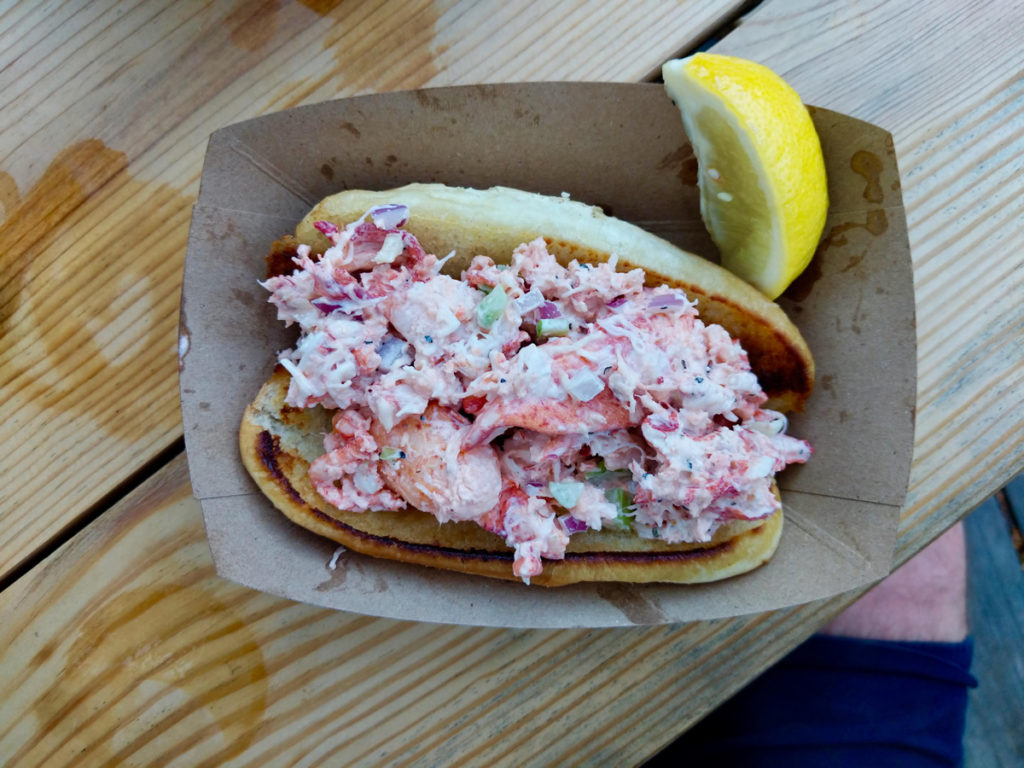 … and a plate of oysters from a stand set up by 167 Raw.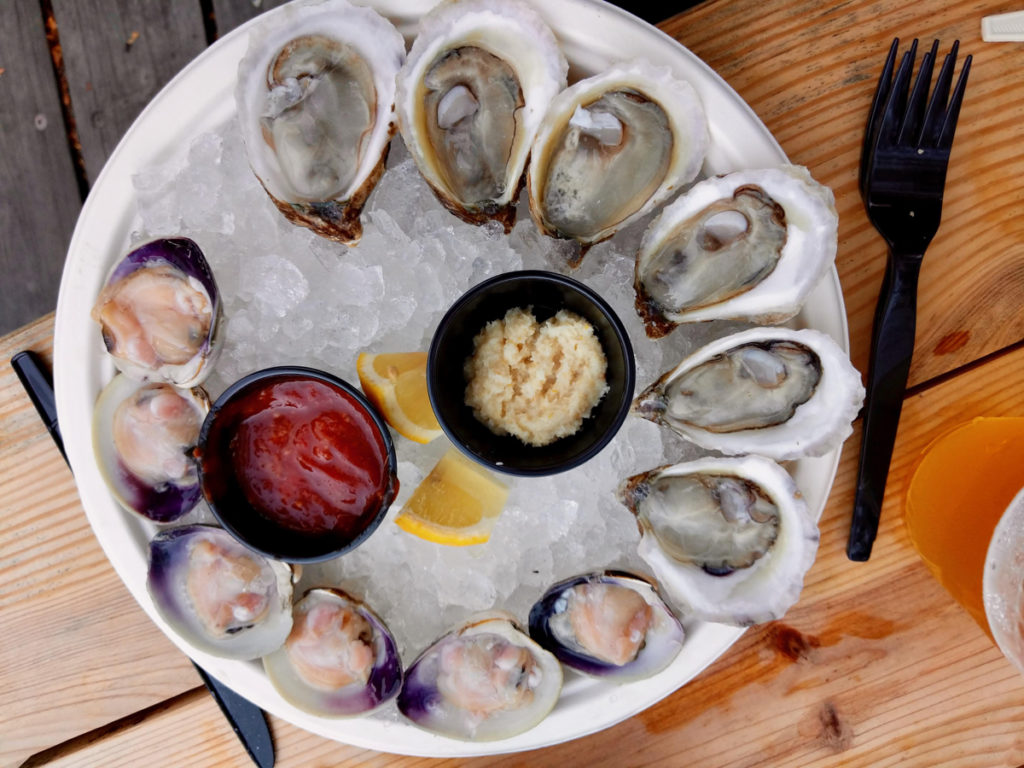 That was a lot of food over the course of three days – and it was all delicious.  Cyril got to indulge in the seafood he usually only eats when we go to beach towns, and Miriam was able to find plentiful and interesting vegetarian offerings.  The popcorn, candy, and ice cream we got to snack on were also great examples of good local food.  We enjoyed Cape Cod's beaches and seaside vistas, and you should certainly visit the area for that, but checking out what's to eat is also an interesting part of traveling, and we think that this is a good place to start if you want to visit the Cape.