Aloo chana has a very interesting history:  it originally comes from India, where fried or boiled potatoes (aloo) in a curry sauce is a popular street food snack, here served with chickpeas (the chana).  However, in the middle of the 19th century there was a surge of Indian migration to the Caribbean island of Trinidad, and many of these new arrivals brought their favorite foods with them.  Since them, Trinidadian aloo chana has morphed from what it was in India into something that brings in Caribbean and African flavors.  That's where today's featured food comes from:  we based it on a recipe in Bon Appétit, and it's an interesting way to try out Indian food cooked with some of the ingredients we associate more with the Caribbean.  We made it into a great, light vegan lunch, although you should be warned that it's not quick to make.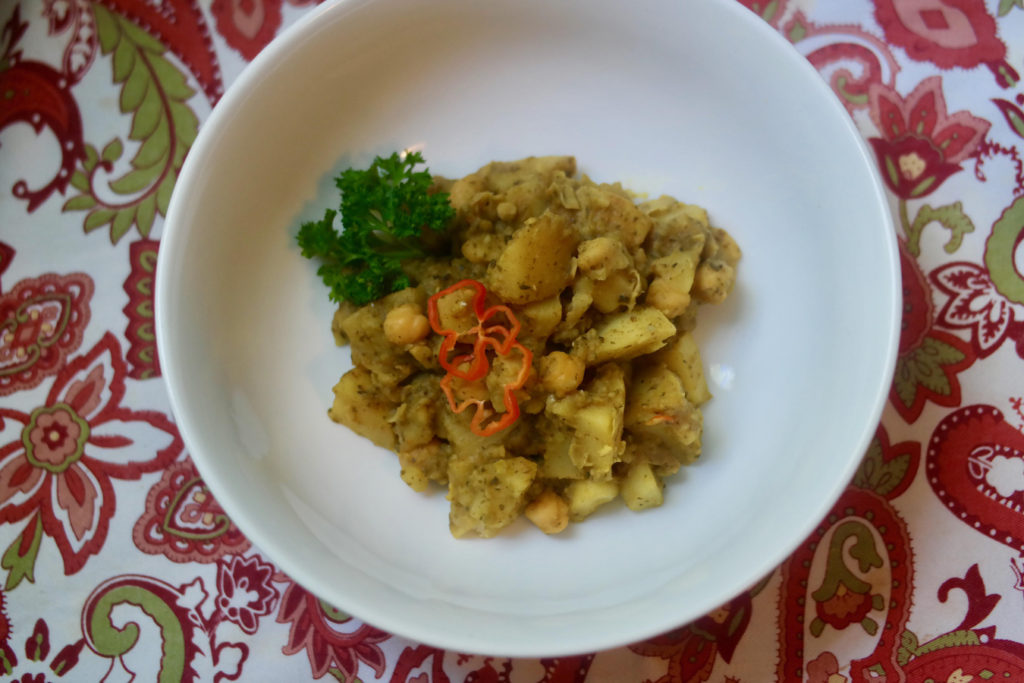 For this, you'll need:
Lime juice
12 scallions
Garlic
5 cubanelle peppers
3 Scotch bonnet peppers
A bunch of chives
A bunch of cilantro
A bunch of thyme
Vinegar
Vegetable oil
Curry powder
Cumin
3 Yukon gold potatoes
A 15.5-ounce can of chickpeas
First you'll want to make the seasoning for this dish:  chop up your scallions, your cubanelle peppers, your chives, and all your cilantro leaves and throw them all into a food processor.  Add in 8 whole garlic cloves, 1/2 cup of thyme leaves, 1/4 cup of vinegar, and 6 tablespoons of lime juice.  Finally, slice the stem off of one Scotch bonnet pepper and throw that in as well, and blend everything together until you have a sauce.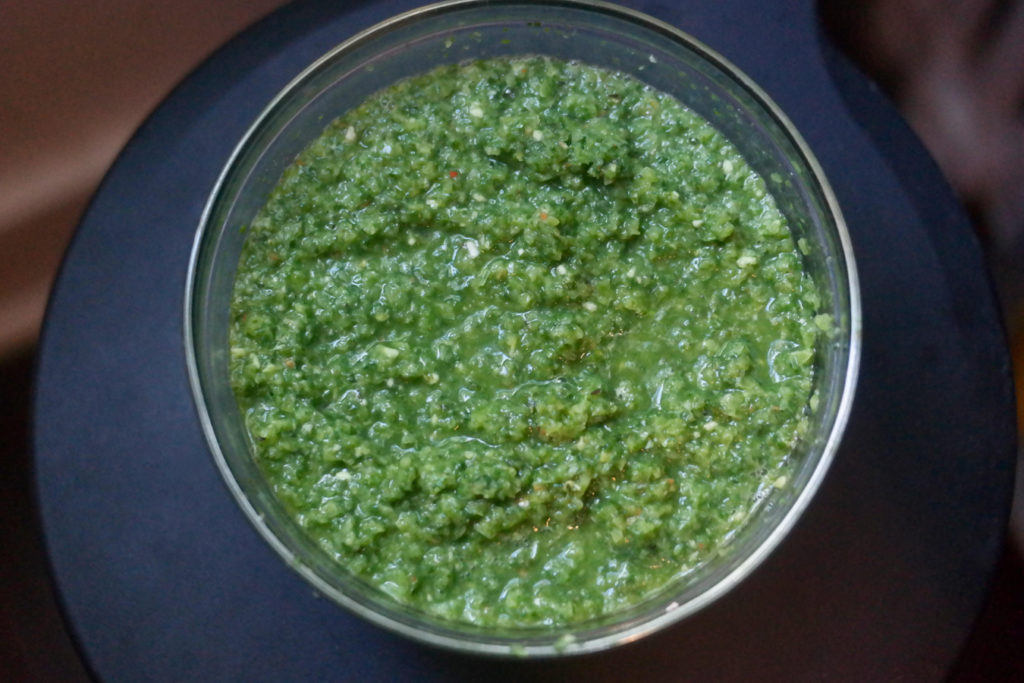 Now cut up your potatoes into thumb-sized pieces.  Measure out 2 tablespoons of oil into a Dutch oven and warm over medium-high heat, then add in 2 tablespoons of curry powder and 2 teaspoons of cumin to cook for just a few seconds.  Chop up a second Scotch bonnet pepper and add that in, along with 1/3 cup of the seasoning.  Let this cook just until the seasoning starts to brown, then add in the potatoes and your last Scotch bonnet pepper, whole.  Sprinkle in 2-3 tablespoons of water and cover the pot, turning the heat down to medium-low.  Let everything cook for half an hour, stirring every so often so the potatoes don't stick to the bottom.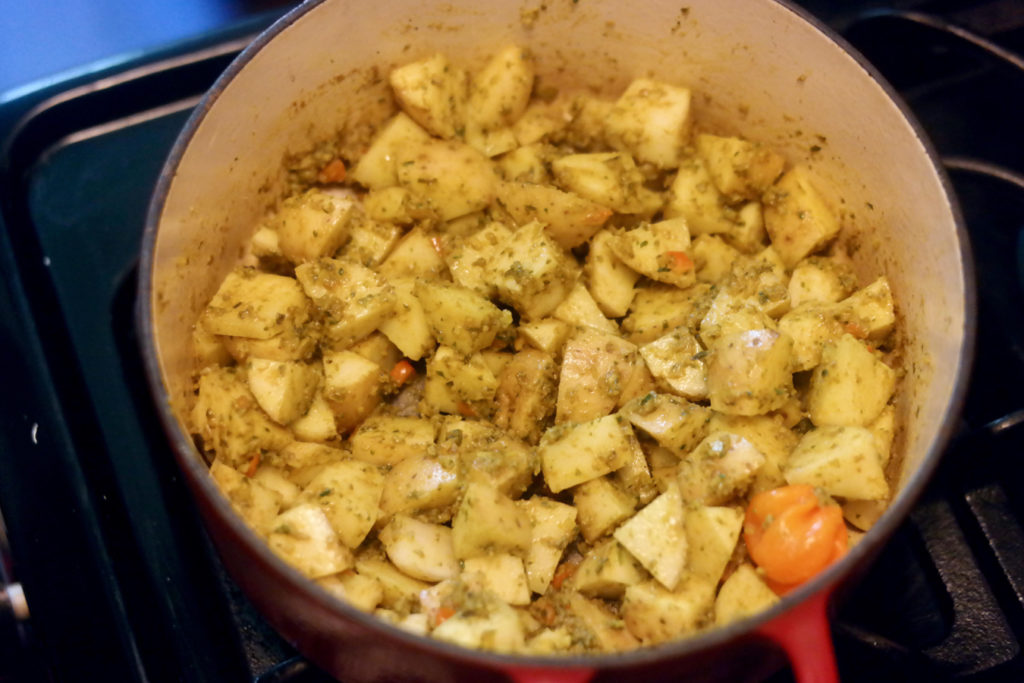 Then pour in your chickpeas, including the water in the can, plus another 1/3 cup of the seasoning (you can refrigerate the rest to save for other recipes).  Put the cover back on the pot and cook for another 30 minutes, again stirring occasionally to make sure nothing sticks.  You'll know the aloo chana is ready when the potatoes are completely tender – then you can serve it up with extra cilantro and some sliced Scotch bonnet pepper on top.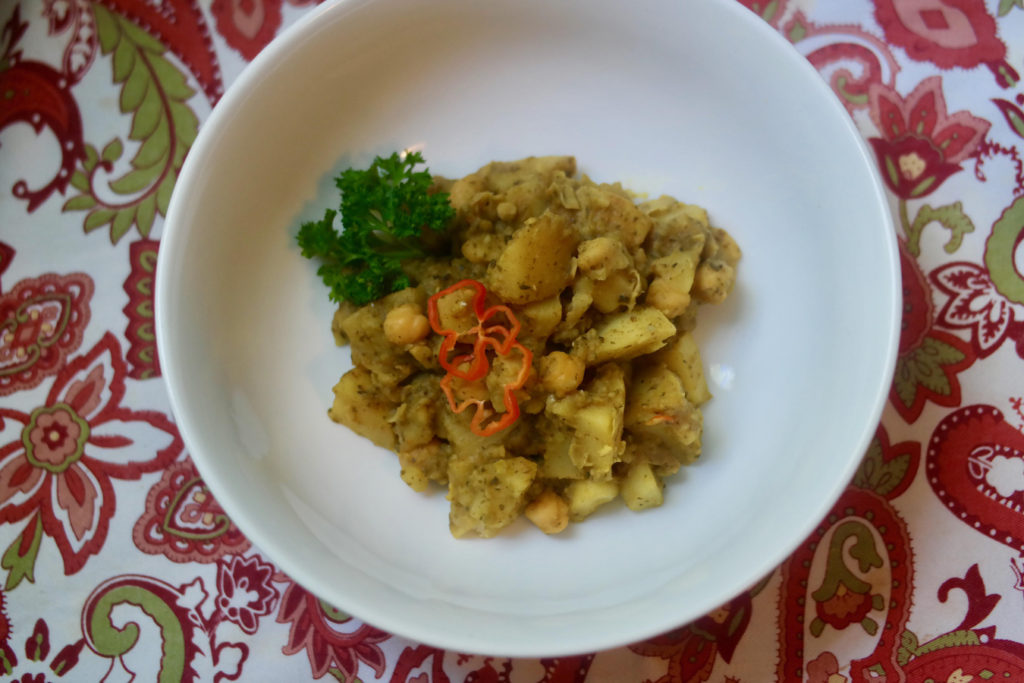 While the base of this dish is just potatoes and chickpeas, it's made incredibly tasty by the mix of so many spices, herbs, and peppers.  Some of the most satisfying vegan food in the world comes from India and the Caribbean, and this flavorful way of cooking is why.  As you can see, the aloo chana is kind of a lot of work:  it took quite a while to do all the chopping required just to make the seasoning, and then the potatoes and chickpeas themselves take around an hour to cook.  That means you'll want to start at least 2 hours before you plan to eat – so be prepared, but know that in the end you're going to have a great vegan meal that tastes amazing.