Spanakorizo is a Greek dish made with some of the classic flavors of that country:  spinach, feta cheese, lemon, and herbs.  Typically it's prepared with rice, but we recently came across this recipe in the New York Times that subs in pasta instead, and we decided to try it.  Many Greek dishes just happen to be vegetarian – like the similarly named spanakopita (which is spinach baked into a pastry) or moussaka made without the ground meat, or many of the traditional dips and mezzes – because the Greek Orthodox Church encourages abstaining from meat during some of its holidays.  This spanakorizo is no exception:  it just happens to be vegetarian, and it uses all its flavors well to create a tasty, complex dish that doesn't rely on meat.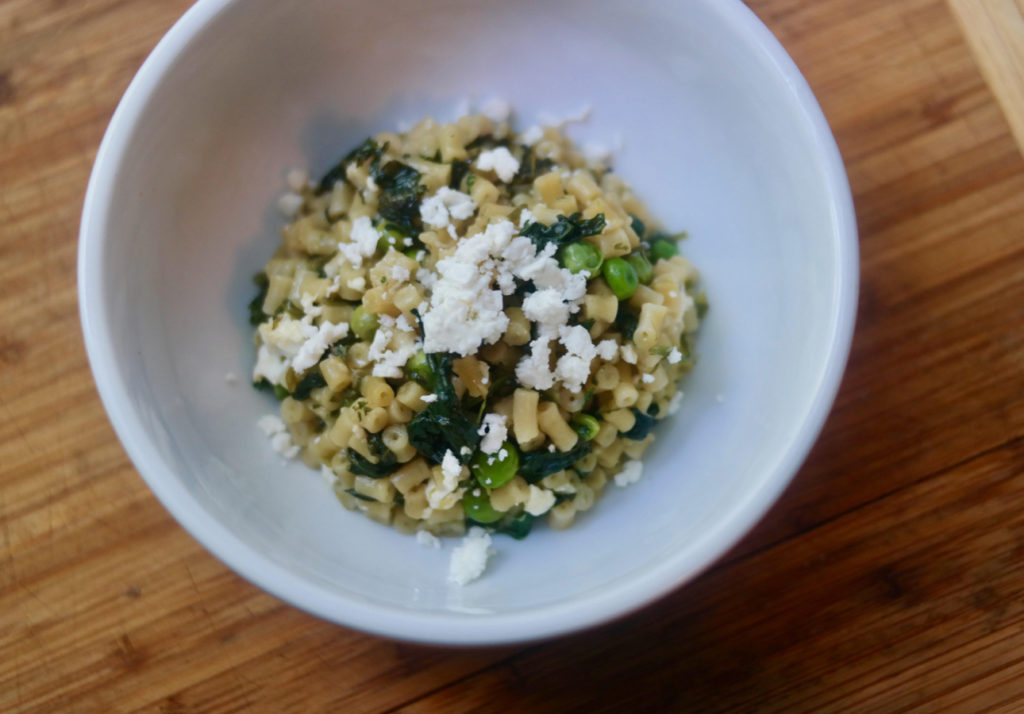 To make this, you'll need:
Butter
Garlic
4 scallions
An 8-ounce package of spinach
2 vegetable bouillon cubes
Small-shaped pasta (we used ditalini)
A lemon
A 5-ounce block of feta
Frozen peas
Parsley
To start, dissolve your bouillon cubes in 1 3/4 cups of boiling water and set this aside.  In a Dutch oven, melt 2 tablespoons of butter over medium heat.  Slice your scallions and dice up 2 garlic cloves, then add those to the butter and cook for a few minutes until they're softened but not browned.  Add in your spinach and cook for about 5 minutes, until it's wilted.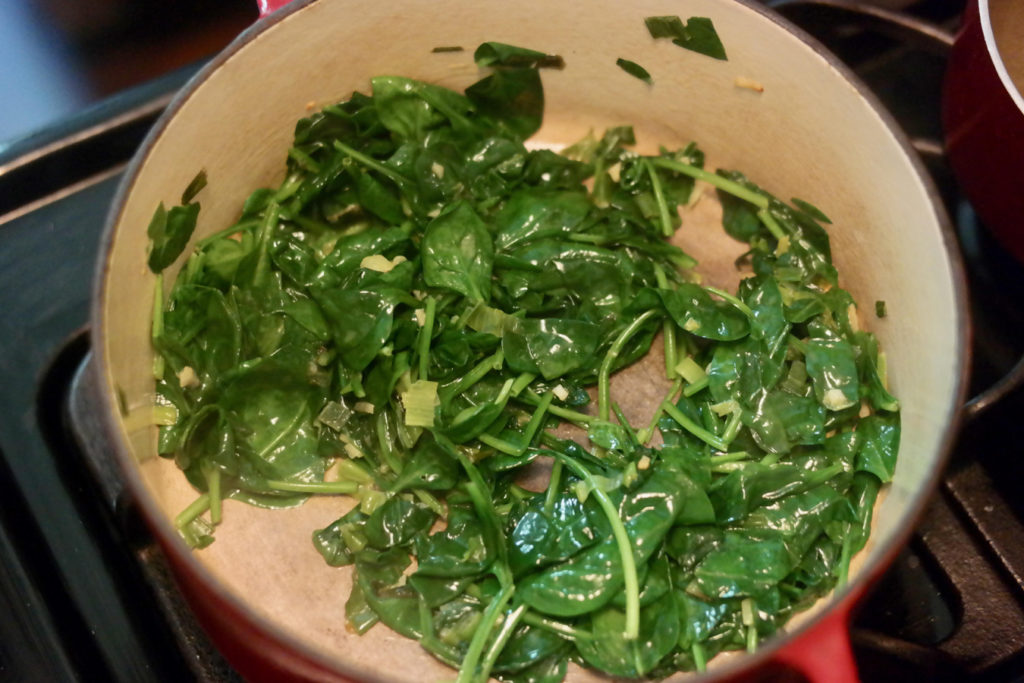 Pour in your stock and let it come to a simmer, then stir in a cup of pasta.  Zest your lemon and add that in as well, then cover your pot and turn the heat to medium-low, letting the pasta cook for 10 minutes or so until most of the stock is absorbed.  Make sure your stir everything around every so often so the pasta doesn't stick to the bottom.  While you're waiting, measure out 1/2 cup of frozen peas and defrost them in the microwave.  Once the pasta is cooked, add in the peas.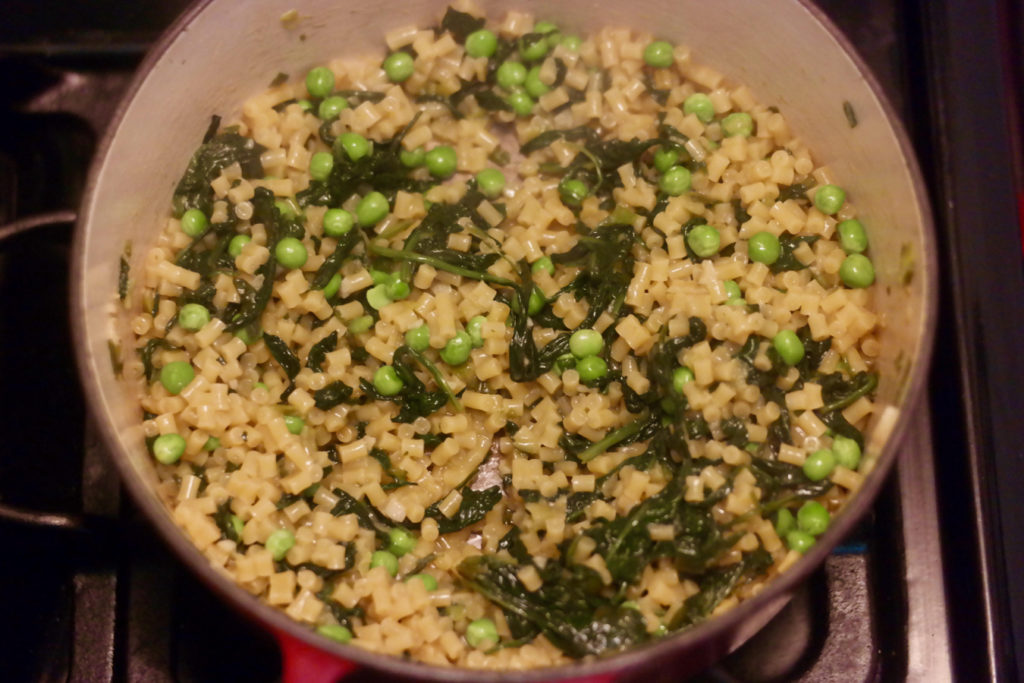 Chop up a cup of parsley leaves and stir those in, plus 3/4 cup of crumbled feta.  Cover the pot again and cook for just a minute.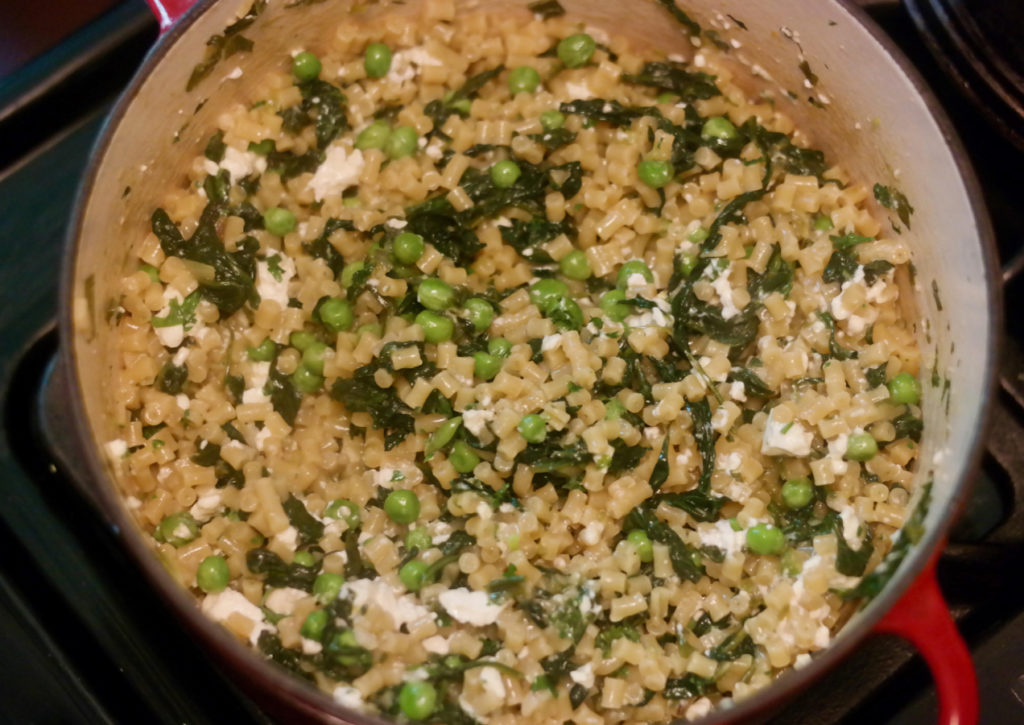 Then serve up your pasta, with more feta on top.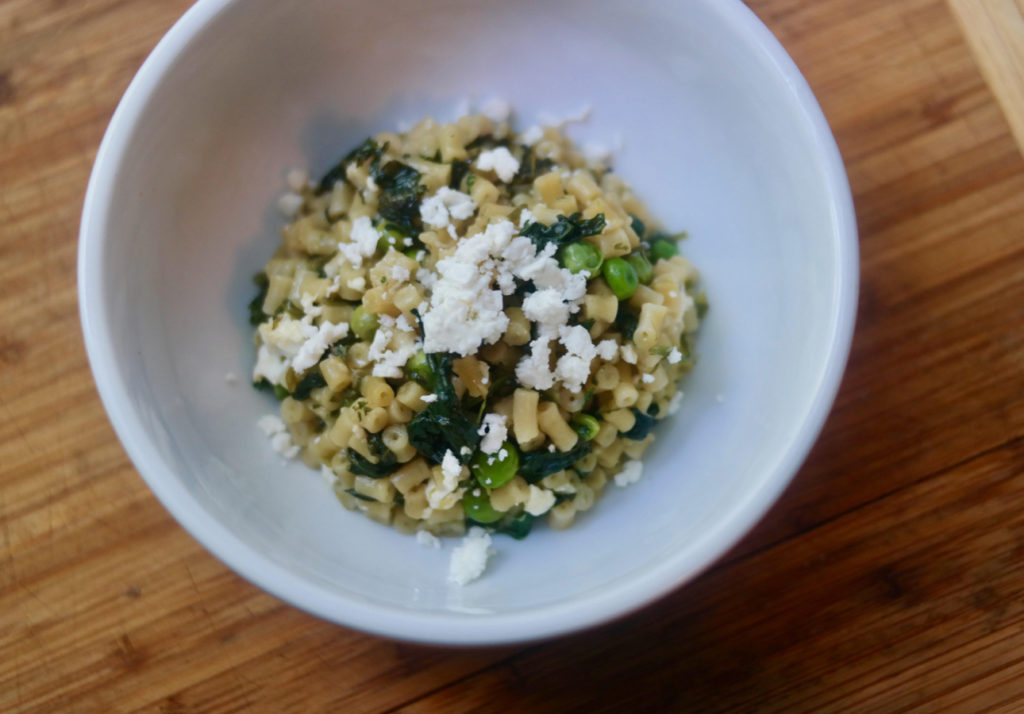 All in all, this is a pretty easy and quick recipe:  you only need to chop the scallions and garlic and crumble the feta, then the spinach wilts quickly and the pasta and peas cook themselves in the broth.  And for that small amount of effort, you get something interesting and tasty:  the pasta is extra flavorful by being simmered in broth, and spinach, feta, lemon, and herbs are a classic combination.  Taking this traditional rice dish and making it with pasta serves up a great, easy, delicious meal – and you should definitely try it out.