As the cooler fall weather sets in, we all like to turn to pies.  You might be thinking of some of the popular seasonal dessert pies, like apple pie and pumpkin pie and pecan pie on Thanksgiving, but we here at Actually Tasty are also fans of savory pies.  So we were happy to come across this recipe in the New York Times for a vegetable-filled pie that makes for a nice, warm meal that's pretty versatile.  Using a frozen puff pastry for the pie base makes this fairly easy to cook up, and you can also make it a vegan pie by leaving out just one ingredient.  Veggies, cheese, and a spicy topping in a rich crust made for a pie that lasted all day for us – so we'll show you how to make it for yourself.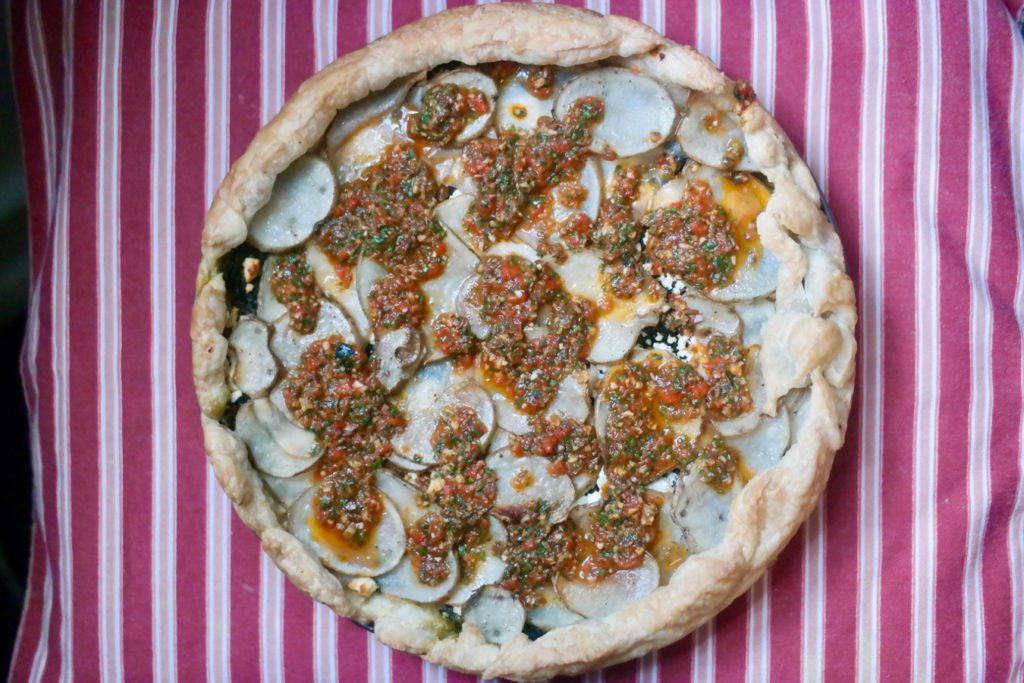 You'll need:
Garlic
Cilantro
A red chile
Cumin seeds
Paprika
Olive oil
A 12-ounce package of frozen spinach
Dill
A lemon
A small package of feta cheese (leave out for a vegan pie)
A potato
A package of frozen puff pastry (check the ingredients to make sure it's not made with animal products)
To start, place 5 chopped garlic cloves, 3/4 cup of cilantro leaves, 2 teaspoons of cumin seeds, a teaspoon of paprika, 3 tablespoons of olive oil, and some salt and pepper in a food processor.  Chop up your chile and add that in as well, then process everything together until it forms an even mixture.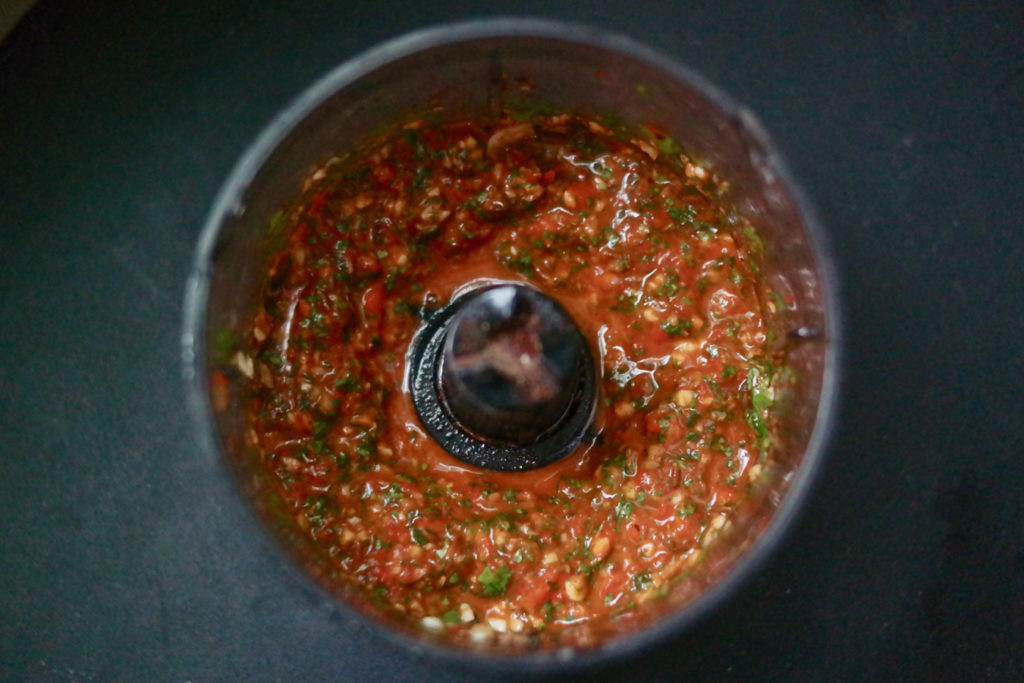 Now thaw your spinach in the microwave and then drain it well in a colander, pressing or weighing it down to release as much water as possible.  You'll also want to remove your puff pastry from the freezer to thaw at room temperature.  Warm another 3 tablespoons of olive oil in a skillet over medium-high heat and cook the spinach with half of the chile mixture for a few minutes, then take the pan off the stove and stir in 1/3 cup of chopped dill and the zest from your lemon.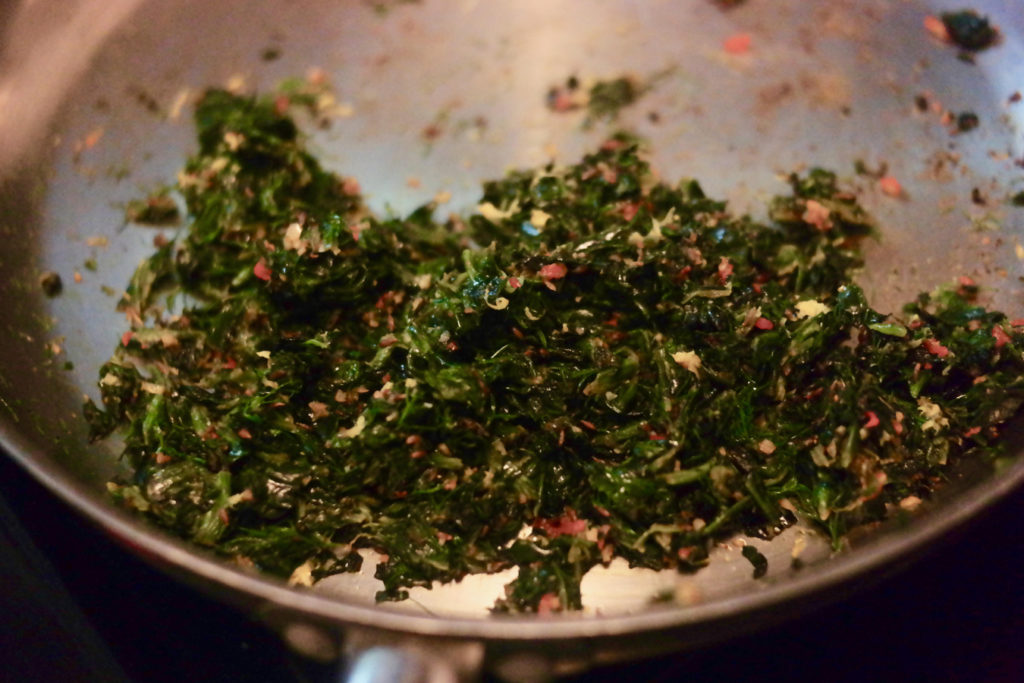 Coat a springform pan with cooking spray.  Take your puff pastry and roll it out thinly, then shape it into the bottom of the pan and halfway up the sides, grafting pieces together if necessary.  Prick the bottom of the pie crust all over with a fork.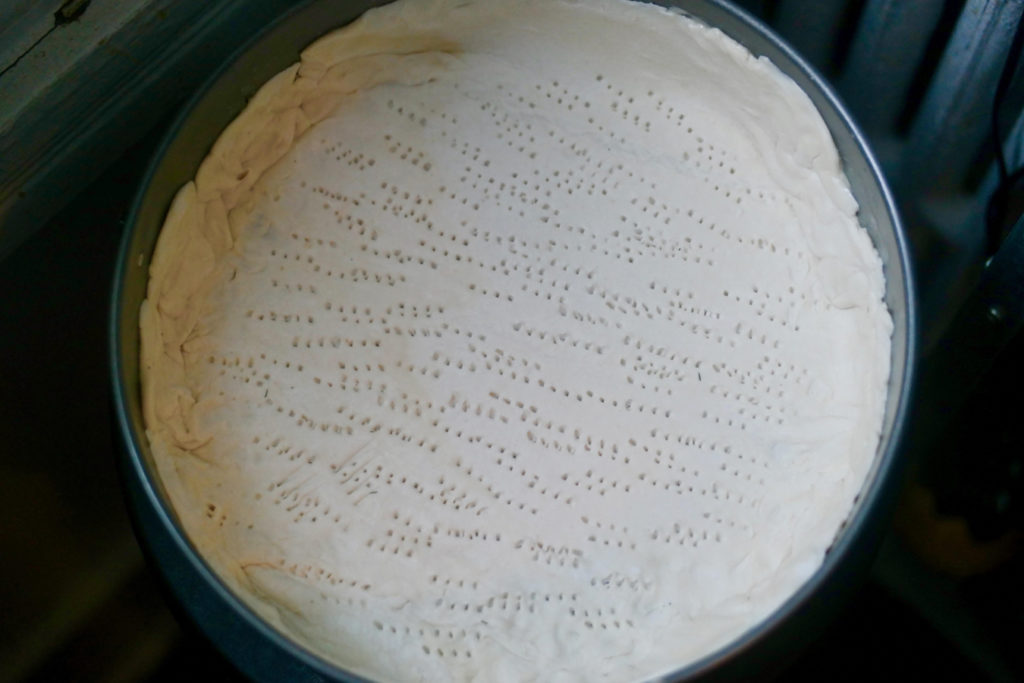 Spoon in the spinach, then spread a cup of crumbled feta on top (if you're using it).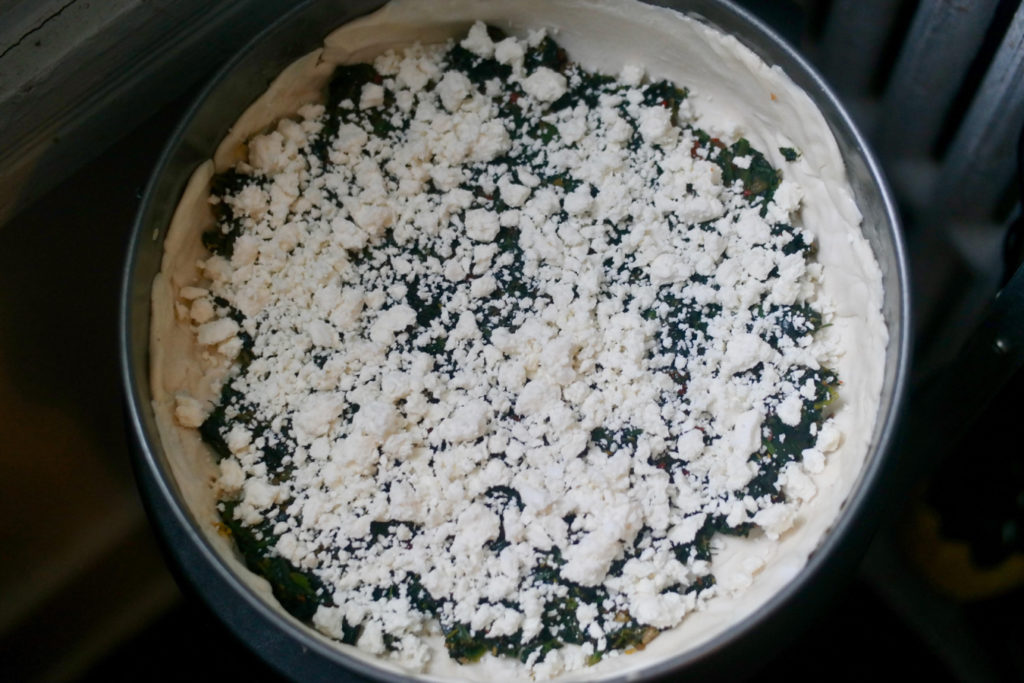 Place the pie in the fridge while you cut your potato on a mandoline slicer (or cut it very thin).  Place the potato slices in a bowl and mix with a tablespoon of olive oil, plus some salt and pepper.  Lay the potato on top of the feta.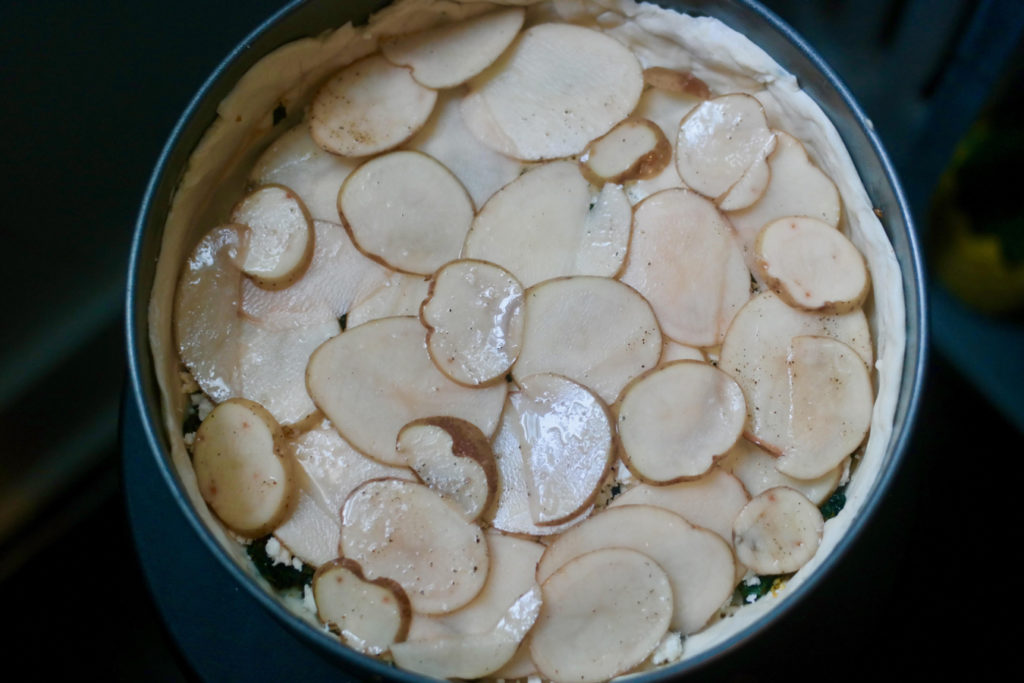 Fold the excess dough on the sides of the pie over top of the filling.  Cook the pie on top of a baking sheet for 50 minutes at 400°F.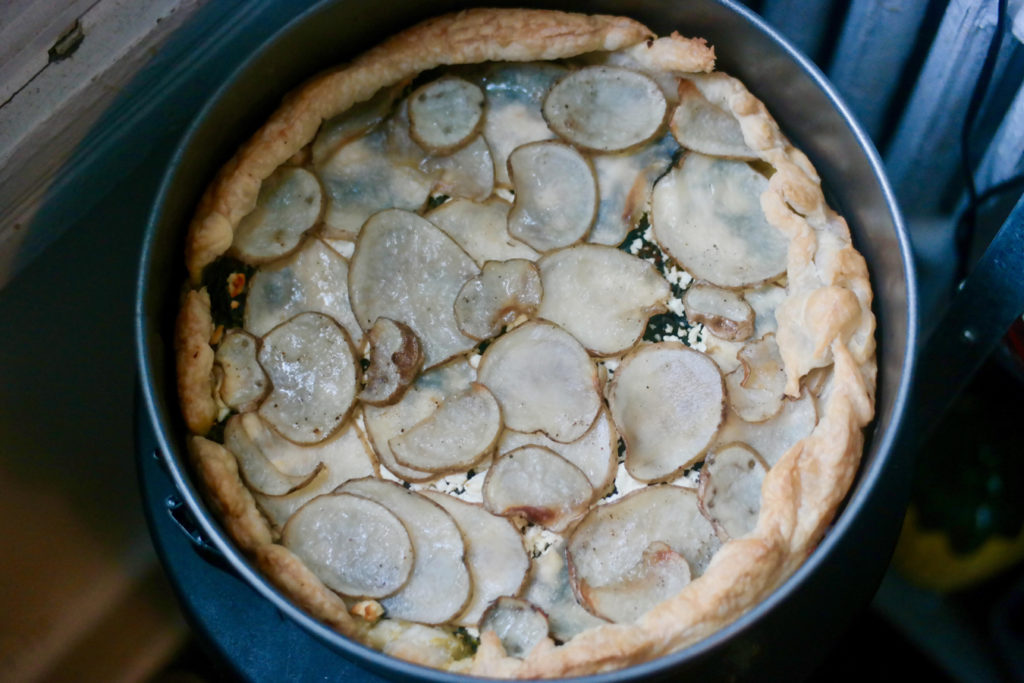 Release the pie from its pan, then stir the juice from your lemon into the remaining chile mixture and spoon this over top of the pie.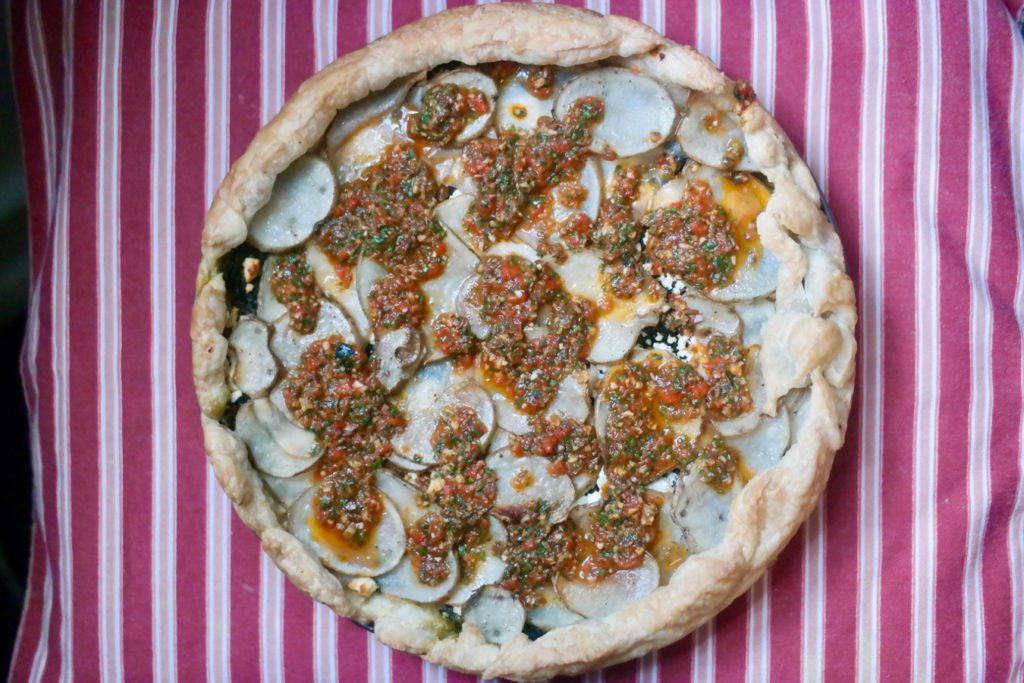 And you can slice up the pie and serve!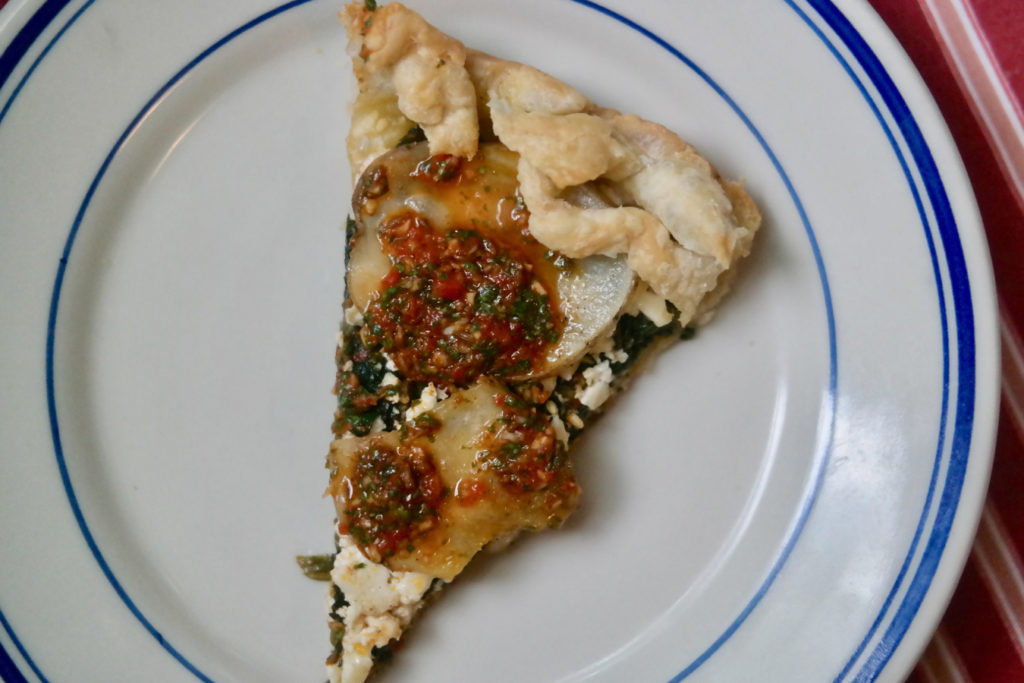 OK, so this pie does take a lot of time to bake, and there's some ingredient prep involved.  You'll want to start making this at least an hour and a half before you want to eat.  But at the end you'll have a delicious pie that melds the flavors of potato, spinach, cheese, chile, herbs, and spices into a warm shell.  It makes things much easier to form the pie dough from puff pastry and to cut the potato on a mandoline slicer, and then it's just a matter of mixing, sautéing, and putting the pie together.  We know that normally savory pies are filled with meat, but we think this is a nice vegetarian variation that's filling, hot, and delicious.