November marks the time when it truly gets cold – and indeed, this past weekend the temperature got below freezing for the first time this season.  And you know what that means?  Soup!  We love an easy, quick, throw-everything-in-the-pot kind of soup, but we also appreciate soups that take a little more effort and result in a flavorful, interesting lunch.  So that's where today's recipe comes from:  we adapted it from something in the New York Times, and while it was a little more involved than our typical lazy day soups, we thought it was well worth the effort for this bowl of creamy, slightly spicy goodness.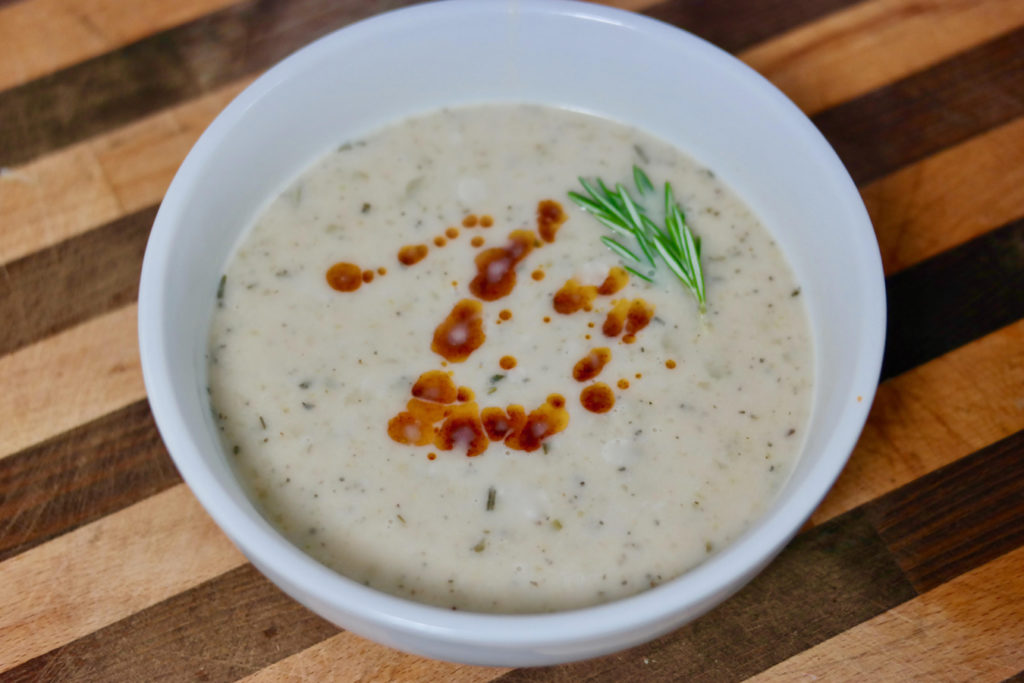 To make this, you'll need:
Celery
Garlic
Pizza seasoning
Rosemary
6 vegetable bouillon cubes
3 15.5-ounce cans of cannellini beans
Half-and-half
Olive oil
Smoked paprika
Red pepper flakes
You'll want to do some prep work first:  boil 6 cups of water and dissolve in your bouillon cubes.  Also slice up 4 celery stalks, finely chop 5 garlic cloves, and mince about a teaspoon of rosemary leaves.  Then in a stock pot warm 1/4 cup of olive oil over medium heat and add in the celery, garlic, rosemary, 3 teaspoons of pizza seasoning, and some salt and pepper.  Cook for 10 minutes until the vegetables are soft, but don't let them take on any color.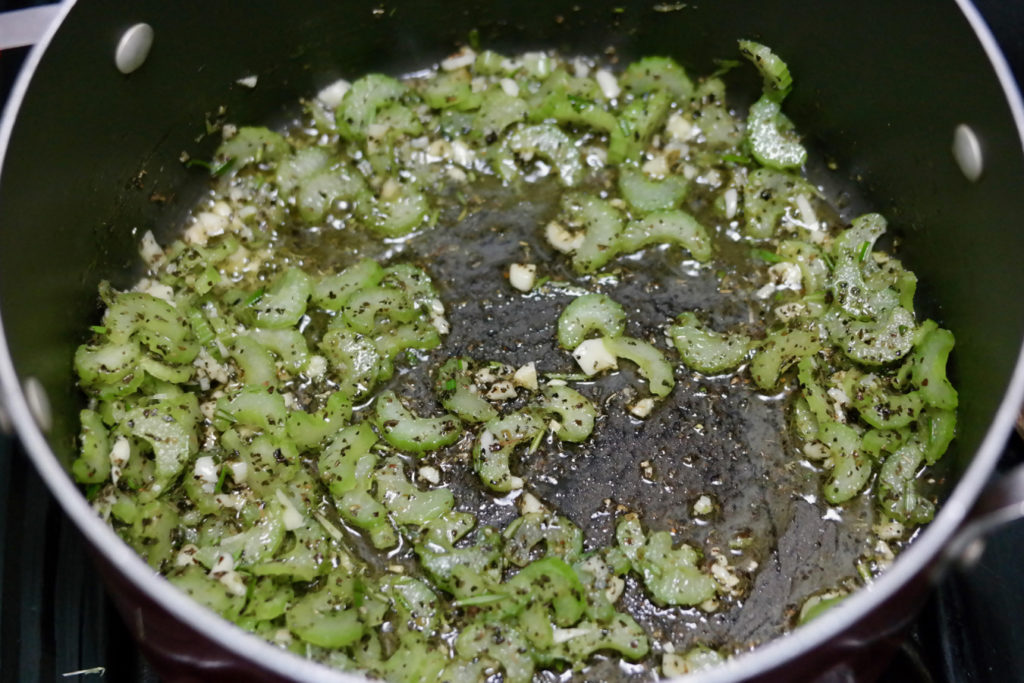 Drain and rinse all your beans and add those in, plus your vegetable stock, and bring everything to a boil, then let simmer for 15 minutes.  Take the pot off the stove, and once the soup cools a little use an immersion blender to make it into an even mixture.  Stir in 1/2 cup of half-and-half and season with salt and pepper to taste.  Place the soup back over low heat to keep warm.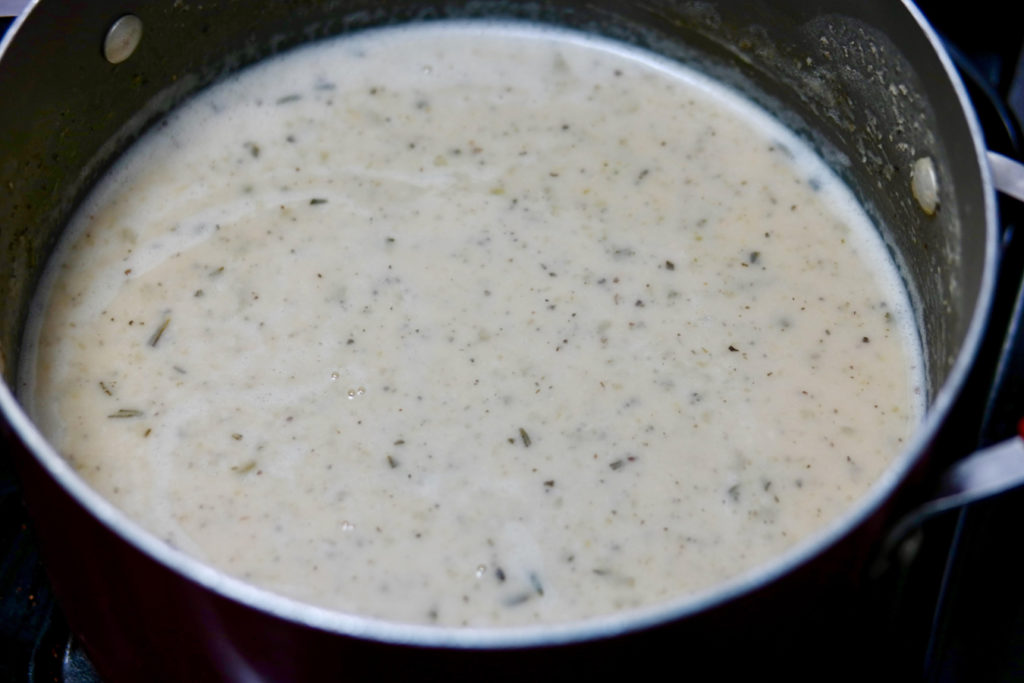 Now measure out another 1/3 cup of olive oil in a small pan over very low heat.  Sprinkle in some red pepper flakes and 1 1/2 teaspoons of smoked paprika and cook for just a few minutes, stirring frequently, to toast the spices.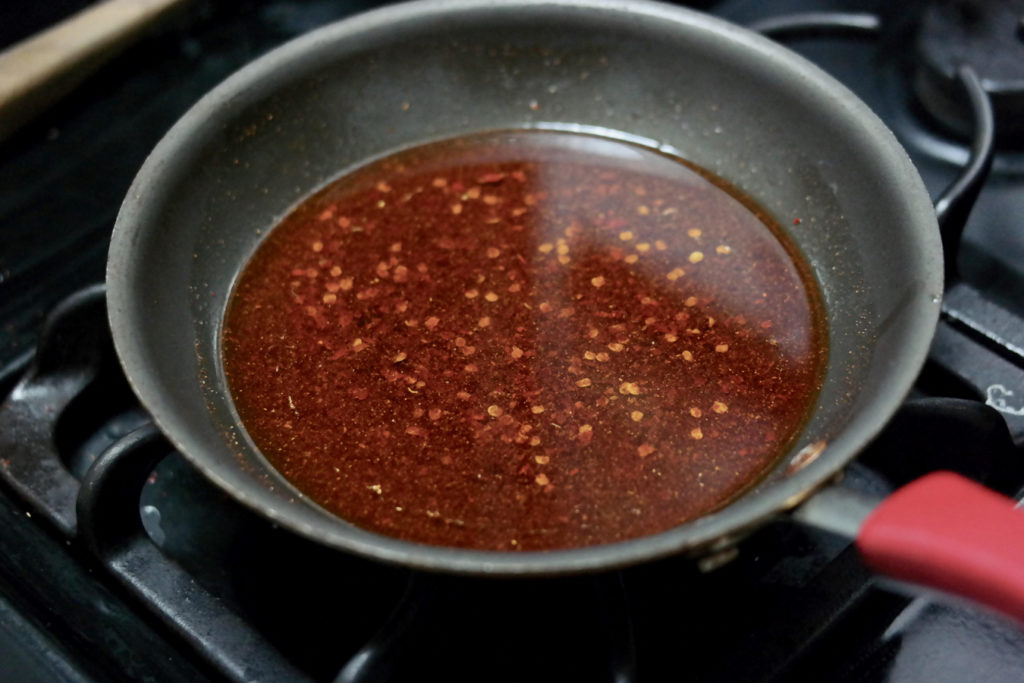 Strain the oil into a bowl (the red pepper flakes will be left behind in the strainer, and you can save them to stir into something else).  Dish up your soup into bowls, and top with the spiced oil and extra rosemary sprigs.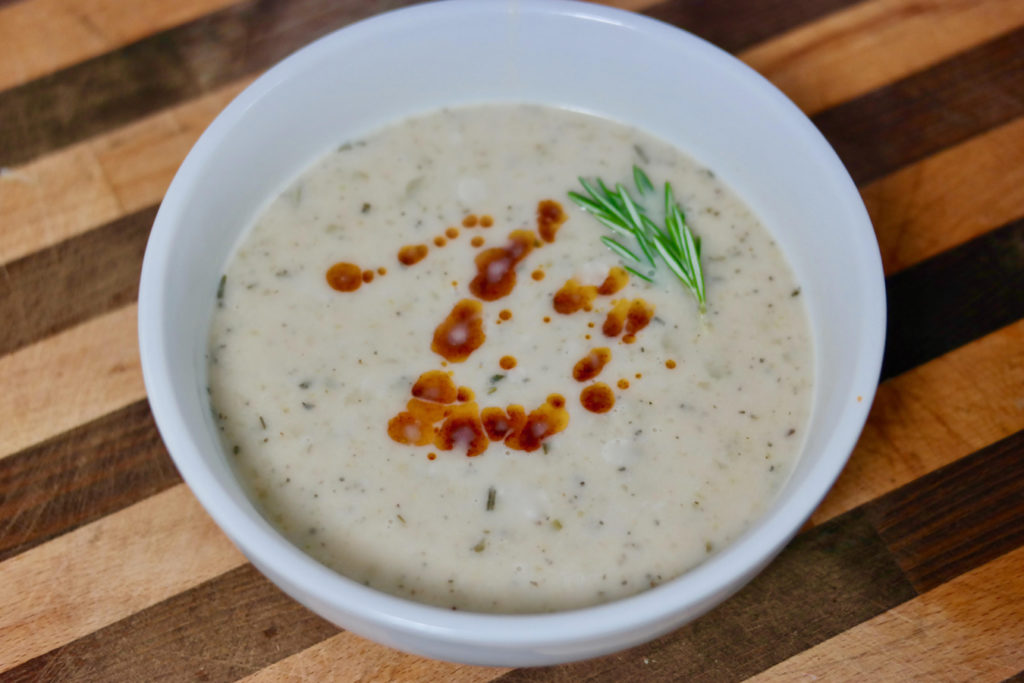 You have to admit that this soup looks pretty cool – the oil sits nicely on top, and then you can mix it into the creamy, herb-y bean soup for a great combination of flavors.  And while it looks impressive, it's also not so hard to make:  just chop some celery, garlic and rosemary, cook them, and let all the different ingredients come together into a great soup.  Even the spicy oil is pretty easy, and it turns into an interesting topping that you can perhaps use in some other recipes as well.  So if you're excited for soup season, like we are, this is a great recipe to put on your must-try list.