Nachos are a classic comfort food, because who doesn't love chips covered with cheese and other delicious things?  Luckily for us, nachos are not only vegetarian (if you leave beef or chicken off of them) but they're highly customizable because you can put so many different ingredients on top of them.  So when Cyril was watching football the other night, we decided to get creative with our game day snacks and try out these nachos we found in the New York Times.  We adapted the recipe for ourselves a little bit, and we liked that we got a combination of classic nacho ingredients plus some new and interesting flavors – so if you want to get a little creative, we'll show you how we crafted these nachos.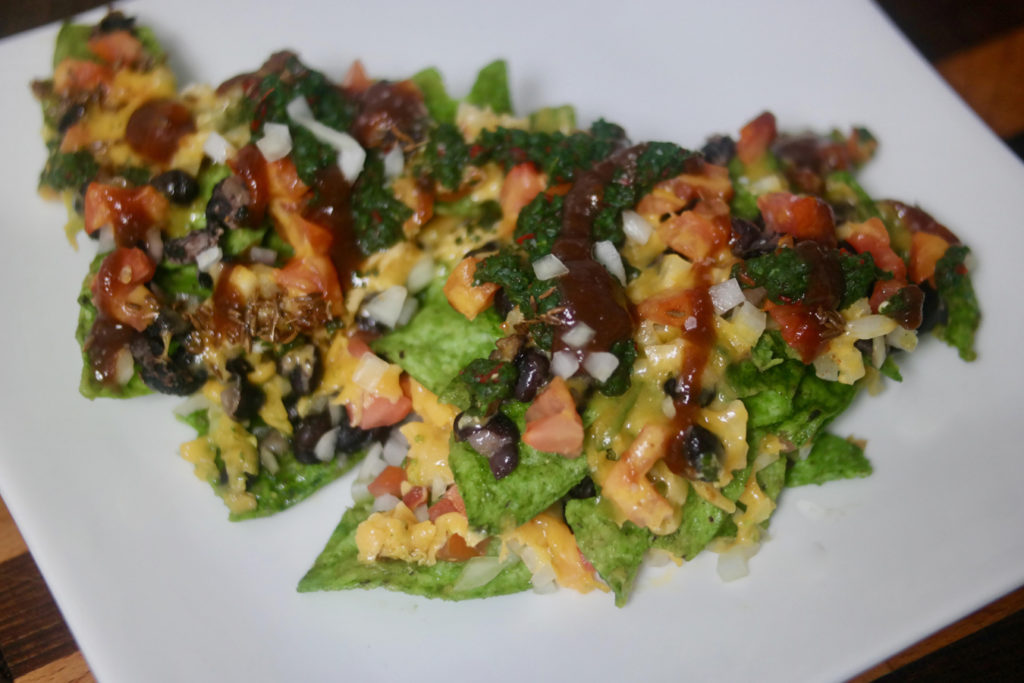 You'll need:
A bunch of cilantro
A red chile
A lime
Sugar
A 15-ounce can of black beans
A 10-ounce bag of tortilla chips (we used Utz guacamole chips because they looked fun)
An onion
2 small tomatoes
A pound of cheddar cheese
Olive oil
Cumin seeds
Chile powder
Frozen tamarind pulp
Brown sugar
Cumin
Ginger
You can start by doing some veggie prep:  de-seed you tomatoes and chop them roughly, finely dice your onion, and drain your beans, rinse them, and mash them a little with a fork.  Then take a baking pan and spread out half your tortilla chips and top with half of the beans, tomatoes, and onions.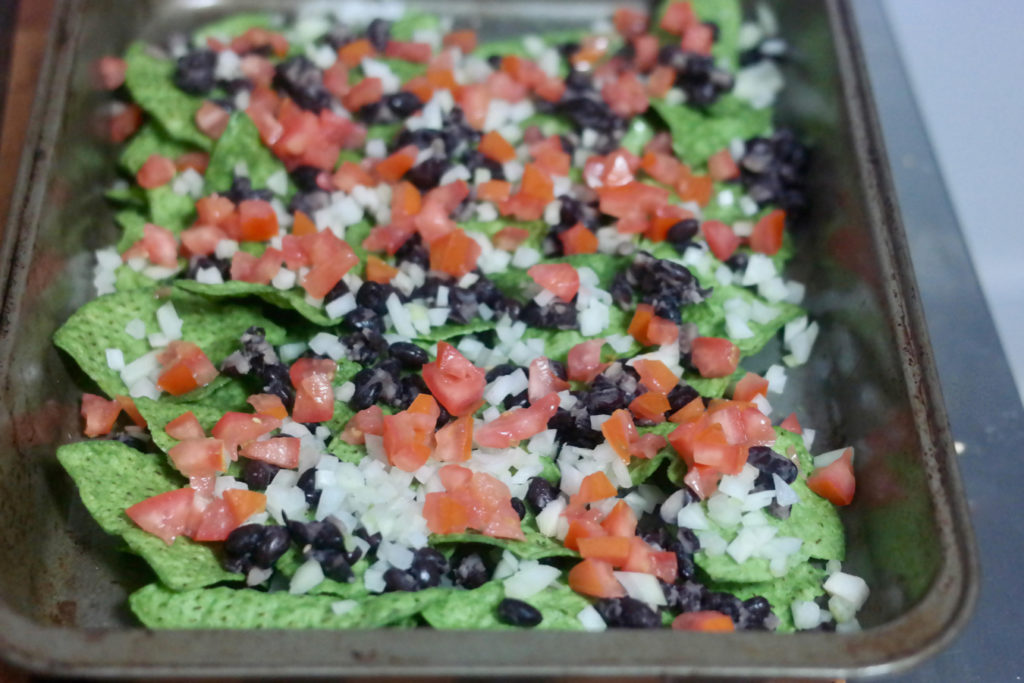 Shred your cheese and place half the cheddar over the vegetables.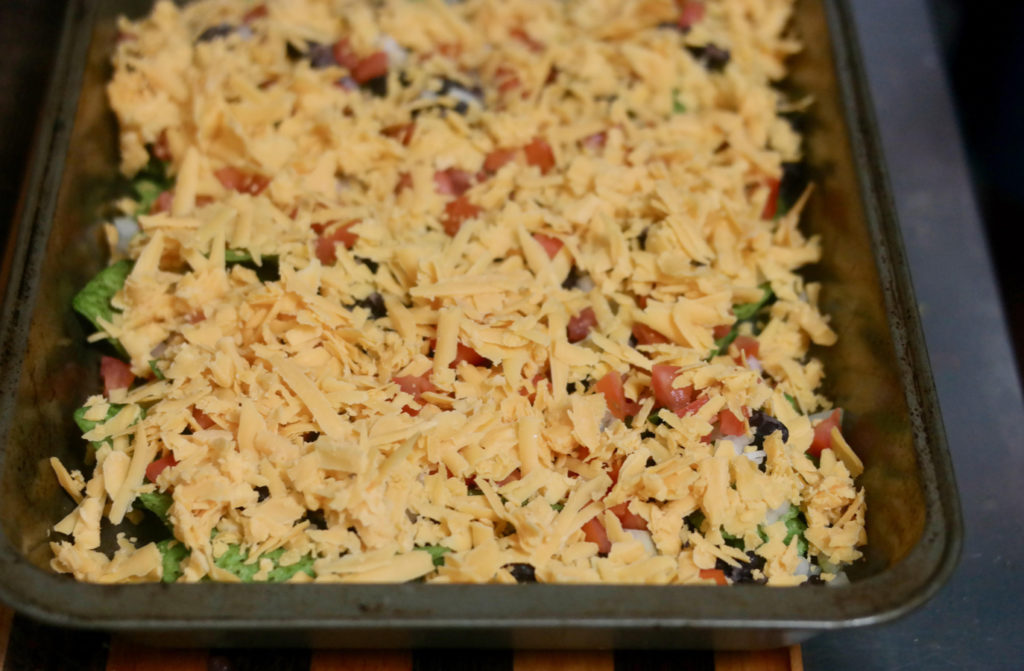 Make another layer of chips, beans, tomatoes, onions, and cheese, then bake for 10 minutes at 425°F.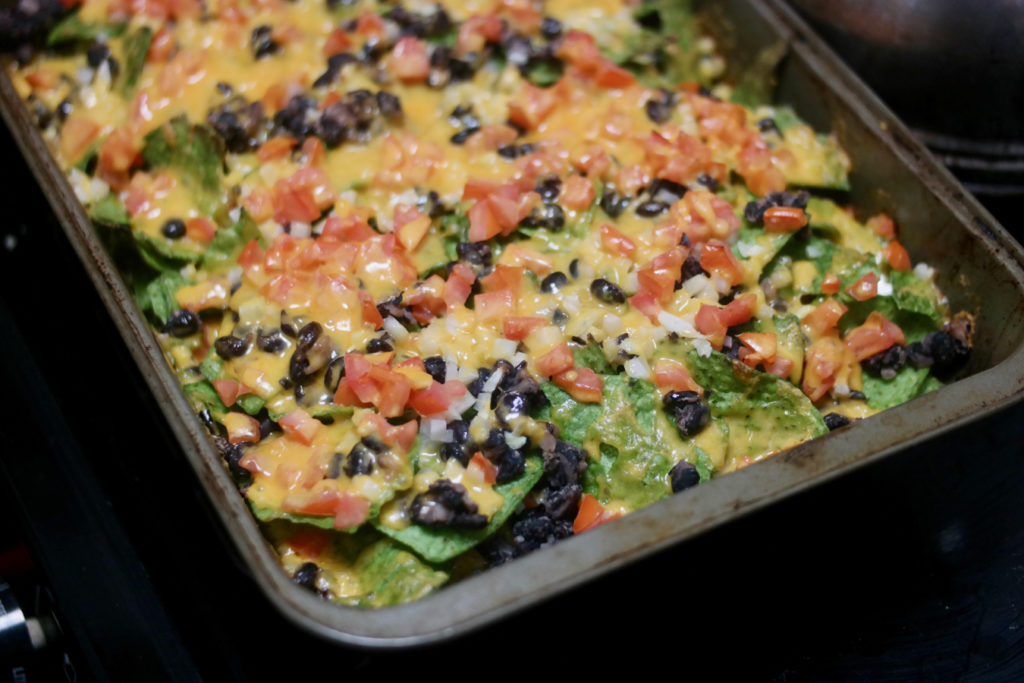 While the chips are in the oven, you're going to make a few sauces.  Place all the leaves from your cilantro in a food processor with the juice from your lime, 1/4 teaspoon of sugar and some salt.  Chop up your chile and put that in too and blend everything together, adding water by the tablespoon as needed until you have a thick sauce.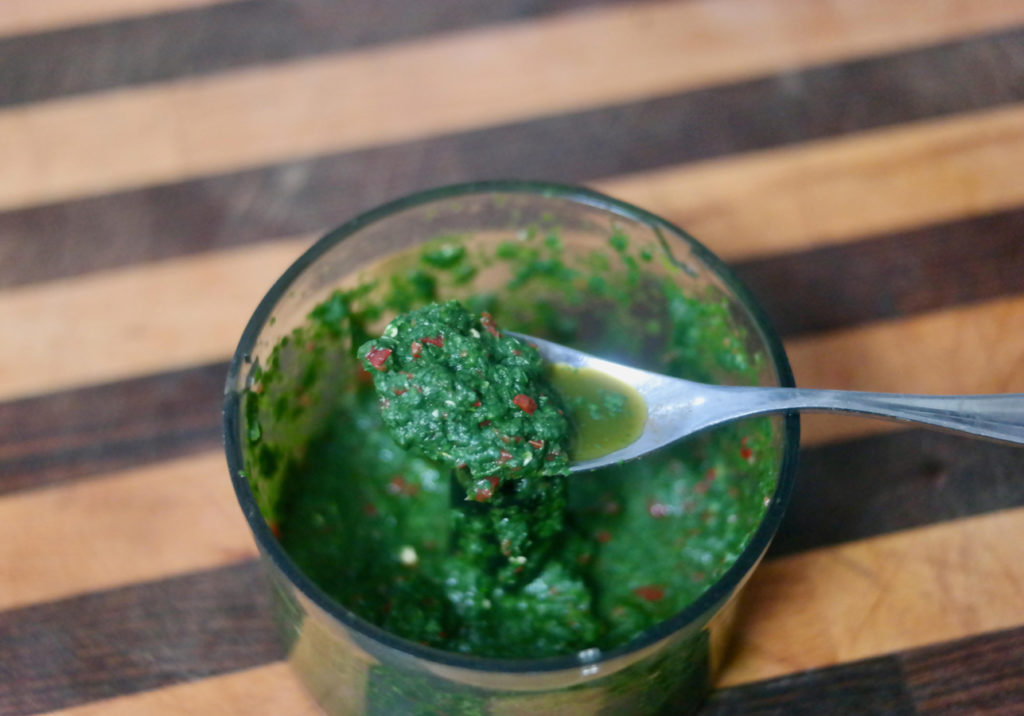 On your stovetop, measure out 1/4 cup of tamarind pulp into a pot along with 1/4 cup of brown sugar and 2 teaspoons each of cumin and ginger.  Add a cup of water, bring everything to a boil, and simmer for 5 minutes until you have a sauce.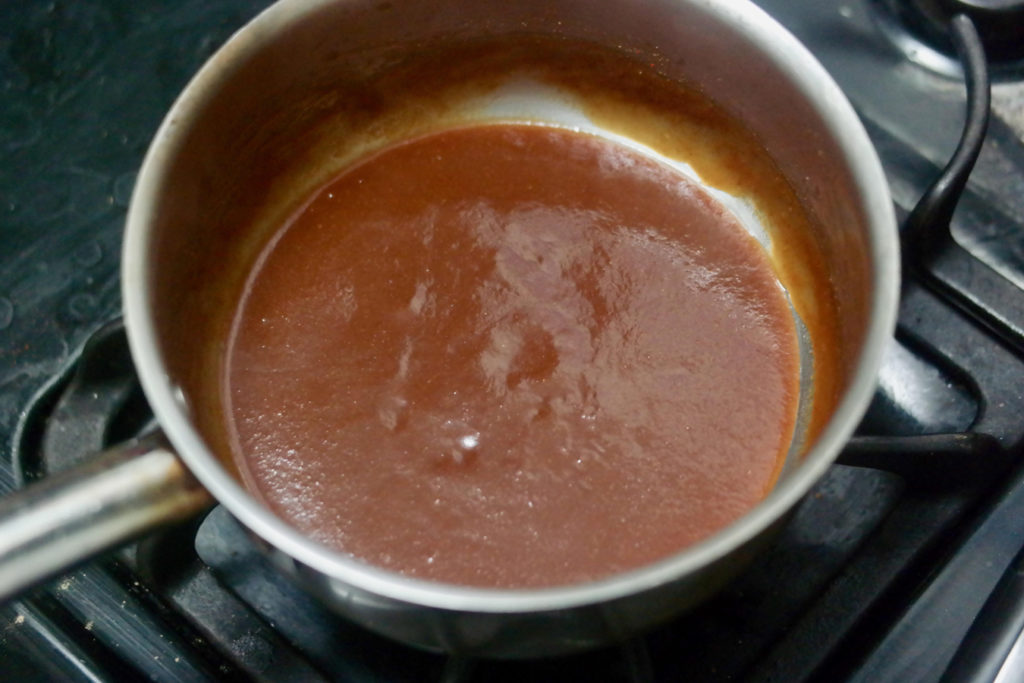 Finally, warm 1/4 cup of olive oil in a small pan over medium-high heat.  Add in 2 tablespoons of cumin seeds and toast for just a little bit, until the seeds start to pop, then take the pan off the stove and stir in a dash of chile powder.  Once the nachos are done, top with the cilantro-chile sauce, then the tamatind sauce, then the cumin seed and chile powder oil.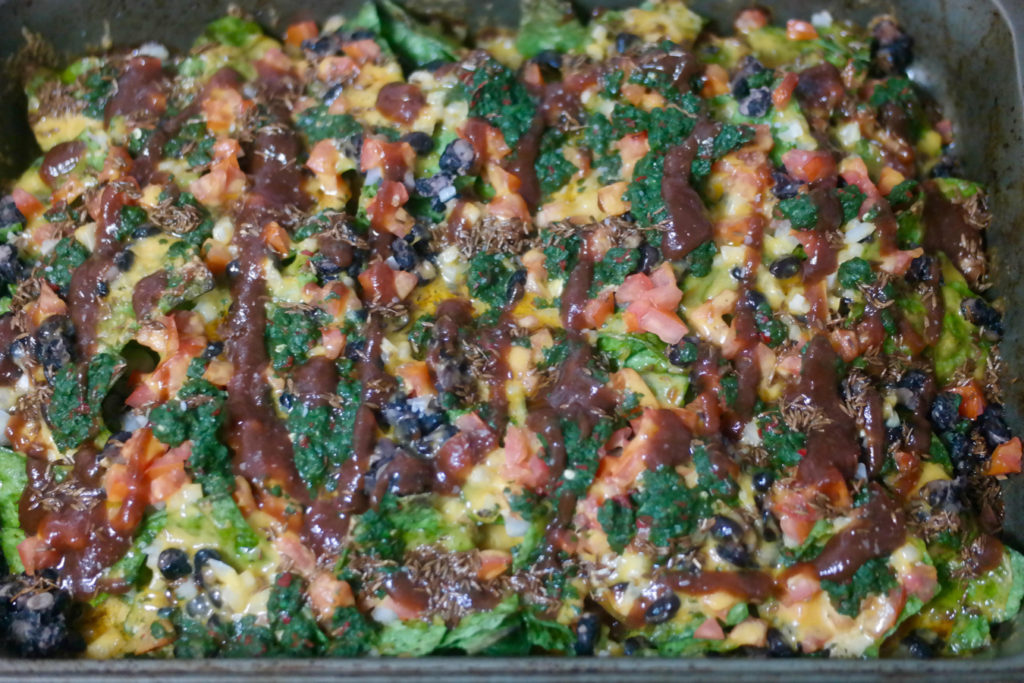 And now you can scoop up some nachos and enjoy!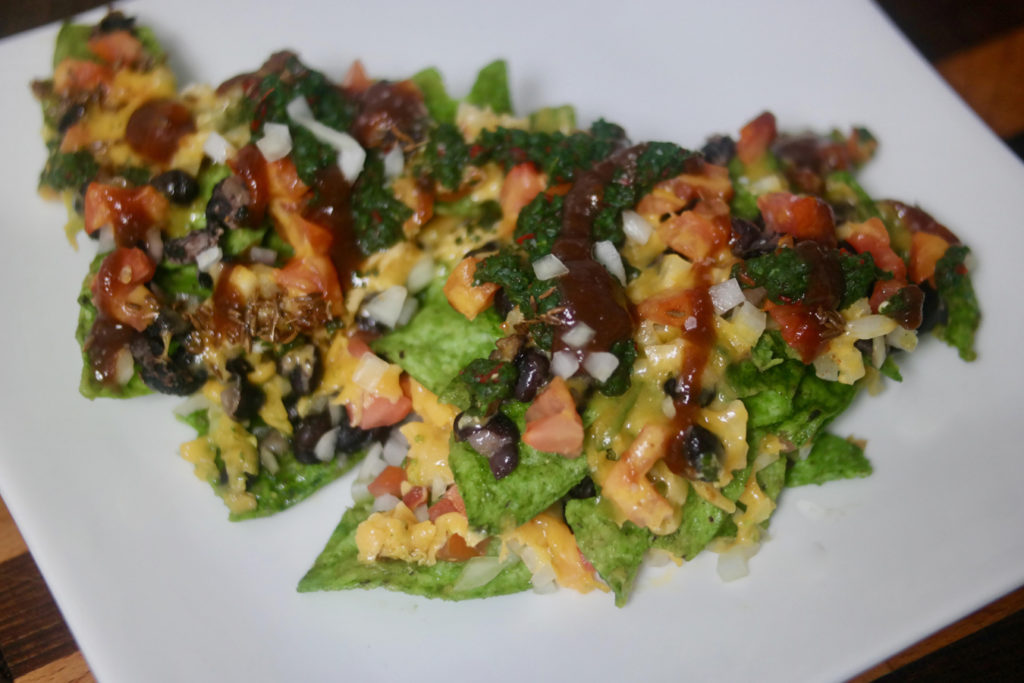 So that's how you make some really fun, interesting, and tasty nachos.  We liked that the chips had some of your traditional nacho ingredients – beans, veggies, and cheddar cheese – but were topped with flavors you don't normally see paired with tortilla chips.  The cilantro chutney and the cumin seed and chile powder oil bring in some Indian flavors, while the tamarind sauce is reminiscent of Thai cooking, and all these different tastes add some really unusual, delicious flavors to an otherwise typical plate of nachos.  Making the three sauces does take more time than just cracking open a jar of salsa, but we think that hunting down these ingredients and taking the time to cook up some interesting toppings makes for some memorable nachos that we really liked snacking on.