As soon as we bit into these mushroom rolls, Cyril's reaction was, "These are like healthy Hot Pockets."  And wouldn't you know it, they kind of were:  these rolls are warm and flaky pastries stuffed with some delicious, filling ingredients that just happen to be vegan.  We adapted these from a New York Times recipe, and they were a really satisfying supper because of how rich and tasty they were.  Using a frozen puff pastry for them cut down on how long and how much effort they took to make, although that's not to say these are totally easy – it takes some time to prepare the filling and then bake the rolls, but we really enjoyed having these for dinner and we think if you've the inclination and maybe an hour or so, mushroom rolls are an interesting treat for a meal.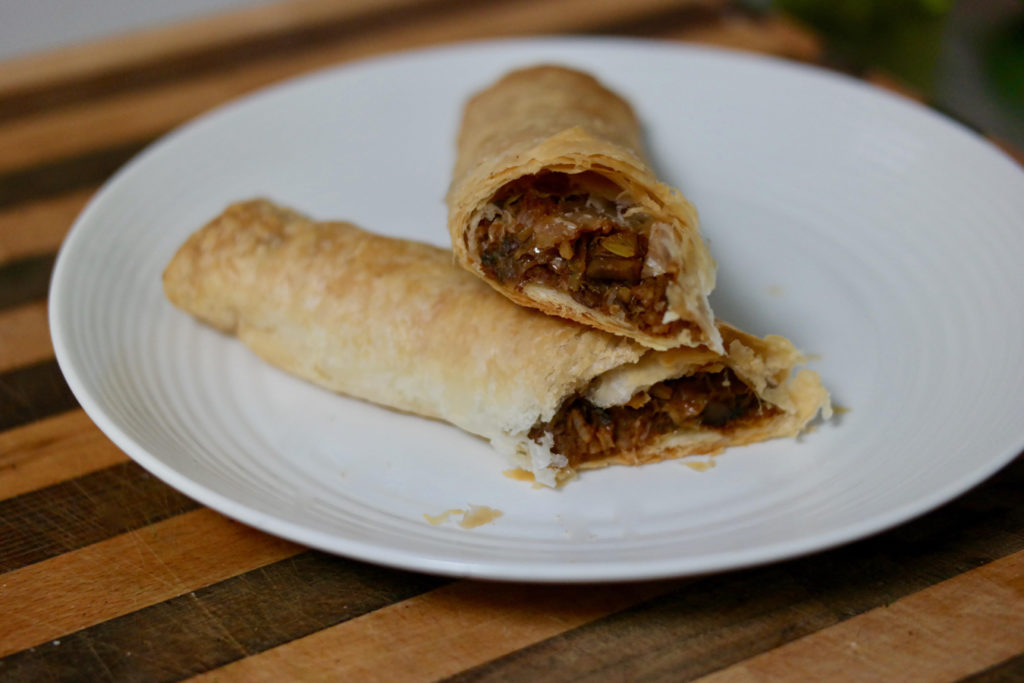 To make these, you'll need:
Rice
Olive oil
Vinegar
20 ounces of mushrooms
2 leeks
A small onion
Thyme
Garlic
Tomato paste
Red pepper flakes
Almond butter
Cilantro
A 17-ounce package of frozen puff pastry (check the ingredients list to make sure it doesn't have any animal products)
Start taking out your puff pastry to thaw, and also cook 1/4 cup of rice with 3/8 cup of boiling water, and when the rice is tender stir in a tablespoon of olive oil and a teaspoon of vinegar and set aside.  Then cut all your mushrooms into small-ish pieces, dice up your onion, and cut your leeks in half and then slice them thinly.  Measure 3 tablespoons of olive oil into a large skillet and cook your mushrooms for about 10 minutes, until they start to brown and shrink.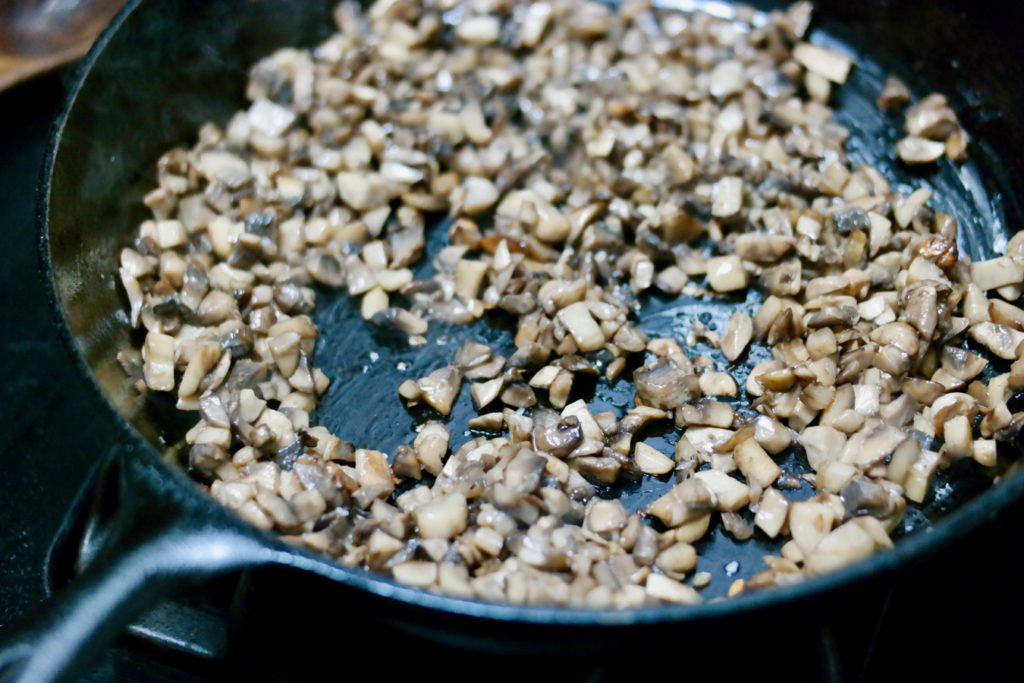 Add in another tablespoon of oil, plus the leeks and onion, and cook for 10 more minutes until these vegetables soften.  Stir in 2 teaspoons of thyme leaves, 2 grated garlic cloves, a teaspoon of tomato paste, a generous sprinkling of red pepper flakes, and some salt.  Cook for just a minute or so, mix in 2 tablespoons of soy sauce, and then scrape everything into a bowl and place it in the fridge for 10 minutes to cool.  Then you can mix in the rice, 1/2 cup of almond butter, and 1/4 cup of cilantro leaves.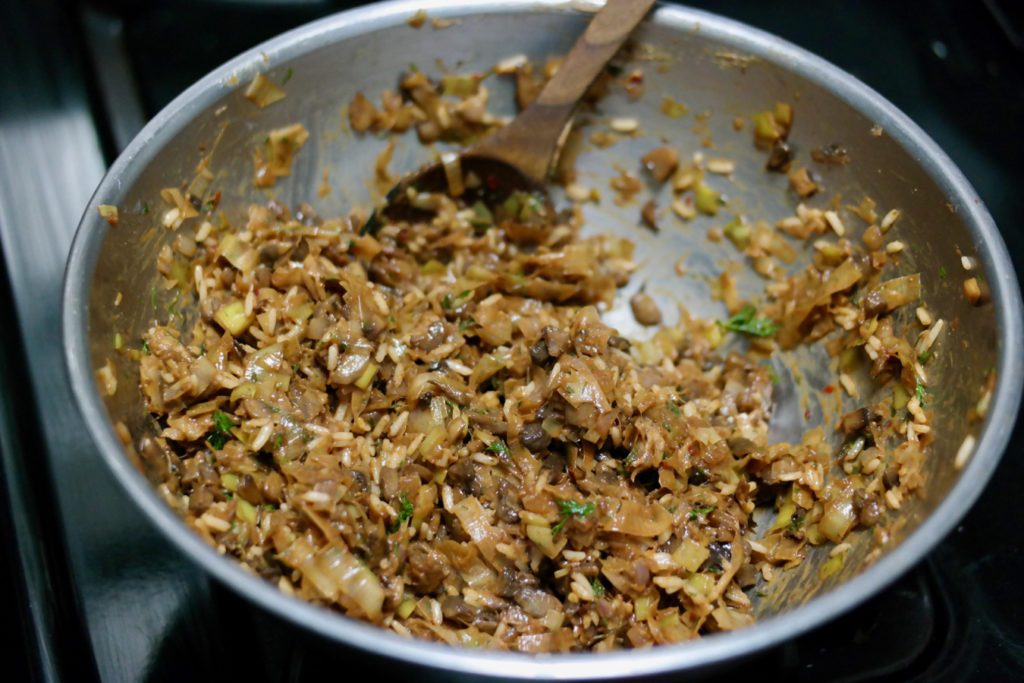 Now lay each puff pastry sheet out flat, press it between two sheets of wax paper or parchment paper, and use a rolling pin to roll it out until it's about 1/8-inch thick.  If you have two puff pastry sheets, roll them both out and cut them each in half; if you have just one puff pastry sheet, cut it into four same-sized strips.  Use a spoon to place equal amounts of the mushroom mixture into the middle of each pastry piece, then form the mixture into a mound running down the length of each one, like so:
Dab water around the entire edge of each piece of pastry, then wrap both sides of the pastry over the filling so it's completely enclosed and pinch these edges together to seal everything in.  Line a baking sheet with parchment paper and place the rolls on it with the side you pinched together facing down.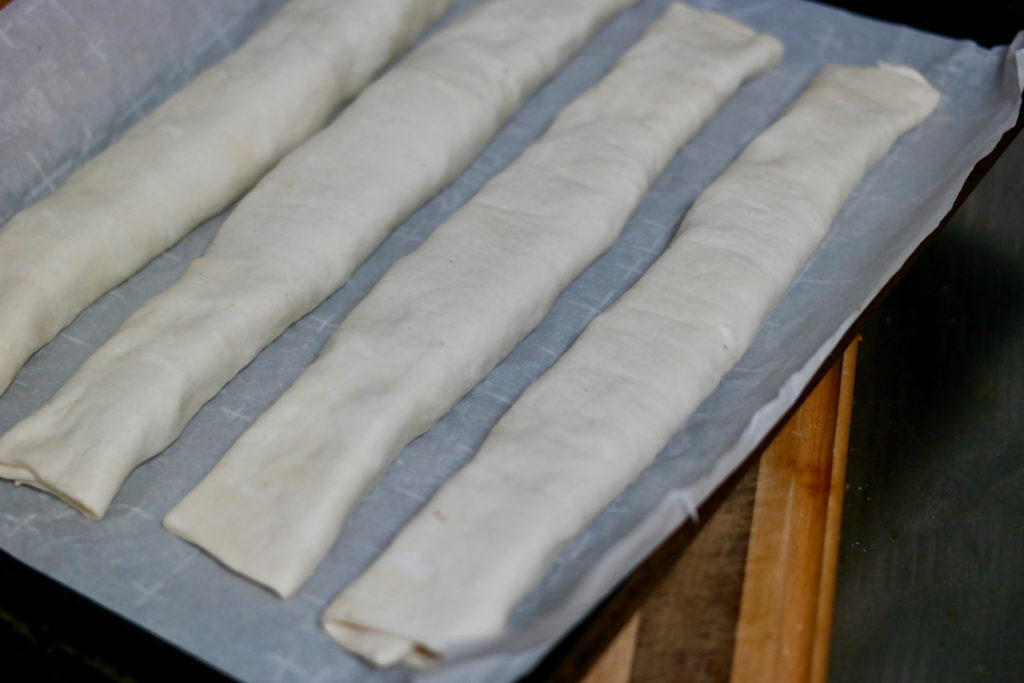 Bake the rolls at 375°F for 45 minutes, until they're browned on top but not burned on the bottom.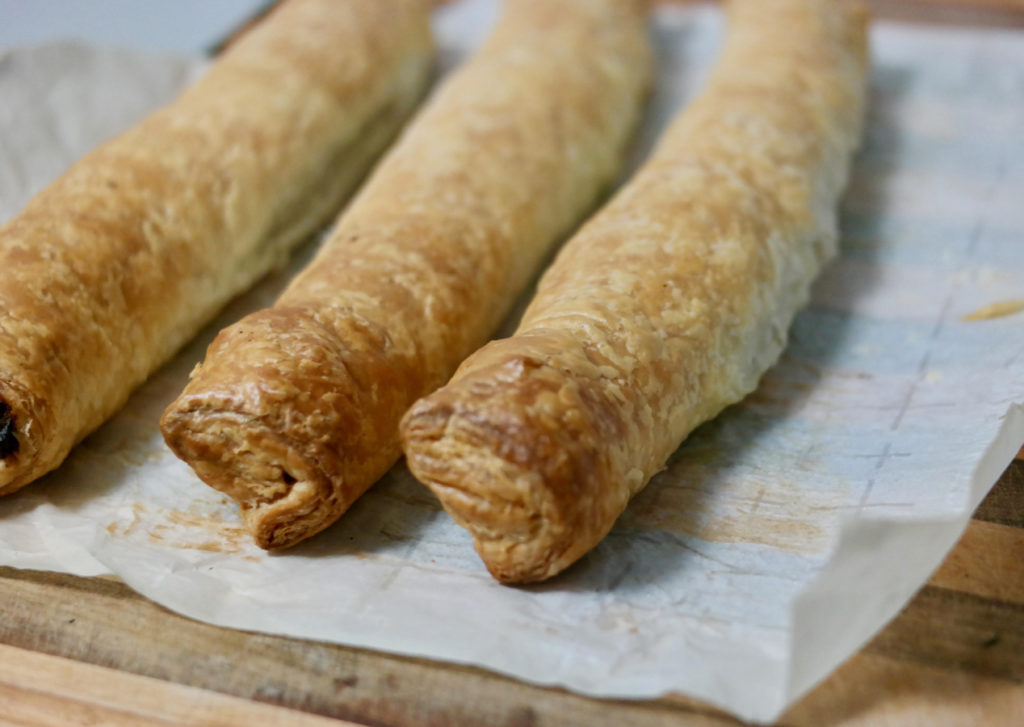 Then you can serve them up while they're still warm.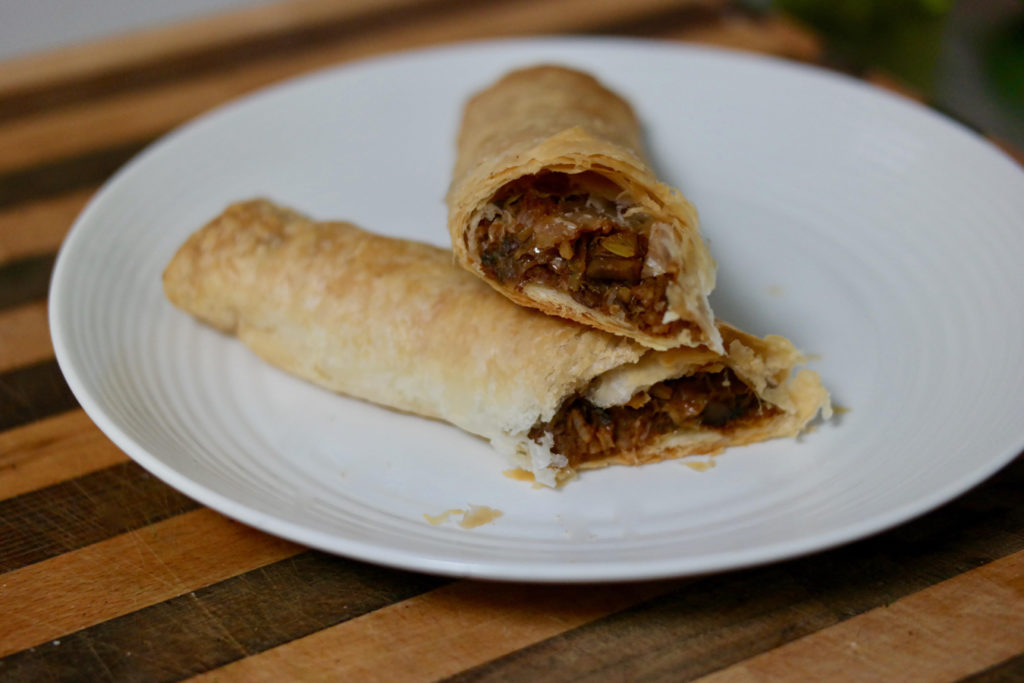 You can see just how nice and flaky these rolls are, which is exactly what you're looking for in a savory pastry.  We really love the mixture inside the rolls because the soy sauce, herbs, and tomato paste make a good sauce for the mushrooms and rice, and while we were a little mystified by adding in and then baking almond butter, it turned out to be a good, tasty binder for everything inside the rolls.  As we mentioned at the beginning, these rolls for take some time – you should probably plan to start them at least 1 1/2 hours before you want to eat – but we think they were worth the effort because they were a really flavorful and unique meal that doesn't rely on any animal products at all.  If you're looking a really good, hearty vegan meal unlike anything you've made before, these rolls are a great thing to try!