Now that Thanksgiving is almost upon us, you might be frantically searching for recipes for the big holiday.  Coincidentally, we made this mashed squash just a few weeks ago, after we saw this recipe in Bon Appétit.  It's not a traditional Thanksgiving food – in fact, it's based on Bangladeshi bharta, which takes roasted, mashed vegetables and serves them alongside rice – but since squash is a classic fall flavor and mashed potatoes are pretty typical for the holiday, we thought we could use this recipe to show you how to switch it up a little for the holiday.  We adapted this recipe a little bit for ourselves, and served it with rice as a bharta usually is, but you can skip that and just have the squash as a side dish at your Thanksgiving table.  No matter what, it's going to be good!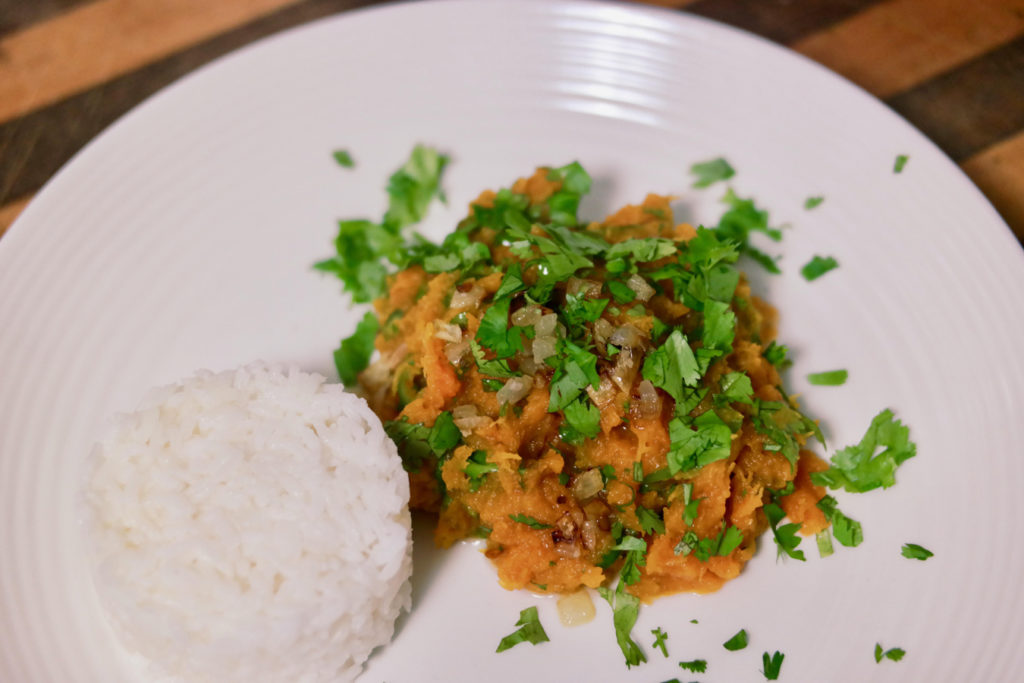 To make this, you'll need:
A 2 pound butternut squash
Olive oil
Mustard seeds
A small onion
Cilantro
2 green chiles
Butter
Coriander
Cumin
Chile powder
Rice
Your first going to prepare the oil that that squash is going to roast in and later get mixed with:  measure out 3 tablespoons of olive oil into a small pot and warm over medium heat.  Crush 3 tablespoons of mustard seeds with the flat side of a large knife and place them in the oil, then let them cook until the oil turns brown.  Strain the oil into a bowl, leaving the mustard seeds behind.
Now to prepare your squash, cut it in half and use a spoon to scoop out all the seeds.  Rub a tablespoon of your oil over the orange flesh and sprinkle with salt, then place flesh side down on a baking sheet and roast for 70 minutes at 350°F.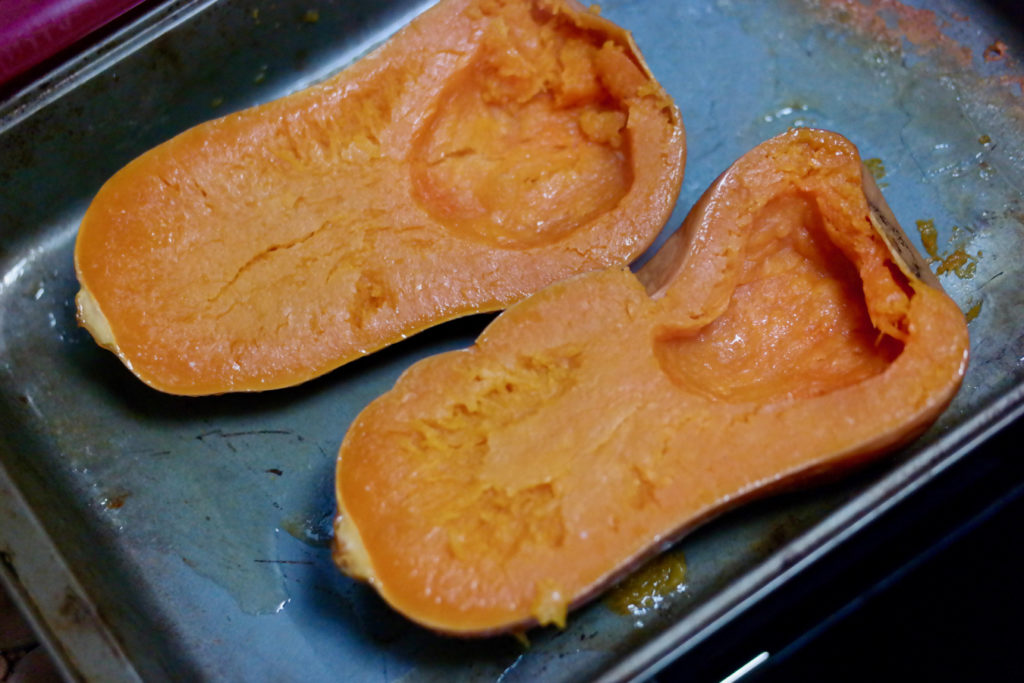 While you're waiting, you can also start preparing some rice to go with the squash.  Once the squash comes out of the oven and has cooled slightly, scoop the roasted flesh out and place in a bowl, then mash it with a potato masher.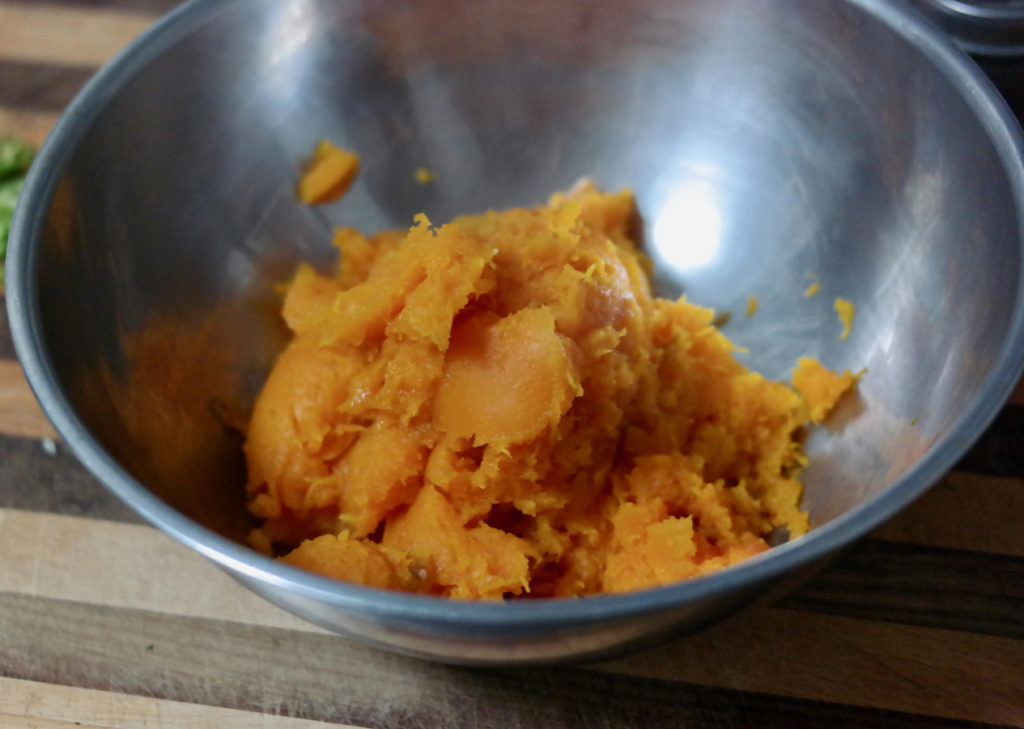 Dice half your onion (you won't need the other half), slice up your chiles, and pluck 1/2 cup of cilantro leaves and chop them.  Add in the chiles and most of the onion and cilantro, plus 1 1/2 teaspoons of coriander, a teaspoon each of cumin and chile powder, and the rest of your mustard seed oil.  Melt 2 tablespoons of butter and place that in with everything else, then stir it all together.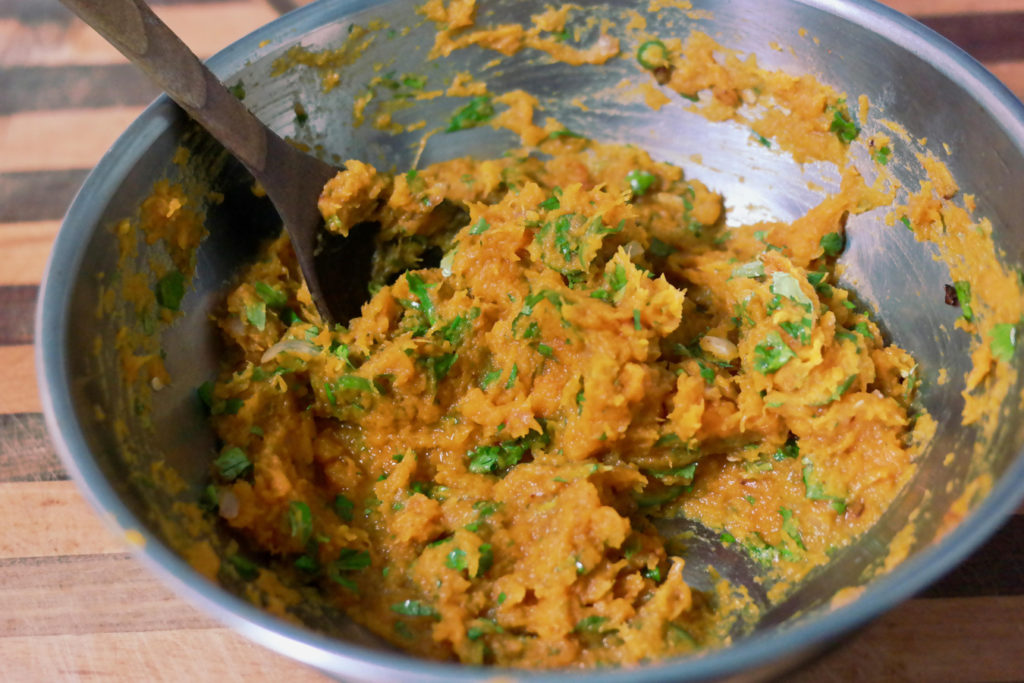 Now you can serve the squash topped with your remaining onion and cilantro, with rice on the side.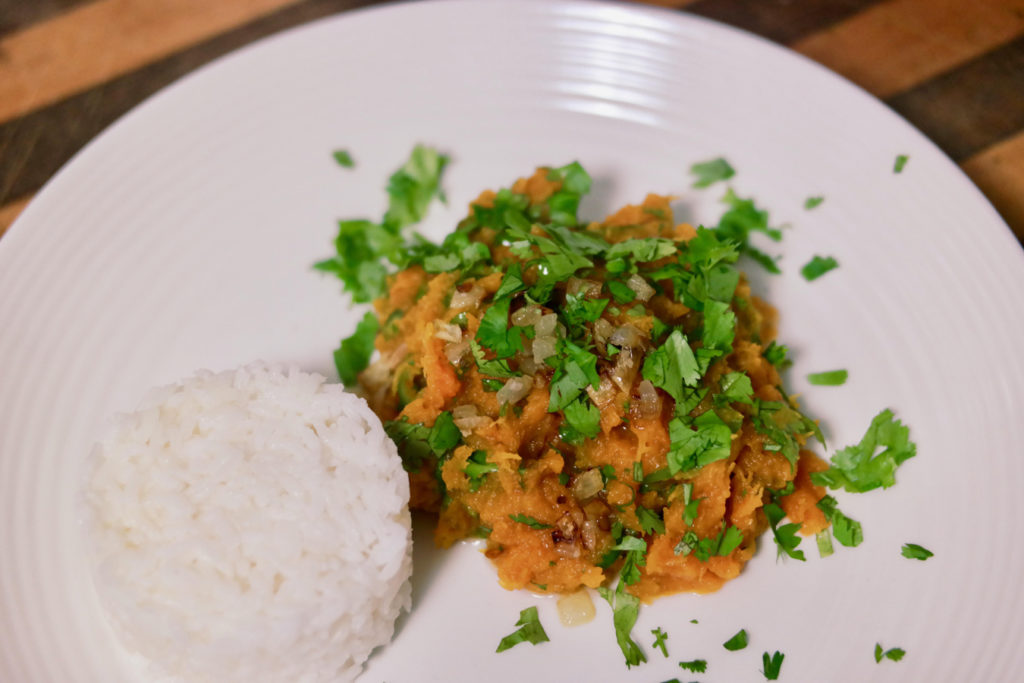 All in all, this is a pretty simple recipe:  the squash does take a long time to roast, so you'll have to plan that out ahead of time, but beyond that making the oil is fairly simple and then all you have to do is chop a few veggies and herbs and mash everything together.  For just a little bit of effort, what you get is a really interesting way to eat butternut squash:  the spices, hot chiles, and cilantro come together with the warm squash for a really delicious dish.  It's super colorful and tastes like a more flavorful, slightly sweet squash-y version of mashed potatoes.  If you're looking to get a little inventive for Thanksgiving, this is a great side dish to try out – and even for all the other days of the year, you can whip up some rice and make this into a meal by itself.