Thanksgiving is one of our favorite holidays of the year because we get to cook lots of delicious food and try out new recipes.  And even this year, when we celebrated with just the two of us in order to keep our families safe, we still decided to whip up a feast, and so we're going to spend the next several posts showing you some of the new dishes we made this year.  We figured we start with the best thing first:  dessert!  We based this on a recipe from the New York Times, and we liked that it was a simple cake with some great seasonal flavors.  This was a perfect way to end our holiday, so if you want to make this for a fall dessert, here's how.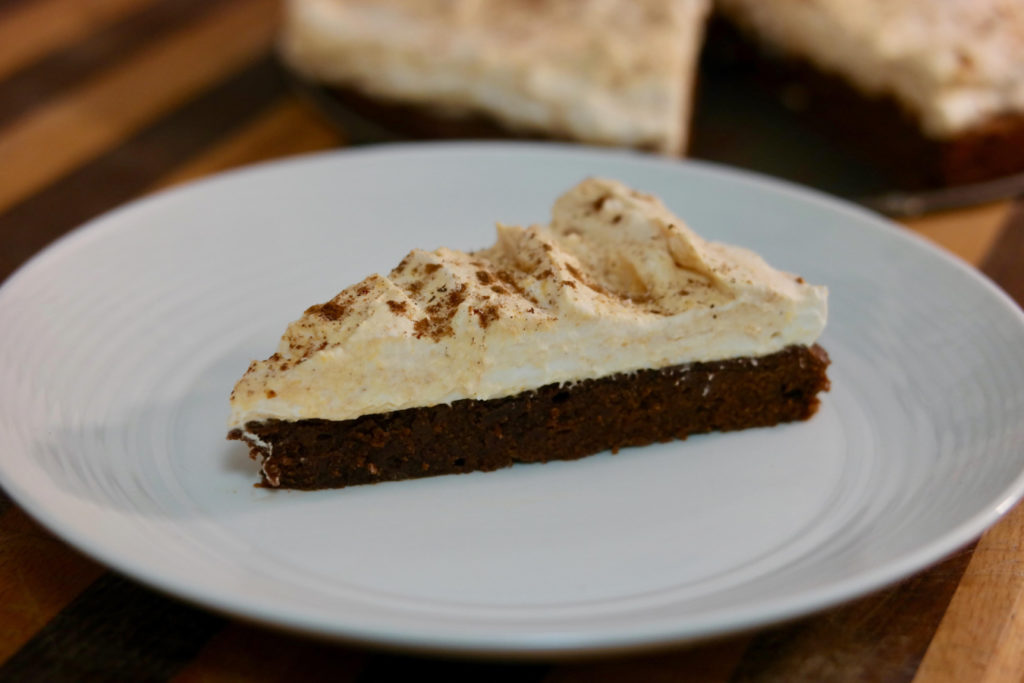 You'll need:
1 1/2 sticks of butter
Brown sugar
Cocoa powder
2 eggs
A small can of pumpkin puree
Flour
A half-pint of heavy cream
Powdered sugar
Vanilla extract
Cinnamon
Pumpkin pie spice
A whole nutmeg, or ground nutmeg
To start with the cake batter, whisk 1 1/4 cups of brown sugar, 1/2 cup of cocoa powder, and a large pinch of salt together.  Melt all your butter in a small pan over medium-low heat and stir that in, and once it cools after 5 minutes or so mix in 1/2 cup of pumpkin puree and both eggs.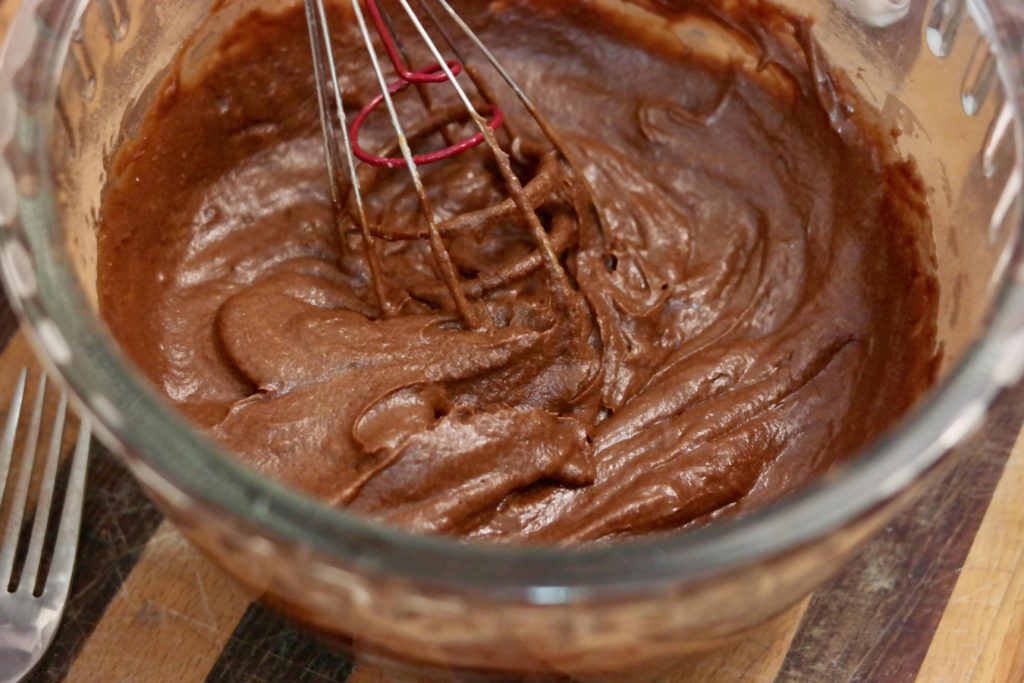 Add in 3/4 cup of flour, then grease a cheesecake pan and pour in your cake mix.  Bake for 20-30 minutes at 325°F until the cake is set and doesn't jiggle at all in the pan.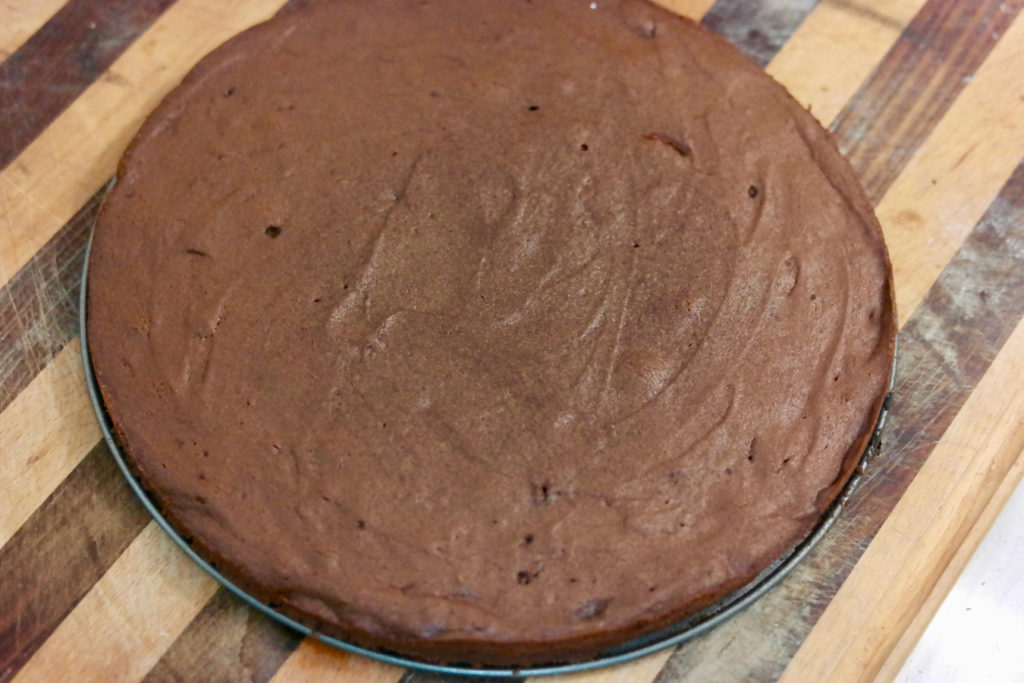 You'll want the cake to be room temperature before you move on to the next step – you can let it sit out, or you can stick it in the fridge for a little while to speed up that process.  Once you're ready, beat all of your cream and a tablespoon of powdered sugar in a stand mixer with a whisk attachment.  After a few minutes it should be fluffy and spreadable, so take your bowl off the mixer and gently fold in another 3 tablespoons of powdered sugar, 1/3 cup of pumpkin puree, and a teaspoon of vanilla extract (you don't want to fully mix these ingredients in, just combine everything together).  Use a spatula to spread this on top of the cake, then sprinkle some cinnamon and pumpkin pie spice over everything.  Finally, grate a nutmeg over the cake or sprinkle on ground nutmeg.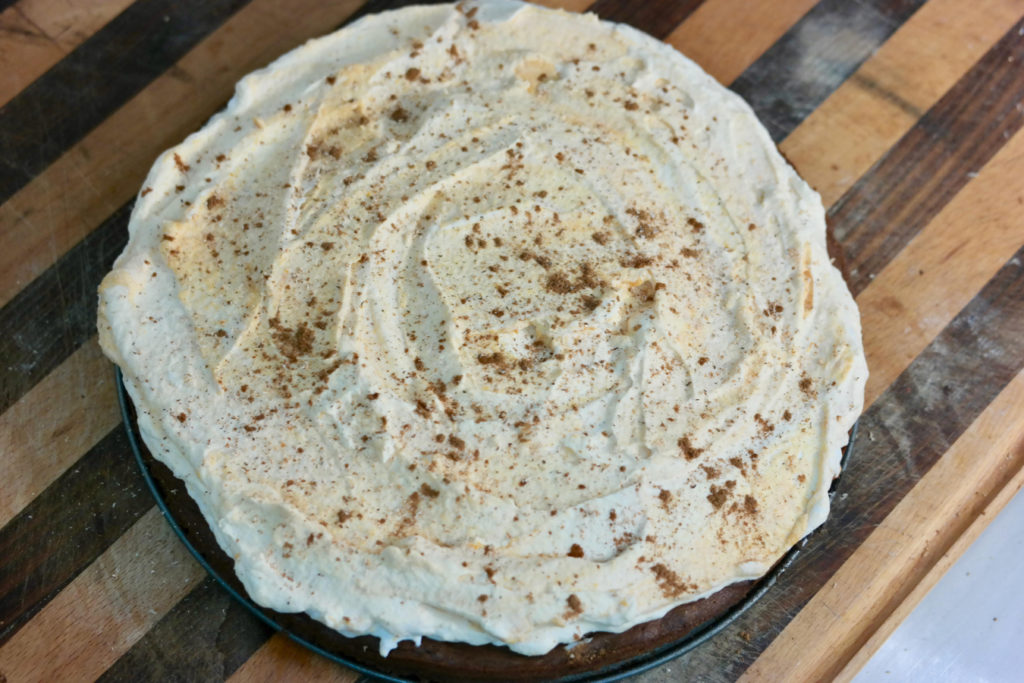 Now you cut your cake into slices – just make sure you store any leftovers in the fridge.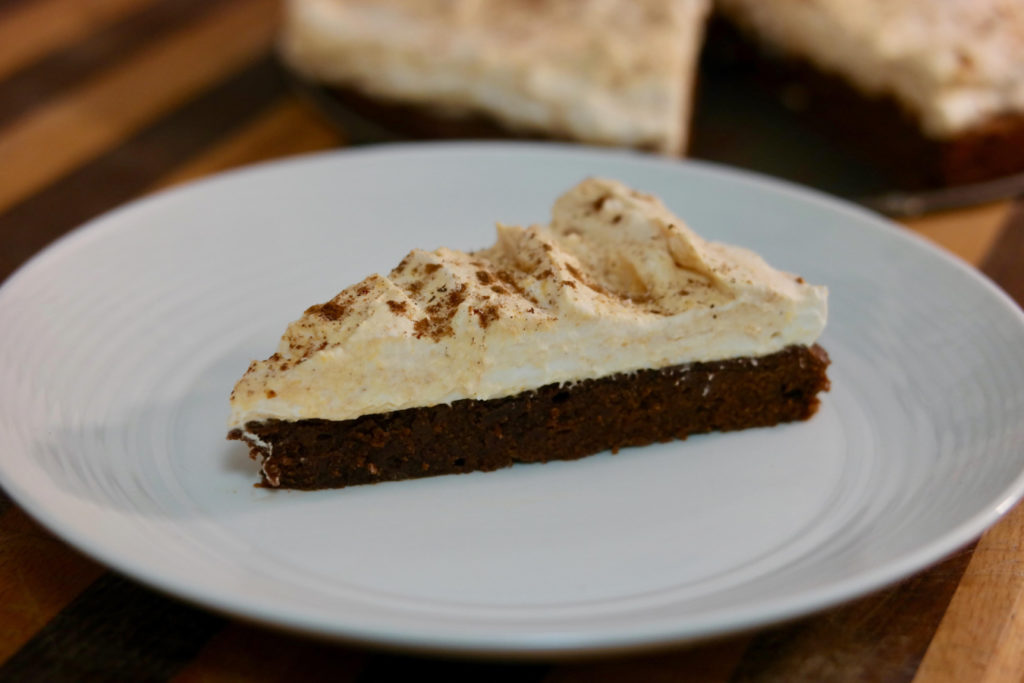 This is a surprisingly easy cake – you just mix the batter, bake it, then whip up some simple frosting and you're good to go.  You do need to plan in the time to bake and then cool the cake, so this isn't something that comes together quickly, but it's only a little bit of effort for a delicious and interesting dessert.  The thick chocolate pairs well with the pumpkin in the cake and in the frosting, and the cool cream is a great topping on the cake.  Adding a bunch of different spices on top really brings everything together, and they're the type of flavors that everyone loves at this time of year.  All in all this is a great seasonal cake to help usher in Thanksgiving and get you in a holiday mood, and after cooking a huge meal all day this cake is a perfect, tasty, and almost effortless way to end the festivities.