Every year for Thanksgiving we try to make some kind of interesting bread to go with the other vegetarian dishes we're making for the holiday, and this year we decided to try out these little puffs, based on a recipe from the New York Times.  These are a lot like the gourgeres we made earlier this year, but they use different cheeses in their batter and get some extra flavor from lots and lots of black pepper.  We really like how they taste and how they complemented everything else we were cooking up, but it was also nice that they were pretty easy to make – it was great to whip these up first thing in the morning as an easy bread before we got down to the hard work of preparing half a dozen other foods.  You can serve these at your holiday table, or you can just make them as a treat any time of the year – here's how.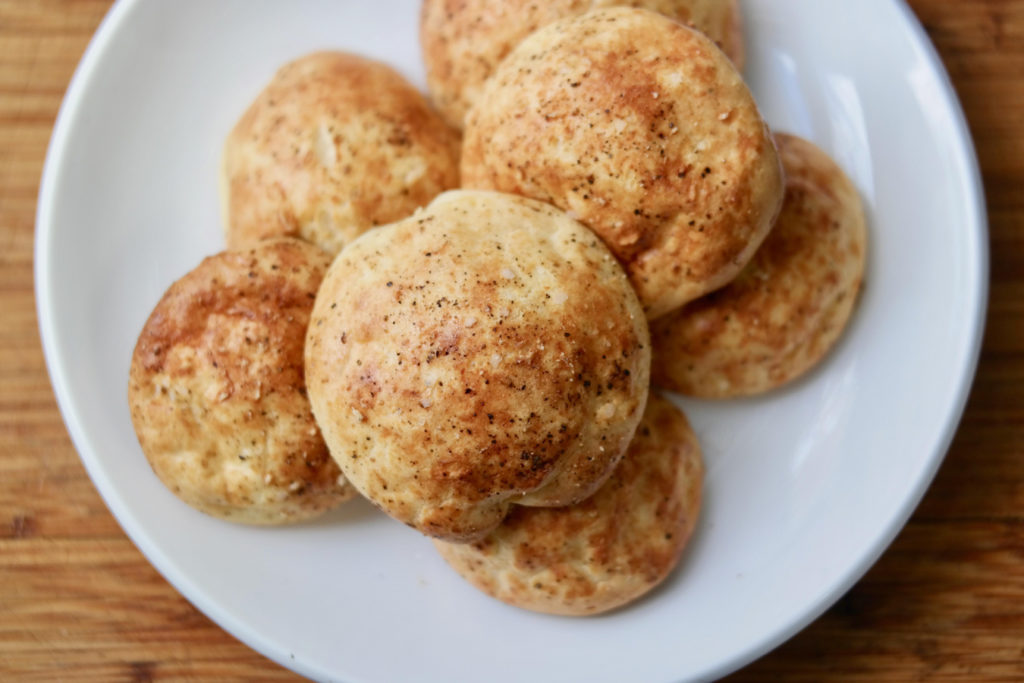 You'll need:
Milk
A stick of butter
Flour
5 eggs
Parmesan cheese
Pecorino cheese
You can start by measuring a cup of milk into a saucepan, then cutting your stick of butter into pieces and placing it in the milk with a teaspoon of salt and a very generous sprinkling of pepper.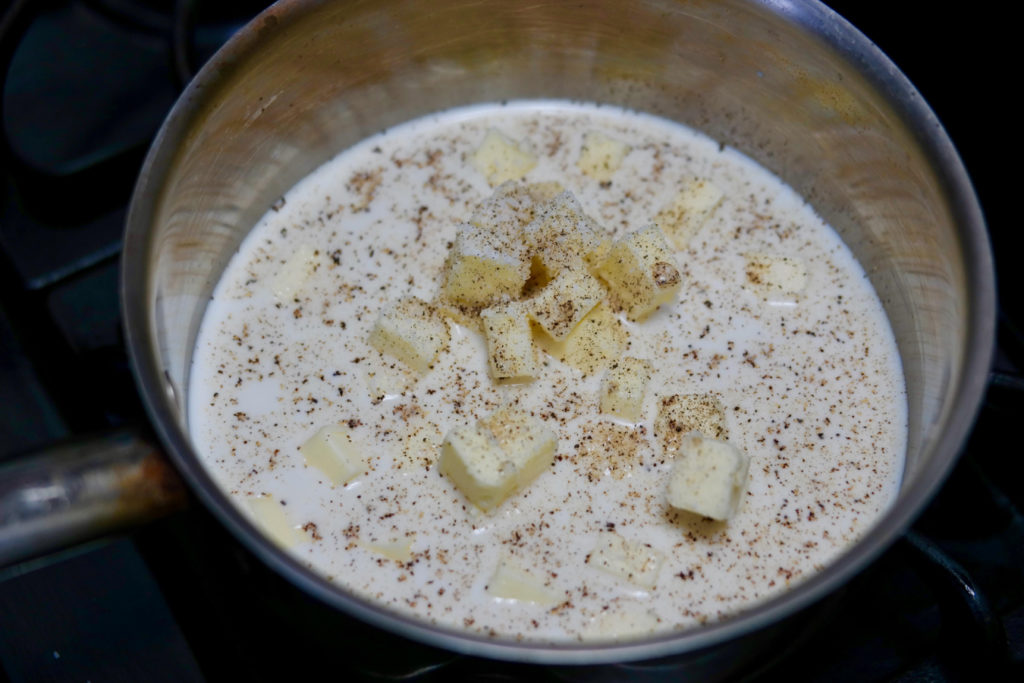 Warm over medium heat just until the milk starts to boil around the edges of the pan, then stir to mix the melted butter with the milk and add in a cup of flour.  Stir continuously, turning the heat to medium-low, for a few minutes until your dough is mixed completely and starts to pull away from the bottom of the pan.
Place this dough in a food processor.  Finely grate a half cup each of parmesan and pecorino and add those in, plus 4 eggs.  Mix in the food processor until you have a smooth and even batter – it should be somewhat thin and runny.  Then place parchment paper over two baking sheets, and use two spoons to scoop up batter and dollop it onto the parchment paper in inch-wide rounds (you should get around 30 portions).  Once all the batter has been placed out on your two baking sheets, beat your last egg with a teaspoon of milk and brush this over the tops of each round of batter.  Grate up extra pecorino and sprinkle it on top of each one, along with more pepper and some salt.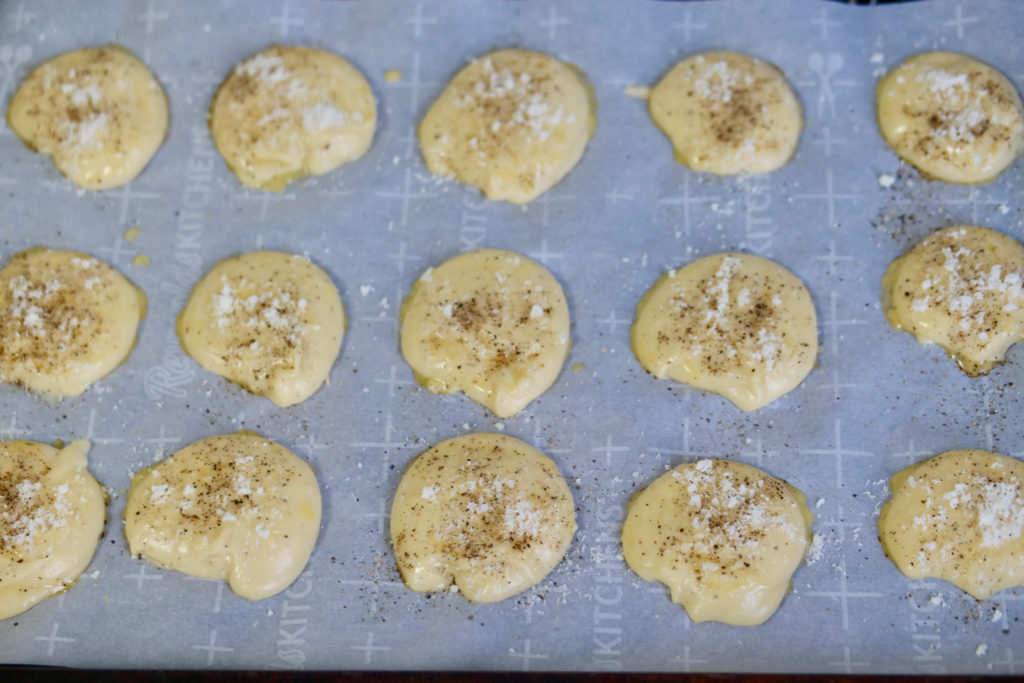 Bake your puffs at 425°F for 8 minutes, then switch the sheets from top to bottom in your oven and bake for another 8 minutes, until they're browned on the top.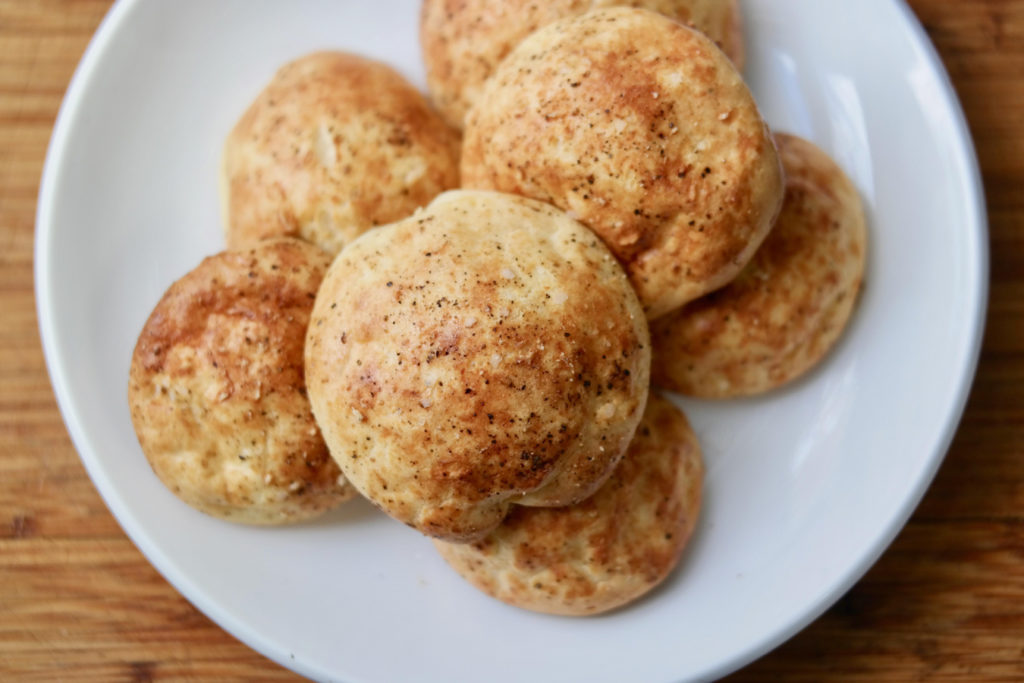 Don't these look delicious?  Cooking the dough on the stovetop first makes them light and airy, and they turn out to be hollow and slightly flaky inside.  These two cheeses add some rich flavors to the puffs, and you can see that adding lots of pepper gives them a nice color and a tasty bite.  We loved how quick and simple these were – really the only thing that's tricky is portioning the batter out with spoons – and they were pretty impressive for our Thanksgiving table considering how little effort they required.  We served them with our main meal but we also snacked on them throughout the day as we were cooking, so you can have these puffs at any time, really – no need for a special occasion to enjoy them!