This year Cyril introduced Miriam to leftover sandwiches.  If you're American and you're an aficionado of Thanksgiving food, you've probably been aware of this post-holiday treat:  it's a sandwich that piles on all your leftovers into one delicious feast between two slices of bread.  But since these sandwiches usually involve turkey, Miriam had never eaten one before.  This year, though, we made a meatless main dish for our Thanksgiving, so we were able to whip up our own vegetarian version of a leftover sandwich, and here's some pictures of what we did to guide you towards making your own.
We started with two sourdough boules from the new bread truck outside of the Michelin-starred Musket Room.  We sliced each boule in half – here you can toast the bread if you want – and on the bottom we piled some mashed potatoes, some cornbread stuffing, and a little bit of mushroom gravy.
For Thanksgiving we had made some double-breaded fried chick'n patties – we soaked Morningstar Farms Chik Patties in buttermilk, then coated them in egg and flour and pan-fried them.  For these sandwiches, we sliced up a patty and divided it between our two sandwich buns.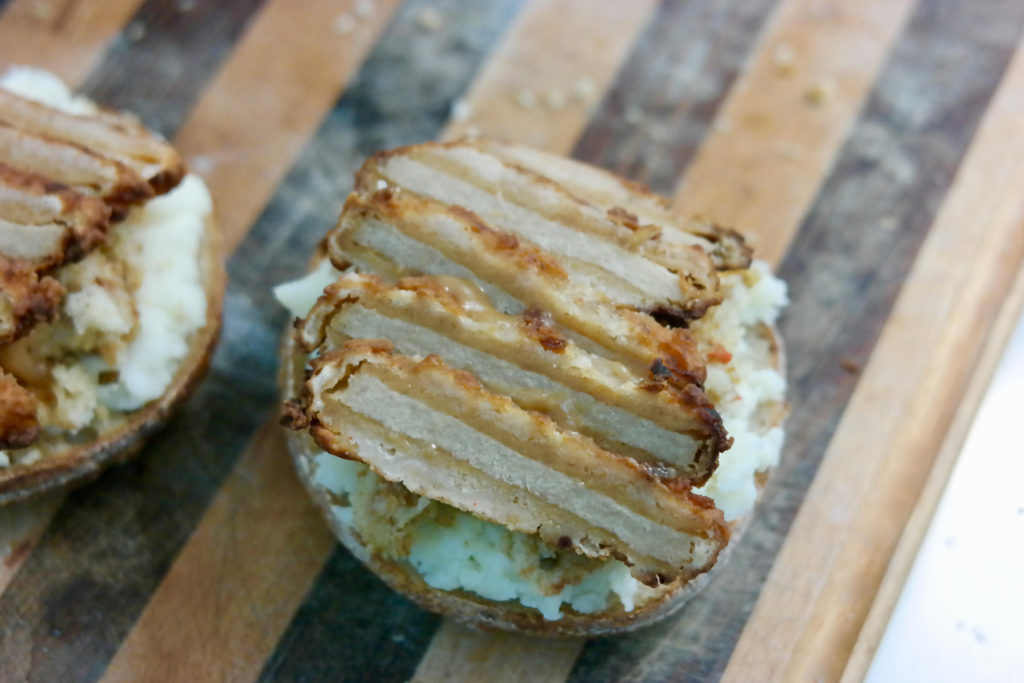 Finally, we topped the chick'n with some cranberry sauce and smeared a dab of mayo on the top sandwich bun.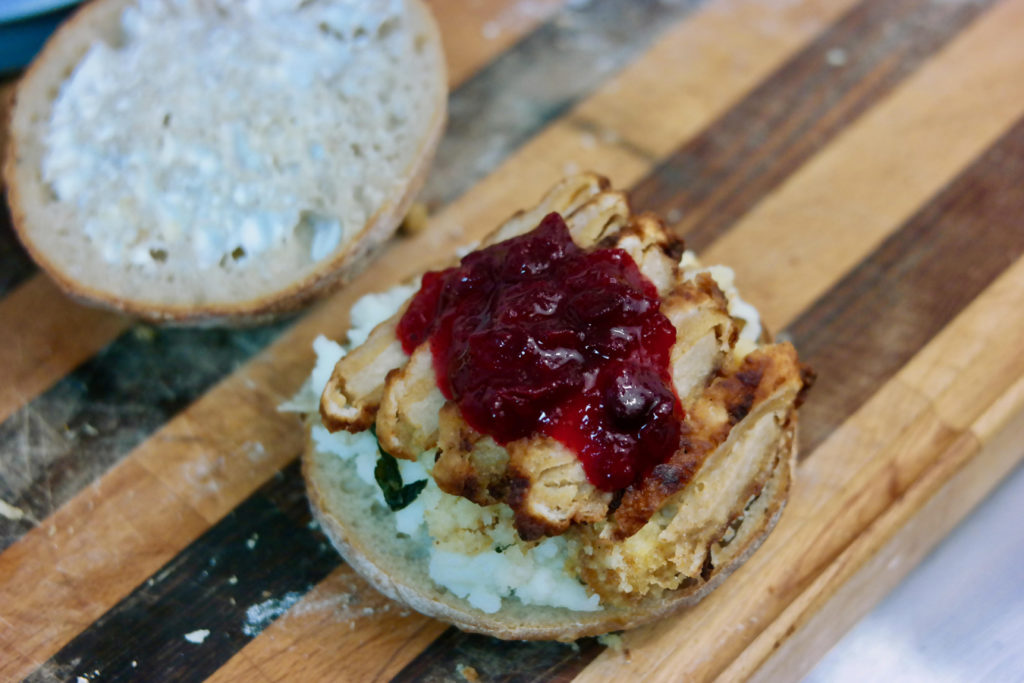 Put the whole thing together and you've got a delicious sandwich.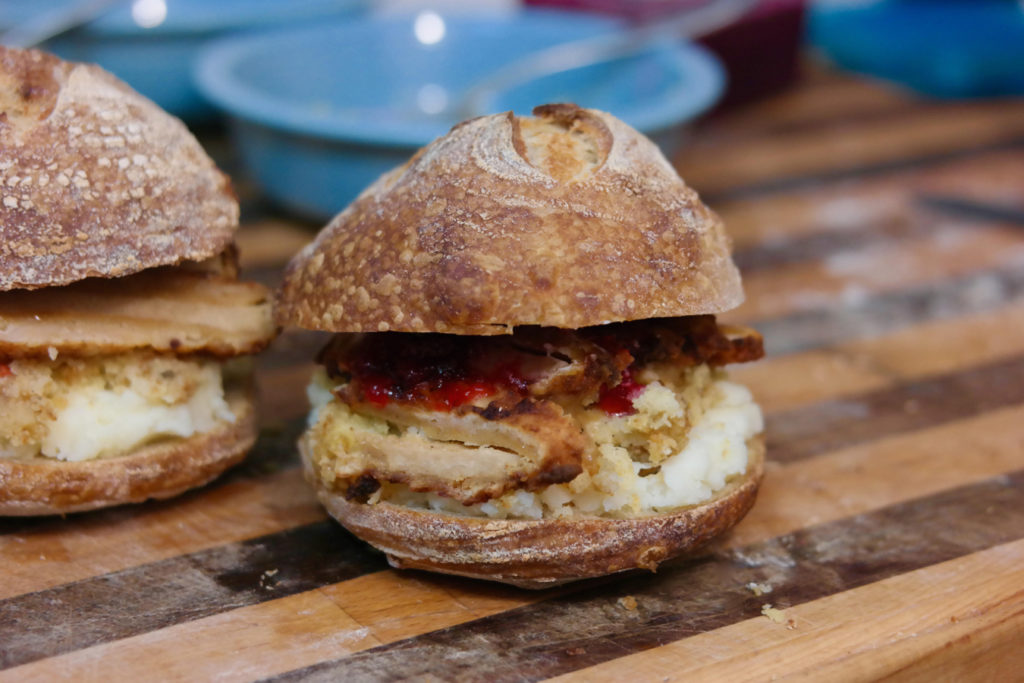 And inside it looks a little something like this: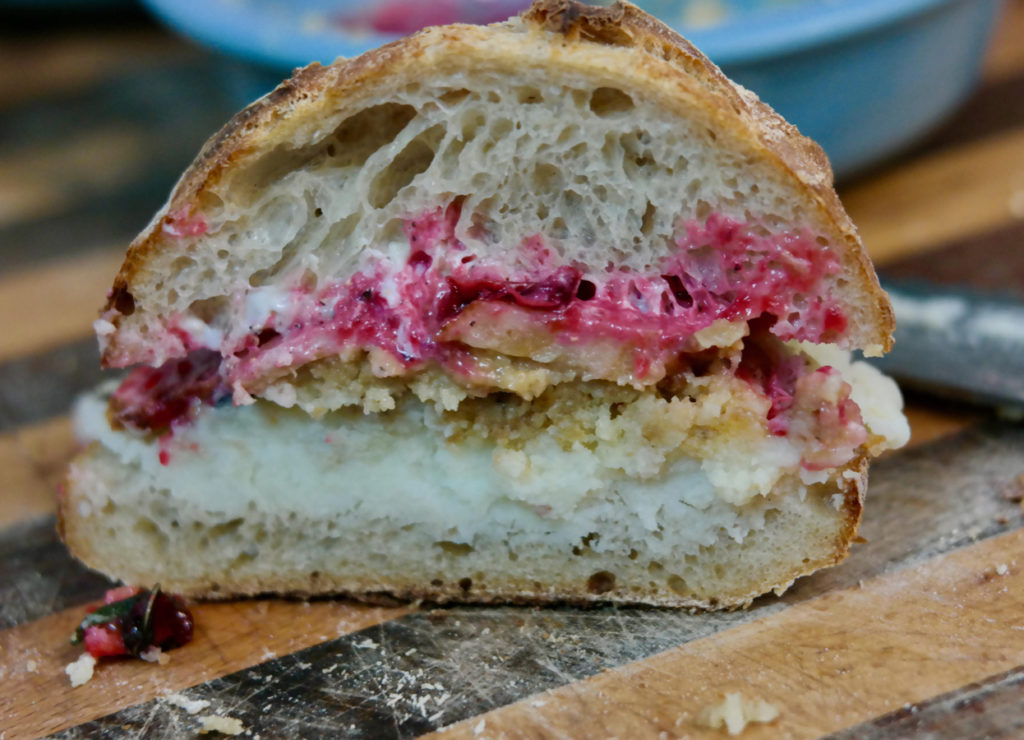 After spending all of Thanksgiving making food, the last thing you want to do the day – or week – afterwards is undertake even more cooking.  That's where leftover sandwiches come in:  they let you put all the extra food in your fridge to good use, and your Thanksgiving feast gets a tasty second life.  We wanted to show you that you don't need turkey to make a good leftover sandwich, and we think this vegetarian variation turned out great.  We splurged a little on some fancy sandwich buns, but you can use really any kind of bread, and any combination of leftovers you might have.  And while Thanksgiving might have come and gone for the year, we've still got Christmas coming up, and all the food you traditionally make for that holiday is just another opportunity for an amazing homemade sandwich.