As part of our venture into Christmas cookies around the world (which included some Greek holiday cookies last week), we decided to undertake pizzettes this year.  Pizzettes are an Italian cookie that's traditionally served for Christmas, and we'd never had this kind of cookie before so we decided to try it out.  As we were making them we realized they were a lot like biscotti, which we're more familiar with:  they're thick, made with chopped up nuts and some interesting spices, and at the end they get a nice dip in chocolate.  We based these on a recipe in Bon Appétit and the cookies turned out pretty thick and rich, so they're definitely a treat at this time of year.  There's some amount of technique involved here, so let us walk you through the steps so you can have an international platter of cookies.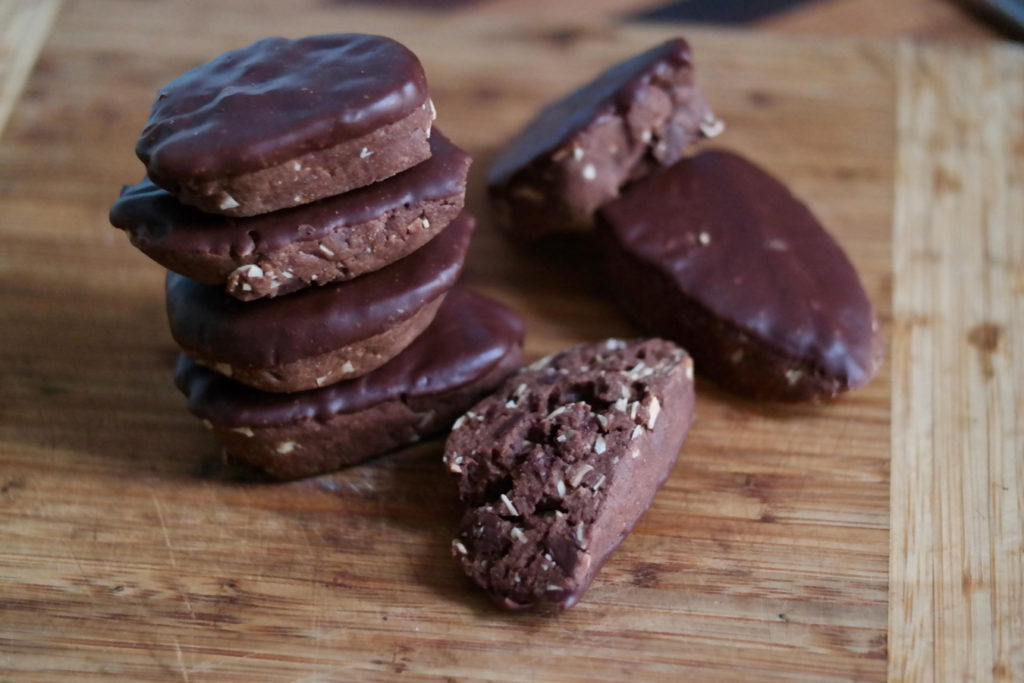 To make these, you'll need:
Sliced almonds
Flour
Baking powder
A stick of butter, plus a little extra
Cinnamon
Nutmeg
Ground cloves
Sugar
Cocoa powder
2 eggs
Chocolate chips
A lemon
An orange
Bittersweet baking chocolate
Powdered sugar
To start, you'll want to measure out 3/4 cup of almonds, place them on a baking sheet, and toast them for 7 minutes at 350°F.  Once they come out, set them aside to cool.
Now for the dough, melt your one stick of butter in a pan over medium heat, and then stir in 3/4 teaspoon of cinnamon and 1/2 teaspoon each of nutmeg and ground cloves.  Take the pan off the heat to cool, and while you're waiting whisk together 1 1/2 cups of flour, a teaspoon of baking powder, and a pinch of salt.  Now in a second bowl whisk together 1/2 cup of sugar and 1/4 cup of cocoa powder, then pour in the butter and whisk continuously until everything is combined.  Whip in one whole egg and one egg yolk, then stir this butter mixture into the flour mixture.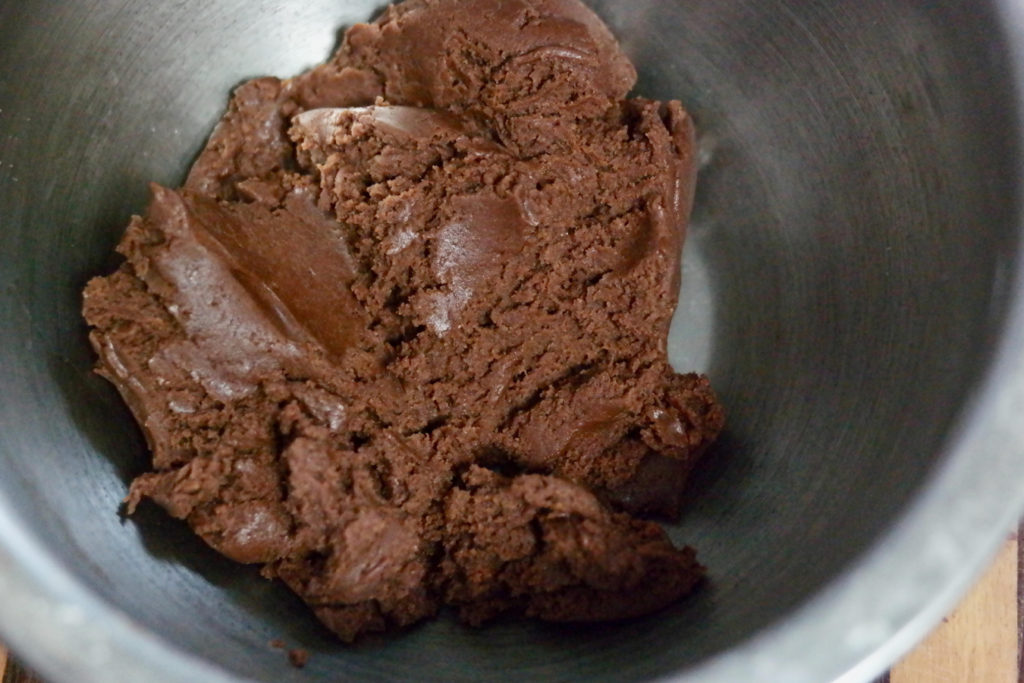 Now place your almonds in a food processor and run it until they're coarsely chopped.  Add these into the dough along with a cup of chocolate chips and the zest from your lemon and your orange.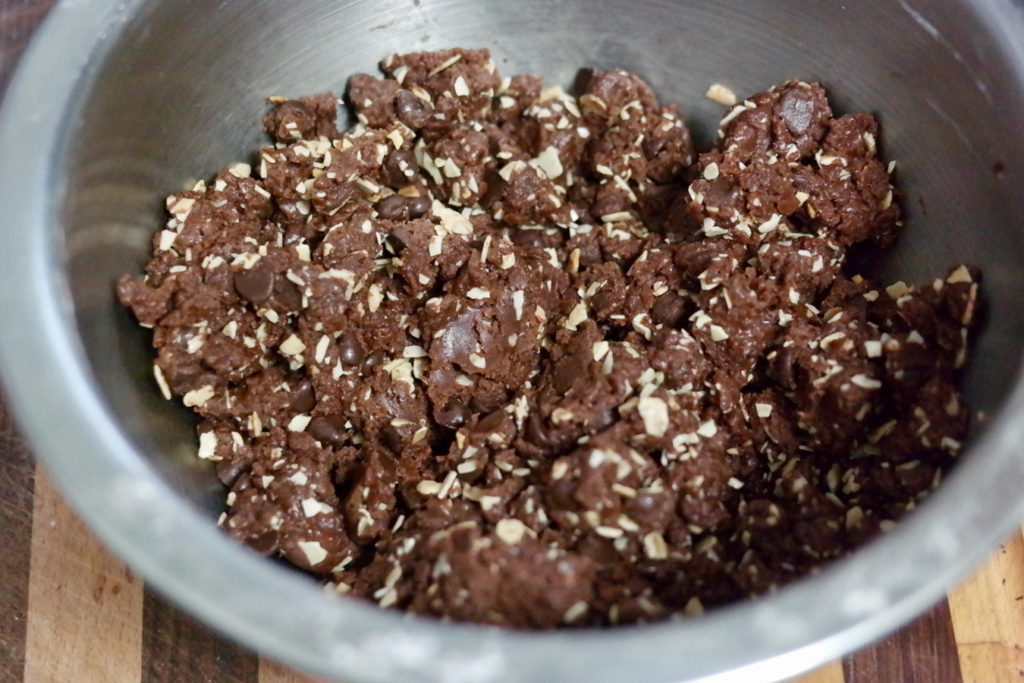 Divide your dough in half, and on a work surface roll and shape both halves into logs that are roughly 2 inches wide.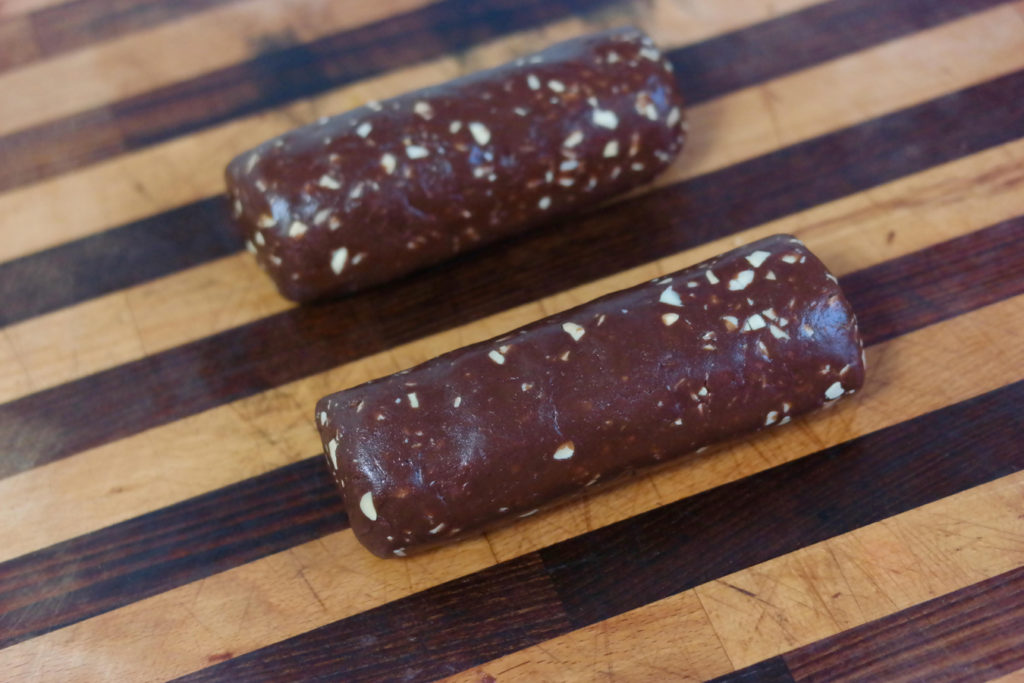 Slice the logs diagonally into inch-wide cookies and place them on baking sheets lined with parchment paper.  Turn the oven up to 375°F and bake for 8 minutes, until the cookies are set around the outside but still a little unbaked in the middle, then set them aside to cool completely.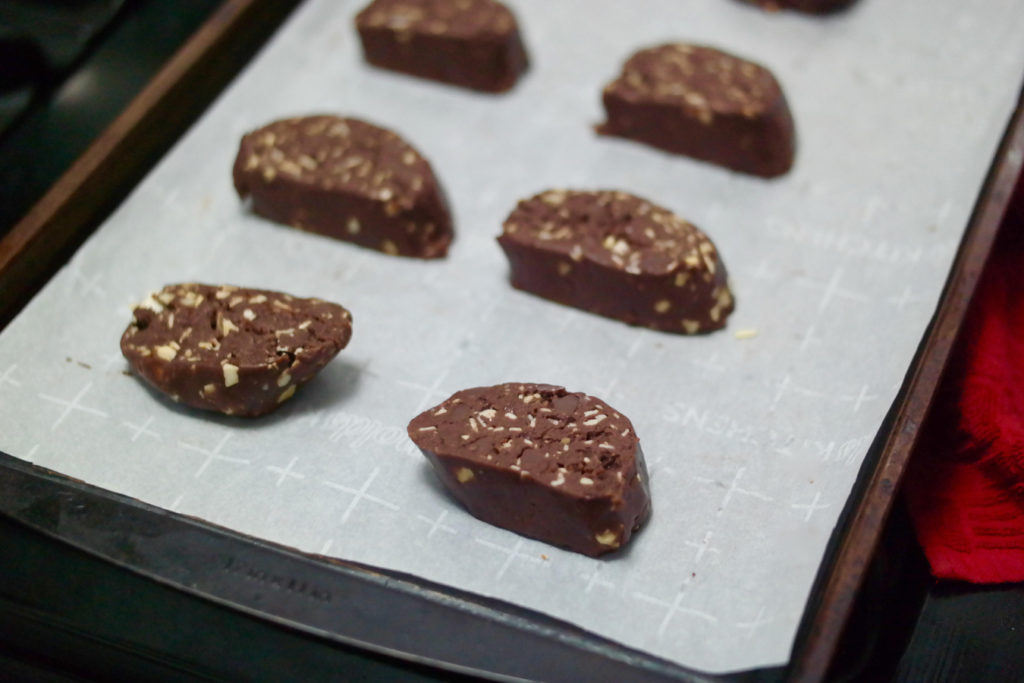 Now for the chocolate dip:  when you're ready, take a small pan and fill it halfway with water.  Find a bowl that can fit over the pan without touching the water, and place in it 2 teaspoons of butter, 2 ounces of baking chocolate (that should be half a bar), and a pinch of salt.  Place the bowl on top of the pan …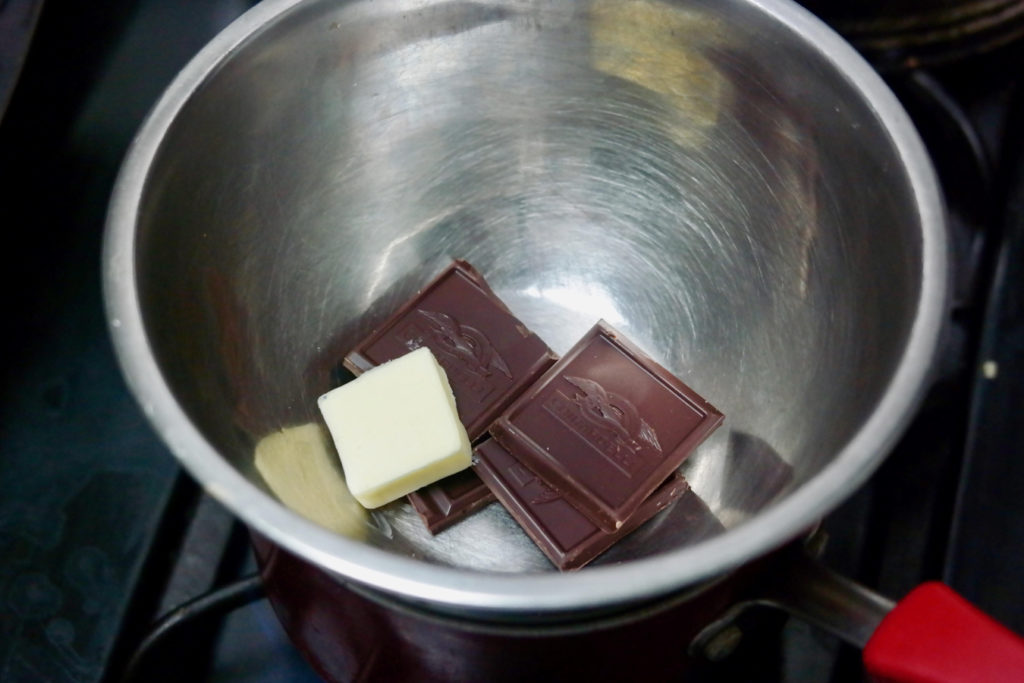 … and let the water come to a boil, whisking the mixture until it melts and comes together in a smooth glaze.  Dip one side of each cookie into the glaze, and then set them back on the baking sheets so that the glaze can dry and harden.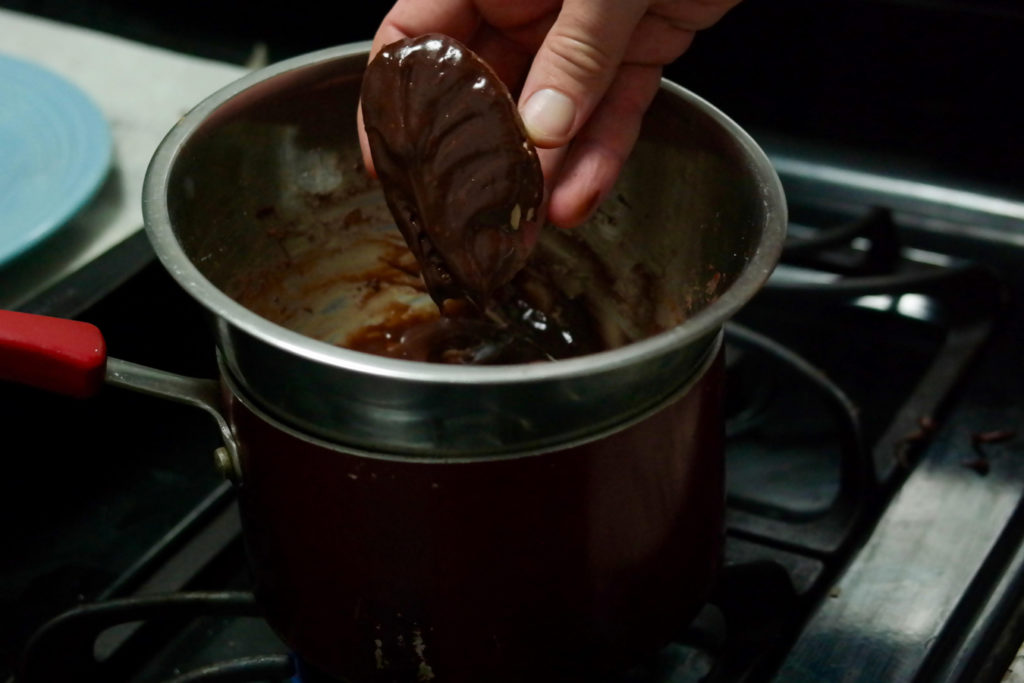 And then you'll have some pizzettes!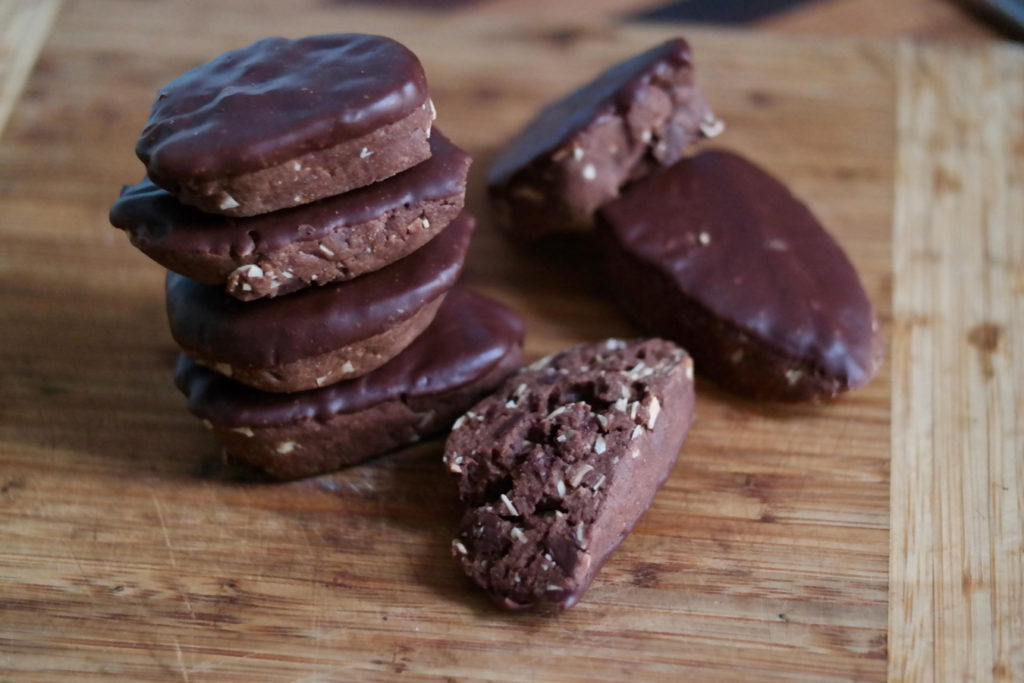 If you couldn't already tell, these are super chocolatey!  You've got chocolate in the dough and a pure chocolate dip, plus the almonds, spices, and zest add in some really interesting flavors.  You'll get about a dozen cookies from this recipe, which is perfect because one cookie is more than enough to satisfy your chocolate craving.  Making the pizzettes requires some time and a few steps, but we figured it out and it's not so hard as long as you keep moving and do everything in the right order.
We enjoyed trying out cookies from other countries, but we're not done yet!  Next week, even though Christmas will be over, we're going to show you our final two cookie recipes of the year.