It'a a brand new year, and for many of us that means trying to eat a little healthier after all those cookies, candies, and holiday meals.  We want to help you with that food resolution by providing you in the next few weeks with some light, vegetable-centric meals you can cook up.  This week we're going to feature some soups, which are not only good for you but also good for the cold weather at this time of year.  We based this one on a recipe from Bon Appétit, but made some changes to it based on what we already had in our kitchen and what was easier for us.  It's especially perfect right now because it's tradition in Haiti to eat a soup filled with some type of orange squash in the new year, to celebrate the country's independence on January 1, 1804 and the fact that the black citizens of that country were finally free to eat the vegetables that had previously been only available to the French enslavers.  Although Haitian squash soup – called soup joumou – has meat in it, here's a vegetarian (and potentially vegan) alternative that you can chow down on in celebration of 2021.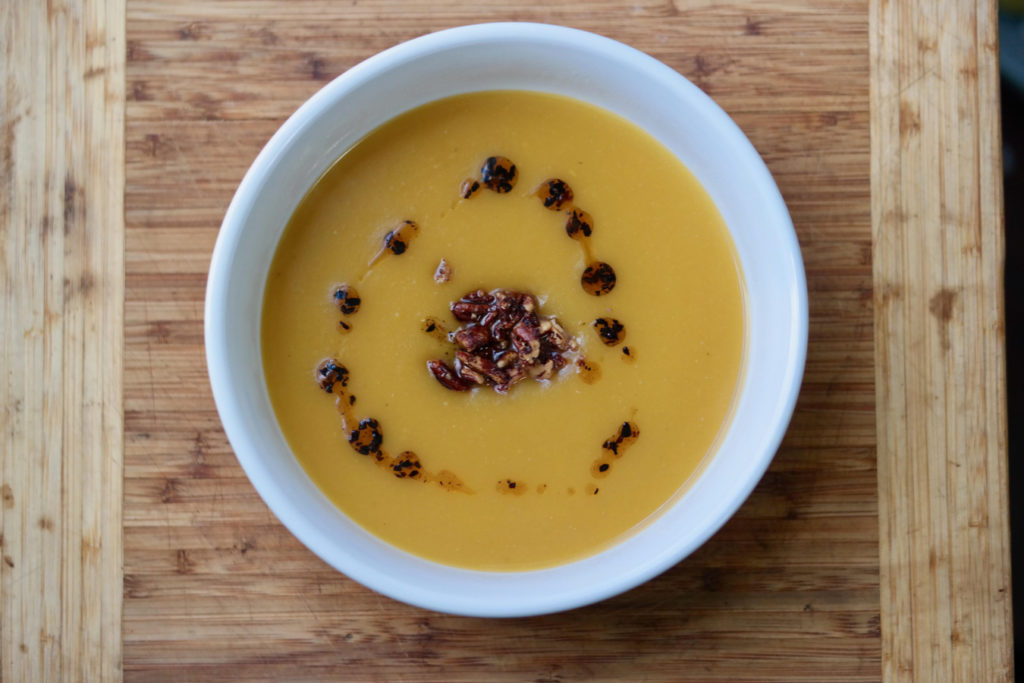 To make this, you'll need:
Pecans
Honey, or maple syrup for a vegan soup
Vegetable oil
Dried chiles
Paprika
Ground ginger
Onion powder
Coriander
Nutmeg
Garlic powder
Ground cloves
Cinnamon
Ground allspice
Red pepper flakes
Thyme
Cinnamon sticks
Allspice berries
Whole cloves
Garlic
Olive oil
3 1/2 pounds of pre-cut butternut squash pieces
3 vegetable bouillon cubes
2 13.5-ounce cans of coconut milk
** You'll also want to buy a pair of knee-high stockinga – the kind you get in the plastic bubble at any drug store.  You can find out why later in this recipe!
First, you'll want to make a spice mixture:  in a bowl mix 1/4 cup of paprika, a tablespoon of salt, a teaspoon each of ginger and onion powder, 1/2 teaspoon of coriander, and 1/4 teaspoon each of nutmeg, garlic powder, ground cloves, cinnamon, and ground allspice.  Then use your hands to crush up enough dried chiles to fill a 1/2 cup measuring cup and add those in too.  Send the whole mixture through a food processor until it's a mostly even powder.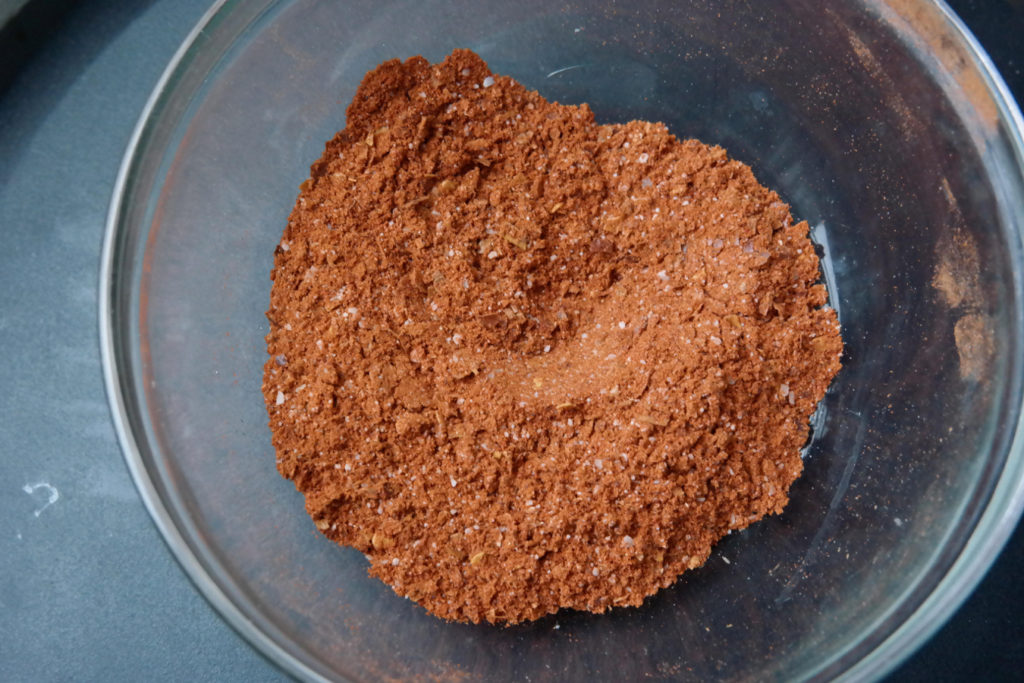 Now mix 1 1/2 cups of pecans with 3 tablespoons of honey or maple syrup, a tablespoon of vegetable oil, and a teaspoon of your spice mixture (you can save the rest for other dishes).  Lay these out in a baking dish and cook for 20 minutes at 350°F, then spread them out to let them cool while you work on the rest of the soup.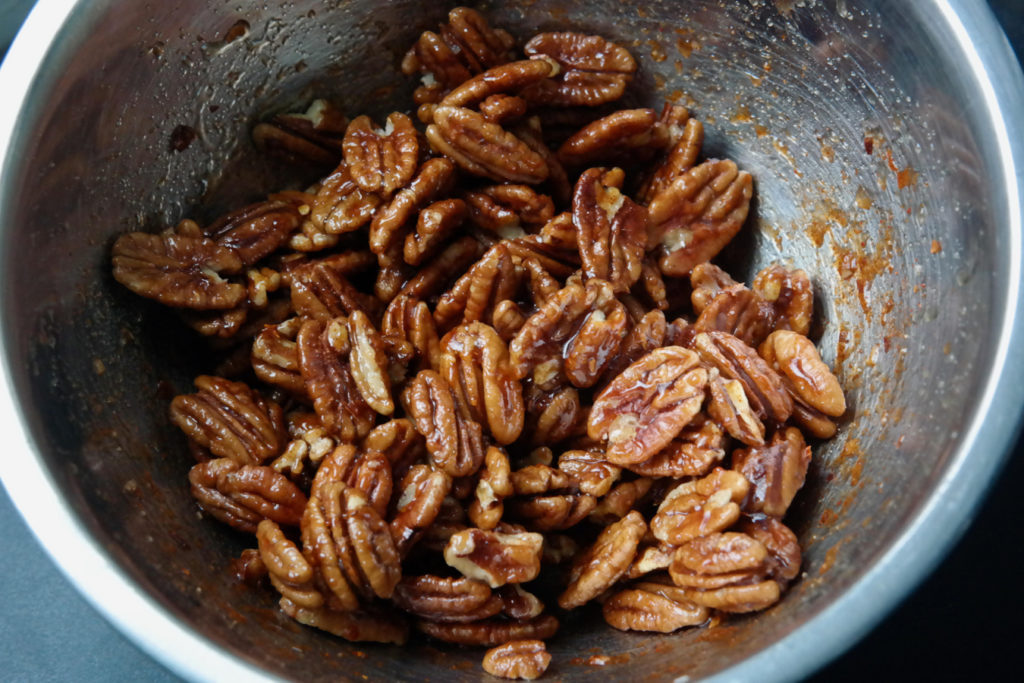 You'll also want to make a spiced oil topping for the soup: mix a tablespoon of red pepper flakes and a teaspoon of nutmeg in a bowl that can withstand high temperatures.  Warm 1/2 cup of oil over high heat, watching it carefully, and right when it begins to smoke take it off the stove and pour it over the red pepper flakes and nutmeg.  Set it aside to cool.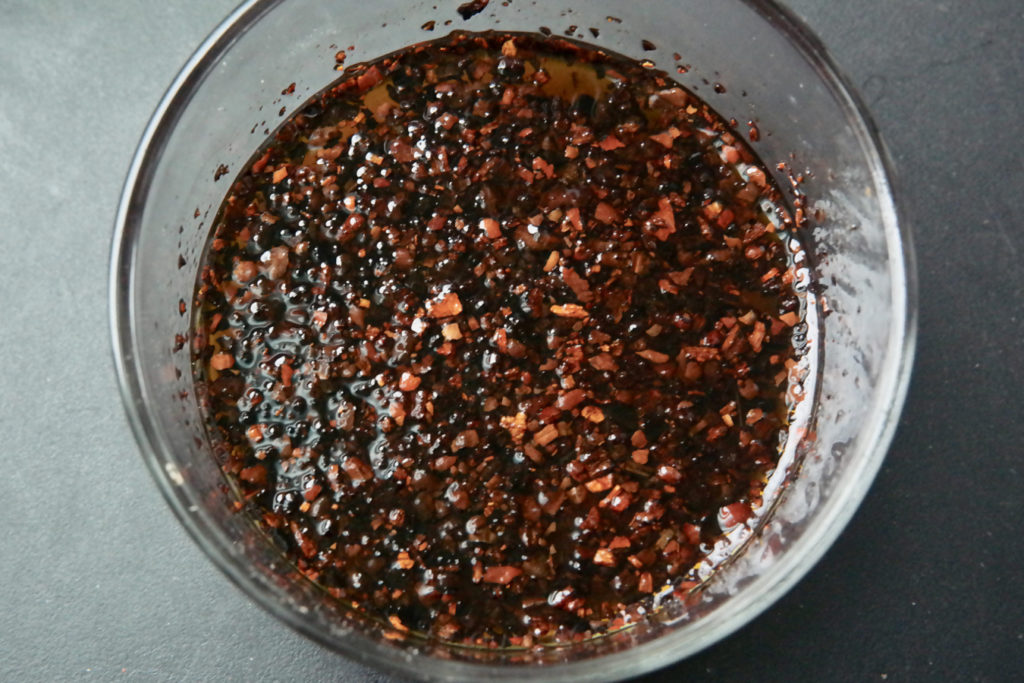 Now for the actual soup:  you'll want to make an herb sachet with 8 sprigs of thyme, 2 cinnamon sticks, a tablespoon of allspice berries, and a teaspoon of whole cloves.  We learned a cool kitchen trick where you can make a sachet out of a single knee-high stocking, so stuff one stocking with the thyme, cinnamon, allspice, and cloves, then tie it off to seal everything inside.  Next, slice 8 garlic cloves thinly and cook them for 3 minutes or so in a large pot with 1/4 cup of olive oil, until they're just softened.  Dissolve your vegetable bouillon cubes in 3 cups of boiling water and add that to the pot, then cut any larger squash pieces into one-inch cubes and place those in the broth, along with your herb sachet, and bring everything to a simmer.  Cook over medium-low heat for 25 minutes – the squash should be tender at that point.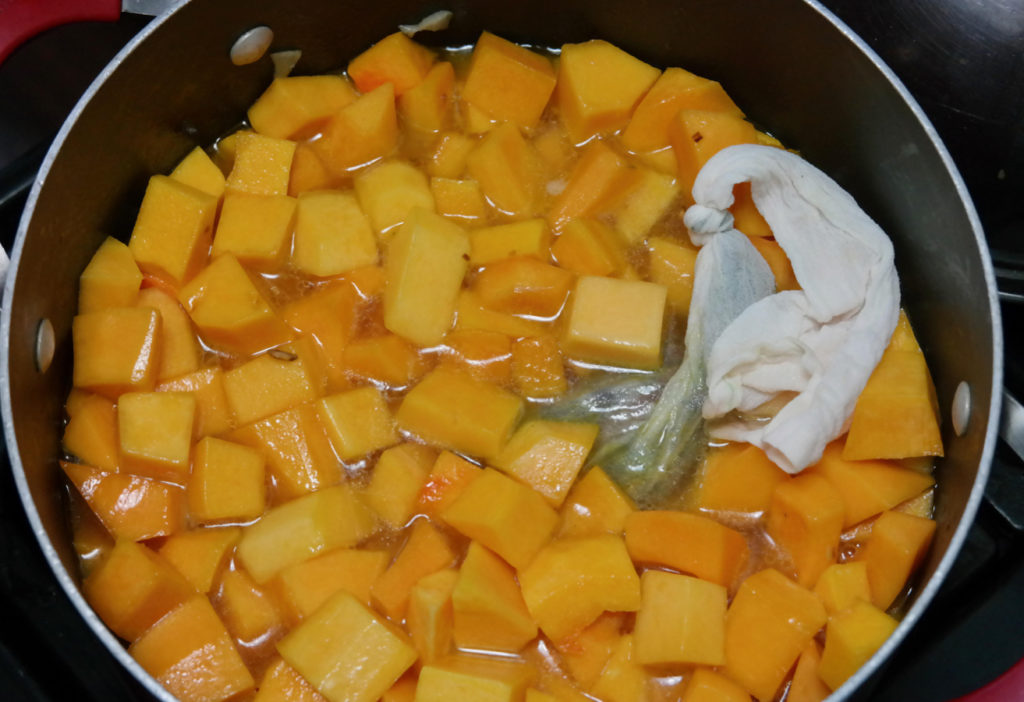 Then take out the herb sachet – you're not going to need it anymore – and stir in all of your coconut milk.  Simmer for another 5 minutes, then take the pot off the heat and use an immersion blender to make everything into a smooth soup.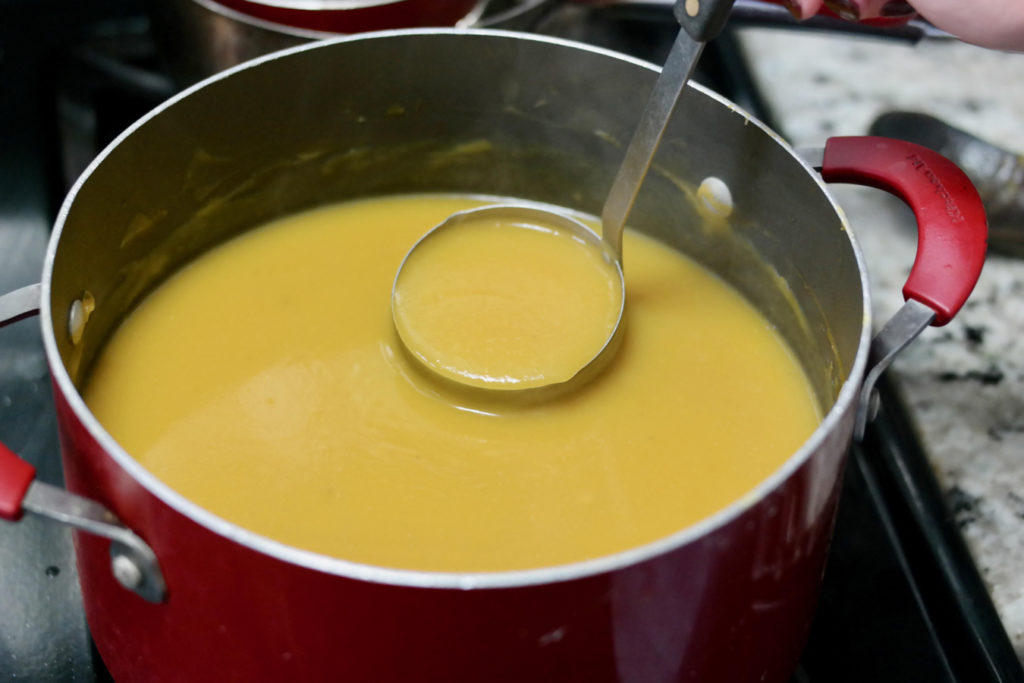 Serve the soup topped with the nuts and the spiced oil.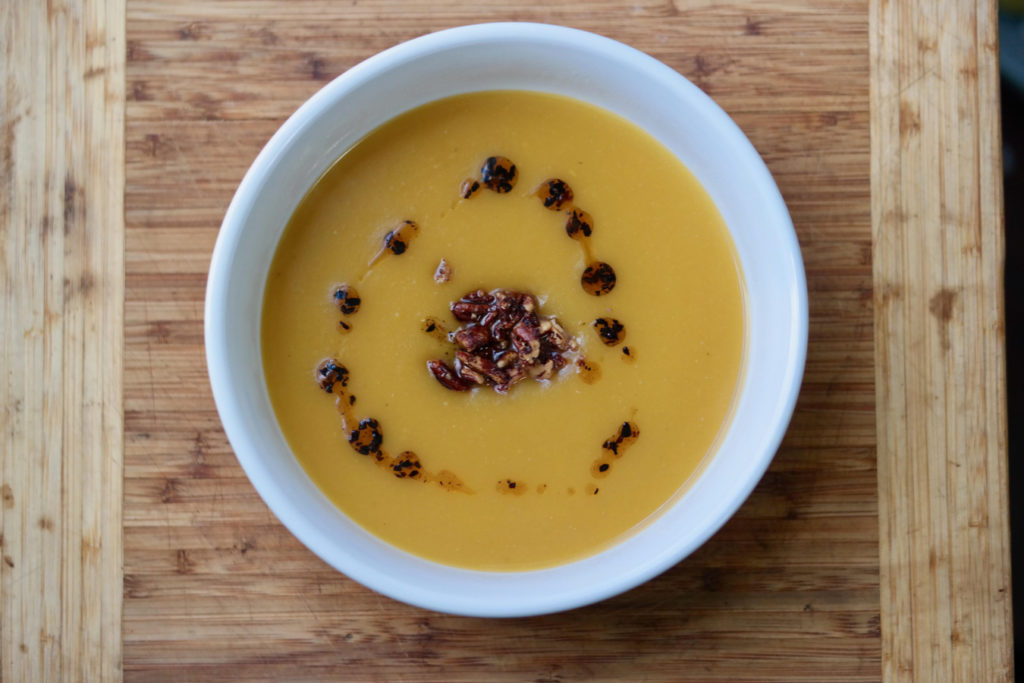 This isn't the simplest soup in the world, but all the hard work is worth it:  the squash, blended with coconut milk, makes for an incredibly delicious soup that's thick and rich without relying on dairy.  The nuts bring some crunch as well as some heat, thanks to the spice mixture that gives you an extra flavoring you can use for some of your other meals, and the spiced oil adds one extra taste to bring the whole thing together.  All this goes to show that you can have a really warm, filling and interesting soup to nourish you in these cold months and help you get back to eating whole and healthy.