Earlier this week we showed you a delicious and healthy squash soup as part of our commitment to cooking up some good-for-you recipes in this new year.  Today, on a chilly winter day, we're going to feature another soup, using a different type of squash:  pumpkin!  This soup is incredibly easy to make – we based it on a recipe in the New York Times and we've actually had it several times this season, just because of how tasty and simple it is.  With herbs and spices in the soup and some sage on top, you've got a very colorful and flavorful light meal that you can easily whip up, and it's a soup that'll make you feel good both inside and out.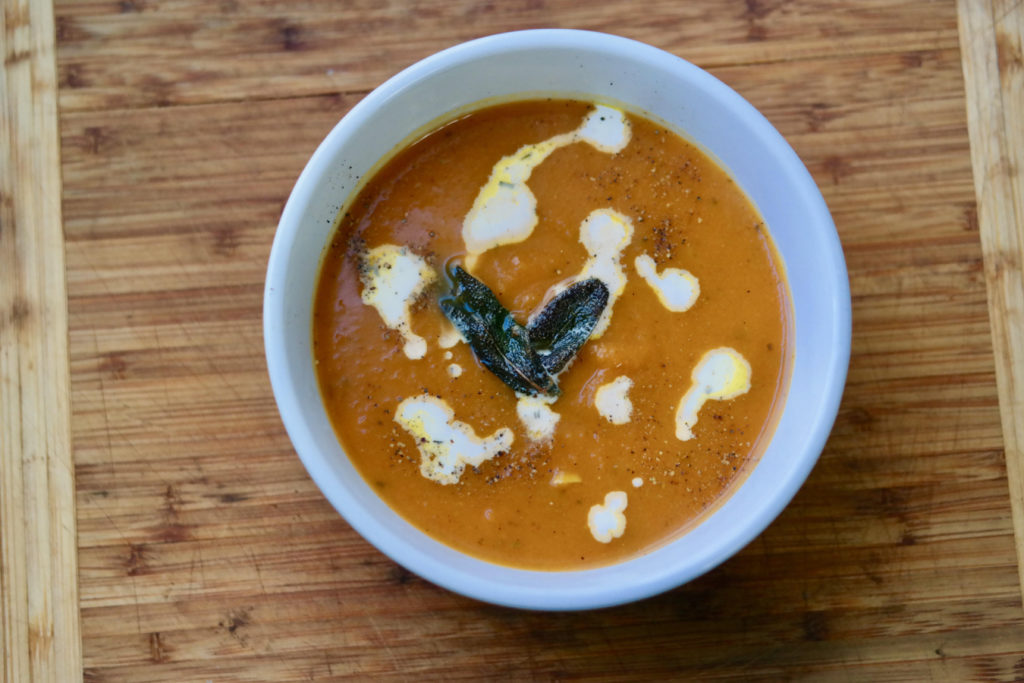 To make this, you'll need:
Butter
Dried rosemary
Honey
Garlic
Apple juice
4 vegetable bouillon cubes
A 29-ounce can of pumpkin puree
Curry powder
Nutmeg
Ground cloves
Half-and-half
Sage
To start, bring 4 cups of water to a boil and dissolve in your bouillon cubes. While you're waiting, place 3 tablespoons of butter into a stock pot and melt over medium heat, then stir in 2 teaspoons of dried rosemary and 2 tablespoons of honey.  Add in 3/4 cup of apple juice and cook until the some of the liquid boils away, then add in your broth, a teaspoon of curry powder, 1/2 teaspoon of nutmeg, 1/4 teaspoon of ground cloves, and your entire can of pumpkin, plus salt and pepper to taste.  Cook all of this together for 10 minutes, stirring occasionally.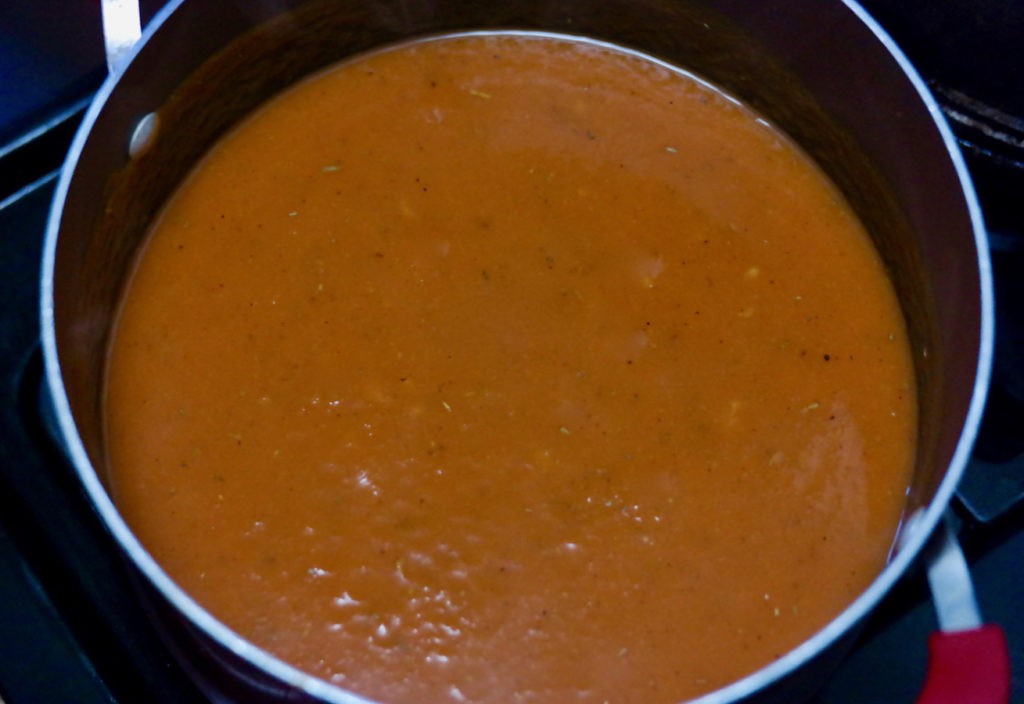 Then take a small frying pan and melt another 2 tablespoons of butter over medium-high heat.  Pluck off 12 sage leaves and fry them in the pan for only a minute or so, until they're crispy but not too brown.  Use a slotted spoon to take them out of the butter and let them cool on a paper towel.  Stir the butter left in the pan into the soup.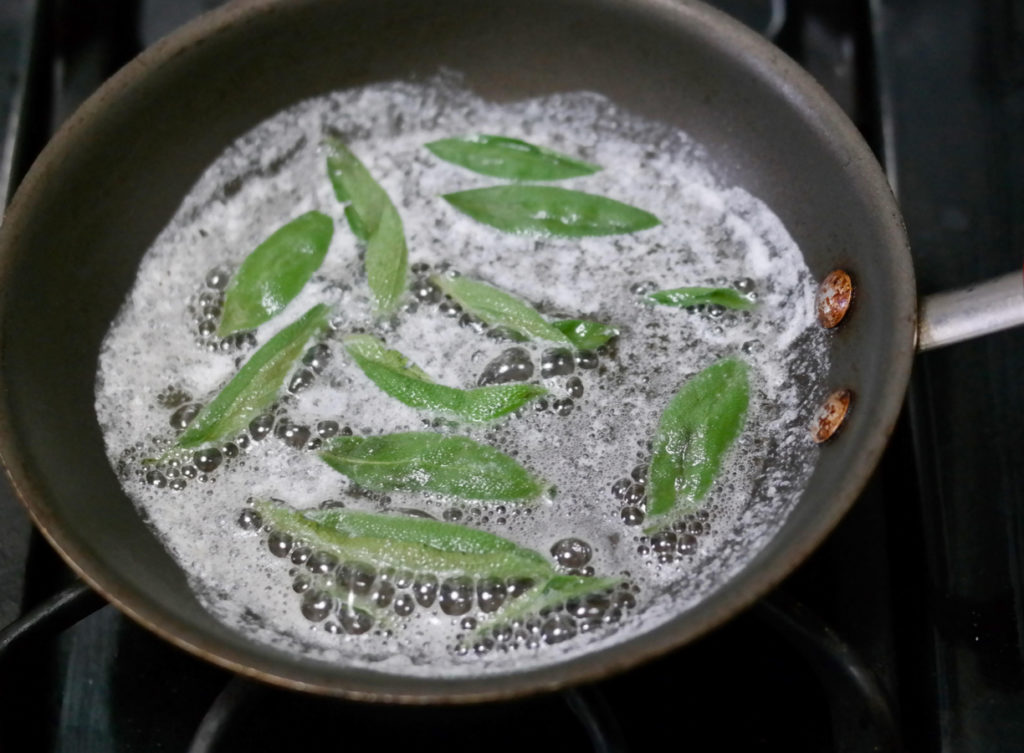 Now take the soup off the heat and mix in 1/2 cup of half-and-half.  Ladle soup out into individual bowls and top with a few sage leaves, an extra drizzle of half-and-half, and some pepper.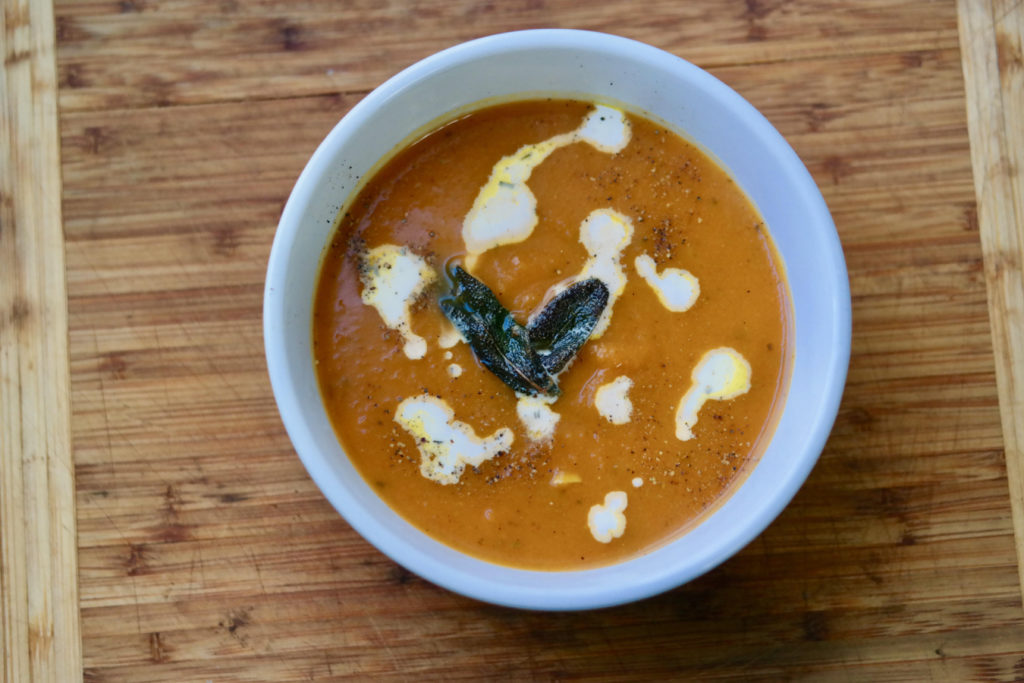 And it's as simple as that!  The whole soup comes together in about 20 minutes, and it's delicious:  the spices, rosemary, and the unexpected addition of apple juice blend together well to bring out the pumpkin flavor of the soup, and the half-and-half adds in a nice amount of creaminess.  The fried sage on top makes for some extra herbs and a crispiness that pairs well with this smooth soup.  We truly enjoyed this both for how easy and how tasty it was, and it's the perfect meal when you want to eat healthy and simply but still enjoy something delicious.