We're still sticking to our new year commitment:  now that it's 2021, we've decided to focus on simple and healthy recipes to showcase, like the two soups we featured last week.  Now we're going to post some dishes centered around a different type of food – potatoes!  Specifically, sweet potatoes, in keeping with our accidental theme of orange foods.  The picture above might look pretty impressive, but today's sweet potatoes, which we based on a recipe from the New York Times, are actually pretty easy to make, and we were able to whip them up for our lunch recently.  They can also make a good side dish for a larger meal, but however you choose to serve them, they'll be a delicious, light treat that brings in a ton of flavors in a quick, vegetable-based dish.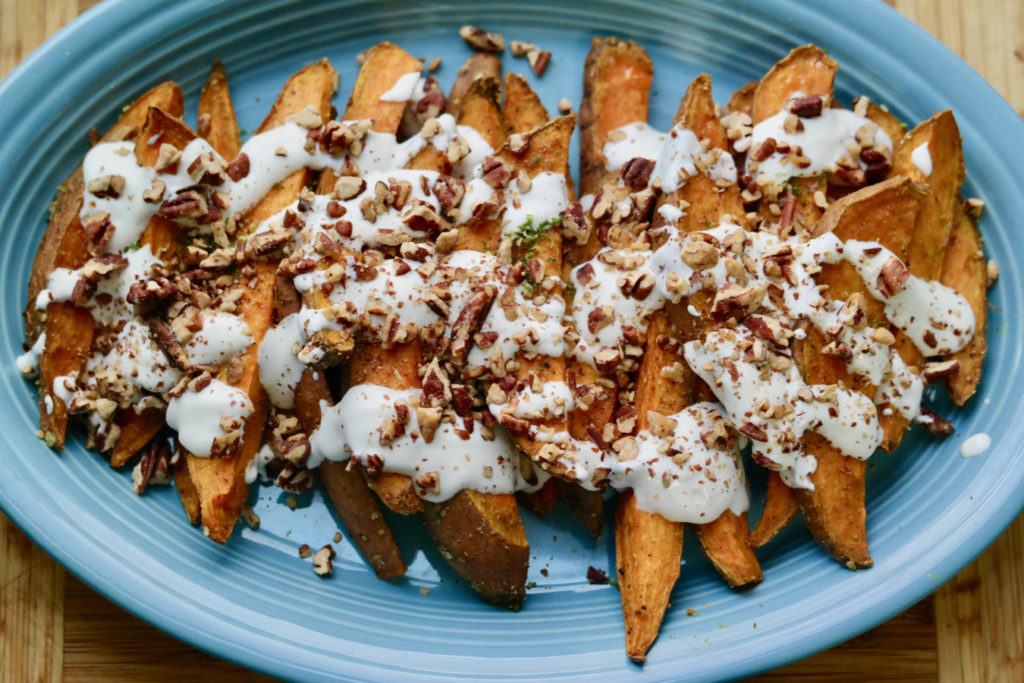 To make these, you'll need:
Olive oil
2 pounds of sweet potatoes
Curry powder
A small container of sour cream
A lime
Milk
Pecans
To get started, measure out 1/3 cup of pecans, place them on a baking sheet, and toast them at 350°F for 8 minutes, then take them out of the oven to cool.
Meanwhile, slice your sweet potatoes into wedges by cutting each one in half, then cutting the halves into 4 equally-sized pieces each.  Mix these wedges with 2 tablespoons of olive oil, a teaspoon of curry powder, and salt and pepper to taste.  Toss the wedges with your hands to make sure each one is well-covered.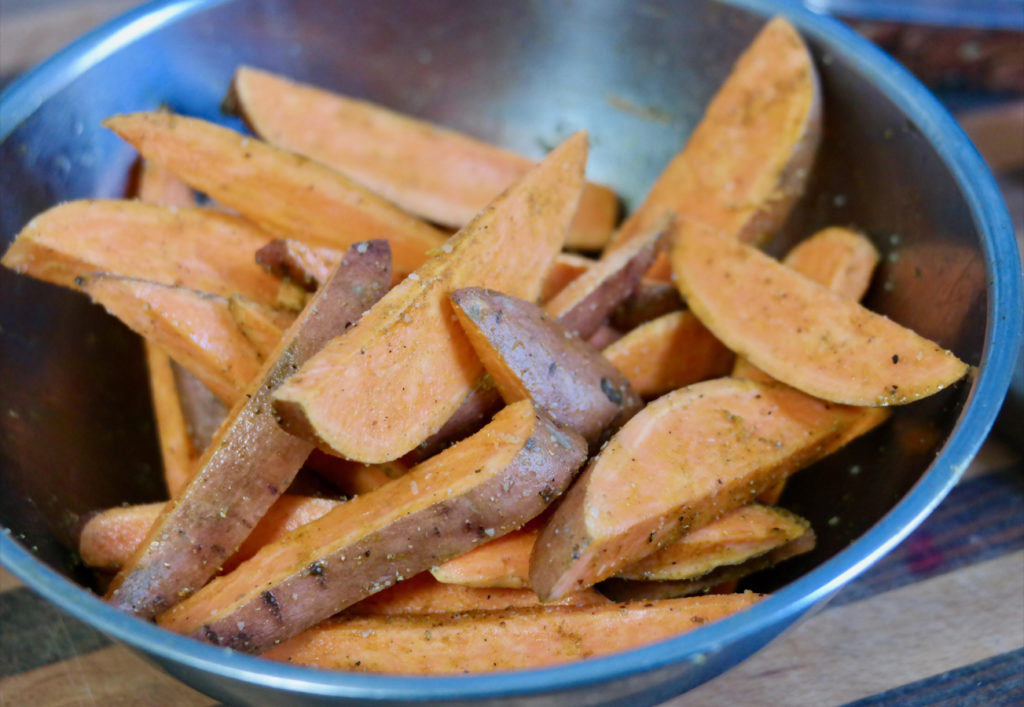 Lay the wedges out on a baking sheet, making sure they don't overlap, and bake (again at 350°F) for 30 minutes, then flip them over and roast for another 30 minutes.  Right when they come out of the oven, place them in a serving platter and zest your lime over them.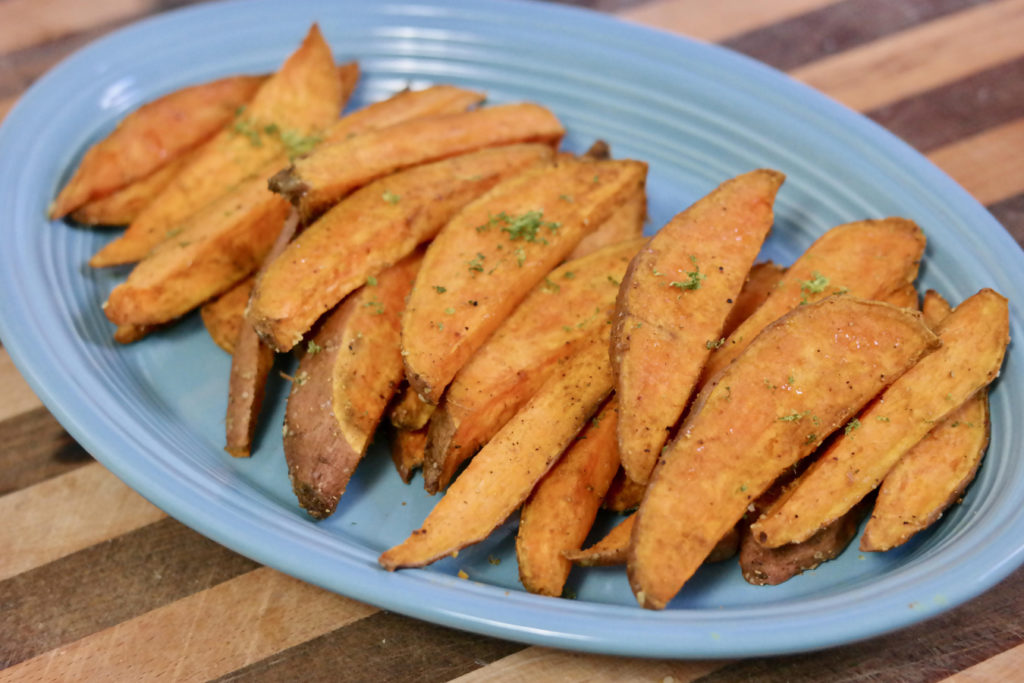 Let the wedges cool a little, and while you're waiting chop your pecans by placing them in a food processor and letting it run until you have medium-sizes pieces.  You'll also want to make the sauce for your wedges:  scoop out 1/2 cup of sour cream and whisk with the juice from your lime and a tablespoon of milk.  Scatter the pecans over the wedges, then drizzle everything with the sour cream sauce.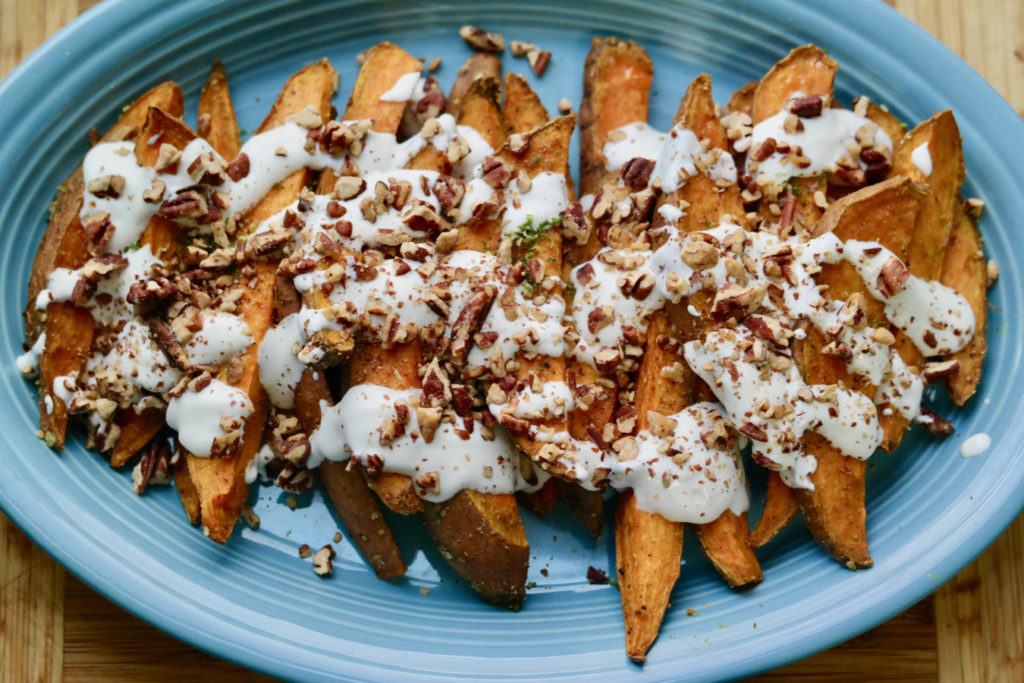 There were several different things we liked about this recipe – first, how easy it was!  You only have to cut each potato into 8 pieces, then mix them with spices, bake, toast some pecans, make an simple sauce, and put the whole thing together.  It does take an hour for the potatoes to roast, so it's best to plan with that in mind, but otherwise these wedges require less than 20 minutes of effort.  But it was also great to get so many different tastes in one meal:  there's curry powder baked into the potatoes, then lime both zested on top, plus a cool sour cream with an unexpected tanginess thanks to more lime flavor, and finally pecans to give a nice crunch to everything.  And because these wedges are baked, not fried, and made with vitamin-packed sweet potatoes, you're getting a healthy and colorful meal.  Try out these wedges for some potato variety in the new year – we're sure you'll love them!